Gluten free crêpes recipe, anyone? Well here's the only recipe you'll need this Pancake Day and beyond. Plus, they're easily adaptable to be dairy free and low FODMAP too!
My gluten free crêpes recipe creates lovely and light, thin pancakes that are ready to be rolled, filled or topped with whatever you like. You'd never know they were gluten free and neither will your family/friends – pinky promise!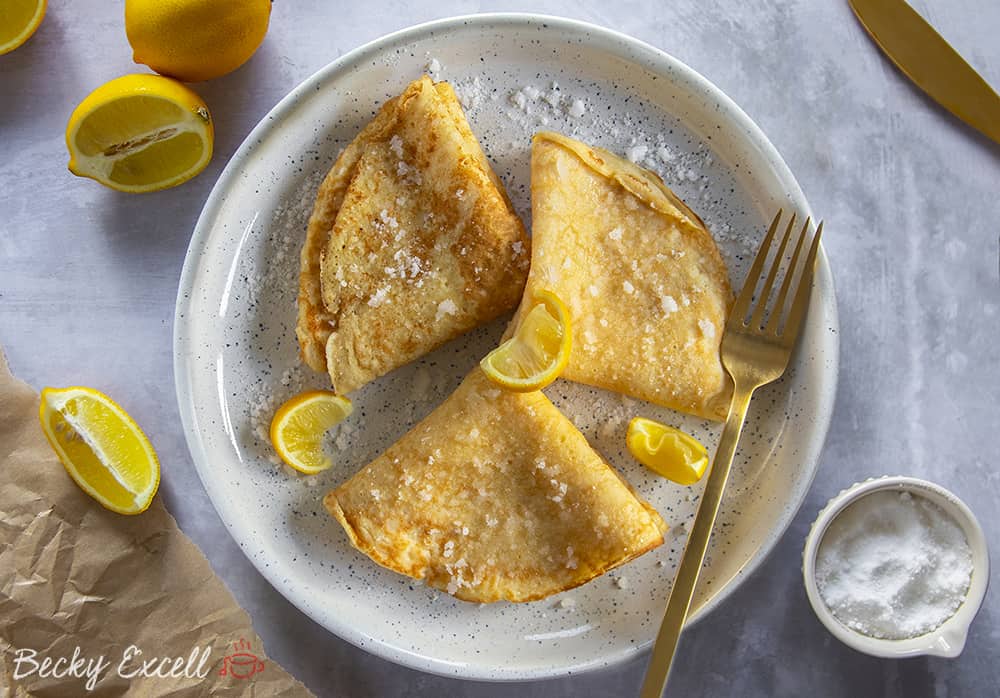 The reason I say that this is the only gluten free crêpes recipe you'll ever need is because, well… their taste and texture are exactly like regular pancakes.
(there's no crumbliness, a struggle to roll them up without breaking or any other 'gluten free' related problems!!)
These pancakes will remind you of every good pancake day before being gluten free and will defo make sure you don't miss out on any future ones either.
These beautiful, light, crispy and thin pancakes can be rolled up, topped with fruit or just eaten with a little sugar and lemon. I'm only here to tell you how to make them, not how to eat them! But while we're talking toppings, Nutella isn't a bad one, is it?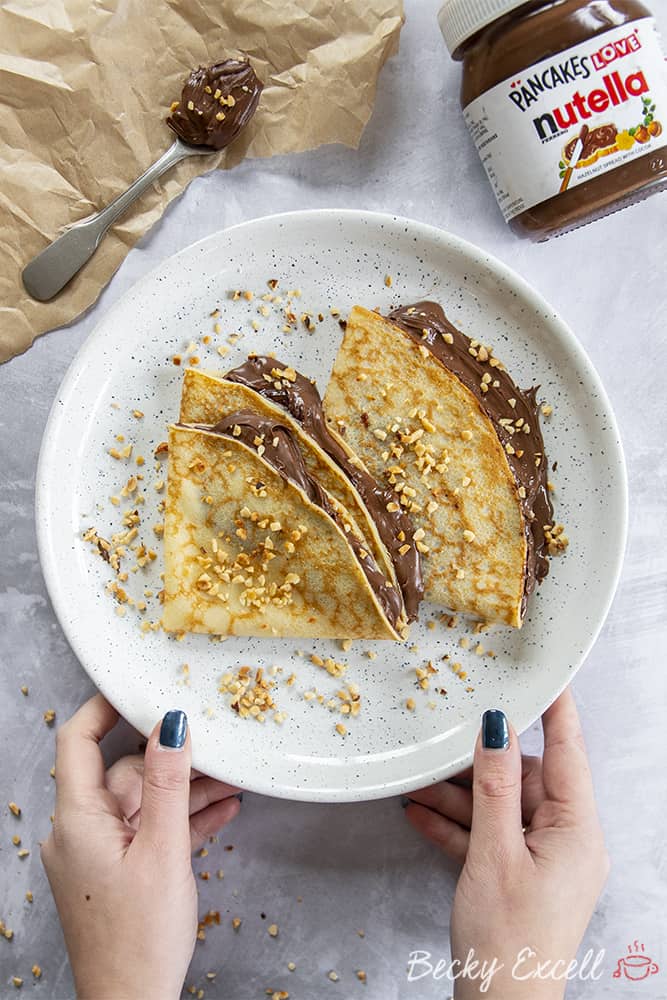 So why are my gluten free crêpes just like the pancakes that you probably miss, remember and love?
Well, because they basically are those crêpes!
And just like regular pancakes, you'll only need 3 essential ingredients to make them and a little oil for frying.
All you'll need is gluten free flour, your milk of choice (any dairy free milk is fine too) and a few eggs.
It doesn't get more flippin' simple than that.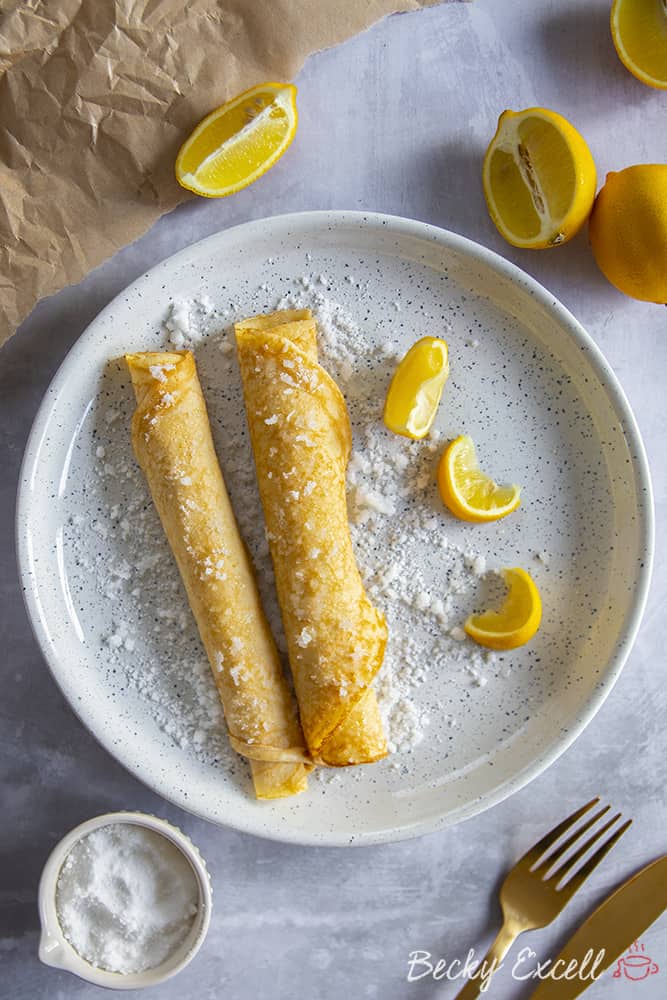 But if you're looking for even more gluten free pancake recipes, then make sure you check out the 10 gluten free pancake recipes you need to try ASAP. You can find that post by clicking here.
I've basically compiled a list of aaaall my gf pancake recipes on the blog (think blueberry pancakes, buckwheat pancakes, American-style pancakes etc.) and put them in one place to make your life easier.
(as I always say, I'm kind like that, aren't I?!)
You'll definitely find a recipe there that you'll love… like my gluten free crêpes recipe (again!)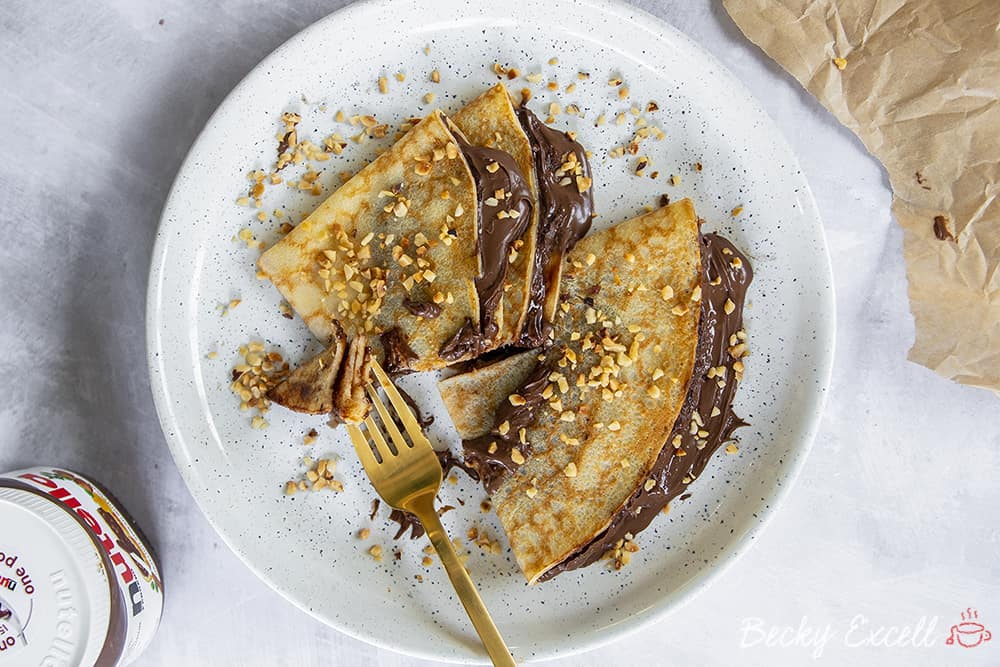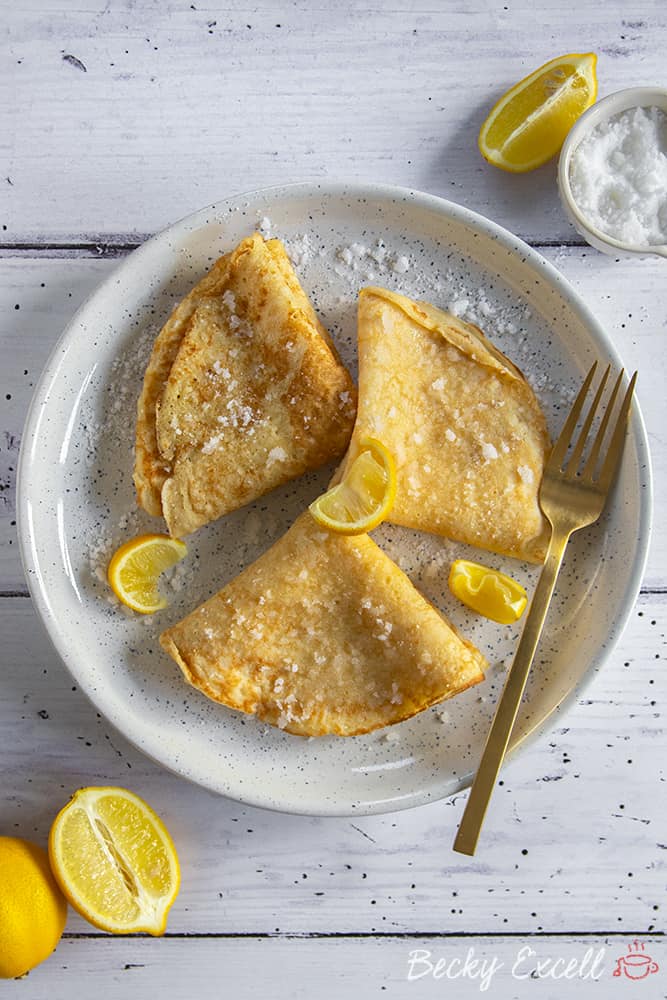 The only hard part about this recipe is deciding how to flavour them!
Are you going for the classic sugar and lemon combo, or more down the Nutella and banana route?!
Or how about fresh berries and maple syrup? The honest truth is… you just really can't go wrong, so don't stress about it!
Ok so here's my gluten free crêpes recipe…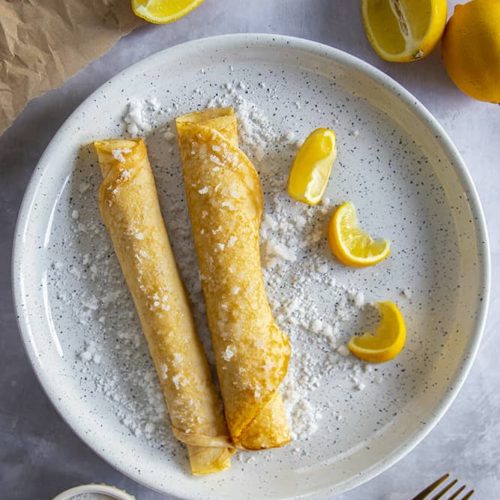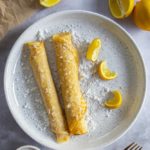 3-Ingredient Gluten Free Crêpes Recipe (dairy free, low FODMAP)
The only gluten free crepes recipe you'll ever need! They're dairy free and low FODMAP too.
Ingredients
220

g

gluten free plain flour

4

large eggs

450

ml

milk

(dairy free if needed or lactose free if low FODMAP)
Instructions
Pour your gluten free plain flour into a large mixing bowl.

Crack in four large eggs and whisk / beat together until smooth.

Gradually pour in your milk whilst whisking. Do this until you have a lovely, thin gluten free pancake batter. Place into a jug - now you're ready to make your pancakes!

Heat a little oil (just under a tbsp) in a frying pan - make sure the pan is nice and hot.

Pour the batter evenly into your frying pan, and tilt the pan to ensure that the entire base is covered.

Fry for about 1 minute or until the edges are starting to look cooked. Then flip and cook for a further 20-30 seconds.

Repeat till you have enough pancakes for everyone.

Top with whatever you fancy and enjoy!
Thanks for reading all about my gluten free crêpes recipe! If you make them, I'd love to see how they turned out so don't forget to take a snap of your creations and tag me on Instagram!
Plus, I'm giving away a £50 supermarket voucher every month to my fave pic, so get baking!
Any questions about the recipe? Please do let me know by following me on Instagram and leaving me a comment!
Thanks for reading,
Becky xxx
Oh and don't forget to pin this for later!