I know I seem like I only discovered buckwheat flour in 2018. But give my gluten free and vegan buckwheat galettes recipe a go and you will be hooked too! This recipe is dairy free and egg free FYI.
But what would a humble galette be without a beautiful, savoury filling? That's where Sacla' Free From Basil Pesto comes in. I've teamed up with them today to bring you my gluten free and vegan buckwheat galettes recipe filled with dairy free cheese, basil pesto and cherry tomatoes.
Let's get started!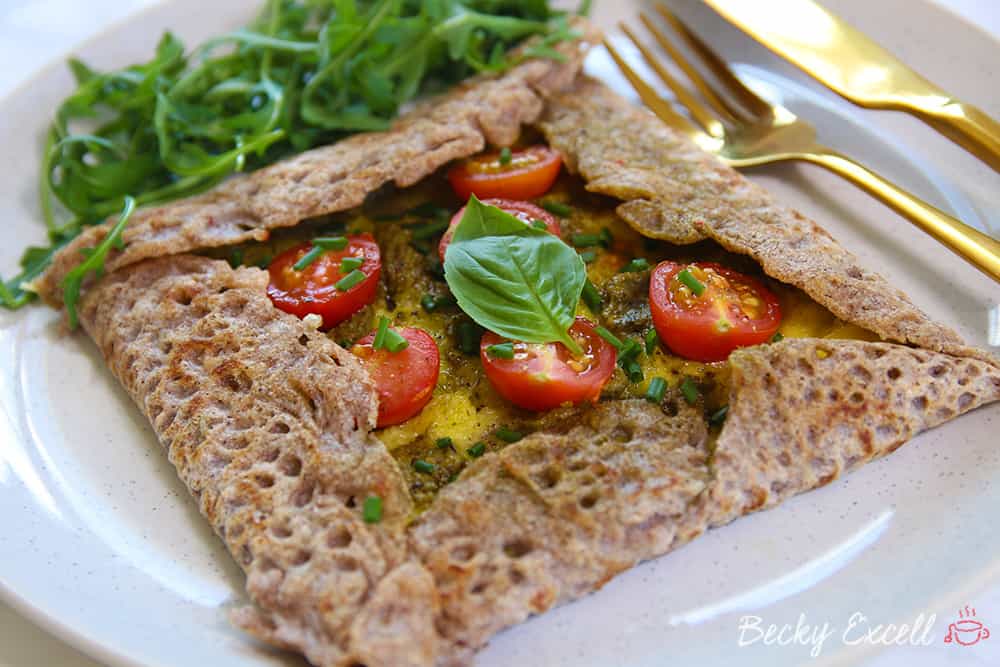 I've been super inspired by my recent trip to Paris to create food with simple ingredients, A* presentation and mind-blowing flavours.
Everything always seems a little more complicated when you're making food to be gluten free and vegan. But I've realised in 2018… it really doesn't have to be.
For starters, my vegan buckwheat galettes only have three ingredients. Gluten free buckwheat flour, water and a little salt.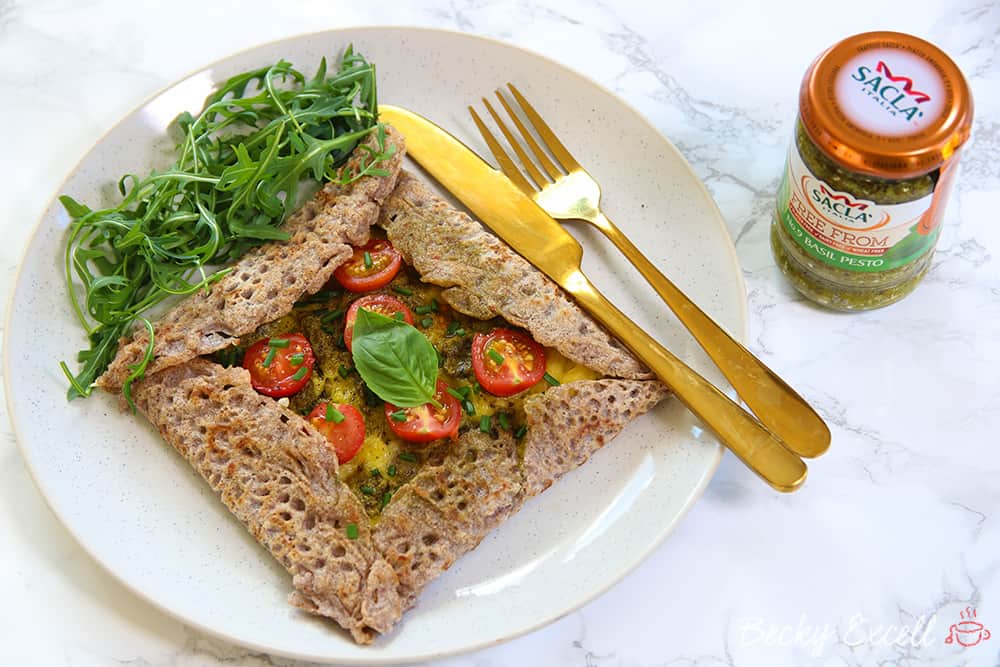 Talk about simple, right?
That allows you to then concentrate on the most important part – choosing your filling. With a jar of Sacla' Free From Basil Pesto to hand, the filling can be just as simple as making your gluten free galettes.
I opted for grated vegan cheese, Sacla' Free From Basil Pesto, cherry tomatoes and freshly chopped chives. Honestly, it's one of my all-time fave flavour combos and it makes the perfect lunch or light dinner.
Making all of this took me under 15 minutes and I only had a bowl, a whisk and a frying pan to wash up!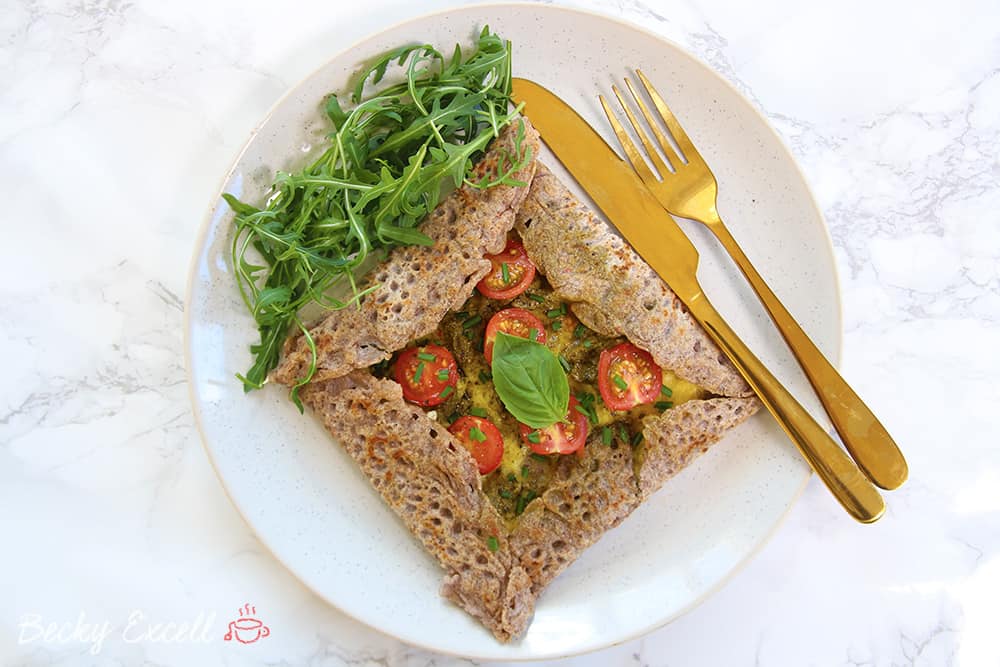 Even the presentation is simple, quick yet visually beautiful. I simply folded in each side using a palette knife, just like those beautiful galettes I'd seen whilst in Paris.
There's tons of ways you can present your galette, but folded into a little square like this is my ultimate fave.
Oh and if you're looking for other types of gluten free pancake recipes, then check out this post: 10 gluten free pancake recipes you won't believe you can eat.
So here's a few tips in how to throw this all together in no time at all.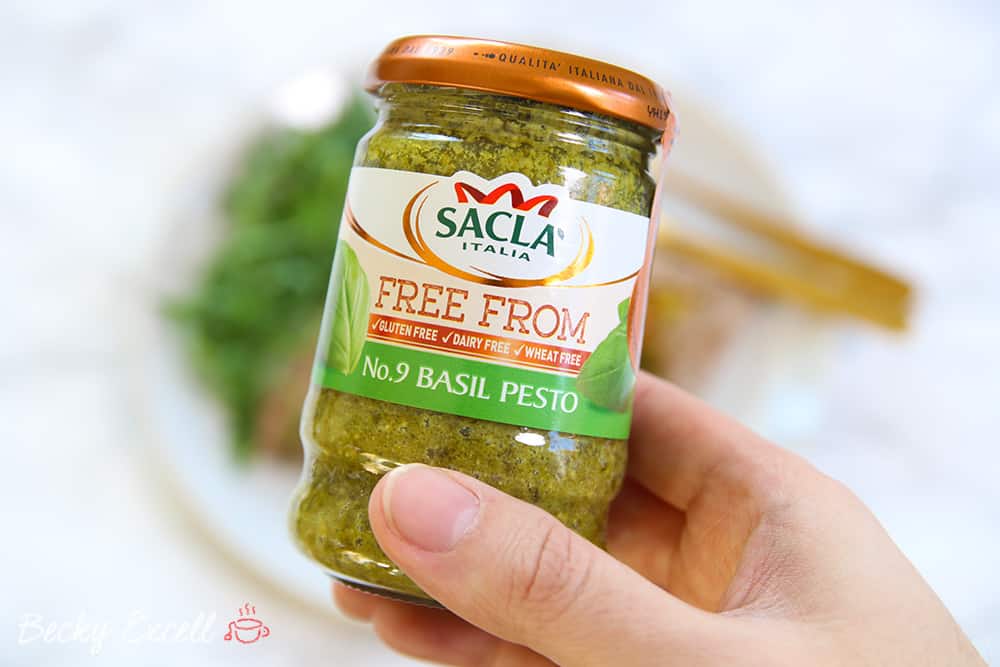 After mixing up your batter, pour in one full cup's worth (around 240ml) into a large, greased frying pan. The best part about my gluten free and vegan buckwheat galettes recipe? There's no need for flippin'!
I don't know about you, but whenever I try to flip a pancake, it always ends up breaking in half or stuck to the ceiling.
After a minute or so of cooking on side, simply add your vegan cheese and a few generous dollops of Sacla' Free From Basil Pesto.
Slice your cherry tomatoes and add these for a further few minutes. Then, simply slide your galette out of a frying pan and onto a plate.
All that's left is to fold in the sides using a palette knife and serve up with fresh chives and rocket. Job done!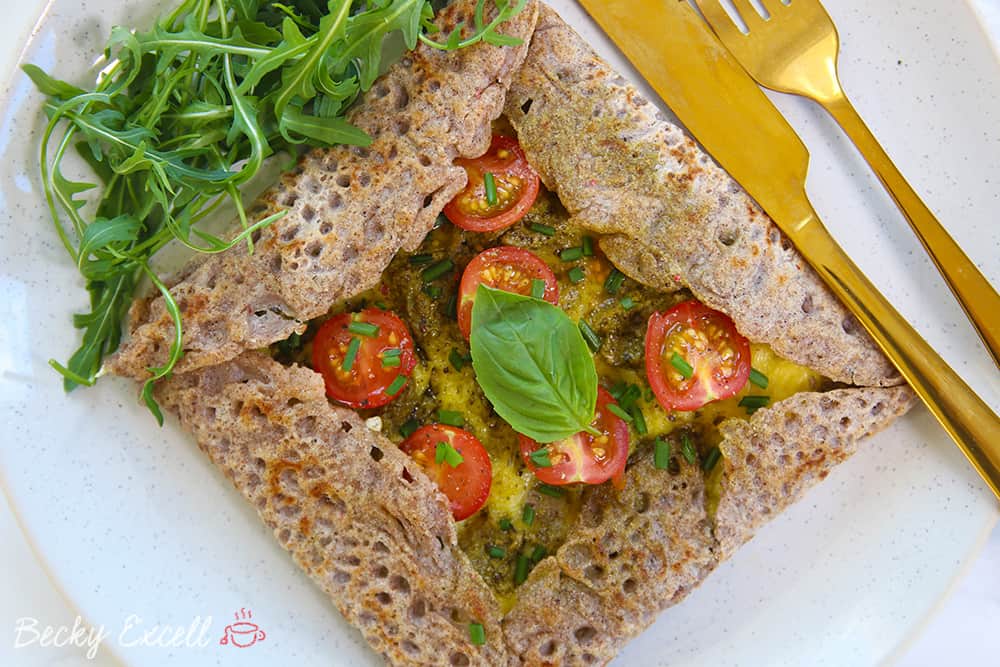 So without further ado, here's my gluten free and vegan buckwheat galettes recipe!
My Basil Pesto Gluten Free and Vegan Buckwheat Galettes Recipe (dairy free, egg free)
Say hello to my gluten free and vegan buckwheat galettes recipe! It's so simple and quick to make for lunch or dinner. It's dairy free and egg free too.
Ingredients
For the galettes
200g buckwheat flour

ensure that your buckwheat flour is pure and has no may contain gluten warning

490ml water

1 heaped tsp of salt
For the filling
dairy free cheese

grated

Sacla' Free From Basil Pesto

cherry tomatoes

fresh chives

salt and pepper
Instructions
Measure out your buckwheat flour and place it in a mixing bowl. Add your salt and then gradually add your water, whisking throughout (I just use a non-electric hand held whisk). It should be the consistency of a thin cream, not like water.

Once combined and thoroughly whisked, heat up a large frying pan with a little oil. Ideally, you want it to gently sizzle when the batter hits the pan. Spread the oil so it covers as much of the pan as possible - I usually do this with a brush or kitchen roll.

Pour about a cups worth (240ml) of the mixture into the frying pan. It should go all the way to the edges. If you need to, swirl the frying pan around a bit to ensure that it does.

Fry your galette for a few minutes, allowing the underside to become golden. The top side should also be slightly golden, especially around the edges. If the centre looks a little less like this, don't worry as it's going to continue to cook with the filling.

Next add your filling and keep it fairly central for when you fold the galette inwards. Firstly add your grated cheese. Followed by some dollops of pesto. Allow these two to melt a little and then add your sliced cherry tomatoes for a final couple of minutes.

Next, fold the galette into a square shape. You can either do this in the frying pan (the sides of my frying pan were a little too high to do this comfortably) or slide it onto a plate and then do it. Very gently fold each side in using a palette knife or spatula. I like to hold each side down for a little bit too.

Once you have done all four sides, serve up with some fresh chives, rocket and any other extras you wish. Enjoy!
Thanks so much for checking out my gluten free and vegan buckwheat galettes recipe! You just can't beat the combo of Sacla's intense free from basil pesto with vegan cheese and sweet, cherry tomatoes.
The Sacla' Free From range is available in the Free From aisle at most supermarkets or you can visit their own online shop.
Any questions about the recipe? How did yours turn out? I'd love to see a photo of your graceful galettes! Please do let me know by leaving a comment below or on Facebook / Twitter / Instagram!
Thanks for reading,
Becky xxx
This is a sponsored post in collaboration with Sacla'.
Oh and don't forget to pin this for later!