My gluten free American pancakes recipe is all you'll need to make thick, fluffy pancakes. Plus, you only need 5 ingredients and some oil for frying. My recipe is dairy free and low FODMAP too.
We seem to be obsessed with crepe-like pancakes here in the UK, but who could really say no to my gluten free American pancakes recipe?! Sometimes you just can't beat a massive stack of fluffy pancakes…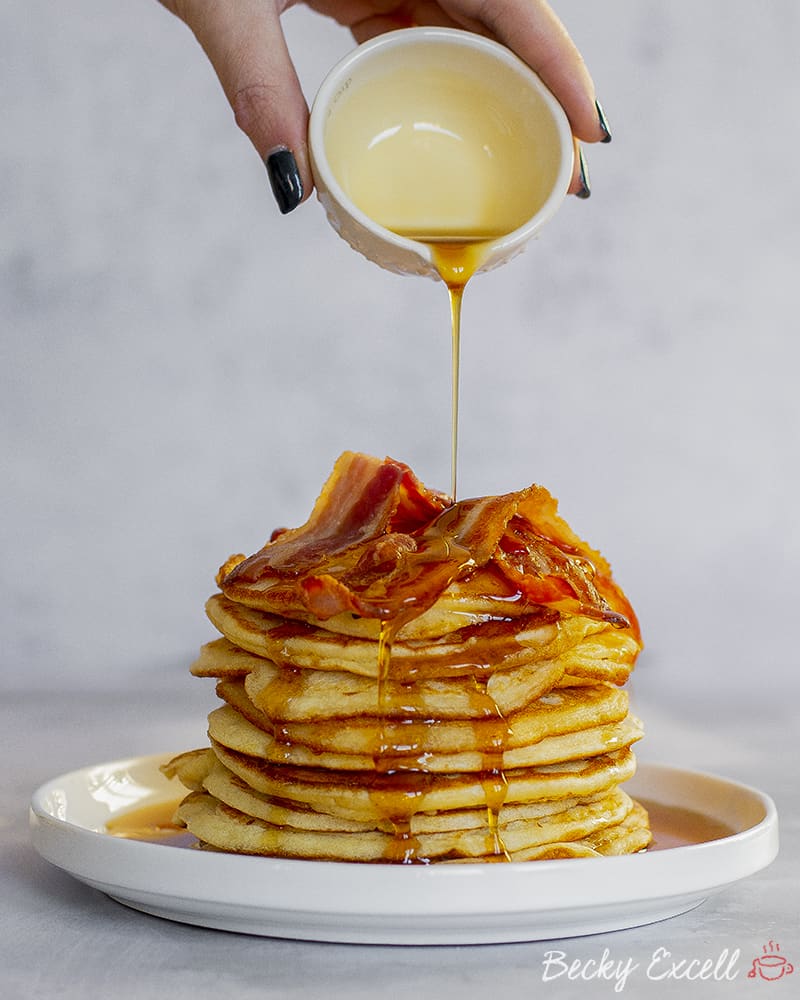 Ok, ok – I know that bacon and maple syrup might seem a bit of a weird combo.
(well, that's what I thought at least before I tried bacon pancakes on our first trip to New York back in 2010!)
But actually… it's the ultimate sweet/savoury combo that you need in your life. Saying that, I don't think I'll ever be able to get my Mum to agree with me on that, but hey!
If you do fancy serving your gluten free American pancakes like I did, just simply grill some smoked streaky bacon and top with maple syrup.
Oh and also, you now have this song in your head: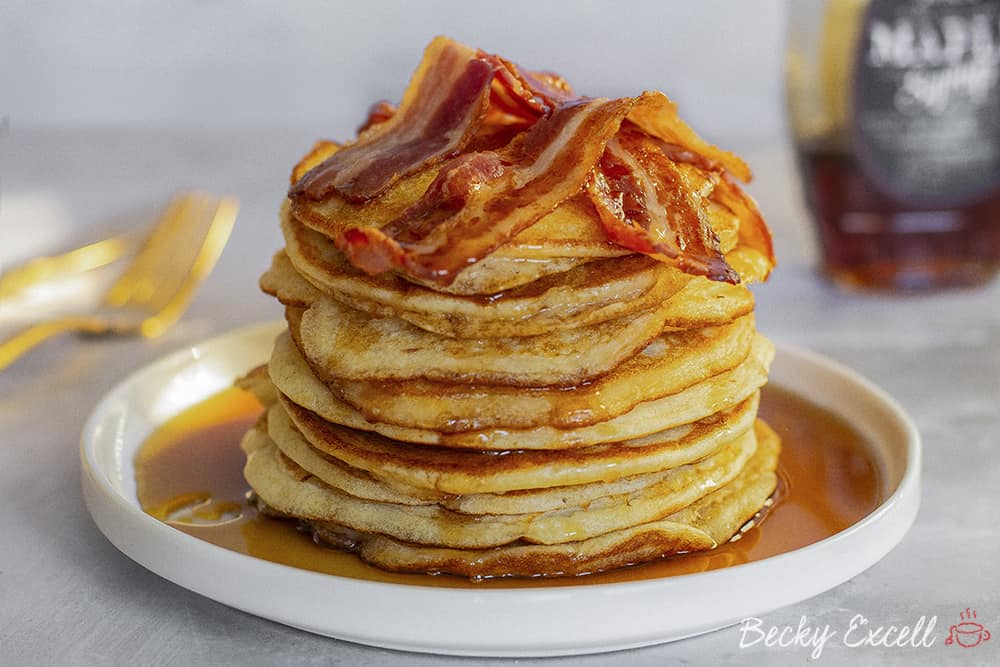 But actually, the topping is entirely totally up to you. After all, this is just the recipe for the pancakes!
My first experience of American-style pancakes was on my final day in Disneyland Paris when I was about 7 years old. We had a 'character breakfast' which basically is when Mickey, Minnie and the rest of the crew come round and say hello at your table!
It basically made my seven year-old life.
But what I remember equally as much were the amazingly thick yet fluffy pancakes they had out for breakfast every day. So that's what I tried to recreate here, but with my favourite topping I experienced in New York!
But if bacon pancakes aren't really your thing, why not try fresh berries and maple syrup? Or Nutella and banana? I'm a massive fan of blueberries, maple syrup and crunchy peanut butter – it's SO good. Trust me, you just have to try it!
Oh and if you're looking for more pancake recipes (crepes, blueberry pancakes, buckwheat pancakes etc) then make sure you watch out for my post on the 10 gluten free pancake recipes you need to try ASAP Click here to go check it out.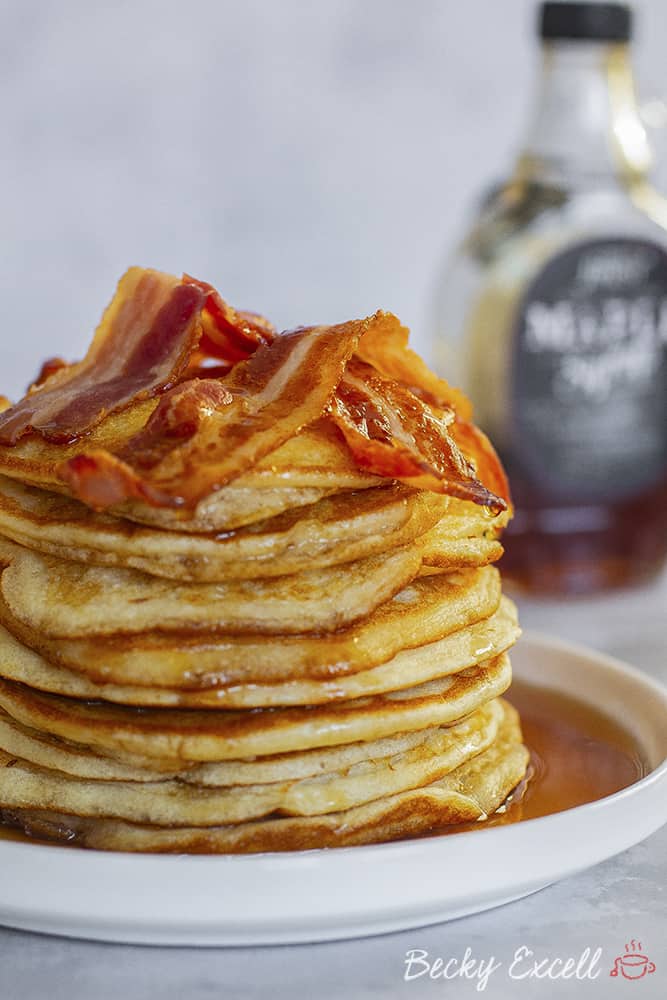 And the reason I've created soooo many gluten free pancake recipes recently is because I've actually got to the point where you'd never know any of them were gluten free.
(basically I now just want to make new pancake recipes all day as I've missed them so much!)
Honestly, there's no need to bother creating separate gluten free pancakes for yourself and then another gluten-filled batch for the rest of the family if you use one of my recipes.
These pancakes are soft, light and fluffy and they hold together exactly like muggle pancakes would. You really can't tell the difference! But don't just take my word for it – you'll just have to try them for yourself.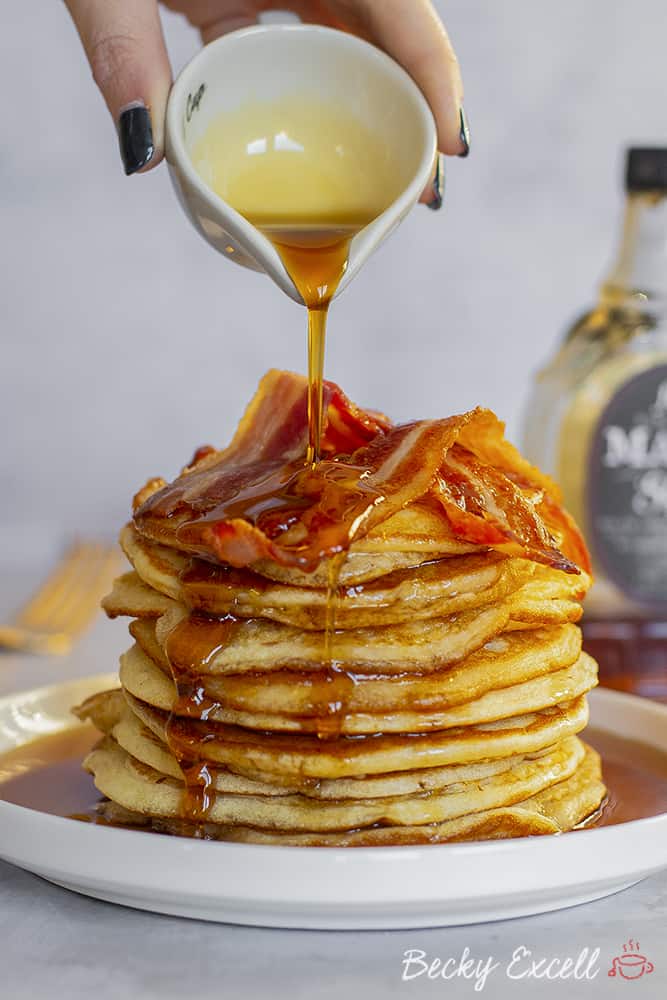 And because you only need 5 ingredients to create my gluten free American pancakes recipe, you'll probably find that you have them in your cupboards/fridge already.
Whilst, let's be honest – having an enormous stack of pancakes isn't something you're likely going to do very often – you can always either freeze the pancakes and reheat them, or freeze the batter.
It's probably best to let both defrost in the freezer first though!
Ok, so here's my gluten free American pancakes recipe – just like I remember having at Disneyland Paris all those years ago…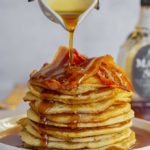 5-Ingredient Gluten Free American Pancakes Recipe (dairy free + low FODMAP)
My gluten free American Pancakes recipe makes the BEST thick and fluffy, light pancakes. It's dairy free and low FODMAP too.
Ingredients
200

g

gluten free self-raising flour

1.5

tsp

gluten free baking powder

1

tbsp

sugar

300

ml

milk

(dairy free if needed - lactose free if low FODMAP)

2

eggs
Instructions
Put your gluten free self-raising flour, sugar into a large mixing bowl and mix thoroughly.

In a jug or smaller mixing bowl, add your eggs and milk and beat until smooth.

Create a well in your flour bowl and add in your wet ingredients. Whisk until smooth and consistent.

Set your hob to a low-medium heat. Add slightly less than 1 tbsp of oil to the pan and ladle in some of your pancake batter.

Allow to cook until the side facing up isn't wet - then you can flip it without it splattering everywhere! This should take about 1 minute at a low-ish heat.

Flip it over and cook for a further 30 seconds or so and place to one side. Repeat until all the batter is used, using slightly less than a tbsp of oil per pancake to fry them.

Serve up with maple syrup and bacon if you fancy and enjoy!
Thanks for reading how to make my gluten free American pancakes recipe! If you make it, I'd love to see how it turned out so don't forget to take a snap of your dinner and tag me on Instagram!
Plus, I'm giving away a £50 supermarket voucher every month to my fave pic, so get cooking!
Any questions about the recipe? Please do let me know by following me Instagram and leaving me a comment!
Thanks for reading,
Becky xxx
Oh and don't forget to pin this for later!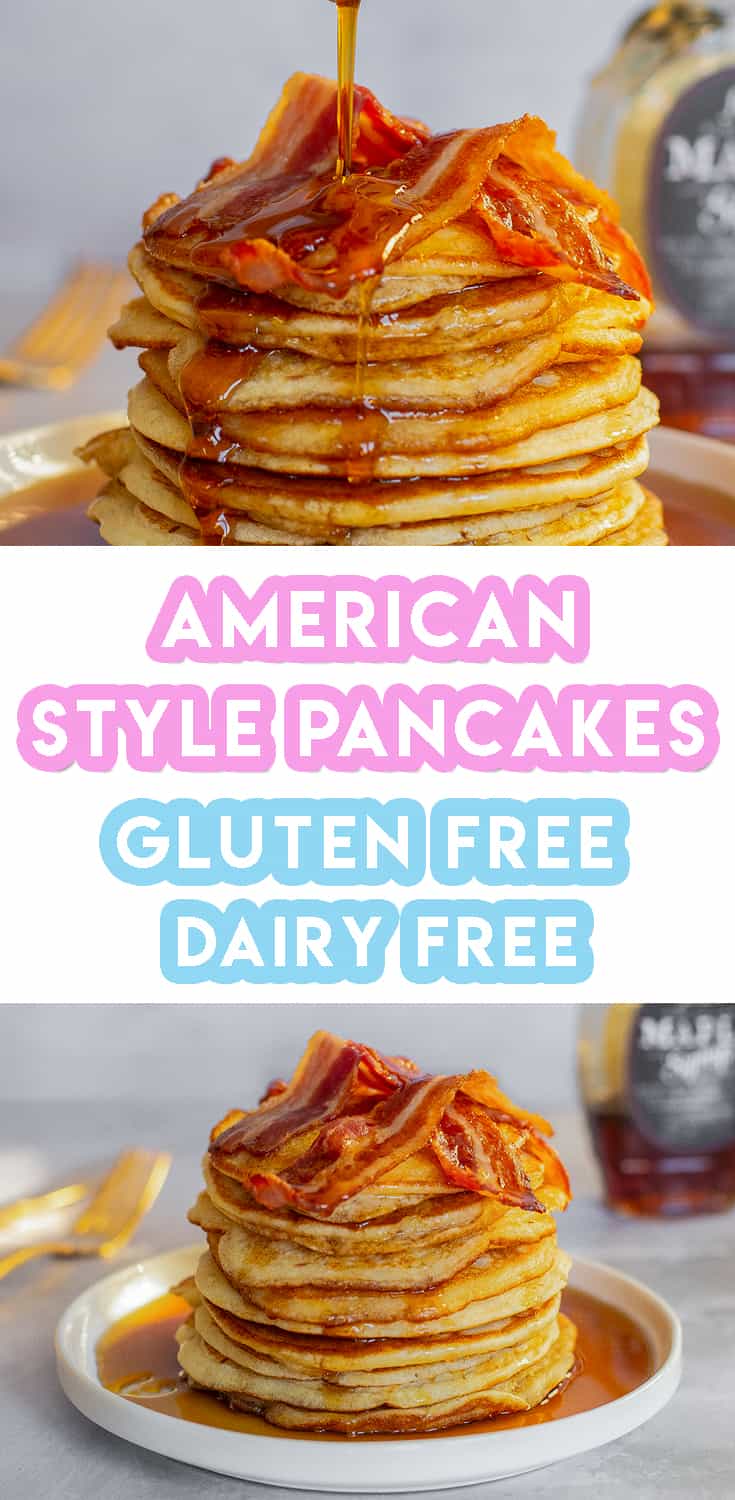 Comments