Gluten-free American pancakes recipe – yup, my BEST EVER thick, fluffy pancakes. But nobody would ever know that they're Coeliac-friendly and wheat-free too. Let's flippin' do this!
Gluten-free American pancakes, anyone? We enjoyed pancakes exactly like these on our trip to New York and I'm so chuffed that I was able to recreate them at home. If you're dairy-free or low FODMAP, never fear – simply use the milk of your choice and you're good to go.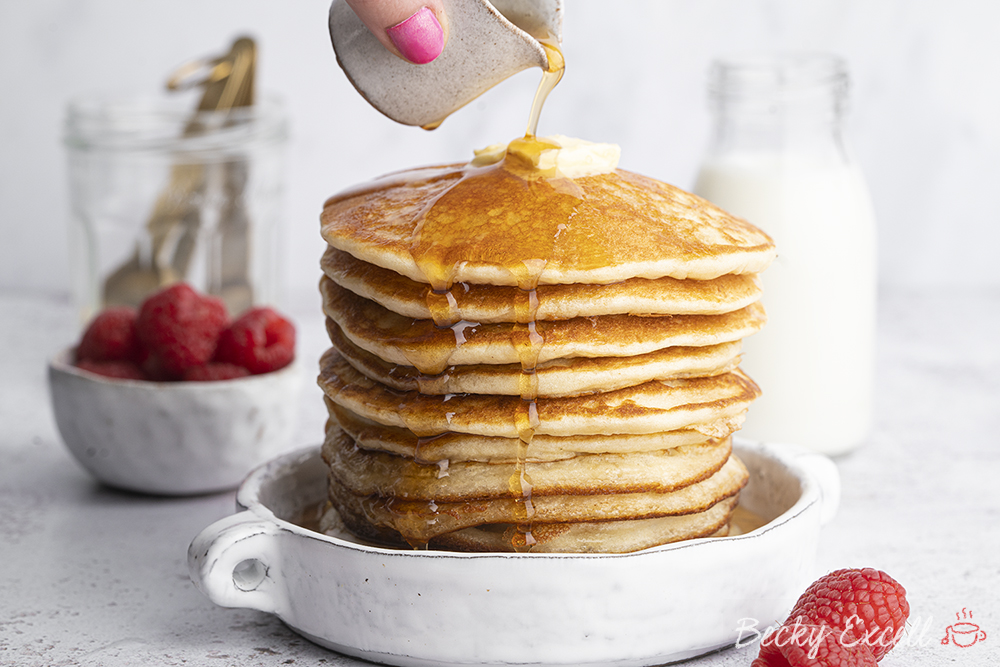 Yes, gluten-free pancakes are most definitely still on the menu for us! In fact, it's one of the few things that turns out absolutely identical to the 'muggle' version, with zero extra effort required.
So I think it's about time you celebrated that fact, agreed? A simple gluten-free self-raising flour blend is all that's required to make American pancakes gluten-free – something which you can easily find it down the free from aisle in your local supermarket.
These were inspired by the wonderful, light and fluffy pancakes I enjoyed for breakfast in Disneyland Paris as a kid as well as the wonderful American pancakes I experienced in New York on my 21st birthday.
I never thought I'd eat gluten-free pancakes like these ever again, so don't make the same mistake I did – it's so incredibly easy and simple!
Why make my gluten-free American pancakes recipe?
You only need 5 simple ingredients to make these and a little oil for frying.
It only takes 2 minutes to mix up the batter, then you're ready to start frying and flipping!
They're thick, light and fluffy just like 'muggle' pancakes. No need to make yourself a separate stack if you live with muggles!
I made these using a self-raising flour that you can easily find in supermarkets, down the free from aisle.
This recipe is incredibly easy to make dairy-free or low FODMAP – just use dairy-free milk if you're dairy-free, or lactose-free if you're low FODMAP.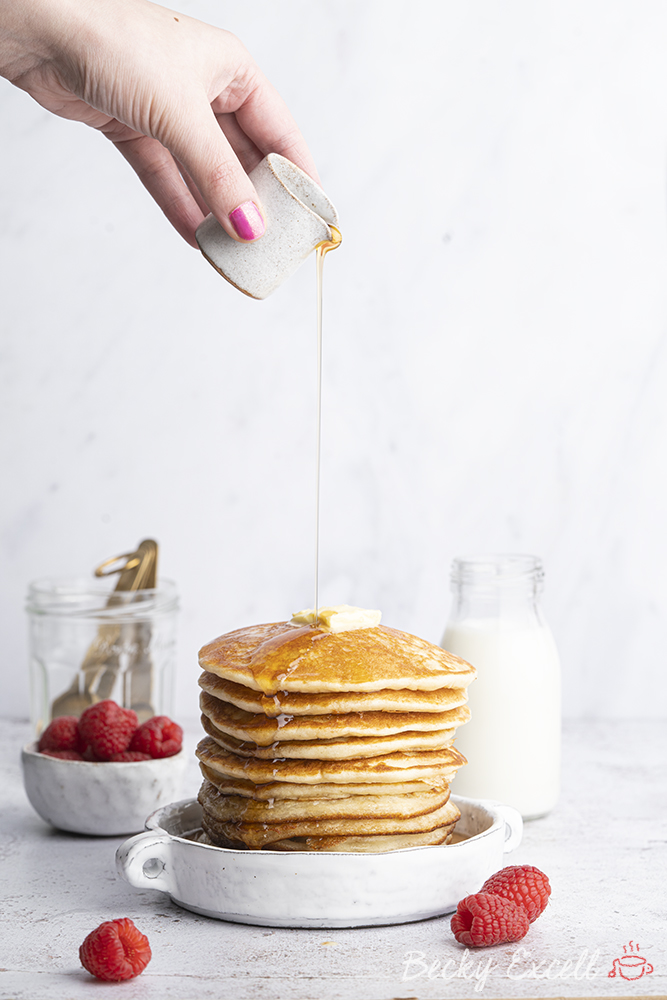 So, long story short, there should be absolutely zero compromise when it comes to gluten-free American pancakes.
Best of all, that means that you can share a stack with all your muggle friends and family and they'd never even notice the difference. Promise!
Oh and if you're looking for more pancake recipes (crepes, blueberry pancakes, buckwheat pancakes etc) then make sure you watch out for my post on the 10 gluten free pancake recipes you need to try ASAP Click here to go check it out.
Here's everything you'll need for this recipe – don't forget a little vegetable oil for frying too.
Gluten-free American pancakes recipe: Ingredients you'll need
Gluten-free self-raising flour: I've tried this recipe with all the different gluten-free self-raising flour blends in supermarkets and they all work perfectly fine! If you only have plain flour, ensure you add an extra 1/2 tsp of baking powder and ideally, a 1/4 tsp of xanthan gum too.
Gluten-free baking powder: This magic powder ensures your pancakes get a lovely rise, making them fluffy and light. Not all baking powder is gluten-free (some contain wheat) so be sure to check that first of all.
Caster sugar: This is only a small amount, so feel free to omit if you're averse to it! I usually add lots of sweet toppings, so it's not the biggest dealbreaker.
Milk: You can't make pancakes without milk! And also, milk is what gives them a lovely, golden colour. Using dairy-free milk makes little to no difference (apart from they may be less golden than mine in the photos) but I do recommend using a more 'neutral' flavoured milk like sweetened almond milk.
Large eggs: I only say large eggs because that's what I used to make these! If using medium eggs, I'd pick the largest looking ones if possible – adding an extra medium egg would likely be a little overkill.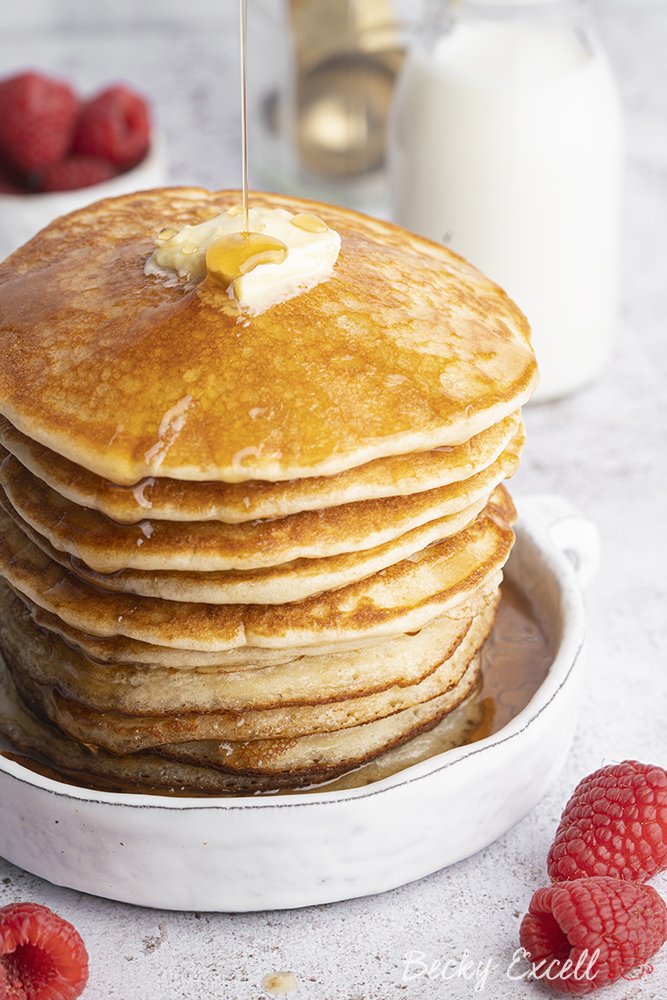 So I thought I'd kick things off with a little frequently asked questions section – if you just want the recipe, then keep scrolling.
But I've thrown in some tips here that will be really helpful if this is your first time making this, or you want to adapt it. So here they are!
Gluten-free American pancakes recipe: Frequently Asked Questions
Can I make this recipe gluten-free?
It is gluten-free, though nobody would know just by tasting it – trust me!
Bear in mind that minimising cross-contamination is hugely important if you're Coeliac or making this for someone who is. Here's some tips from Coeliac UK on minimising the risk of cross contamination.
Also, make sure that all ingredients used don't have any gluten-containing ingredients. Then make sure that they also don't have a 'may contain' warning for gluten, wheat, rye, barley, oats (which aren't gf), spelt and khorasan wheat (aka Kamut).
Here's some more info from Coeliac UK on identifying safe gluten-free products.
Can I make your gluten-free American pancakes recipe dairy free?
Yes! Just use dairy-free milk and that's it. As milk is a large part of this recipe, I'd recommend to:
Use a sweetened dairy-free milk, ideally – you'll get a result that's closer to using 'real' milk in taste and texture.
Use a neutral flavoured dairy-free milk like sweetened almond milk. Otherwise your pancakes can end up tasting like your dairy-free milk – it's fine if they do, but bear in mind it will affect the flavour!
Also bear in mind that dairy-free milk generally won't result in golden-coloured pancakes like mine in the photos – but they'll taste identical!
Can I make your gluten-free American pancakes recipe vegan?
If you use dairy-free milk to make these (see advice above) all you have left to contend with is the eggs.
Here's a few egg replacement ideas, though I've found that an egg replacement powder is the best way to go! Each of these egg replacements = 1 egg, so remember multiply them by 4 for this recipe.
3 tablespoons of aquafaba, pre-whisked until frothy. Aquafaba is simply the water from a can of chickpeas. Keep the chickpeas for a future dinner!
Egg replacement powder – I'd recommend using Orgran as it's gluten free.
1 tablespoon of chia/flax seeds mixed with 2 tablespoons of water and left for 10 minutes in the fridge.
3 tablespoons of applesauce.
Is your gluten-free American pancakes recipe low FODMAP?
Yes, simply use lactose-free milk and the end result will be absolutely identical. I actually used lactose-free milk to make the pancakes in the photos!
That way, this recipe is then suitable for the elimination phase of the low FODMAP diet.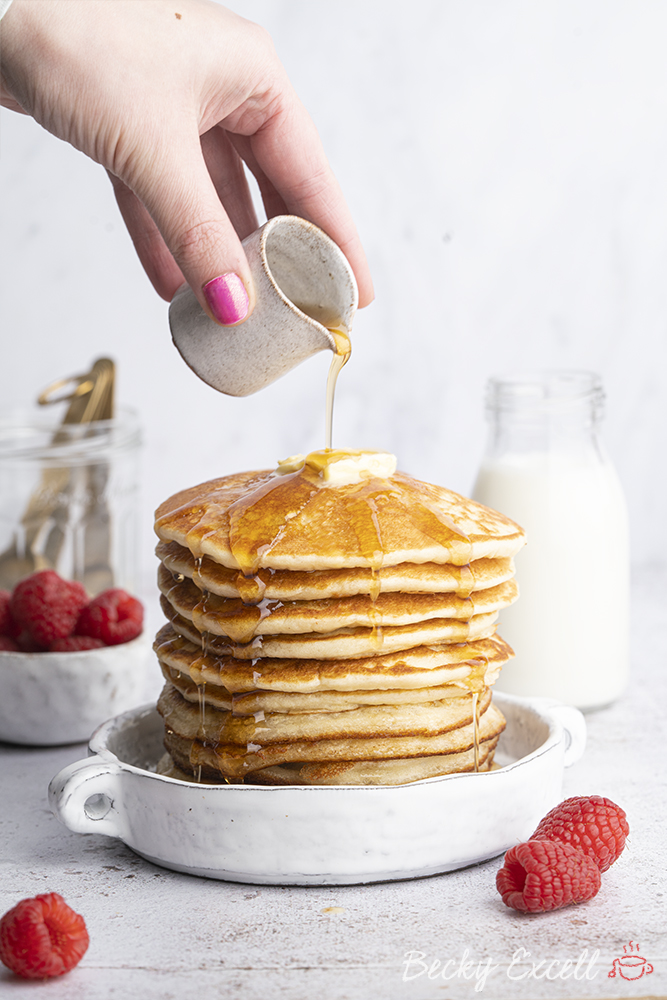 Do I need any special equipment to bake your gluten free American pancakes recipe?
Nope – just a hand whisk and a pan for frying. This one couldn't be easier.
Can I make this recipe using a gluten-free plain flour blend?
Yes! Just ensure you add an extra 1/2 tsp of baking powder and ideally, a 1/4 tsp of xanthan gum too.
Can I make this recipe without xanthan gum?
You'll see xanthan gum in a lot of my recipes as it's an essential ingredient in gluten free baking. There isn't any required for this recipe as gluten-free self-raising flour usually has a little added anyway.
If you want to make this a xanthan gum free recipe, just use a gluten-free plain flour blend (which typically doesn't have xanthan gum added) and add an extra 1/2 tsp of baking powder instead.
Can I make this recipe using other gluten free flours like buckwheat flour or coconut flour?
There's a big difference between 'gluten free flour' and a *singular* type gluten free flour. When I say 'gluten free flour', I mean a BLEND of gluten free flours, not just one singular flour.
Most gluten free flour you buy in the supermarket typically contains a blend of rice flour, potato flour, maize flour, tapioca flour AND buckwheat flour. That's a lot of different flours!
In gluten free self-raising flour, there's usually even a little baking powder and xanthan gum in it too.
So to replace it with just one specific type of flour… that's not going to cut it at all. Definitely go for a gluten free flour blend.
Do I need weighing scales to make your gluten-free American pancakes?
In short… yes, yes and yes! And I wouldn't advise attempting any my recipes without them.
A lot of work went into fine tuning ratios and quantities and for me, baking is all about consistency and precision. I want you to make this recipe and for it to turn out EXACTLY like mine did.
I'd recommending using digital cooking scales like these so you know you're getting an accurate measurement and replicating my recipe as accurately as poss.
5 tips for the perfect gluten-free American pancakes
After mixing up the pancake batter, allow it to rest for 10 minutes. This allows the mixture to hydrate and thicken up a little and almost always results in better pancakes.
Don't go overboard on the oil for each pancake. It can make the edges of the pancakes brown excessively and become very crisp, though they're still perfectly edible! You just want enough oil to lightly coat the base of the pan, reapplying the oil in between each pancake.
Keep the heat low. As these are thicker pancakes, if your heat is too high, the underside will brown too much before the top is ready to flip. It needs to be just hot enough so that it sizzles gently as your pour it in.
Use a quarter measuring cup to ladle the pancake batter into the hot pan. Using a measuring cup ensures all your pancakes come out the exact same size – plus, a quarter cup of batter is the perfect amount for a 5 inch pancake.
Use a neutral flavoured oil. Vegetable or rapeseed oil are my first choices, closely followed by a light olive oil. Extra virgin olive oil is a little too flavour intense for pancakes!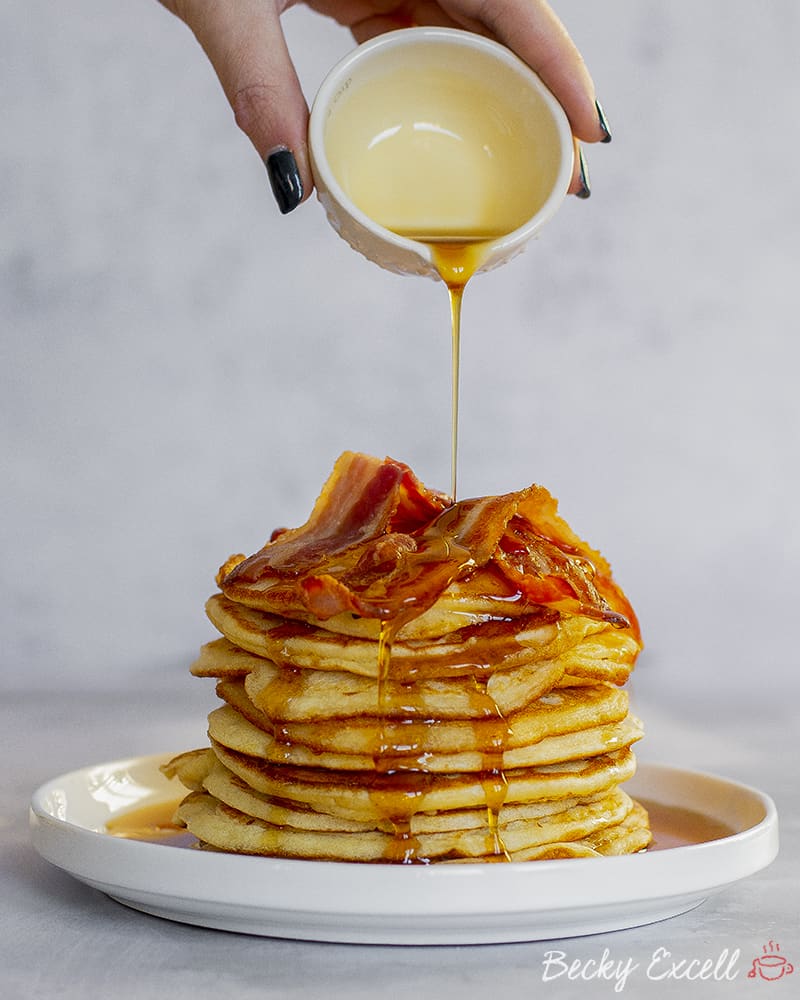 How to store your gluten-free American pancakes
I'm sure you'll instantly eat these as soon as they're fried like I do! But any leftovers can be store in an airtight container in the fridge, once cooled.
To refresh, simply pop them in the oven at 170C for 5-10 minutes until warm, or microwave for 2 minutes until piping hot.
To freeze them, pop into an airtight container, once cooled, and store in the freezer for 2-3 months. Allow to defrost at room temperature for 3-4 hours before following the reheating guidance above.
Gluten-free American Pancake Topping ideas
Now you've got your pancakes ready, how should you serve them? Of course, it's totally up to you! But I thought I'd throw a few of my fave toppings here as a little inspiration:
Maple syrup and smoked, streaky bacon – just like how we had them in New York. The combination is absolutely unreal!
Blueberries and maple syrup or melted dark chocolate
Raspberries with lemon juice and grated lemon zest or melted white chocolate
Banana and peanut butter with maple syrup
Nutella and roasted, chopped hazelnuts
Thinly sliced apple (baked in the oven until softened and no longer firm) served with ground cinnamon and maple syrup – just like we had in Amsterdam.
Gluten-free American pancakes recipe
: Method
Oh and here's a printable version of my gluten-free American pancakes recipe. Please remember to give it 5 stars if you tried it and enjoyed it as it helps people know it's worth trying too! ⭐️ Feel free to leave your written reviews in the comments below this post.
5-Ingredient Gluten-free American Pancakes Recipe (dairy free + low FODMAP)
Gluten-free American pancakes recipe - the BEST thick and fluffy pancakes that nobody would know were wheat-free and Coeliac-friendly. Easily dairy-free, vegan and low FODMAP too.
Ingredients
200

g

gluten-free self-raising flour

1.5

tsp

gluten-free baking powder

1

tbsp

sugar

300

ml

milk

(dairy free if necessary or lactose-free if low FODMAP)

2

large eggs

use egg replacers listed in the FAQ section if vegan

vegetable oil

for frying
Instructions
Put your gluten free self-raising flour, sugar into a large mixing bowl and mix together.

In a jug or smaller mixing bowl, add your eggs and milk and beat thoroughly.

Create a well in your flour bowl and add in your wet ingredients. Whisk until smooth and consistent.

Set your hob to a low-medium heat. Brush the pan with a light coating of oil and allow to heat - test if it's ready by spooning in one small drip of pancake batter; if it sizzles slightly, then it's ready.

Ladle in your pancake batter. I used a 1/4 measuring cup to do this as it's the perfect amount of batter for 1 pancake and ensures they all come out the exact same size.

Allow to cook until the side facing up looks like you could flip it without it splattering everywhere! This should take about 1-2 minutes at a low heat. If it's browning on the underside before the top is looking ready to flip, then lower your heat.

Flip it over and cook for a further 30 seconds or so and transfer to a small plate. Repeat until all the batter is used, brushing the pan with oil in between each pancake.

Serve up with maple syrup and bacon, Nutella, fresh berries or drizzle with your favourite dessert sauces. Enjoy!
Thanks for reading all about my gluten-free American pancakes recipe! If you make it, I'd love to see how it turned out so don't forget to take a snap of your creations and tag me on Instagram!
Any questions about the recipe? Please do let me know by following me on Instagram and leaving me a comment on a recent photo!
Thanks for reading,
Becky xxx
Oh and don't forget to pin this for later!