These Goats Milk Gluten Free Savoury Pancakes are the answer to so many 'what shall we have for brunch/lunch' discussions. The creamy goats cheese sauce is quite simply dreamy and is perfect for both gluten free savoury pancakes and sweet pancakes alike.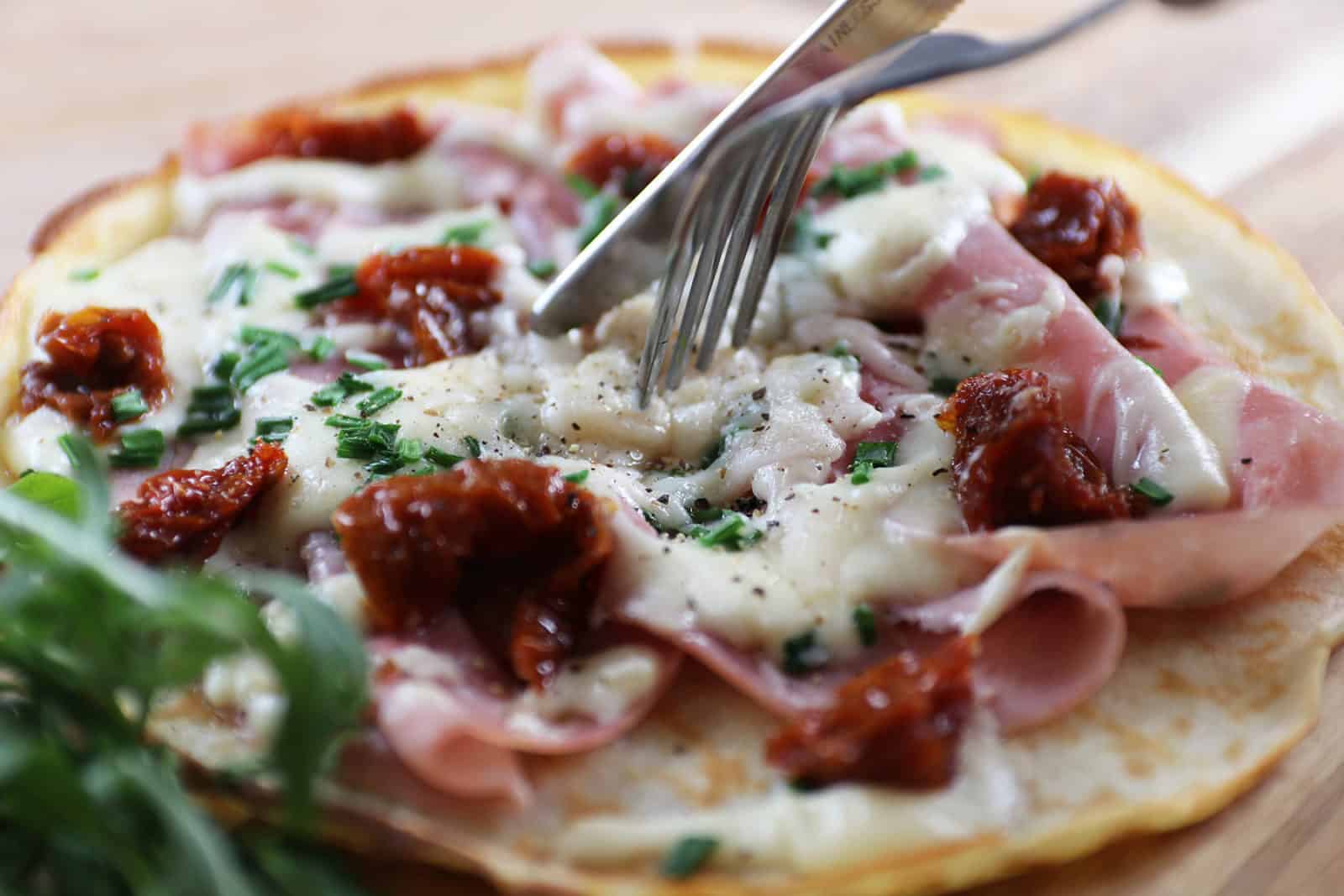 February has always had a soft spot in my heart. Not because of Valentines Day (I mean when I was at school it was just a day that reaffirmed that nobody had a crush on me… that sounds depressing!), but because of Pancake Day or Shrove Tuesday!
Pancake Day was definitely one of the highlights of my year and if I'm honest it still would be now if it wasn't for the fact that I eat gluten free pancakes all the time! For me, everyday should be Pancake Day!
Like most people I have always been a real sucker for sweet toppings/fillings on my pancakes, however in recent times with my stomach's lack of tolerance to excessive sugar, I have opted for gluten free savoury pancakes.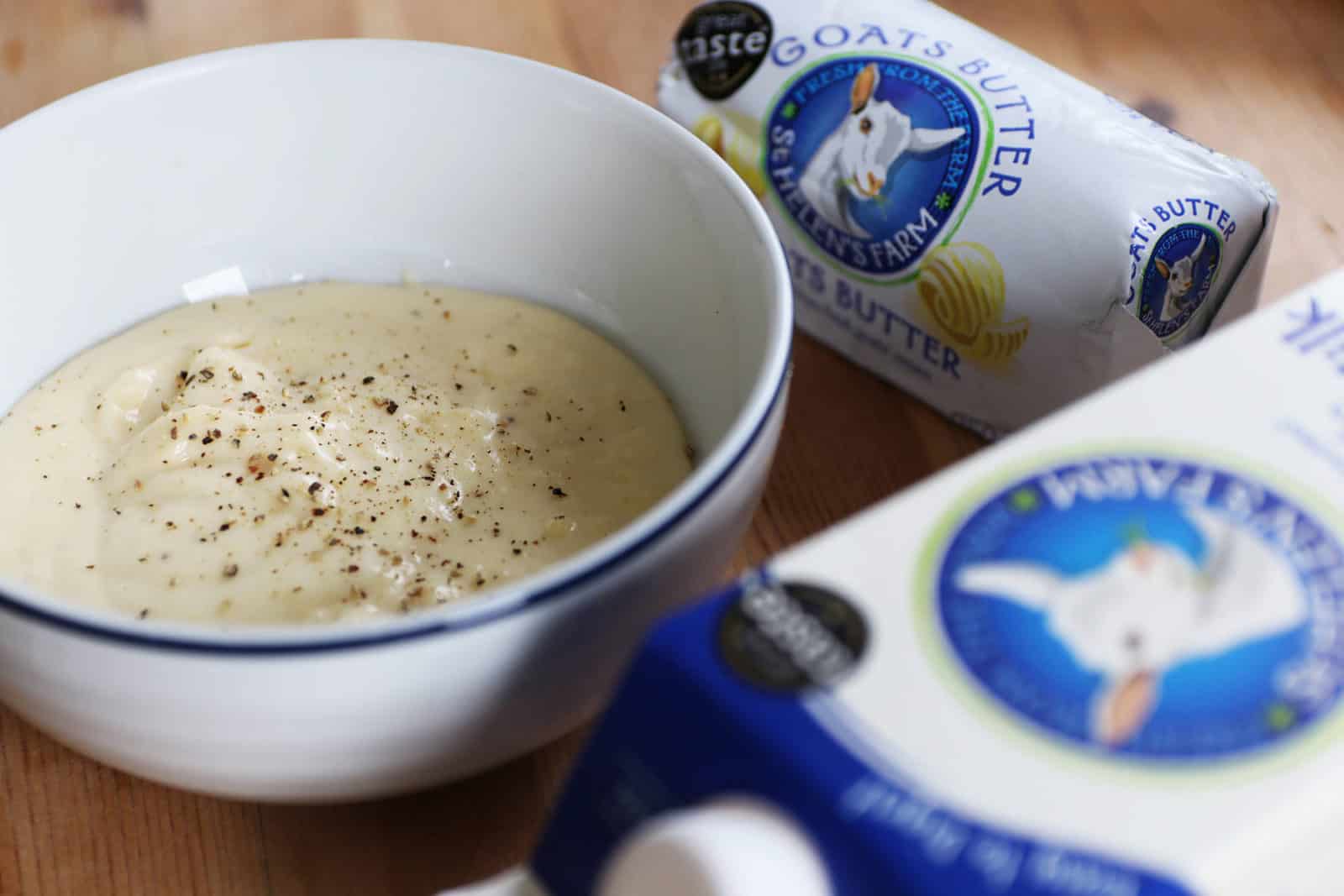 I haven't just got into gluten free savoury pancakes recently, I've also got into something completely new to me & I have fallen deeply in love with it… goats milk! (and goats cheese!!)
Anyway, this seemed like the perfect opportunity to combine my two new loves and create the ultimate… gluten free goats milk savoury pancakes!
For the pancake batter I used the St Helen's Farm Whole Goats Milk, which was great to work with; the batter was lovely and thick and worked an absolute treat in the frying pan.
Oh and if you're looking for other types of gluten free pancake recipes, then check out this post: 10 gluten free pancake recipes you won't believe you can eat.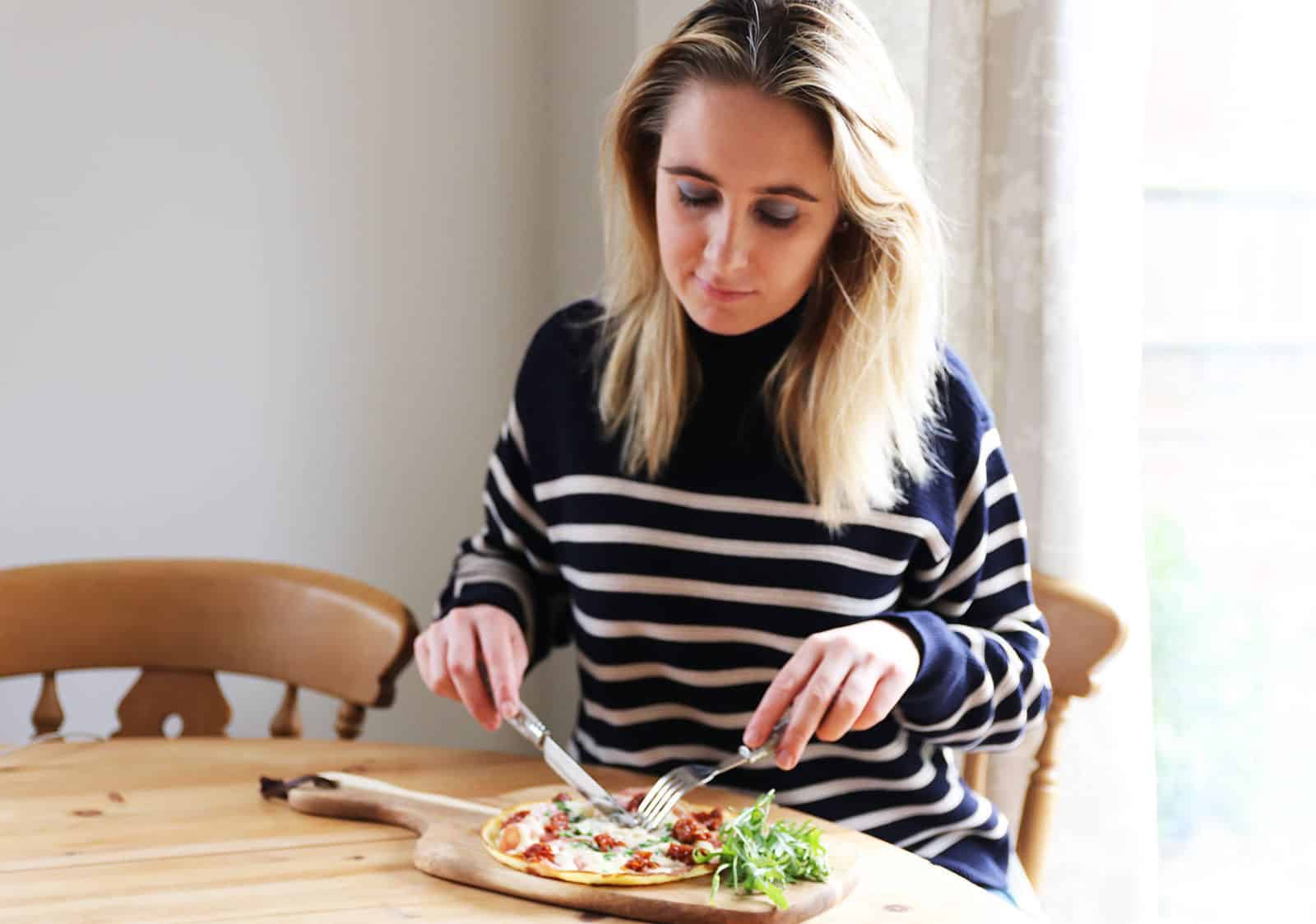 I've never really thought to try Goats Milk before, but Mark has, as it is a much better alternative for his lactose intolerant stomach – it's a whole lot kinder than cow's milk. Other members of my wider family live on Goats Milk for other reasons too, one being that they really enjoy the taste and the other actually being for helping with eczema… I really should have drunk goat's milk when I was an eczema-covered child!
Right, back to the gluten free savoury pancakes! Toppings! Now when it comes to what I want on me savoury pancake, I think I really do go for everyone's favourite…. Cheese and ham! However, I thought I would try and put a little bit of a twist on it!
A dreamy, creamy goats cheese sauce, made using the St Helen's Farm whole goats milk, goats butter and mature goats cheese is seriously the greatest cheese sauce you will ever, ever indulge in. Go on… cover your savoury pancake with it!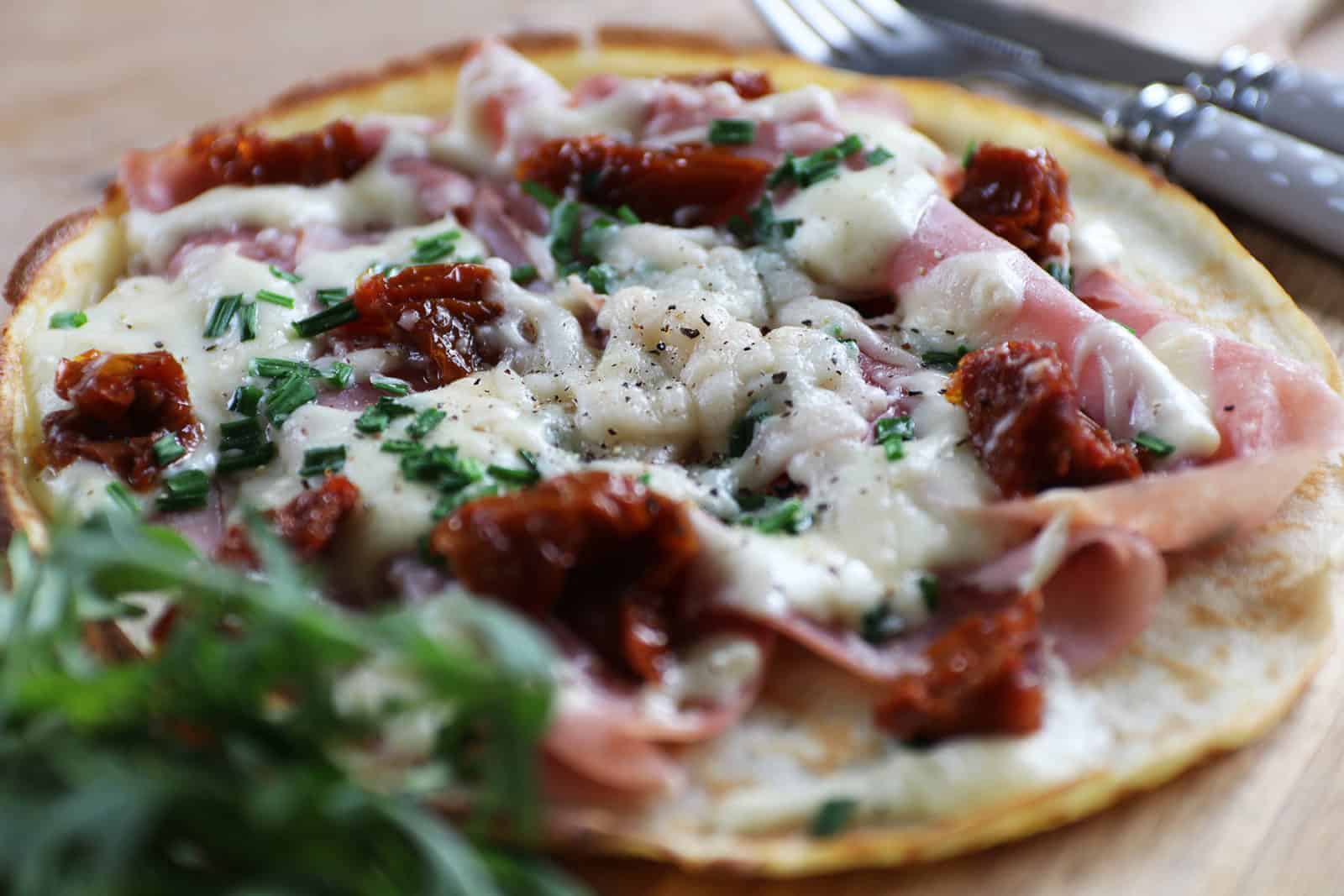 Next up plenty of smoked ham, sun-dried tomatoes and more grated goats cheese… I really am obsessed with goats cheese at the minute, the mature goats cheese I've been having is strong like cheddar but somehow tastes even better (that rhymed, boom!).
I like to put my gluten free goats milk pancake under the grill very briefly at this point so the cheesiness can get even more gooey and golden. Then finish off with some chives – my ultimate herb of 2017 so far… they just taste like onion, without the dodgy stomach onion gives moi!
Honestly, I know when you think of pancakes so often you think of them covered in lemon and sugar or nutella, but seriously this recipe would make the perfect brunch, lunch or dinner, it's an amazing way to eat pancakes and it's also for me it was a great way to try out goats milk.
Gluten free goats milk savoury pancakes with ham & cheese
This gluten free savoury pancakes recipe is the perfect brunch, lunch or light dinner for everyone. The creamy goats cheese sauce alongside all the other toppings in just the best!
Ingredients
For the pancakes...

55g gluten free plain flour

1 medium egg

140ml goats milk

I used whole goats milk but semi skimmed would work fine here too

For the cheese sauce...

25g goats butter

25g gluten free plain flour

225ml goats milk

whole milk is great here to make it super creamy

60g mature goats cheese

grated

salt and pepper

For the topping...

handful of chives

finely chopped

3-4 sun-dried tomatoes

chopped

a few slices of smoked ham

extra grated goats cheese

rocket for dressing
Instructions
Firstly make the pancake mix. Whisk together your egg and goats milk and slowly pour into your gluten free flour.

Whisk the egg, flour and goats milk together into a batter until smooth.

For the goats cheese sauce melt the goats butter in a saucepan and whisk in the gluten free flour for about a minute.

Add your goats milk and whisk continuously whilst bringing it to the boil.

Once boiling, reduce the heat and allow to simmer for about 1 minute, until perfectly smooth and thick.

Remove from the heat, add your grated goats cheese & season. Put aside whilst you make your pancakes!

Heat a frying pan and add a little oil.

Once really hot add enough batter to cover your frying pan with a thin layer of batter. Cook for up to a minute on each side, until lightly golden.

Add some cheese sauce, smoked ham, sun-dried tomatoes and a little extra grated goats cheese and put the frying pan under the grill to finish off.

Keep your pancake warm whilst you make additional pancakes if necessary!

Add some chopped chives and serve each pancake with a little rocket.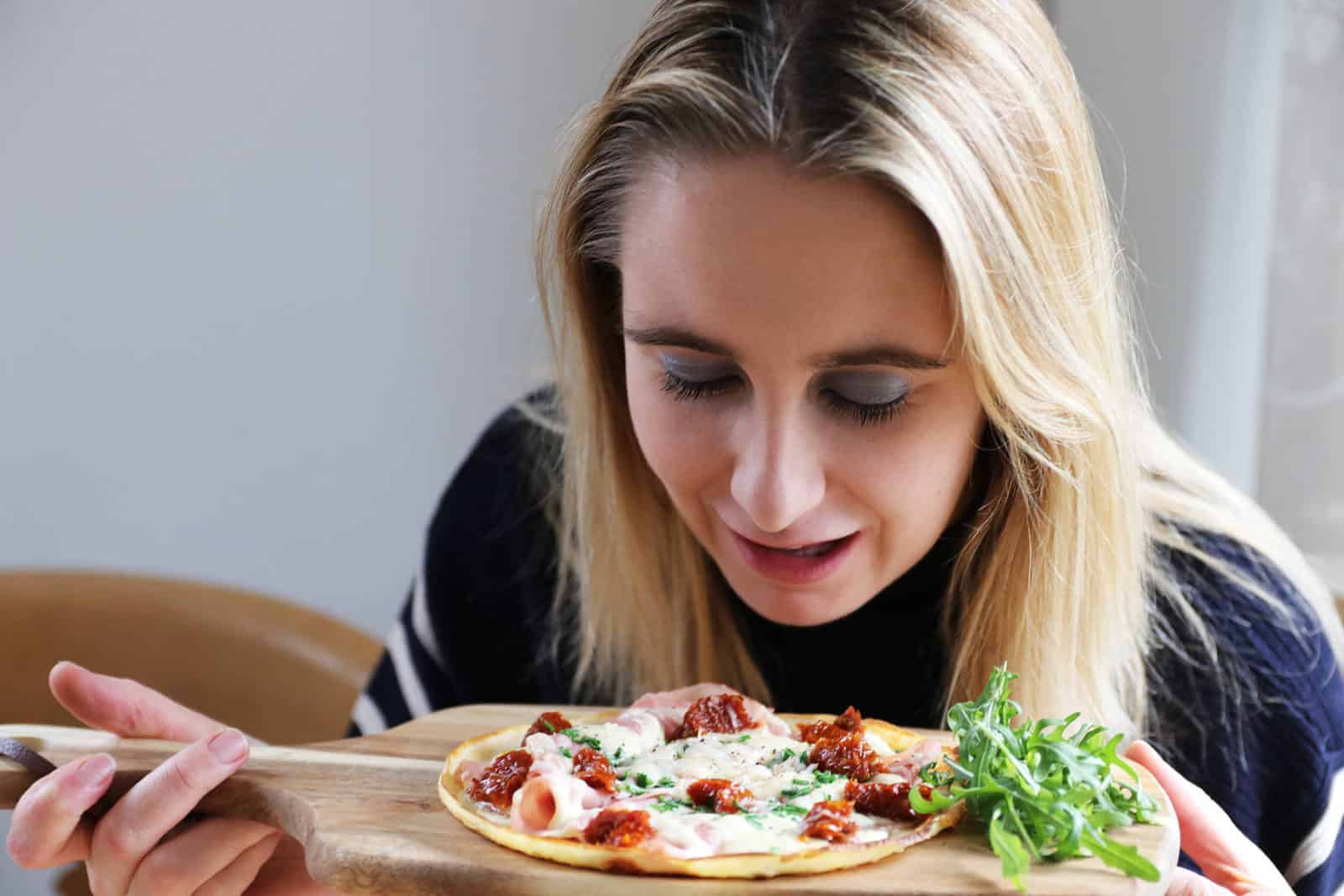 Actually, thinking about it the gluten free goats milk pancakes themselves would work perfectly with sweet toppings too. So if you are looking for a gluten free pancake recipe for sweet toppings, I would recommend using goats milk in the batter too.
I will certainly be enjoying this at some point around Shrove Tuesday this year and you should too! If you do get the chance to give this recipe a try please let me know by leaving a comment below, or on Facebook/Twitter. Pancakes aside, seeing as I'm getting into using goats milk at the moment, has anyone got any recipes they would recommend? I'd love to know.
Thanks for reading,
Becky xxx