My gluten free triple banana pancakes recipe is the perfect way to satisfy your aaaall your banana cravings. Yep, banana is in it twice and it's served up with banana-infused maple syrup! (more about that later) This recipe can easily be made dairy free too.
Now, I've got a bunch of different pancake recipes up on the blog that are super-simple and require very few ingredients. But with my banana pancakes, I reeeeally wanted to go all out and make the best tasting pancakes out of the bunch. So here's my gluten free triple banana pancakes recipe…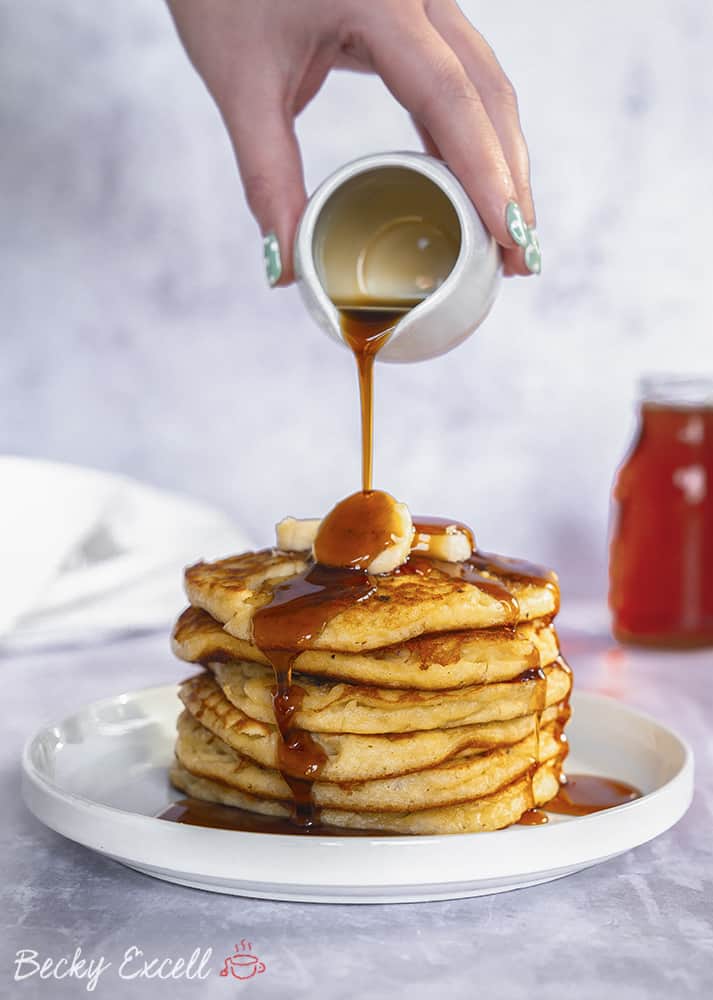 So, why is it called my gluten free triple banana pancakes recipe?
Well firstly, there's mashed banana in the actual pancake batter, giving it a lovely texture and natural banana flavour in every bite.
Secondly, there's slices of banana then plopped into your pancakes after you pour your batter into the frying pan.
(when you then flip your pancakes, they caramelise and go soooo sweet and gooey!)
Thirdly, I then serve them up with banana-infused maple syrup which completes the banana trilogy. Basically, I'm bananas about bananas when it come to pancakes and if you're still reading, then you must be too!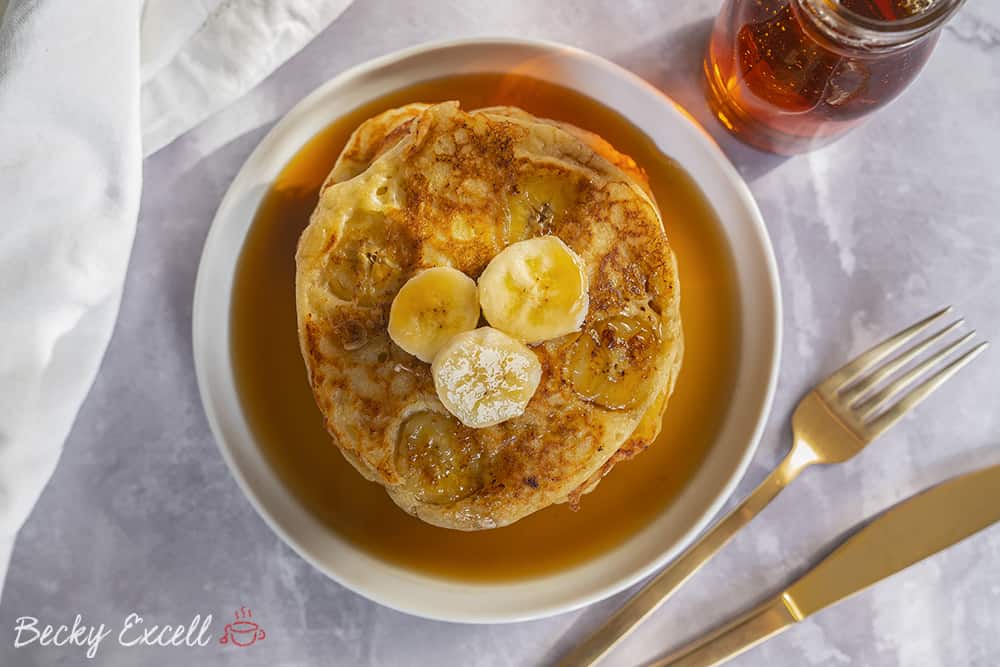 Like I said, I feel like I've really nailed all the essential gluten free pancake recipes with no fuss and no unnecessary ingredients. Don't believe me? Check out this post: 10 gluten free pancake recipes you won't believe you can eat.
I mean, my crepe recipe only needs 3 ingredients, my American pancakes only need 5 ingredients and even my vegan crepes only need 4 ingredients. They're all you need and nothing more, nothing less.
(plus, you can then top them however you like!)
But when it came to my gluten free triple banana pancakes recipe, I wanted to focus on creating flavour that was off the charts, instead of keeping things down to Earth.
And erm… I think I managed that, and then some!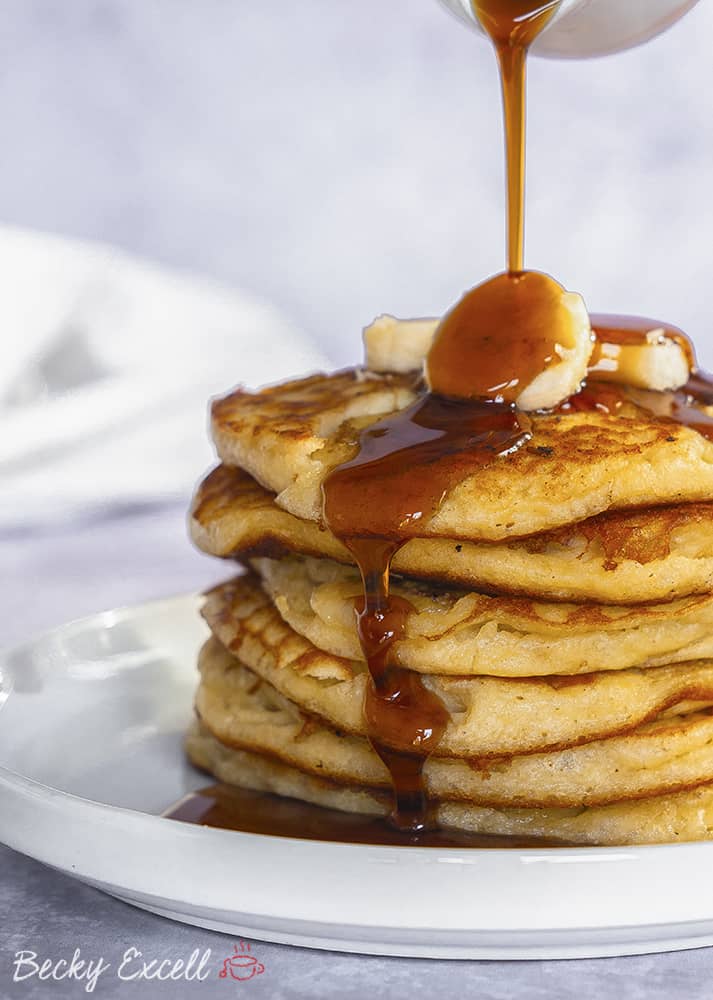 So what's so great about my gluten free triple banana pancakes?
Well, these pancakes are the thickest pancakes I've ever made – on the inside, they're light, fluffy but on the outside they're lovely, golden and crisp. Then you've got super-gooey caramelised pineapple thrown in for good measure and a banoffee like maple syrup.
Honestly, you just have to try this recipe out!
Even though there's a few more ingredients and a few more steps than my other pancake recipes, that defo doesn't mean that my gluten free triple banana pancakes recipe is any more difficult to make at all.
In fact, making the batter is no more time consuming than any of my other pancake recipes… the only extra thing you need to do is chop/mash some banana really!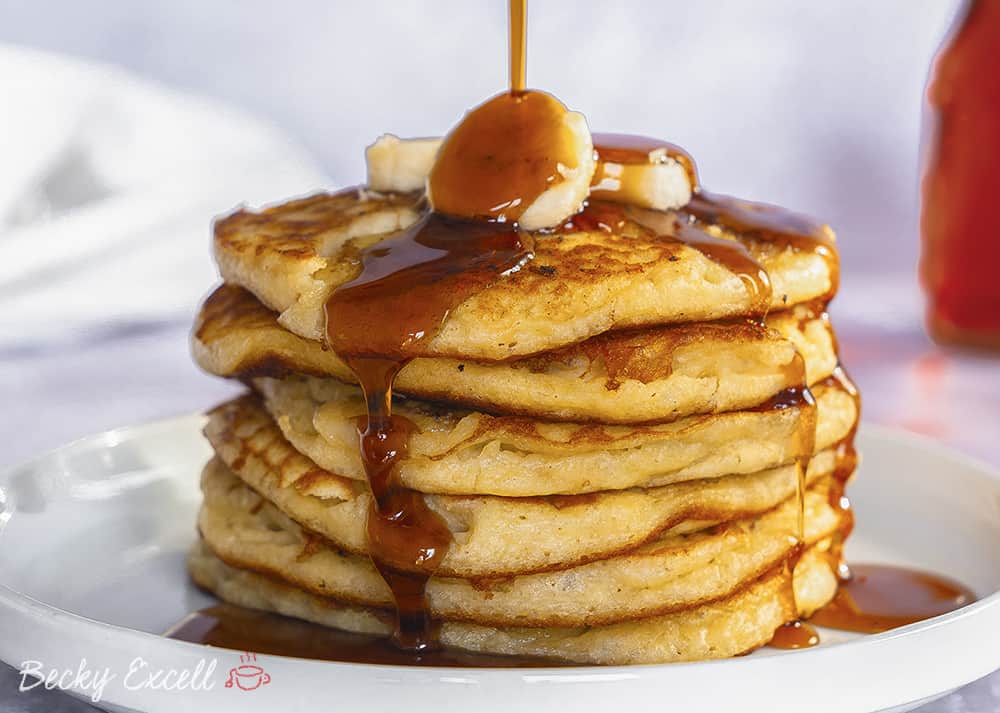 Here's a few tips that I learned whilst making these, since if you're like me, you may not have ever cooked pancakes quite like this…
A low heat is essential first of all. As these are lovely and thick, a high heat will just burn the outside of your pancake before the middle has even had a chance to cook. So keep it nice and low to avoid this happening – you want to hear a veeery gentle sizzle while the batter is cooking, not the lively sizzling you might expect.
Here's a little hack that's really handy for when you're adding your chopped banana to your batter in the frying pan. Place the discs of banana into the pancake sort of how the fifth side of a dice looks. By placing one piece of banana slap-bang in the middle of the batter, it means that the you're basically guaranteeing that the middle won't be raw… because there's a fat piece of banana there instead of batter!
Plus, as you're placing your banana into your pancake batter, take this opportunity to press the discs in a little as this will help the thick batter to spread. It'll make sure it's not so thick and help things to cook quicker without the underside being overdone.
Ok, so here's how to make my gluten free triple banana pancakes recipe…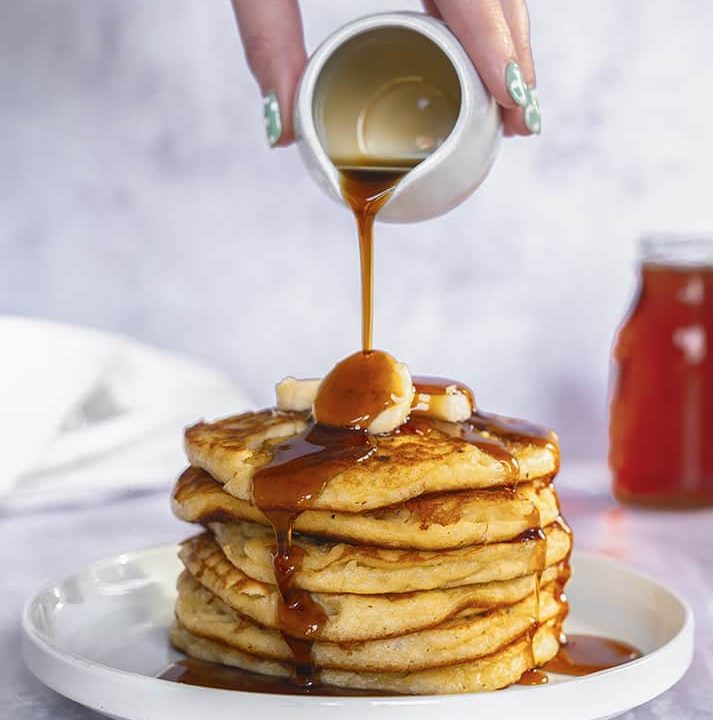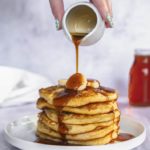 Gluten Free Triple Banana Pancakes Recipe (dairy free)
My gluten free triple banana pancakes recipe is my best pancake recipe yet! There's banana in it TWICE and it's served with banana-infused maple syrup. Oh and it's dairy free!
Ingredients
Dry ingredients
175

g

gluten free self-raising flour

2

tbsp

caster/golden caster sugar

1

tsp

gluten free baking powder
Wet ingredients
230

ml

milk

(dairy free if needed)

4

tbsp

melted butter

(dairy free spread if needed)

3

super ripe bananas

(mash one and chop the other two for later)

2

large

eggs
For your banana-infused maple syrup:
150

ml

maple syrup

1

ripe

banana

(chopped)
Instructions
In a big mixing bowl, add all your dry ingredients and mix around until well combined.

In another mixing bowl, mash up ONE ripe banana until it's a lovely, fairly smooth puree. Add the milk and eggs and beat together with a fork until consistent.

Chop your last two ripe bananas into half cm thick discs.

Add your bowl of wet ingredients to your dry ingredients bowl and then add your melted butter.

Whisk together until well mixed. It may still look a little lumpy, but that's totally fine! It should be nice and thick.

In a saucepan, add 1 tbsp of oil and use either a brush or kitchen roll to spread it around. Turn this on at a low heat and wait until nice and hot.

Scoop the batter into the saucepan (I used a 1/4 cup measuring cup). Immediately drop your slices of banana into the pancake batter - I managed about 5 slices per pancake.

Allow to cook for around 2 minutes at a low heat until the underside is golden and the top side is looking less wet.

Flip and cook for a further 1 and a half minutes. Repeat until you've used up all your batter.

For your banana-infused maple syrup, simple simmer the maple syrup at a low heat with one chopped banana mixed in for 5-10 minutes.

Serve up with your maple syrup once slightly cooled and enjoy!
Thanks for reading all about my gluten free banana pancakes recipe! If you make them, I'd love to see how they turned out so don't forget to take a snap of your creations and tag me on Instagram!
Plus, I'm giving away a £50 supermarket voucher every month to my fave pic, so get baking!
Any questions about the recipe? Please do let me know by following me on Instagram and leaving me a comment!
Thanks for reading,
Becky xxx
Oh and don't forget to pin this for later!