My gluten free blueberry pancakes recipe is finally here and it's dairy free and low FODMAP too. They're so light and fluffy, filled with bursting blueberries and you'll only need 5 simple ingredients.
I have no idea how I'm only just getting around to posting my gluten free blueberry pancakes recipe – Ive been meaning to for years! I've posted nearly every pancake recipe under the sun apart from these lovely, fluffy American-style pancakes packed with blueberries inside them. That changes now!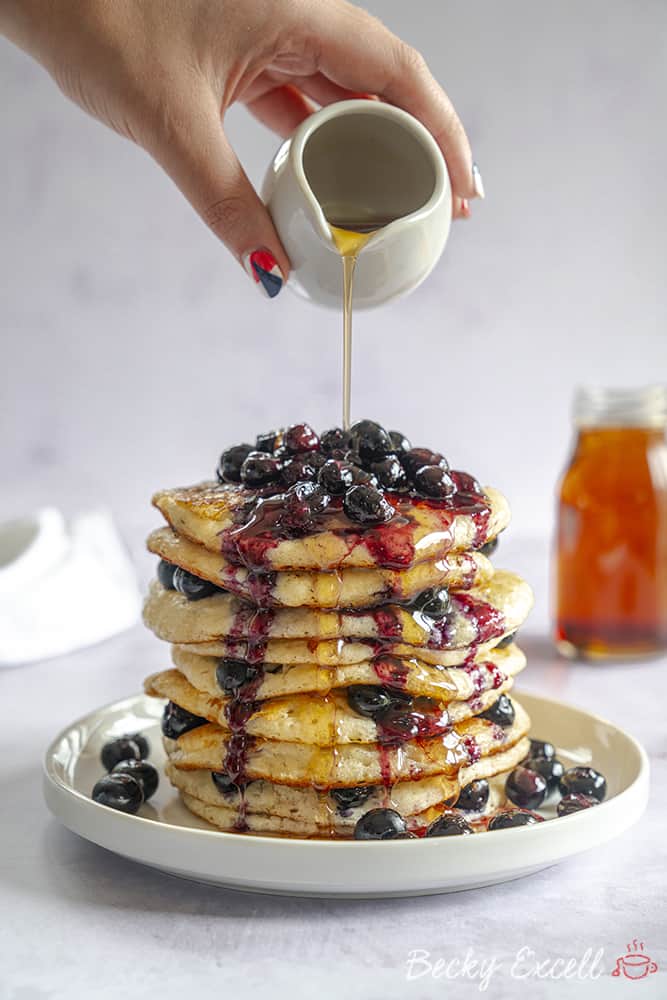 But yeah – you heard right. There's all the awesomeness of fluffy blueberry pancakes with only 5 ingredients.
Bear in mind that there's absolutely zero added sugar in these pancakes as the sweetness of the blueberries and a generous helping of maple syrup is more than enough for me.
Oh and if you're looking for a more gluten free pancakes recipes, then check out this post: 10 gluten free pancakes recipes you won't believe you can eat.
Are there any other types of pancakes that I've missed? Let me know by leaving a comment at the bottom of this post!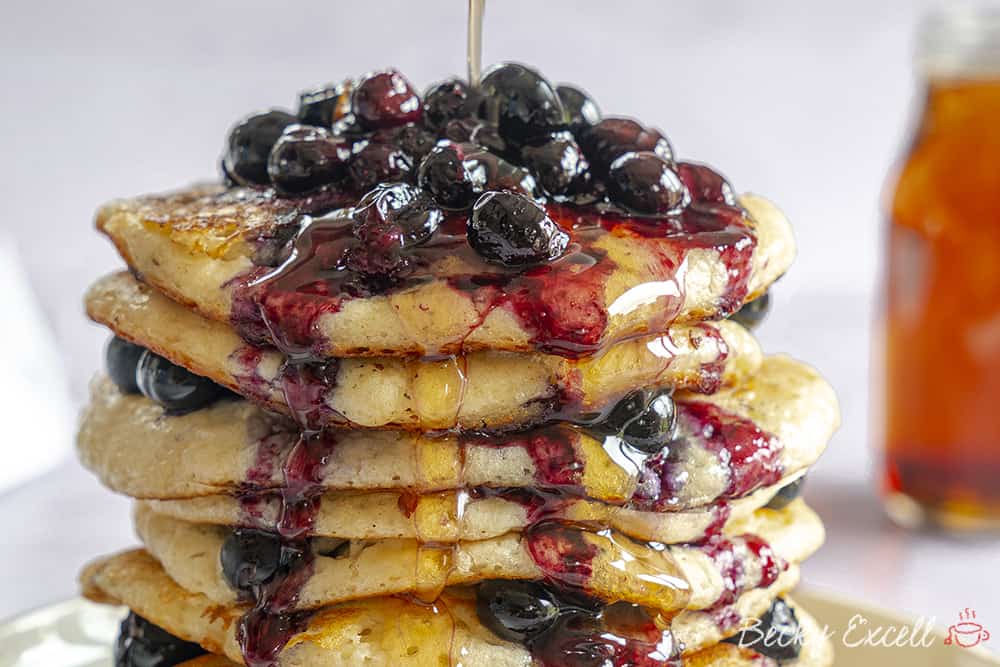 Ok, so let's get to know my gluten free blueberry pancakes!
I've tried to keep it to as few ingredients as possible because at the end of the day, if they don't need to be there… what's the point?!
(Yeah ok, you can add yoghurt to your batter – butter, salt, vanilla extract – if it makes you happy. But it just doesn't need it!)
I want as few ingredients as possible with no compromise on the end result. And this is what that looks like!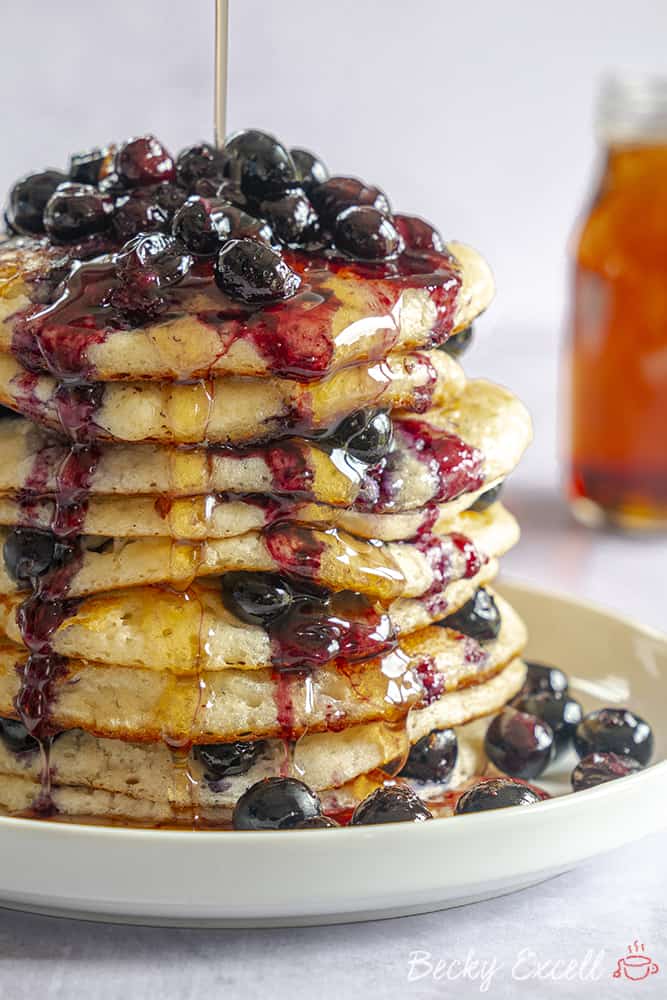 The best thing about my gluten free blueberry pancakes is that they rise up to be soooo light and fluffy so even your biggest blueberries will fit right in.
In the past, I've tried recipes where the pancakes don't rise up enough, leaving your blueberries protruding out, which means the bottom of the pancakes don't even touch the pan when you flip it.
Awkward1
But with my recipe, they sort of just vanish into your pancakes. So when you cut into them, there's a nice gooey, explosive surprise in nearly every bite. Plus, when you flip them, they cook nice and evenly on both sides.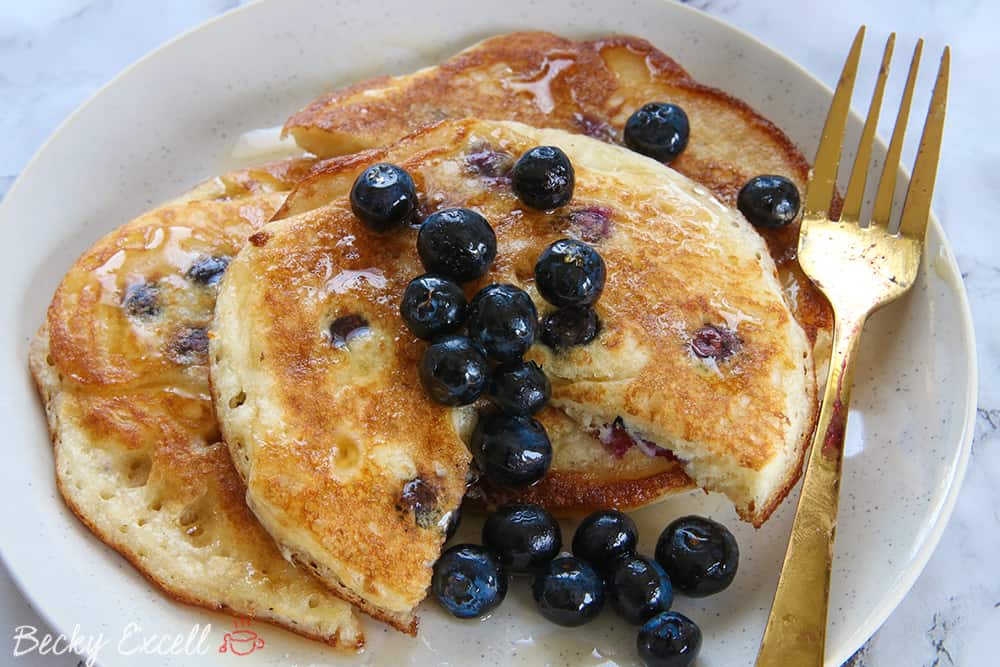 As there's no added sugar in the actual pancakes, I'd definitely recommend a healthy dose of maple syrup to serve as a finishing touch of sweetness.
If maple syrup isn't your bag, then how about some freshly squeezed lemon juice? If you're feeling a little adventurous and want to keep the sugar to a minimum, I absolutely adore peanut butter with these too.
It really is up to you what you do with them, but however you eat them… I hope you enjoy! Oh and if you like the oozing blueberries I put on top of my stack, all they are is a handful of blueberries that I softened up in a dry frying pan on a low heat.
Once they turn a deep dark colour, they're ready! Ok, so here's my gluten free blueberry pancake recipe… ??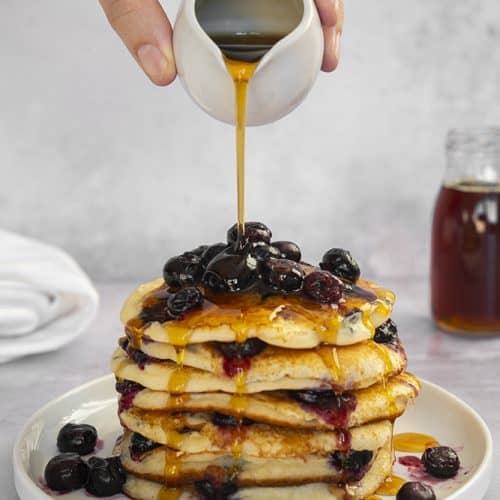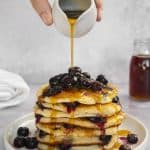 Gluten Free Blueberry Pancakes Recipe (dairy free, low FODMAP)
My gluten free blueberry pancakes recipe is so easy to make and it only needs 5 ingredients! They're so light and fluffy and dairy free and low FODMAP too!
Ingredients
200

g

gluten free self-raising flour

1

tsp

gluten free baking powder

1

egg

300

ml

milk

use dairy free/lactose free as required

200

g

blueberries

*see notes for FODMAP guidance
Instructions
In a mixing bowl, combine the gluten free self-raising flour and the baking powder and set aside.

In a jug, mix up the milk and egg until well combined.

Create a well in the flour bowl and pour the egg and milk mixture in.

Whisk thoroughly. The consistency should be smooth, like thick cream.

Heat 1 or 2 tbsp of oil in a frying pan at a low heat. If the heat is too hot, the outsides will brown too fast and the inside will still be like raw batter!

Pour in a small ladle of the pancake mixture.

Immediately place 5 blueberries into your mixture and gently press them in.

When the underside is golden brown, flip your pancake over. It should take around 1 minute for each side.

Repeat until all the mixture is gone.

Serve up with maple syrup and enjoy!
Notes
* A safe serving size of blueberries is 28g per person, or around 20 blueberries. That means you can eat up to 4 pancakes during the restriction phase of the low FODMAP diet.
Thanks for reading all about my gluten free blueberry pancakes recipe! If you make them, I'd love to see how they turned out so don't forget to take a snap of your creations and tag me on Instagram!
Any questions about the recipe? Please do let me know by following me on Instagram and leaving me a comment!
Thanks for reading,
Becky xxx
Oh and don't forget to pin this for later!