Yep, Veganuary is here! So how convenient that my gluten free and vegan buckwheat pancakes recipe is too… it's almost as if it was planned (it was). Obviously they're 100% dairy free too, but they're also low FODMAP FYI.
Mark and I are totally in love with buckwheat pancakes, as they're so often the gluten free and vegan offering in most créperies in London. Veganuary is the perfect excuse to finally make my own gluten free and vegan buckwheat pancakes. So I did!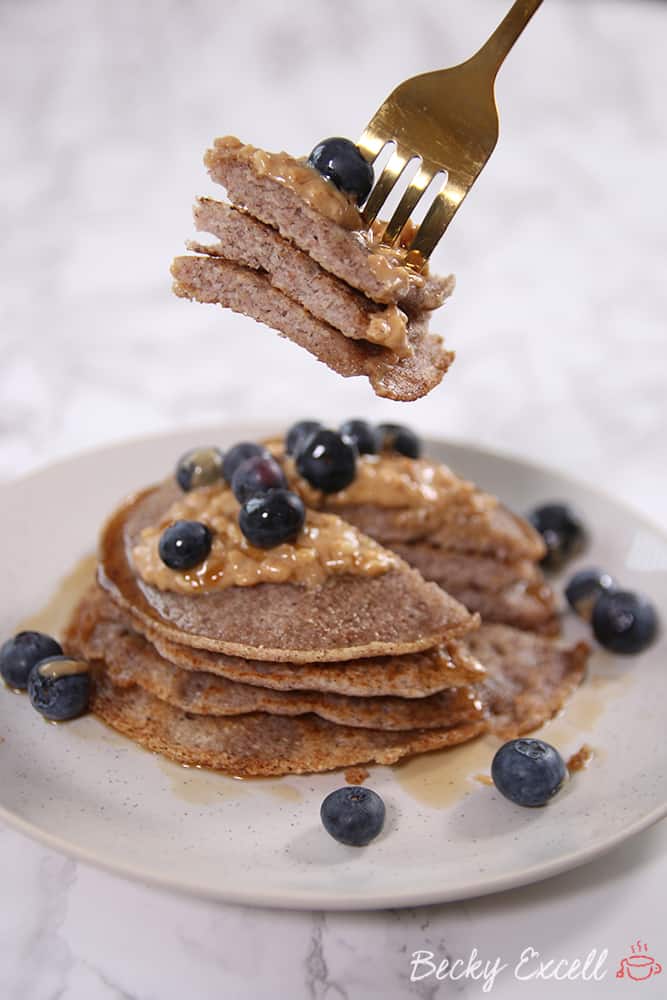 As much as I love crépes, there's something so awesome about light, fluffy pancakes in a massive stack. Then, add a little peanut butter on top with a low FODMAP serving size of blueberries?
I think my eyes just changed into hearts, therefore I am now a human emoji.
BUT! You might be wondering why I made my gluten free and vegan buckwheat pancakes with buckwheat flour. Good question!
Oh and if you're looking for a different type of gluten free pancake recipe, then check out this post: 10 gluten free pancake recipes you won't believe you can eat. Just click here.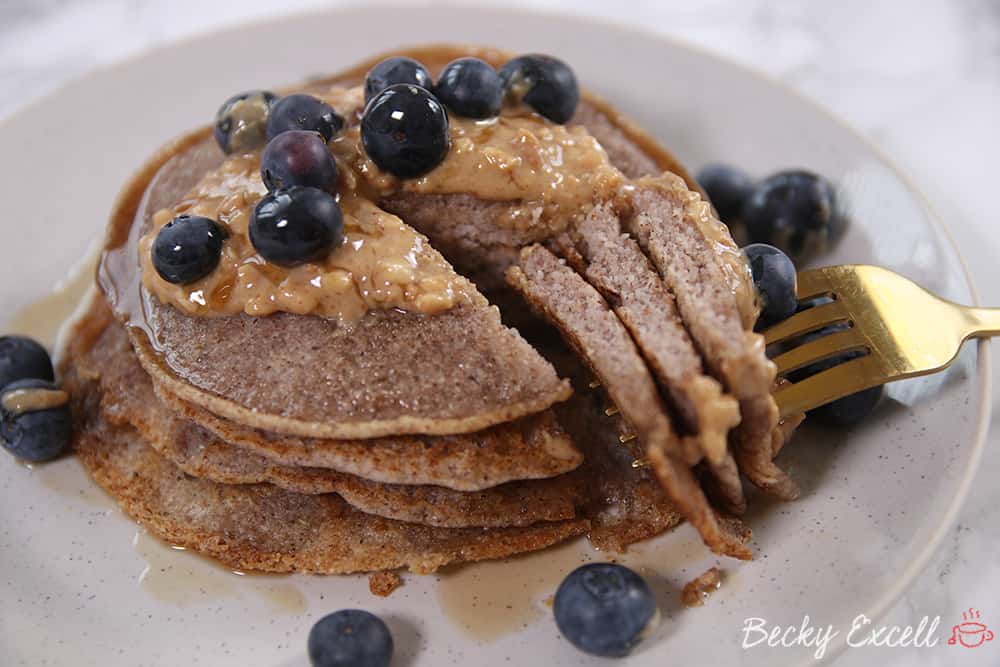 I know, I know. Buckwheat pancakes are traditionally used as the savory equivalent of regular pancakes. So you'd traditionally have sweet fillings with a crépe and something like goat's cheese and ham in a buckwheat crépe.
I guess it's because buckwheat has more of a wholegrain taste? But trust me, it works great with sweet or savory toppings and it's a welcome change from regular pancakes.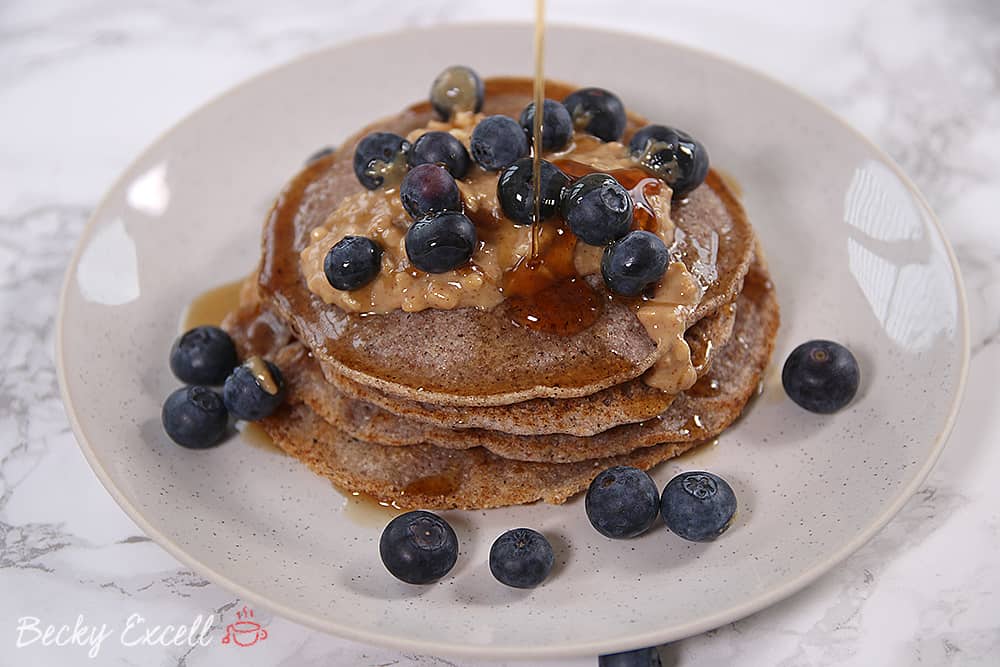 Just make sure that you use gluten free buckwheat flour (mine is by a brand called Clearspring) as not all buckwheat flour is gluten free thanks to cross-contamination.
So what's so special about my gluten free and vegan buckwheat pancakes?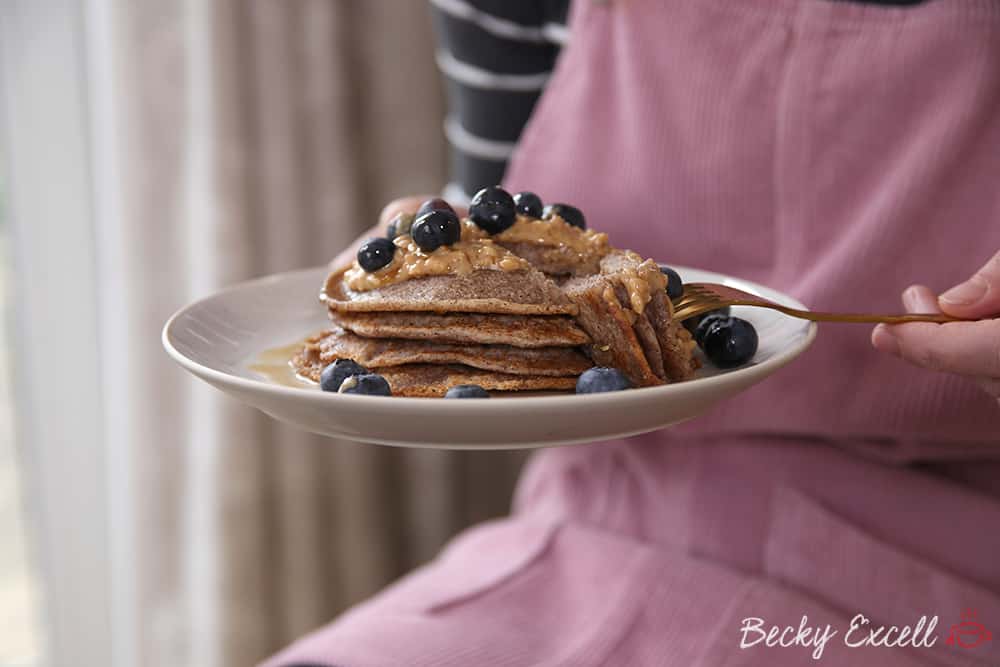 Well, of course, to be vegan, you've got to drop one of the most common ingredients for pancakes: eggs.
I've struggled making pancakes without eggs for years. You can use stuff like mashed banana (I always end up with lumpy pancakes) or egg replacer (which is never stocked in my supermarkets) so I just sort of gave up.
Now, I don't know what all the fuss was about! This recipe just doesn't need eggs and it now makes me wonder whether or not you need them at all in any pancakes, ever.
It's such a simple recipe that can be made in a hurry, or on a relaxed weekend brunch date at home. Get stuck in!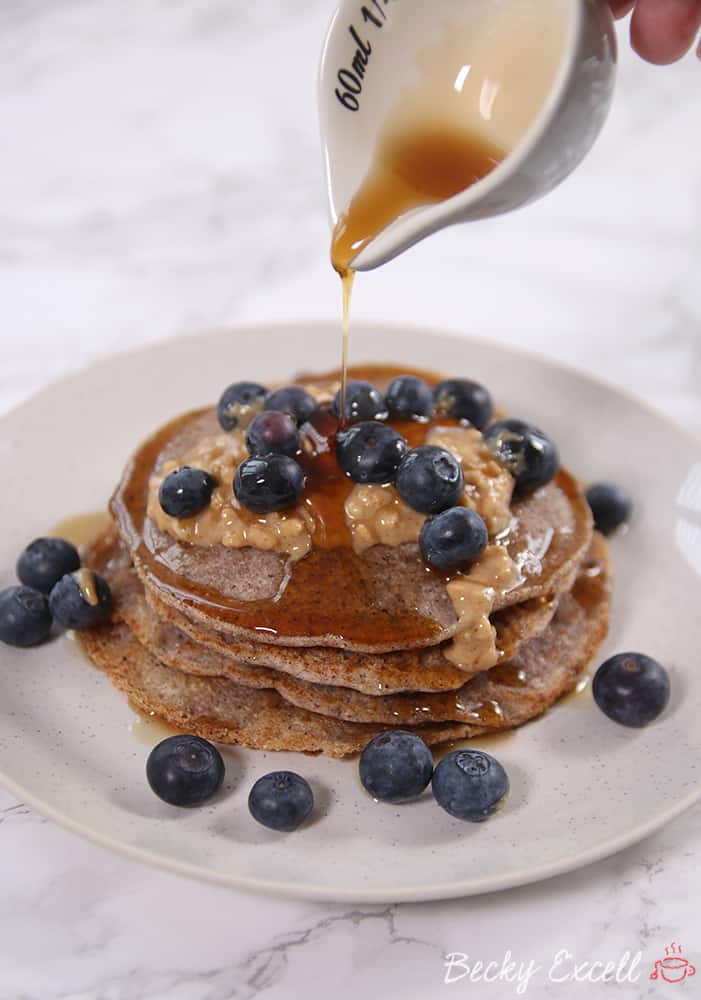 So here's how to make my gluten free and vegan buckwheat pancakes! This makes about 4-5 pancakes, so maybe double it for 2-3 people.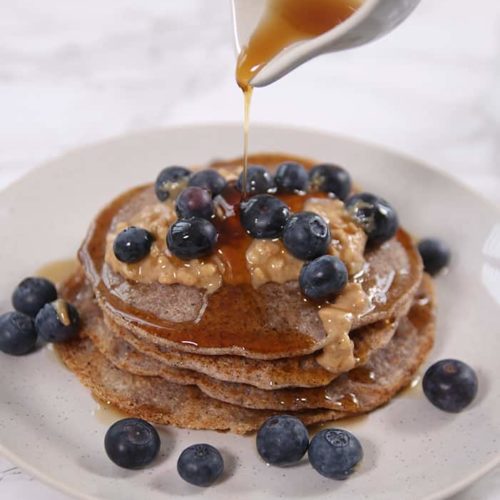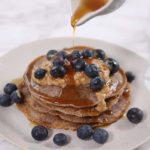 Buckwheat Pancakes (gluten free, vegan and low FODMAP)
Light and fluffy buckwheat pancakes that are gluten free, vegan, dairy free and low FODMAP. Simple and quick!
Ingredients
Pancakes
85g buckwheat flour

160ml unsweetened almond milk

you can use water or another type of milk if you prefer

1 tbsp coconut oil

I ensured mine was liquid rather than solid

1 tbsp maple syrup

1 tsp baking powder

1 tsp vanilla extract
Toppings
1 tbsp peanut butter

blueberries

for low FODMAP around 20 berries is perfect

maple syrup

OR whatever toppings you fancy!
Instructions
Mix all your pancake ingredients together in a bowl. The mixture shouldn't be thick but it shouldn't be thin. More the consistency of thick cream I guess. Easily pourable!

Heat a little oil in a frying pan and add about half a ladle of the mixture to the centre of your pan.

Allow to cook for a couple of minutes, you might start to see a few tiny bubbles on top of your pancake; at that point you should flip it.

Cook on the other side for slightly less time and then put on a plate whilst you repeat with the rest of the mixture. By the end you should have a healthy stack for breakfast or brunch!

Top your pancakes with whatever you like. I have mine with a dollop of peanut butter, fresh blueberries and maple syrup... it's the best combo.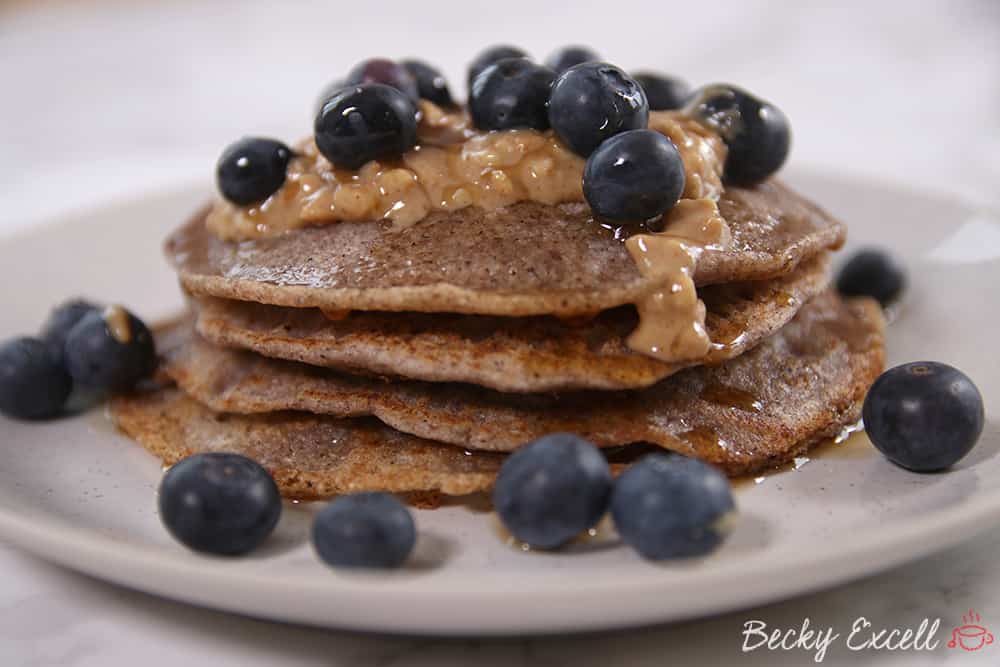 Thanks so much for checking out my gluten free and vegan buckwheat pancakes recipe!
If you want to make actual crépes, be sure to check out this recipe here, but apologies as these ones contain eggs! Want an egg free version? Let me know in the comments below!
Any questions about the recipe? How did yours turn out? I'd love to see a photo of your buckwheat beauties! Please do let me know by leaving a comment below or on Facebook / Twitter / Instagram!
Thanks for reading,
Becky xxx
Oh and don't forget to pin this for later!