Gluten-free Christmas desserts recipes, anyone? Don't settle for less, or better yet, don't tell your muggle family and friends that any of these are gluten-free. They'd never know the difference!
Gluten-free Christmas dessert recipes are here! All Coeliac-friendly and wheat-free with lots of dairy-free options too. Whether it's sticky toffee pudding, no-bake cheesecake, tarts or pudding, I've got you covered on Christmas day!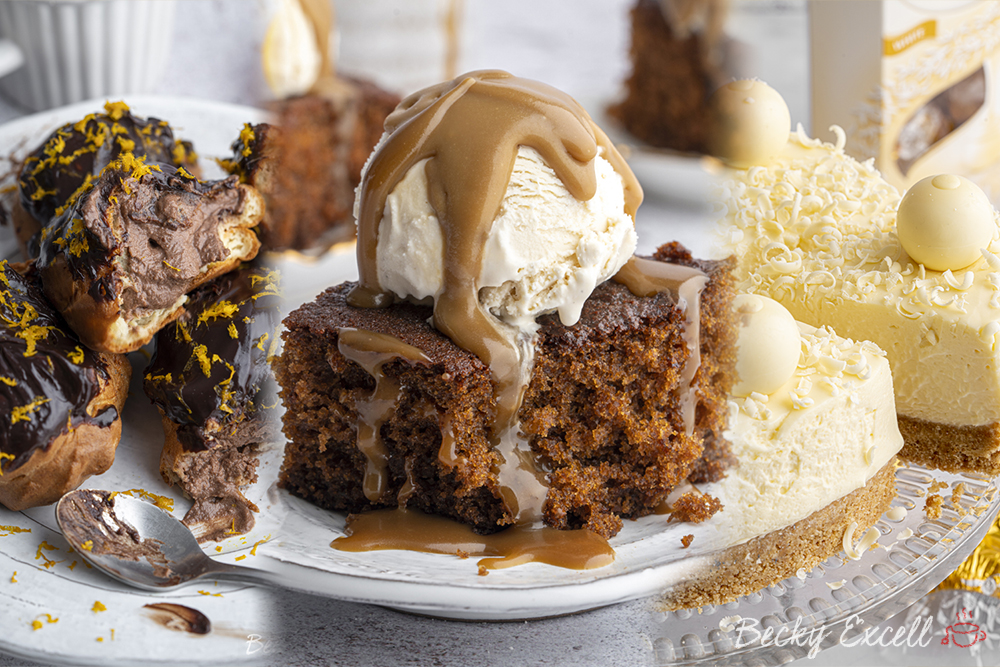 Let's kick off my top 20 gluten-free Christmas dessert recipes with an absolute classic that's been made hundreds of times by you guys.
Best of all, it's super easy to make – instead of making individual puddings, you just make one big traybake, then cut and serve. So it's perfect if you have a few guests over too.
You just can't beat that super soft and fluffy sponge with lots of sticky toffee sauce. Well, here's 19 more recipes that will certainly try!
You just can't fault Baileys at Christmas, can you? First of all, yes, Baileys is gluten-free!
So why not celebrate that fact by making this beauty? It has a chocolatey, buttery biscuit base, topped with a creamy Baileys filling and Baileys truffles.
All you need to do is mix it up and chill it!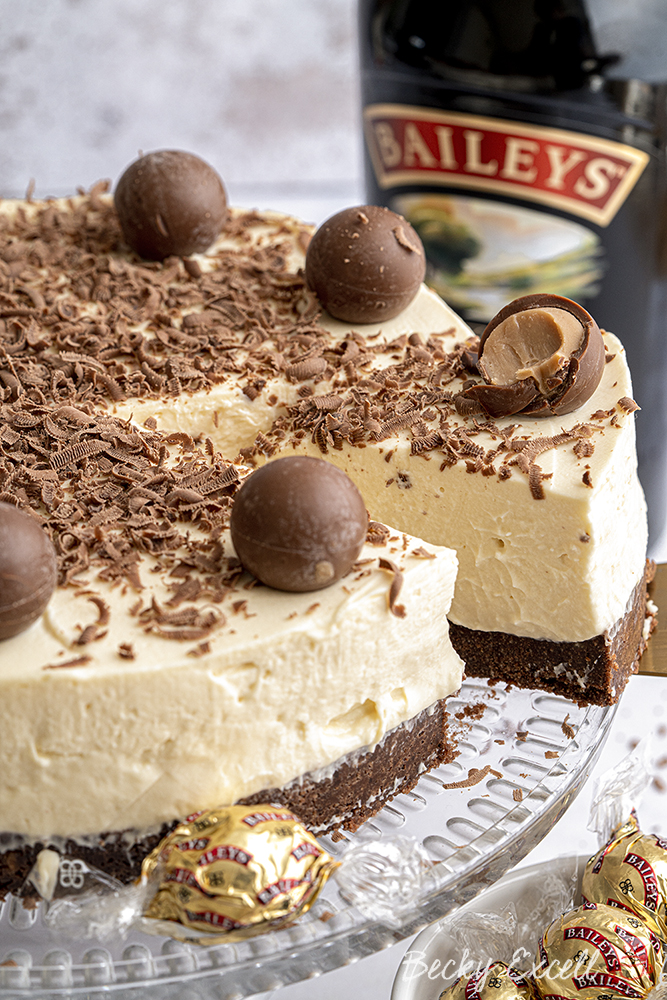 You'd be very surprised to learn just how incredibly easy it is to make your own gluten-free choux pastry.
Best of all – it tastes 100% IDENTICAL to gluten-filled choux pastry in both taste and texture.
Simply pipe the filling into them, or even easier, cut them in half and spoon in the filling. You can also use this recipe to make eclairs – just pipe/spoon the dough into lines instead.
Easy!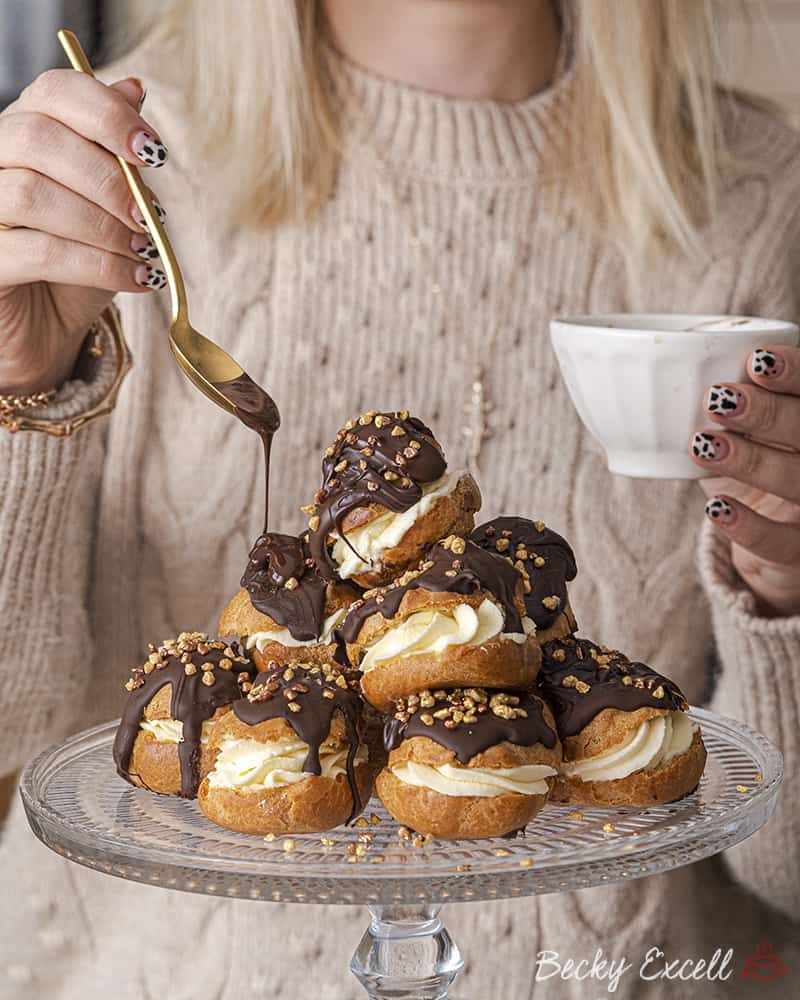 This is an absolute winner and is definitely my personal fave out of all my gluten-free Christmas dessert recipes!
I topped this showstopper with Lindt white chocolate truffles and whilst not ALL Lindt truffles are gluten-free… the white chocolate ones definitely are.
It really is the truffle on the cheesecake – hm, icing on the cake sounds better, doesn't it?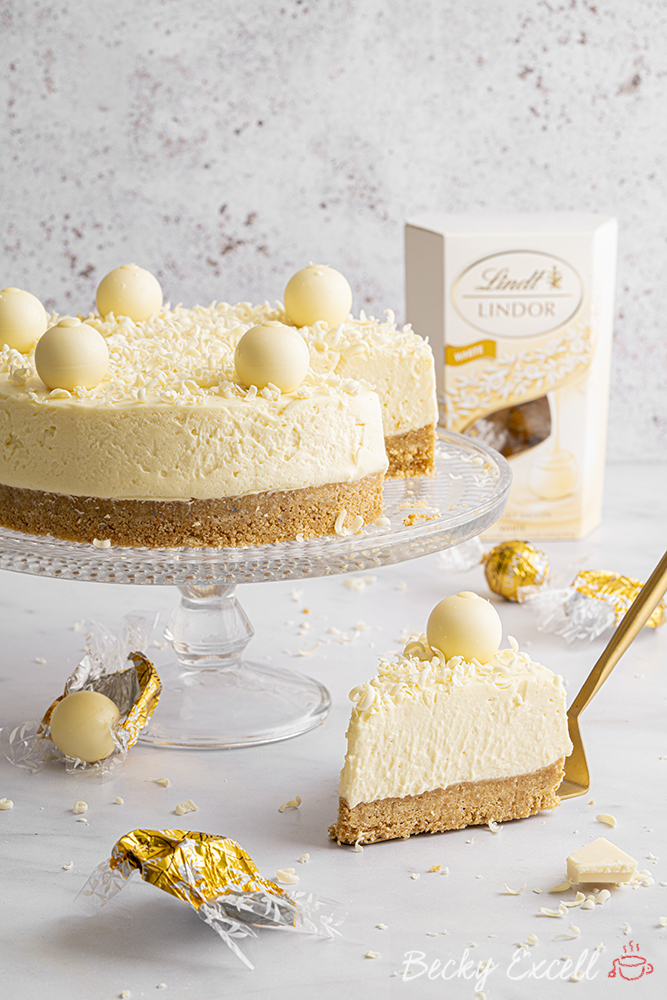 And yes – chocolate orange Toblerone is gluten-free too!
So when I found out, naturally, I HAD to make this. There's no pastry-making required – the 'pastry case' is actually a buttery biscuit base. Easy to make and tastes amazing!
You'll have to keep the muggles away from this one for certain!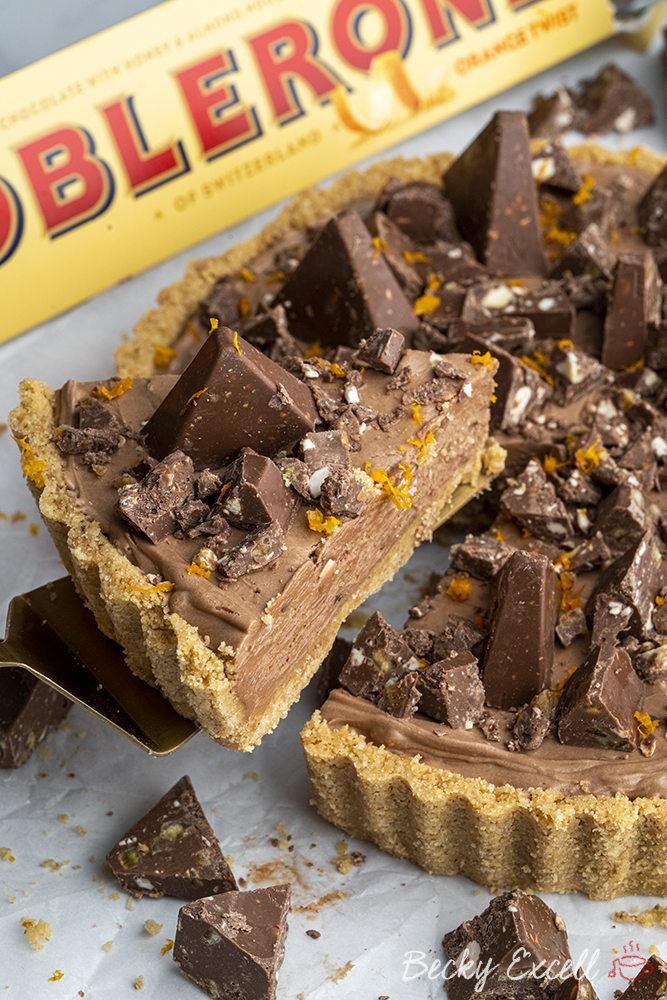 Sometimes, you just need to impress everyone with a cute little pud with an oozing, chocolatey melting middle.
And this is exactly the recipe to do it! Since Terry's chocolate orange isn't gluten-free (no thanks to a pesky 'may contain gluten' warning) this is the best way to get that festive flavour.
Fortunately, Cadbury's chocolate orange buttons are gluten-free – I made the most of that as you can see!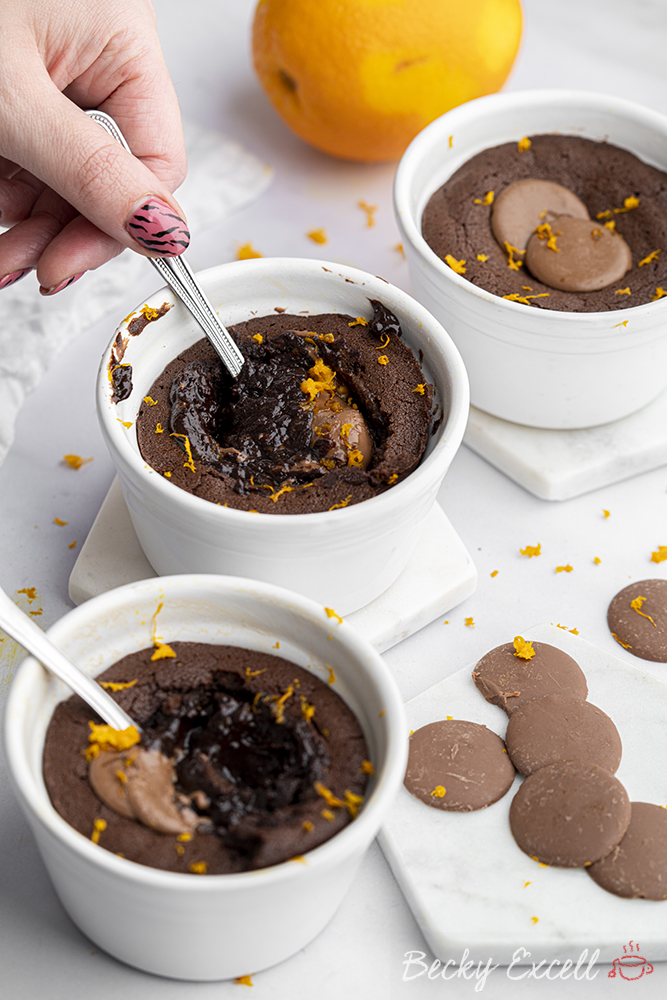 And if you want to mix up your profiteroles a bit, why not make this crowd-pleaser? Again, it's incredibly easy to make your own gluten-free choux pastry.
They're filled with a chocolate orange filling and topped with a chocolate orange ganache – if you only make one of gluten-free Christmas dessert recipes, make this one!
Can you tell that I really like chocolate orange yet?
This chocolatey wonder is based on the same concept as my gluten-free sticky toffee pudding you saw earlier.
It's one big, SUPER soft and moist chocolate pudding traybake, which can easily serve a crowd. Plus, it's WAY easier to make when compared to making them in individual pudding moulds.
All that's left to do is pour on that decadent hot chocolate sauce and enjoy. After the year we've had, I think you've earned it!
Yes, there's a lot of Baileys in this post, so be prepared!
This is yet another no-bake tart winner – a chocolatey, buttery biscuit base filled with a creamy, indulgent chocolate-Baileys filling.
Then it's finished with drizzled white chocolate and my secret weapon… Baileys truffles. Yes – they're gluten-free too, see the FAQ section in the full recipe post for a link to them.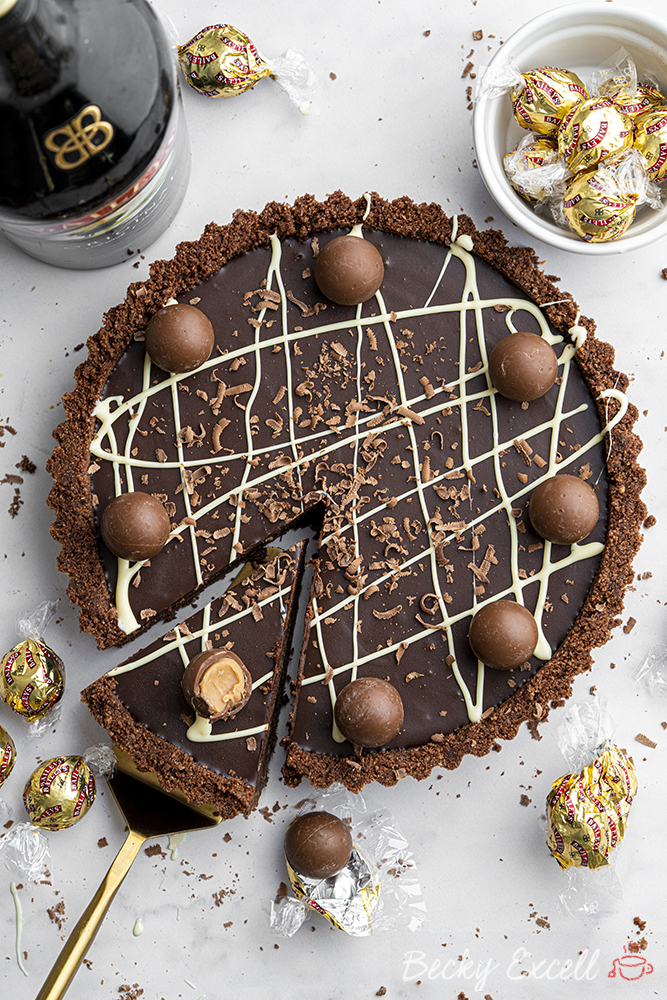 This one is a reader favourite all year round, so why not at Christmas too?
You just CANNOT beat the flavour combo of white chocolate and raspberry, so why even bother trying?
This is another no-bake cheesecake that's super easy to make. So what are you waiting for?
I really wanted to make every sentence end with a question mark for some reason, but I've just realised I've ruined it with this sentence. Oh well.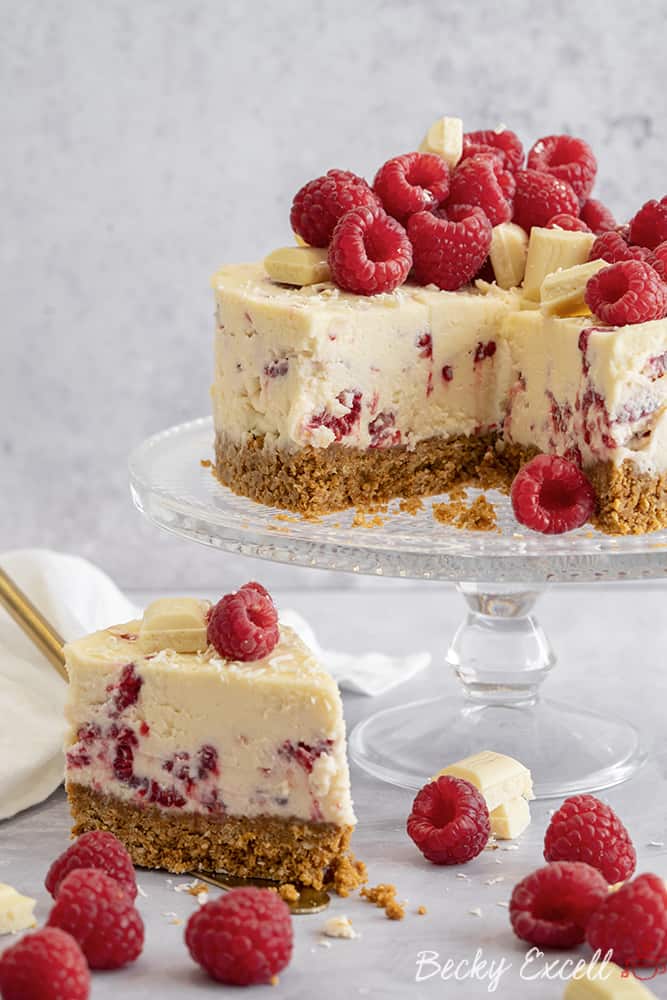 And why should you have to miss out on an EPIC dessert this Christmas if you're dairy-free AND gluten-free?
Answer: you definitely shouldn't have to! Nobody would EVER know this is df and gf – and whilst Oreos aren't gluten-free, you can easily find gluten-free (supermarket own-brand) 'Oreos' down the free from aisle.
If you can tolerate dairy, there's also instructions in the FAQ section on the recipe post on how to make it using dairy products too.
This isn't the only dairy-free no-bake cheesecake in my top 20 gluten-free Christmas dessert recipes list, so keep scrolling for the other one…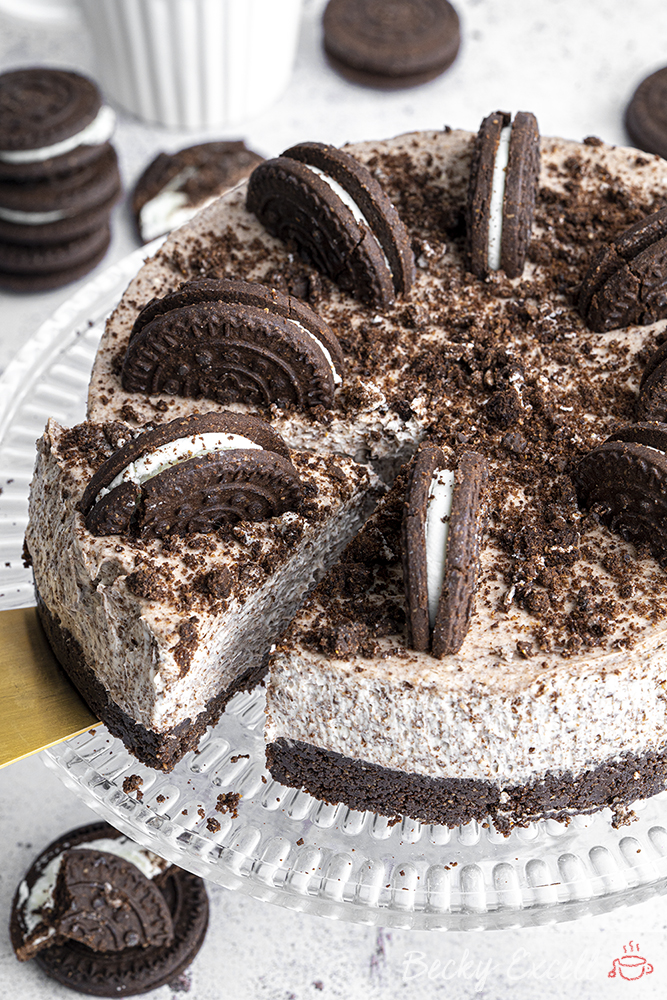 Yes, that's right. Snickers are gluten-free!
So this is my tribute to discovering that fact. It's a buttery biscuit base case, with a layer of peanut caramel, topped with chocolate and finished with chopped Snickers.
If that sentence didn't convince you then nothing will, so I'm moving on to the next one!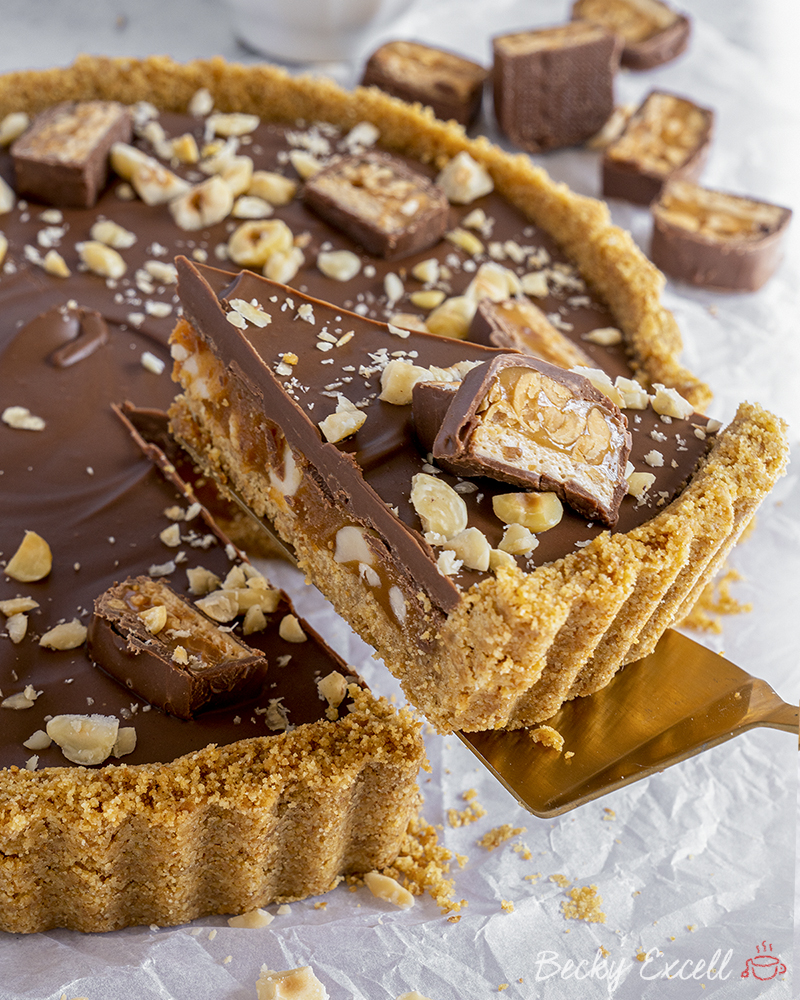 It isn't really Christmas without trifle is it? But since we can't just buy one like 90% of muggles will, I really wanted to make one that was almost as easy as buying one from the supermarket.
So here it is! The bottom layer is jelly, gluten-free Madeleines (from the free from aisle) and fresh berries. Then, it's topped with ready-made custard and freshly sliced strawberries.
Lastly, finish with whipped double cream and more strawberries. Yes – that's it!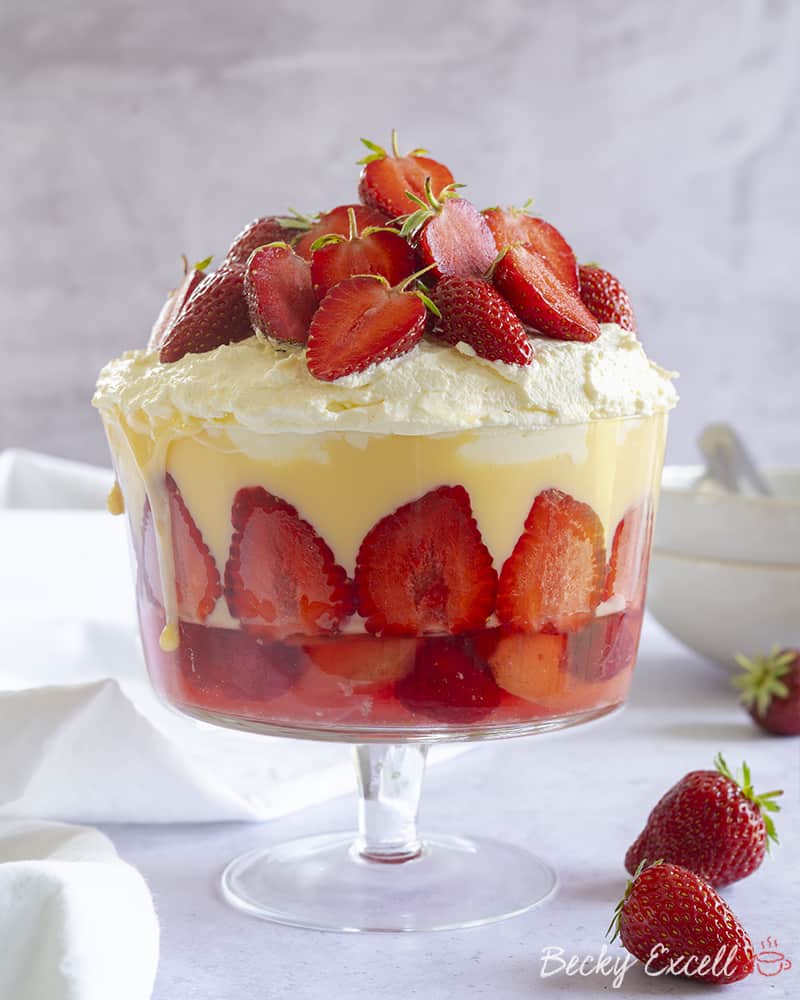 Kinder Buenos are definitely NOT gluten-free, but guess what? Schar Meltos are a 99% replica of those gluten-filled Buenos.
So pick up a few bars and you're ready to make this beauty! This is a must-try for anyone who really misses Kinder Bueno, like I did.
I'm gonna throw a few more no-bake cheesecakes at you now (not literally, that would be a messy waste) so let's do it…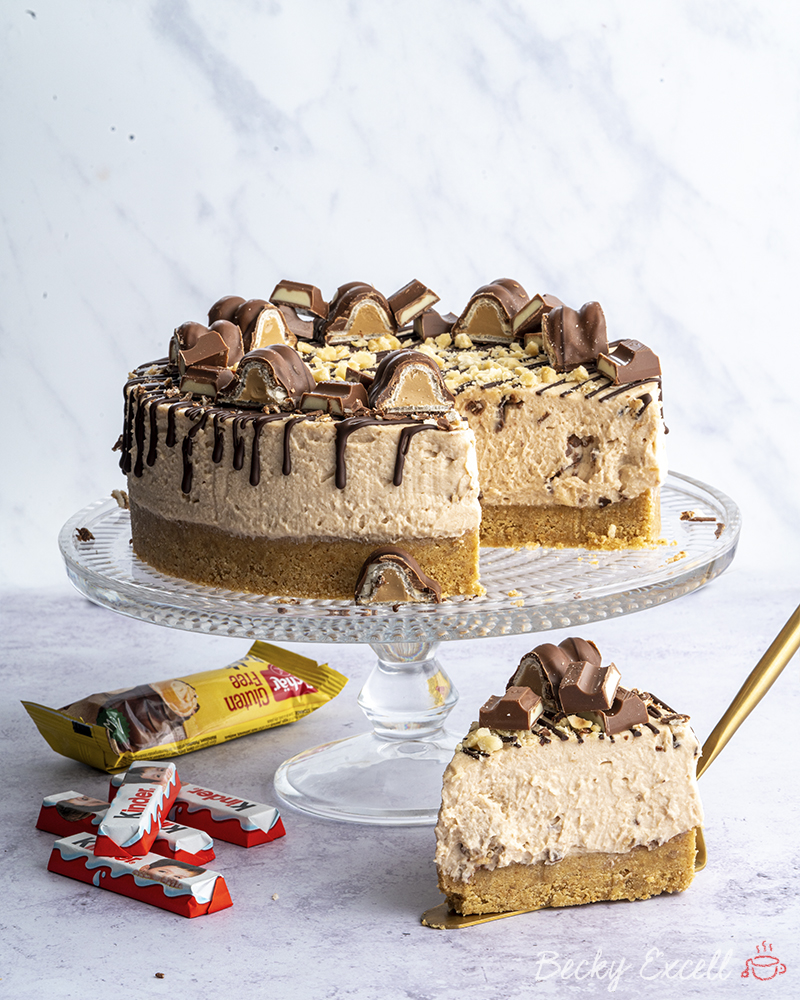 YES – Crunchie bars are actually gluten-free! In case you didn't know, quite a few chocolate bars have a 'may contain' warning for wheat or gluten.
So it's quite a rare sight when one doesn't. This is the ultimate bend of chocolate, vanilla cheesecake filling and that unmistakable honeycomb flavour.
Best of all, there's no gluten-free flour required and you don't even need to turn the oven on!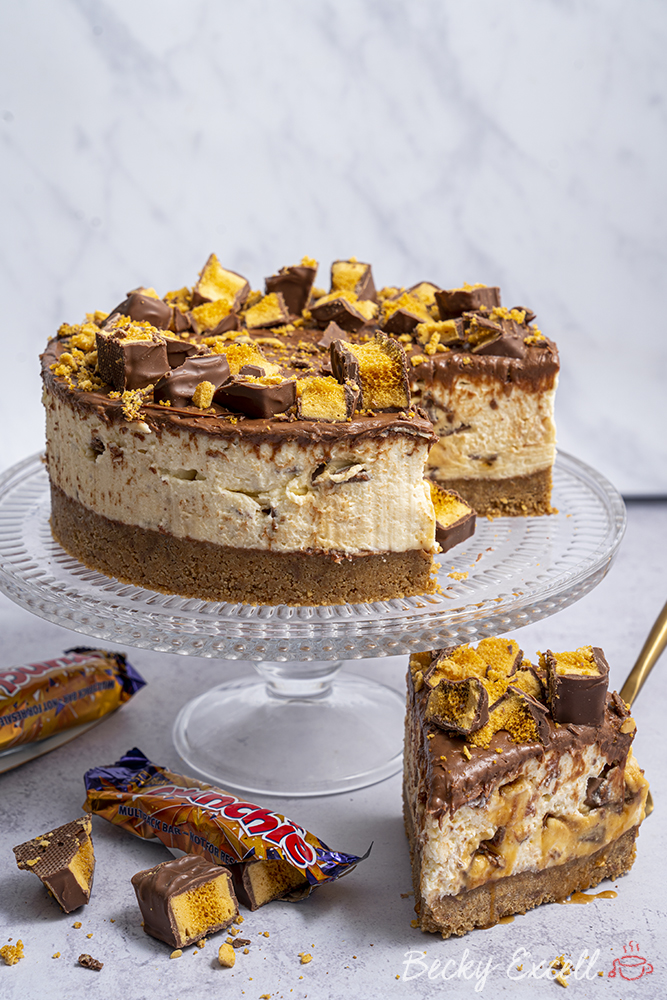 And yup, Toblerone is gluten-free too – the milk chocolate AND white chocolate version.
So obviously, I had to use both!! Toblerone is my fave Christmas treat so I combined it with my other fave Christmas treat… an epic no-bake cheesecake.
Trust me, there is nobody who would look at this and turn it down!
Time to roll on even more gluten-free Christmas dessert recipes…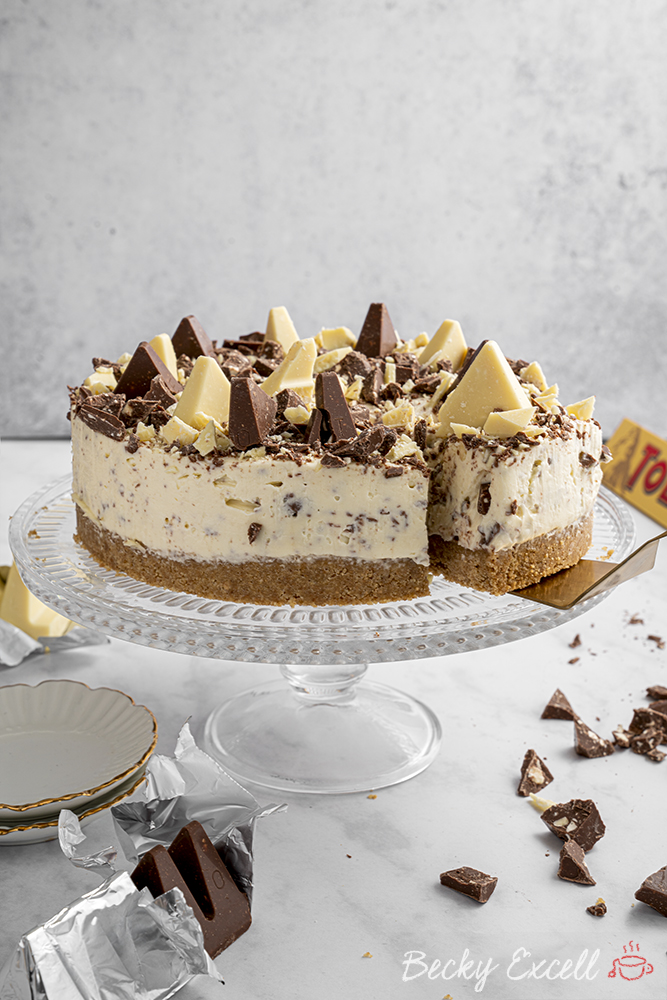 Believe it or not, it's incredibly easy to make a gluten-free AND dairy-free cheesecake that tastes like one which uses dairy products.
You just need to know which dairy-free alternatives to use. Fortunately, I've listed them all in the FAQ section of my dairy-free vanilla cheesecake recipe.
And best of all, nobody would ever even know it's dairy-free and gluten-free!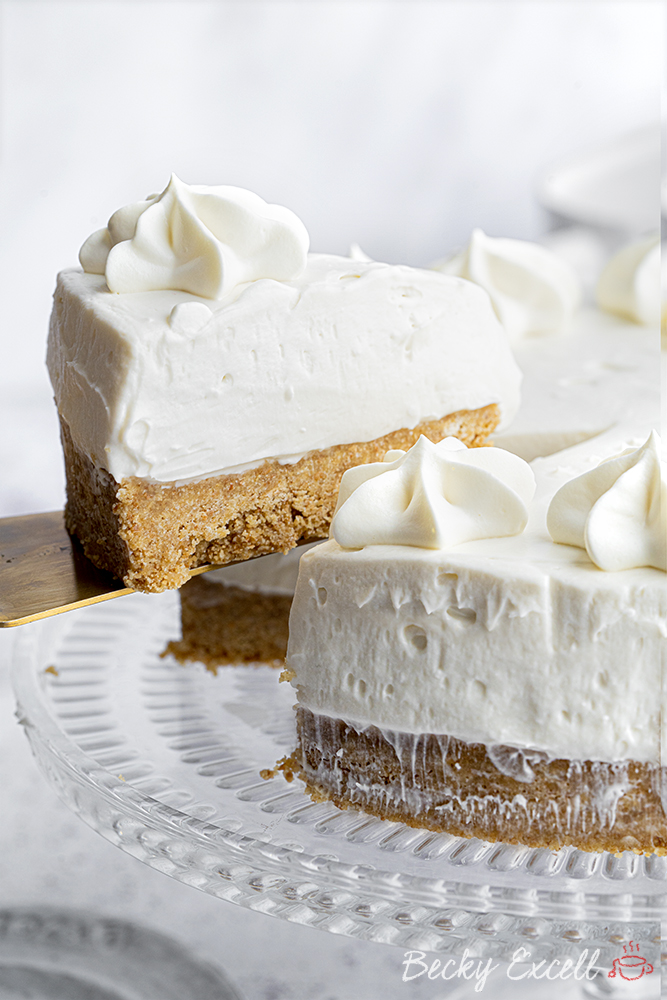 Super soft chocolate pudding on top and chocolate sauce hiding beneath? Sign me up!
No need to make a separate sauce for this wonder pud at all.
Simply top with ice cream and caramel, if you're feeling fancy. Just grab a spoon and dig in.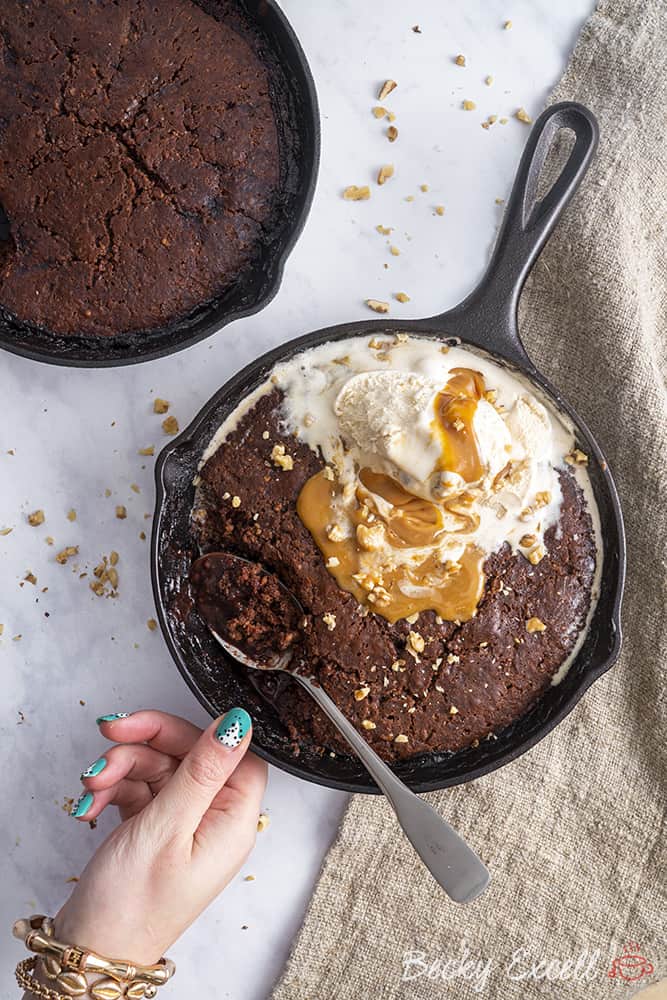 Though I LOVE no-bake cheesecakes because all you need to do is whip them up and chill them, a BAKED cheesecake is something entirely different.
Somehow, the biscuit base tastes EVEN BETTER after baking and the filling has more of a super THICK and creamy taste/texture.
(apparently I love capitalising RANDOM words in this part)
Topping with raspberries and raspberry compote just finishes this beauty off perfectly.
Last but not least out of ALL my top 20 gluten-free Christmas dessert recipes, is my Baileys yule log. I'm sure you know by now that I love Baileys a little too much at Christmas.
So why not combine all my fave Christmas flavours into one, truly awesome Yule log?
It's got the creamy flavour of Baileys combined with indulgent chocolate buttercream and sweet, fluffy Baileys whipped cream, all in one bite.
Top with Baileys truffles and thank me later!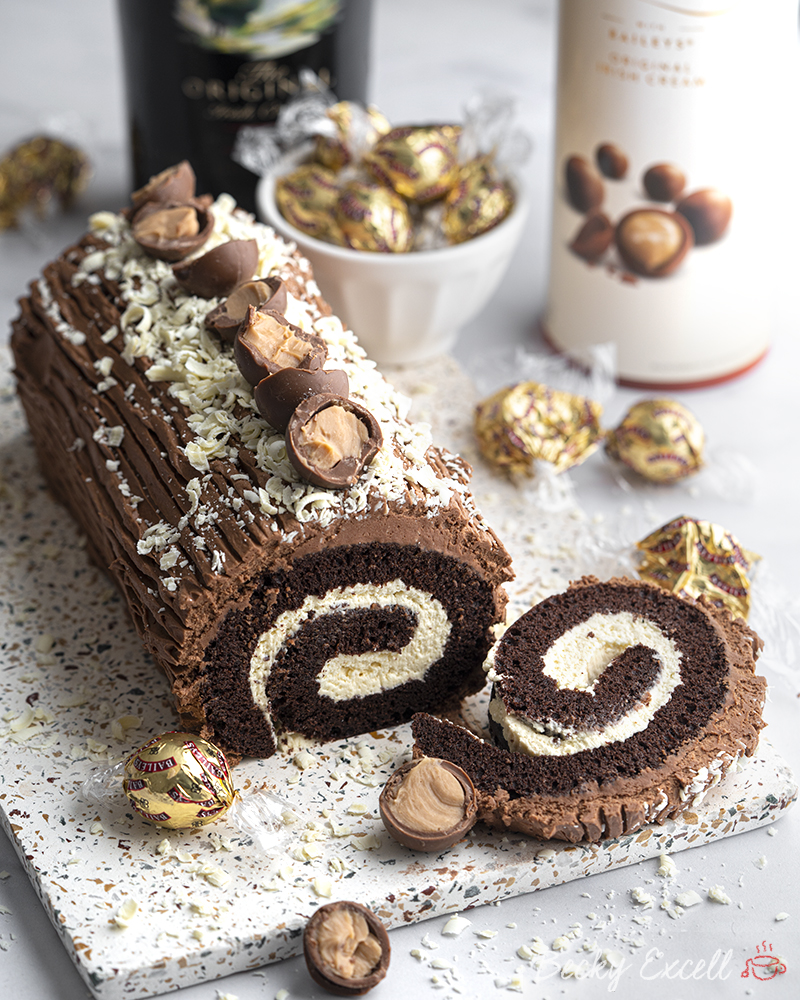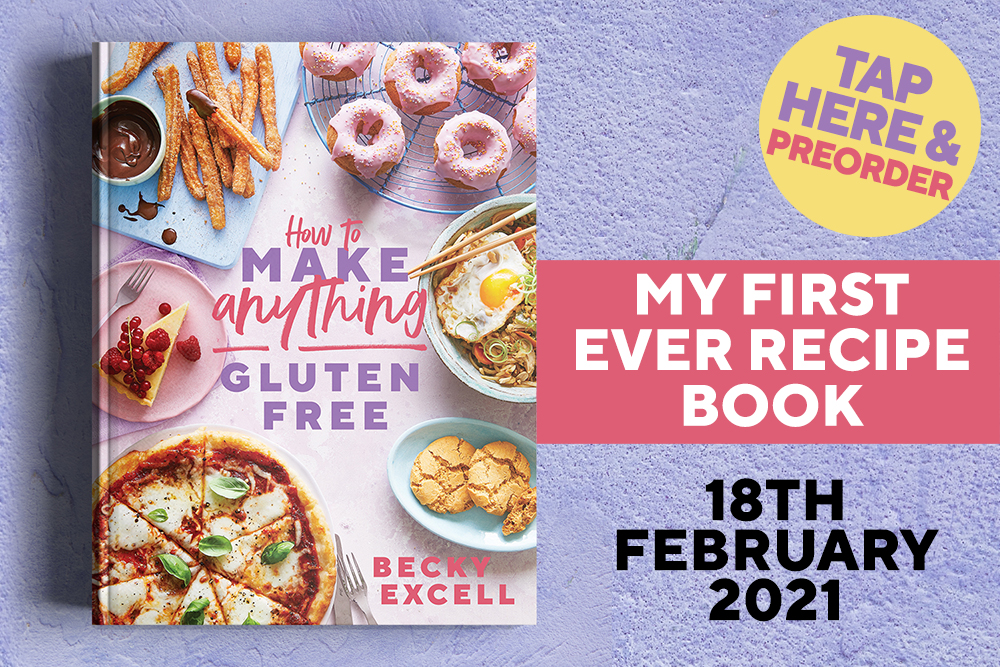 Gluten-free Christmas Dessert Recipes: And before you go, I just wanted to say…
Thanks so much for reading and I hope you have an AMAZING Christmas. As I said – I think we all deserve it and dessert is the perfect way to honour that!
I know that nobody will probably read this part as it's right at the end but if you make one of these desserts on Christmas day… PLEASE remember to take a photo, post it and tag me in it.
(especially on Instagram if you're on there so I can re-share them on my story)
It made my Christmas last year to see so many of you making my desserts. It was better than any present I could possibly receive! But yeah, I'll forgive you if you forgot and just ate it ? I'd probably do that too!
Thanks so much for reading and happy holidays – you guys have all truly made my year awesome!
Becky xxx