Gluten-free Baileys no-bake tart recipe – the ULTIMATE dessert that doesn't even require switching on the oven. Coeliac-friendly and wheat-free too, but you'd never know!
Gluten-free Baileys no-bake tart recipe, anyone? This one is another no-bake wonder that only takes 30-40 minutes of effort, plus chilling time. You can even make it dairy-free or vegan too – see the FAQ section for advice on what products to use instead.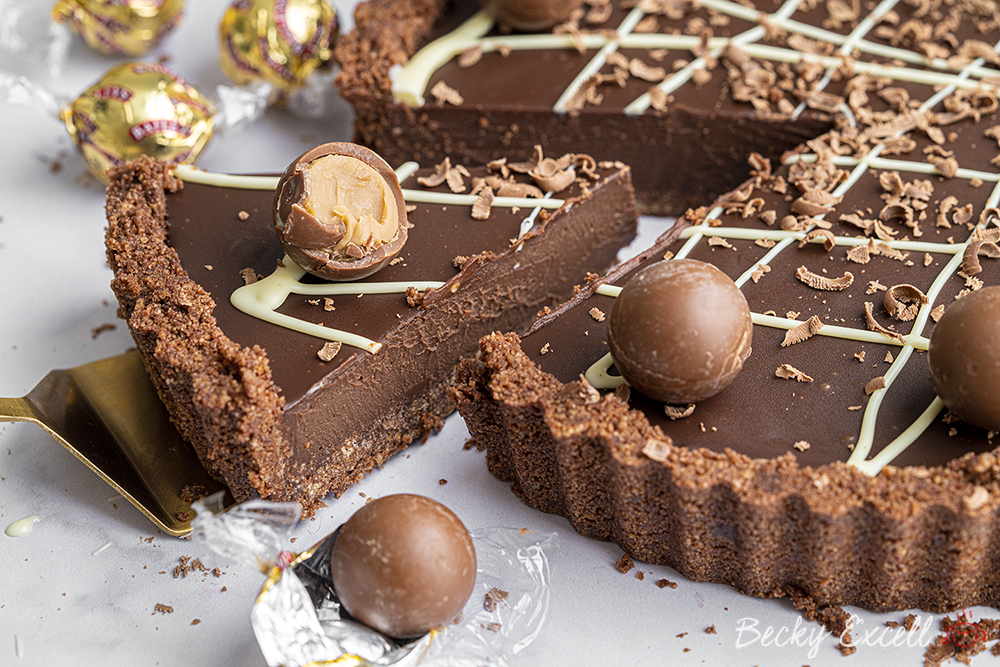 When it comes to making an EPIC gluten-free dessert, a no-bake tart is always a good way to start.
(wow, now I'm a poet but I didn't know it!)
First of all – ANYBODY can make this. Well, anybody who owns a 23cm fluted tart tin with a loose-bottom! That's the only entry-requirement for this one.
All it involves is bashing up some biscuits, adding melted butter/cocoa powder, then push it into your tin and allow to set. Then simply whip up the filling, pour it in and pop it in the fridge. That's it!
But if you're still not convinced yet, here's a few more reasons you need to make this:
Why make my gluten-free Baileys no-bake tart recipe?
Super easy to make and it's no-bake – that means no gluten-free flour required and no need to turn the oven on.
No xanthan gum required.
You'd NEVER know this was gluten-free by tasting it, so there's no need to make a separate dessert just for yourself.
Baileys is gluten-free! So celebrate that fact by making this ASAP.
This recipe is actually super simple to make dairy-free or vegan – see the FAQ section below for advice on how to do this.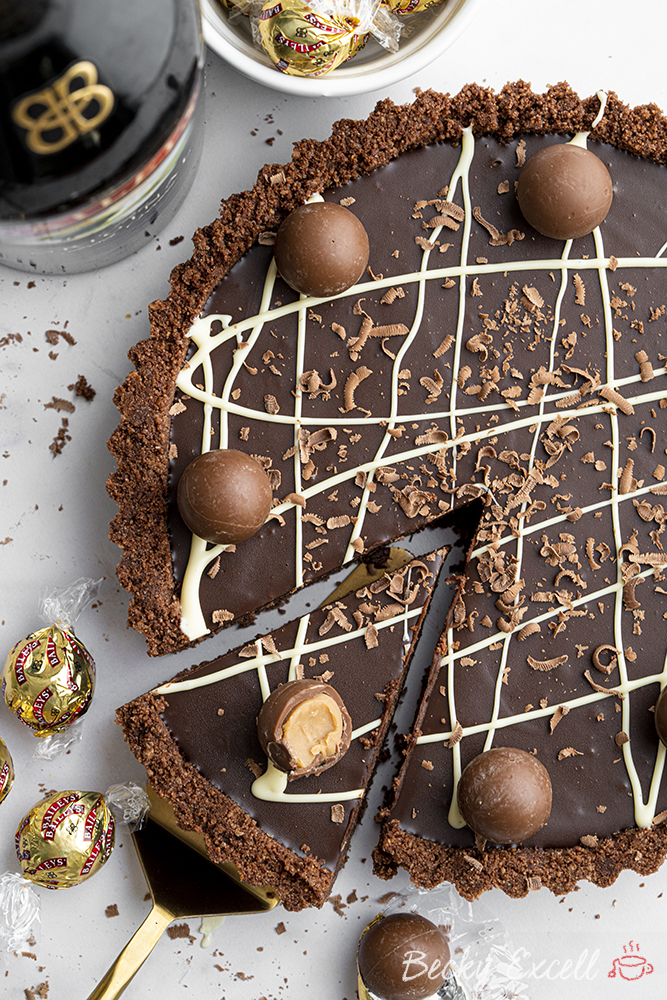 So what does a gluten-free Baileys no-bake no-bake tart taste like?
The biscuit base is battery, crunchy and chocolatey, creating the perfect case to hold the filling – no faffing with gluten-free pastry required.
The filling is indulgently smooth, creamy, packed with tons of rich chocolate and the unmistakeable taste of Baileys.
The Baileys truffle on top is a lovely little extra gift for anyone lucky enough to get a slice! Drizzling on some white chocolate and finishing this with grated milk chocolate makes this a feast for the eyes too.
Here's everything you'll need for this recipe, keep scrolling until you see the recipe card for the measurements and method…
Gluten-free Baileys no-bake tart recipe: Ingredients
Gluten-free digestive biscuits: Almost every supermarket stocks these down the free from aisle, so you shouldn't have trouble finding these.
Cocoa powder: This gives the base a lovely chocolatey taste and an almost bourbon biscuit-like look.
Butter: You need this for the filling too, but it's also the unsung hero in the biscuit base. Not only does it bind the biscuit together once chilled, but it adds an amazing buttery flavour that works so well with biscuit.
Milk chocolate: I add this to the filling to balance out the flavour so it isn't as intense as it would be if it was 100% dark chocolate. It's the perfect balance of creamy milk chocolate and rich dark chocolate.
Dark chocolate: As I said, milk chocolate brings the sweeter, creamier chocolatey taste in the filling, whereas dark chocolate brings a richer, more distinctive taste.
Baileys: Yes, Baileys is gluten-free and there's nothing else out there that matches its creamy, unique flavour.
Double cream: This makes the filling lovely and creamy and along with chocolate and butter, it'll set to be lovely and fudgy.
White chocolate: This is purely for decorative purposes, but I hope you'll agree that a little goes a long way in terms of the finish!
Baileys Truffles: The ultimate finishing touch! They taste amazing on their own, so you can only imagine how amazing they taste here.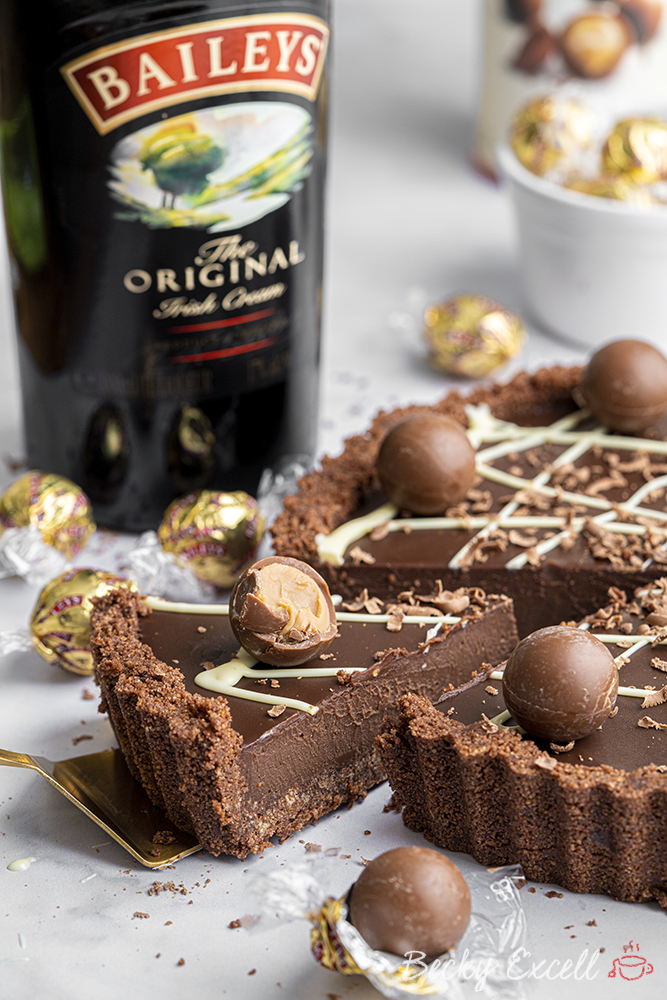 So I thought I'd kick things off with a little frequently asked questions section – if you just want the recipe, then keep scrolling!
But I've thrown in some tips here that will be really helpful if this is your first time making this, or you want to adapt it. So here they are!
Gluten-free Baileys no-bake tart recipe: Frequently Asked Questions
Can I make this recipe gluten-free?
It is gluten-free, though nobody would know just by tasting it – trust me!
Bear in mind that minimising cross-contamination is hugely important if you're Coeliac or making this for someone who is. Here's some tips from Coeliac UK on minimising the risk of cross contamination.
Also, make sure that all ingredients used don't have any gluten-containing ingredients. Then make that that they also don't have a 'may contain' warning for gluten, wheat, rye, barley, oats (which aren't gf), spelt and khorasan wheat (aka Kamut).
Here's some more info from Coeliac UK on identifying safe gluten-free products.
Can I make your gluten-free Baileys no-bake tart recipe dairy free?
Stick to these simple swaps and you'll be enjoying a gluten-free AND dairy-free Baileys no-bake tart in no time!
AND DON'T FORGET: ensure your gf digestive biscuits are dairy-free and omit the Baileys truffles on top. You can always top them with a dairy-free chocolate truffle instead.
Phew, that was quite a few changes, but trust me – it's worth it! I also have a dairy-free vanilla no-bake tart over here if you fancy too.
Can I make your gluten-free Baileys no-bake tart recipe vegan?
Follow the steps above to make this dairy-free and you've only gone and made a gluten-free, dairy-free AND vegan Baileys no-bake tart!
Is your gluten-free Baileys no-bake tart recipe nut-free?
Yep, this is a nut-free recipe as far as ingredients go, BUT make sure you check the ingredients label on ALL the products you use just to be safe.
Even if the products don't contain nuts, they may have a 'may contain nuts' warning due to being produced in a factory that handles nuts.
You can never be too careful so always read the labels on everything first.
Some gluten-free digestive biscuits have a 'may contain' warning for nuts, so be sure to check those especially.
Is your gluten-free Baileys no-bake tart recipe low FODMAP?
Sadly, because of the high dairy content, this recipe isn't suitable for the elimination phase of the low FODMAP diet.
However, if you've successfully reintroduced dairy during the reintroduction phase then this might still be a suitable option for you later in the diet.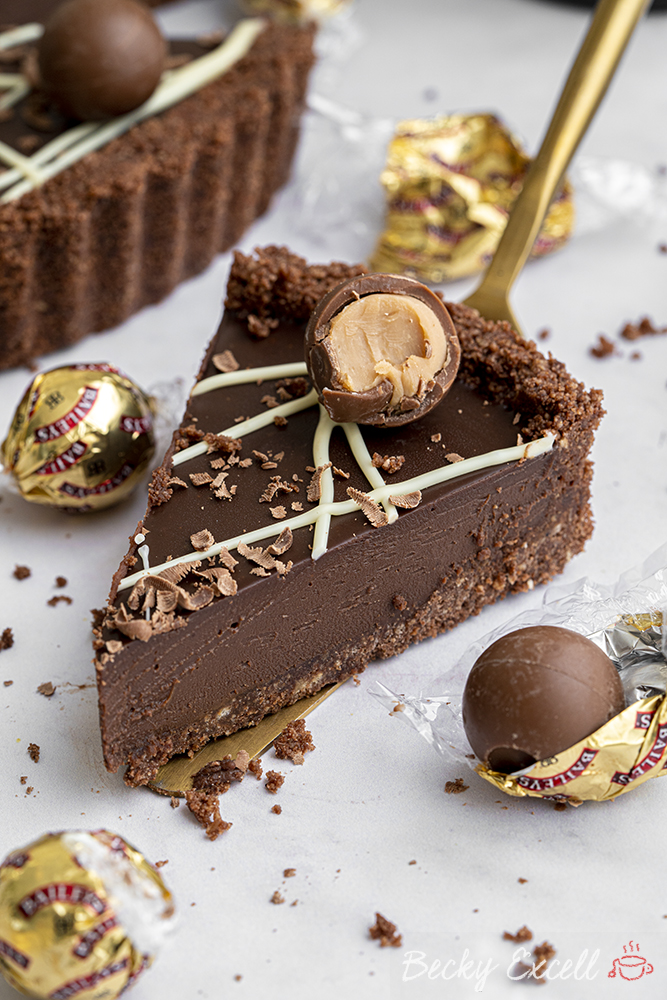 Is Baileys gluten-free?
Yes, Baileys Irish Cream is gluten-free! As you can see on the Baileys website, the only allergens present are milk.
Where can I find Baileys truffles?
They're not that easy to find in supermarkets until a little closer to Christmas!
You can currently only find them in Morrisons at the mo, or online from Amazon. I ordered mine from Amazon to save having to hunt for them – trust me, it's worth it.
Can I make your gluten-free Baileys no-bake tart in a food processor or standing mixer?
You actually don't need a stand mixer or electric mixer for this recipe at all. But what would really help is a food processor!
I used my food processor to blitz the biscuits into a fine consistency so that it will be nice and easy to shape into my pastry tin.
Can I make your gluten-free Baileys no-bake tart by hand?
You can, of course, make this without any assistance from any appliance – you just need a little extra elbow grease.
You'll need to smash up your biscuits into a fine dust so that they're easily shaped into the pastry tin. To do this will take a lot of bashing!
So just grab a zip-lock bag and a rolling pin and go ham on them until they're really nice and fine – it is definitely possible.
Then, you're good to continue making this recipe without any other appliances needed.
Do I need any special equipment to make your gluten-free Baileys no-bake tart recipe?
You won't need anything in particular apart from a good 23cm (9 inch) pastry tin with a loose bottom like this one.
I wouldn't really recommend trying this in a tin without a loose bottom, otherwise it will be next to impossible to remove from the tin when you want to serve it up.
Using a tin smaller than mine will mean that each slice will be thicker and take longer to set, so bear that in mind!
Can I make this recipe without xanthan gum?
There's no xanthan gum in any of my no-bake tart recipes, this one included.
You'll see xanthan gum in a lot of my recipes as it's an essential ingredient in gluten-free baking – in cakes and biscuits, it helps to replace gluten by binding the texture together.
Otherwise you can end up with a very crumbly bake. Fortunately, that doesn't apply here!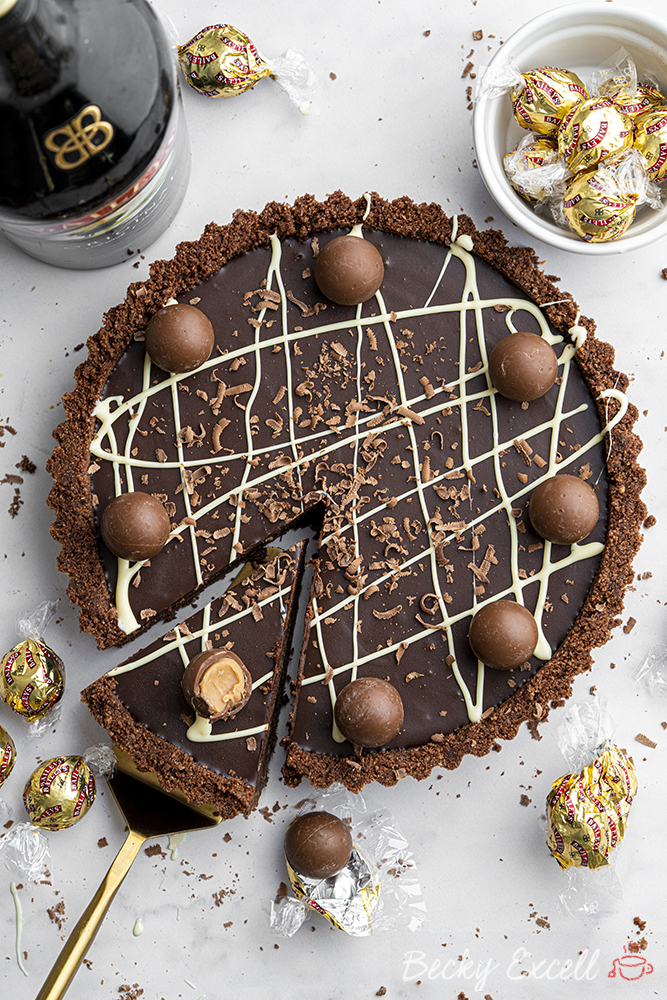 What gluten-free biscuits should I use for the base?
In the photos I used some gluten-free digestive biscuits from Tesco's free from aisle. However, you can actually use whatever biscuits you fancy! Gluten-free Hob Nobs would work well here too.
Loads of supermarkets like Asda, Sainsburys and Tesco do their own gf biscuits too, so happily give them a go as well.
Do I need weighing scales to make your gluten-free Baileys no-bake tart?
In short… yes, yes and yes! And I wouldn't advise attempting any of my recipes without them.
A lot of work went into fine tuning ratios and quantities and for me, baking is all about consistency and precision. I want you to make this recipe and for it to turn out EXACTLY like mine did.
I'd recommending using digital cooking scales like these so you know you're getting an accurate measurement and replicating my recipe as accurately as poss.
How long can I keep your gluten-free Baileys no-bake tart for?
Obviously keep this in the fridge at all times – it should last around 4-5 days. Also try to keep it in an airtight container, or covered with clingfilm.
Can I freeze my gluten-free Baileys no-bake tart?
Yep! You can freeze it for up to 2-3 months without a problem – just make sure you put it in an airtight plastic container. It's probably a good idea to slice it first so you can defrost a slice at a time.
If you want to defrost the whole thing at once, you can leave it at room temperature to thaw for around 12 hours. A single slice will probably take about 2-3 hours to thaw, so get it out ahead of time!
5 tips for the perfect gluten-free Baileys no-bake tart
Use the bottom of a (clean) jar or ramekin to compact the biscuit base in. Whilst using the back of a spoon or using your hands is fine, either of these will make it so much easier to get the job done.
Make sure your fluted tart tin is loose-bottomed. If it isn't you won't have a hope of getting this thing out in one piece!
Ensure the sides of the biscuit tart case aren't too thin – especially at the top. It can be a little trickier to get the sides all a consistent thickness. But using a jar or ramekin can make this part especially, much easier.
Allow the filling adequate time to set. As this is a no-bake tart recipe, chilling time is equally as important as baking time if you were baking a cake. This allows it the much needed time it needs to set.
Chop up all your chocolate before pouring on the hot cream and Baileys. If you just leave it in chunks, it won't all melt and you'll be left with an inconsistent mixture.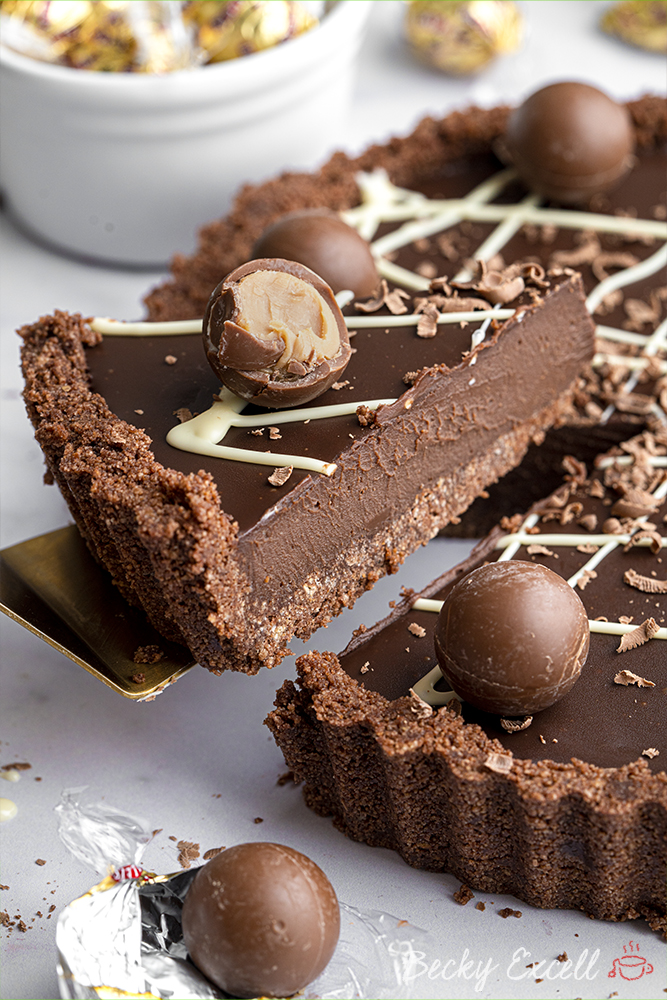 Gluten-free Baileys no-bake tart recipe: Method
Oh and here's a printable version of my gluten-free Baileys no-bake tart recipe. Please remember to give it 5 stars if you tried it and enjoyed it as it helps people know it's worth trying too! ⭐️
Gluten-free Baileys No-Bake Tart Recipe (dairy-free/vegan option - see FAQ section)
Gluten-free Baileys no-bake tart recipe - the ULTIMATE easy-to-make dessert that nobody would know is Coeliac-friendly and wheat-free. See the FAQ section above for advice on making this recipe dairy-free or vegan.
Equipment
My Fluted Tart Tin (23cm/9 inch)
Ingredients
For the base
350

g

gluten-free digestive biscuits

2

tbsp

cocoa powder

165

g

butter

melted
For the filling
150

g

milk chocolate

150

g

dark chocolate

130

ml

baileys

270

ml

double cream

40

g

butter
To finish:
50

g

white chocolate

melted

a little more milk chocolate

grated

Baileys truffles

linked in FAQ section
Instructions
Firstly make your base. In a food processor, blitz your biscuits into a crumb-like texture. If you don't have a food processor you can bash them with a rolling pin as well! You do want quite a fine consistency for this though.

Add your cocoa powder in and mix thoroughly or give another quick blitz.

Pour your melted butter into your cocoa crushed biscuits and mix together in a bowl.

Spoon your mixture into a loose bottom fluted tart tin (mine was 23cm across) and then using the back of a spoon and also your hands, press the mixture into the tin - both the base and up the sides. Try to get it as even and flat as you can. Using a (clean) jar or the bottom of a ramekin makes this job a doddle.

Chill this in the fridge for around 30 minutes - 1 hour. Whilst this is happening you can sort out your filling.

Slice your dark and milk chocolate finely with a sharp knife - this helps it melt quicker when you pour the cream onto it. Place it in a heat-proof bowl.

Also place your butter into the same bowl.

In a small saucepan, heat your cream and Baileys - do this gently so the cream is just about to reach boiling point (I stir mine a little so it doesn't stick to the bottom as it heats up).

Once heated, pour your Baileys and cream mixture on top of your chopped chocolate (in its bowl) and leave it for about 5 minutes without stirring. After 5 minutes mix it all together so that it is combined, smooth and fully melted.

Remove your tart tin from the fridge. Pour in your Baileys chocolate mixture and spread evenly with a spatula or palette knife.

Chill in the fridge for a few hours to allow the ganache to fully set (or overnight).

To serve, drizzle over your melted white chocolate and top with a little grated milk chocolate. Finish with Baileys truffles and gently press in a little to keep them still.

Slice up and enjoy. Keep refrigerated.
Notes
You could use any flavoured Baileys - I used the Original for this one 🙂
See the FAQ section for advice on making this recipe dairy-free or vegan.
Thanks for reading all about my gluten-free Baileys no-bake tart recipe! If you make it, I'd love to see how it turns out so don't forget to take a snap of your creations and tag me on Instagram!
Any questions about the recipe? Please do let me know by following me on Instagram and leaving me a comment on a recent photo!
Thanks for reading,
Becky xxx
Oh and don't forget to pin this for later!