It was my Dad's birthday recently and he loves a good cheesecake. So I absolutely had to make my gluten free baked New York cheesecake for him….
Whilst I might make every cheesecake variation under the sun here on the blog, you just can't beat this one. So here's my gluten free baked New York cheesecake recipe!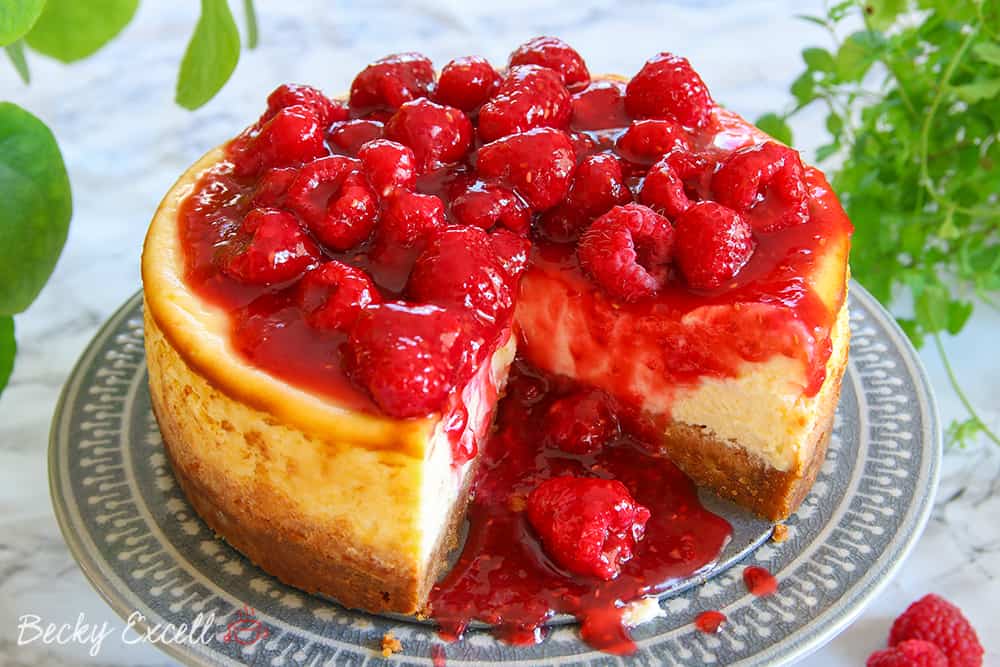 Now, it can be pretty funny when you have a food blog.
I'll post pictures on my Instagram, like this cheesecake for example, and I'll receive a message from a random family member simply saying "can I eat that cheesecake please."
(nine times out of ten, it's usually my brother)
But sadly for them, I'm usually posting a photo I took 2 months ago so they're much too late to the party!
But this time, everyone was coming over to ours for a family BBQ to celebrate my Dad's birthday. This time I was going to be well prepared…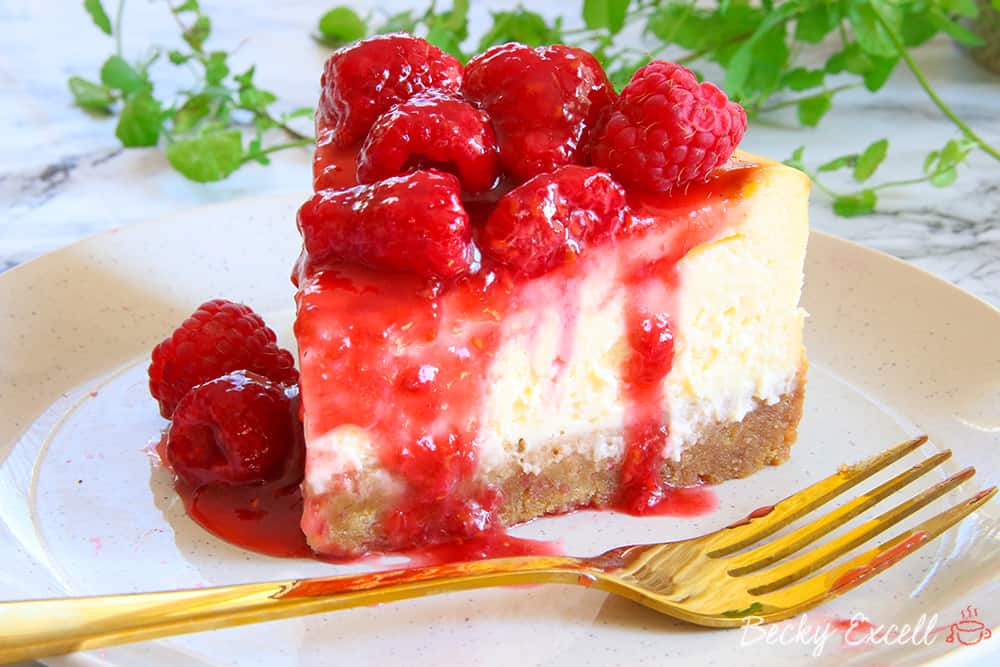 Despite having tons of veg to prep for the BBQ, as well as meat marinades, potato salads etc. I still managed to make this cheesecake amongst all the chaos.
Hopefully that tells you that it's super easy to make because as you know, I'm terrible at multi-tasking!
(also yes, I managed to have a full on photoshoot of it right before our guests arrived too – it was a very stressful evening)
But oh man. It was so worth it! It tasted absolutely out of this world.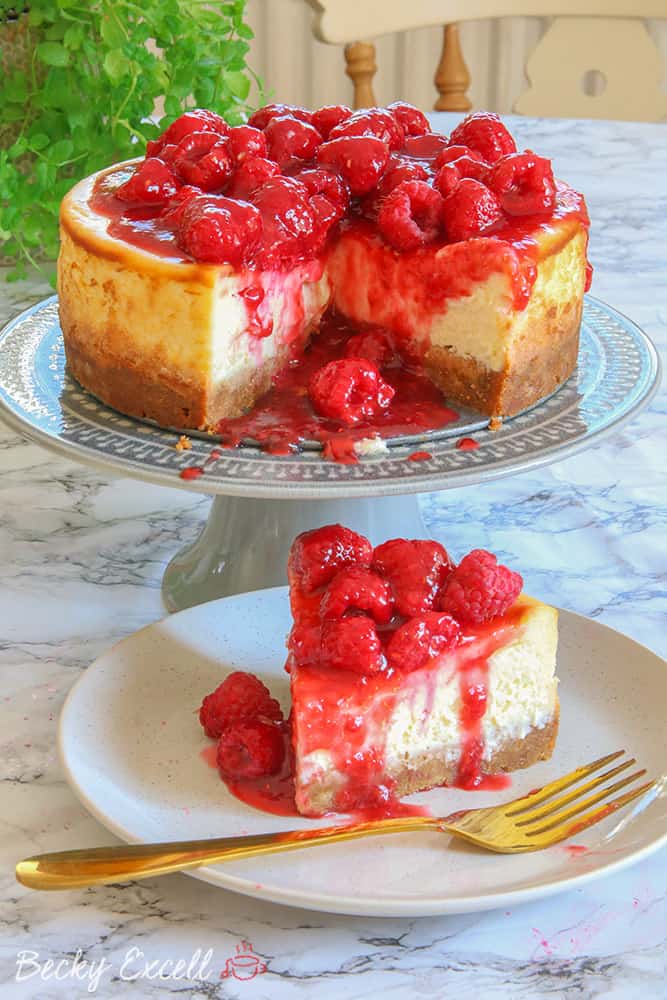 Now, you can just enjoy a New York cheesecake totally naked, but I always love to put fresh raspberries in a berry compote on top.
The sharpness matches up so well with the creamy, sweet cheesecake filling and buttery biscuit base.
But if you're really in a hurry, you could easily serve this up with a little cream on the side too, or even just put raspberries on top. It's totally up to you!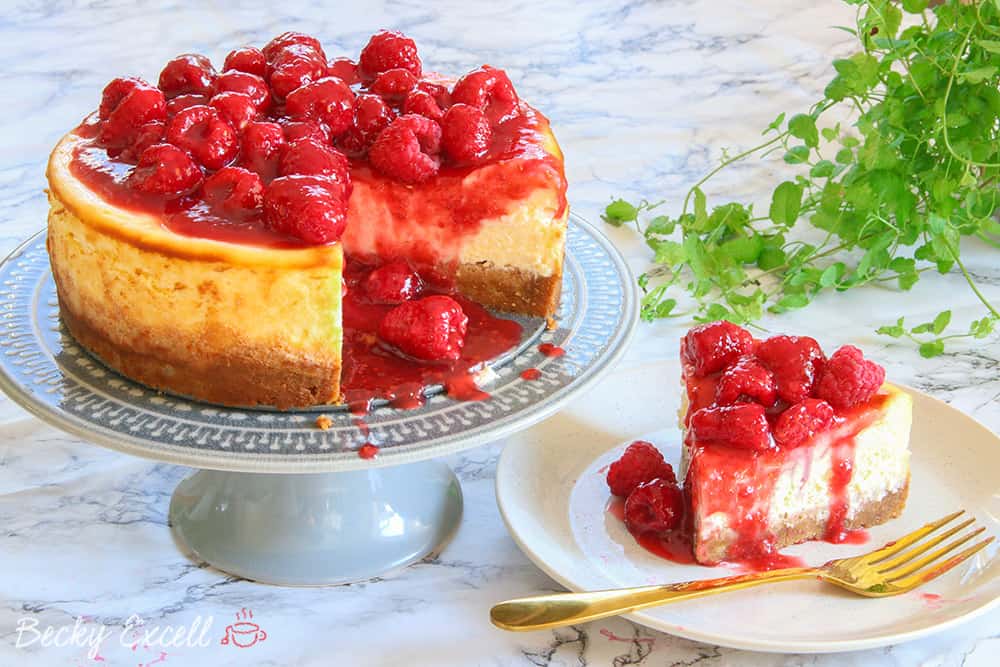 I actually cut that big ol' slice out of the cheesecake in the pic above just so it looked good in photos.
(I hope you agree that it does!)
But when my Dad came over and saw a big slice out of his cheesecake, he immediately asked "who's eaten a slice out of my cheesecake?!"
So when I presented him with this enormous slice on a plate, he was pretty pleased and claimed that slice for himself!
My Dad and family really enjoyed it, so I hope you do too! Here's my gluten free baked New York cheesecake recipe…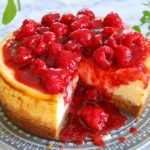 My Dad's Fave Gluten Free Baked New York Cheesecake Recipe
My gluten free baked New York cheesecake is a favourite with everyone I know. If you're looking for a gluten free cheesecake recipe then this is for you!
Ingredients
For the biscuit base
320

g

gluten free digestive biscuits

150

g

hard margarine / butter
For the cheesecake
600

g

cream cheese

(I used full fat Philadelphia for this one)

30

g

gluten free plain flour

3

eggs

185

g

caster sugar

(regular or golden caster sugar both are ok)

2

tsp

vanilla extract

175

g

creme fraiche or sour cream

(I've tried both - both work well and long as they are NOT a light version - I tend to use sour cream in this recipe usually)

1/2

lemon (zested)

2

tsp

lemon juice
For the raspberry coulis
300

g

fresh raspberries

1

tbsp

icing sugar

1/2

tsp

lemon juice
Instructions
Crush your gluten free digestives. This time I placed mine in a mixing bowl and then crushed them with the top of my rolling pin. You can make them quite small or have some chunkier bits.

Melt your margarine or butter - I do this in the microwave.

Pour your melted margarine/butter into your crushed biscuits and mix together.

Press the biscuit mixture into the tin you're going to be making your cheesecake in. Press it down nice and firmly and pop in the fridge to chill.


Preheat your oven to 200C Fan.


For your cheesecake top, place your cream cheese into your mixer (I use my Kitchen Aid standing mixer for this but you can also use an electric hand whisk) and mix for about a minute.


Mix your gluten free plain flour and caster sugar together and then gradually add it to your mixer whilst mixing it very slowly.

Beat your 3 eggs together in a separate bowl so that you can very gradually add them to the mixer alongside your vanilla extract, lemon juice and zest.

Finally fold in your sour cream or creme fraiche by hand using a spatula.

Spoon your cheesecake mixture on top of your cheesecake base. You now have 'All About That Base' playing in your head.


Place it in the oven for 10 minutes at 200C and then drop the temperature to 90C for a further 30 minutes. Once finished, the cheesecake will be incredibly wobbly but might be browned a little round the edges. Don't remove it from the oven after the time is up!


Instead of removing it - turn the oven off, leave the cheesecake in there and leave the door ajar to allow the cheesecake to cool slowly which will prevent cracking. I usually leave mine for about 2.5 - 3 hours. Be patient!

I then cover the cheesecake in foil and leave in the fridge to set overnight.


To make the raspberry coulis, pop 200g of the raspberries, the icing sugar and lemon juice in a sauce pan. Heat until everything comes together and the raspberries start to break down. Allow to cool completely.

When you are ready to serve, very carefully remove the cheesecake from it's tin.

Mix your extra 100g of fresh raspberries into the coulis and pour it over your cheesecake.

Keep refrigerated any leftovers. Enjoy!

Recipe Notes
I use a 20cm loose bottom deep tin, but you could also use a springform tin.
You could buy your raspberry coulis from the supermarket too if you wanted!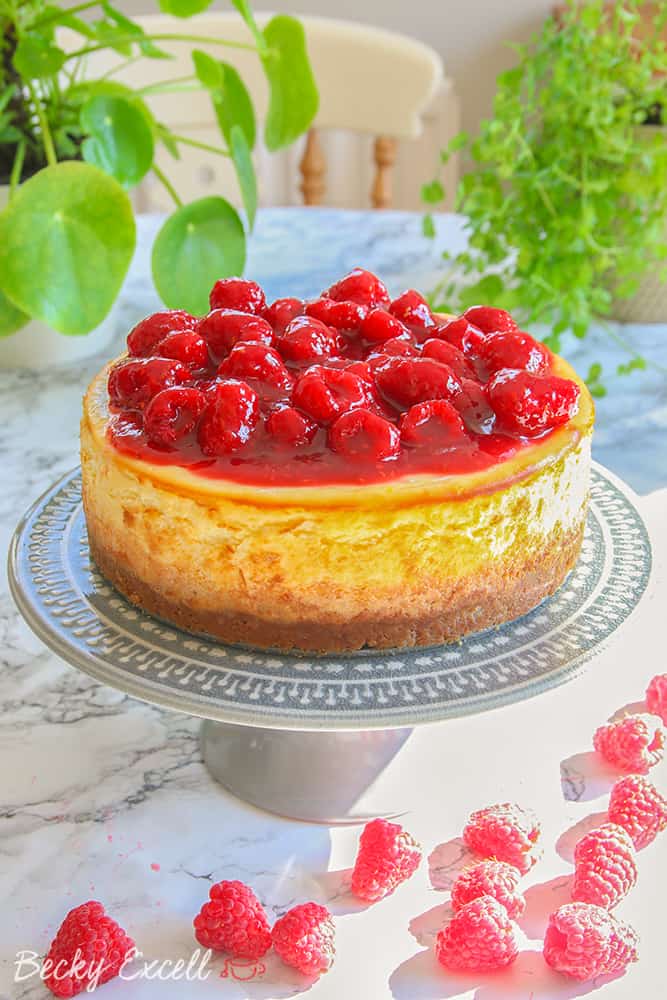 Thanks for reading how to make my gluten free baked New York cheesecake recipe! If you make it, I'd love to see how it turned out. So absolutely make sure that you send me a pic using my social media links below…
Any questions about the recipe? Please do let me know by leaving a comment below or on Facebook / Twitter / Instagram!
Thanks for reading,
Becky xxx
Oh and don't forget to pin this for later!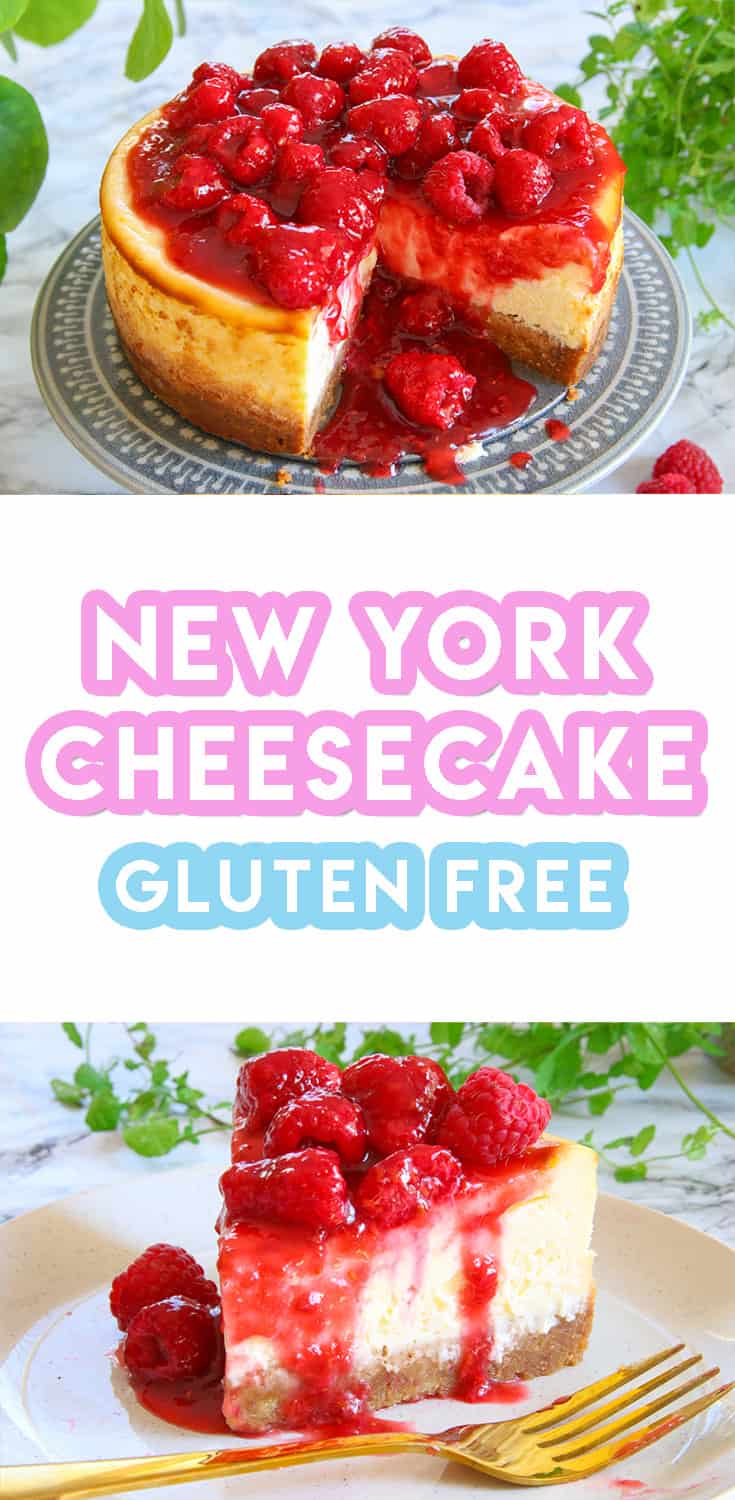 Comments