Gluten-free Baileys chocolate pots recipe – a guaranteed gooey melting middle every time with the lovely distinct taste of Baileys Irish cream liqueur! Noboby would know they're Coeliac-friendly and wheat-free too.
Gluten-free Baileys chocolate pots recipe? Yep – it's yet another easy-to-bake dessert that never fails to impress, so once again… get your ramekins at the ready! This one is super easy to make dairy-free if you need it to be – see the FAQ section to find out how.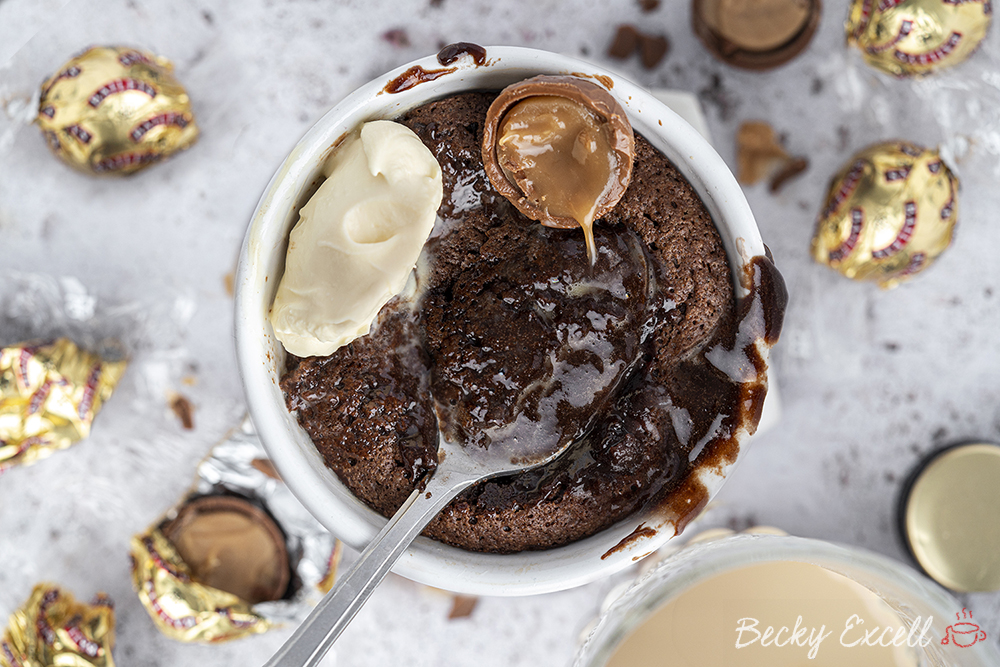 Unfortunately, if you're gluten-free, desserts like this are exactly what you WON'T find available to buy in supermarkets.
And that's exactly why my blog is here! Don't assume that a gluten-free dessert like this doesn't exist because it's possible to make without gluten… it's actually incredibly easy.
All you need to do is create one mixture, pour it into your ramekins and that's it. It honestly couldn't be easier.
Here's a few reasons why you need to make this if you weren't convinced already:
Why make my gluten-free Baileys chocolate pots?
A guaranteed gooey melting middle with tons of Baileys Irish cream liqueur flavour.
Nobody would ever know these are gluten-free – you'll have to fight to keep the muggles away!
No xanthan gum required.
Baileys is gluten-free, so celebrate that fact by making this. What a discovery!
Believe it or not, you can actually make these dairy-free – see the FAQ section to find out what products to use instead.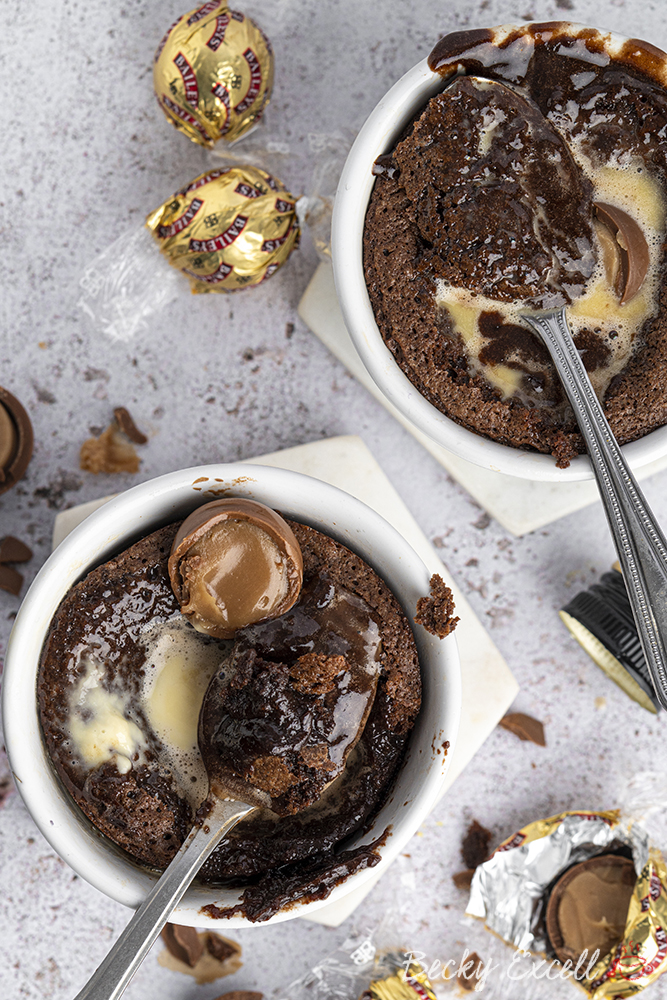 So, what do my gluten-free Baileys chocolate pots taste like?
The exterior is an incredibly, soft light and fluffy chocolate cake, yet with a slightly crisp exterior that holds all that wonderful, melting middle.
The middle is oozing and gooey – like chocolate lava, with tons of Baileys flavour. Optionally serve with a Baileys truffle on top and some Baileys cream and you'll be in Baileys heaven!
Here's everything you'll need for this recipe – consider this your shopping list! Keep scrolling until you see the recipe card for the measurements and method 👇🏻
Gluten-free Baileys chocolate pots recipe: Ingredients
milk or dark chocolate
butter
Baileys
large eggs
caster sugar
gluten-free plain flour
cocoa powder
Baileys Truffles (optional)
Baileys Salted Caramel Cream (optional)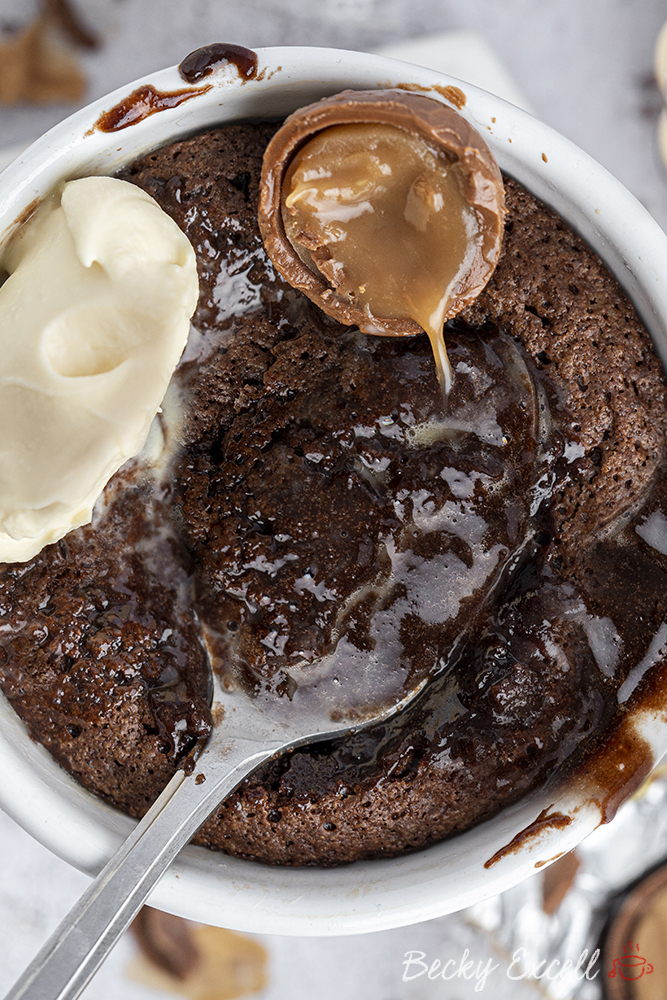 So I thought I'd kick things off with a little frequently asked questions section – if you just want the recipe, then keep scrolling.
But I've thrown in some tips here that will be really helpful if this is your first time making this, or you want to adapt it. So here they are!
Gluten-free Baileys chocolate pots recipe: Frequently asked questions
Can I make this recipe gluten free?
It is gluten free, though nobody would know just by tasting it – trust me!
Bear in mind that minimising cross-contamination is hugely important if you're Coeliac or making this for someone who is. Here's some tips from Coeliac UK on minimising the risk of cross contamination.
Also, make sure that all ingredients used don't have any gluten-containing ingredients. Then make that that they also don't have a 'may contain' warning for gluten, wheat, rye, barley, oats (which aren't gf), spelt and khorasan wheat (aka Kamut).
Here's some more info from Coeliac UK on identifying safe gluten free products. Double check your sprinkles to make sure they're gf too.
Can I make your gluten-free Baileys chocolate pots recipe dairy free?
Yes, with a few simple swaps! Here's how:
Use a dairy-free alternative to butter (like Stork hard baking block) instead of butter.
Instead of using Baileys, use: dairy-free Baileys
Ensure all chocolate and cocoa powder used is dairy-free.
Omit the Baileys truffles and cream on top – replace with dairy-free vanilla ice cream.
That's it!
Can I make your gluten-free Baileys chocolate pots recipe vegan?
Following the steps to make this dairy-free will only get you half way. Due to the amount of eggs in this recipe and how reliant fondants are on eggs, this isn't an easy one to make vegan.
You're welcome to try it using aquafaba (3 tbsp per egg, pre-whisked until frothy) instead of the eggs, but I can't guarantee the results!
Just ensure you follow the steps above to make this dairy-free first too.
Is your gluten-free Baileys chocolate pots recipe low FODMAP?
Unfortunately not as Baileys contains dairy, which is unsuitable for the elimination phase of the diet.
However, if you omit the Baileys (and truffles/cream) and use lactose-free chocolate/cocoa powder, then you've got low FODMAP-friendly melt in the middle chocolate pots!
Is Baileys gluten-free?
Yes, Baileys Irish Cream is gluten-free! As you can see on the Baileys website, the only allergens present are milk.
At the time of writing (December 2020) Baileys is listed on the Coeliac UK gluten-free food checker app as a safe product.
Where can I find Baileys truffles? What about Baileys salted caramel cream?
You can currently only find Baileys truffle in Morrisons at the mo, or online from Amazon. I ordered mine from Amazon to save having to hunt for them.
You can find Baileys salted caramel cream in most supermarkets alongside the double cream etc.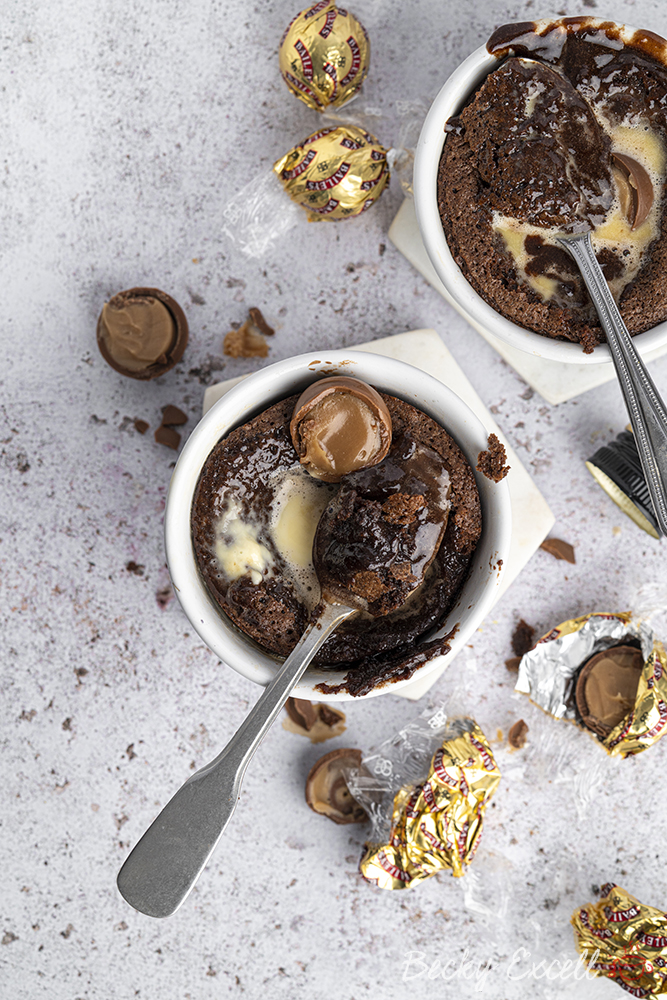 What size ramekins should I use to bake your gluten-free Baileys chocolate pots?
I actually use these ramekins from Tesco and also, these ones from Asda too.
They never provide measurements for them, so sorry I can't provide them here. I'll measure my own ASAP and let you know the details!
If I plan to tip them out onto a plate to serve I usually cook them in mini pudding tins, like these ones.
Can I make this in a big ramekin or baking dish?
You can, but I wouldn't recommend using anything much bigger than a small ramekin (linked above).
This is more of a single-serve dessert, not one where you can make one big fondant and cut it up. It'll be a mess!
Also, if your ramekin is considerably larger than mine, then you won't know exactly how long to bake them for. They'll need longer, but I can't advise you exactly how long you should bake them for!
Can I make this non-alcoholic?
Yes of course, just omit the Baileys to create melt-in-the-middle chocolate pots. You can also add 1.5 tsp of orange extract or mint extract to make either chocolate orange or mint chocolate pots.
Can I make your gluten-free Baileys chocolate pots in a food processor or standing mixer? Can I make it by hand?
I wouldn't recommend a food processor for this one. An electric whisk is only needed to whisk the eggs and sugar here and that's it.
So yes, you can also make this by whisking the eggs/sugar by hand.
Do I need weighing scales to bake your gluten-free Baileys chocolate pots?
In short… yes, yes and yes! And I wouldn't advise attempting any my recipes without them.
A lot of work went into fine tuning ratios and quantities and for me, baking is all about consistency and precision. I want you to make this recipe and for it to turn out EXACTLY like mine did.
For example, adding too much flour can make things dry and crumbly, whereas not adding enough sugar means it'll lose its crisp exterior. I don't want you to be disappointed, so please weigh your ingredients!
I'd recommending using digital cooking scales like these so you know you're getting an accurate measurement and replicating my recipe as accurately as poss.
Can I make your gluten-free Baileys chocolate pots without sugar?
I can understand the need to reduce sugar in our foods, but sugar is integral to the structure of this bake – it's not just for adding a sweet taste.
Sugar helps to create the overall structure and texture of the fondant and since it's so crucial to get it right… I 100% wouldn't recommend removing it.
So yeah, remove/reduce the sugar at your own risk!
Can I make this recipe using other gluten free flours like buckwheat flour or coconut flour?
There's a big difference between 'gluten free plain/self-raising flour' and a *singular* type gluten free flour.
When I say 'gluten free plain or self-raising flour' in a recipe, I mean a BLEND of gluten free flours, not just one, singular flour. I buy mine down the free from aisle of my local supermarket.
Definitely go for a gluten free flour blend.
Does this recipe need xanthan gum?
You'll see xanthan gum in a lot of my recipes as it's often an essential ingredient in gluten free baking. But not with this one – it's not required!
There's quite a few eggs in this one and they're more than enough to bind everything together.
How long can I keep your gluten-free Baileys chocolate pots for?
I've kept them for around 4-5 days in an airtight container. Of course, they'll definitely need to be reheated before you enjoy them again.
I reheat them for 1-2 minutes in the microwave at 900W for that 'fresh out of the oven' taste.
Can I freeze your gluten-free Baileys chocolate pots?
Of course! I've frozen them for up to a month and after allowing them to fully thaw, you'd never know they were frozen. One fondant should take around 3-4 hours to thaw at room temperature.
After thawing, you can reheat them for 1-2 minutes in the microwave at 900W.
How do I know when my Baileys chocolate pots are done?
That's the tricky thing about fondants… you can't poke them with a skewer to check!
You're looking for a nice, fully-formed chocolate cake-like exterior. But that doesn't mean that you should pull them out of the oven as soon as you see that!
Remember: too long in the oven and they'll be like chocolate cake in the middle – not long enough and they'll likely be all melting middle and not a lot else.
So stick to the oven temperature and timing in the method and you'll be fine.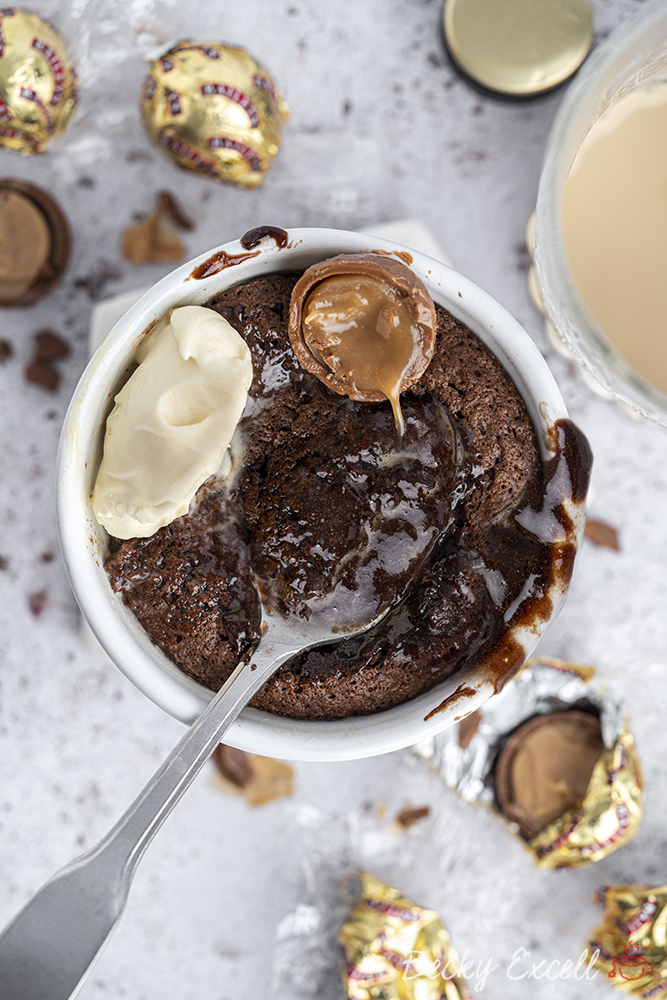 Troubleshooting
My gluten-free Baileys chocolate pots weren't gooey in the middle – it was just like chocolate cake.
That means your oven was too hot, or they were in the oven too long.
Cooking time and temperature is key when making fondants as we're technically only baking them long enough for the exterior to solidify.
Any longer than necessary and you'll start baking the middle too!
My gluten-free Baileys chocolate pots fell apart when I removed them from the ramekins!
That means your oven wasn't hot enough OR you didn't bake them long enough.
You need to give the fondants long enough time in the oven to form their exterior to support that gooey middle.
If they don't get long enough, there will be too much gooey middle for the exterior to hold.
Gluten-free Baileys chocolate pots recipe: Method
Ok, so here's a printable version of my gluten-free Baileys chocolate pots recipe. Please remember to give it 5 stars if you tried it and enjoyed it as it helps people know it's worth trying too! ⭐️ Feel free to leave your written reviews in the comments below this post.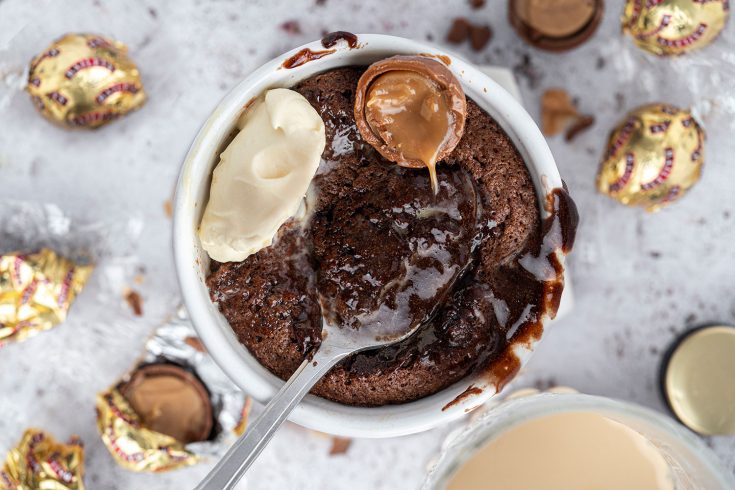 Yield: 5
Gluten-free Baileys Chocolate Pots Recipe - Melting Middle! (dairy-free option)
Prep Time: 5 minutes

Cook Time: 15 minutes

Total Time: 20 minutes

Gluten-free Baileys chocolate pots recipe, complete with a melting middle. Nobody would know they're Coeliac-friendly and wheat-free!
Ingredients
200g milk or dark chocolate - I use half and half (dairy-free if necessary)
150g butter (use Stork hard margarine if dairy-free)
3 tbsp Baileys (use dairy-free Baileys if dairy-free - linked in FAQ section)
3 large eggs
150g caster sugar (you can use brown sugar too)
40g gluten-free plain flour
10g cocoa powder or 50g gluten-free plain flour instead (ensure cocoa powder is dairy-free if necessary)
To serve (optional - omit if dairy-free)
Baileys Truffles (linked in FAQ section)
Baileys Salted Caramel Cream (linked in FAQ section - or see notes below the method on how to make your own)
Instructions
Preheat your oven to 180C Fan / 200C. Prepare your ramekins by greasing with a little butter - see the FAQ section to find out which ones I used.
Melt together your dark chocolate and butter in the microwave - do this in short bursts, stirring in between. Stir in your Baileys and allow to cool briefly.
In a separate large mixing bowl, whisk together your sugar and eggs thoroughly until frothy.
Add the melted chocolate and butter mixture to the bowl and fold it in.
Fold in the flour and cocoa powder carefully until combined.
Fill each of your ramekins so they are about 3/4 full.
At this point you can chill them in the fridge OR cook them straight away. I tend to make mine ahead of time and leave them in the fridge ready till when we want to eat them.
Place in the oven for 12-15 minutes for the ramekins (it varies depending on the size of your ramekins and whether you have chilled them or not) but they are done when they are risen and might have a slight crack on the top.
Remove from oven and serve whilst still warm. I serve mine either with ice cream or some thick Baileys cream on the side and a few Baileys truffles if I have any laying around still!
Notes
You can actually make these and tip them out onto a plate like a fondant / lava cake - if you plan to do this, I recommend cooking them in little pudding tins for about 12 minutes.

You can cook these straight away, but you can also chill them and cook from chilled. You can even cook from frozen. It will just take a little longer depending on how cold they are when they go in!

How long they go in the oven depends how gooey you like the centre!
To make a Bailey's cream:
Whisk together double cream (100ml) with a a tbsp of icing sugar until it forms soft peaks. Then add in a 1-2 tbsp of Bailey's and fold it in. Taste it to check its the right flavour for you!
Nutrition Information:
Yield:
5
Serving Size:
1
Amount Per Serving: Calories: 628Total Fat: 33gSaturated Fat: 20gTrans Fat: 1gUnsaturated Fat: 11gCholesterol: 189mgSodium: 293mgCarbohydrates: 65gFiber: 1gSugar: 47gProtein: 9g

Nutritional info is estimated and not always accurate.

Thanks for reading all about my gluten-free Baileys chocolate pots recipe! If you make it, I'd love to see how it turned out so don't forget to take a snap of your creations and tag me on Instagram!
Any questions about the recipe? Please do let me know by following me on Instagram and leaving me a comment on a recent photo!
Thanks for reading,
Becky xxx
Don't forget to pin this for later!
Comments