Say hello to my gluten free white chocolate and raspberry cheesecake recipe! So many of you have asked me for more no-bake cheesecakes… well here you go!
My gluten free white chocolate and raspberry cheesecake recipe is pretty much the dessert of my dreams and it's 100% no bake. Let's get started…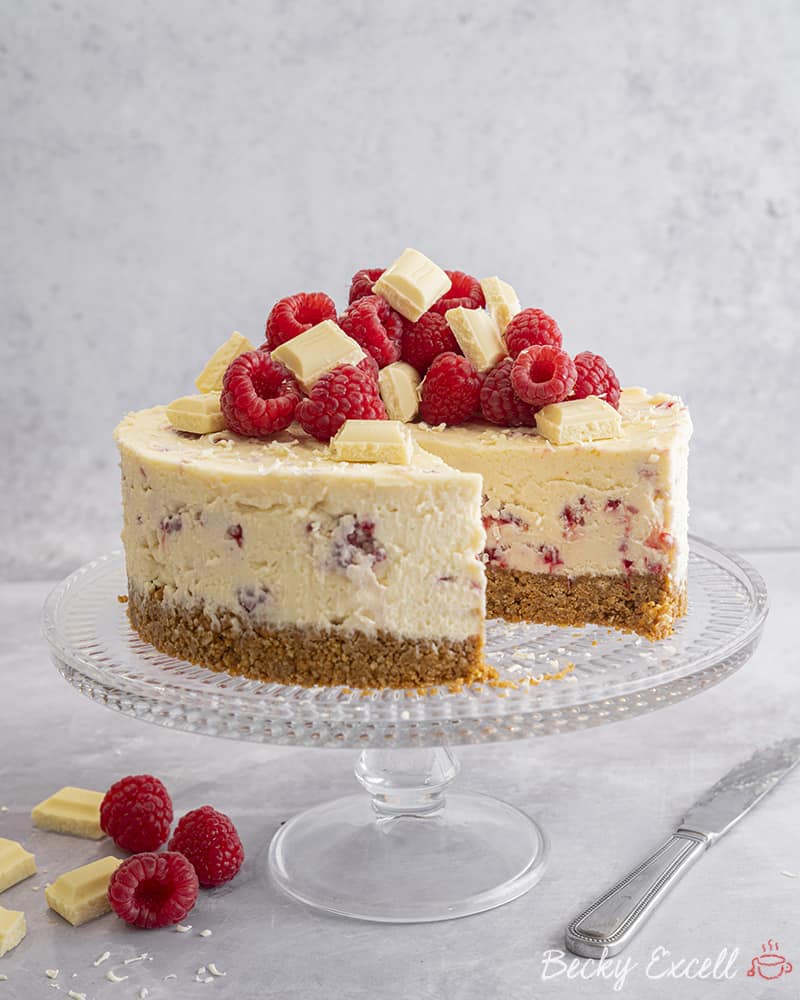 First of all – yes, I have done something I don't often do too much… I've made a recipe using dairy products!
My blog started out posting the recipes that I basically used to make for Mark and myself meaning that they were mostly gluten free and dairy free for Mark.
But as my blog has grown, my Instagram DMs are rammed with requests for different bakes and desserts. So these days, I'm more than happy to say thanks for putting up with me by creating a few recipes for you lot!
(sorry Mark – I will make you something awesome instead)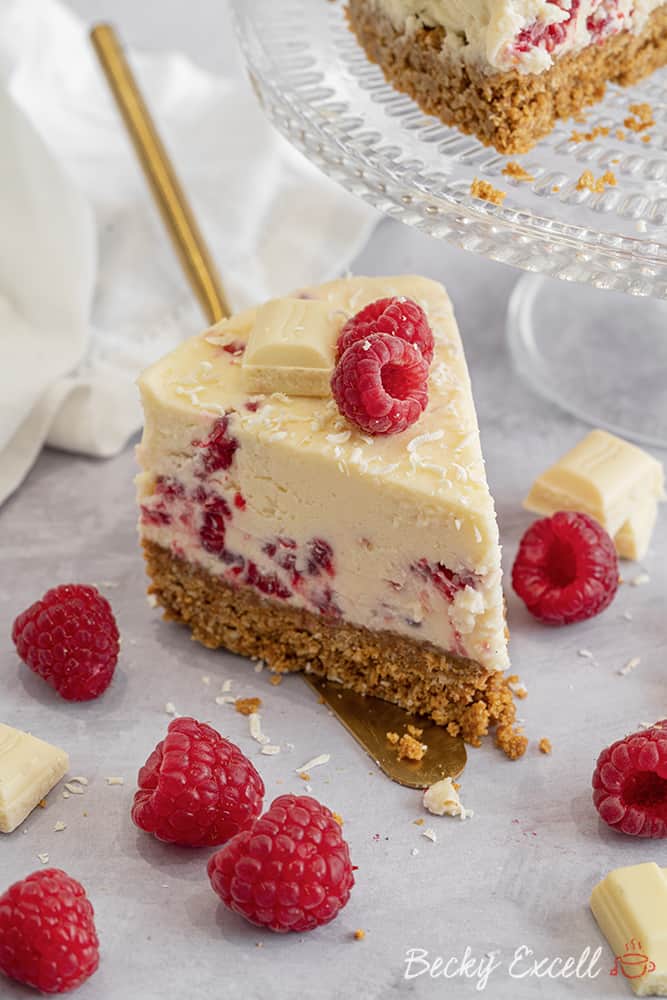 And one of the requests I just kept getting was for a gluten free white chocolate and raspberry cheesecake recipe. What great taste you guys have!
But one thing I've always noticed online is the massive divide between the people who want purely gluten free products/recipes and the people who want gluten free and are also free from something else – like dairy for example.
So the people who want purely gluten free products are pretty miffed about always having to buy gf and df products just because it's convenient for brands to lump the two together.
But then, some people want products to be free from multiple things because, well… they need to be free from multiple things! So in a way, you kinda feel like you can't win.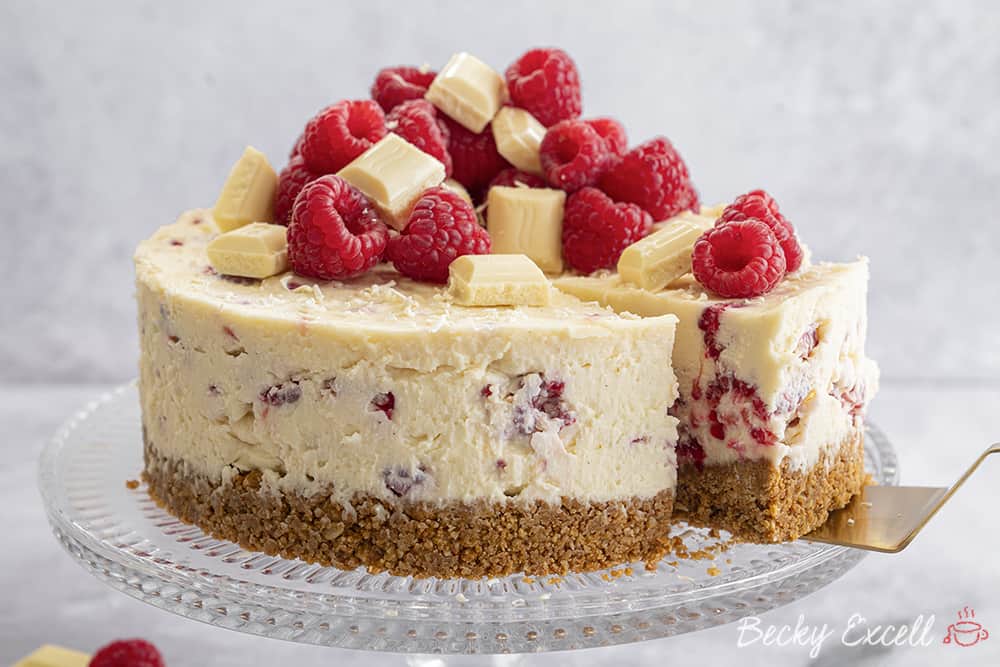 But as they always say – you can't please everybody!
(well, I'm going to try anyway but creating real dairy cheesecake recipes and hopefully a few dairy free ones along the way too)
So I thought I'd quit holding back from making the insanely beautiful and indulgent cheesecakes I know I could make for you guys…
and here it is!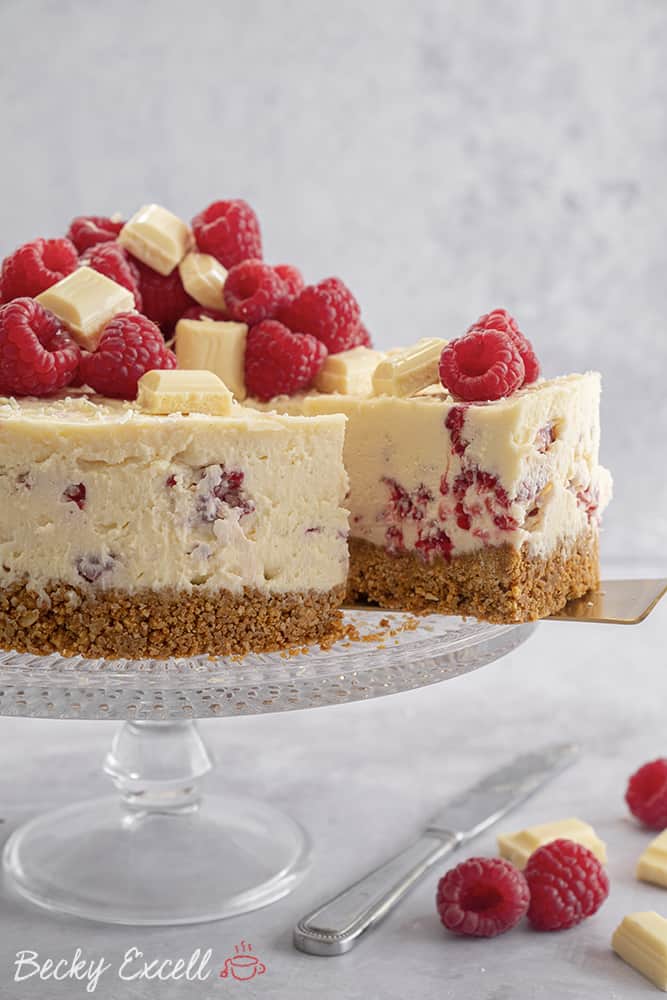 As with all no-bake cheesecakes, the hardest part is being patient enough to not eat this entire thing before it sets. It really is pretty basic.
Give the thing a good amount of time to set (I leave mine overnight) and you'll be guaranteed a beautiful, perfect slice that holds together every time.
Plus, don't let my photos fool you, the finishing touches are incredibly basic and easy too. Just a pile of chopped white choc cubes, raspberries and some grated white choc. Simple!
(wow, did anyone else read that in a 'TV meerkat accent'? Just me?)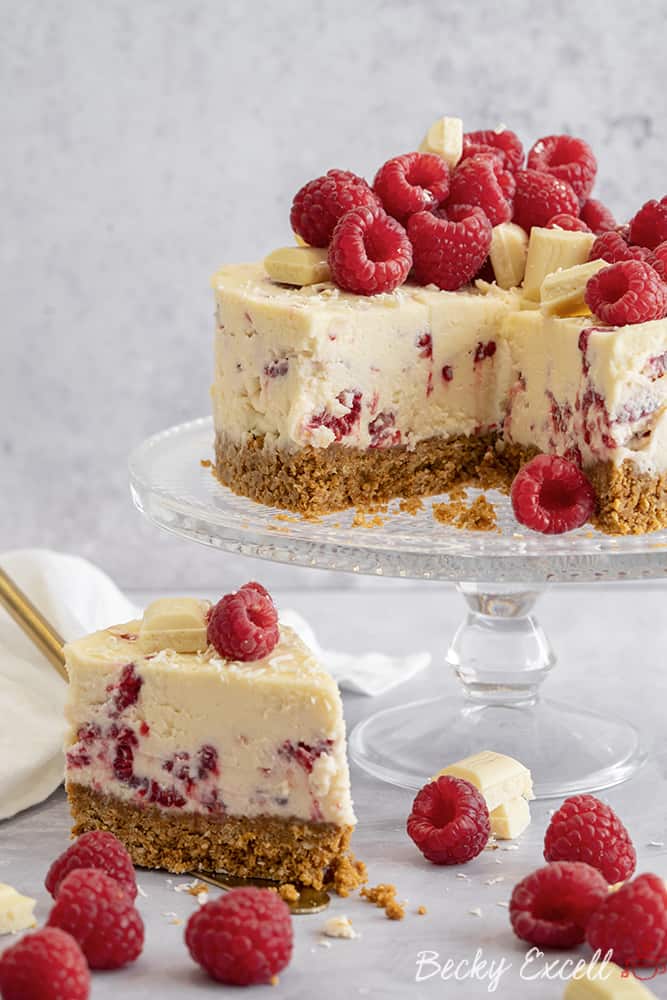 Anyway, here's my gluten free white chocolate and raspberry cheesecake recipe!
Frequently Asked Questions
Can I make this recipe dairy-free?
For years I've always said no… but I've finally found a way to make tons of my cheesecakes dairy-free by using the following products as replacements for the dairy products.
So stick to these swaps and you'll be enjoying a gluten-free AND dairy-free white chocolate cheesecake in no time!
Don't forget to ensure that the biscuits you use for the base are dairy-free too.
Phew, that was quite a few changes, but trust me – it's worth it! I also have a dairy-free vanilla cheesecake over here if you fancy too.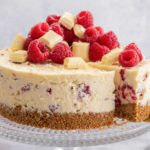 Gluten Free White Chocolate and Raspberry Cheesecake Recipe (No-Bake)
Say hello to my gluten free white chocolate and raspberry cheesecake recipe! It's 100% no bake, so it's super simple and just needs chilling in the fridge.
Ingredients
For the biscuit base
320

g

gluten free digestive biscuits

150

g

hard margarine / butter
For the cheesecake
500

g

mascarpone

100

g

icing sugar

250

g

white chocolate

300

ml

double cream

1/2

tsp

vanilla extract

275

g

fresh raspberries
For the topping
extra chunks of white chocolate

extra fresh raspberries
Instructions
Crush your gluten free digestives. I place mine in a sandwich bag and hit them with a rolling pin. You can make them quite small or have some chunkier bits.

Melt your margarine or butter - I do this in the microwave.

Pour your melted margarine/butter into your crushed biscuits and mix together.

Press your biscuit mixture into the tin you are going to be making your cheesecake in. Press it down nice and firmly.

Place it in the fridge to chill whilst you make your cheesecake top. (I leave mine in the fridge for at least 30 minutes)

Melt your white chocolate, either in the microwave or over a ban marie. Leave to cool.

To make your cheesecake filling mix together your cream cheese, icing sugar and vanilla extract. I use my KitchenAid to do this on a low/medium setting for only about 10-20 seconds. You could you an electric hand mixer too.

Add in the double cream and keep mixing until it firms up a little. (I had the KitchenAid on a medium setting for just under 2 minutes for this - try not to over mix though... don't let it split!)

Pour in your melted white chocolate and mix in briefly to combine.

Fold through your fresh raspberries. (I kept some whole and also crushed some down)

Spread your mixture on top of the biscuit base and place in the fridge to chill overnight.

To decorate place some white chocolate chunks, raspberries and also grate some white chocolate on top.

Keep refrigerated until serving and if you have leftovers. Enjoy!
Notes
I use a 20cm loose bottom deep tin, but you could also use a springform tin.
Nutrition
Serving:
1
g
|
Calories:
554
kcal
|
Carbohydrates:
38
g
|
Protein:
5
g
|
Fat:
44
g
|
Saturated Fat:
22
g
|
Polyunsaturated Fat:
18
g
|
Trans Fat:
2
g
|
Cholesterol:
77
mg
|
Sodium:
234
mg
|
Fiber:
2
g
|
Sugar:
30
g
Thanks for reading how to make my gluten free white chocolate and raspberry cheesecake recipe! If you make it, I'd love to see how it turned out. So absolutely make sure that you send me a pic using my social media links below…
Any questions about the recipe? Please do let me know by leaving a comment below or on Facebook / Twitter / Instagram!
Thanks for reading,
Becky xxx
Oh and don't forget to pin this for later!