Gluten-free black forest cheesecake recipe – a classic cake transformed into a boozy no-bake dessert that everyone will love. Nobody would ever know it's Coeliac-friendly and wheat-free, promise!
Gluten-free black forest cheesecake recipe – this no-bake wonder is super easy to throw together and it doesn't even need any gluten-free flour either. No oven required!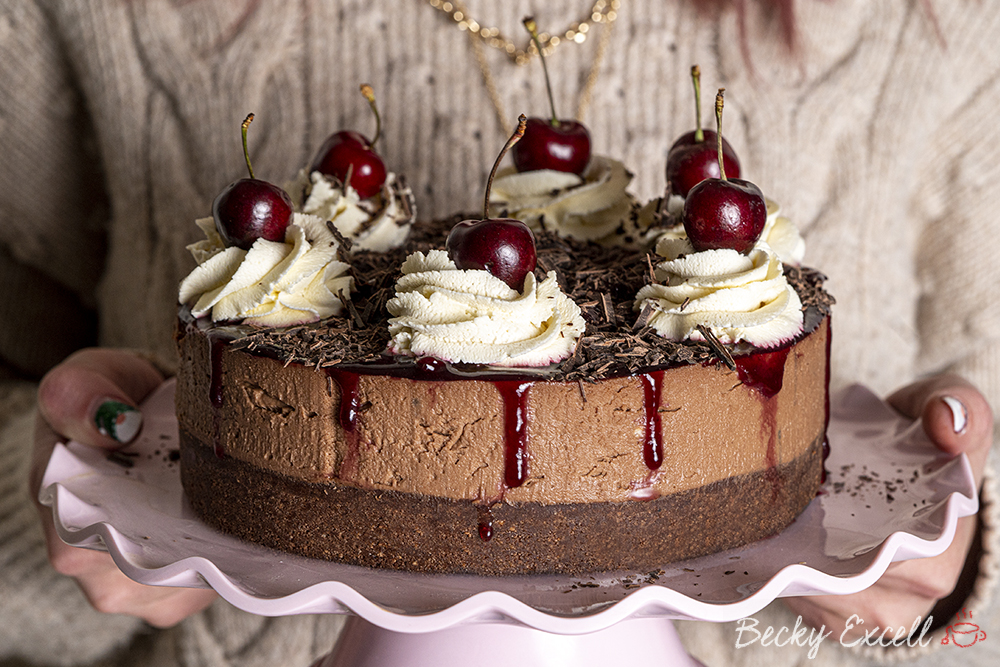 I can't believe that even in the present day, I still find myself having to create everything I crave eating… (not that I'm complaining!)
My point is basically this: muggles can easily waltz into the frozen dessert section of any supermarket and grab a black forest cheesecake without a second thought.
But if I held my breath until a gluten-free black forest cheesecake existed to purchase, I think I'd sadly be no longer with us before I found one!
However, there's another thing that still hasn't changed over the years. Homemade desserts are always better anyway – and this recipe is definitely testament to that. Here's everything you'll need to make it happen:
Gluten-free black forest cheesecake recipe: What you'll need…
Gluten-free digestive biscuits: You can find these down the free from aisle in nearly all supermarkets, but here's a link so you know what you're looking for.
Cocoa powder: This makes the base chocolatey for that ultimate double-chocolate finish – of course, you can always leave it out for a golden, buttery biscuit base.
Butter: As we'll be melting the butter, you can use either cold (straight from the fridge) or room temperature (softened) butter. Salted or unsalted is fine too.
Full-fat cream cheese: I use mascarpone for this one, but Philadelphia cream cheese works great too and is a little softer. Low fat cream cheese doesn't have a high enough fat content to set in the fridge, so don't sub this!
Icing sugar: This sweetens the cheesecake filling and simply vanishes when mixed in, meaning no grainy texture and no need to bake the cheesecake.
Double cream: Only double cream has the adequate fat content to whip and set in the fridge, so single cream won't work here.
Chocolate: Use either milk or dark chocolate or a 50/50 combination of both. I like to reserve some to grate a little on top.
Cherry jam: This takes the liqueur strength away from the cherries soaked in Kirsch, so it's just a little boozy instead of being too overpowering.
Jar of cherries soaked in Kirsch: This is the key to anything black forest flavoured and can easily be found in supermarkets. See the FAQ section for links so you know what you're looking for.
Fresh cherries: These are just for decoration, but even just 6 fresh cherries go a long way in creating the ultimate finish here.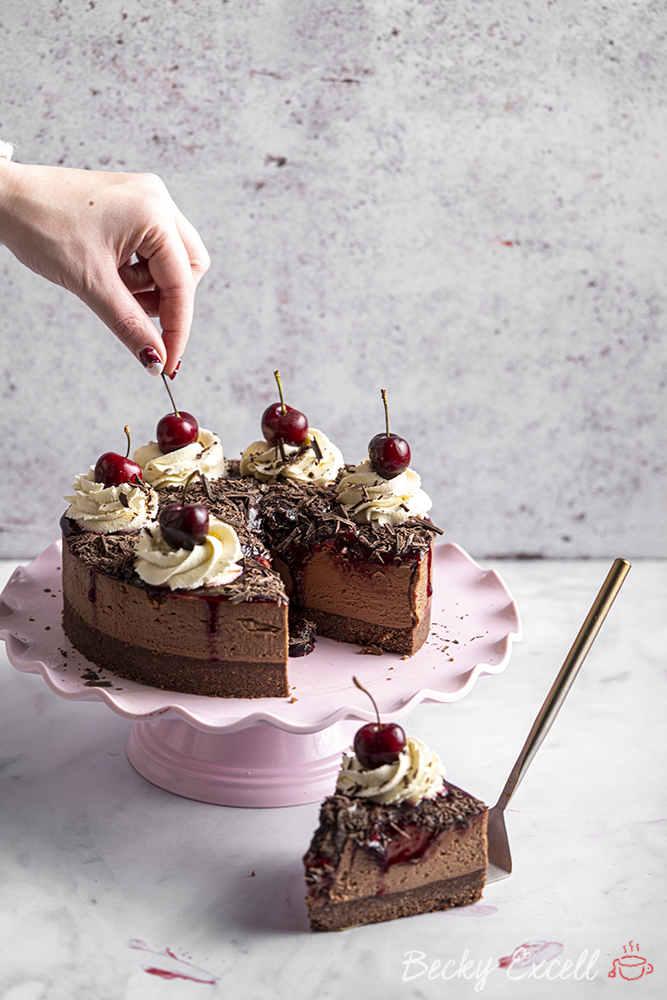 So, what does it taste like? Well, this story all starts with a buttery, chocolatey biscuit base, topped with a light and fluffy chocolate cheesecake filling, infused with a little Kirsch.
Then, a layer of cherry jam that's packed with cherries soaked in Kirsch comes next, adding that ultimate, boozy, black forest flavour.
And of course, a boatload of grated chocolate and Kirsch-infused whipped cream doesn't hurt either!
Take one bite of that and you'll be in black forest heaven.
Gluten-free black forest cheesecake recipe: Frequently Asked Questions
Can I make this recipe gluten-free? Is it suitable for Coeliacs?
It is gluten-free, though nobody would know just by tasting it – trust me!
Bear in mind that minimising cross-contamination is hugely important if you're Coeliac or making this for someone who is. Here's some tips from Coeliac UK on minimising the risk of cross contamination.
Also, make sure that all ingredients used don't have any gluten-containing ingredients. Then make sure that they also don't have a 'may contain' warning for gluten, wheat, rye, barley, oats (which aren't gf), spelt and khorasan wheat (aka Kamut).
Here's some more info from Coeliac UK on identifying safe gluten-free products.
Can I make your gluten-free black forest cheesecake recipe dairy-free?
For years I've always said no… but I've finally found a way to make tons of my cheesecakes dairy-free by using the following products as replacements for the dairy products.
So stick to these swaps and you'll be enjoying a gluten-free AND dairy-free black forest cheesecake in no time!
It's important to use the dairy-free cream cheese/double cream alternatives I listed as they need to have a high enough fat content to set in the fridge. Oh and I also have a dairy-free vanilla cheesecake over here if you fancy too.
Can I make your gluten-free black forest cheesecake recipe vegan?
Follow the steps above to make this dairy-free and you've only gone and made a gluten-free, dairy-free AND vegan black forest cheesecake!
Is this recipe low FODMAP?
Unfortunately, as cherries are high FODMAP in serving sizes above 20g, this recipe is not suitable for the elimination phase of the low FODMAP diet.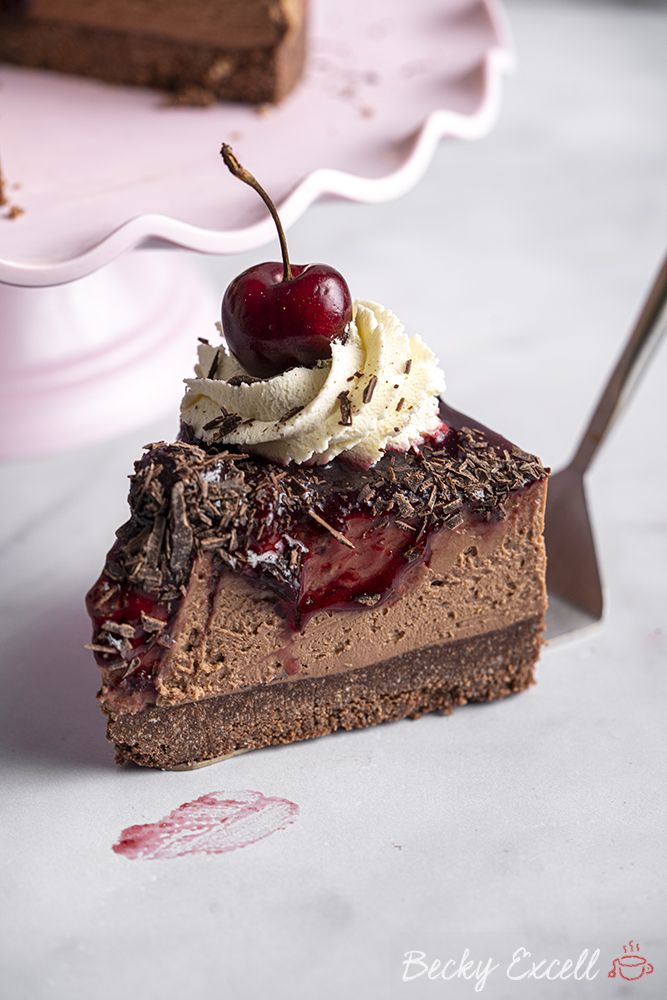 Where can I find cherries soaked in Kirsch? Or Kirsch syrup?
You can find both of these in one jar, which is easy to source in supermarkets. The syrup is simply the liquid that's in the jar along with the cherries!
Simply use the syrup in the jar to infuse the cream. Then, take a few of the cherries and a little more Kirsch syrup and mix into the cherry jam for the ultimate black forest experience.
Here's links to cherries soaked in Kirsch so you know what to look for:
Of course, if you fancy a non-alcoholic version or just don't fancy using Kirsch, you can always skip using it entirely – though it'll be more of a chocolate cherry cheesecake than a black forest cake!
How do I remove the stones from my fresh cherries?
I add fresh cherries as a garnish, complete with the stem and stone. But it might be more practical to remove the stones first.
You can do this by removing the stems and then pushing a chopstick right through the middle of them, so that the stone pops out of the bottom.
Or, if you feel fancy, you can always use a gadget like this to do the job too.
Do I need any special equipment to make your gluten-free black forest cheesecake recipe?
You won't need anything in particular apart from a deep, loose bottom tin – here's the one I use. It's important to use a deep one as this is a tall cheesecake!
It's 20cm (8 inch) in diameter, so remember if your tin is wider than mine, your cheesecake will end up looking a lot flatter!
A springform tin is fine too – here's the one I sometimes use. I don't use it all the time because it's next to impossible to get the entire cheesecake off the base at once.
And ideally, I don't want to be serving the cheesecake and slicing it on my springform base because it'll get all scratched. So I much prefer to use a loose bottom tin.
But definitely don't make this in a normal cake tin without a loose bottom/springform mechanism. You won't be able to get the cheesecake out or cut it!
Of course, you will need a piping nozzle and piping bags if you want to finish the cheesecake like I have in the photos. I use the 1M star nozzle in this set to pipe the cream and piping bags like these.
Can I make your gluten-free black forest cheesecake using light cream cheese or reduced fat mascarpone?
Definitely not! Using light cream cheese or reduced fat mascarpone is a very quick way to ensure that your cheesecake is an instant disaster.
As the fat content is much lower, your cheesecake won't ever have a hope of setting in the fridge. It's full-fat or nothing, I'm afraid!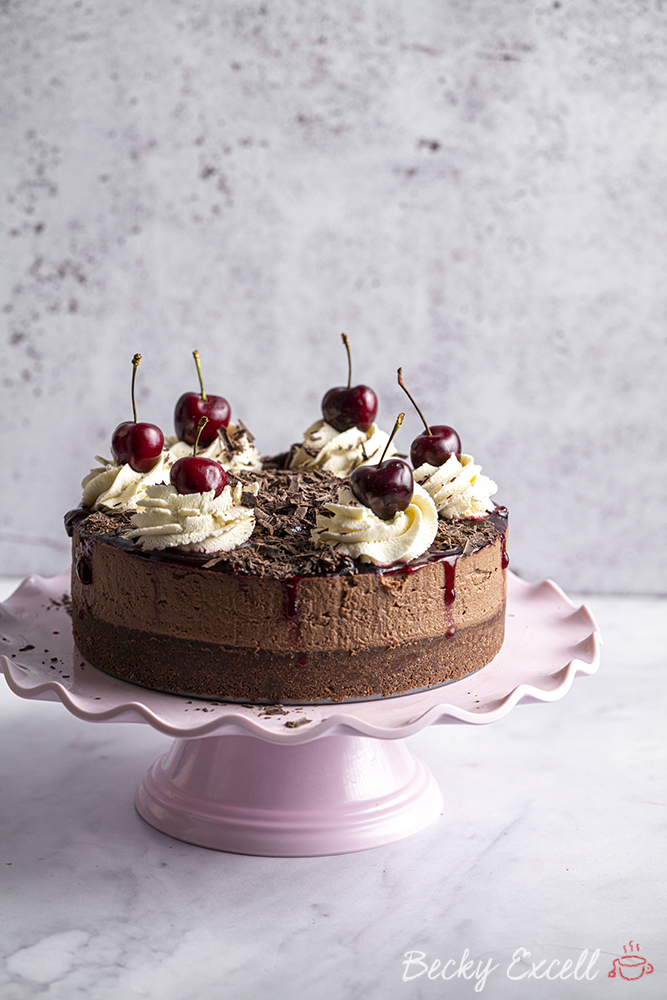 Gluten-free black forest cheesecake recipe: Tips for the perfect no-bake dessert every time
Don't overmix the cheesecake filling. It can split, become very grainy-looking, thin and won't ever set in the fridge. In this case, you can always try freezing it to make it set (it'll still taste the same!) but ideally, avoid overmixing entirely.
Give the cheesecake filling a generous amount of time to set. There's no baking required for this recipe, so the chilling stage becomes even more important! Don't remove from the tin until the top looks lovely and firm.
Use an 8in loose-bottom tin. A smaller tin will result in a cheesecake that's too tall and a larger tin will result in one that's flatter than mine. Loose-bottomed tins (or springform) are important here, otherwise you'll never be able to get the cheesecake out of the tin in one piece!
Keep chilled and covered before serving. This especially applies if you used Philadelphia cream cheese as the cheesecake will begin to soften and melt slightly at room temperature after an hour or so. So store it in the fridge until serving!
Use a large palette knife to remove the cheesecake from the loose-bottomed base. Don't cut the cheesecake on the base of the loose-bottomed tin because you'll scratch it! Using a large, long palette knife and gently (but firmly) easing it underneath the cheesecake base is an easy way to remove it in one go. Then transfer to a serving plate or cake stand.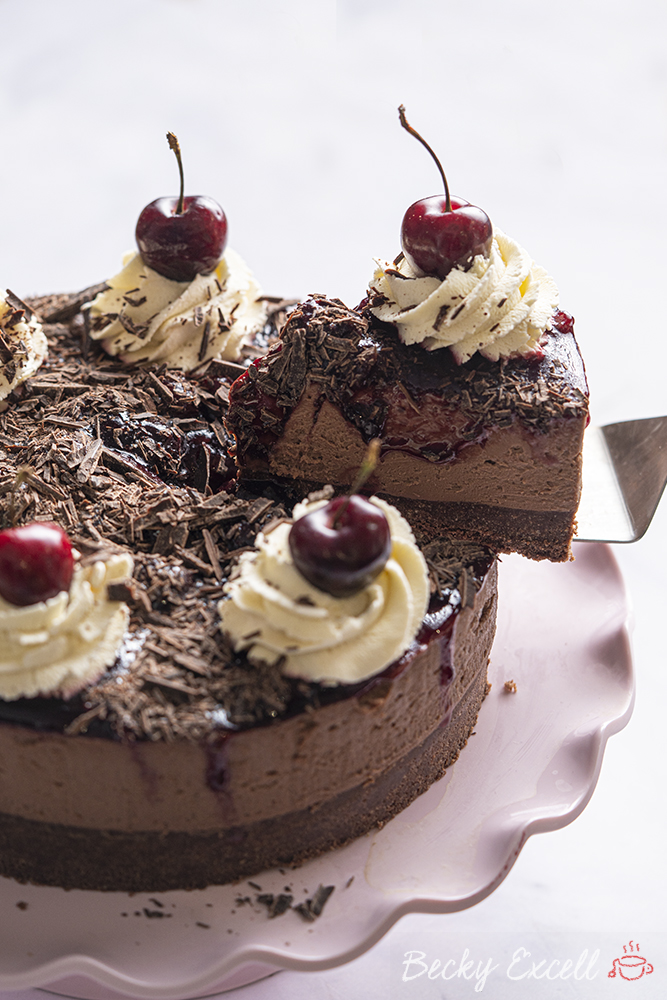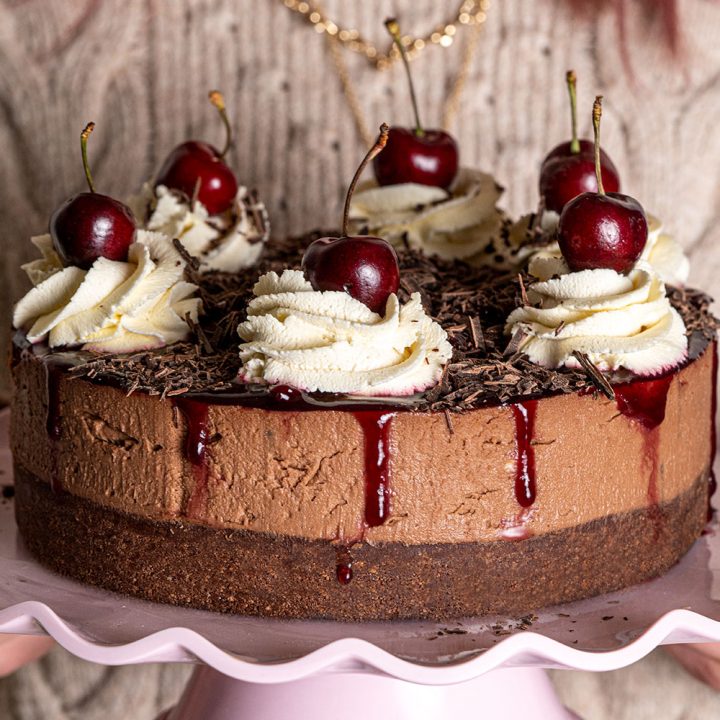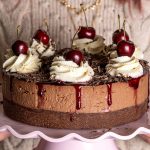 Gluten-free Black Forest Cheesecake Recipe (No-Bake)
Gluten-free black forest cheesecake recipe – a no-bake dessert that couldn't be easier to whip up. Nobody would know it's Coeliac-friendly and wheat-free!
Ingredients
For the base:
320

g

gluten-free digestive biscuits

2

tbsp

cocoa powder

150

g

butter
For the cheesecake layer:
500

g

full fat cream cheese

I used Mascarpone for this one but Philadelphia is great too

100

g

icing sugar

300

ml

double cream

225

g

chocolate

dark or milk

2-3

tsp

Kirsch syrup

taken from a jar of cherries soaked in Kirsch – linked in FAQ section
For the cherry layer
7-8

tbsp

cherry jam

3

tbsp

Kirsch syrup or cherry liqueur

15

cherries soaked in Kirsch

taken from a jar of cherries soaked in Kirsch – linked in FAQ section
For the topping
200

ml

double cream

2

tbsp

icing sugar

1

tbsp

Kirsch syrup

6

fresh cherries

destoned

50

g

chocolate

dark or milk, grated
Instructions
For the base:
Firstly, make your base. Crush your gluten free biscuits – either place them in a sandwich bag and hit them with a rolling pin or you can place them in a food processor and blitz, but don't over blitz them into a fine dust!

Add in your 2 tbsp of cocoa powder and mix in thoroughly (I give mine a quick blitz to ensure it's evenly dispersed)

Melt your butter – I do this in the microwave on a medium power (600W) for around 30 seconds to 1 minute. But if it melts before this time, stop – it's done!

Pour your melted butter into your cocoa crushed biscuits and mix together in a bowl.

Press your biscuit mixture into the tin you are going to be making your cheesecake in. Press it down nice and firmly. I use a 20cm loose bottom tin (linked above and below).

Place it in the fridge to chill whilst you make your cheesecake top. (I leave mine in the fridge for at least 30 minutes)
For the cheesecake filling:
Melt your milk or dark chocolate, either in the microwave or over a bain marie. Leave to cool but not to solidify.

Mix together your mascarpone (cream cheese) and icing sugar. I use my electric hand mixer to do this on a low/medium setting for only about 10-20 seconds. You could use a stand mixer too.

Add in the double cream and keep mixing until it firms up a little. (I had my mixer on for just under 2 minutes for this – try not to over mix though… don't let it split!)

Pour in your melted milk or dark chocolate and mix in briefly to combine. I tend to do this by hand so I can be really careful not to split the mixture.

Then carefully fold in your Kirsch syrup – this is simply the liquid from the jar of cherries soaked in Kirsch (linked in FAQ section).

Spoon your chocolate filling on top of the chilled base, then use a palette knife to smooth over the top. Place in the fridge to chill, ideally overnight but no less than 5 hours.
To assemble:
Remove your cheesecake from the fridge and push it out of the tin and place on your serving plate.

Mix your jam, Kirsch syrup and 15 soaked cherries together (add the liquid gradually so it doesn't become too runny) and then spoon over the top of cheesecake. Spread it and allow to drip slightly down the sides too.

Pour your cream into a bowl and add your icing sugar. Whisk until just past soft peaks and then gently fold in your Kirsch syrup. Pop into a piping bag with a closed star nozzle – see the FAQ section for which specific nozzle I used to pipe.

Once ready to serve, pipe the cream around the edge of the cheesecake and then place a fresh cherry on top of each.

Sprinkle your grated chocolate all over the centre of your cheesecake.

Keep any extras in the fridge.
Thanks for reading all about my gluten-free black forest cheesecake recipe! If you make it, I'd love to see how it turned out so don't forget to take a snap of your creations and tag me on Instagram!
Any questions about the recipe? Please do let me know by following me on Instagram and leaving me a comment on a recent photo!
Thanks for reading,
Becky xxx
Don't forget to pin this for later!