Gluten-free Percy Pig profiteroles recipe, anyone? This is the ultimate tribute to my favourite sweets from M&S – best of all, nobody would ever know they're Coeliac-friendly and wheat-free too.
Gluten-free Percy Pig profiteroles recipe – making choux pastry without gluten is easier than you'd think! Then all that's left to do is assemble them and pig in… erm, I mean, dig in!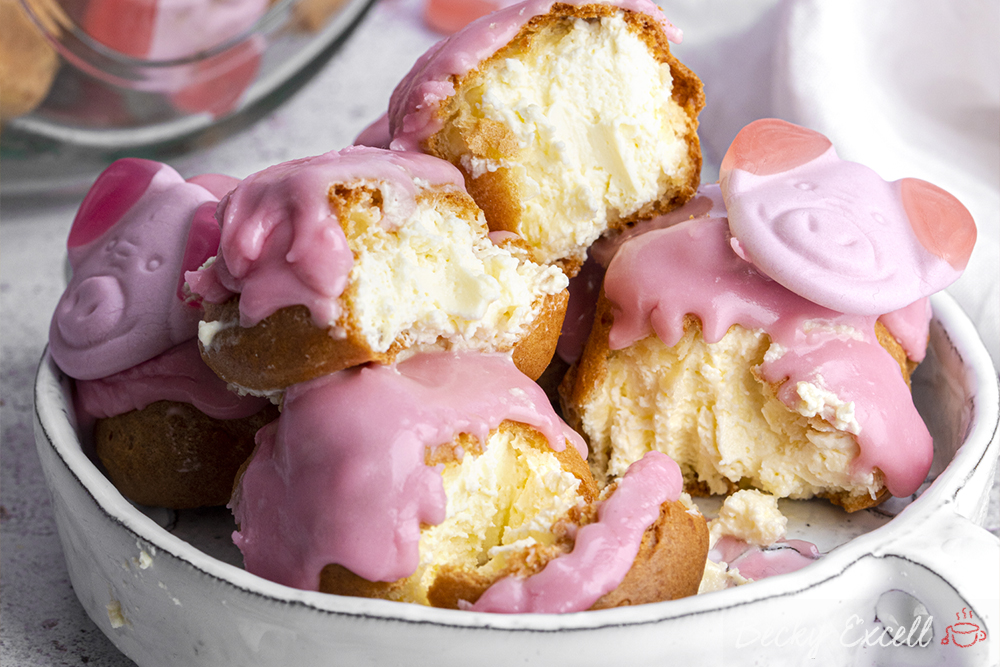 First of all, in the nature of being transparent, I collaborated with M&S last month to promote their big ol' jar of Percy Pigs over on Instagram. However, this is not a sponsored recipe post.
I created the recipe exclusively for that Instagram post with no intention of sharing it. It was just a tribute to my favourite childhood sweets!
But I never thought so many of you would actually want the recipe! And when I think about it… I would lose my mind if someone served this up to me!! So I thought I'd better get my skates on and write it up.
And that's exactly what I did!
Here's a few reasons you need to make my gluten-free Percy Pig profiteroles recipe if you weren't convinced already…
Why make my gluten-free Percy Pig profiteroles?
You'll learn how to make gluten-free choux pastry which is indistinguishable from muggle choux pastry.
And once you've mastered that, all you need to do is fill them, top them and eat them!
You can then use the choux pastry recipe to make eclairs too – simply pipe your dough into lines instead and follow the recipe as normal.
Percy Pigs are gluten-free, so celebrate that fact by making these!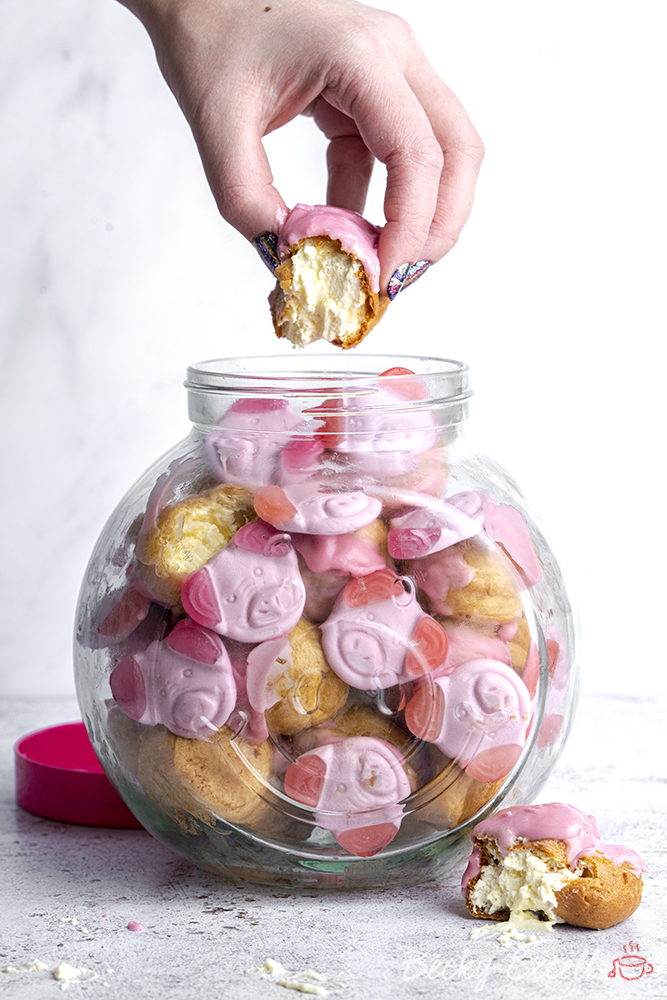 So what do my gluten-free Percy Pig profiteroles taste like?
The choux pastry is INCREDIBLY light, crisp on the outside with lots of room inside for that thick and creamy, white chocolate filling.
Then, simply top with a homemade raspberry glaze and enjoy with a cheeky Percy Pig or two.
Here's everything you'll need for this recipe, keep scrolling until you see the recipe card for the measurements and method ??
Gluten-free Percy Pig profiteroles recipe: Ingredients you'll need
Whole milk
Butter
Gluten-free self-raising flour
Xanthan gum
Caster sugar
Salt
Large eggs
Double cream
White chocolate
Fresh or frozen raspberries
Icing sugar
Percy Pigs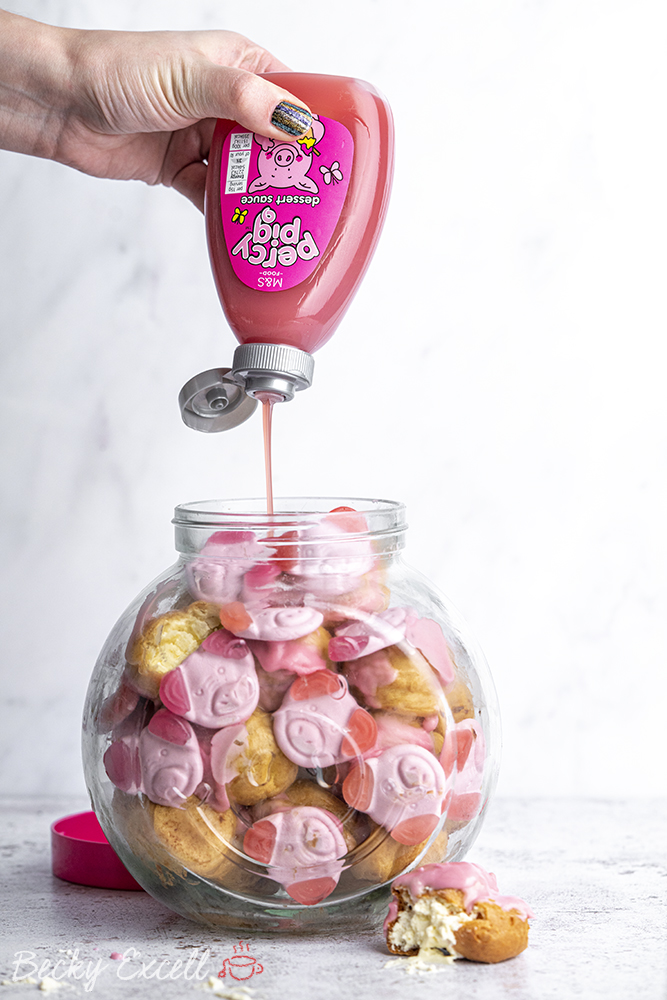 So I thought I'd kick things off with a little frequently asked questions section – if you just want the recipe, then keep scrolling.
But I've thrown in some tips here that will be really helpful if this is your first time making this, or you want to adapt it. So here they are!
Gluten-free Percy Pig profiteroles recipe: Frequently Asked Questions
Can I make this recipe gluten-free?
It is gluten-free, though nobody would know just by tasting it – trust me!
Bear in mind that minimising cross-contamination is hugely important if you're Coeliac or making this for someone who is. Here's some tips from Coeliac UK on minimising the risk of cross contamination.
Also, make sure that all ingredients used don't have any gluten-containing ingredients. Then make sure that they also don't have a 'may contain' warning for gluten, wheat, rye, barley, oats (which aren't gf), spelt and khorasan wheat (aka Kamut).
Here's some more info from Coeliac UK on identifying safe gluten-free products.
Can I make your gluten-free Percy Pig profiteroles recipe dairy free?
Yes! But they'll be raspberry and white chocolate profiteroles, not Percy Pig profiteroles unfortunately!
For the choux pastry, start by using Stork hard margarine instead of butter and the dairy-free milk of your choice.
For the filling:

Instead of using double cream, use: Elmlea Plant Double Cream (has a 'may contain' warning for milk and easily found in supermarkets) or if you have a milk allergy, Flora Plant Professional Double Cream (no may contain warning for milk, but can only be bought online).
Instead of using white chocolate, use dairy-free white chocolate.
Unfortunately, Percy Pigs aren't dairy-free (they have a 'may contain' warning for milk) so you'll have to omit those if you have a milk allergy.
That's it!
Can I make your gluten-free Percy Pig profiteroles recipe vegan?
Whilst it's easy to make this recipe dairy free using the guidance above, because of the eggs in the choux pastry, it's not so easy to make this vegan at all.
(sorry, I always try my best to make sure as many of my recipes can be made vegan, but this one was really tough)
Usually, I'd recommend you some egg replacement options here, but this recipe relies a little too much on real eggs to work. I've tried egg-replacers but not had much luck.
I'll get working on a gf AND vegan choux pastry recipe and get back to you one day I hope!
Is your gluten-free Percy Pig profiteroles recipe low FODMAP?
Unfortunately, because of the use of double cream, this recipe is NOT suitable for the elimination phase of the low FODMAP diet.
And because dairy-free alternatives tend to use high FODMAP ingredients as a replacement, those aren't suitable either.
However, if you use lactose-free milk in the choux pastry – that would make it low FODMAP. As for the filling, you can use option 2 as the filling over in my original gluten-free profiteroles recipe and use lactose-free milk for that – then just add the orange extract and cocoa powder to it (ensuring the cocoa powder is lactose-free).
Finally, simply top with melted lactose-free chocolate instead of the ganache in this recipe. Then, you have elimination phase-safe gluten-free Percy Pig profiteroles!
Are Percy Pig sweets gluten-free?
Yes! At the time of writing, they don't have any gluten-containing ingredients or 'may contain' warnings for gluten, which makes them suitable for a gluten-free diet.
Here's a link to them so you can double-check the ingredients for yourself.
You can find them online on Ocado, or in-store in M&S.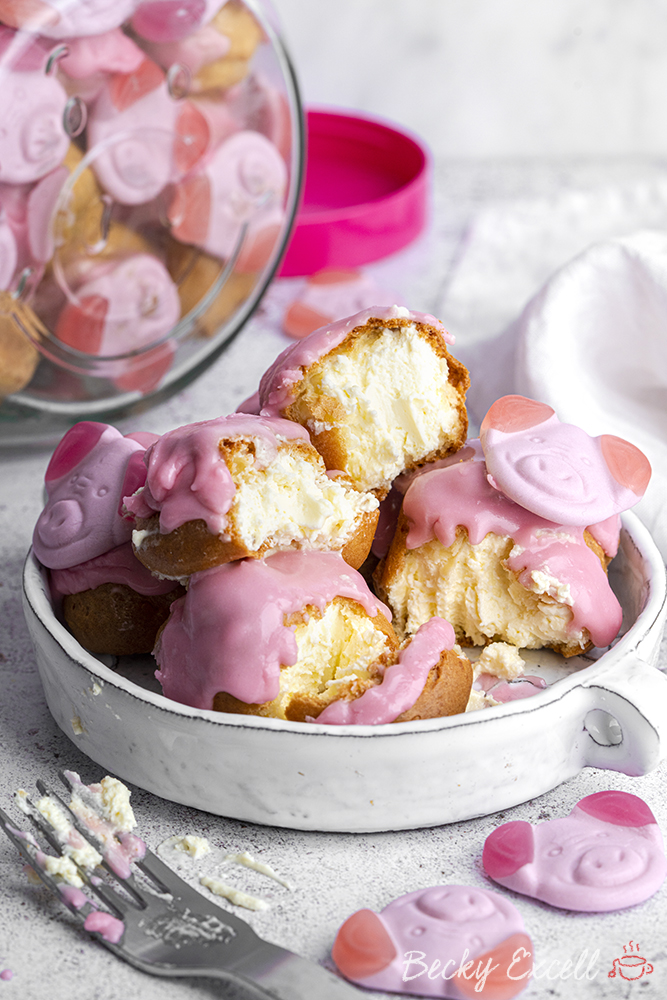 Do I need any special equipment to bake your gluten free profiteroles recipe?
You'll need some piping bags and an open nozzle – I use the 1A nozzle in this set.
Otherwise, you're good to go.
Can I make this recipe without using piping bags and nozzles?
Technically yes, but I wouldn't recommend it! If you're in a pinch and you have no piping bags or nozzles, you can always put your choux pastry dough into a medium plastic sandwich bag.
Then, just snip off one of the corners using a pair of scissors so that you have a hole approximately 1cm big. It's not ideal, but it'll definitely do!
Try to make sure each choux pastry blob is the same size as it might be a little harder without a nozzle and proper piping bag.
And if you don't even have a sandwich bag, spend A LOT more time spooning out nice even blobs onto a baking tray and making sure they're all the same size. If you don't care about how they look too much, you'll definitely still produce something edible and tasty!
Can I make this recipe without xanthan gum?
You'll see xanthan gum in a lot of my recipes as it's an essential ingredient in gluten free baking. So I definitely wouldn't recommend removing xanthan gum from any of my recipes if you can really avoid doing so!
But what if you didn't have any to hand?
Well, this is one of those recipes where it wouldn't be the end of the world if you didn't include it. Why? Because there's actually a little xanthan gum in gluten free self-raising flour to start with, which will help if you don't have any.
But yeah – if you have it and can use tolerate it, then definitely use it!
Can I make this recipe using other gluten free flours like buckwheat flour or coconut flour?
There's a big difference between 'gluten free flour' and a *singular* type gluten free flour. When I say 'gluten free flour', I mean a BLEND of gluten free flours, not just one singular flour.
Most gluten free flour you buy in the supermarket typically contains a blend of rice flour, potato flour, maize flour, tapioca flour AND buckwheat flour. That's a lot of different flours!
In gluten free self-raising flour, there's usually even a little baking powder and xanthan gum in it too.
So to replace it with just one specific type of flour… that's not going to cut it at all. Definitely go for a gluten free flour blend.
Do I need weighing scales to make your gluten-free Percy Pig profiteroles?
In short… yes, yes and yes! And I wouldn't advise attempting any my recipes without them.
A lot of work went into fine tuning ratios and quantities and for me, baking is all about consistency and precision. I want you to make this recipe and for it to turn out EXACTLY like mine did.
I'd recommending using digital cooking scales like these so you know you're getting an accurate measurement and replicating my recipe as accurately as poss.
5 tips for the perfect gluten-free Percy Pig profiteroles
Ensure your choux pastry dough isn't too runny. It must be lovely and thick so it holds its shape when piped into a ball.
Dab any pointy, raised bits of dough with water once piped. This will stop your choux balls becoming oddly shaped in the oven.
Don't open the oven until they're done! They will massively deflate if you open the oven too early.
Once baked, pierce a hole in the bottom of each of your choux balls and turn them upsidedown. This will stop them getting soggy as the steam escapes.
Don't fill your profiteroles too early. The choux pastry will lose its lovely, crisp exterior and become soggy.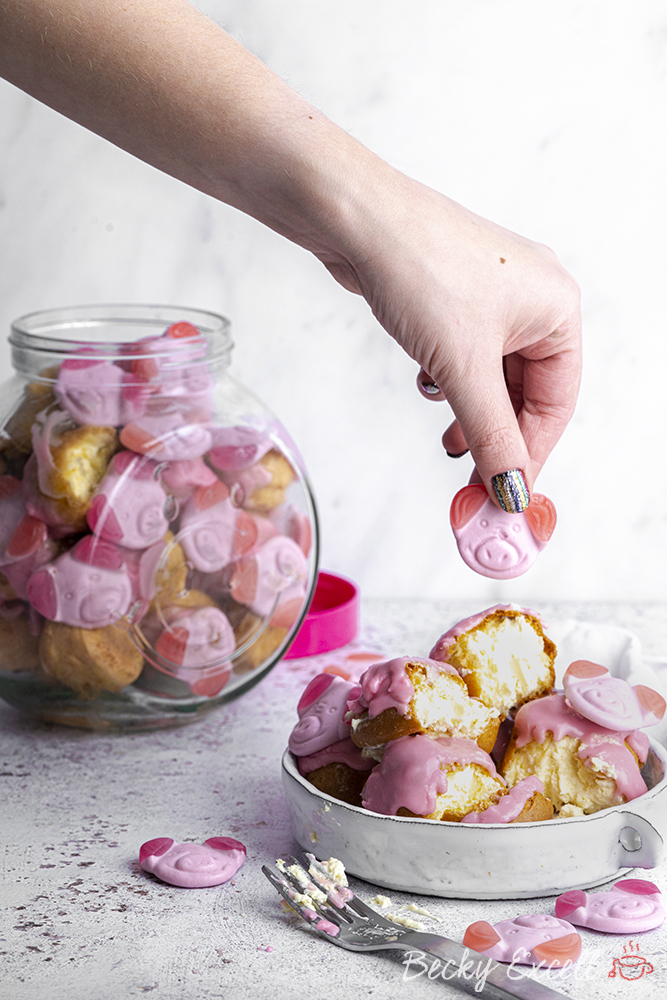 How to store your gluten-free Percy Pig profiteroles
Without being filled, I've kept them for 2-3 days in an air-tight container with no problems – they don't need to be kept in the fridge.
The longer you keep them, the more they'll lose their crisp exterior. If they do go a bit soft, you can always reheat them (unfilled of course) in the oven at 200c for 5 minutes to crisp them up again.
If you've already put your cream filling inside, I wouldn't keep them for longer than 24-48 hours in the fridge – they will definitely lose their crisp shell if you do so.
To freeze them:
You can freeze your unfilled choux buns for around 2-3 months – they should then only take 1-2 hours to defrost in the fridge or 30 minutes out of the fridge. Once defrosted, consider reheating the unfilled choux buns in the oven for a few minutes to try and bring back their crisp exterior! Then proceed with the rest of the recipe.
You can also freeze your filled choux buns for up to 2-3 months. The best way to freeze them, is spread them out on a baking tray, then once fully-frozen, you can then transfer them to an airtight container and place back in the freezer. When you want to eat them, simply allow to defrost in the fridge for 2-3 hours or an hour outside of the fridge. They'll lose their crisp exterior by freezing them filled, but of course, they'll taste just as good!
But all that being said, it's best to fill your choux buns and immediately eat them to experience them at their best.
Gluten-free Percy Pig profiteroles recipe
: Method
Oh and here's a printable version of my gluten-free Percy Pig profiteroles recipe. Please remember to give it 5 stars if you tried it and enjoyed it as it helps people know it's worth trying too! ⭐️
Gluten-free Percy Pig Profiteroles Recipe - BEST EVER!
Gluten-free Percy Pig profiteroles recipe - the ultimate dessert that nobody would know is Coeliac-friendly and wheat-free. See the FAQ section for advice on making this dairy-free.
Ingredients
For the choux pastry
75

ml

water

75

ml

whole milk

50

g

butter

cut into pieces

75

g

gluten-free self-raising flour

1/4

tsp

xanthan gum

1

tsp

caster sugar

1/4

tsp

salt

2

large eggs
For the white chocolate filling
240

ml

double cream

200

g

good quality white chocolate

small chunks
For the raspberry glaze
120

g

fresh or frozen raspberries

250

g

icing sugar

2

tsp

caster sugar

2

tbsp

milk
Instructions
For the Choux Pastry:
Preheat your oven to 220C / 200C Fan. Prepare a large baking sheet.

Sieve your gluten free self raising flour, xanthan gum, sugar and salt into a bowl. Put to one side.

Place your milk and water into a small/medium saucepan alongside your butter. Heat on a low/medium heat until the butter has melted.

Once melted allow to bring up to a gentle simmer. Once simmering, turn the heat off and immediately add your flour mix to the saucepan. Mix vigorously straight away until everything comes together into a dough.

If the mixture still seems a tiny bit moist on top put it back on a very low heat (continuously stirring) for a minute or so, don't let it stick to the bottom.

Take off the heat and place in a bowl to cool a little. You need to do this before adding your eggs next.

Beat 2 eggs in a jug and then gradually add it to the dough. You need to mix really thoroughly between each addition. You can do this by hand quite easily but its a proper workout! I tend to do it with an electric hand mixer on the lowest setting. It doesn't look the prettiest whilst mixing but keep going until smooth.

Make sure you are watching the consistency of the dough as you add the egg. You don't want it to go too runny. It needs to be thick enough to be a pipeable consistency that can hold it's shape.

At this point the dough should be ready to pipe. Transfer your dough into a piping bag (I use a 1A nozzle). Pipe small balls onto your baking sheet with a little space between each ball. I make about 15 with this amount.

Once they've all been piped, wet your finger and dab the top of each ball to help with the shape. Gently flatten any pointy bits.

You can gently brush a little egg or milk on top of each ball but only if you have some spare as it's not necessary.

Place in the oven at 220C / 200C Fan for 10 minutes. Then reduce the temperature of the oven to 170C / 150C Fan for a further 15 minutes until puffy and golden. Never open the oven until they are ready to be taken out.

Remove from the oven and pierce the bottom of each profiterole with a skewer and place them upside down to let the steam out, otherwise they will be soggy inside. Allow to cool down in a warm area - I usually do this by putting them back in the oven, turned off with the door ajar - do this for about 20 minutes.

Store in an airtight container if you aren't planning to use them immediately.
For the white chocolate cream filling:
Place your white chocolate and half (120ml) of your cream into a microwaveable dish. Carefully melt both together until smooth. I do this on a medium microwave setting, stopping every 20-30 seconds to stir.

Allow to cool before putting in the fridge to firm up - this will take a few hours.

Once firm (but not solid) use an electric hand mixer to beat the mixture until a little more fluffy. It took me just over a minute, starting slow and building up the speed.

Then add the other half of your cream to the bowl and mix once more, again for around a minute until combined and it's more of a soft peaks cream consistency. Now it's ready to use as a filling. Don't over mix or your cream will split and become too thin.
For the raspberry glaze:
Place your raspberries and caster sugar in a small pan. Heat gently until the raspberries break down and the mixture thickens a little.

Strain your raspberries through a sieve to remove the seeds, leaving you with a lovely, smooth pink raspberry sauce. You should have around 2 tbsp of mixture.

Mix together the 2 tbsp of raspberry mixture with your icing sugar and milk (add the milk gradually to check you haven't added too much). You should now have a lovely and thick raspberry glaze, ready to top your profiteroles.
Assembling your profiteroles:
To construct, pipe the filling into each profiterole using a piping bag/nozzle. Of course, you'll need to have made a small hole in the bottom of each profiterole first - just big enough to comfortably fit your piping nozzle. OR if you don't fancy piping the filling in, simply cut each choux bun in half and add your filling using a spoon or by piping it in that way instead.

Drizzle your pink raspberry glaze over the top of each. Don't put too much or it could get messy! You could also carefully dip each profiterole into the glaze if you prefer.

Finish some with Percy Pigs and enjoy! I really like the Percy Pig Sauce so I drizzle that on top of mine too.

Notes
You can just use a regular double cream and icing sugar whipped filling too, it works really well too.
Thanks for reading all about my gluten-free Percy Pig profiteroles recipe! If you make it, I'd love to see how it turned out so don't forget to take a snap of your creations and tag me on Instagram!
Any questions about the recipe? Please do let me know by following me on Instagram and leaving me a comment on a recent photo!
Thanks for reading,
Becky xxx
Oh and don't forget to pin this for later!