Gluten-free apple crumble recipe – using just 6 simple ingredients, I might add. Nobody would ever know it's Coeliac-friendly and wheat-free, promise!
Gluten-free apple crumble recipe – this one is 100% beginner friendly, only takes 15 minutes of effort + baking time and is absolutely impossible to detect as being gluten-free. So bring on dessert!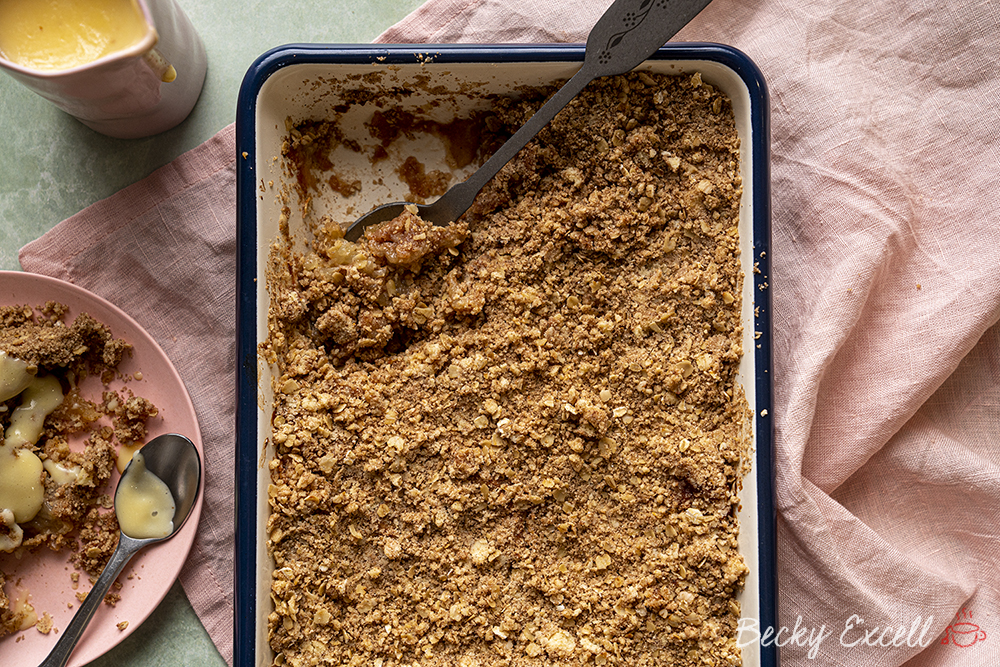 Before my eating world was turned upside-down, I wasn't much of a baker at all *insert audience gasping noise here*
But one of the things I used to make religiously, even before being gluten-free, was… this apple crumble!
So naturally, this was one of the first things I ever 'gluten-free-ified' (now over a decade ago) and I still make it today.
I just needed to swap plain wheat flour for gluten-free plain flour, which, fortunately, was readily available in supermarkets. Job done!
Gluten-free apple crumble recipe: What you'll need…
Gluten-free plain flour: I use a simple commercial blend from the free from aisle in the supermarket. If you can't find a blend like this where you live, you can always make your own using my gluten-free flour recipe.
Butter: We need to be using cold butter for this recipe – otherwise you won't be able to rub it into the flour. Salted or unsalted is fine.
Light or dark brown sugar: Whilst caster sugar is fine too, brown sugar contains natural molasses which adds a more caramelised flavour. It sets the apples apart from otherwise being more of an apple sauce-like taste and look and is perfect when used with apples and cinnamon.
Ground cinnamon: Apple and cinnamon is a classic match made in dessert heaven. However, if you're not a fan of cinnamon (like my Mum!) then you can happily leave this out like I do when she comes over.
Gluten-free oats (optional): You'll find these in supermarket free from aisles here in the UK. I used these in the photos you see here because I always have them in the house and they add a slightly chewy texture to the crumble. However, as some gluten-free folks still struggle to tolerate them, I just wanted to highlight that they are essentially optional if you can't tolerate them.
Bramley cooking apples: Make sure they're nice big ones, otherwise you'll have a sad crumble topping to apple filling ratio! Any cooking apples will do, such as Granny Smith or Pink Lady apples, but I always use Bramleys as they're nice and big!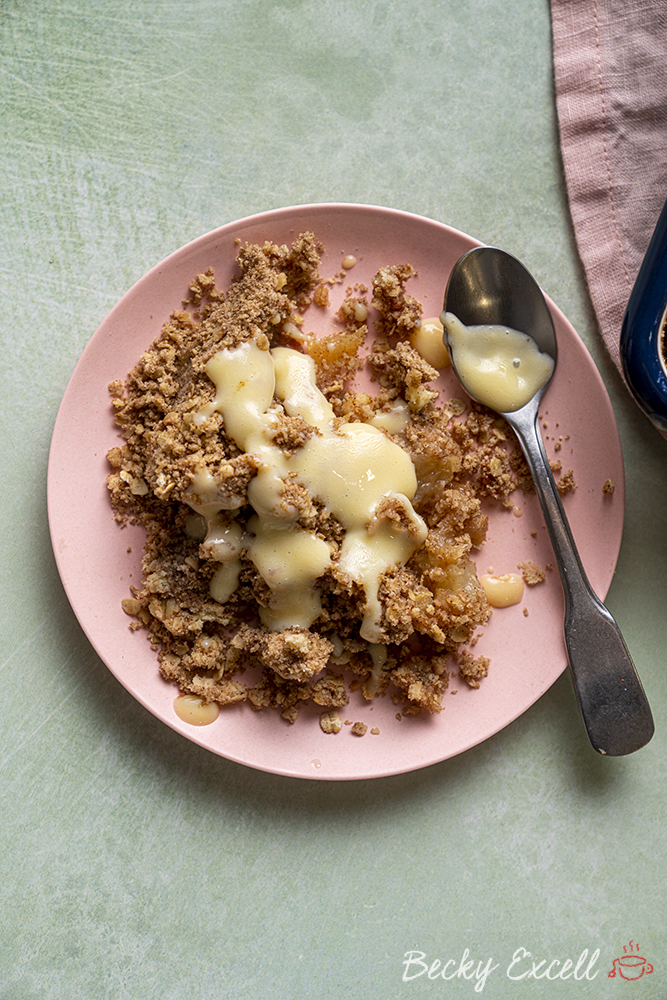 So, what does my gluten-free apple crumble taste like?
The filling is crammed with soft, sticky, caramelised apple, with a subtle glow of cinnamon. Trust me – you just can't beat homemade apple crumble filling!
Then, it's topped with a crunchy, buttery, crumble mixture (with added chew if you add the gluten-free oats) that's the perfect contrast to all those tender chunks of gooey apple.
Simply serve with hot gluten-free custard or vanilla ice cream and make whenever you fancy for the rest of your life. Or that's what I do anyway!
Gluten-free apple crumble recipe: Frequently Asked Questions
Can I make this recipe gluten-free? Is it suitable for Coeliacs?
It is gluten-free, though nobody would know just by tasting it – trust me!
Bear in mind that minimising cross-contamination is hugely important if you're Coeliac or making this for someone who is. Here's some tips from Coeliac UK on minimising the risk of cross contamination.
Also, make sure that all ingredients used don't have any gluten-containing ingredients. Then make sure that they also don't have a 'may contain' warning for gluten, wheat, rye, barley, oats (which aren't gf), spelt and khorasan wheat (aka Kamut).
Here's some more info from Coeliac UK on identifying safe gluten-free products.
Can I make your gluten-free apple crumble recipe dairy-free?
Easily, with one simple swap:
Use Stork hard margarine instead of butter.
That's it! It also then makes it vegan too. If serving with custard, of course make sure that's dairy-free before pouring, please.
This is Mark's favourite dairy-free custard and we've been buying it for years and years now.
Can I make your gluten-free apple crumble recipe vegan?
Follow the steps above to make this dairy-free and you've only gone and made gluten-free, dairy-free AND vegan apple crumble!
Is this recipe low FODMAP?
Unfortunately, a low FODMAP serving size for apple lies between 20-30g according to Monash University.
And in a single serving of this dessert, you're likely to exceed that limit, meaning it's not suitable for the elimination phase of the low FODMAP diet.
Hopefully, once you've successfully reintroduced apples, you can give this recipe a try!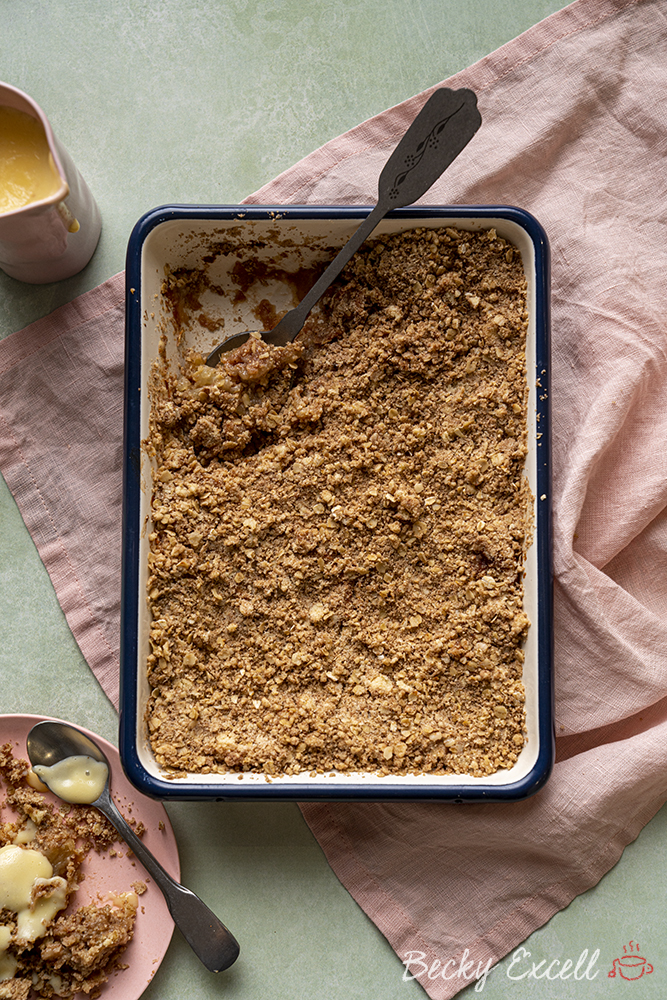 Do I need any special equipment to make your gluten-free apple crumble recipe?
Nothing special at all – just an oven proof baking dish. Mine is 11in x 7in, so I'd advise using one similar in size.
If your dish is too much smaller than mine, you'll end up with a very thick layer of crumble! A larger dish is fine, but bear in mind it'll be a thinner crumble and will likely bake faster too.
Is custard (for serving) gluten-free?
If made with gluten-free ingredients, then yes! Fortunately, custard usually is, but make sure you double-check the ingredients label before buying, please.
Often, cornflour (corn starch) is used as a thickener in custard which will be gluten-free unless otherwise specified.
You can either make your own using the quick, thick custard recipe in my first book 'How To Make Anything Gluten-free' on page 37 OR use Bird's custard powder from the supermarket.
Can I use apples other than Bramley apples for this recipe?
Yes… but some apples are definitely better than others! Allow me to explain. Apples are classed as two different types: cooking apples and eating/dessert apples.
Cooking apples remain firm when cooked and as they're naturally sharp, they'll retain a lot of that flavour when cooked. When combined with a bit of sugar, it create the perfect sweet and sour apple filling.
Non-cooking apples are your regular eating apples that won't remain as firm or hold their shape well when cooked. That basically means a very mushy apple filling!
BUT – some apples are both eating and cooking apples, like a Granny Smith or Braeburn, which are perfect for both! So to stop this becoming very confusing, here's a non-exhaustive list of apples you can use for this recipe:
Bramley
Granny Smith
Grenadier
Pink Lady
Braeburn
Cox's Orange Pippin Apple
Fuji
Golden Delicious
Honeycrisp
And though you can use all of the above, I still recommend Bramleys because I can vouch for their flavour and most importantly, because they're so big!! Not sure if your apple is fit for cooking? You can check it here.
Can I add berries to this recipe in the filling?
Yes! Feel free to use this recipe to make your own crumble filling flavours.
Simply add raspberries, blackberries or strawberries (hulled and chopped) to the filling mixture once you've softened the apple. Then continue with the recipe as normal.
If the berries are frozen, simply add them to the apple filling a little earlier.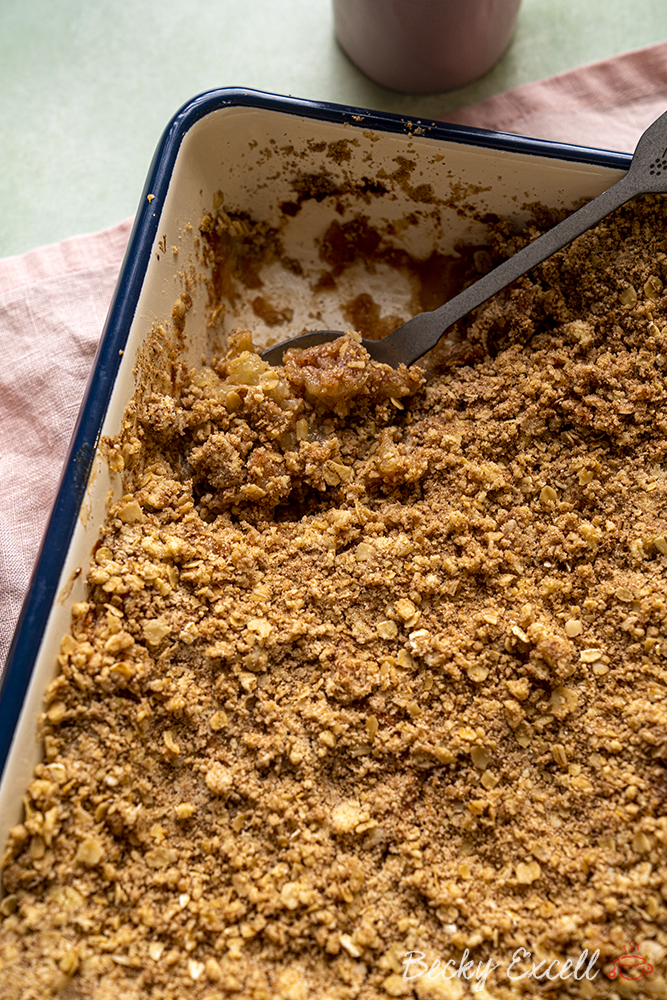 Gluten-free apple crumble recipe: Tips for the perfect bake and storage advice
Chop your apples into large chunks for a chunkier filling or smaller for a smoother filling. The choice is yours.
If you struggle to rub butter into flour for any reason, you can always use a food processor to achieve the same result. But once the mixture resembles breadcrumbs, stop! It's easy to over-mix in a food processor and we don't want to 'blend' them together, so instead, mix them until combined.
It's done when it looks a little more golden on top and the apple is cooked through. Just use a fork or a skewer to poke a chunk of apple – if it's completely soft, then it's done!
Once cooled, cover and keep stored in the fridge. It keeps really well in the fridge for up to a week! Then we usually portion it up and reheat it in the microwave.
This is freezer-friendly! Any leftovers can be portioned out into airtight containers once cooled. Then simply thaw in the fridge overnight. To reheat, microwave until piping hot in the middle.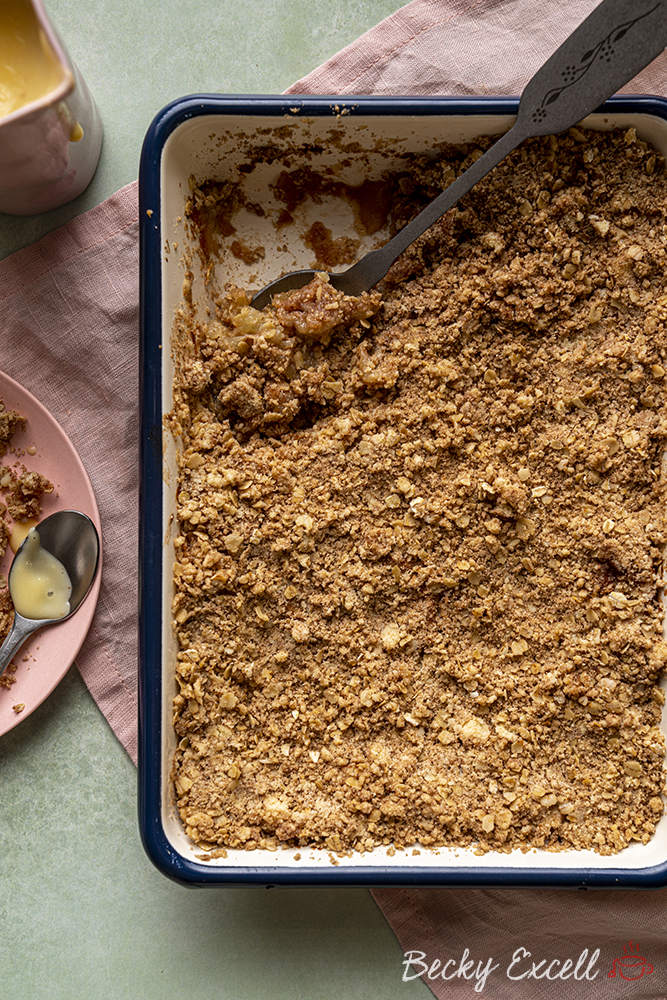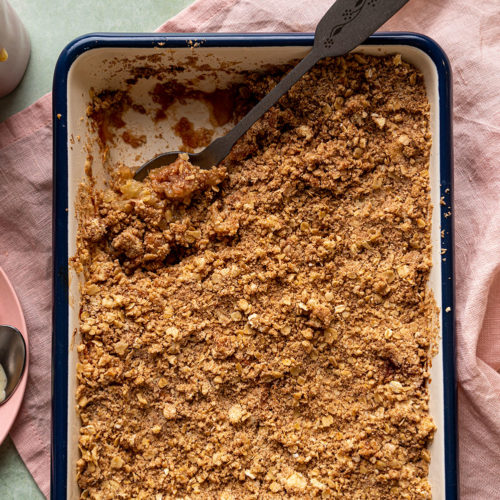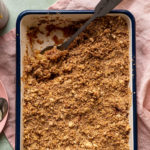 Gluten-free Apple Crumble Recipe
Gluten-free apple crumble recipe using 6 simple ingredients – nobody would ever know it's Coeliac-friendly and wheat-free too. Easy to make dairy-free and vegan too.
Ingredients
For the crumble:
170

g

gluten-free plain flour

85

g

butter

cold (use Stork hard margarine if dairy-free)

70

g

light or dark brown sugar

3

tsp

ground cinnamon

50

g

gluten-free oats

optional
For the fruit:
3-4

large Bramley cooking apples

or whatever cooking-friendly apples you like

30

g

butter

use Stork hard margarine if dairy-free

30

g

light or dark brown sugar

1/2

tsp

ground cinnamon
Instructions
Preheat your oven to 180C fan / 200C.

In a large bowl, rub together the cold butter and flour to create a breadcrumb consistency, then stir in the sugar, cinnamon and oats, if using.

Peel and chop the apples into medium chunks. The smaller you chop them the less texture (more smooth) the apple mixture will have in the crumble, so feel free to chop them however you wish – depending on preference.

Add butter and sugar to a saucepan or frying pan, allow them to melt and then stir together. Allow to cook for a minute or so, then add the chopped apples and cinnamon. Mix together and allow to slightly soften for about 5 minutes before removing from the heat.

Place the apples in a medium oven proof dish (mine was 11in x 7in), evenly top with the crumble and bake for 25-30 minutes. Then serve with custard or vanilla ice cream… or both!
Notes
I quite like chopping up some pecan nuts and adding them into the crumble mixture too, you could do this with any nut if you fancy!
Thanks for reading all about my gluten-free apple crumble recipe! If you make it, I'd love to see how it turned out so don't forget to take a snap of your creations and tag me on Instagram!
Any questions about the recipe? Please do let me know by following me on Instagram and leaving me a comment on a recent photo!
Thanks for reading,
Becky xxx
Don't forget to pin this for later!