Gluten free apple crumble recipe, anybody? Mine only has 6 ingredients and it's naturally vegan and dairy free too, believe it or not! Here's my top secret recipe…
My gluten free apple crumble recipe is an absolute classic from waaaay back when I was a kid. Basically this is another recipe that I stole from my Mum! But using some dairy free hard margarine also makes my version 100% dairy free and vegan too.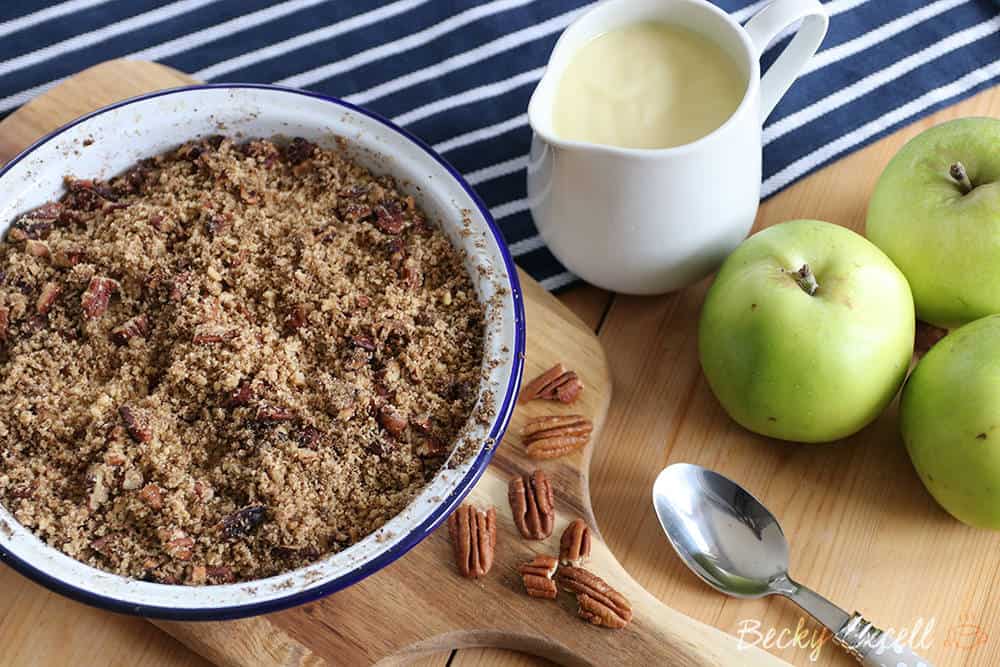 You just can't beat a good gluten free apple crumble with dairy free and vegan custard, can you?

(if you want my dairy free/vegan custard recipe then just let me know!)
It's actually so good, that Mark bought his own mini Bramley apple tree for the garden in the summer. Yep, it's just growing out of a pot and we're gonna get these huuuge apples off it apparently!
Of course, you can just buy your apples from the supermarket if you're a normal person!
I have to say, I'm not the biggest fan of oats in my gluten free apple crumble.
(I imagine saying this while standing on a stage and the entire audience suddenly gasps)
And that's not just because gluten free oats are a bit of a touchy subject – some people still react to them and avoid them completely. Some people on the other hand are totally fine with them too though!
But for me, I just prefer the chunky crumbly texture of a bit of dairy free hard margarine and gluten free self-raising flour. It's so much more 'buttery' too, even without actually using butter!
I promise it'll be 100% pure crunchy and crumbly in every bite instead of getting that chewiness that I find you get with oats. Throw some pecans into the mix which toast nicely in the oven… you just can't beat it for me.
It just all works so well against the soft, caramelised apples hiding beneath. Oh, and some custard too!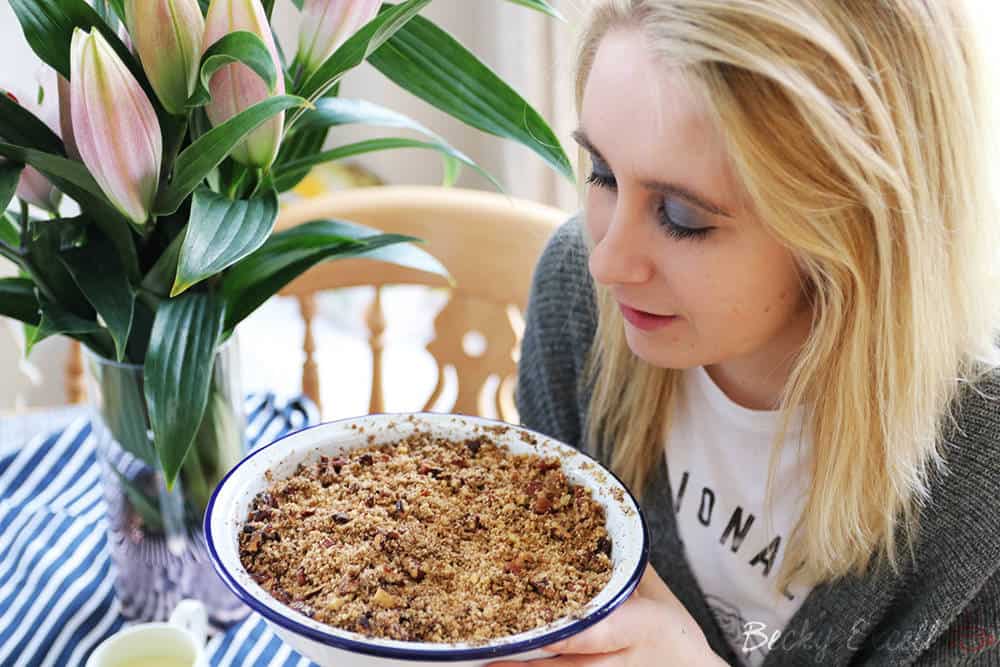 But I guess one of the best things about my gluten free apple crumble recipe is that it only needs 6 ingredients and a little water.
You can't really argue with that, can you?
It's actually mega simple to make this as you can imagine, but I made a recipe video below to help demonstrate anyway!
(I'm nice like that, aren't I?!)
Ok, so here's my gluten free apple crumble recipe!
6-Ingredient Gluten Free Apple Crumble Recipe (vegan + dairy free)
Gluten free apple crumble recipe? Mine is super easy and quick to make and only has six ingredients. It's dairy free too!
Ingredients
For the crumble
170g gluten free self raising flour

85g dairy free hard margarine

cubed and chilled

70g dark brown sugar

70g pecan nuts

chopped

2-3 tsp cinnamon
For the apples
3 bramley apples

peeled and chopped

1 heaped tbsp dark brown sugar

1-2 tsp cinnamon

1 tbsp water
Instructions
Preheat your oven to 200c.

Rub together your gluten free flour and dairy free hard margarine until it becomes the consistency of breadcrumbs.

Stir in your sugar, chopped pecan nuts and cinnamon.

Put your crumble mix to one side whilst you peel and chop 3 bramley cooking apples.

Place your chopped apples into your dish and add 1 tbsp of water. Then mix in both the cinnamon and sugar so it coats the chopped apples thoroughly.

Spoon over your gluten free crumble topping over the apples, be generous!

Place in your preheated oven for 30 minutes, until the top is golden and the apples are lovely and soft.
Thanks for reading how to make my gluten free apple crumble recipe! If you make it, I'd love to see how it turned out so don't forget to take a snap of your creations and tag me on Instagram!
Plus, I'm giving away a £50 supermarket voucher every month to my fave pic, so get baking!
Any questions about the recipe? Please do let me know by following me on Instagram and leaving me a comment! Also, why not give my 6-ingredient gluten free banana bread recipe a go if you fancy?
Thanks for reading,
Becky xxx
Oh and don't forget to pin this for later!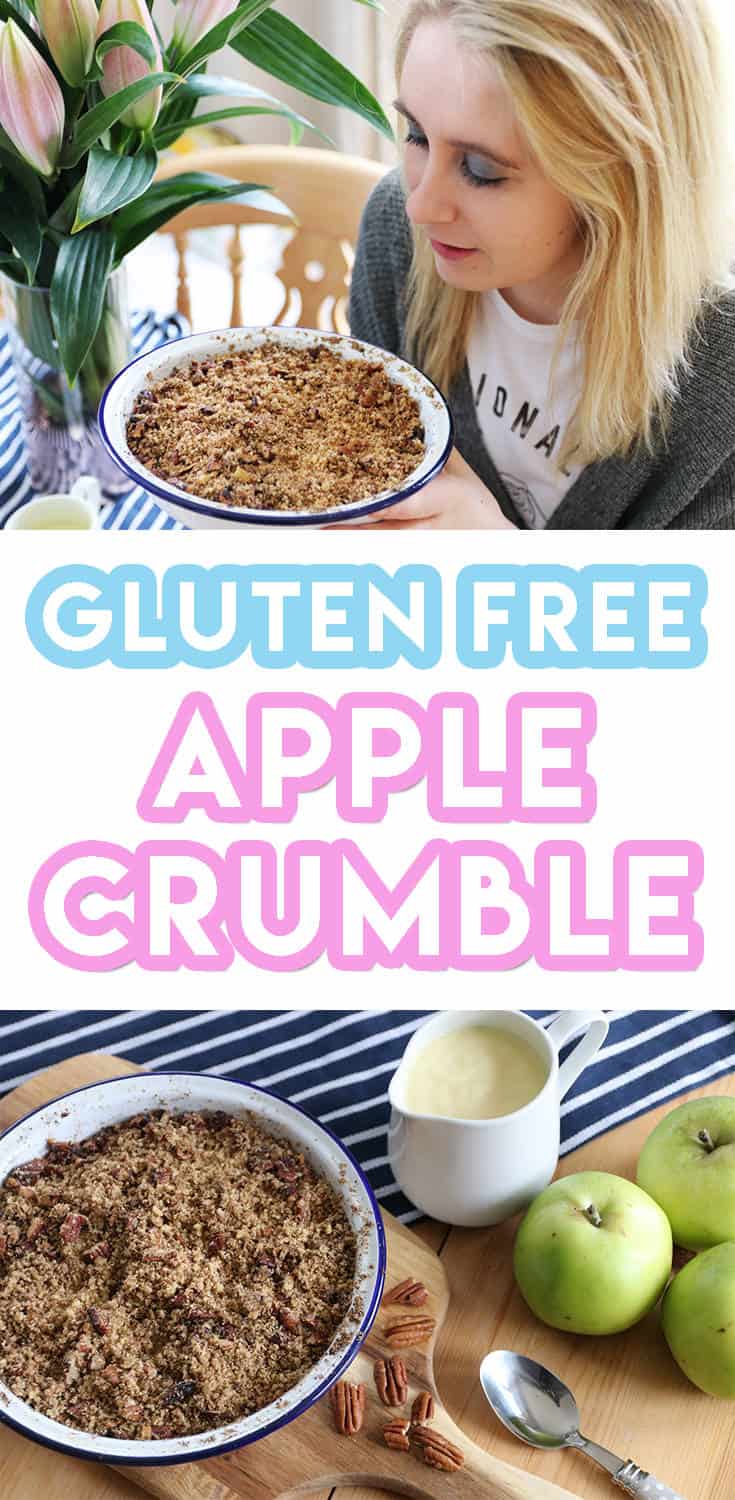 Comments