Gluten free apple crumble must be the dessert I have made the most in my life. It has always held a special place in my heart and I could literally eat it every single day given the chance! As a child I remember having apple crumble as part of school dinners and you might be surprised to hear that it was actually really good.
The only negative I can remember was that the hot custard always had a skin on it that none of us wanted… My gluten free apple crumble has developed quite a bit since my childhood days of eating and making crumbles, personally I think I've improved it since way back then! Plus, it's 100% vegan and dairy free now too.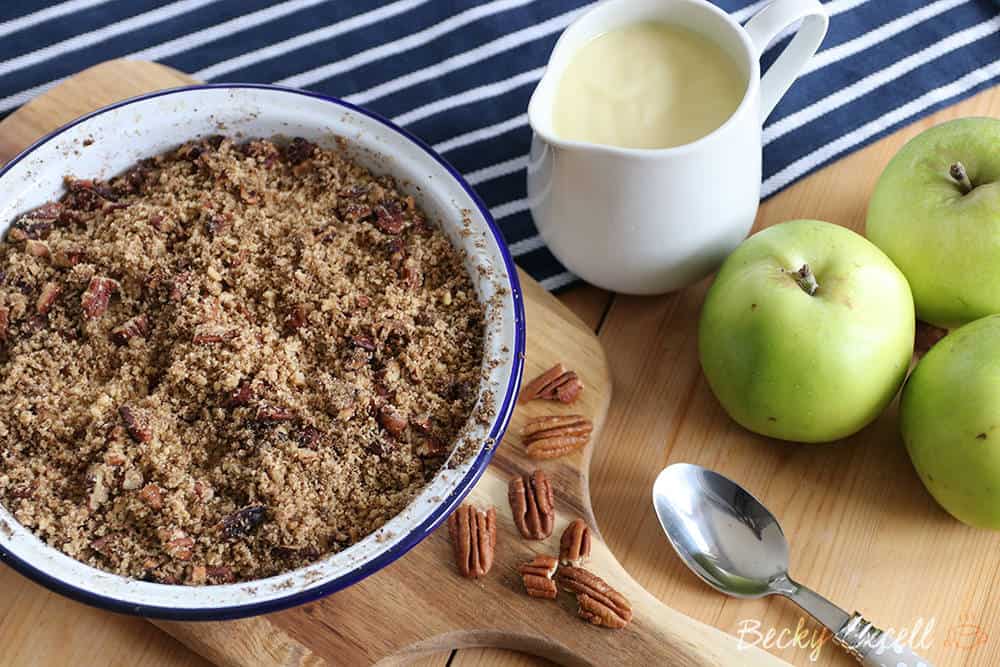 One of my favourite flavour combinations ever is apple and cinnamon. Apple strudel, apple cobbler, apple crumble – they all need to contain cinnamon in my opinion. Apple and cinnamon are soul mates. My gluten free apple crumble also contains pecan nuts, again, one of my favourites. Simply by adding cinnamon, chopped pecan nuts and a little brown sugar into the gluten free crumble mix, you can transform a tasty gluten free apple crumble into a ridiculously tasty gluten free apple crumble! Both the pecans and the sugar give the gluten free crumble that extra bit of crunch, whilst the cinnamon enhances the flavour 110%.
Once upon a time I stopped putting sugar in my gluten free apple crumble topping, but I've decided that it definitely does taste better with sugar. For me, whatever tastes best is the best way to make something, surely that makes sense, right? I'm glad I realised this as my gluten free apple crumble is now better than ever… well, you can be the judge! Making it vegan and dairy free was no problem either, just opt for any dairy free hard margarine.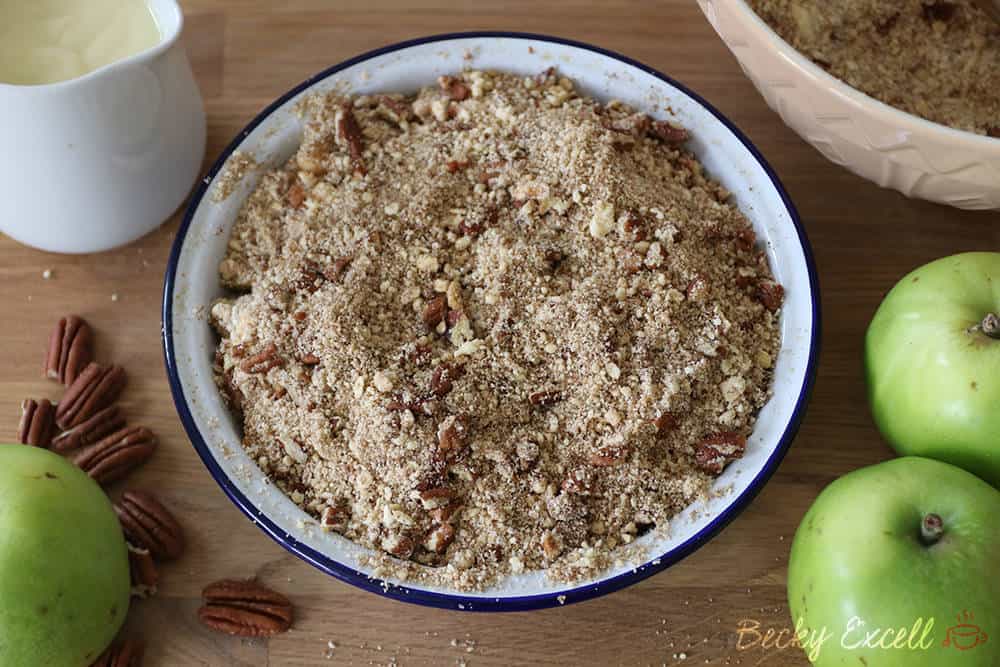 I also like to add a little cinnamon and brown sugar to the chopped apples before I put the gluten free crumble topping on. I find that the apples become all caramelised and delicious this way, beautiful.It also helps to perfectly balance out the sharpness of the lovely bramley apples. This recipe is a combination of the amazing apple crumble I used to have at school (minus the dodgy custard!) and the many awesome gluten free apple crumbles that my Mum always used to make for me 🙂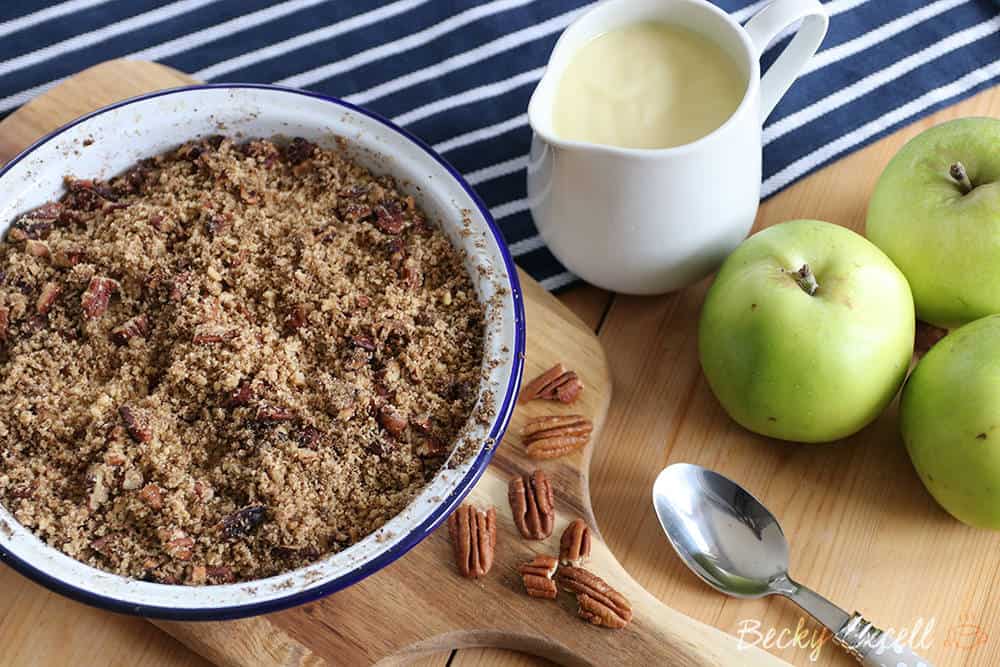 Gluten Free Apple Crumble
2017-03-19 12:51:13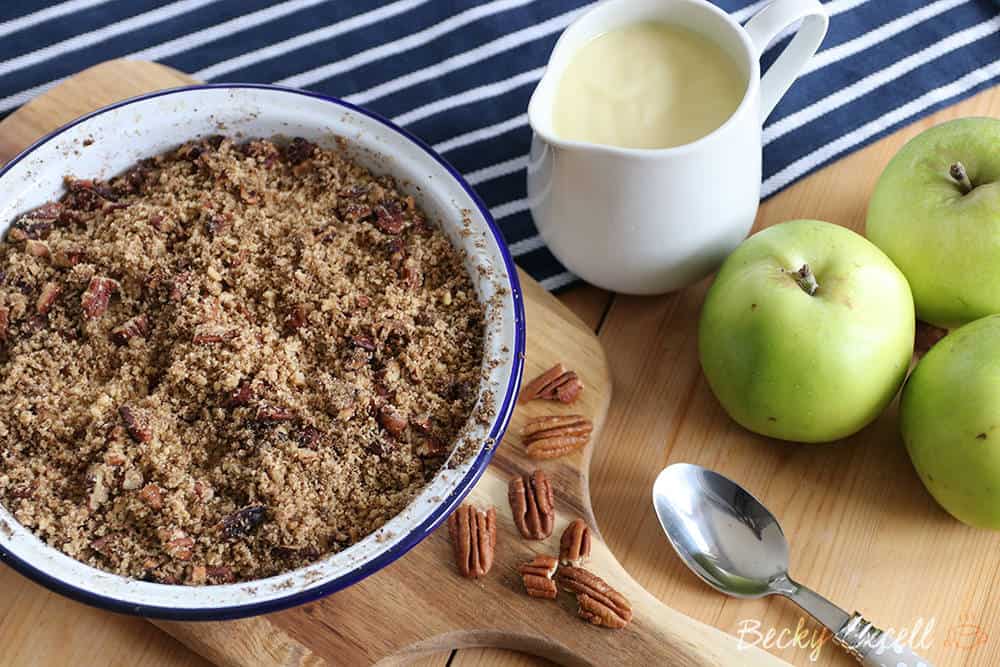 Ingredients
* 170g gluten free self raising flour
* 85g dairy free hard margarine, cubed and chilled
* 70g dark brown sugar (for crumble topping)
* 70g pecan nuts, chopped
* 2-3 tsp cinnamon (for the crumble topping)
* 3 bramley apples, peeled and chopped
* 1 heaped tbsp dark brown sugar (for the apples)
* 1-2 tsp cinnamon (for the apples)
* 1 tbsp water
Instructions
1) Turn on your oven to 200c.
2) Rub together your gluten free flour and dairy free hard margarine until it becomes the consistency of breadcrumbs.
3) Stir in your sugar, chopped pecan nuts and cinnamon.
4) Put your crumble mix to one side whilst you peel and chop 3 bramley cooking apples.
5) Place your chopped apples into your dish and mix in both the cinnamon and sugar so it coats the chopped apples thoroughly.
6) Spoon over your gluten free crumble topping over the apples, be generous!
7) Place in your preheated oven for 30 minutes, until the top is golden and the apples are lovely and soft.
8) Serve up and enjoy!
Gluten Free Cuppa Tea | Food blog based in London, UK. Low FODMAP. Dairy free Recipes.. https://glutenfreecuppatea.co.uk/
I'd recommend serving this straight from the oven with some cold almond milk custard (does anyone else just love that hot/cold combination?!) and a spoon, obviously! That way, even your custard can be vegan and dairy free too. If you'd like me to share my super top secret almond milk custard recipe then just let me know in the comments below! This gluten free apple crumble is everything I love about British baking in general: it's so simple, quick and it just feels so homely and comforting.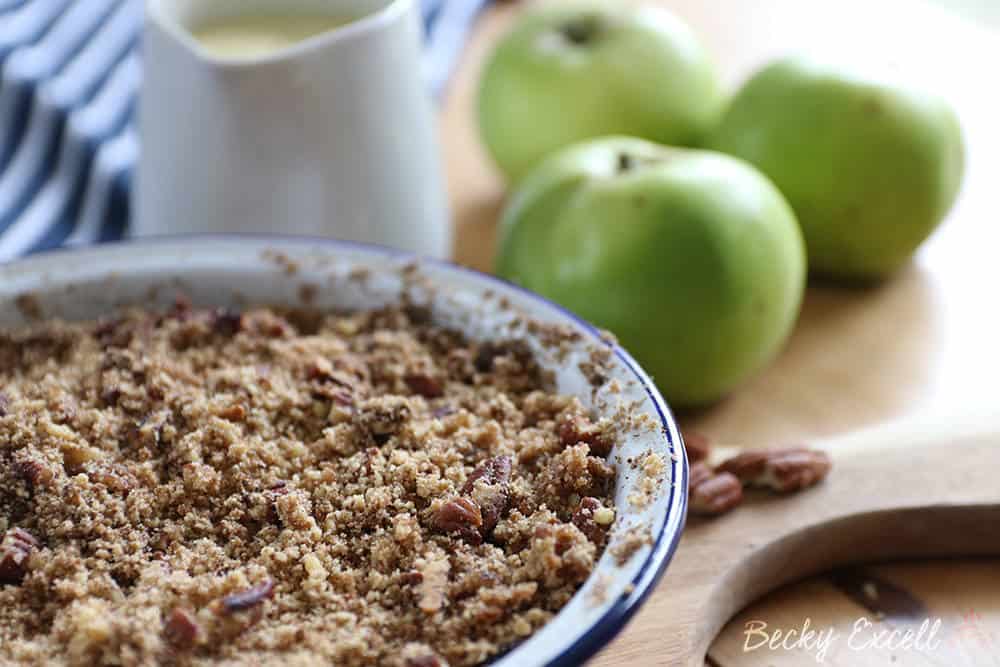 For me apple is the ultimate fruit for a gluten free apple crumble, it's the classic. However, I have also made this exact crumble in the past with a mixture of fruit. I generally always use apple as my base fruit but additionally I have added plums, pears and berries – all work really well alongside the rest of the flavours. I think I might try adding some rhubarb into the gluten free crumble mix sometime soon. I've never actually had a rhubarb crumble!!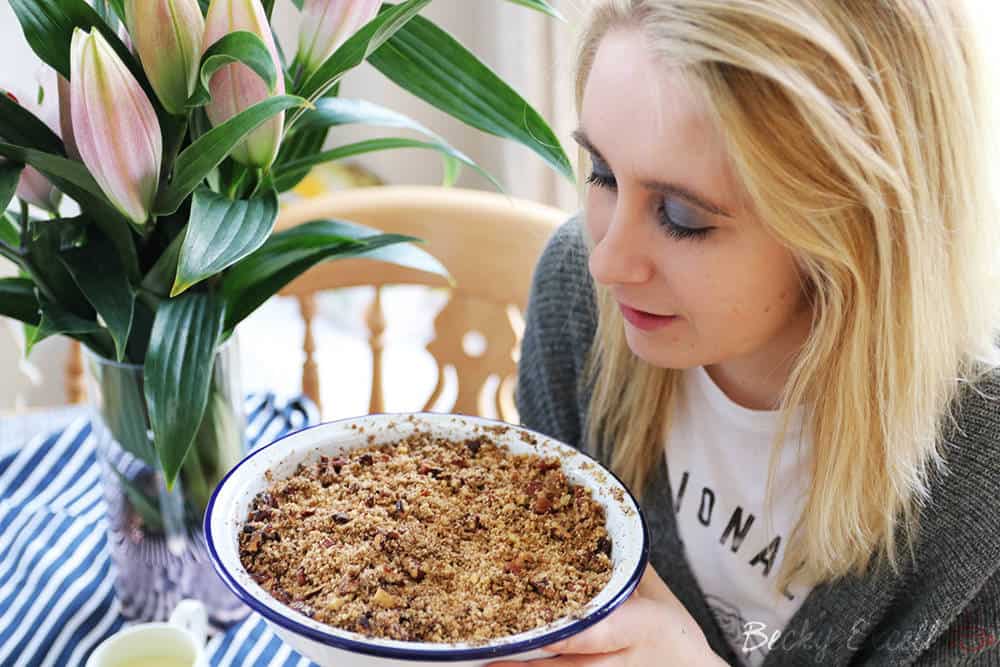 Please, please let me know if you tried out my gluten free apple crumble by leaving a comment below. Failing that, jump over to my Instagram, Facebook or Twitter and let me know there! Anyway, I hope you are having a lovely day, if not, a good serving of my gluten free apple crumble usually cheers me up!
Thanks for reading,
Becky xxx
Oh, and don't forget to pin this before you leave 🙂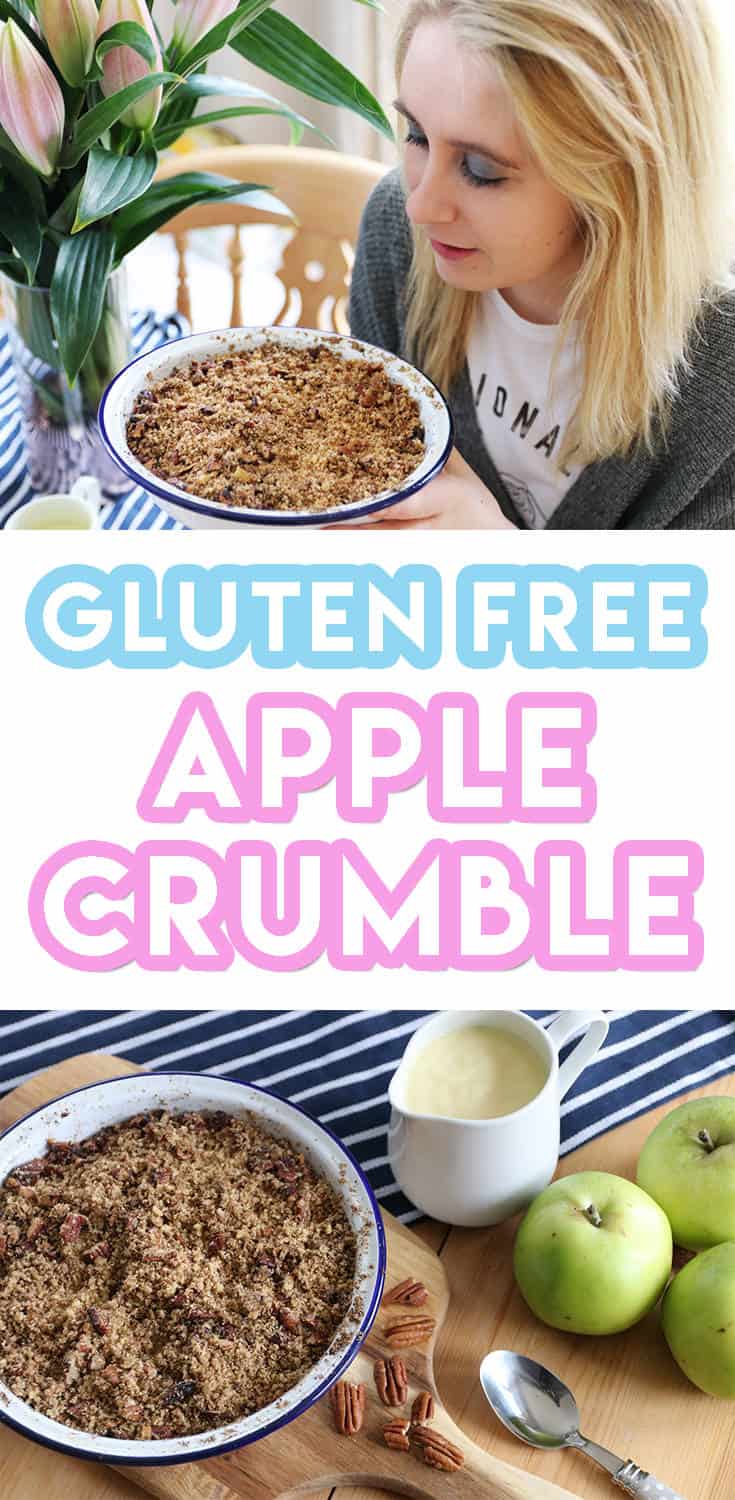 Comments