Roll up, roll up! I'm delighted to share with you: my ULTIMATE cheat's gluten free trifle recipe. I promise you that it's so easy to make that you'll almost feel like you're cheating when you're making it!
You just can't beat a good trifle can you? But you can eat a good trifle – especially when it's gluten free! See what I did there? Ok sorry – let's talk about my gluten free trifle recipe…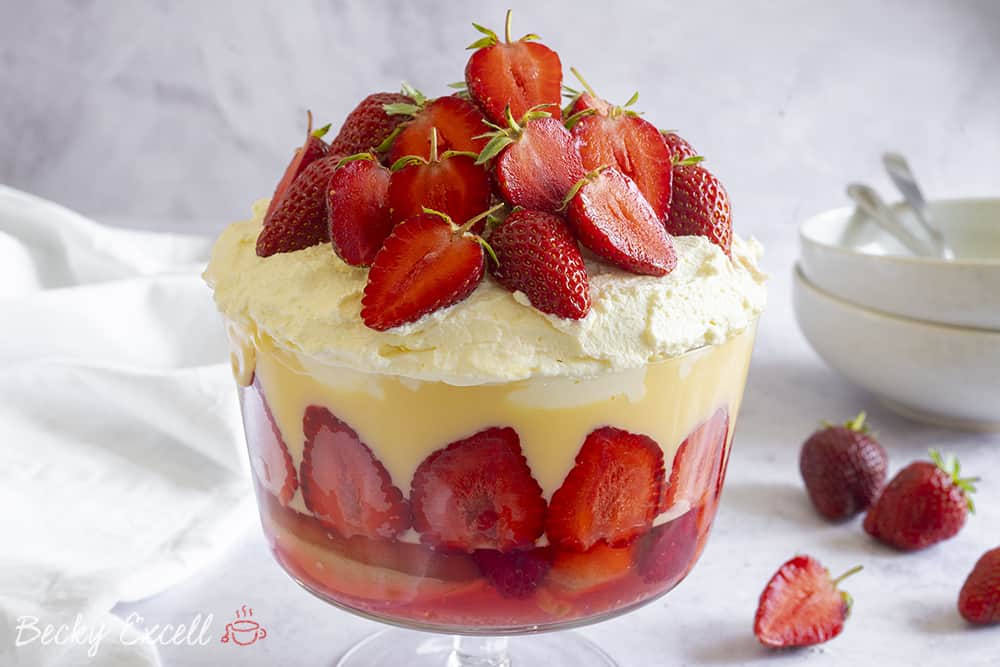 It's pretty sad to say, but I haven't had a trifle in YEARS. Like, I don't even remember the last time… probably when M&S used to sell a gluten free trifle, actually!
(don't rush over there, I'm 99.9% sure it was discontinued yeeeeears ago!)
And you know what? The gluten free trifle shortage ends now! And I'm just gonna let you know now that you have two options here:
Make this trifle and share it with your muggle friends/family because nobody would EVER know that this is gluten free.
Let everyone else eat their inferior shop-bought trifle whilst you enjoy this absolute beast for days on end because 'gluten free food isn't as good as normal food' ?
The choice is yours!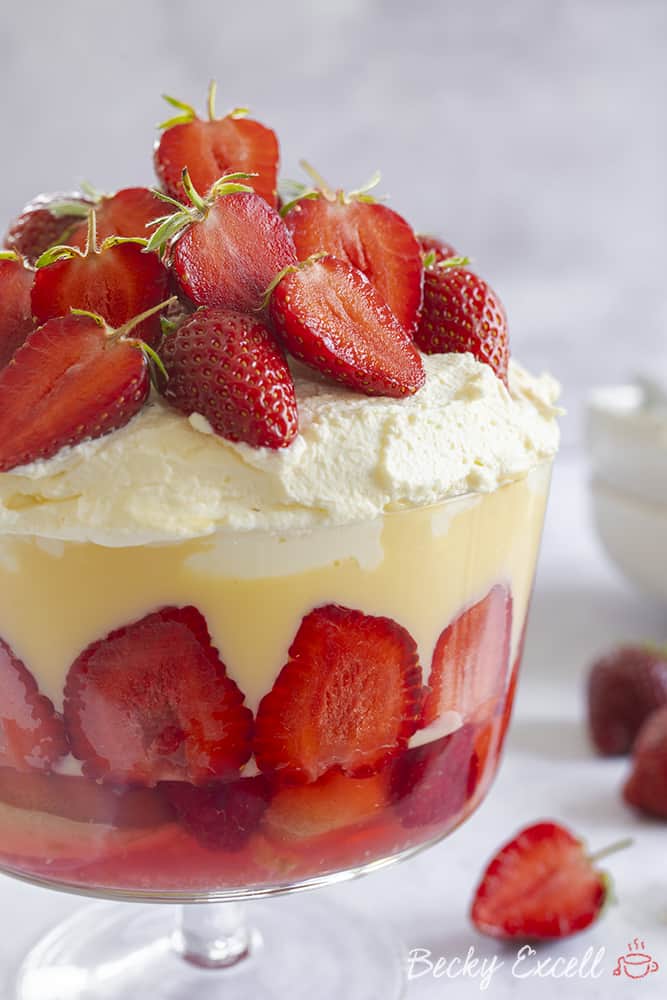 So what's my gluten free trifle like?
Well, the bottom layer are gluten free madeleines and fresh raspberries in a set strawberry jelly. Then you've got a layer sliced strawberries to hide the fact that I love an unbelievably thick custard layer ?
(when I was a kid, I used to steal extra custard when serving up my bowl… then everyone else used to complain about the lack of custard! oops!)
Last but not least is whipped double cream and more freshly sliced strawberries. Simple, but so, so, so good!
Believe it or not, I used to pick all of the fruit out the jelly when I was a kid… did anyone else used to do that?! I certainly don't now!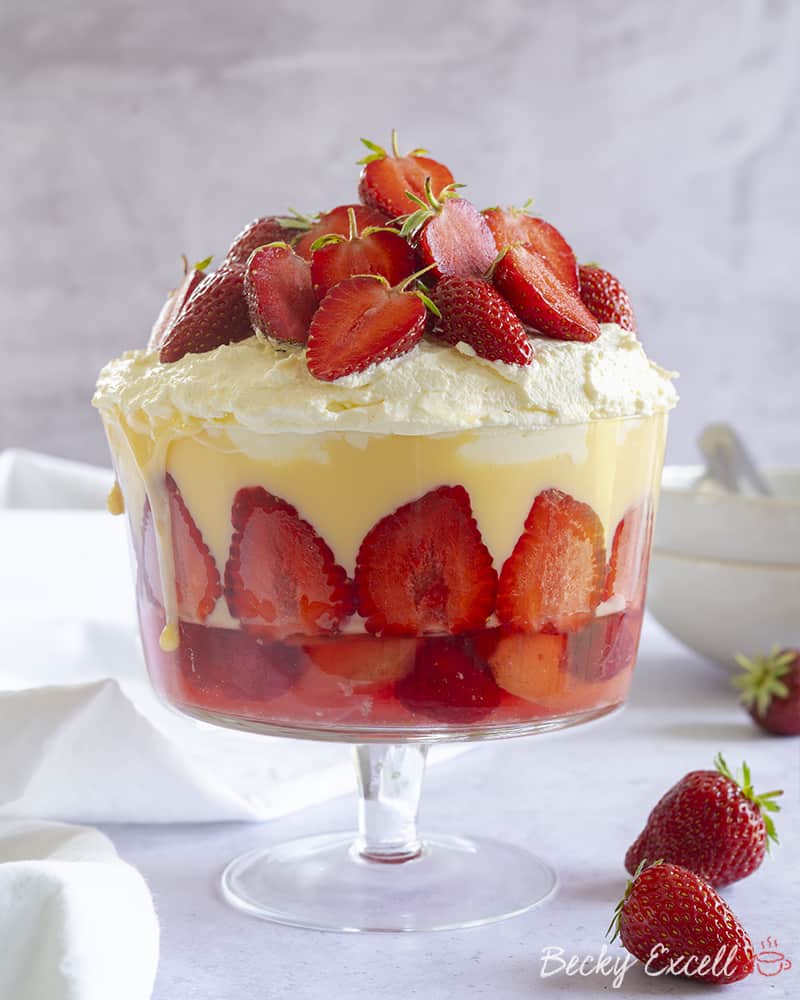 Also, I can't emphasise just how easy it is to pull off my gluten free trifle recipe – hence why I've nicknamed it the 'cheater's' trifle!
In the past, I've made a trifle by making my own custard from scratch, cooking down berries and adding gelatine to make my own homemade jelly, baking my gluten free Madeira for the sponge… AND IT TOOK HOURS.
(if there's any trifle purists out there, let me know if you want that recipe too!)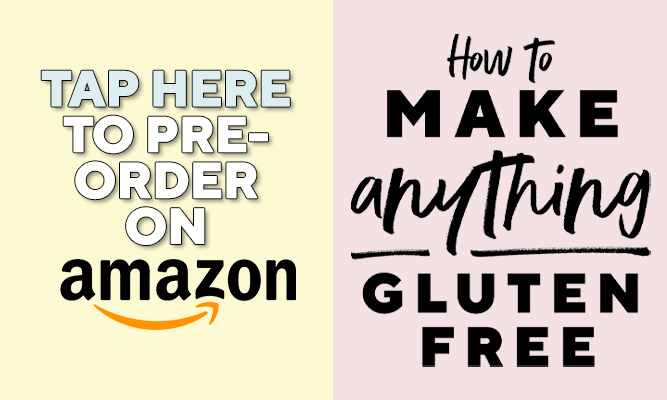 So for this recipe, I decided that… that is probably the reason I haven't had a trifle in so many years!! Don't get me wrong, it's sometimes great to create a trifle completely from scratch, but sometimes… you just want to eat a trifle ASAP!
That's why I made this using jelly from a block, gluten free madeleines from the free from aisle and shop-bought custard. Honestly, you can make this in no time! So here's how to do it…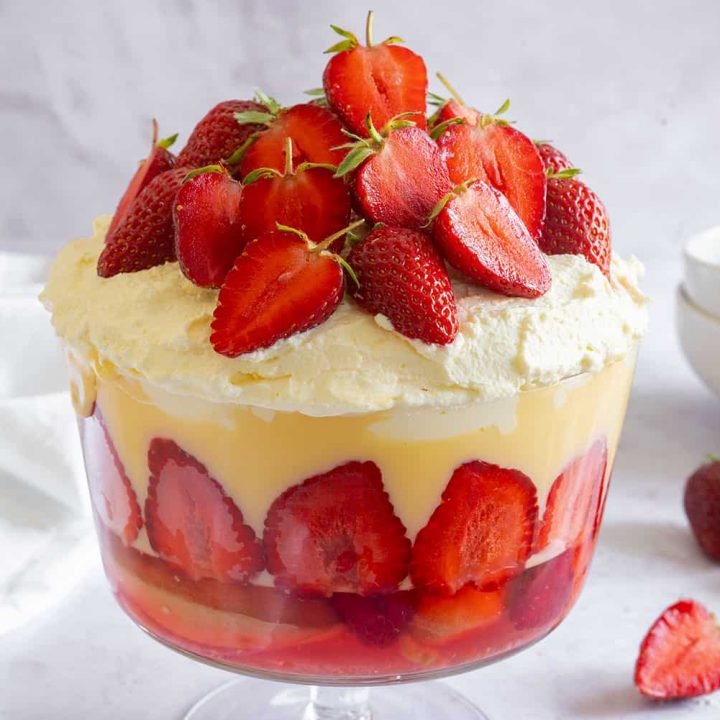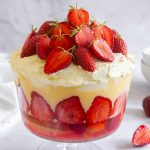 My Cheat's Gluten Free Trifle Recipe (super easy method)
Here's my ULTIMATE cheat's gluten free trifle recipe which makes a speedy trifle ASAP! It's super-duper easy to make at home and everyone will love it.
Ingredients
1

packet gluten free sponge - I use the Mrs Crimbles gluten free madeleines

(linked above)

1

packet jelly - I used the Hartleys Strawberry jelly but you can use a vegetarian jelly equivalent and any flavour

handful of fresh berries - I used strawberries and raspberries

500-750

g

fresh custard

(you can use a dairy free custard if necessary)

300

ml

double cream / whipping cream

(you can use a dairy free alternative such as coconut cream if necessary)

extra fresh fruit for the top
Instructions
Firstly make your jelly as per the packet instructions in a jug (for me this was separating into cubes and then pouring boiling water followed by cold water onto it)

Get your trifle dish and cut your sponges into pieces (halves or thirds is fine). Place them all over the bottom of your dish in a nice layer. Then place any fruit in between the gaps of the sponges and some on top if you wish.

Pour your jelly liquid on top of the sponge and fruit to cover it and leave in the fridge to completely set. Setting jelly usually takes about 2-3 hours, but just check it every now and then and you'll know!

Once the jelly has set. Slice your strawberries and place them on top of the jelly all around the sides of your dish as per the picture. Try and get them all as even as you can for the best effect.

Pour your custard onto the jelly, going up the dish as high as you want it to go, I like a lot of custard! Just remember you still need to add the cream so leave some space! You can make your own custard but shop bought is always very yummy and easy too!

Whip up your double cream (or dairy free alternative) till it forms stiff peaks, make sure not to over whip. (You can add a couple of tbsp of icing sugar to your cream for a little sweetness, but there is plenty of that throughout the trifle anyway!)

Spoon or pipe your cream on top of the custard.

Finish with some slices of fresh strawberries when you are ready to serve. Enjoy!
Nutrition
Thanks for reading all about my gluten free trifle recipe! If you make it, I'd love to see how it turned out so don't forget to take a snap of your creations and tag me on Instagram!
Any questions about the recipe? Please do let me know by following me on Instagram and leaving me a comment on a recent photo!
Thanks for reading,
Becky xxx
Oh and don't forget to pin this for later!