Heading to the theatre? Or just sightseeing? It's hungry work! Here's the 20 BEST places to eat gluten free in Covent Garden, London 2020, including a few dairy free and vegan options too.
If you're heading to Covent Garden in London for the day, you might worry about where to eat… but you really don't need to! There's tons of cafes, restaurants and even places for afternoon tea for you to choose from. Here's the 20 BEST places to eat gluten free in Covent Garden, London 2020…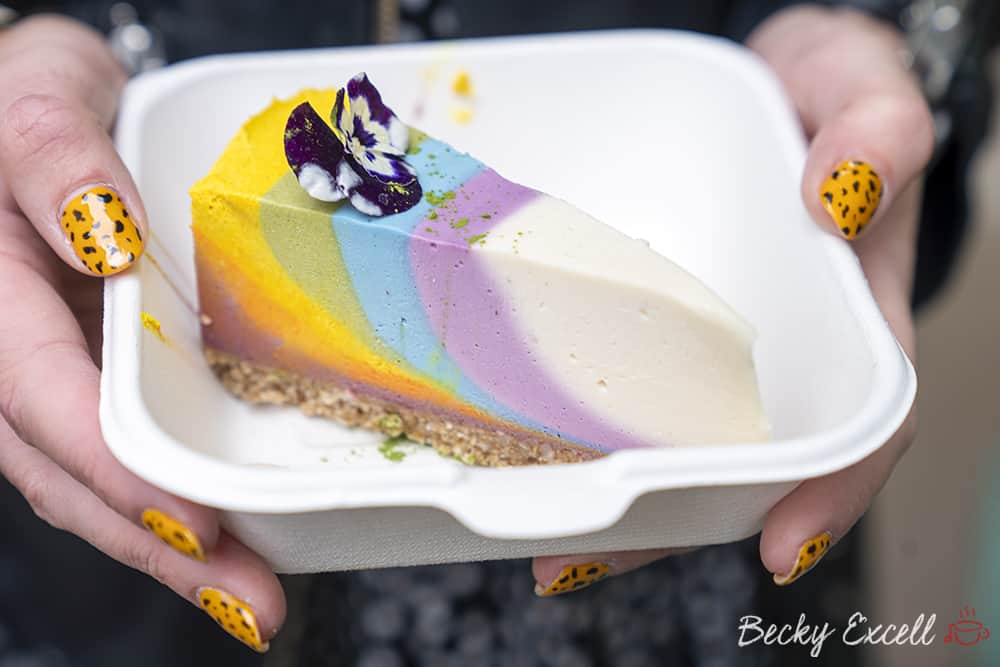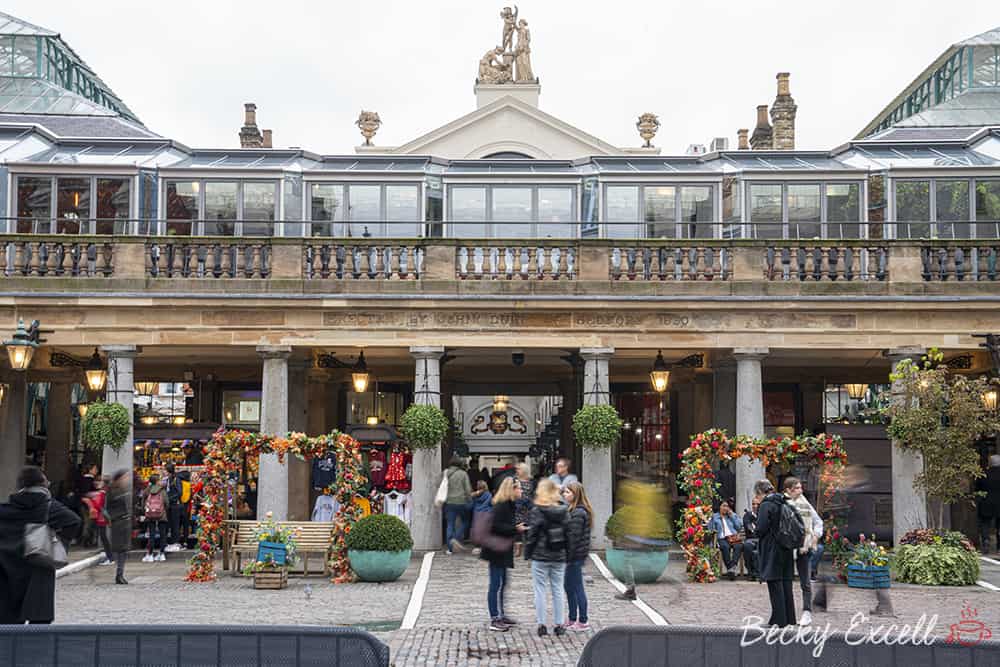 1. Afternoon Tea at One Aldwych, 1 Aldwych, London WC2B 4BZ
One Aldwych is the place to go for gluten free in Covent Garden if you want something a little bit special.
Also, if you're looking to stay over, it's one of my favourite Covent Garden hotels for many, many reasons – keep scrolling to find out why!
Their afternoon tea is Charlie and the Chocolate Factory themed and it's an absolute dream – I mean, just look at the photo below… ?
They can cater for all dietary requirements (just let them know at least 48 hours ahead) and prepared us an entirely gluten free, dairy free afternoon tea with no onion or garlic.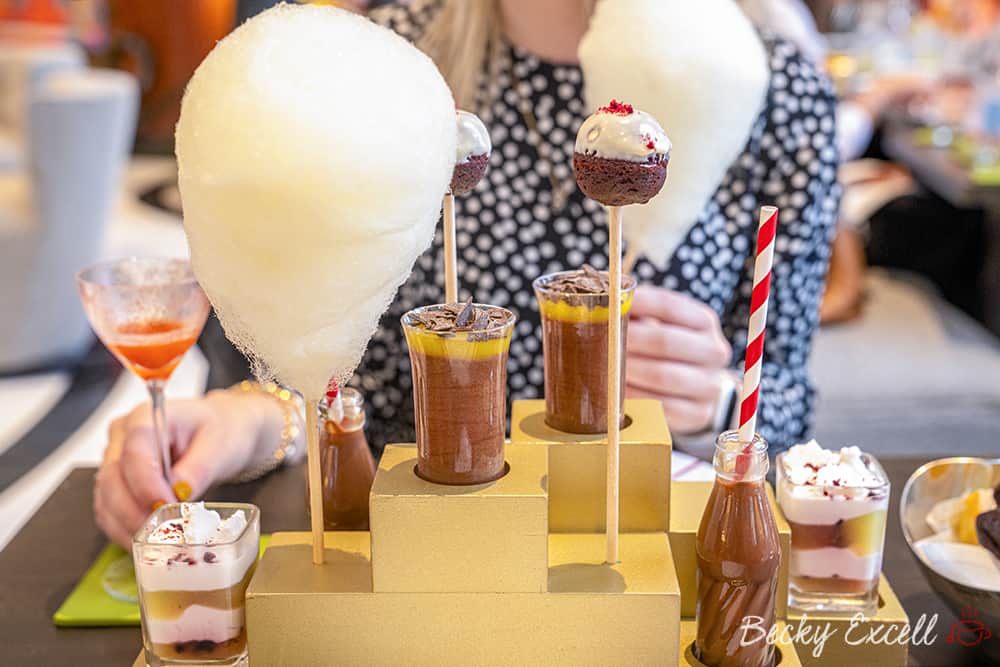 Above, we had lemon cotton candy, mini berry Eton mess, chocolate orange mouse, a red velvet cake pop and a glass of mint chocolate milk.
(They also gave us mini financiers, scones and lemon cakes too on the side – all gluten free and dairy free as requested!)
The scones were divine, as were the sandwiches and cakes that you can see in the photo. The tea and/or cocktails are fabulous too…
Mark had lemon sherbert tea and I had an unreal strawberry cocktail which was all smoky when it arrived at the table! I would 110% recommend a special trip here if you're looking for gluten free in Covent Garden as we cannot wait to go back!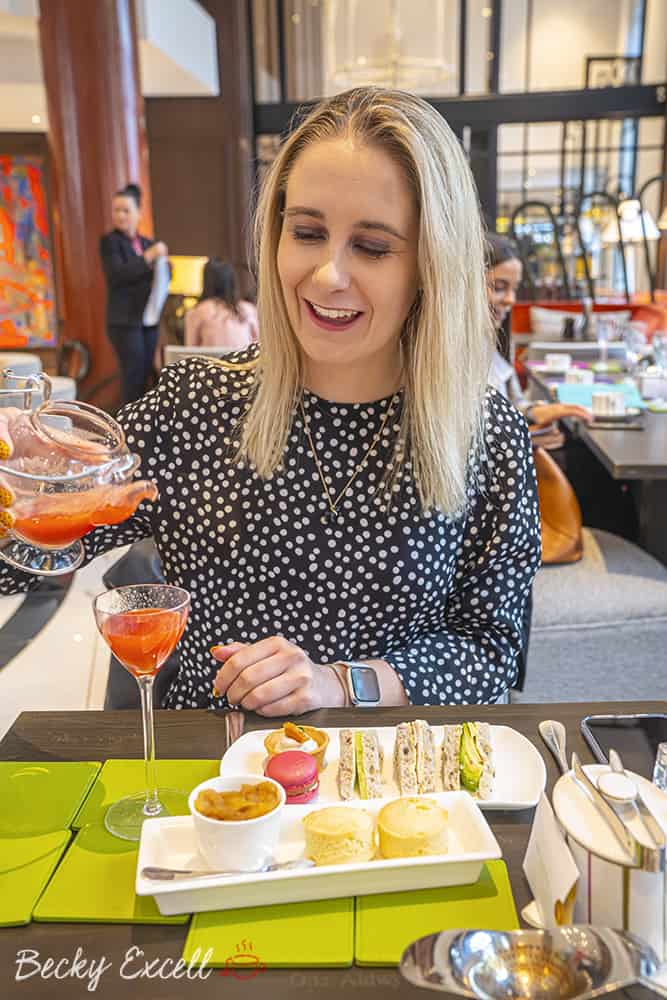 2. Indigo at One Aldwych, 1 Aldwych, London WC2B 4BZ
And it only gets better at One Aldwych!
One Aldwych also have an amazing restaurant called Indigo which is 100% gluten free and dairy free as standard. Yep, everything on the menu.
(I'd imagine a lot of people visit the restaurant without any dietary requirements and really enjoy themselves without ever knowing!)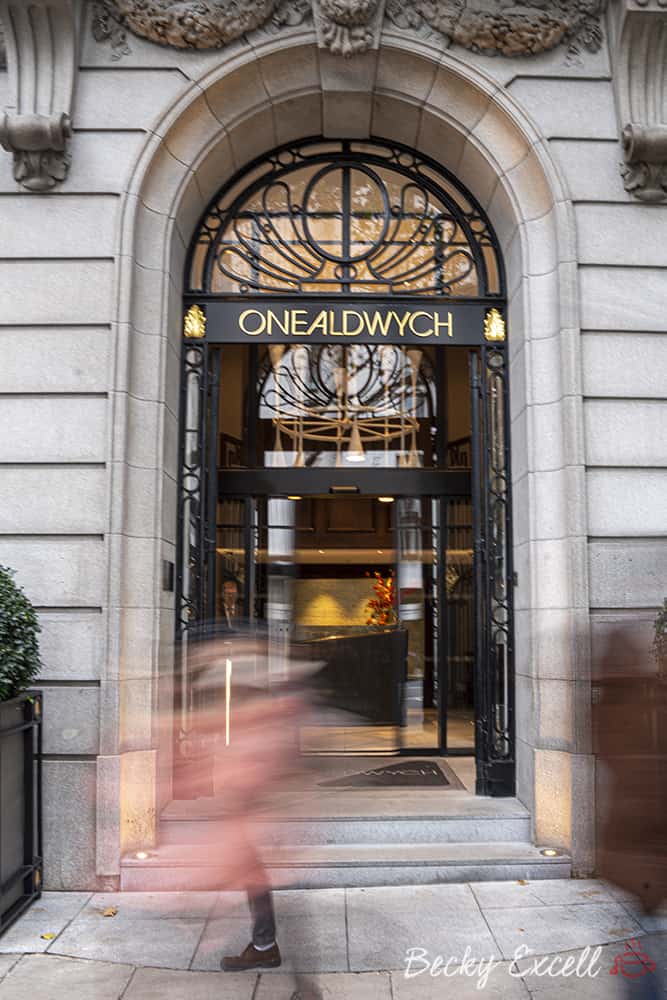 From gluten free and dairy free fish and chips, to gluten free and dairy free cheesecake – there really is something for everyone.
One Aldwych is a hotel so you could also book yourself in for a special stay – it's worth it for the gluten free and dairy free breakfast, trust me!
Well, I've never actually stayed here, but it's on my hit list for the immediate future.
3. Honest Burgers, 33 Southampton St, Covent Garden, London WC2E 7HE
My love for Honest Burger is never ending.
It is, in my opinion, the best place to enjoy a gluten free burger in Covent Garden and also in the whole of London as they're everywhere these days!
Honest Burger is incredibly good with allergens, for the simple fact that so much of their menu is naturally gluten free.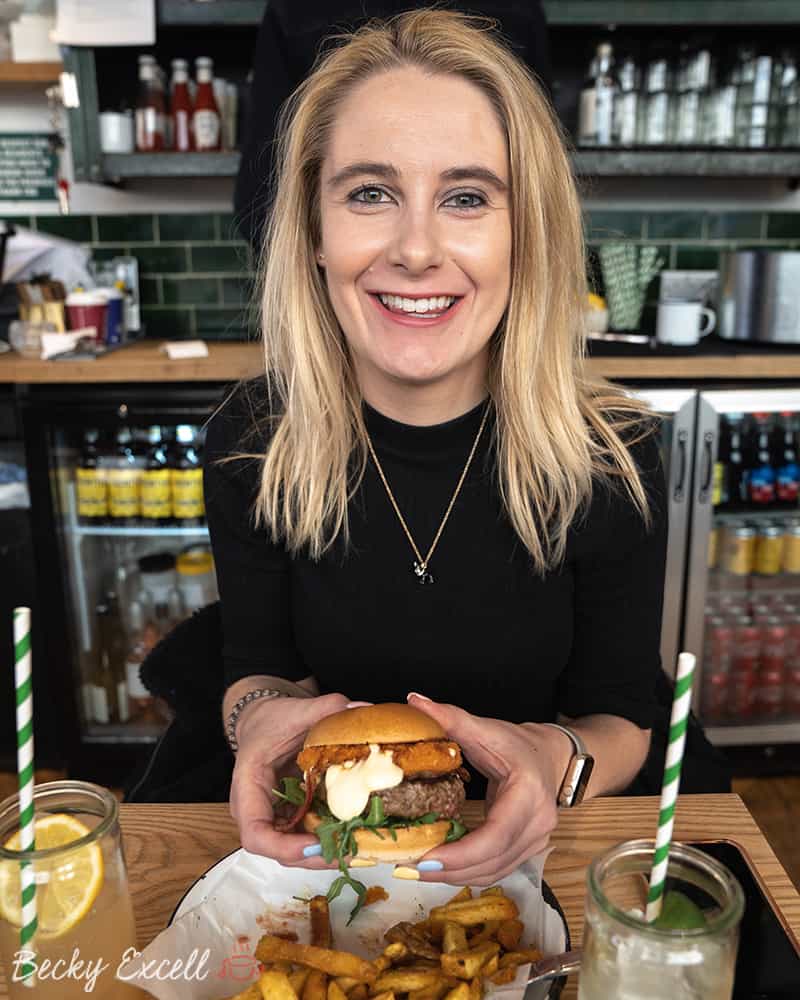 They only have one gluten containing product, the gluten bread bun, and they keep everything very separate.
For us, they have a gluten free bun and even the onion rings are gluten free. The beef, chicken and vegan burger especially, are all delicious.
Trust me on this one – you cannot visit London without a trip to Honest Burger!
4. Yaki Yaki, 4 New Row, Covent Garden, London WC2N 4LH
I love Yaki Yaki!
They make gluten free fish-shaped waffles and then fill them soft serve ice cream. Plus, you order mini fish taiyaki that are filled with custard, Nutella and red bean that are gluten free, as well as savoury gluten free fish shaped sandwiches.
It's one of my favourite places in Covent Garden and come rain or shine you will find me with a fish cone filled with vanilla and matcha ice cream.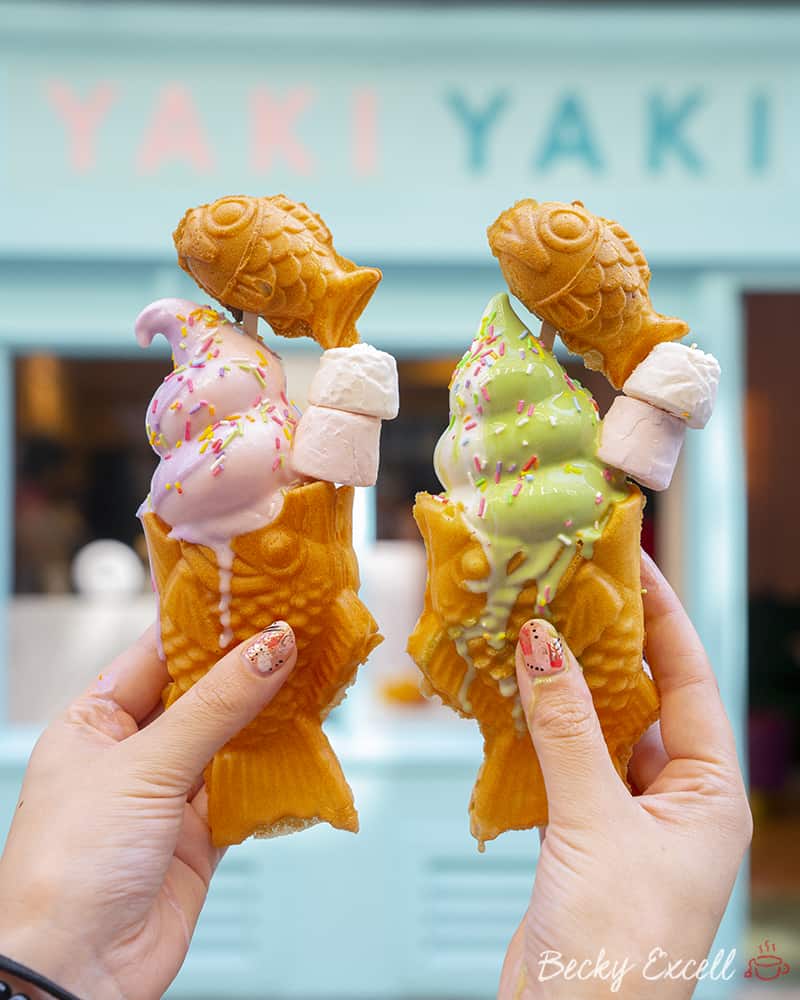 They have a range of toppings for the ice cream, but make sure you ask which ones are gluten free as not all of them are.
They also serve a gluten-containing . pastry item which are kept separate as they are not gluten free.
Whenever I have visited they are very understanding of cross contamination and I would definitely recommend Yaki Yaki for gluten free in Covent Garden!
5. El Pollote @ Seven Dials Market, Earlham St, London WC2H 9LX
Seven Dials Market is an undercover food market that opened in 2019. It's something the Covent Garden area has been crying out for in my opinion.
(I think it used to be a mini shopping arcade or something like that a few years ago)
Fortunately for us gluten free folk there is a very friendly fried chicken place there on the ground floor called El Pollote.
Everything is gluten free here (except the burger buns which I was told are kept away from everything else) which means no worrying about separate fryers!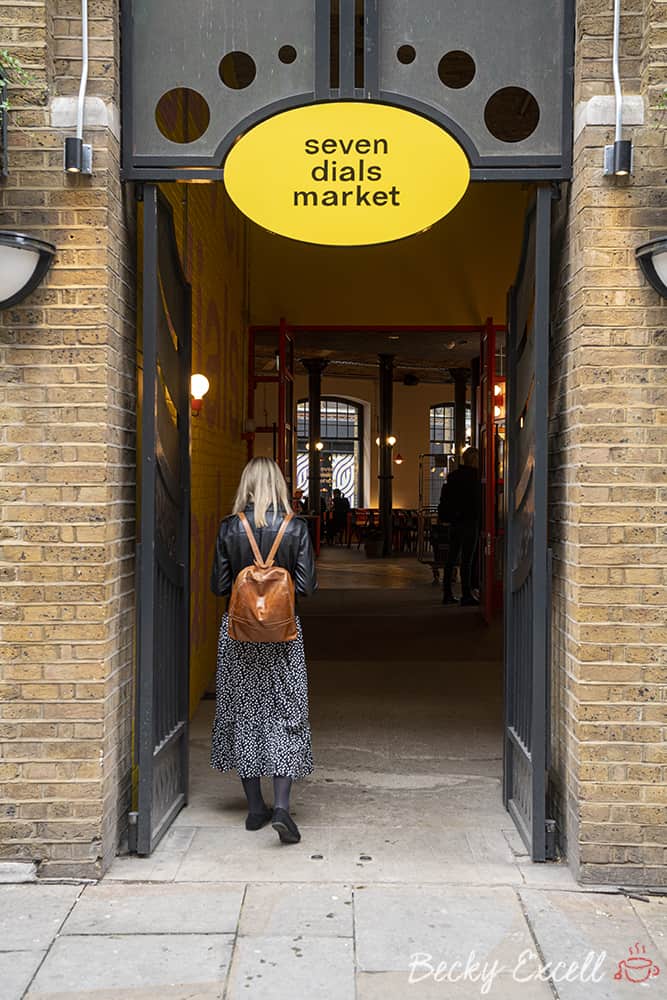 From fried chicken arepas, to guava-glazed wings and delicious yuca fries with crumbled feta on top – this place is unreal and you'd never know any of it was gluten free.
It's open everyday from 12pm onwards and there's lots of room inside to sit and enjoy your food, which is especially great if it's raining outside.
Oh and there is a cocktail bar to the side for all your drinking needs!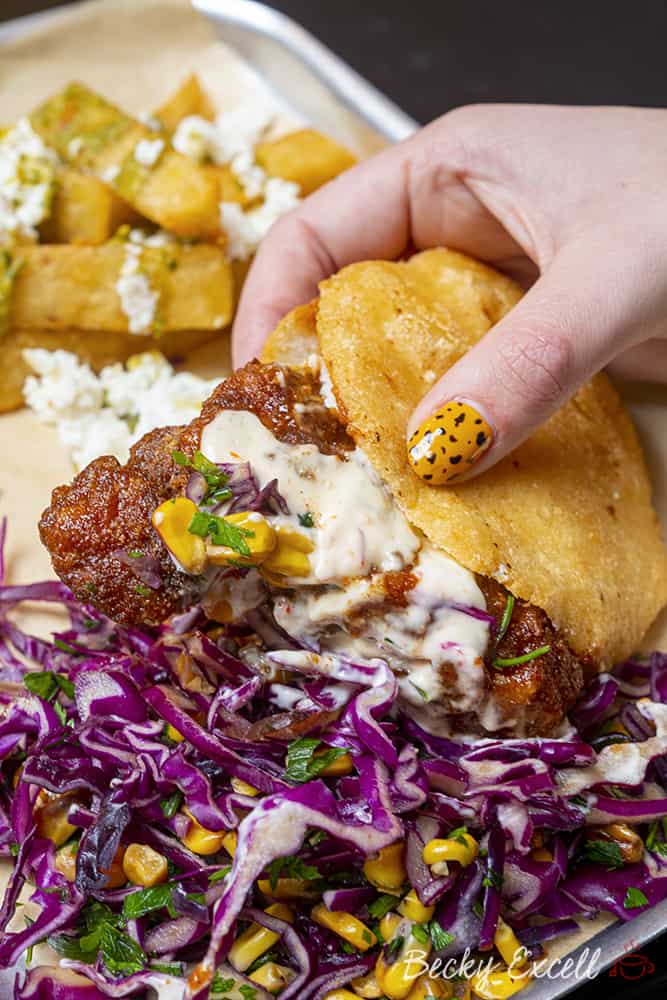 6. Lola's Cupcakes, 14-18 Neal St, London WC2H 9LY
You'll probably see a lot of Lola's cupcake shops all over London and there is a perfectly placed one in Covent Garden for us gluten free folks.
(you can't miss Lola's vibrant shopfront!)
Lola's Cupcakes do 3 different gluten free cupcakes which are all made at a dedicated gluten free bakery.
You'll find them already boxed up, away from all the other cakes.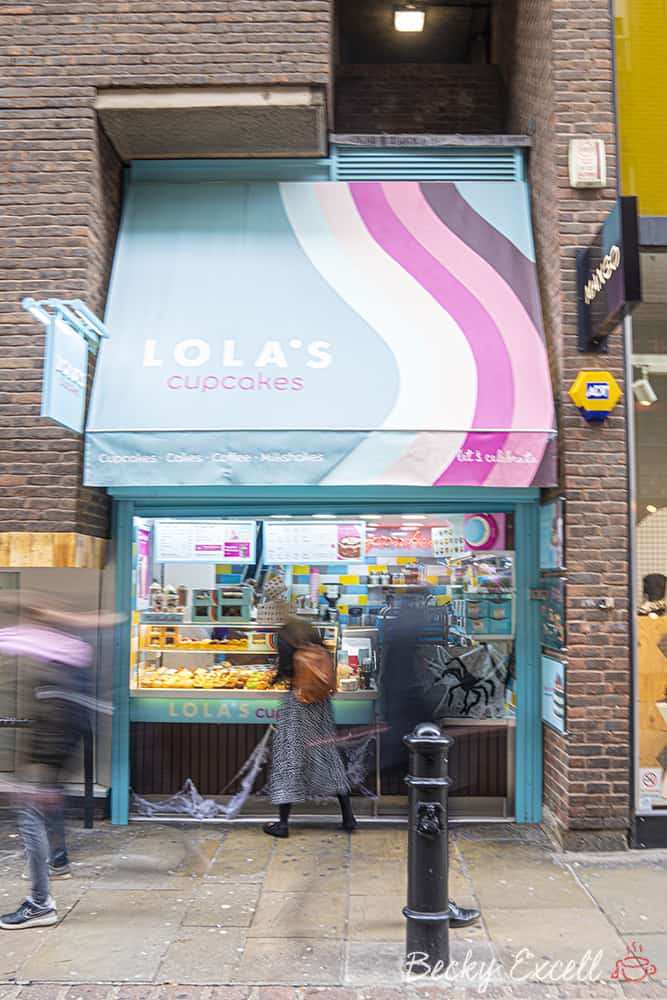 I'd recommend the chocolate and raspberry one – it's delicious. They also do a chocolate one that is both gluten free and vegan too.
There's nothing major in the way of gluten free bakeries in the area especially, which makes Lola's Cupcakes one of the best and most convenient places for a cheeky gluten free treat.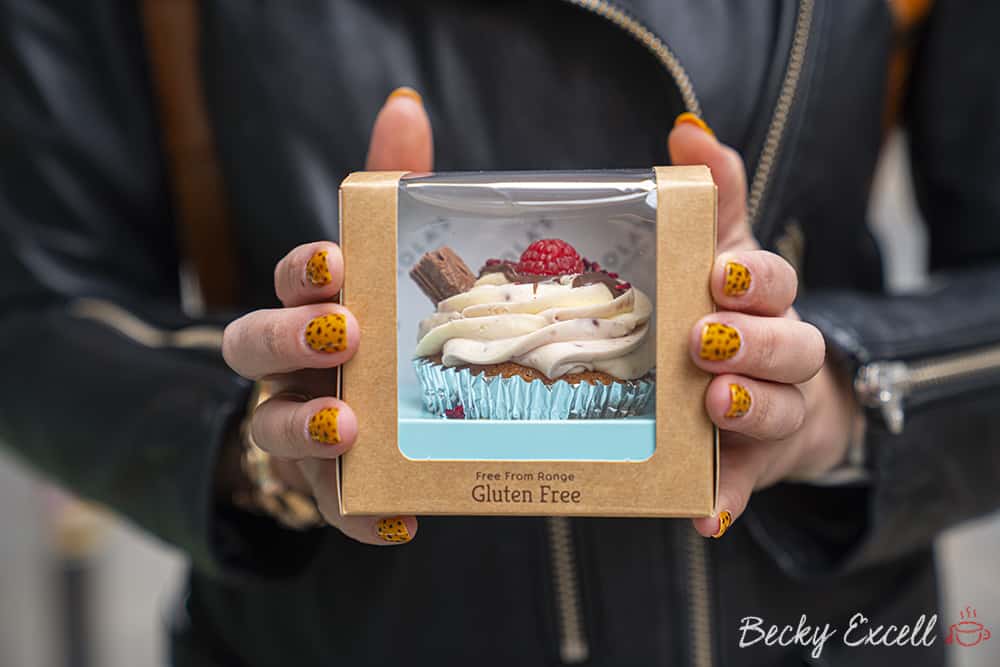 7. Browns, 82-84 St Martin's Ln, Covent Garden, London WC2N 4AG
Browns is in a perfect location for many of the theatres surrounding Covent Garden. The building is beautiful and the food is even more so!
They serve up contemporary British classics and definitely have something for everyone. Best of all, Browns has a dedicated gluten free menu and they're accredited by Coeliac UK.
From steak and half roasted chicken to monkfish and risotto, the menu is bursting with options.
The dessert menu is great too and if you're in the area at breakfast, they have a gluten free breakfast menu too.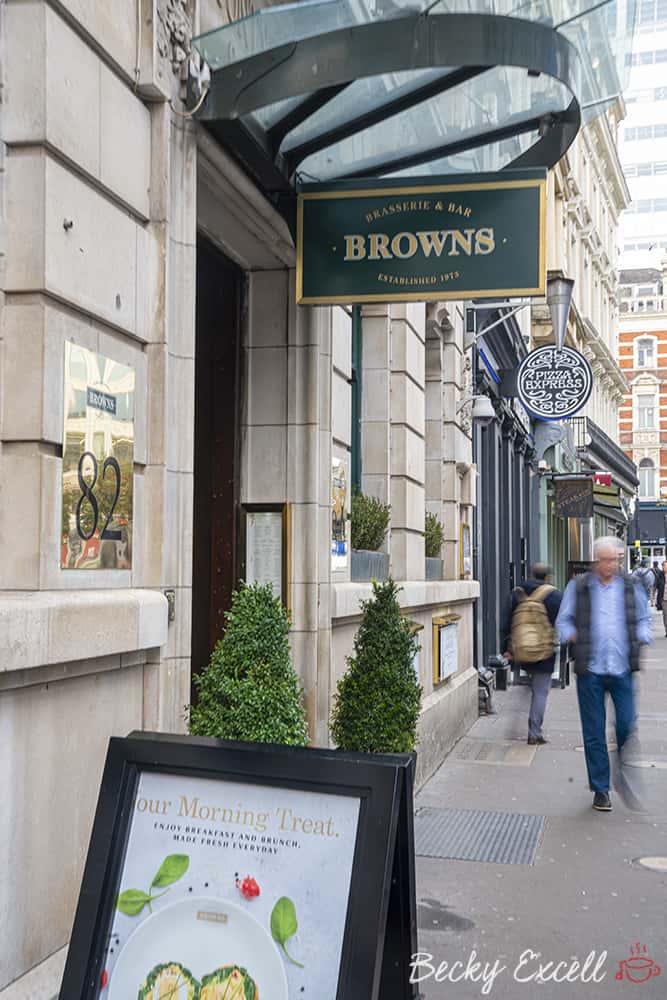 8. Dishoom, 12 Upper St Martin's Ln, London WC2H 9FB
Dishoom is an Indian restaurant not far from Covent Garden, and a very popular one at that!
It always seems to have a queue out the door, but I'd say that shows it must be worth a visit! I wouldn't say it's your classic Indian restaurant, the menu is very different from any other Indian I've ever visited.
It has an almost street food vibe and the food is great to share. They have a gluten free menu and when I visited (a long time ago now) and the service was excellent.
I've heard amazing things about the breakfast options at Dishoom too!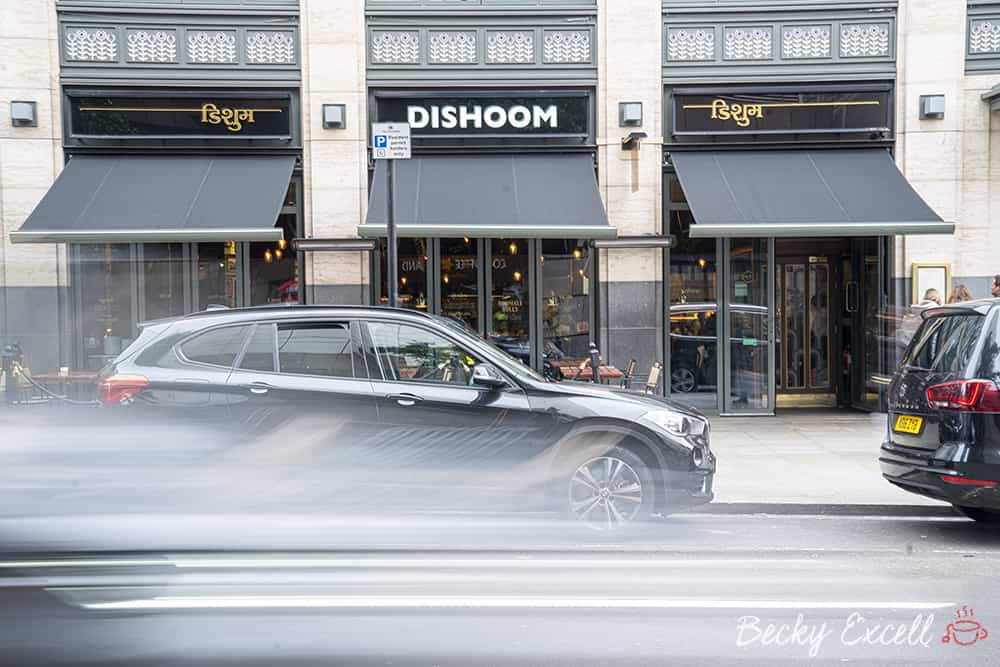 9. Côte Brasserie, 50-51 St Martin's Ln, Covent Garden, London WC2N 4EA
I've never had a bad meal at Côte and luckily there are 2 very close to Covent Garden.
The gluten free menu is really extensive with lots of choice to suit everyone. I always recommend Côte to people if they're not sure where to go.
You really can't go wrong with it!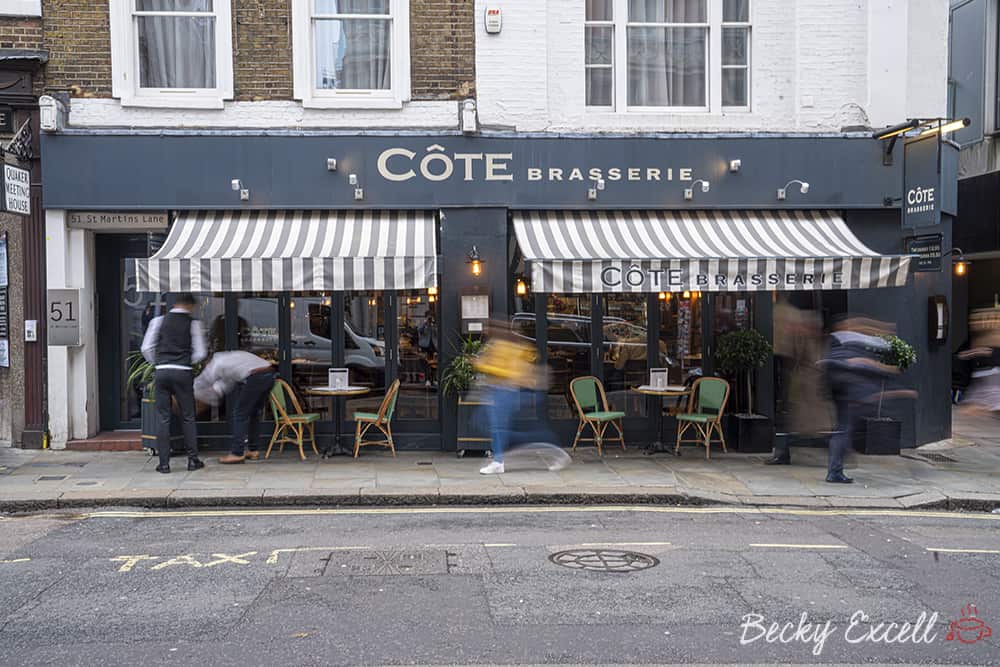 10. Pho, 65A Long Acre, Covent Garden, London WC2E 9JD
I've been going to Pho for years. It was a staple place for me when I was at university in Brighton.
Pho is Coeliac UK accredited and only the spring rolls contain gluten (they didn't use to but they do these days) as well as the hoisin sauce and beer.
One of my favourite dishes is the bun noodles which does come with a spring roll, so just ask for it without.
Pho is a great place if you want to eat fairly quickly but still in a nice restaurant setting. If you haven't tried Vietnamese food before, I would definitely recommend it!
11. Wild Food Cafe, 1st Floor, 14 Neal's Yard, London WC2H 9DP
Wild Food Cafe is situated in Neal's Yard, you have to go up some stairs to get to it, but then you get a great view over the yard.
It's an entirely plant-based restaurant with plenty of gluten free options – another one of my personal fave places for gluten free in Covent Garden.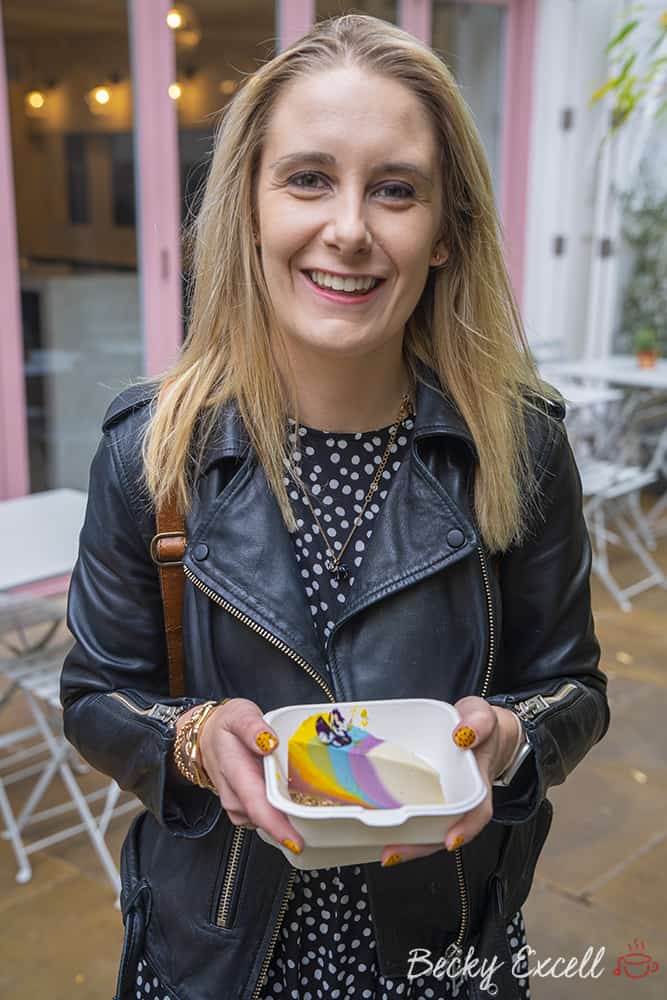 They always have a good selection of fresh salads, juices and smoothies and it's such a lovely place to sit and eat in.
(as you can see in the photo below!)
But for me the desserts are the biggest pull, especially their rainbow cheesecake. It's like eating a unicorn!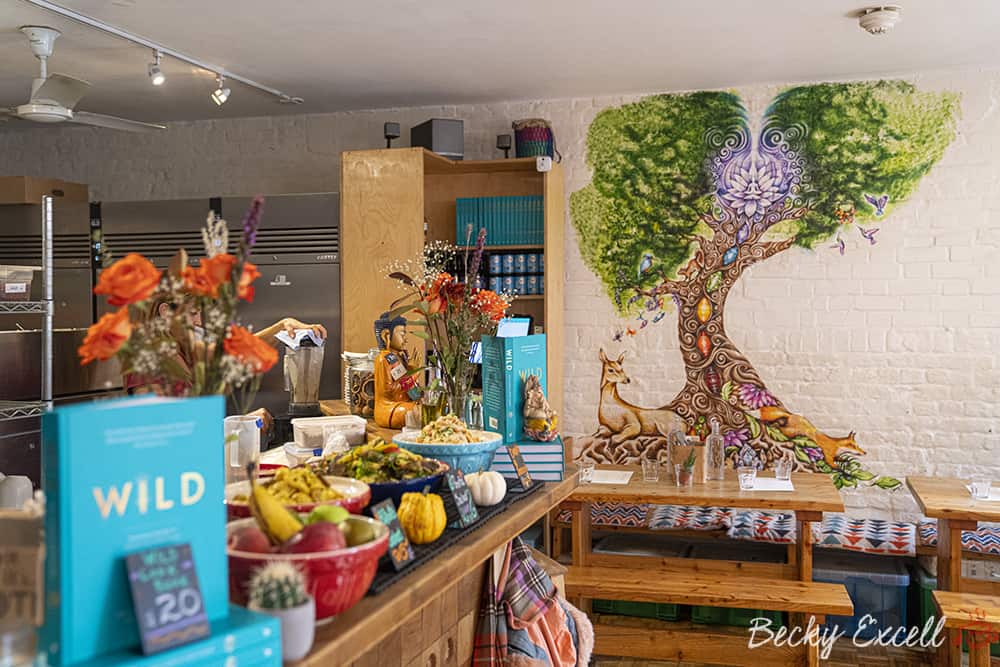 12. Farmstand, 42 Drury Ln, Covent Garden, London WC2B 5AJ
Now, Farmstand used to be 100% gluten free, this is no longer the case unfortunately.
(they've since introduced a few different types of bread which are NOT gluten free)
However, the majority of the menu remains being gluten free and everything is clearly marked on the menu.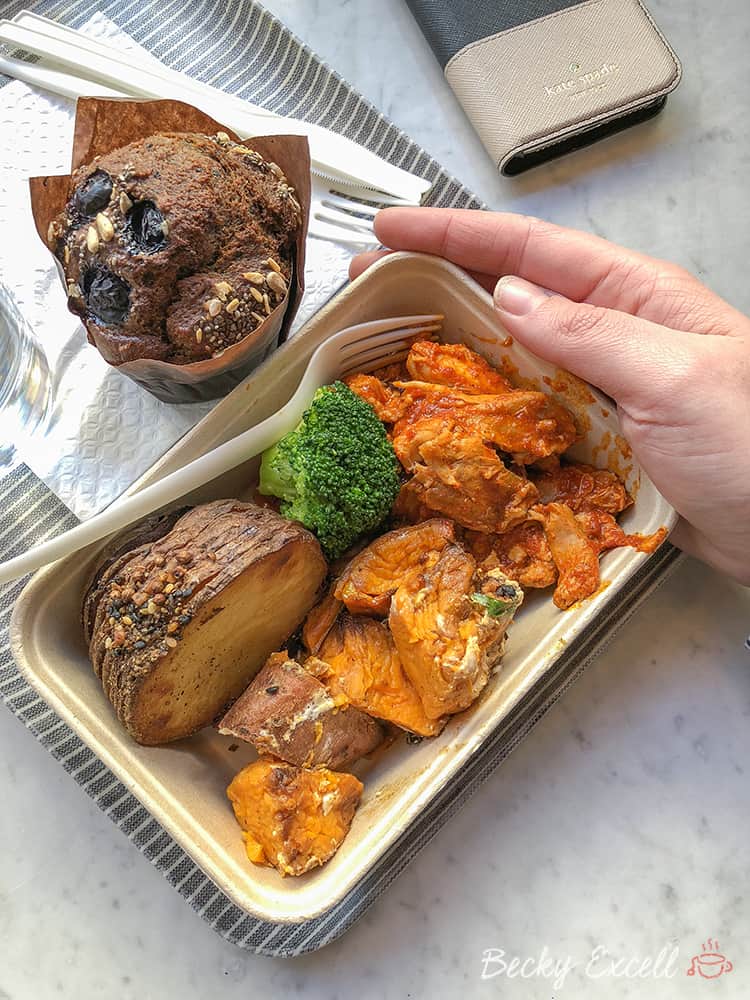 I've regularly visited Farmstand for one of their little boxes – you can fill it with a main (think harissa chicken, aubergine curry, miso salmon, sesame beef) and then add a couple of sides too.
I've always loved visiting Farmstand for gluten free in Covent Garden as they have been very understanding of my onion and garlic issues and helped me find the right dishes to suit me.
13. Zizzi, 20 Bow St, Covent Garden, London WC2E 7AW
I've always been a big Zizzi's fan and I hope that never changes!
I love their gluten free pizza base and the fact they always put a gluten free sticker on your plate so you know your meal is definitely the right one.
They also offer gluten free pasta, risotto and meat/fish options. There's always a good selection of starters and desserts too.
When I'm looking for somewhere easy that I know I can trust I very often go to Zizzi!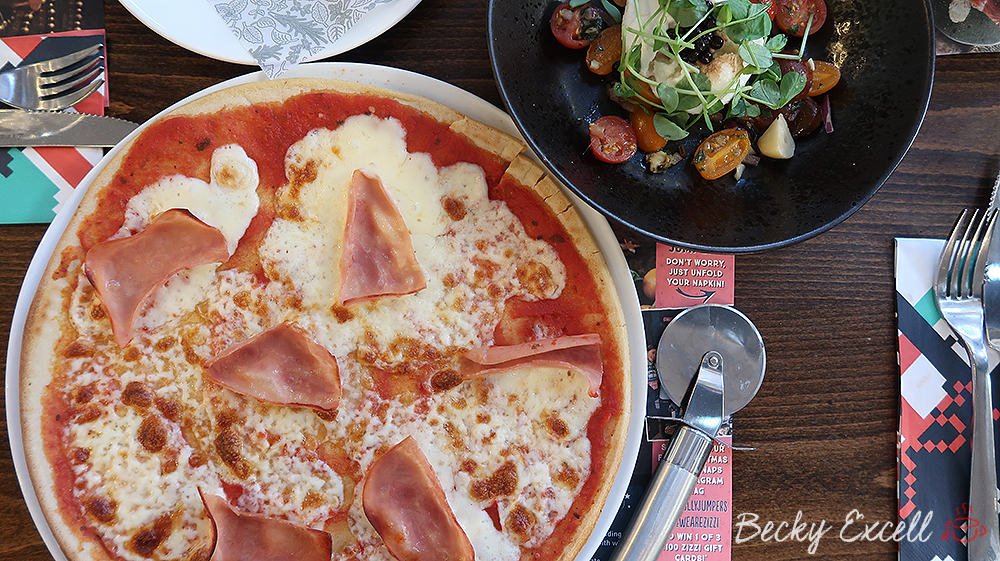 14. Pizza Express, 9-12 Bow St, Covent Garden, London WC2E 7AH
Another place that's perfect for gluten free in Covent Garden is Pizza Express.
(I really hope it doesn't shut down soon like they're saying it will!)
I know they are dotted all over the country but sometimes you want to have food somewhere that you know is good.
Aaaand that's exactly what having a Pizza Express in Covent Garden is for!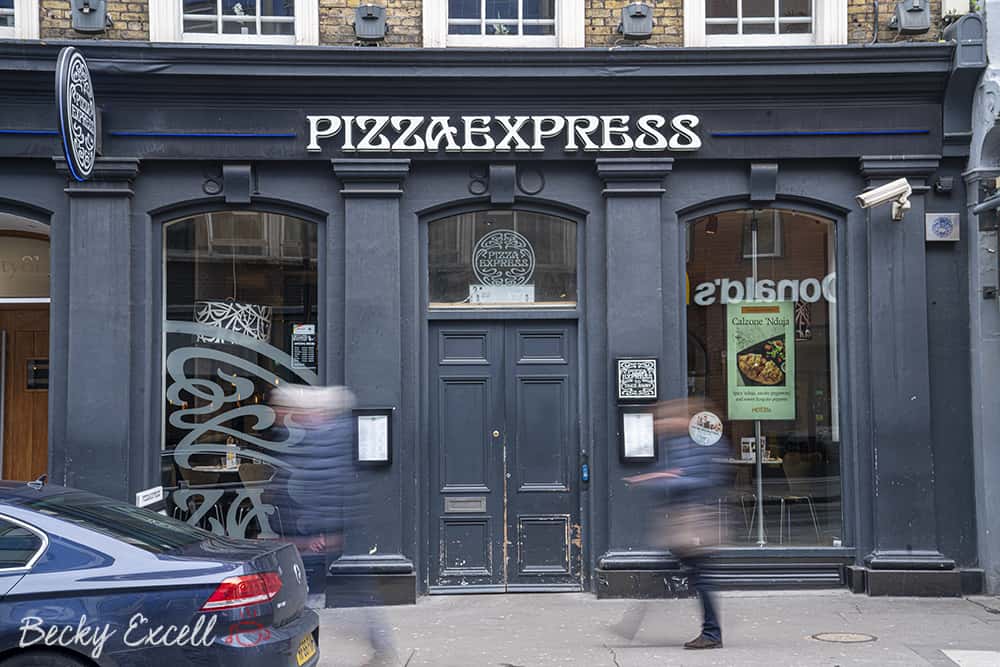 15. Flat Iron, 17-18 Henrietta St, Covent Garden, London WC2E 8QH
Flat Iron is a steak restaurant to end all steak restaurants. If you don't like steak… well you should go and try the steak here anyway!!
You will likely be converted! The steak is amazing and the chips are scrummy too. They really understand allergens so you don't need to worry.
I also really love the Covent Garden venue as it has such a lovely buzz about it and it's really centrally located.
The only thing with Flat Iron is that you can't book a table, so make sure you get there a little earlier if it's for dinner!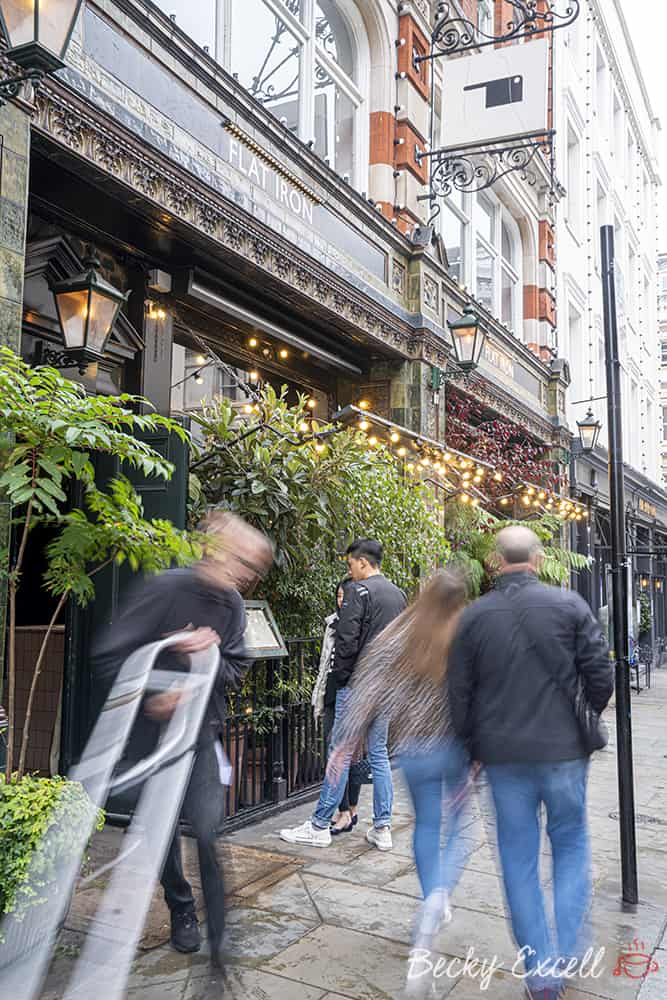 16. Chipotle, 92-93 St Martin's Ln, Covent Garden, London WC2N 4AP
Fortunately for those of us searching for gluten free in Covent Garden, there's a Chipotle right around the corner.
Nearly everything at Chipotle in the UK is gluten free – just not the flour tortillas. So what does that mean you can order?
You can order delicious burrito bowls with a side of corn chips and be more than satisfied!
Just make sure you don't leave without having a margarita or two too!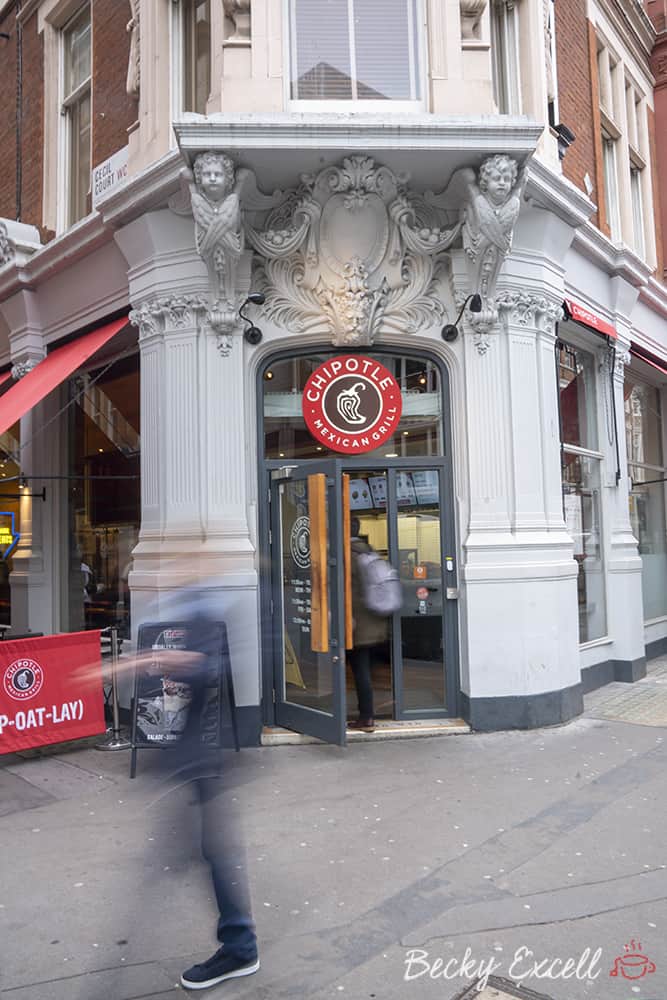 17. Bella Italia, 28 Wellington St, Covent Garden, London WC2E 7PS – OR – 70 St Martin's Ln, Covent Garden, London WC2N 4JS
There are a couple of Bella Italias within easy reach of Covent Garden.
Over recent years I've become more and more impressed with Bella Italia and their gluten free options.
They have a proper gluten free menu and your order comes with a flag to identify it as gluten free. More places need to do this!!
Pizzas, pastas, starters and desserts can all be made gluten free so there should be something for everyone 🙂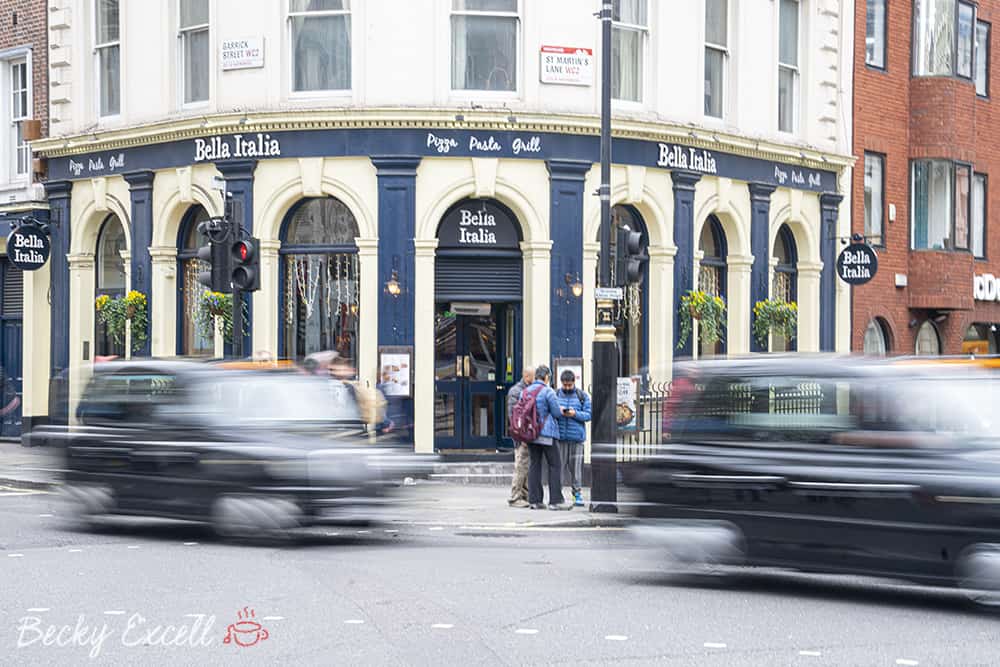 18. Bills, St Martin's Courtyard, Slingsby Pl, London WC2E 9AB
Bills is a really nice place to go for dinner, lunch or brunch for gluten free in Covent Garden. They have a separate fryer so can offer the rosemary salted fries with burgers and steaks etc.
Not all Bills have a separate frier so please double check that the one you go to does!! My local one doesn't so I can't ever have the chips 🙁
The menu is really extensive and I've always liked the surroundings in Bills – definitely somewhere to think about going for gluten free in Covent Garden.
19. TGI Fridays, 6 Bedford St, Covent Garden, London WC2E 9HZ
Very close to Covent Garden you'll find a TGI Fridays – an expected great place for gluten free these days!
They have a gluten free menu with lots of the things you would want to order at TGIs on it, if you could eat anything.
For example, burgers, steaks, bbq chicken (mmm!) and they even have a gluten free kids menu too.
What I find reassuring whenever I visit TGIs is that the manager always comes and takes your order (same I find in Bills actually). Oh and of course the drinks are great too!
20. Nandos, 66-68, Chandos Pl, Covent Garden, London WC2N 4HG
Everyone loves Nandos right?!
Well personally I've found (and heard from so many other people too) that Nandos is really great for gluten free.
They understand cross contamination very well and always clean down their grills when asked. I always make sure I clearly explain that I'm gluten free when ordering and I've never had a problem.
Plus the chips are gluten free as standard too. Sometimes all you fancy is a Nandos!
21. Sticks'n'Sushi, 11 Henrietta St, Covent Garden, London WC2E 8PY
I am such a big sushi fan and I've always found Sticks'n'Sushi to be a really strong choice for gluten free.
There's lots of options and lots can be altered to make it gluten free as well.
The staff were really friendly when we visited and very understanding of my dietary requirements.
The venue itself is really nice to and really close to the centre of Covent Garden so make sure you drop by.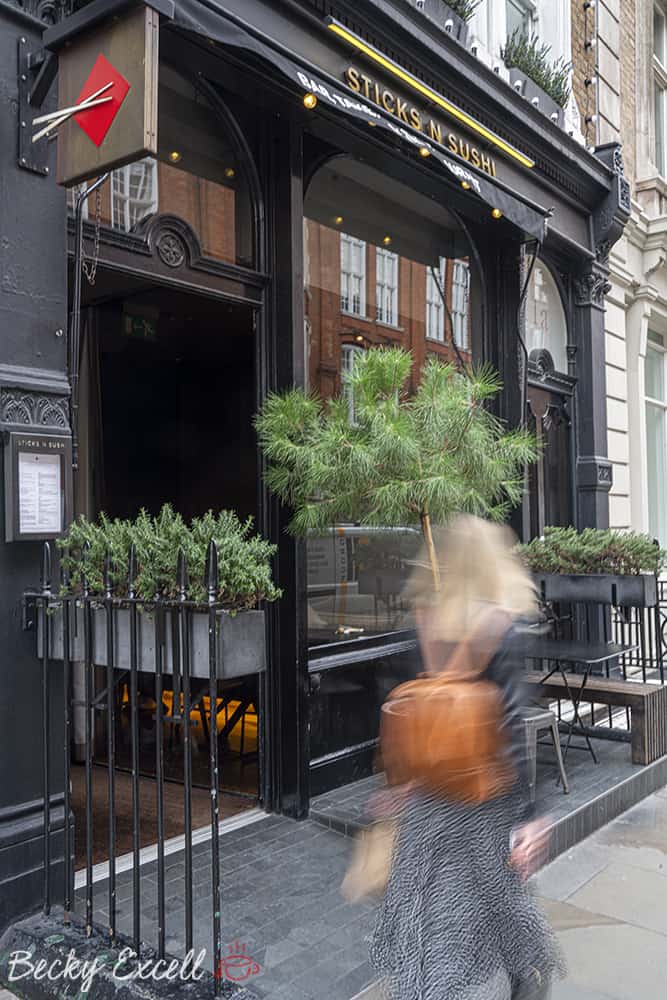 And that's where you can eat gluten free in Covent Garden, London!
Thanks for reading about my guide to gluten free in Covent Garden, London! If you find anymore places that you would recommend I visit, just drop me a message in the comments below, or on Facebook / Twitter / Instagram.
Also, if you've been to any of these places, let me know your review in the comments below – hopefully this post will be a good guide for those thinking of visiting themselves!
Don't forget to check out my post of the 30 BEST places for gluten free in London for tons more places to eat across the city too.
Thanks for reading,
Becky xxx
Some spending money which went towards creating this post was gifted by Hotels.com.
Oh and don't forget to pin this for later!