Cookies & Scream is the Numero Uno of food in London. It is quite simply the best. It's genius! & its Gluten Free, Dairy Free & Vegan! How on earth can I suddenly eat the best donuts, the best cookies, the best pies & the best shakes?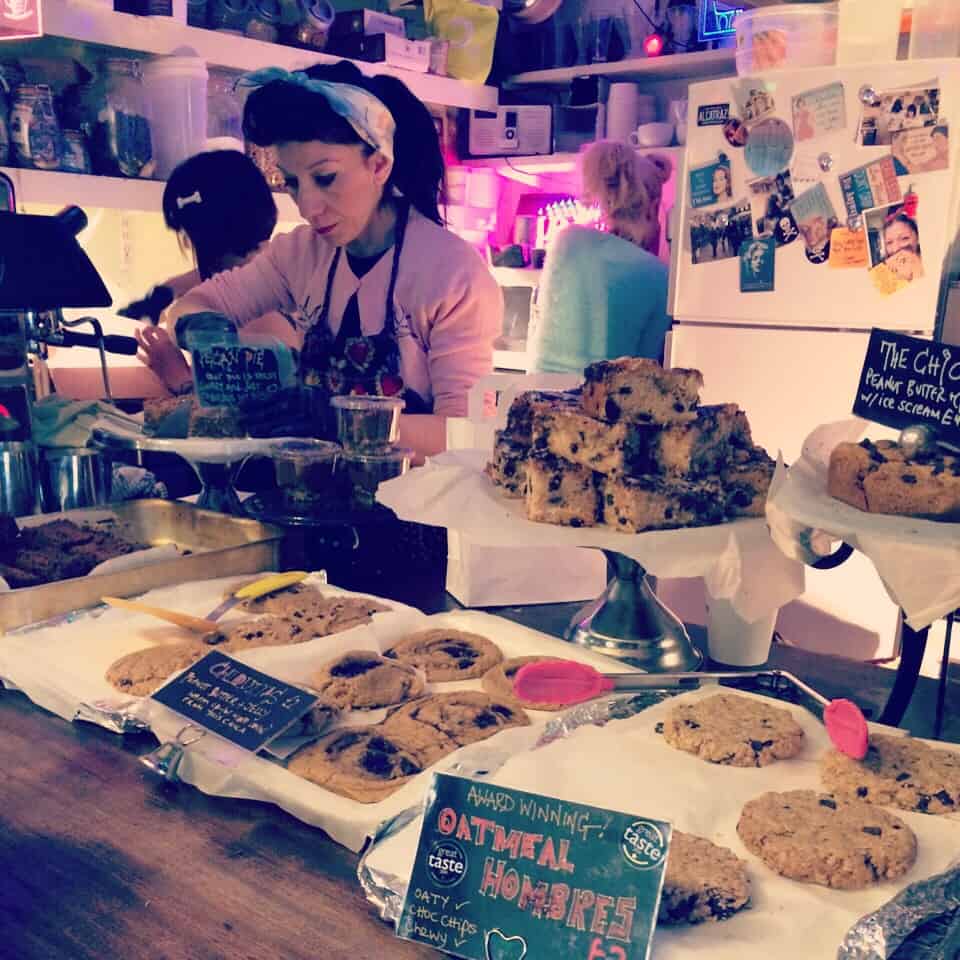 Now I know I have written a pretty extensive post of the one and only Cookies & Scream in the past; click here to read it. But since then I have visited so many times and enjoyed so many amazing things. Basically I just wanted to highlight what a fantabulous bakery Cookies & Scream is once again for you guys.
As you probably know by now Cookies & Scream is an entirely gluten free, dairy free and most definitely vegan bakery. It is tucked away in Camden opposite Honest Burgers (another great gluten free hot spot).
Every time I go to London now I seem to head there. I even ended up dragging my suitcase along Camden High Street one Sunday afternoon on the way home from a trip to Portsmouth. It was a roasting hot day and I just wanted to go home but I couldn't before collecting a bag of goodies and a shake for the road!
Recently I have really been enjoying the gluten free, dairy free & vegan shakes that, in my past post, I said sounded heavenly. I never looked back after trying one, and regularly indulge. My favourite shakes at Cookies & Scream are the Salted Caramel Shake and the Cookie Dough Shake. The Salted Caramel Shake includes a mouth-watering homemade salted caramel sauce; it seriously is to die for. The Cookie Dough Shake comes with amazingly soft dough balls popping out of the top; it's a masterpiece for the mouth. Whilst writing this I have decided that next week I will definitely be consuming at least one of these.
Last week I decided for the first time to try one of their Cookie Sandwiches. Cookie Sandwiches come filled with either ice cream or vanilla frosting. You can choose from a range of different cookies: oatmeal, double chocolate, chocolate chip and ginger. I went for the chocolate chip with a vanilla frosting filling, and it pretty much was the best sarnie I have ever consumed. Will I go back to savoury sandwiches again? Not so sure.
Of course as I mentioned in my older review of Cookies & Scream, the cookies seriously are the greatest creations ever. Since I last reviewed the place though, I have a new favourite cookie… The Chico – a peanut butter cookie that literally melts in the mouth. You will have an incredibly pleasurable experience taking a cheeky Chico away with you but you'll have an even cheekier experience if you choose to have it warmed up slightly with a dollop of vegan ice cream at the bar. It is the one.
There are far too many amazing delights for me to go through in this post and to be honest I haven't even got the opportunity to sample even a quarter of the goods that I see regularly on their Instagram, Facebook & Twitter. For example, they do a 'Scream Brulee' and I cannot wait for the day I turn up and a batch have just been made. Fortunately, whenever you visit Cookies & Scream your favourite treats are always there, because everything at Cookies & Scream is your number one treat, trust me.
I have fairly recently enjoyed a few more cakey bakes at Cookies & Scream which I would highly, highly recommend as well. I don't exactly know what they were called but I had, what was essentially, a sticky pecan pie cake – it was off the chain. As a pecan pie lover it was so beautiful. I also indulged in an apple iced bun not so long ago which was epic. It tasted so old school; it was torturous on the taste buds having to wait till I arrived home to consume it. Cinnamon and apple combined with anything is always a huge winner for me.
And oh my days, take a look at this freshly baked gluten free and vegan doughnut below… I don't think I need to say anymore.
I would just like to thank Cookies & Scream for making me love Camden & for making mine and Mark's London trips even better than they ever were. This is a place for everyone, it's great, I love it. I actually love love love it.
REMEMBER LITERALLY EVERYTHING IS GLUTEN FREE, DAIRY FREE, EGG FREE & VEGAN… EVERYTHING!
CLICK HERE TO READ OUR PAST REVIEW OF COOKIES & SCREAM 🙂
Thanks for reading,
Becky xxx
Comments