So many of you guys have been asking where you can get gluten free fish and chips in London… so here they are! Here's the 10+ BEST places for gluten free fish and chips in London…
Funnily enough, as so many of you have been asking, Mark and I have decided to cook gf fish and chips in our cooking demo at the Allergy Show in July! Hopefully we will make it look easy enough to do at home (I hope so anyway ?!!) But, here are the 10+ BEST places for gluten free fish and chips in London…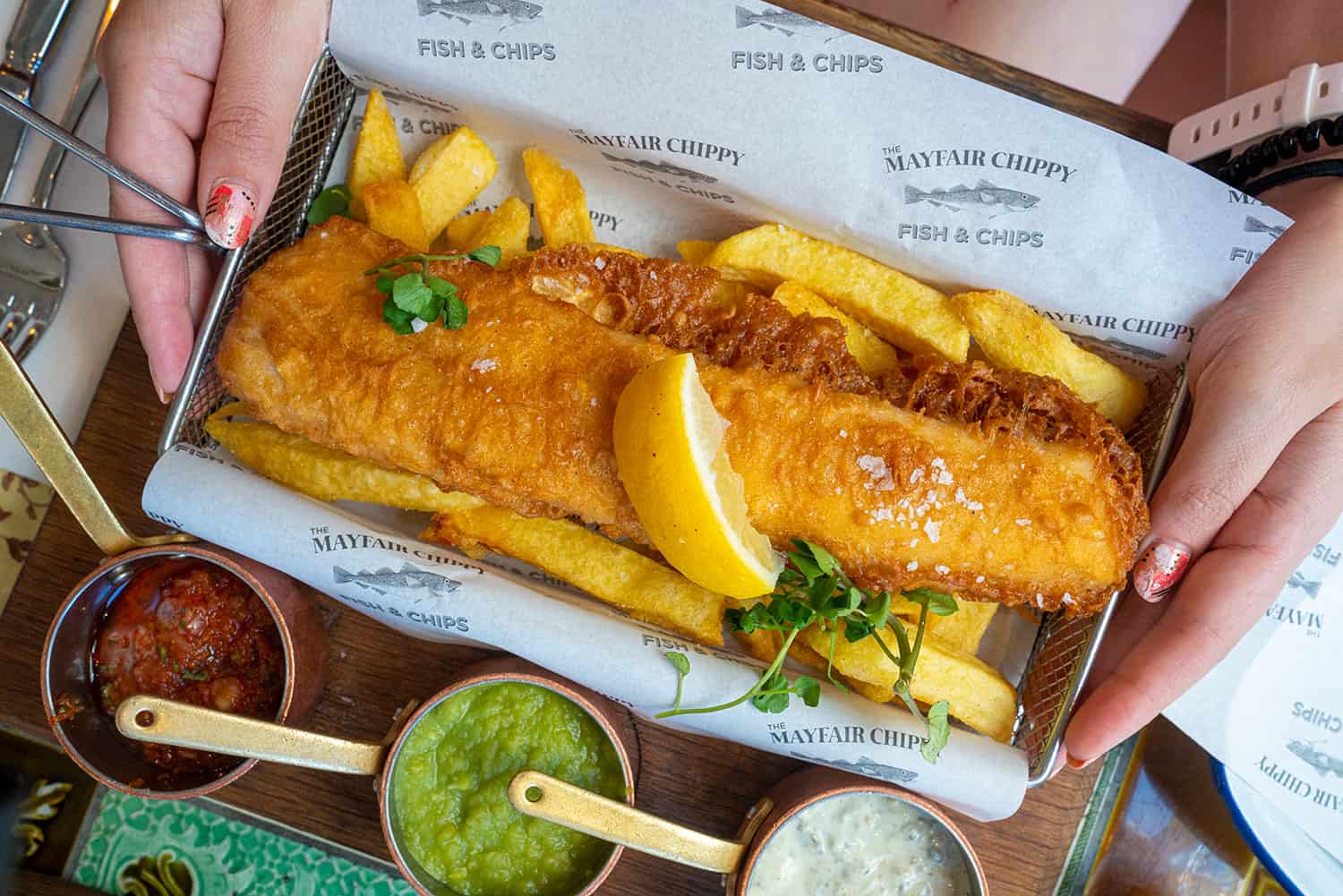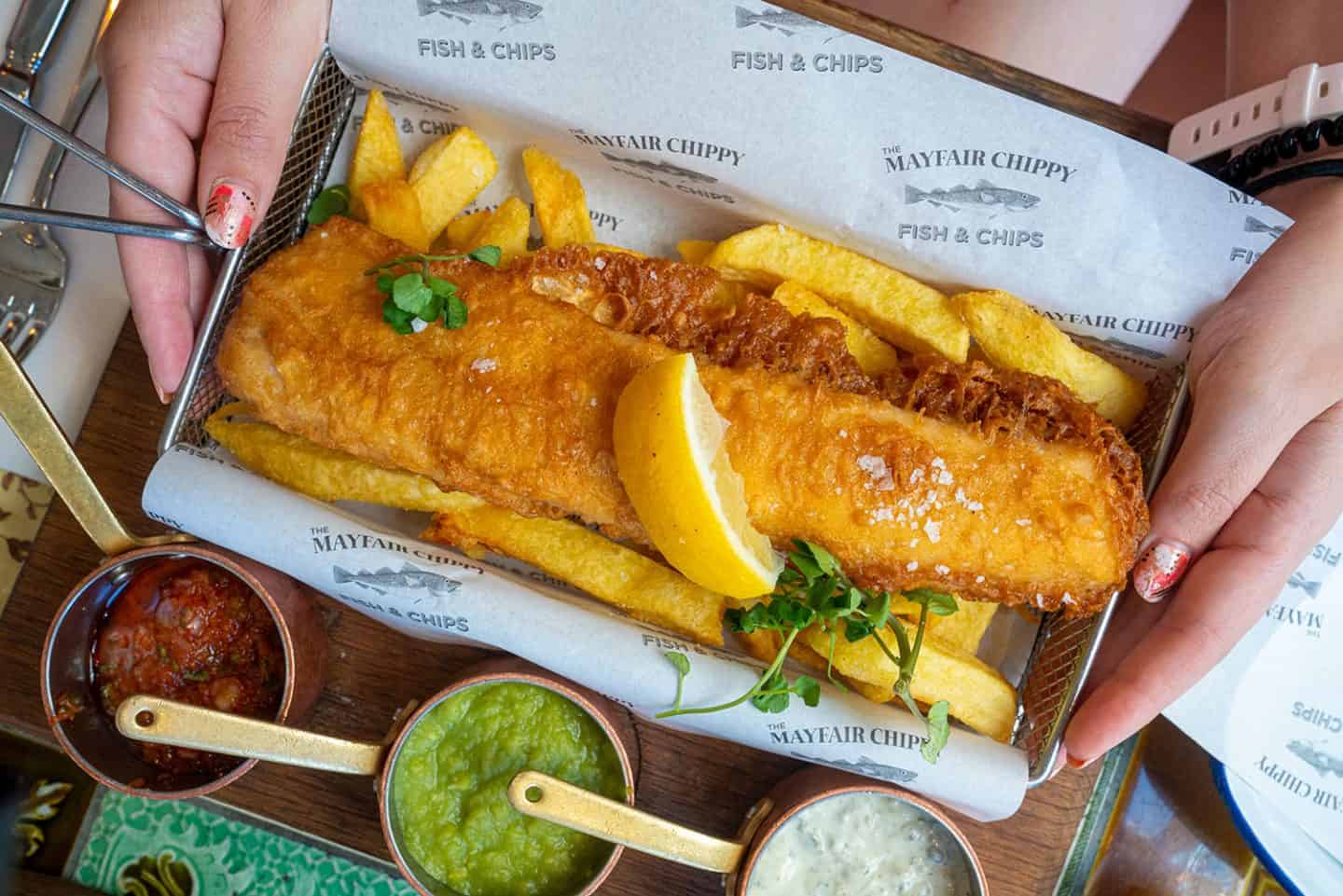 1) Hobsons, 9 Porchester Rd, London W2 5DP
My first stop for gluten free fish and chips in London is Hobsons.
Hobsons is situated over in West London, not far from Royal Oak and Bayswater tube stations. It's a family run fish and chip shop and receives it's fish daily from Billingsgate Fish Market ?
This little gem has a dedicated fryer for gluten free fish and chips. Therefore it can offer gluten free all week, rather than just on select days which is never a bad thing!
You can eat in within their restaurant or have gluten free fish and chips to takeaway. So if you're after gluten free battered cod, haddock or plaice this is the place for you.
There are also gluten free onion rings on the menu as well as gluten free cod bites for the kids – perfect.
Olley's is situated 2 minutes walk from Herne Hill railway station which you reach via Victoria. It's only a 9 minute train journey so well worth it!
Olley's offers gluten free every single day on request. There's an extensive menu which you can view on their website ahead of visiting if you wish. You absolutely must try their starters: gluten free battered calamari and homemade fish cakes, alongside your classic gluten free fish and chips.
The drinks menu even contains gluten free beer for those that fancy it. You can eat in at the restaurant or get a takeaway and sit in Brockwell Park if you fancy.
3) The Chipping Forecast, 29 All Saints Rd, Notting Hill, W11 1HE AND 58 Greek St, Soho, W1D 3DY
The Chipping Forecast has the best name for a fish and chip shop ever! They actually have two shops – one in Notting Hill and the other in Soho – both with gluten free options. It's great to have somewhere central in Soho for us gluten free folk as I always find myself in or around that area!
First and foremost, The Chipping Forecast is a restaurant, but they also offer takeaway which is perfect with all the places you can sit out and about in London on a nice day.
They offer beer battered fish and chips (cod, hake and haddock) but what's even better in my opinion is that they offer gluten free scampi! Our prayers have been answered!
Everything gluten free is cooked in a dedicated fryer with separate oil which is great. And they also have gluten free beer too!
4) The Mayfair Chippy, 14 N Audley St, Mayfair, W1K 6WE AND 140 Minories, EC3N 1NT *my fave for gluten free fish and chips in London*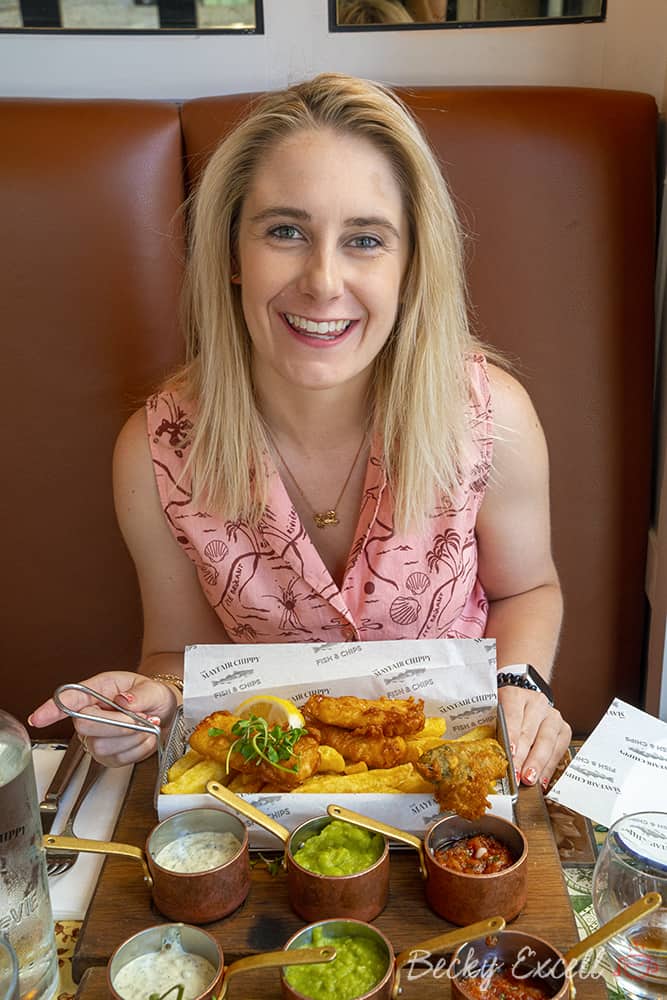 The Mayfair Chippy is a funny one that doesn't like to shout about the fact they offer gluten free. In fact, walking past the restaurant, you would have *no idea* whatsoever, yet they've been offering gluten free for ages.
They cook their gluten free fish and chips in a separate fryer and are very up on cross contamination. The restaurant in North Audley Street is so conveniently placed being only a 3 minute walk from Selfridges on Oxford Street and the Minories location is only 10 minutes walk from Liverpool Street Station.
The Mayfair Chippy also does a vegan fish and chips (a jackfruit fillet) and a veggie option of battered halloumi which I had in the photo above. I'd highly recommend it – it was AMAZING. I even had a battered wally on the side too!
I always seem to be walking past Oliver's as it's not far from Camden at all. Unlike other places, there's always a big sign in the window saying they offer gluten free! They actually offer gluten free every day except Fridays.
They used to only serve it on Wednesdays so hopefully that means there has been a rise in demand! For gluten free, they use separate oil and have a very similar menu to Hobsons that I mentioned above (I believe they are run by the same people – don't quote me on that though!)
They do have a lovely, intimate restaurant so I'd defo recommend booking for that. Getting a takeaway isn't a bad idea though as you're not far from the beautiful setting of Primrose Hill. They're also not open on Mondays.
6) Brockley's Rock, 317 Brockley Rd, Brockley, SE4 2QZ
Another South London fish and chip shop that offers gluten free (like Olley's Fish Experience) is Brockley's Rock. Brockley's has gluten free on the menu from Sunday to Thursday (so not Friday or Saturday).
They use a separate pan, utensils and storage for all gluten free food to ensure there isn't cross contamination. They offer cod, haddock, plaice, rock and mackerel as gluten free fried fish options but do also offer salmon and seabass grilled if you are looking for a slightly lighter alternative.
There are lots of ways to get down to this part of South East London, but popping on a train from London Bridge for 10 minutes down to Brockley station is probably the best idea.
7) Leadbellys, Montreal House, Market Pl, Rotherhithe, SE16 7AQ
https://www.instagram.com/p/Bk94THQAGrv/
Leadbellys is a restaurant situated right outside Canada Water underground station. It's a restaurant with a 98% gluten free menu which includes their very delicious gluten free fish and chips!
They do offer plenty of other colourful cuisines too, so if you are in a group and not everyone fancies fish and chips then this place is probably the perfect place! The entire menu is fab, no matter what you pick.
They even do gluten free calamari on the bar snacks menu too, so don't miss out on that!
8) Mommi, 44-48 Clapham High St, Clapham, SW4 7UR
If you are looking for a slightly different take on gluten free fish and chips, look no further than Mommi in Clapham. Mommi is a Coeliac UK accredited restaurant with a menu filled with soooo much gluten free choice.
But as we are talking gluten free fish and chips let's get right to that! Mommi serves up their famous 'Nikkei Tempura Fish and Chips' which is a gluten free tempura battered fish (served in bite-sized pieces) served with Cassava fries. It's a little different, but it's so good!
The rest of the menu is well worth a nosey through as well, as much of it is gluten free as standard and they do great drinks too! Clapham itself is a lovely area of London to hang out in. For Mommi, get off the tube at Clapham North station, it isn't far.
9) The Dove, 24-28 Broadway Market, E8 4QJ
I talk about my love of Broadway Market a lot as the market is on each Saturday, but there is so much more to this street than just literally the Saturday market!
The Dove is a pub which you might ordinarily just walk past, but please don't!! They offer gluten free fish and chips ? Not only do they offer gluten free fish and chips, but they also offer gluten free tofu and chips for those looking to eat vegetarian and vegan.
It's definitely not one to miss out on, especially as you can also visit the Saturday market at the same time. Check out my guide as you need to know what you'd be missing out on if you don't go!!
The best way to get to Broadway Market is via the train from Liverpool Street to London Fields (it takes less than 10 minutes).
Now, this is a market stall rather than a restaurant, but well worth visiting and once again… it's a Broadway Market find! It's also 100% plantbased so I guess we should say 'fish' and chips!
(yes I was doing air quotes with my hands there!)
Their batter is all gluten free and their choices are literally amazing, I don't know how they do it to be honest! The battered 'prauns' are really incredible and the 'Tofish' and chips is a fab alternative to regular fish.
They do have a proper shop down in Kent, but you can't beat getting gluten free street food and sitting down to eat it in the park (London Fields). As I mentioned Shakey Shakey is at Broadway Market so just on a Saturday from 10-5.
But I wouldn't be surprised if we see their stall popping up in more places across London as time goes on!
11) The Old Shades, 37 Whitehall, Westminster, SW1A 2BX
The Old Shades is a proper classic pub not far from Trafalgar Square. They have a separate gluten free menu with plenty of British classics on it, one of them being gluten free fish and chips!
(if that took you by surprise then you clearly haven't been paying attention to this guide!)
They also do a lovely sounding gluten free fish pie if you want your fish and chips served up in a very different way!!
You're not far from Charring Cross or Embankment here and it's also only a 10 minute walk to Covent Garden, so the location couldn't be better.
And that's where you can enjoy gluten free fish and chips in London!
Thanks for reading about my guide to gluten free fish and chips in London! If you find anymore places that you would recommend I visit, just drop me a message in the comments below, or on Facebook / Twitter / Instagram. Also, if you've been to any of these places, let me know your review in the comments below – hopefully this post will be a good guide for those thinking of visiting themselves!
Don't forget to check out my post of the 30 BEST places for gluten free in London for tons more places to eat.
Thanks for reading,
Becky xxx
Oh and don't forget to pin this for later!