Yep, Marks and Spencer has started to roll out gluten free pain aux raisins across stores in the UK. Here's everything you need to know!
I know that's a lot to process! So here's 5 things you need to know about Mark's and Spencer's new gluten free pain aux raisins AND their rebrand. Yep, I said rebrand! So here's everything you need to know…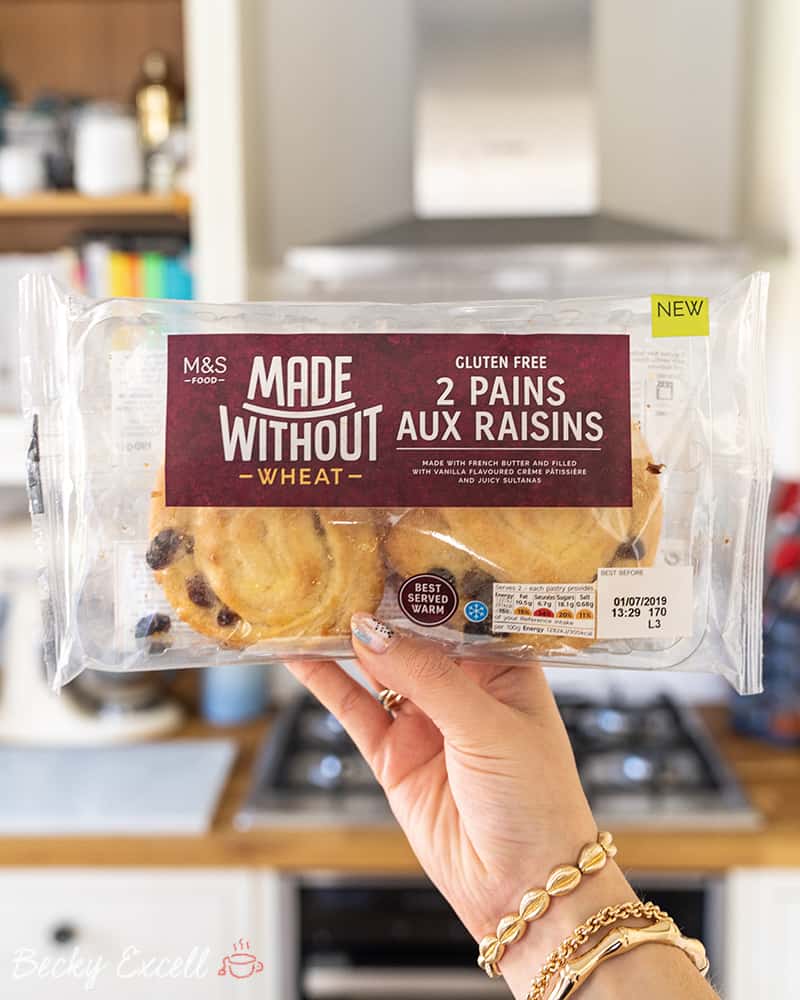 1. The price.
There's two in a pack and they're yours for £2.50. What do you think?
Would you buy them on the regular? Or would you only buy them every once in a while?
2. The ingredients.
Of course, you should probably know the ingredients before you rush out and buy them! Yeah – they're gluten free, but they do contain milk and egg too FYI.
Anyone else still holding their breath for more gluten free AND dairy free products from M&S?!
Here's the ingredients 👇🏻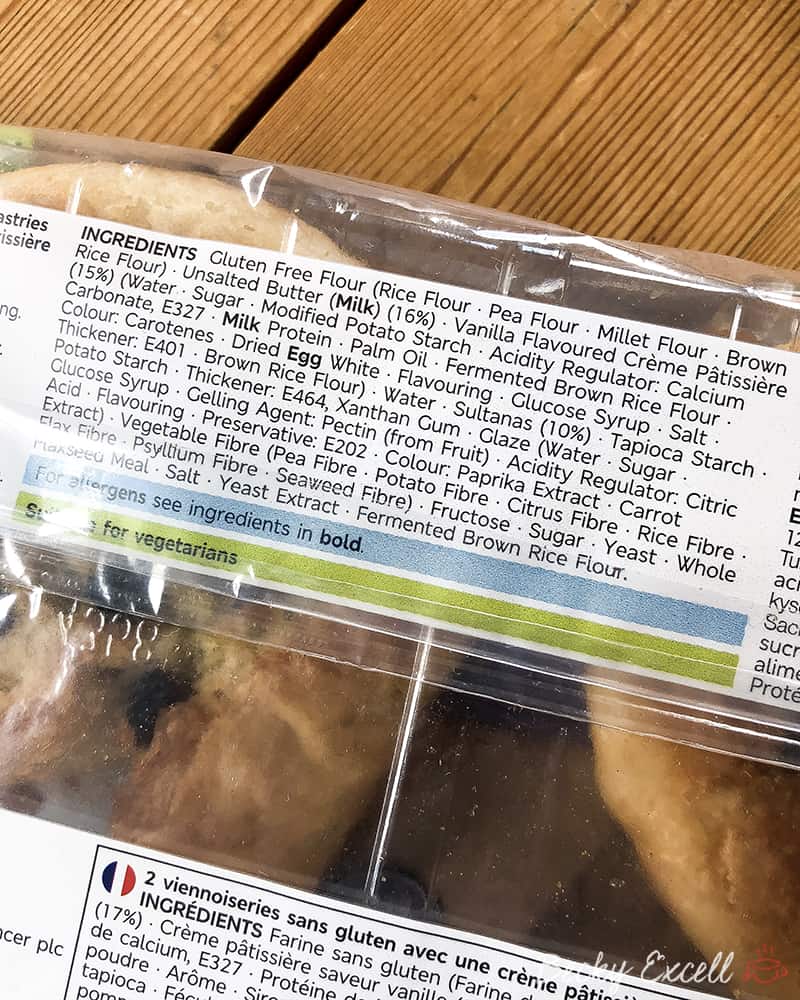 3. They've totally rebranded their free from range!
You might have noticed that this is the first 'made without wheat product' from M&S in a totally different coloured packaging. What do you think about it? M&S 'made without wheat' products are currently green FYI.
It's looking like this will be the colour that M&S will rebrand *all* of their free from range. Yep, everything – sandwiches, chilled free from stuff, bread etc., you name it.
Whilst I have to say, I did personally love the green (pretty instantly recognisable as M&S free from), there have been moments it's not really worked that well.
For example, their gluten-containing vegetarian sandwiches were an extremely similar shade of green… and all their pre-prepared potato products are green as well – not necessarily gluten free either.
So it looks like they've gone for a colour that's totally unique, which is defo a step in the right direction. But what do you guys think? Let me know in the comments below this post.
4. They're 100% best heated up before you eat them.
Just like M&S's gluten free croissants and apricot pastries, definitely make sure you heat them up first!!
(I know it might be hard to not eat them immediately, but trust me – be patient because it's worth it!)
Your reward will be lovely, buttery pastry that's nice and flaky with sweet creme patissiere inside. Mmm!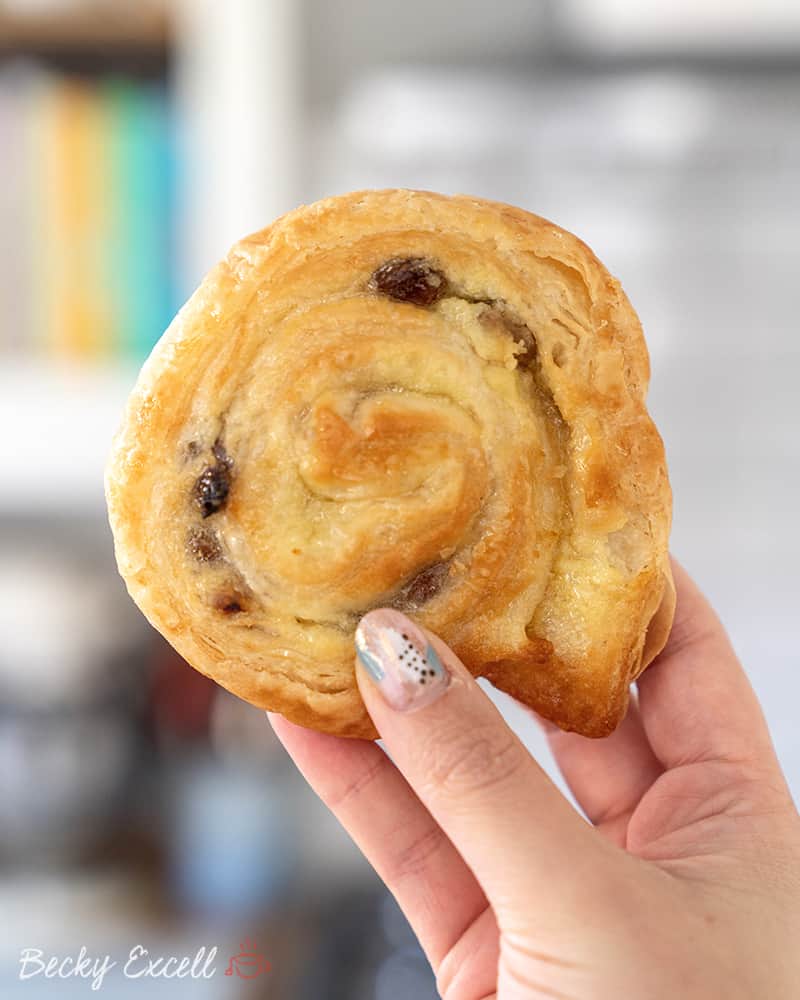 5. Don't be disappointed if you can't find them immediately in your store…
I'm 99% sure that M&S are still in the process of rolling these out to all stores in the UK, so if they're not in your store, make sure you keep checking back.
When you do manage to eventually find them, make sure you let me know what you thought of them! Be persistent and keep checking.
I mean, I travelled to Spain just to eat a gluten free Big Mac, so I'm sure you know the lengths I'll go just to find something I can eat 😂👇🏻
Check out this post – 11 countries where gluten free McDonald's actually exists – if you fancy gluten free McDonald's too!
Final thoughts on Marks and Spencer's new gluten free pain aux raisins…
So now I'm throwing it to you guys – what do you think? Would you buy these? Is it worth a trip to M&S just go try them? Let me know in the comments below!
Personally, I love seeing new gluten free products that haven't been done to death. After all, there's only so many times I can get excited about the same product being released over and over again!
What do you think of the rebrand most importantly? Do you agree that the green packaging had to go?
Here's some other posts you might like while you're here:
Don't forget to stay in touch by following me on Facebook / Twitter / Instagram before you go. That way, you'll never miss an awesome new gluten free find like this!
Thanks for reading,
Becky xxx
Comments