So it turns out you don't have to go to Italy for game-changing gluten free pizza! That's why I couldn't resist sharing the 5 reasons you need to eat at Messie Pizza Sin Gluten in Barcelona…
And honestly, the pizza at Messie Pizza Sin Gluten was seriously as good as any pizza I've ever eaten – including waaaay back when I could still eat gluten! So here's 5 reasons you need to eat at Messie Pizza Sin Gluten in Barcelona…
(oh and if you're looking for the location/address of this place, just check out number 3 in my gluten free guide to Barcelona by clicking here)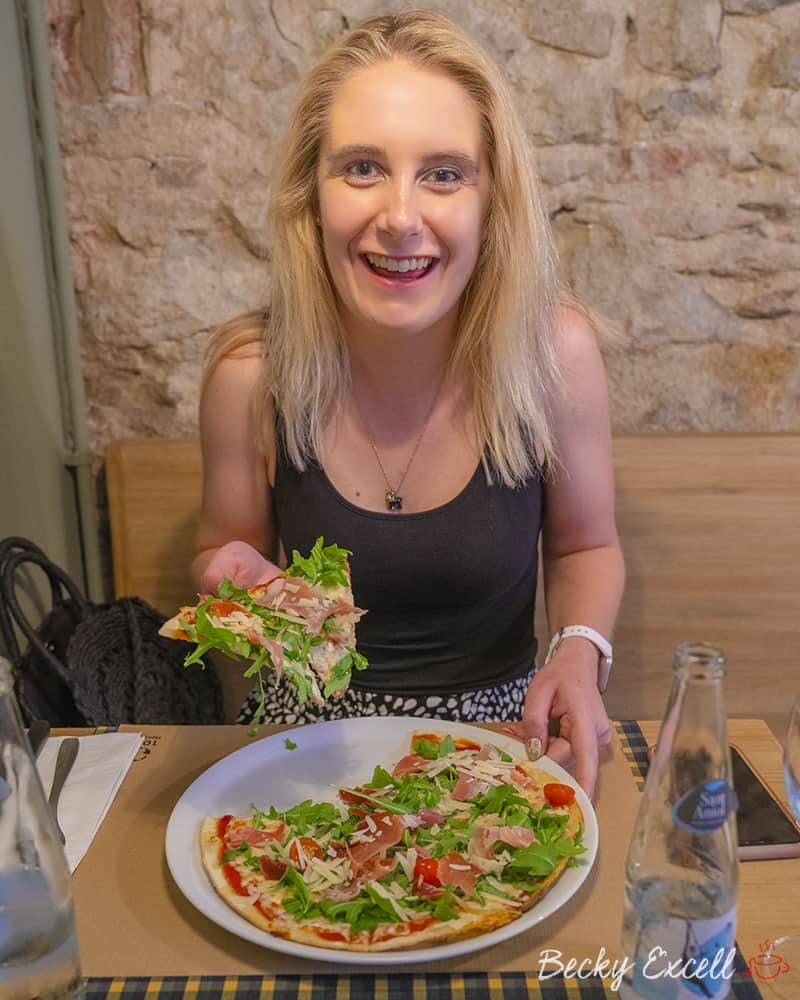 1. It's a 100% gluten free restaurant.
Yep, Messie Pizza Sin Gluten is a pizza restaurant that has no gluten on the premises at all.
So no, you don't have to worry about gluten flour flying all over the place or pizzas being cooked in the same pizza oven.
I mean, just that in itself is a good enough reason to go, don't you think?!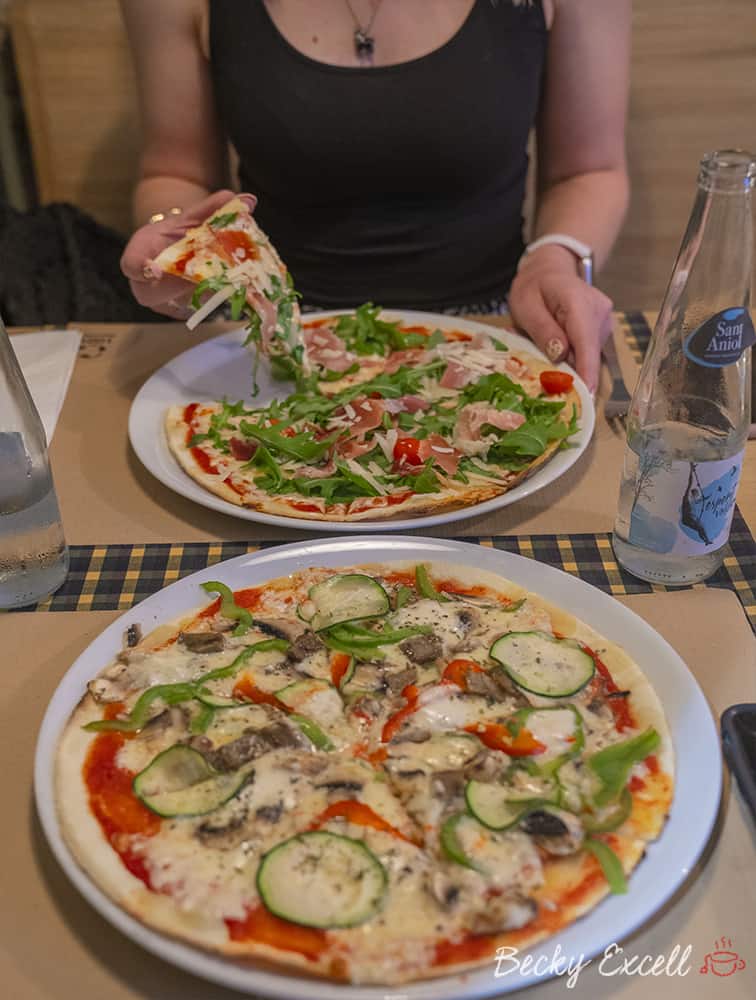 2. The pizza base.
Oh my gosh. THE BASE!
Never did I dream that one of the best gluten free pizzas I've ever eaten would be waiting for in Spain of all places!
It was really lovely and thin, super crisp and even made a little smoky flavour to it. Needless to say, it didn't taste 'gluten free' AT ALL.
I mean, even my boyfriend Mark loved it (he had no choice as everything on the menu is gf ?) and said it was as good as any gluten-containing pizza. I think that says it all!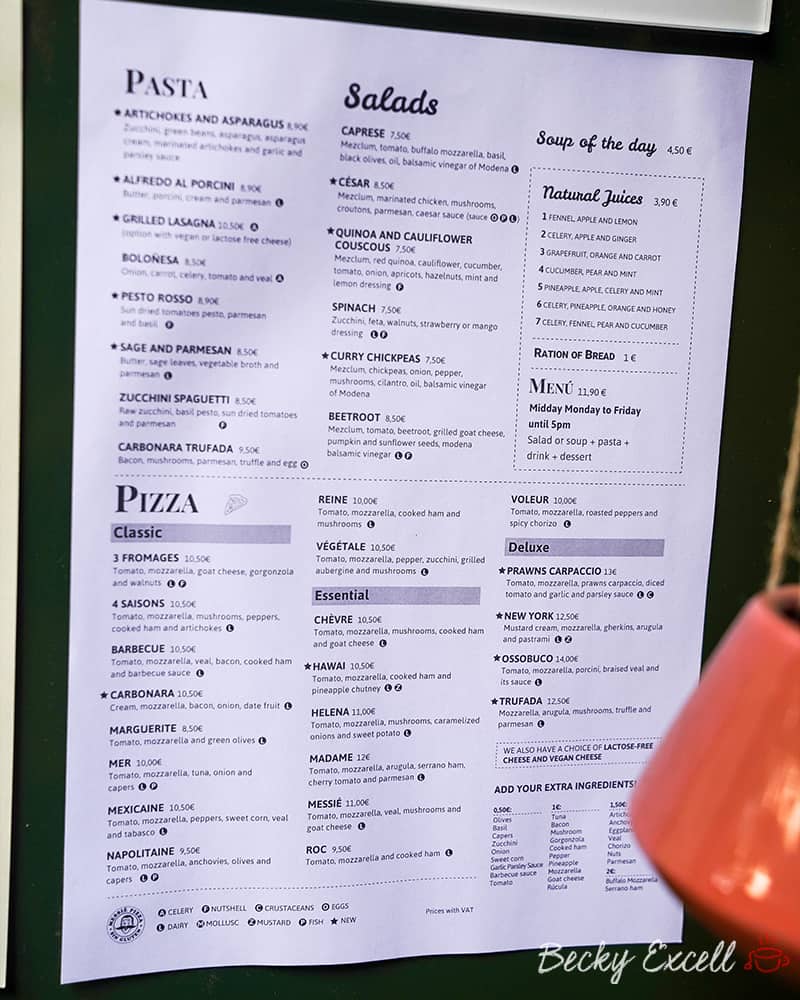 I went for for the 'Madame' pizza which was tomato, mozzarella, rocket, Serrano ham and Parmesan whilst Mark went for the 'Végétale' pizza. Both were absolutely awesome!
3. The crazy selection of gluten free beer.
I'm not a big beer drinker so I know this sounds weird… but just knowing that I could have a gluten free beer if I fancied is enough to make me happy!
And that feeling was amplified by 50 at Messie Pizza Sin Gluten because… well, they had a choice of 50 different *gluten free* beers on the menu.
I mean, I don't think there's many places you get the choice of 50 beers – gluten containing or not – anywhere!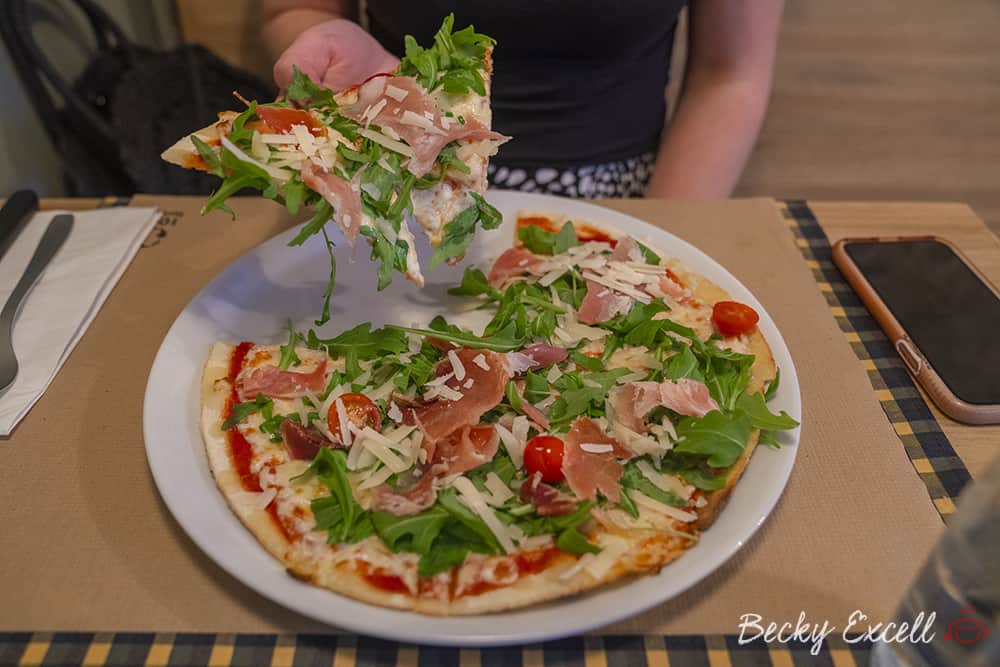 4. They have lactose free AND dairy free/vegan cheese if you fancy.
Yep, they even have different cheese to suit all dietary requirements – all you need to do is ask.
Since Mark is lactose intolerant, this was just the icing on the cake. Trust me – he's seen a lot of depressing-looking cheese-less pizzas in his time!
5. Messie Pizza Sin Gluten is certified by the Catalunya Coeliac Association (Associació Celiacs de Catalunya)
And the cherry on top is that Messie Pizza Sin Gluten is certified by the Catalunya Coeliac Association.
They proudly display their badges on the front door, just in case you were wondering if you've found the correct place or not!
(they do have a non-gluten-free restaurant nearby too FYI!)
So if you're incredibly anxious about eating out, knowing that this place is 100% gluten free AND has the ACC badge of honour hopefully makes you feel mega confident now!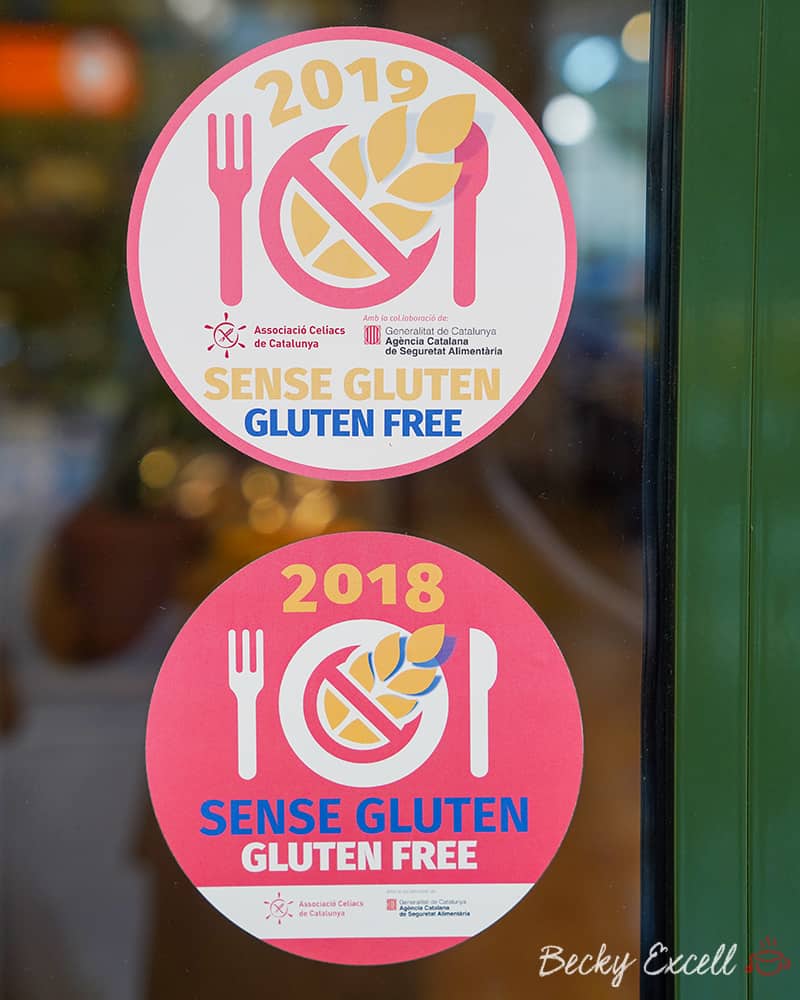 Thanks for reading about my experience with Messie Pizza Sin Gluten in Barcelona! If you find anymore places that you would recommend I visit, just drop me a message in the comments below, or on Facebook / Twitter / Instagram. Also, if you've been here, let me know your review in the comments below – hopefully this post will be a good guide for those thinking of visiting themselves!
I really can't wait to go back to experience some more gluten free in Barcelona asap! Don't forget to check out my post of the 30 BEST places for gluten free in Barcelona for 35 more places to eat.
Thanks for reading,
Becky xxx
Oh and don't forget to pin this for later!