Here's 10 gluten free Easter recipes you need to try ASAP! Let's be real – mini eggs etc. have been in the supermarkets since January, so there's plenty of time to give one (or all) of these recipes a go!
Gluten free Easter recipes are here! These recipes contain classic Easter treats like mini eggs, Creme eggs and a few weird and wonderful variations like Smarties/Milkybar mini eggs. And you can rest assured that here in the UK, all of these are gluten free! Of course, always make sure you check the ingredients for yourself first.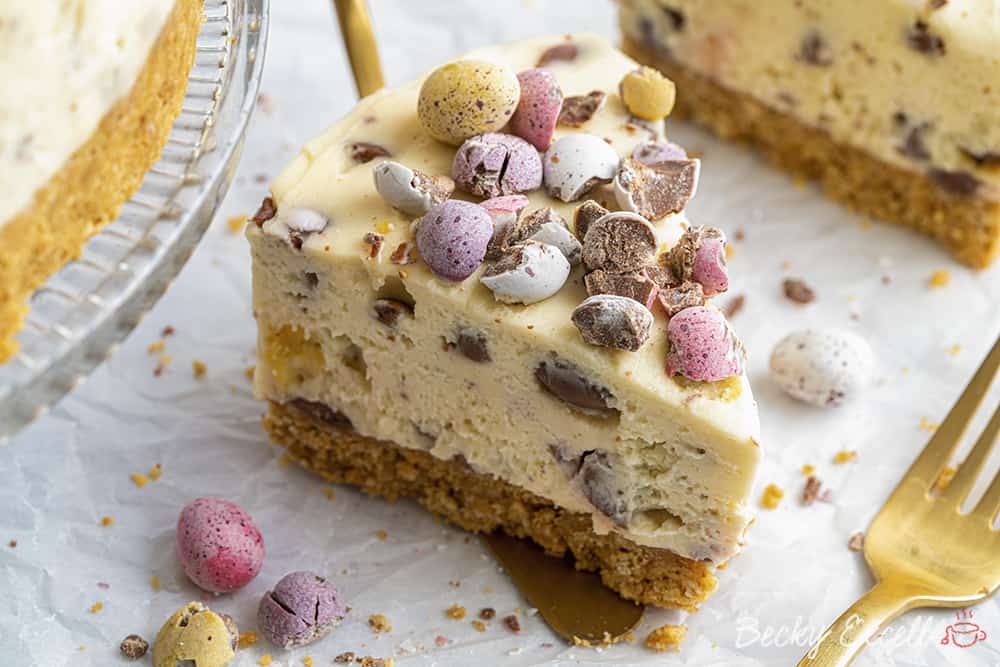 (apologies that only one of these recipes is dairy free, but all of the above Easter treats all contain milk to start with!)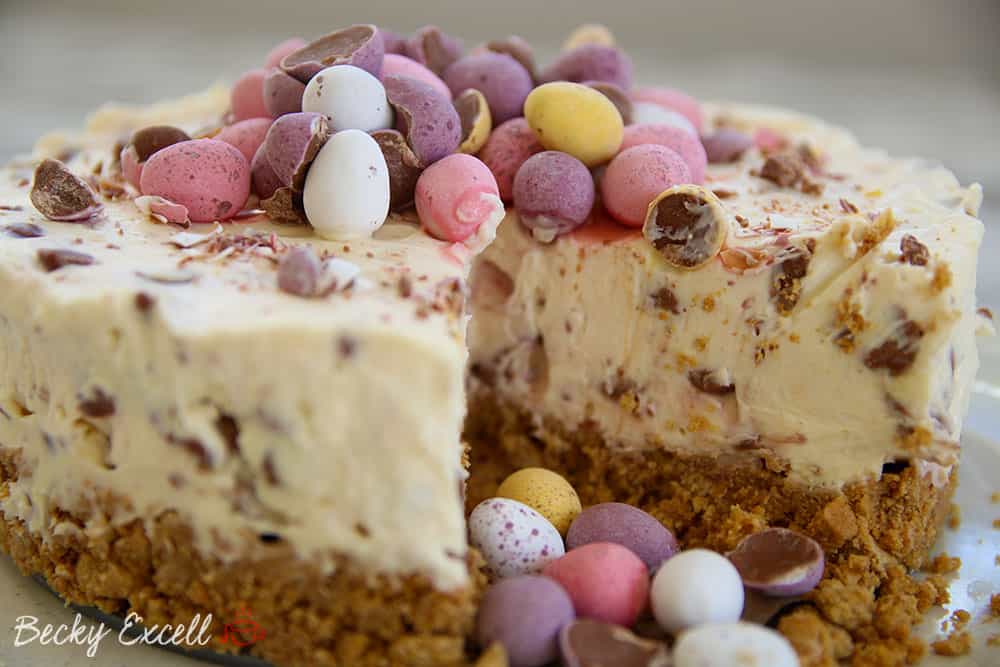 The first of my gluten free Easter recipes absolutely HAD to be my gluten free mini egg cheesecake.
It's one of the first Easter recipes I ever made and over the years, you guys have definitely made it clear that it's one of your favourites too!
Yep, there's mini eggs inside and on top of this beauty. You just can't beat that creamy cheesecake filling, with chunky bites of smashed mini eggs and a thick, buttery biscuit base.
If you only make one of the recipes from this list, then this one is it!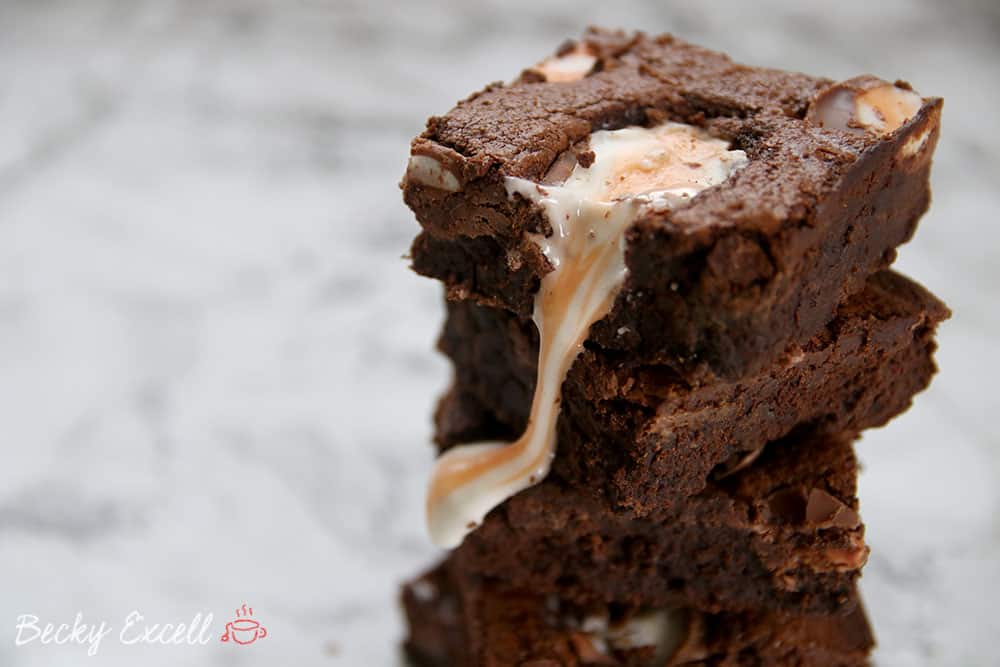 If you're still under the impression that all gluten free brownies are boring, then think again!
My second 10 gluten free Easter recipe is for my Creme Egg brownies.
They've got halves Creme Eggs and halved mini Creme Eggs lodged into these chocolatey squares of heaven.
The brownie itself is lovely and fudgy, chewy and things only get better from there with chunky Creme Eggs in every bite.
3. Gluten Free Smarties Mini Egg Cookies (click here for the recipe) As of Easter 2022 Smarties Mini Eggs are no longer gluten free in the UK.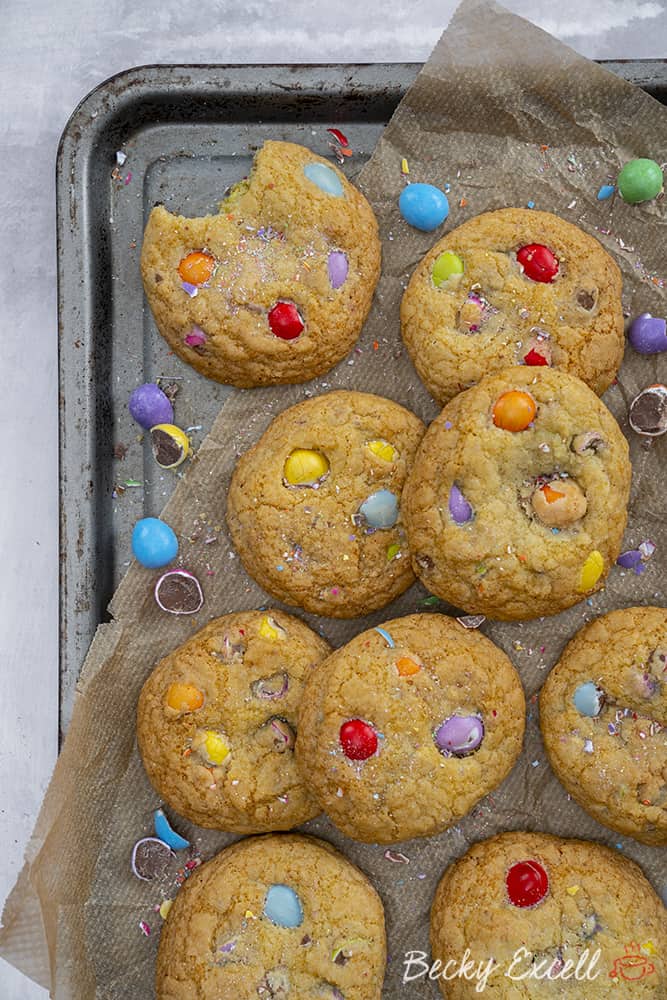 Now, normal Smarties are NOT gluten free – they actually contain wheat flour.
(don't ask me why, it makes zero sense)
But Smarties mini eggs don't, making them gluten free! So take your one opportunity of the year to remind yourself what Smarties used to taste like (if you can even remember that far back) and bake these soft and chewy cookies!
These aren't the hard type of cookies FYI, they're crisp on the outside and chewy in the middle – my absolute FAVE cookies of all time. When you throw Smarties mini eggs into the mix, things only get more awesome!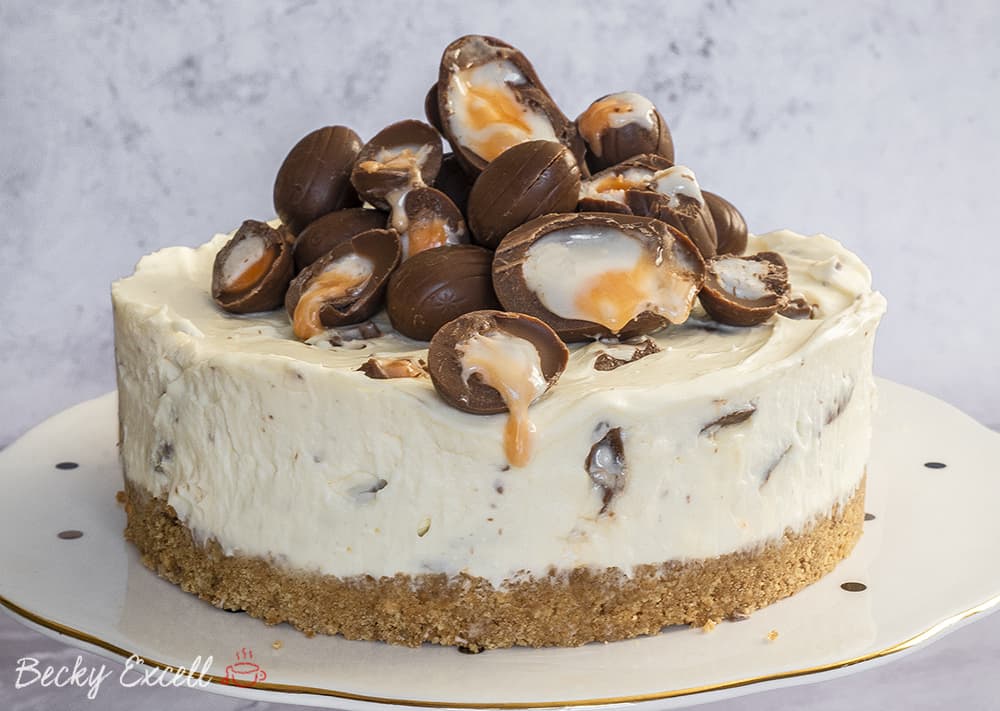 Consider this the sequel to my gluten free mini egg cheesecake!
Yep, in at number 4 in my 10 gluten free Easter recipes countdown is my gluten free Creme egg cheesecake.
I mean – just look at it! It's almost too good to eat. Almost…
Just like my mini egg cheesecake it has mini Creme eggs all throughout the filling and a pile of halved Creme eggs on top. Trust me, this one is a winner!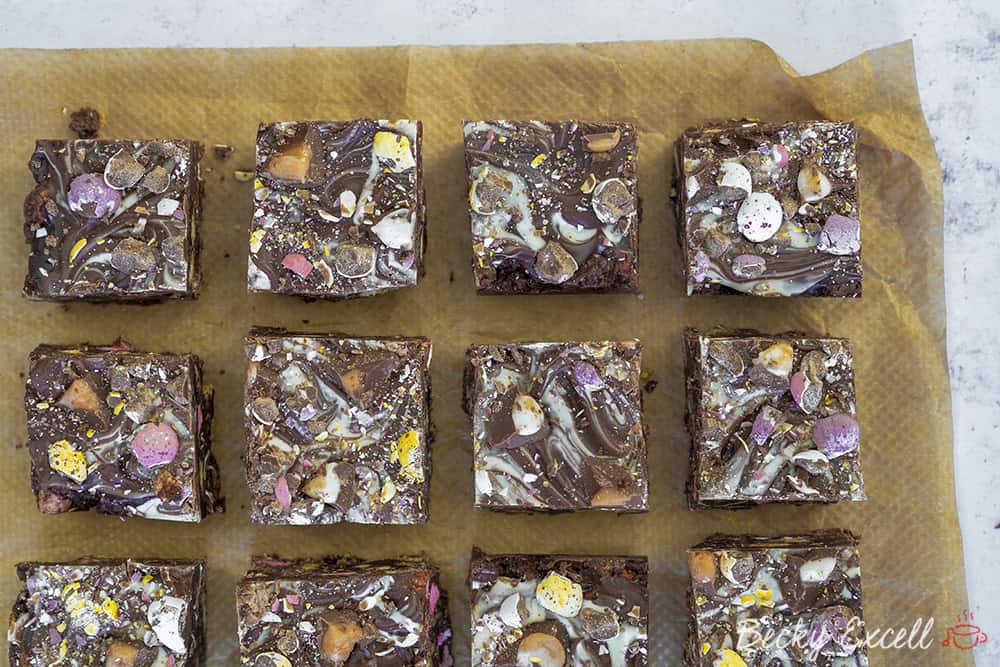 Rocky road is so easy to make because there's actually zero baking involved – just melting chocolate and letting your mixture set in the fridge!
But why is this my ultimate Easter rocky road, I hear you ask?
(yes, I can read your mind)
Well because it has a combo of mini eggs AND mini Creme eggs. Yep, the crossover finally happened.
AND IT'S AMAZING. They're chunky, chewy, sweet, chocolatey and biscuit-y all at the same time. This is probably the easiest to make out of all my 10 gluten free Easter recipes.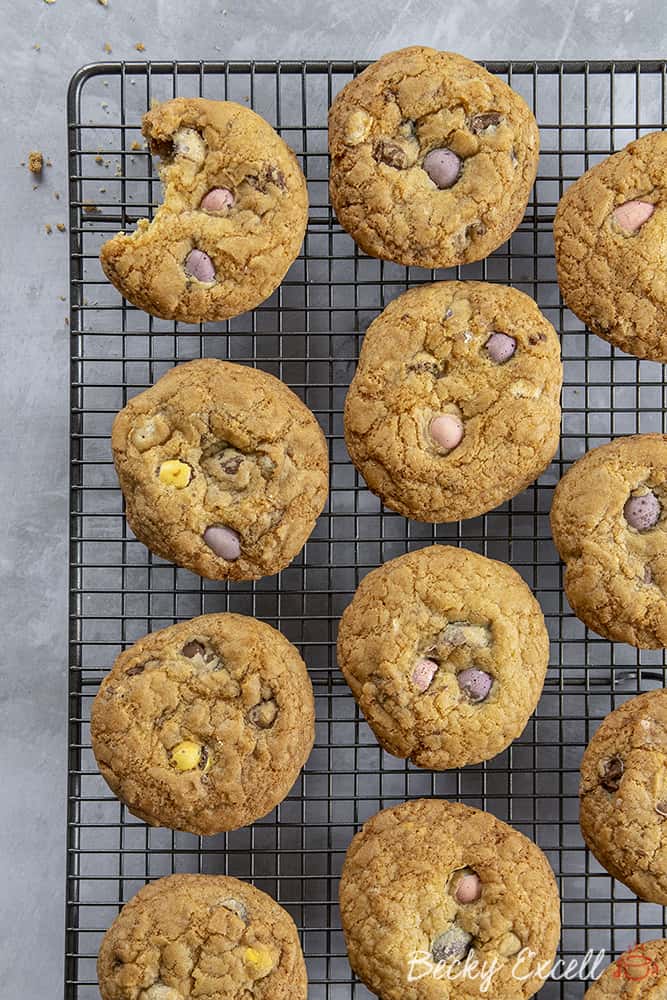 Here's anther absolute classic – gluten free mini egg cookies.
It's the same recipe as my Smarties cookies, but with mini eggs instead! I love using mini eggs instead of chocolate chips in these recipes because they give you that chunky, chocolatey bite that I wish chocolate chips did.
But then as they have that crisp sugar shell, you get a little crispy texture in every bite too which just works so well against the chunky chocolate and soft, chewy cookie.
Trust me, if you bake these for anyone… they will vanish off the plate!
Guess what? This year, Terry's chocolate orange mini eggs are accidentally gluten free! Every other Terry's product always has a 'may contain' warning for gluten, but not these. Hooray!
So I decided to pack them into my classic gluten free brownie recipe which is fudgy, gooey and soooo more-ish.
And they turned out AMAZING. I also popped a little orange extract into the brownies to really seal the deal when it comes to that chocolate orange flavour.
Definitely give this one a go, because it's really simple to make!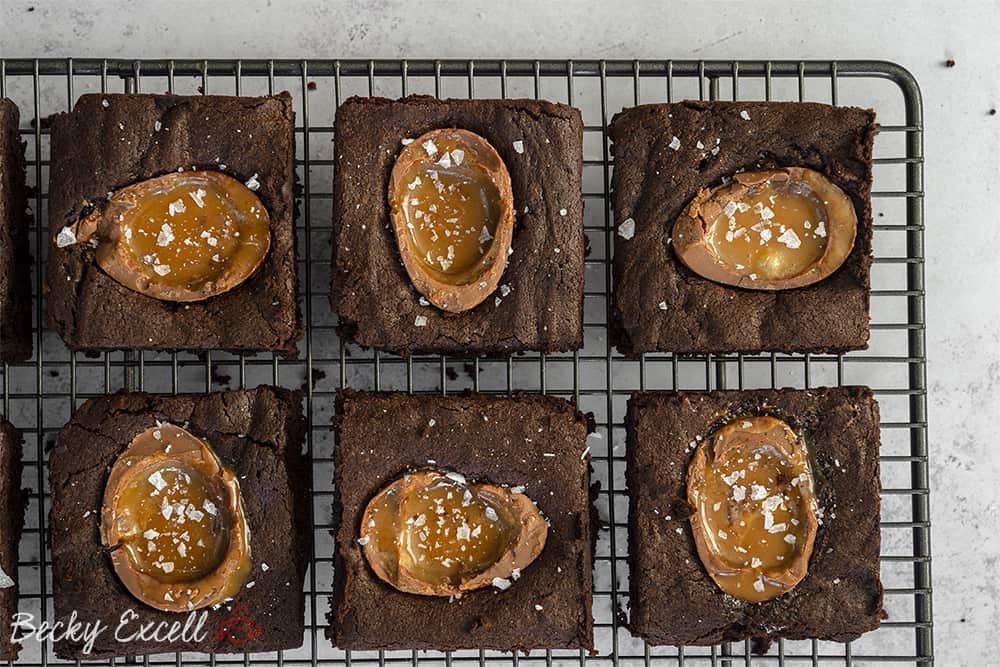 Well I honestly never expected this recipe to go so berserk when I first posted it on Instagram.
'It's just my brownie recipe with halved caramel eggs shoved in and some salt on top' I told myself as I was about to post it. 'Nobody probably cares'.
But apparently, you loved my salted Cadbury's caramel egg brownies!!
It's basically a little variation on my Creme egg brownies, but since I'm obsessed with salted caramel, I decided to add a little salt on top to compliment the caramel.
And they taste UNREAL. I'm just so glad you guys liked them too!
Now this is my classic Easter rocky road recipe – exclusively with mini eggs.
I actually made this recipe before the other one and though the ultimate Easter rocky road looks epic, I'm absolutely in love with all the pastel-y pinks, purples, yellows and white in this recipe.
When I look at this photo, it just screams Easter baking to me!
So if you've got an Easter party coming up, make sure you whip up a batch of these because they'll go down a storm! Again, probably one of the easiest recipes in my 10 gluten free Easter recipes list.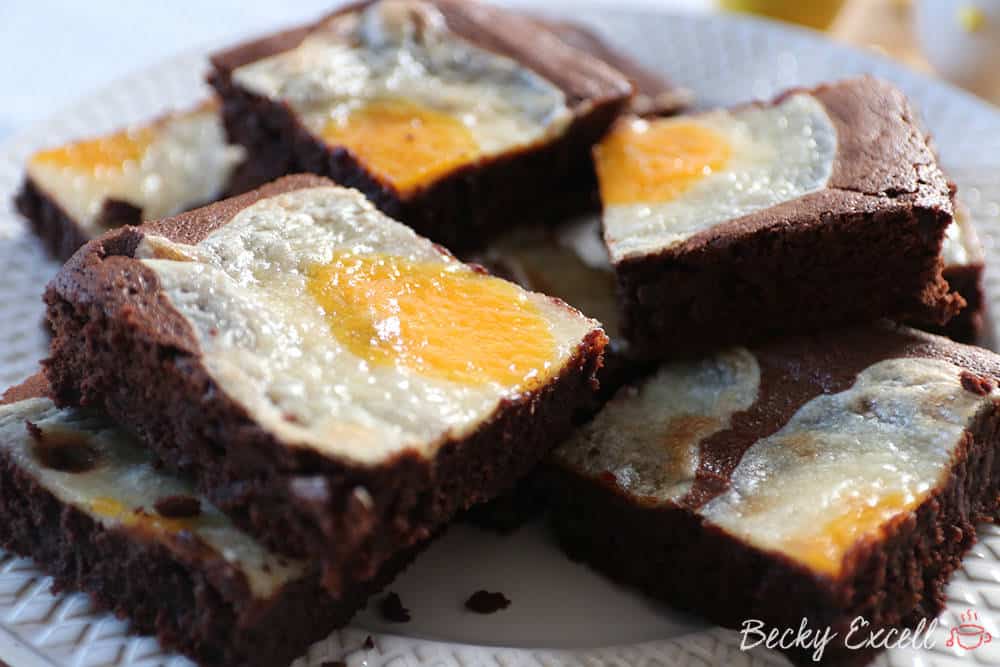 Last but not least is the ONLY dairy free option in this list…
(sorry – blame the people who make mini eggs etc!)
My 'sunny side up' gluten free and dairy free brownies! No, they're not real fried eggs even though they actually do genuinely look quite real ?
It's actually a dairy free cheesecake topping splodged on top, with another dollop on top that's been coloured yellow with food colouring.
They're so much fun and to be honest, I've never seen anything else quite like them out there! So if you fancy making something dairy free and a little different, this recipe is defo for you.
I hope you enjoy my gluten free Easter recipes this year!
Thanks for reading all about the 10 gluten free Easter recipes you need to try ASAP! If you make them, I'd love to see how they turn out. So absolutely make sure that you send me a pic using my social media links below…
Any questions about the recipes? Please do let me know by leaving a comment below or on Facebook / Twitter / Instagram!
Thanks for reading,
Becky xxx
Oh and don't forget to pin this before you leave!