My gluten free Cadbury's caramel egg brownies recipe makes the most amaaazing, chocolatey Easter treats and they're a doddle to bake at home.
Two years ago, I tried to set the record straight on how a gluten free brownie should be done. Basically, I made the brownies of my dreams: gooey, fudgy, chocolatey. Today I've gone one step further for Easter and made those brownies into my gluten free Cadburys' caramel egg brownies recipe. What a time to be alive!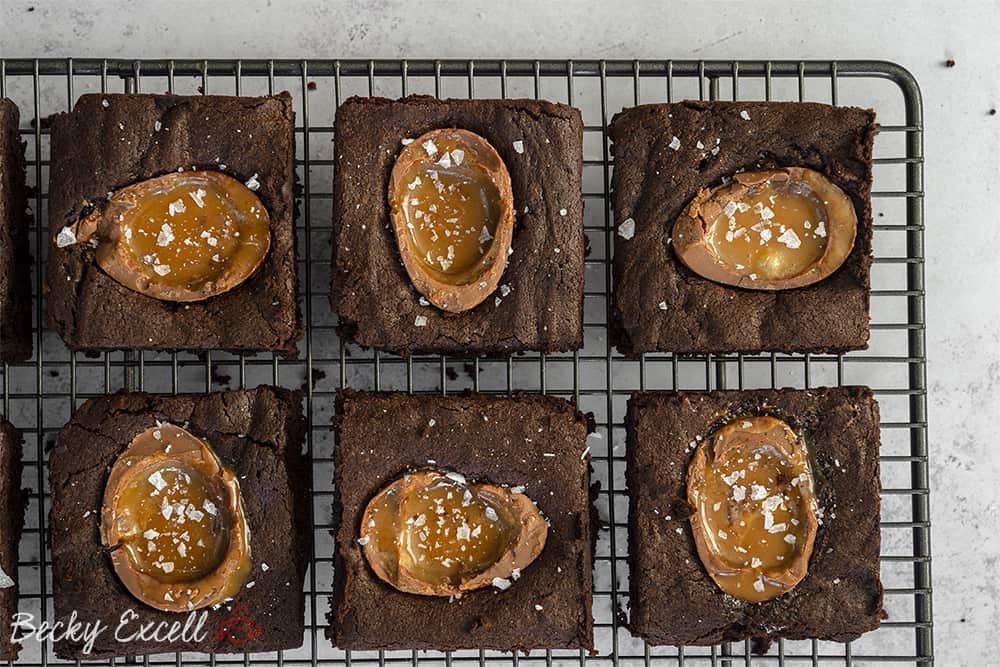 Yep, they're the best gluten free brownies you could ever hope for and they have Cadbury's caramel eggs baked into them… yasssss!
(is there anything that isn't improved by adding caramel eggs to it? Well, maybe Eggs Benedict?)
Hands up if you knew that Cadbury's Caramel eggs are gluten free in the UK? They have no gluten-containing ingredients and no 'may contain' warning for gluten or wheat.
Here's a link to them if you fancy checking the ingredients for yourself.
As usual with most Easter products that are gluten free, don't then assume that Cadbury's Caramel bars are gluten free – they're not!! They have a may contain for wheat, so it's best to just enjoy the eggs instead.
Looking for more gluten free Easter baking recipes? Check out this post: 10 gluten free Easter recipes you need to try ASAP.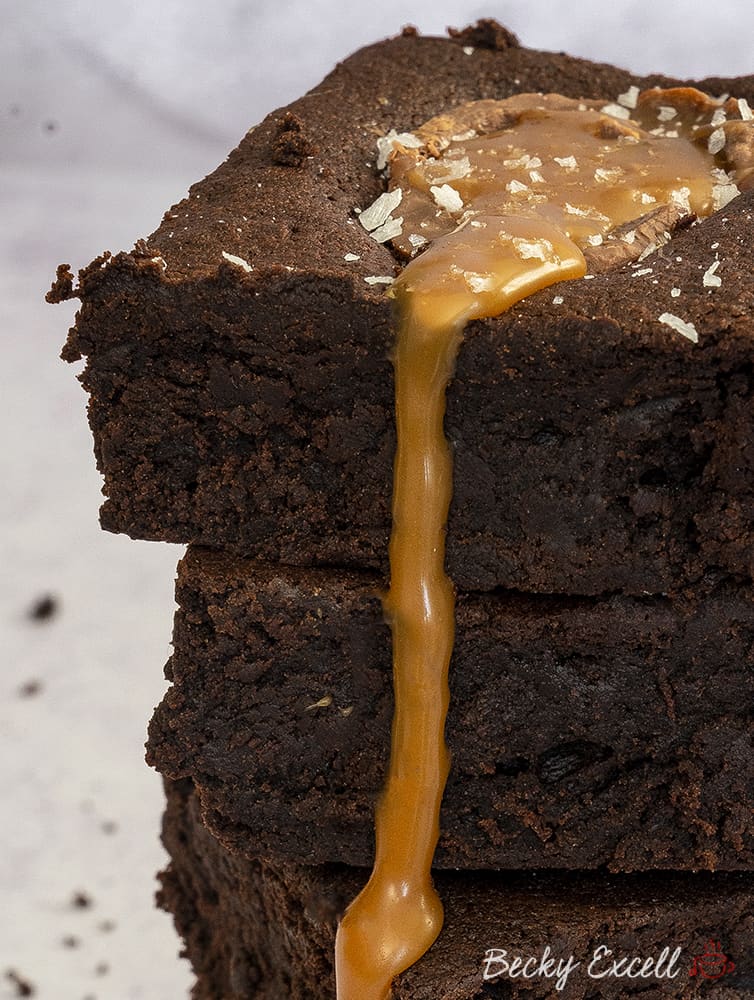 Basically, always, always remember to read the ingredients first. *stern finger pointing*
(trust me, you'll only learn the hard way otherwise!)
But now we've got the safety disclaimer out of the way, let's talk about my gluten free Cadburys' caramel egg brownies recipe!
Yep, these are the exact same gluten free brownies that you know and love from my first ever gluten free brownie recipe. They're gooey, fudgy, chewy and every chocoholics dream.
Oh and if you're dairy free and disappointed that you can't eat these (like my boyfriend always is!) then just head over to my original brownie recipe and make those instead. They're the same brownie, but dairy free too.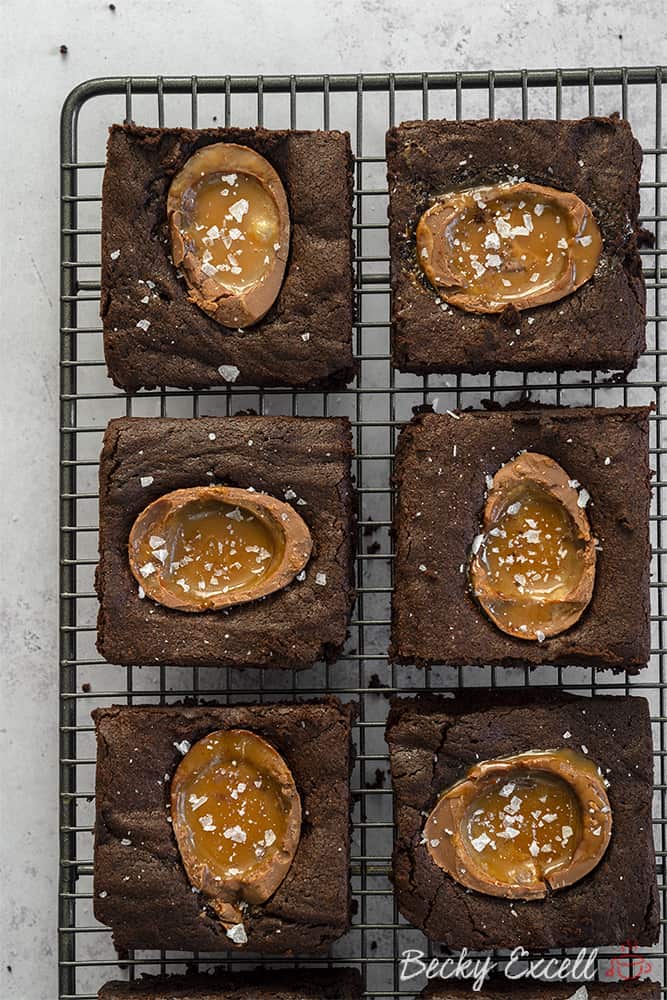 Anyone here a fan of salted caramel?
Pretty sure I just heard the sound of a million people's arms instantly raise.
(it's sort of a loud 'whooosh' sound in my head)
Well, me too! That's why my ultimate finishing touch was to sprinkle a little Maldon sea salt on top of the caramel just before it cooled 😍
It's seriously such a simple touch that makes a world of difference! And who doesn't love salted caramel?!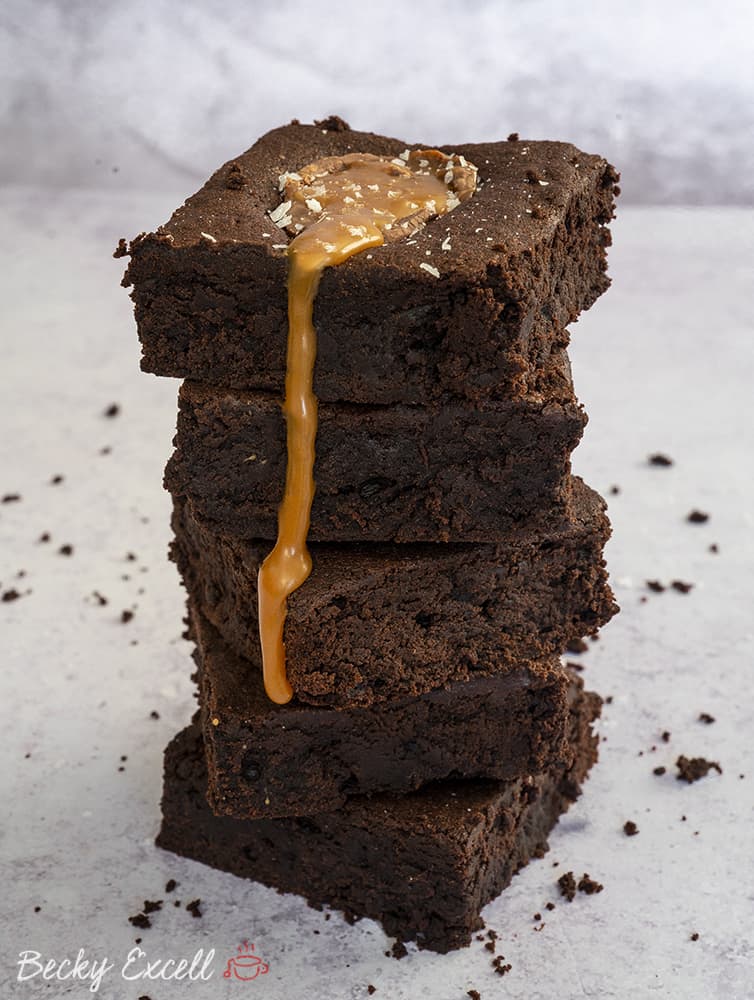 Right, well if you aren't convinced by now then I give up, so heres my gluten free Cadburys' caramel egg brownies recipe!
Gluten Free Cadbury's Caramel Egg Brownie Recipe
My gluten free Cadbury's caramel egg brownies recipe is the perfect Easter treat! They're so easy to make & perfect with a little salt added to the caramel.
Ingredients
90

g

gluten free plain flour

50

g

cocoa powder

200

g

hard margarine

200

g

dark chocolate

3

large

eggs

280

g

golden caster sugar

5

Cadbury's Caramel Eggs
Instructions
Melt together your hard margarine and dark chocolate over a bain marie until completely melted. Mix together and leave out to cool down to about room temp.

Sieve together your cocoa powder and gluten free flour in a bowl. Mix briefly until combined, put to one side.

In another bowl, crack 3 eggs and pour in your golden caster sugar. Beat together (I use an electric hand whisk) until pale in colour and almost a little frothy.

Once the chocolate and margarine mixture is cooled to about room temp, pour it into your egg/sugar mixture. Fold it in, it will initially marble and then turn super chocolatey.

Next fold in the your gluten free plain flour and cocoa powder mix. Ensure it's fully folded in.

Pour/spoon your brownie mixture into a prepared 9" tin, smooth it over so it's even and level. (I used a square loose bottom tin with a little parchment/baking paper in the bottom)

Bake for about 12 1/2 minutes at 175C fan.

Remove from the oven and add 5 halved Cadbury's Caramel Eggs, ensuring that each brownie slice will get one.

Bake for another 12 1/2 minutes mins. Cooking for this amount of time at this temp should create incredible fudgy brownies.

Remvove your brownies from the oven. If you fancy a salted caramel flavour, sprinkle a modest pinch of salt on top of each caramel egg before it cools.

Important!! Allow to cool completely before touching or slicing them - otherwise they'll break as they've very gooey. Slice them up and enjoy!
Thanks for reading all about my gluten free Cadburys' caramel egg brownies recipe! If you make them, I'd love to see how they turned out so don't forget to take a snap of your creations and tag me on Instagram!
Plus, I'm giving away a £50 supermarket voucher every month to my fave pic, so get creating!
Any questions about the recipe? Please do let me know by following me on Instagram and leaving me a comment!
Thanks for reading,
Becky xxx
Oh and don't forget to pin this for later!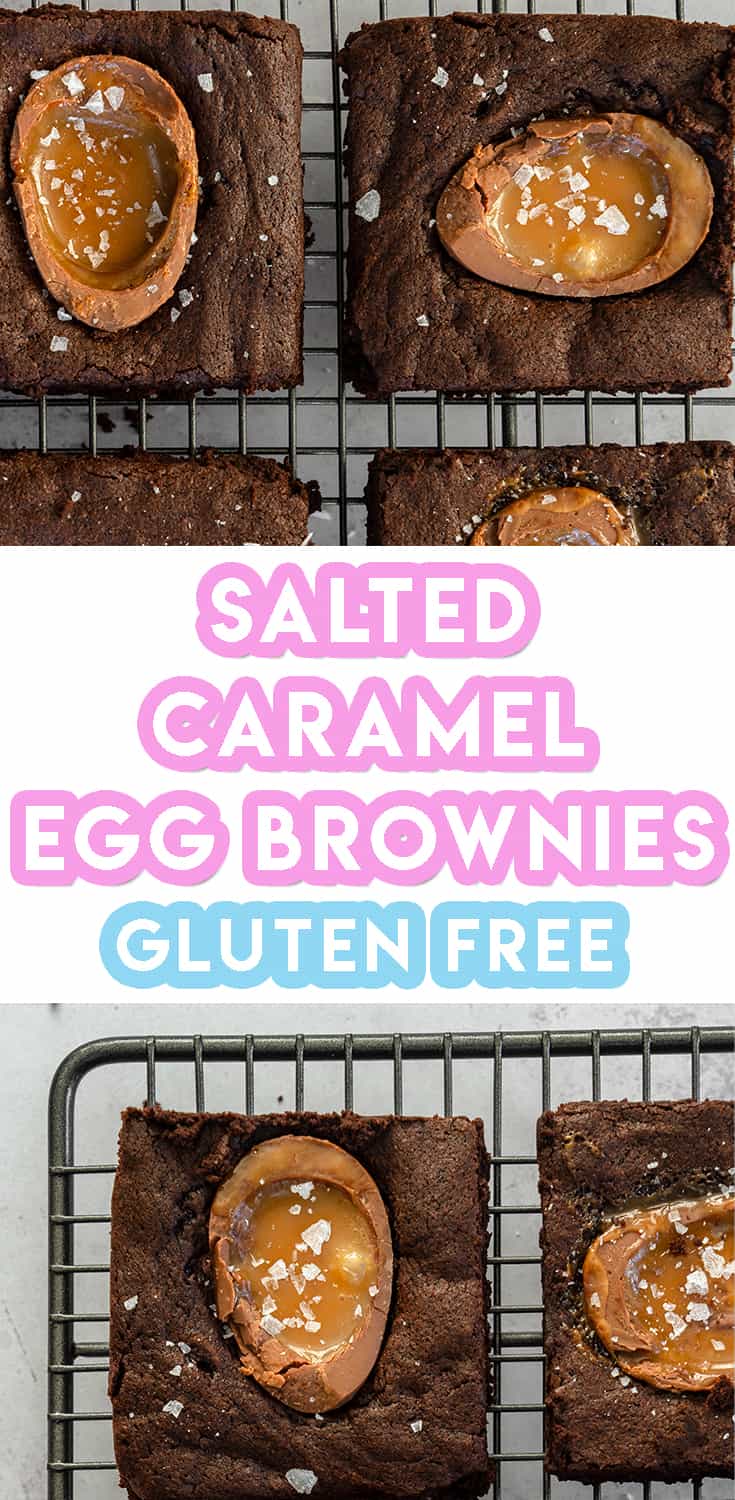 Comments