My gluten free Creme Egg cheesecake recipe is most certainly the perfect Easter dessert (or any time from January 1st until Easter – I for one will never complain that Easter eggs come out too soon!).
I mean, how could you resist a cheesecake with creme eggs hiding inside it and sitting proudly on top of it? Correct answer: you can't. Now we've cleared that up, here's my gluten free creme egg cheesecake recipe!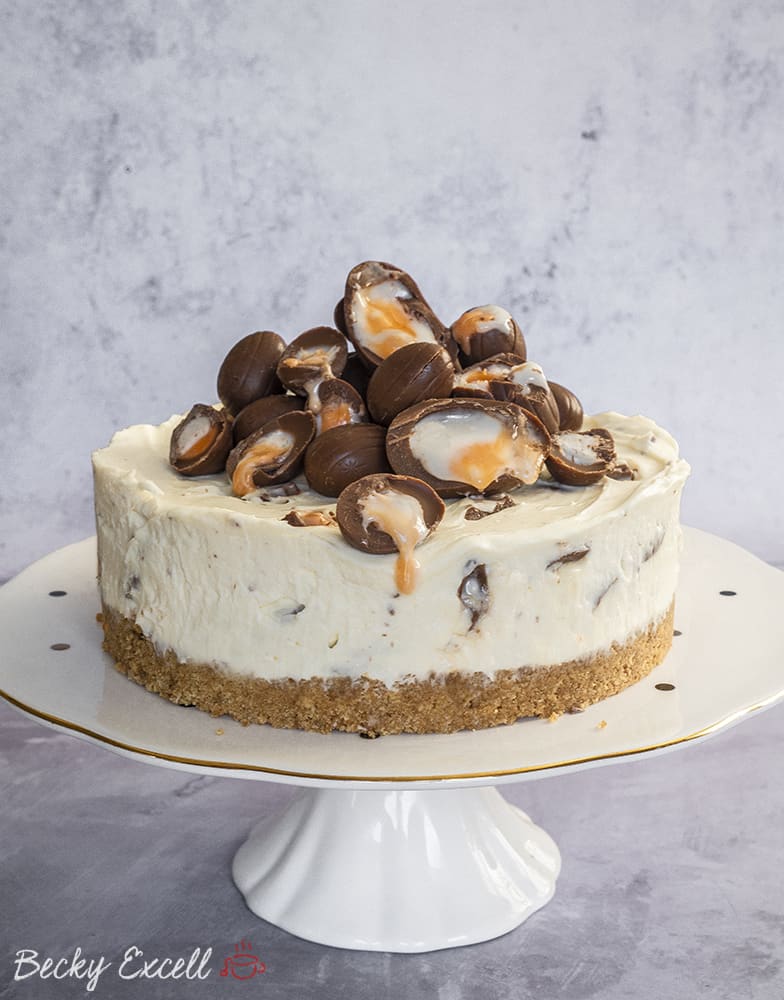 I do find it a little shocking when Christmas is still a recent memory and all the creme eggs and mini eggs start popping up in supermarkets!
(first of all, how are you supposed to start eating healthy in January when that happens?!)
But I guess if you look on the bright side, it gives you a hell of a long time to start perfecting your Easter baking.
Starting with my gluten free creme egg cheesecake recipe…
Looking for more gluten free Easter baking recipes? Check out this post: 10 gluten free Easter recipes you need to try ASAP.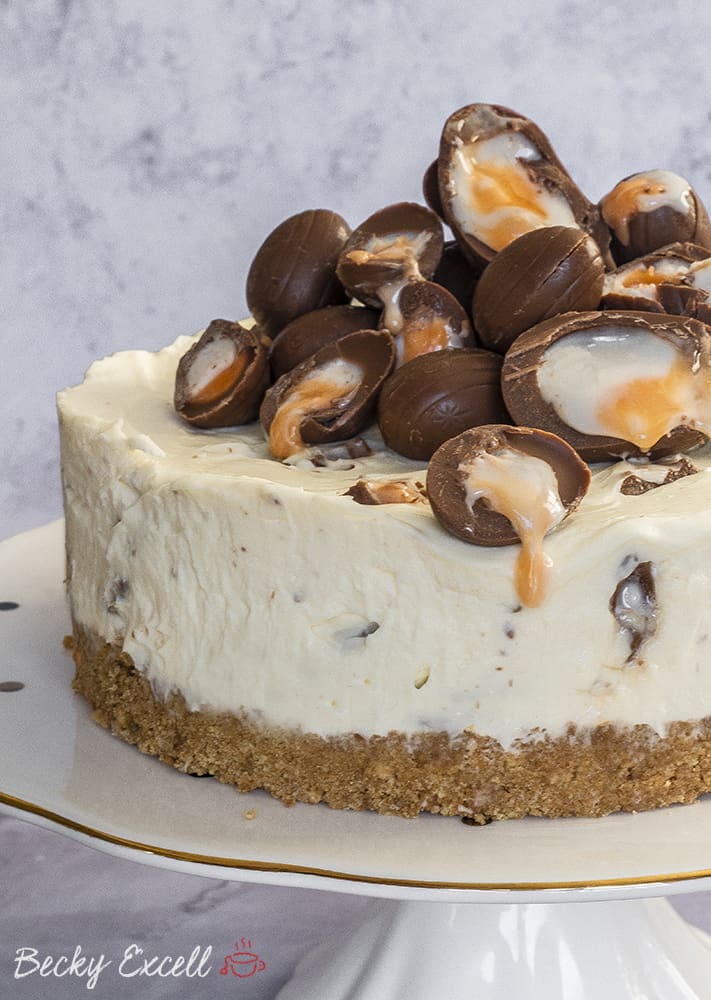 This cheesecake is yet another no-bake recipe, which makes it dangerously easy to whip up.
Ok, so here's the lowdown: you've got a lovely, buttery biscuit base with a cloud-like, creamy cheesecake filling and lovely chunks of chocolatey cream eggs in every bite.
(that was probably the most delicious sentence I've ever written)
Then, I create my very own smashed creme egg pile on top ? I always like to try and keep the decorating side of my cheesecakes really simple and I feel like I really nailed that vibe with my gluten free creme egg cheesecake recipe.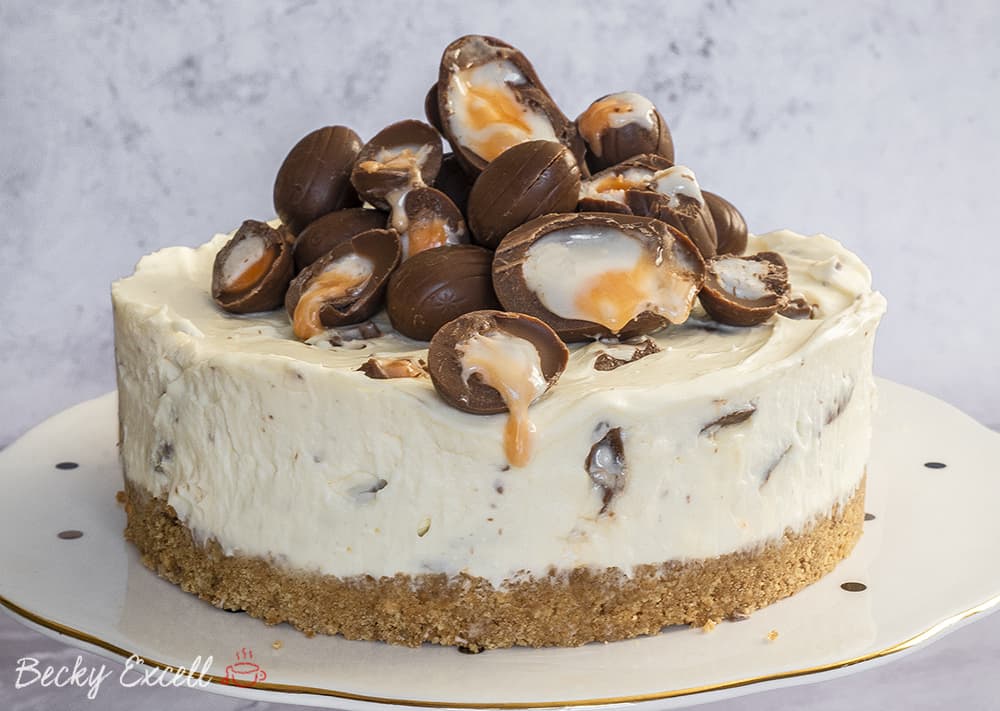 FYI – I used a round, 20cm loose-bottom baking tin like this, but a springform one like this is also totally fine too.
(those links are affiliate links which go towards helping my blog stay online btw!)
Ok, so here's my gluten free creme egg cheesecake recipe…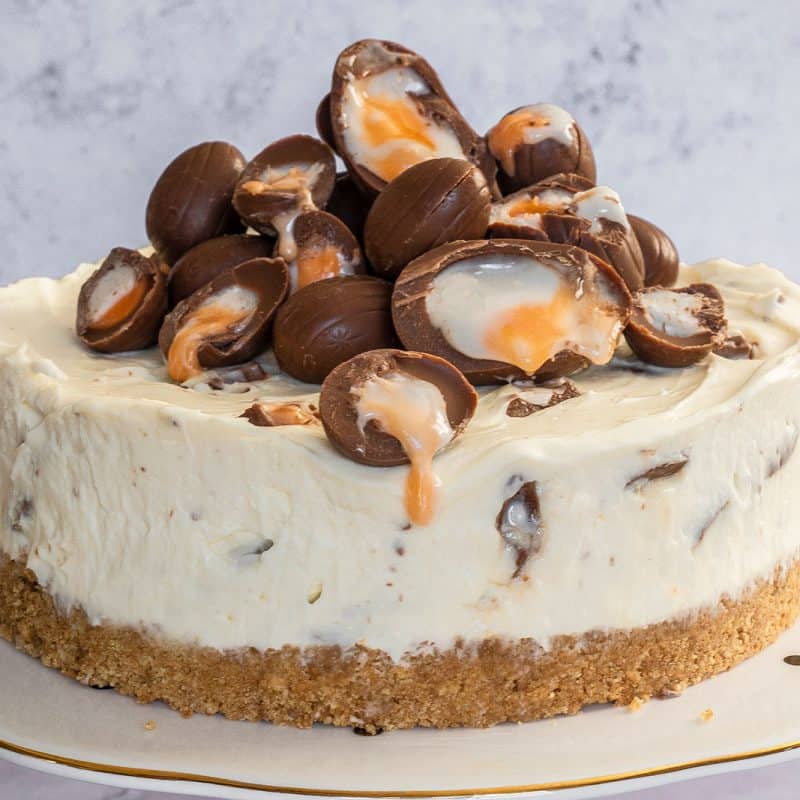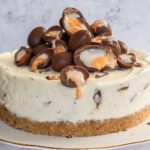 Gluten Free Creme Egg Cheesecake Recipe (No-Bake) for Easter
gluten free Creme egg cheesecake recipe is perfect for Easter and as it's no-bake, it's so easy to whip up at home. Happy Easter!
Ingredients
For the base
320

g

gluten free digestive biscuits

(graham crackers are similar in other countries)

100

g

butter

(or hard margarine like Stork)
For the filling
560

g

cream cheese

(I always use full fat and for this one I used Philadephia)

100

g

icing sugar

1

tsp

vanilla extract

300

ml

double cream

300-350

g

Mini Creme Eggs, chill these before using

(they come in 89g bags so 3-4 bags of the mini ones)
For the topping
a selection of Creme Eggs and Mini Creme Eggs

(up to you how many!!)
Instructions
Crush your gluten free digestives. I place mine in a sandwich bag and hit them with a rolling pin. You can make them quite small or have some chunkier bits.

Melt your margarine or butter - I do this in the microwave. Then pour your melted margarine/butter into your crushed biscuits and mix together.

Press your biscuit mixture into the tin you are going to be making your cheesecake in. Press it down nice and firmly. Place it in the fridge to chill whilst you make your cheesecake top. (I leave mine in the fridge for at least 30 minutes)

To make your cheesecake filling mix together your cream cheese, icing sugar and vanilla extract. I use my KitchenAid to do this on a low/medium setting for only about 10-20 seconds. You could you an electric hand mixer too.


Add in the double cream and keep mixing until it firms up a little. (I had the KitchenAid on a medium setting for just under 2 minutes for this - try not to over mix though... don't let it split!)


Chop up your chilled Mini Creme Eggs for the filling. I cut mine into quarters generally, but some are chopped even smaller. Fold all of these into the cheesecake mixture.

Spread your mixture on top of the biscuit base and place in the fridge to set. I always make mine the day before and leave it to chill fully overnight.


When you are ready to serve, remove the cheesecake from the tin and top with more Creme Eggs and Mini Creme Eggs. I cut most of mine in half so you can see the filling - you can even let some ooze down the side of the cheesecake.

Keep refrigerated if you have any left over.
Notes
My tin is a 20cm loose bottom tin. I find a lot of people make my cheesecakes in springform tins which are also fine (they seem to often be 22cm which is ok too!)
Thanks for reading all about my gluten free creme egg cheesecake recipe! If you make it, I'd love to see how it turned out so don't forget to take a snap of your creations and tag me on Instagram!
Plus, I'm giving away a £50 supermarket voucher every month to my fave pic, so get creating!
Any questions about the recipe? Please do let me know by following me on Instagram and leaving me a comment!
Thanks for reading,
Becky xxx
Oh and don't forget to pin this for later!