Are you sick of my Easter egg puns yet? Well, great news! My gluten free Creme Egg brownies recipe seemed like the perfect 'eggscuse' to throw in a few more… oops.
Ok, ok, no more egg puns – I promise! Let's get right down to business so you can make my gooey, chocolatey gluten free Creme Egg brownies recipe. Trust me, you won't find brownies this fudgy anywhere else…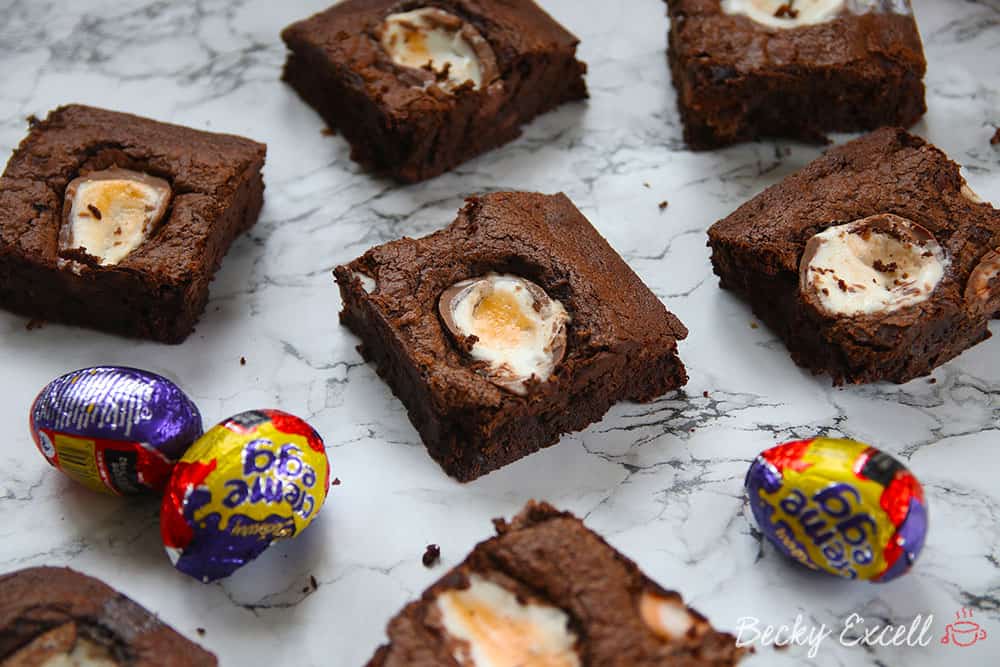 I really feel like I've nailed the art of the brownie now and I've been working on a ton of variations in the last year.
Here's my original gluten free brownie recipe, along with last year's Easter 'fried egg' cheesecake variation and then… my fave gluten free peanut butter brownies.
But you can never have too many brownie variations can you? (the answer is no) So now it's about time I shared my gluten free Creme Egg brownies recipe to add one extra to the list.
Just resisted the urge to throw in another egg pun. I bet you're so proud of me.
Looking for more gluten free Easter baking recipes? Check out this post: 10 gluten free Easter recipes you need to try ASAP.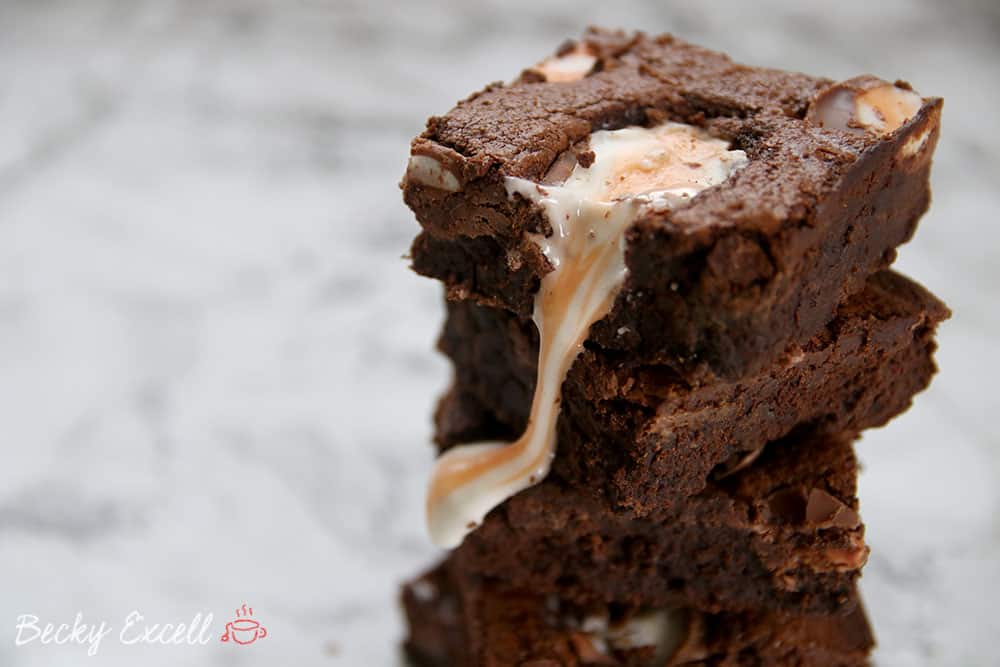 Do you want the fancy description or the no-nonsense description of my gluten free Creme Egg brownies recipe? Well, how about I give you both?
The fancy description sounds something like: "a fudgy, gooey, decadent gluten free brownie meets an oozing, melted Creme egg to create the ultimate Easter treat." Sounds pretty good, right?
But the no-nonsense description sounds a bit like this: "I whacked half a Creme Egg into my old brownie recipe, took some photos and tried to pass it off as a new recipe. Then I ate the whole batch. Oops."
Ok, I think that clears that up nicely!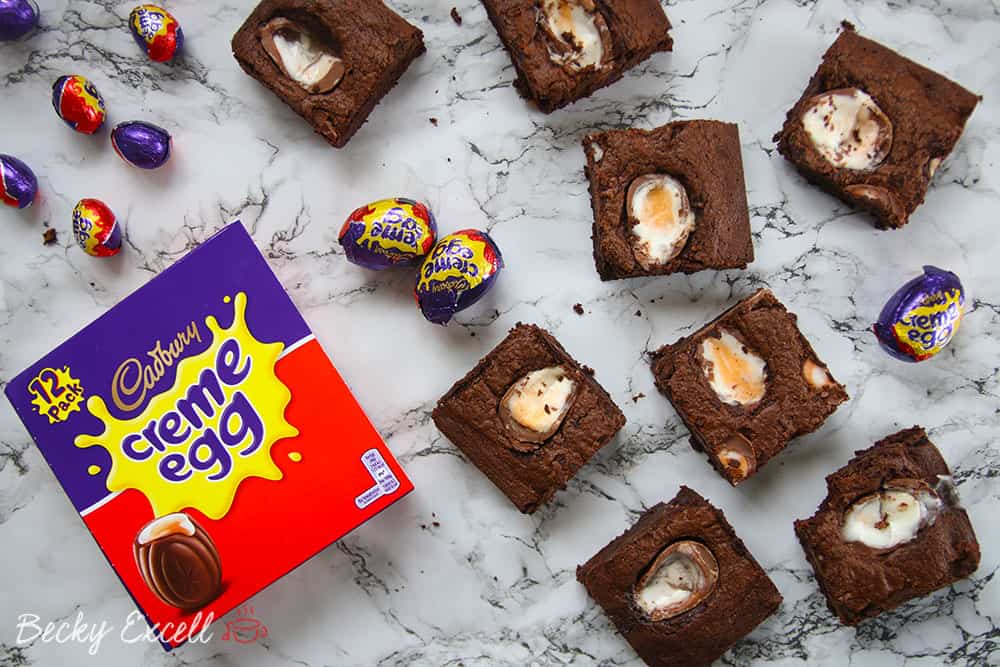 This is just one of those occasions where I can't say "the photos don't do it justice" because they. just. damn. do.
Did you see that massive stack of gluten free Creme Egg brownies with the middle oozing down them earlier? Well, I'll stick another photo in now just in case…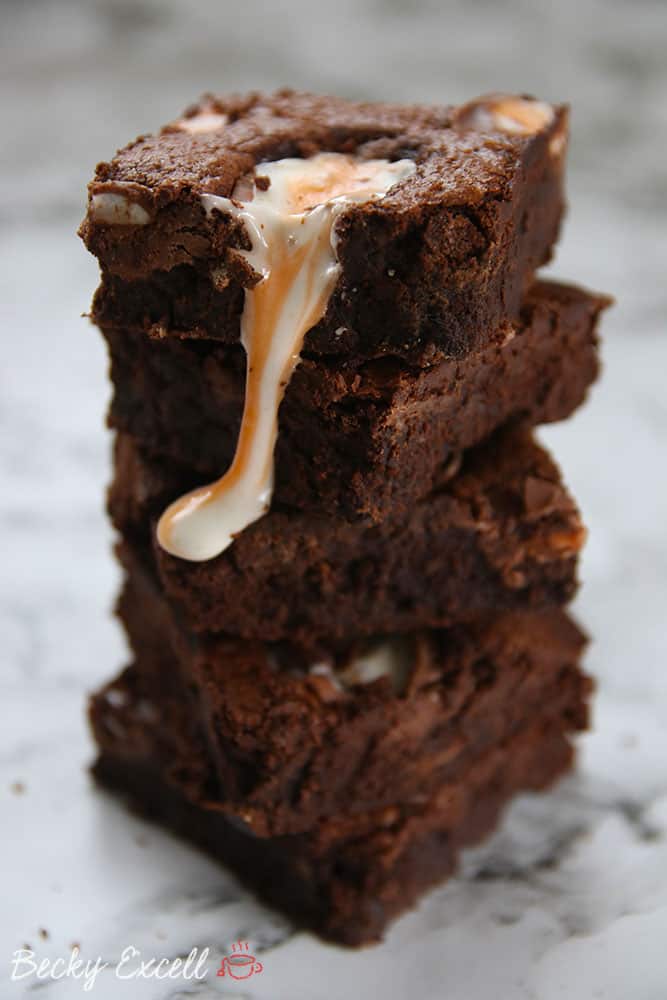 Wow.
I was literally drooling as I took the photo and I had to wipe down my camera a little afterwards (sorry if TMI).
But trust me – I may bake a lot for my blog, but I am by no means an expert at all. If I can make them look this good, then you can too!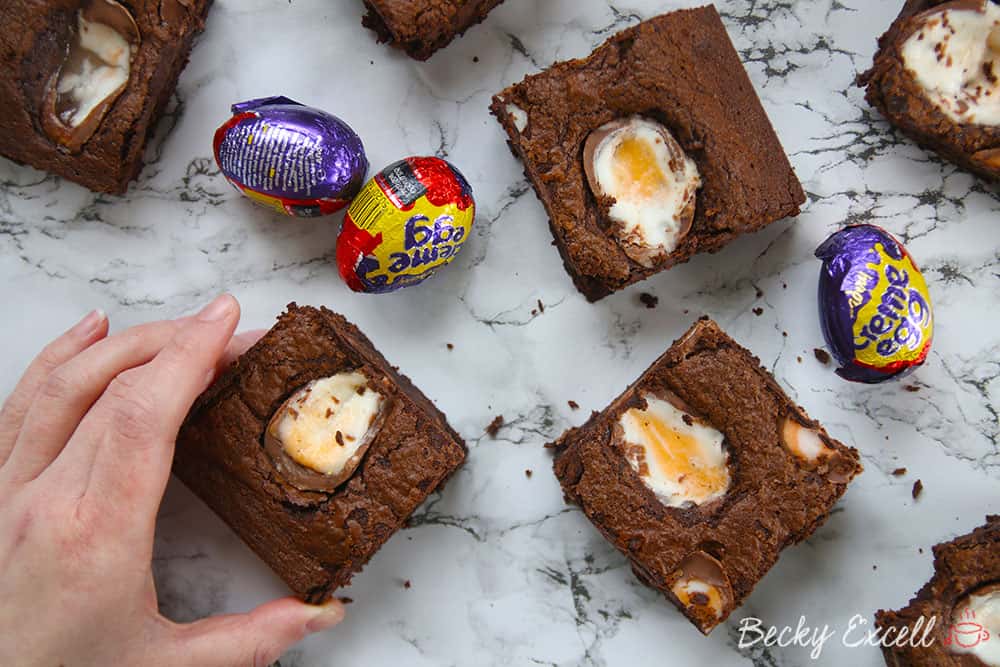 How would I rate the difficulty of my gluten free Creme Egg brownies recipe? Like most of my recipes, it's pretty damn easy and simple to follow.
(I can't follow complex recipes to save my life, so I obviously can't then create them myself)
You basically have three separate bowls – one with your melted chocolate and marg, one with eggs and sugar and the other with all your dry ingredients.
Once both are thoroughly mixed, you then combine them together and well… that's it.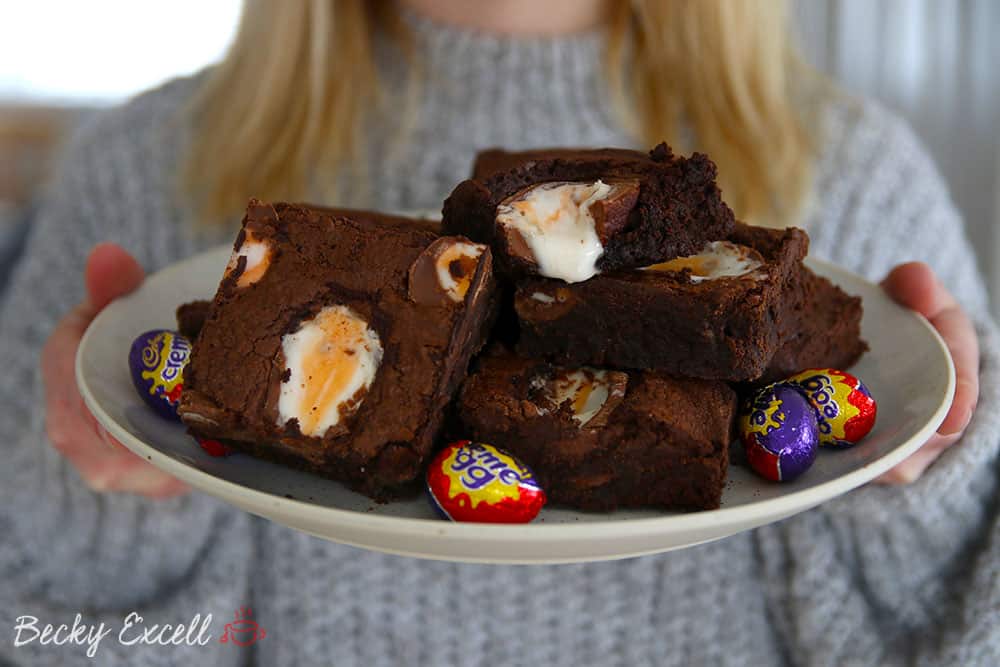 Then, you whack your 9″ brownie tin in to bake, take it out after 12-14 minutes and add your halved creme eggs so that each slice will get one.
Stick it back in the oven and you're good to go.
After letting them cool, you can then cut them up and enjoy!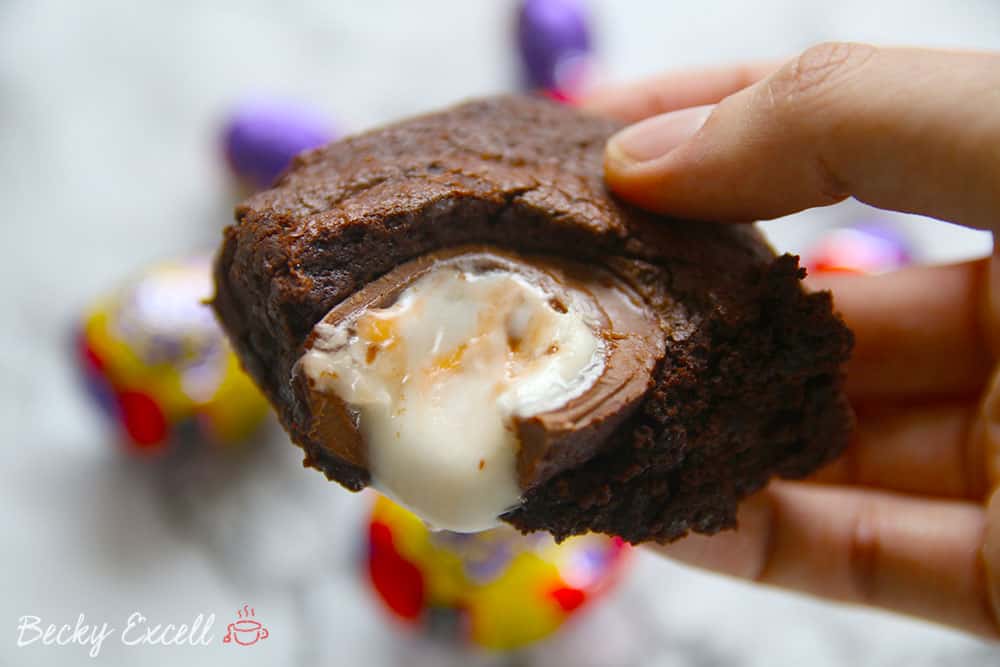 All joking aside, I think that my gluten free Creme Egg brownies might be my absolute FAVE way to enjoy a brownie.
Just heat one up, add a dollop of ice cream and you've got every chocoholic's Easter goals in a bowl. Here's the recipe…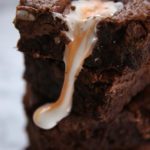 My Gluten Free Creme Egg Brownies Recipe
My gluten free Creme Egg brownies recipe is the ultimate Easter baking treat!
Ingredients
90g gluten free plain flour

50g cocoa powder

200g hard margarine

200g dark chocolate

3 eggs

280g golden caster sugar

5 Creme Eggs

halved and some extra mini Creme Eggs if you fancy!
Instructions
Melt together your hard margarine and dark chocolate over a bain marie until completely melted. Mix together and leave out to cool down to about room temp.

Sieve together your cocoa powder and gluten free flour in a bowl. Mix briefly until combined, put to one side.

In another bowl, crack 3 eggs and pour in your golden caster sugar. Beat together (I use an electric hand whisk) until pale in colour and almost a little frothy.

Once the chocolate and margarine mixture is cooled to about room temp, pour it into your egg/sugar mixture. Fold it in, it will initially marble and then turn super chocolatey.

Next fold in the your gluten free plain flour and cocoa powder mix. Ensure it's fully folded in.

Pour/spoon your brownie mixture into a prepared 9" tin, smooth it over so it's even and level. (I used a square loose bottom tin with a little parchment/baking paper in the bottom)

Bake for about 20 minutes at 175C fan.

Remove from the oven and add 5 halved Creme Eggs, ensuring that each brownie slice will get one. You can also add a few mini Creme Eggs if you fancy!

Bake for another 12 1/2 minutes mins. Cooking for this amount of time at this temp should create incredible fudgy brownies.

Important!! Allow to cool completely before touching them!! Slice them up and enjoy!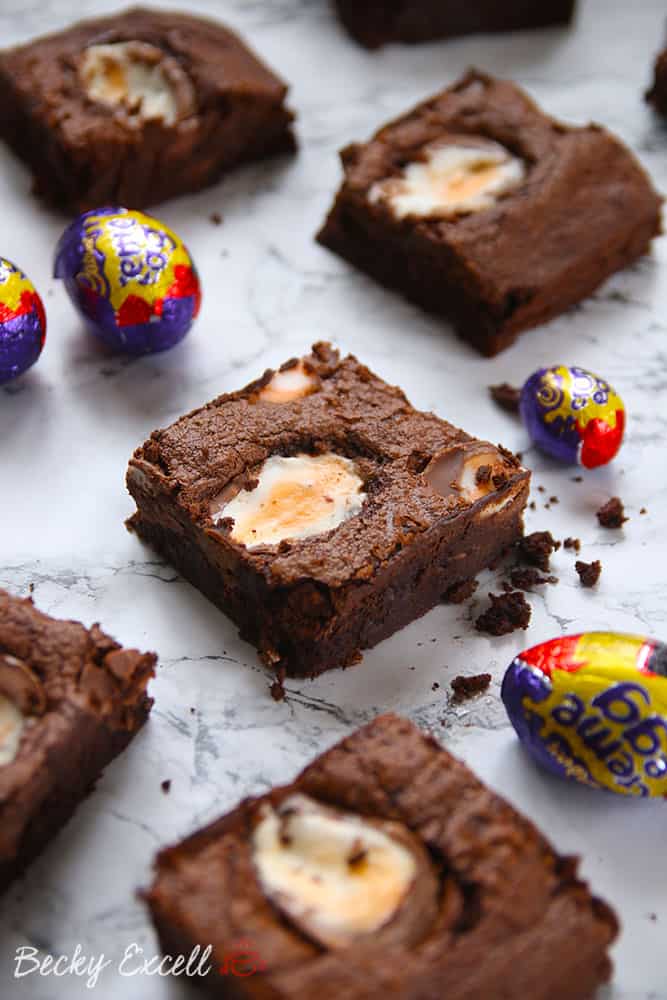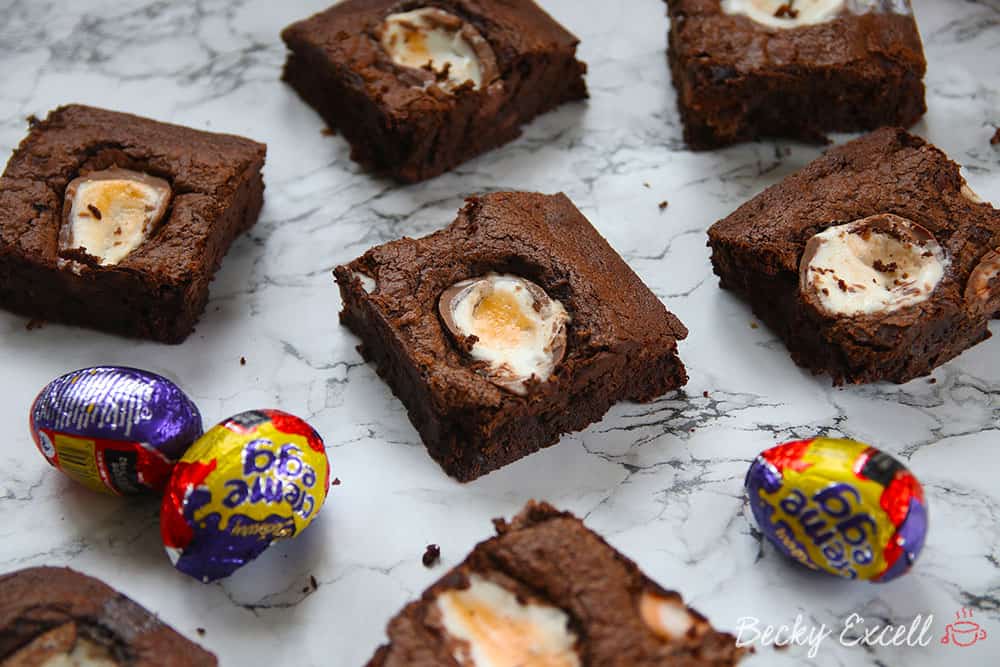 Thanks so much for checking out my gluten free Creme Egg brownies recipe! If you make them yourself, I'd love to see how they turn out. So absolutely make sure that you send me a pic using my social media links below…
Any questions about the recipe? What different types of gluten free brownies would you like to see next? Cheesecake? Orange? Mint? Please do let me know by leaving a comment below or on Facebook / Twitter / Instagram!
Thanks for reading,
Becky xxx
Oh and don't forget to pin this for later!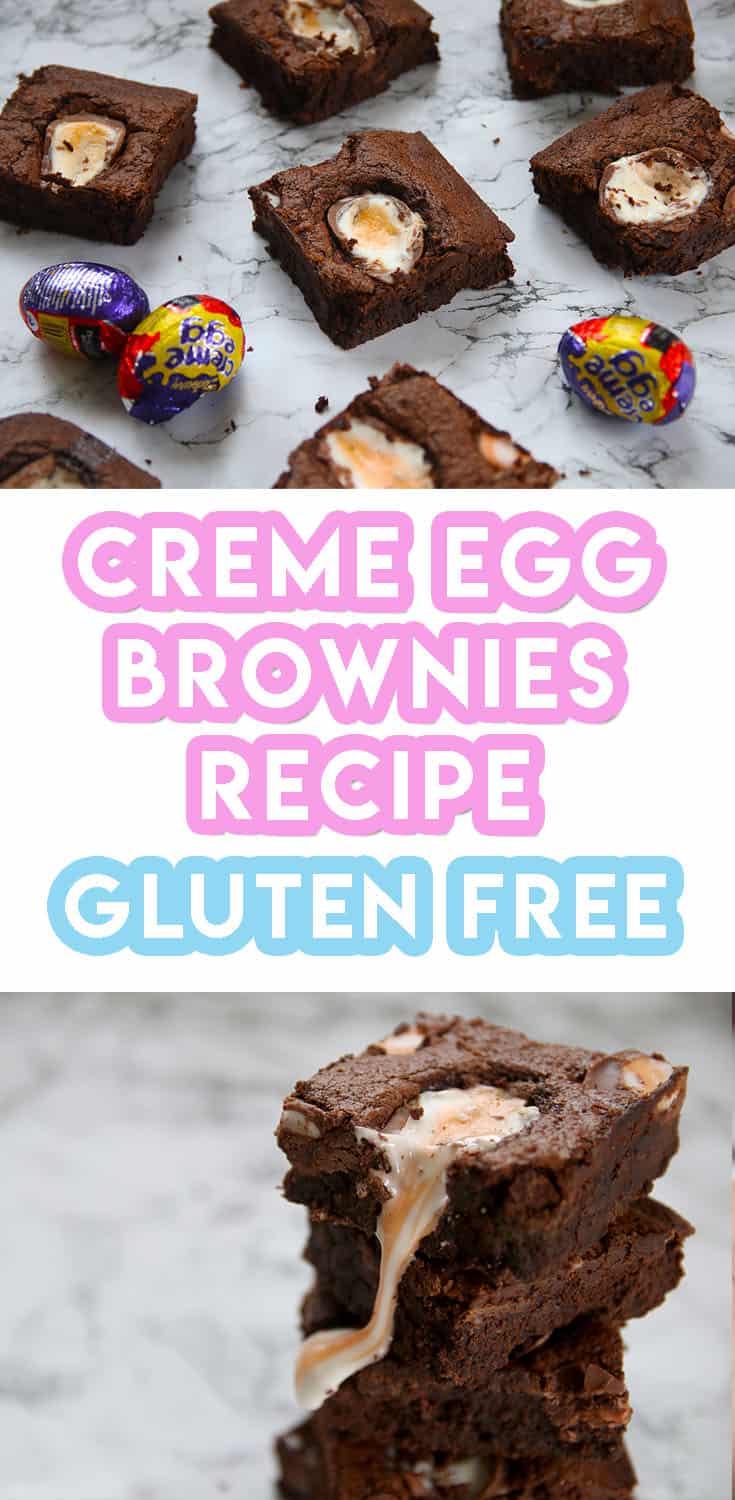 Comments