Gluten free Creme Egg brownies recipe! This seemed like the perfect 'eggscuse' to do some Easter baking and you actually only need 7 ingredients to make it.
Gluten free Creme Egg brownies recipe – it's here! Ok, ok, no more egg puns – I promise! Let's get right down to business so you can make these gooey, fudgy brownies that are fit for dessert with some vanilla ice cream.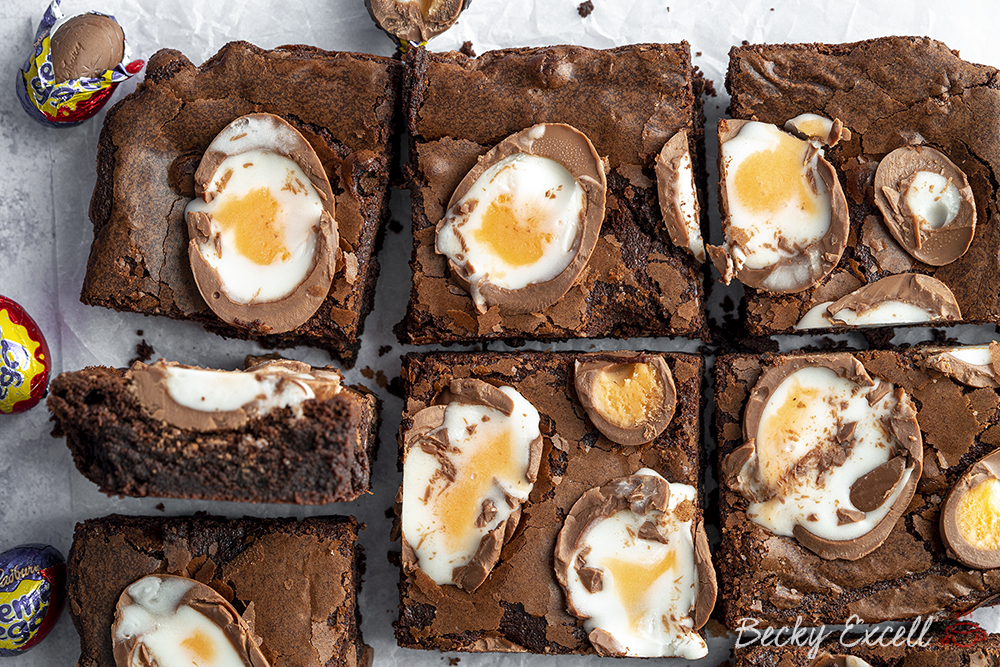 I really feel like I've nailed the art of the brownie now and I've been working on a ton of variations in the last year.
Here's my original gluten free brownie recipe which I used to great my gluten free Creme Egg brownies recipe that I'm gonna be sharing with you right now.
And this one is INCREDIBLY simple – it actually only has 7 ingredients one of them is Creme Eggs. So clearly, it's not gonna be too complex or anything, is it?
Just resisted the urge to throw in another egg pun. I bet you're so proud of me.
Looking for more gluten free Easter baking recipes? Check out this post: 10 gluten free Easter recipes you need to try ASAP.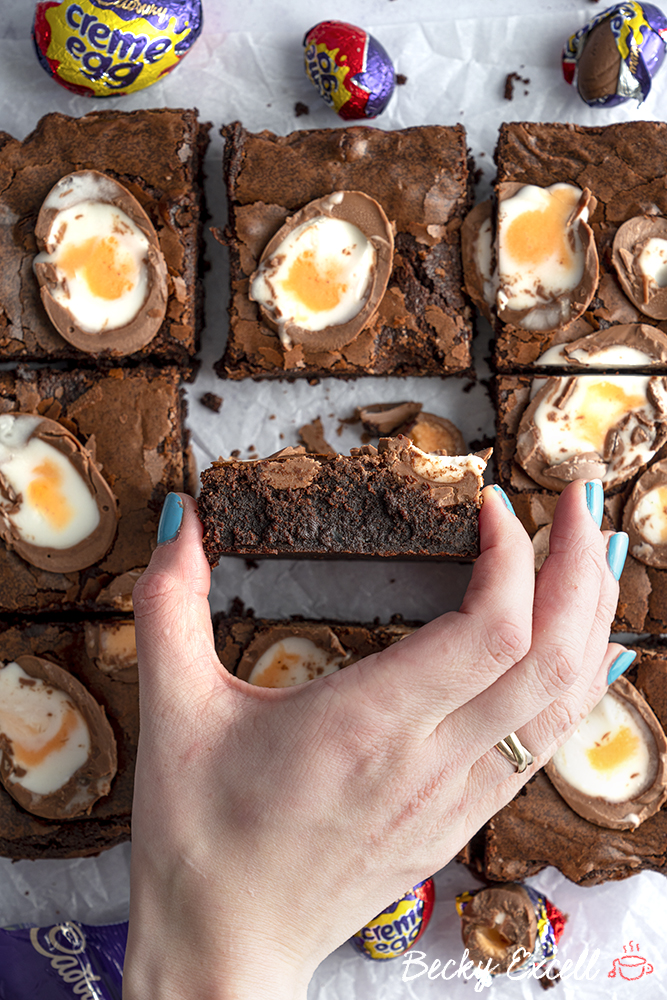 Do you want the fancy description or the no-nonsense description of my gluten free Creme Egg brownies recipe? Well, how about I give you both?
The fancy description sounds something like: "a fudgy, gooey, decadent gluten free brownie meets an oozing, melted Creme egg to create the ultimate Easter treat." Sounds pretty good, right?
But the no-nonsense description sounds a bit like this: "I whacked half a Creme Egg into my old brownie recipe, took some photos and tried to pass it off as a new recipe. Then I ate the whole batch. Oops."
Ok, I think that clears that up nicely!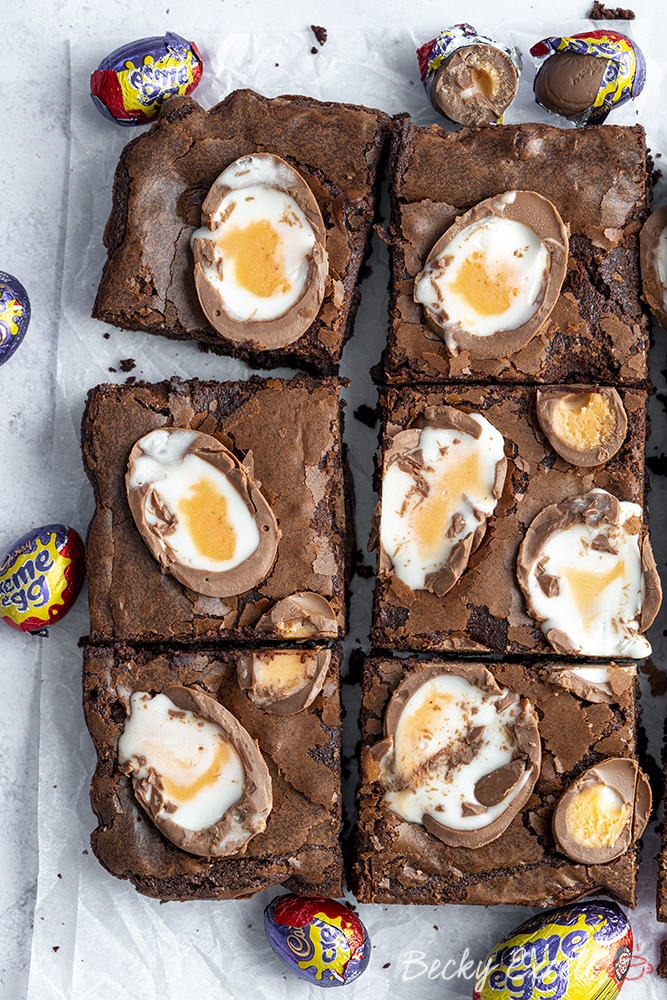 And to put your mind at rest if you're STILL thinking that this recipe is gonna be all complicated and stuff…
I literally just made brownies and once they came out of the oven, I just added the halved Creme Eggs before they cooled.
That way, you don't need to bake your Creme Eggs into oblivion so they shrivel up and disintegrate in the oven!
By popping them into the warm brownie, they melt just a little to become nice and gooey and you don't risk ruining the lovely centre of the egg either.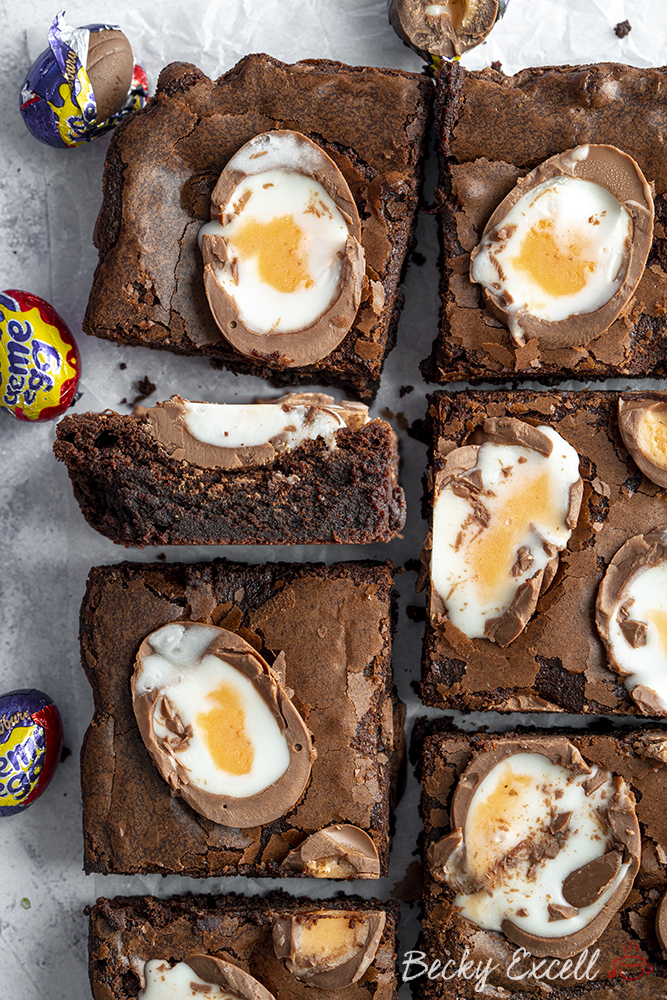 Ok, so here's everything you'll need – consider this your shopping list! ??
Gluten free Creme Eggs Brownies Recipe: Ingredients
90g gluten free plain flour
50g cocoa powder
200g butter (or hard margarine)
200g dark chocolate (you can use up to 50g of milk chocolate but no more)
3 eggs
280g caster sugar
5 Creme Eggs halved and some extra mini Creme Eggs if you fancy!
If you're looking for the method, keep scrolling down until you see the recipe card ?? You're not far off now!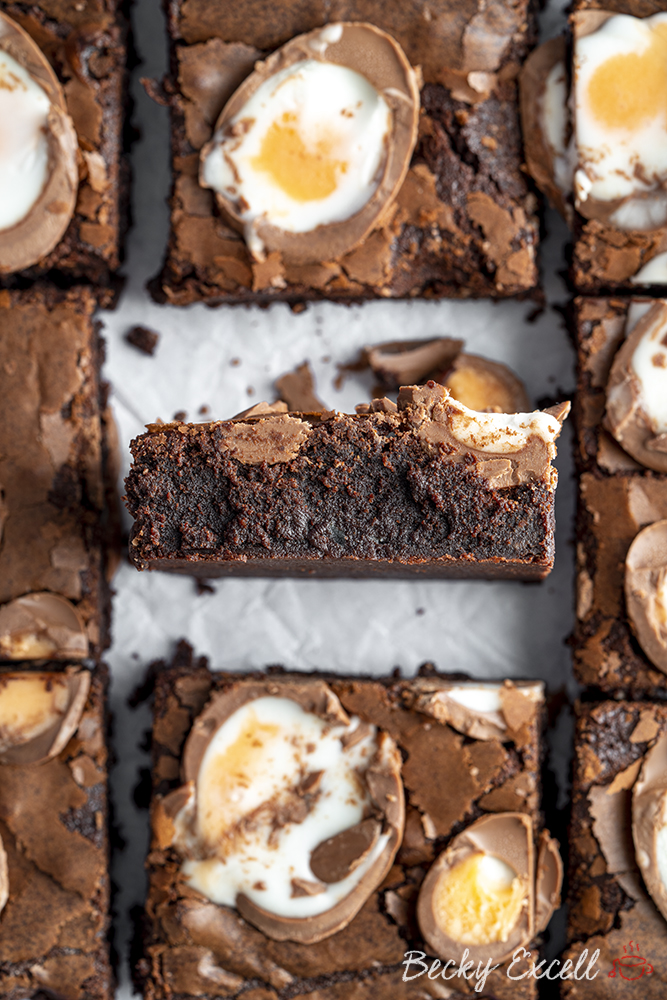 How would I rate the difficulty of my gluten free Creme Egg brownies recipe? Like most of my recipes, it's pretty damn easy and simple to follow.
(I can't follow complex recipes to save my life, so I obviously can't then create them myself)
You basically have three separate bowls – one with your melted chocolate and marg, one with eggs and sugar and the other with all your dry ingredients.
Once both are thoroughly mixed, you then combine them together and well… that's it.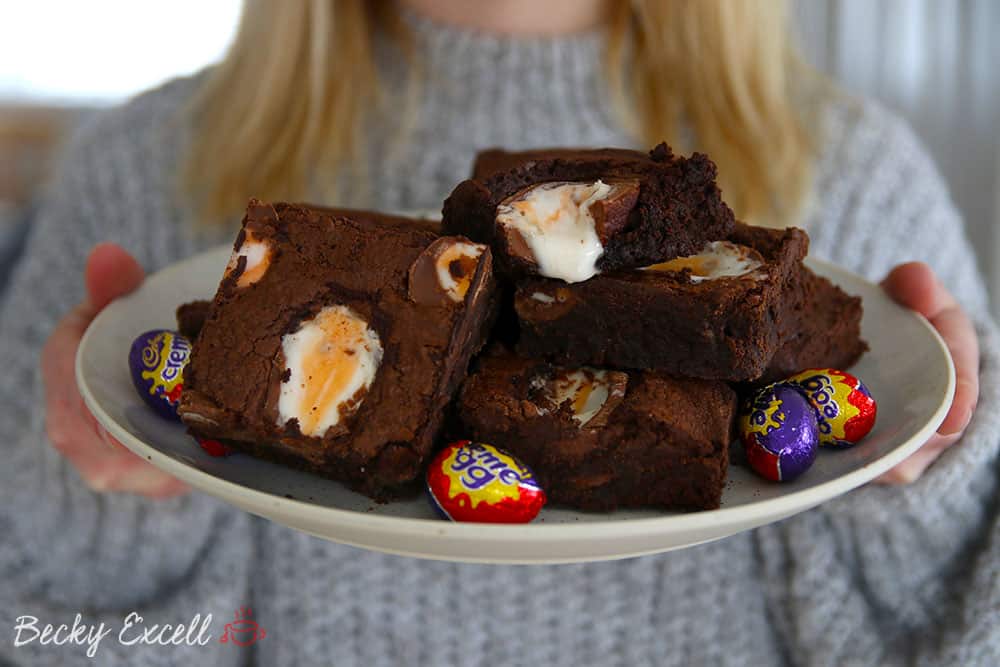 Don't forget that you'll need a 9″ square baking tin for this recipe so make sure you've got that handy before you start.
Ok, so here's my gluten free Creme egg brownie recipe…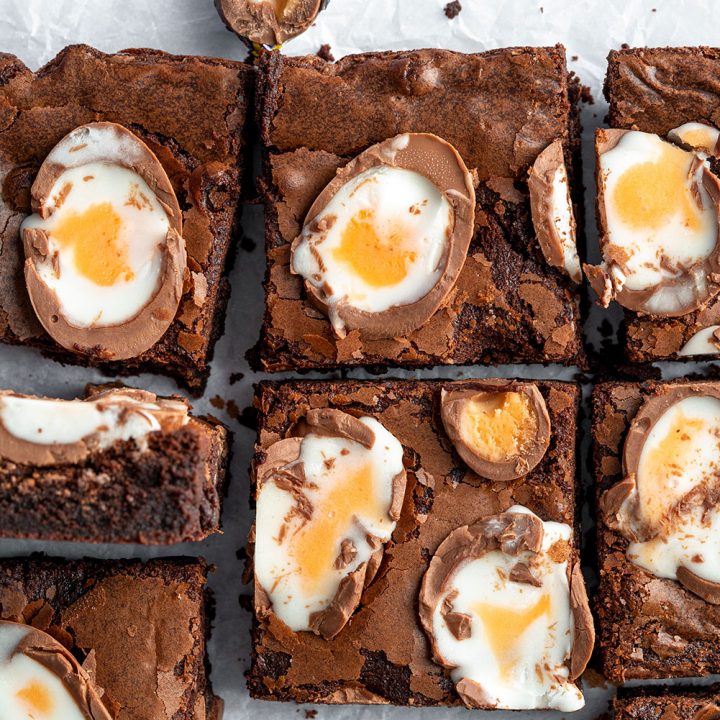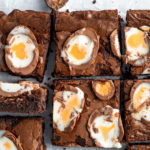 Gluten Free Creme Egg Brownies Recipe - ULTIMATE Easter baking!
Gluten free Creme Egg brownies recipe - the ULTIMATE Easter baking project! You only need 7 ingredients and one of them is Creme Eggs!
Ingredients
90

g

gluten free plain flour

50

g

cocoa powder

200

g

butter

or hard margarine

200

g

dark chocolate

you can use up to 50g of milk chocolate but no more

3

eggs

280

g

caster sugar

5

Creme Eggs halved and some extra mini Creme Eggs if you fancy!
Instructions
Preheat your oven to 160C Fan / 180C. Prepare a 9 inch square tin with baking paper. Have excess paper around the edges so that you can easily lift the brownies out later.

Melt together your butter and dark chocolate over a bain marie until completely melted. Or melt them together in the microwave - do this gently, ensuring you pause the microwave and mix regularly to avoid burning. Leave out to cool down to nearer room temp for 15-20 minutes at least.

Sieve together your cocoa powder and gluten free flour in a bowl. Mix briefly until combined, put to one side. This stops is getting lumpy and is so worth doing!

In another mixing bowl, crack 3 eggs and pour in your caster sugar. Beat together (I use an electric hand whisk) until pale in colour and almost a little frothy, it should have doubled in size.

Once the chocolate and butter mixture is cooled a little, pour it into your egg/sugar mixture. Fold it in, it will initially marble and then turn super chocolatey.

Next fold in the your gluten free plain flour and cocoa powder mix. Ensure it's fully folded in - I do this using a spatula.

Pour/spoon your brownie mixture into a prepared tin, smooth it over so it's even and level.

Bake for about 25-30 mins. Cooking for this amount of time at this temp should create incredible fudgy brownies. If they need a little longer give them an extra 5 minutes (all ovens are different) A skewer poked in won't necessarily come out 100% clean but it shouldn't be really covered with completely wet batter either.

Remove from the oven and carefully push in Creme Eggs into your brownies.

Allow to completely cool before removing from the tin and cutting into squares. Enjoy!
Notes
My recipe used to say to add the Creme Eggs to the brownies half way through the cooking time, however I find this just ended up with a lot of the Creme Egg centre cooking out in the oven. So instead I now push them in at the end. They still melt into the brownie as you do it as soon as you take them out of the oven. Having made these for years, I just think this is the best way for them to taste and LOOK awesome 🙂
If you want to do it the old recipe way:
Bake for about 20 minutes.

Remove from the oven and add your Creme Eggs.

Bake for another 12 1/2 minutes mins.
Thanks so much for checking out my gluten free Creme Egg brownies recipe! If you make them yourself, I'd love to see how they turn out. So absolutely make sure that you send me a pic using my social media links below…
Any questions about the recipe? What different types of gluten free brownies would you like to see next? Cheesecake? Orange? Mint? Please do let me know by leaving a comment below or on Facebook / Twitter / Instagram!
Thanks for reading,
Becky xxx
Oh and don't forget to pin this for later!