My gluten free Easter rocky road recipe combines two of my fave Easter treats… mini eggs AND mini Creme eggs. And yes – they're both gluten free in the UK, woohoo!
Nothing beats a rocky road when it comes chunky, chocolatey hunks of awesomeness. Since mini eggs and Creme eggs have been in supermarkets since early January, that should give you more than enough time to give my gluten free Easter rocky road recipe a go!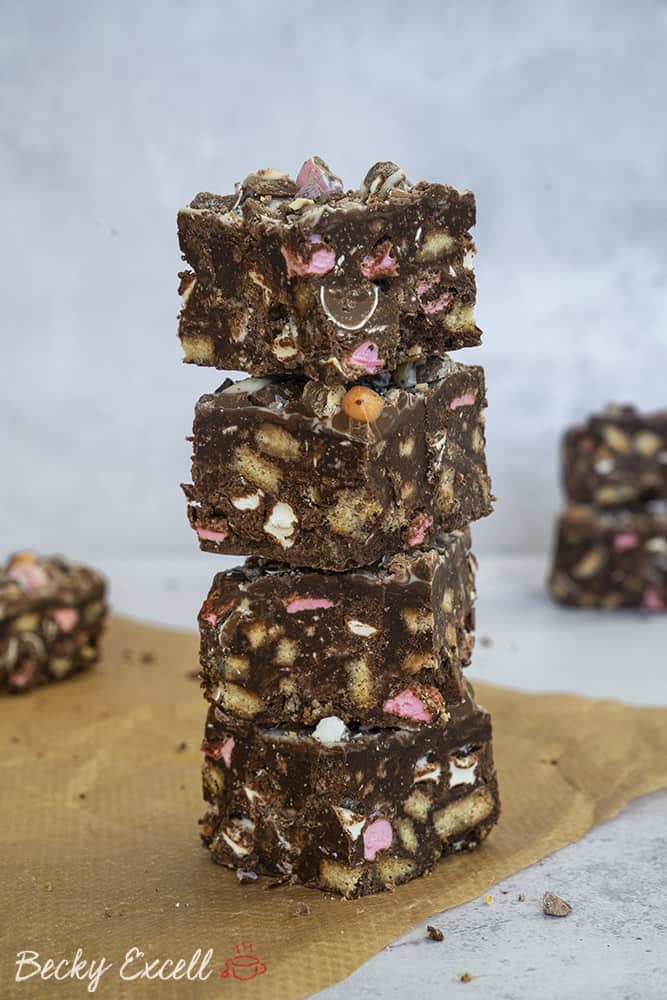 So what's in my gluten free Easter rocky road recipe apart from mini eggs and mini Creme eggs?!
Well, there's gluten free digestive biscuits for an added crunch and fluffy little mini marshmallows which add a nice chewy texture.
Since this is my ultimate rocky road recipe, I went the extra mile to create a marbled chocolate layer using dark and white chocolate.
Sprinkle on more crushed mini eggs and chopped mini Creme eggs and voila! Take a look at how they look on top ??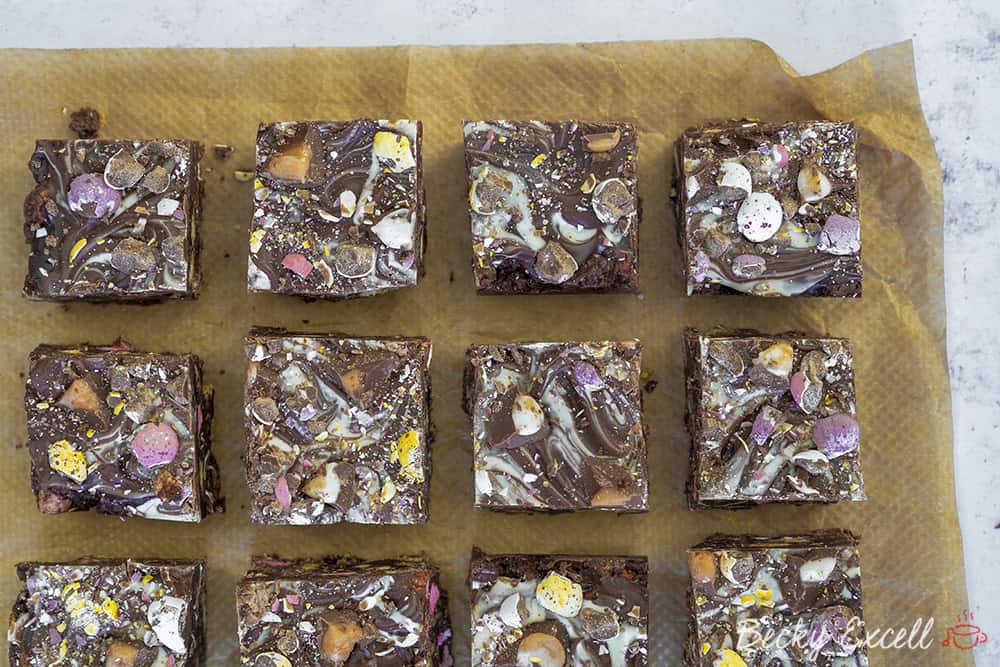 And the greatest thing about my gluten free Easter rocky road recipe is that it's so simple to make.
There's no baking involved!
You simply bash everything up, mix in melted chocolate, add your chocolate layer on top and then chill.
(the rocky road, not you!)
A couple of hours later, all you need to do us cut it up and enjoy.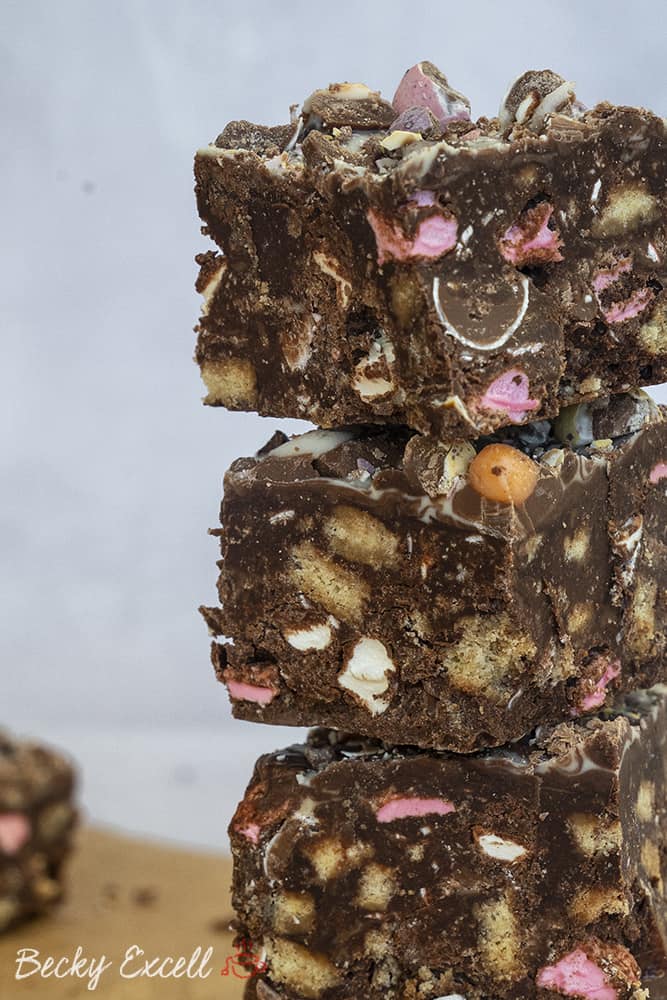 I also reeeeeally wanted to make these super-chunky this time around since my rocky roads are always quite flat and rectangular.
But by using a smaller, 8-inch square baking tin like this one, I was able to pile my rocky road mixture a bit higher and make a chunkier cube-shape.
(that's an affiliate link by the way, I earn a little if you buy one, but it doesn't make it cost more for you. The money goes towards keeping my blog online!)
Oh and a loose bottom tin is essential here by the way, otherwise you will really struggle to get your rocky road out!
Looking for more gluten free Easter baking recipes? Check out this post: 10 gluten free Easter recipes you need to try ASAP.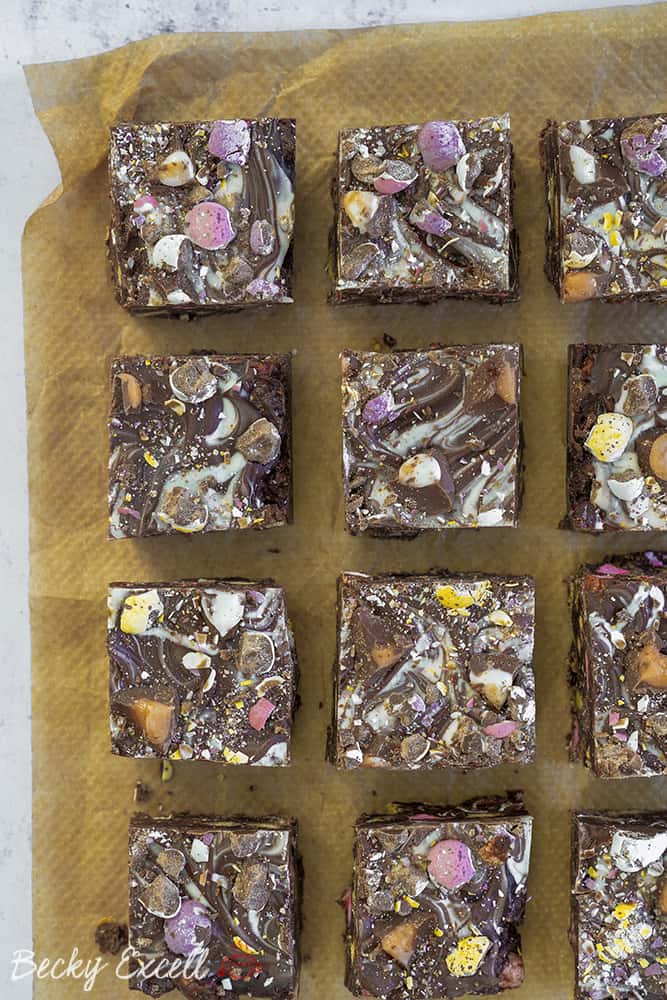 Ok, so here's my gluten free Easter rocky road recipe!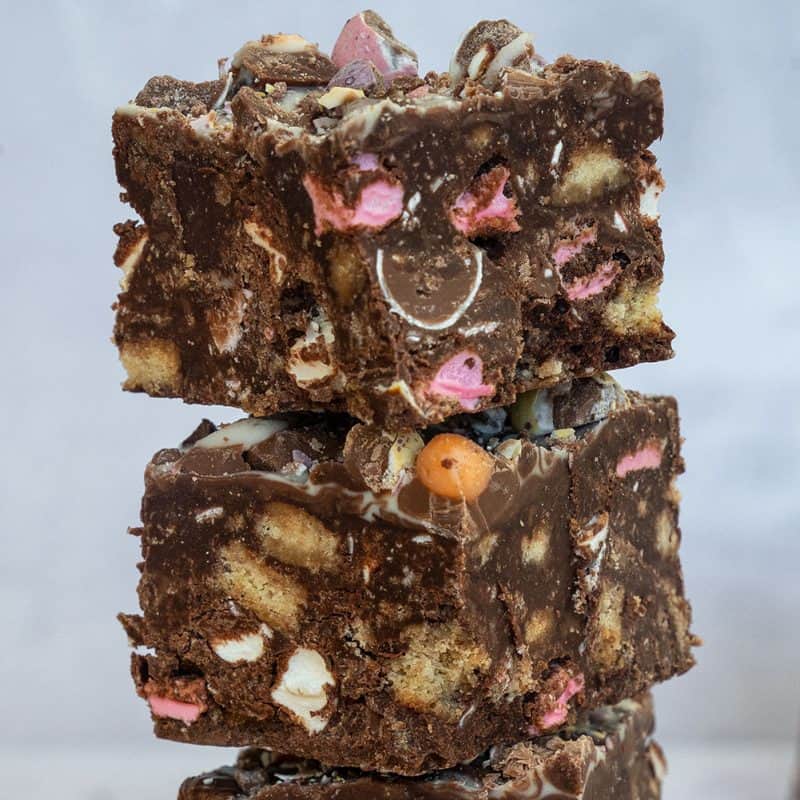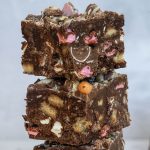 Gluten Free Easter Rocky Road Recipe
Gluten free Easter rocky road recipe, anyone? There's mini eggs AND mini creme eggs in there for the ultimate Easter treat!
Ingredients
375

g

chocolate

(I always use about 70% dark, but you could go darker or milk)

150

g

hard margarine or butter

100

g

golden syrup

240

g

gluten free digestive biscuits

60

g

mini marshmallows

180

g

mini Creme Eggs

(about two small bags)

200

g

mini eggs

75

g

white chocolate
Instructions
Place some parchment/baking paper into a baking tin.

Melt together your chocolate, butter and golden syrup in a glass bowl over some boiling water.

Take 150g of the melted mixture and put to one side for later


Crush your biscuits. I put mine in a bag and hit them with a rolling pin - don't break them up too finely as you want some nice biscuit chunks in your rocky road. Pour the biscuits into the main chocolate mixture.


Then mix in your marshmallows.


Crush your mini eggs in a similar way to how you crushed your biscuits. And chop your mini Creme Eggs into eighths. Add the majority into your mixture. Leave some of both to one side to pop on the top.


Press your rocky road mixture down into your tin. Push it down with the back of a spoon. (It doesn't matter if your tin is bigger than you need it to be - my tin is always too big, I just make sure the rocky road is the thickness that I want it to be. (Mine is about 23x23cm - but still too big!)

Melt your white chocolate (microwave will do here).

Pour your 150g of melted chocolate mixture over the rocky road. Spread it as evenly as you can


Drizzle your white chocolate over the top and feather it with a skewer.

Finish off your rocky road by putting a view extra crushed mini eggs, mini Creme Eggs on the top.

Place in the fridge to set. I leave mine for a couple of hours

Remove from the fridge and cut into pieces ready to eat. Enjoy
Notes
You can use any gluten free eggs you want. So as well as mini Creme Eggs and Cadbury's mini eggs (both which in the UK are gluten free) you could also use Smarties mini eggs or Milkybar mini eggs.
Thanks for reading all about my gluten free Easter rocky road recipe! If you make them, I'd love to see how they turned out so don't forget to take a snap of your creations and tag me on Instagram!
Plus, I'm giving away a £50 supermarket voucher every month to my fave pic, so get creating!
Any questions about the recipe? Please do let me know by following me on Instagram and leaving me a comment!
Thanks for reading,
Becky xxx
Oh and don't forget to pin this for later!