When it comes to Easter baking, there's nothing better than a gluten free mini egg rocky road. But until dairy free mini eggs exist, Mark won't be able to eat this one – sorry!
Phew, now we've got the 'dairy free disclaimer' out of the way, let's get face-plant right into my gluten free mini egg rocky road recipe.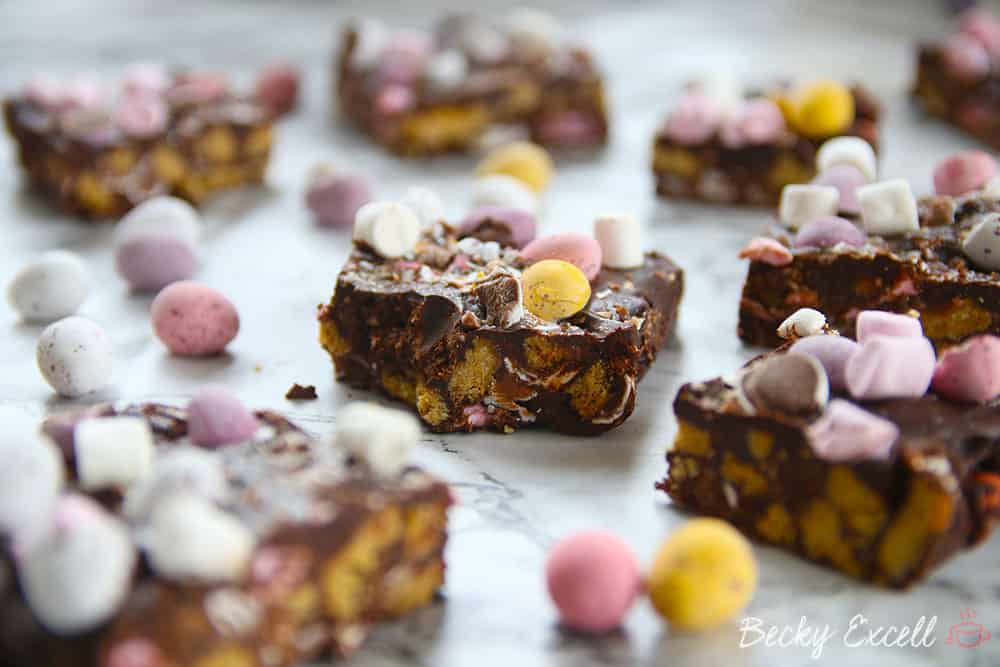 I've tried for years and years to keep my baking gluten free (for me) AND dairy free (for Mark) at Easter. But if you're not using mini eggs or creme eggs in your baking at Easter… then is it really even Easter baking at all?
(sorry Mark, it's definitely not.)
There reeeeeeally needs to be better dairy free egg options around at Easter as Mark can barely eat a thing. For me, Easter eating is all about mini eggs and creme eggs and we both agree that anything else is a bit of a let down.
Apart from getting a free mug. Nothing beats a free mug.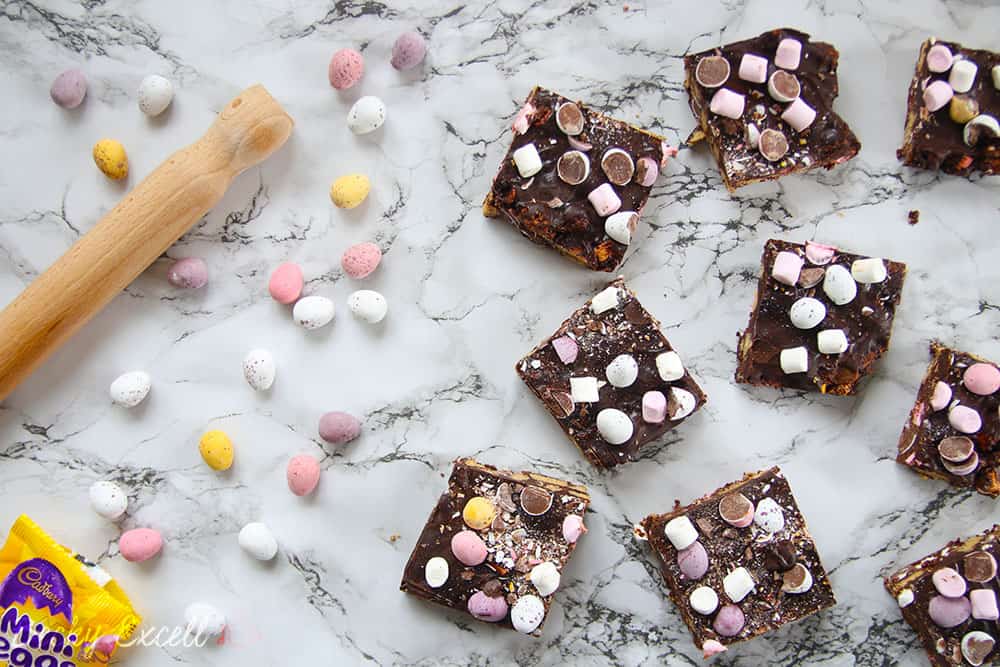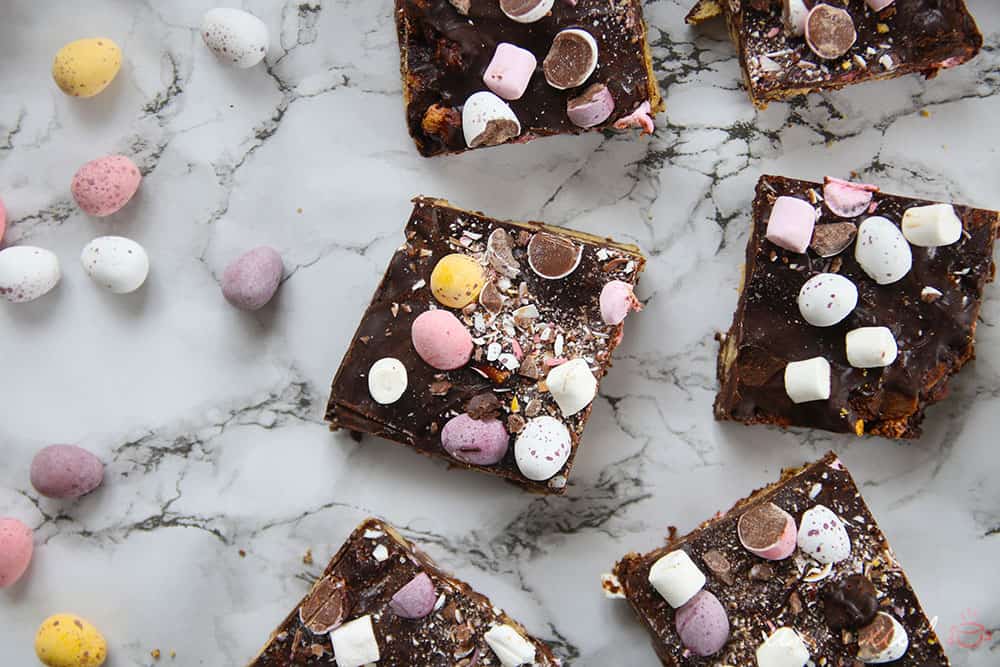 I'm 99% sure that there isn't a single thing in the world that isn't improved by adding mini eggs to it.
For example, I am a much more tolerable person when eating a bag of mini eggs. I think I've proved my point.
But forget about me, we're talking rocky road here.
Instead of this rocky road being packed with dried fruit like raisins or cranberries, it's fully loaded with crushed mini eggs. And there's mini eggs on top. As you know, I always like to go the 'eggstra' mile at Easter.
(sorry.)
Looking for more gluten free Easter baking recipes? Check out this post: 10 gluten free Easter recipes you need to try ASAP.
But what's the best part about my gluten free mini egg rocky road recipe? It doesn't even need to be baked.
All you need is to melt chocolate, butter and golden syrup, then just combine everything together.
Once everything is all mixed up in a big bowl, just spoon it into a container and chill your mixture while you chill out.
Instant rocky road!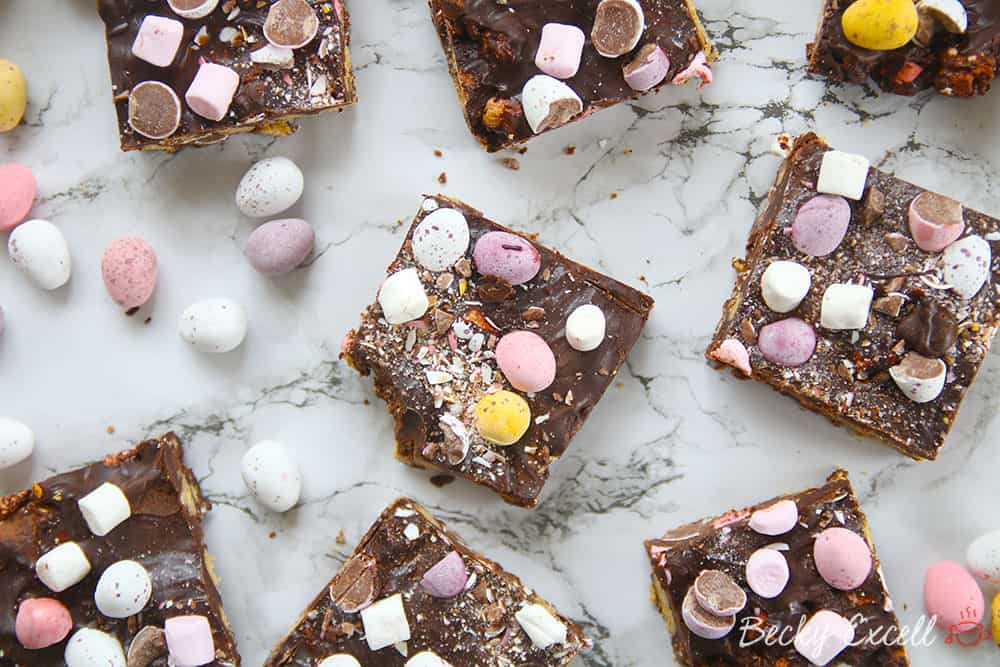 The result is an intensely chocolatey, chunky slab of awesomeness that tastes like taking a bite out of the Easter bunny himself. Mmm.
He/she is edible, right?
But what's the only thing you need which isn't listed in the ingredients? A healthy amount of pent up anger to smash up those gluten free biscuits and mini eggs with a rolling pin.
Fortunately/unfortunately I've got a lot of that these days.
(You try eating out with multiple food intolerances and being served cheese. Just cheese.)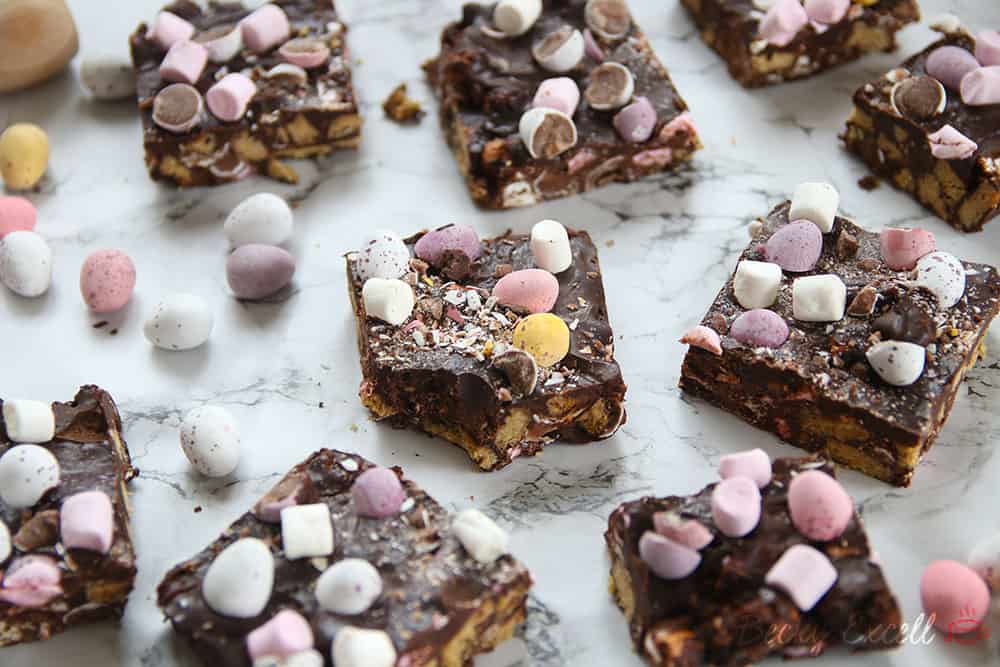 BUT whilst mini eggs aren't dairy free, the rest of this recipe certainly is if you use hard margarine FYI.
So if you're really sad that you're missing out on this recipe (yet for some reason you still read this far – kudos for your determination) then just leave out the mini eggs – it's painful, I know – but that then makes this recipe totally dairy free too.
Maybe replace them with dried cranberries for a classic rocky road? Or how about honeycomb pieces? Trust me, it'd all taste amazing!
Anyway, here's my gluten free mini egg rocky road recipe…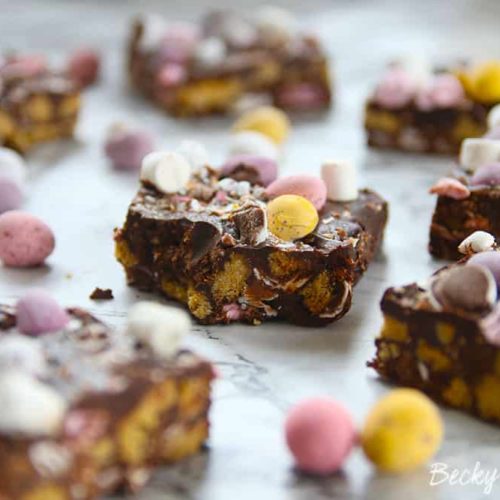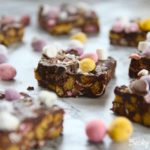 Gluten Free Mini Egg Rocky Road Recipe
My gluten free mini egg rocky road recipe is your ultimate Easter treat!
Ingredients
250

g

dark chocolate

milk chocolate would work, I just prefer dark chocolate for cooking

100

g

hard margarine/butter

3

tbsp

golden syrup

160

g

gluten free digestive biscuits

50

g

mini marshmallows

210

g

mini eggs

and a handful or so extra for the topping
Instructions
Melt together your chocolate, butter and golden syrup in a glass bowl over some boiling water.

Take 100g of the melted mixture and put to one side for later.

Crush your biscuits. I put mine in a bag and hit them with a rolling pin - don't break them up too finely as you want some nice biscuit chunks in your rocky road. Pour the biscuits into the main chocolate mixture.

Then mix in your marshmallows.

Crush your mini eggs in a similar way to how you crushed your biscuits. Add the majority into your mixture. Leave some to one side.

Place some parchment/baking paper into a baking tin.

Press your rocky road mixture down into your tin. Push it down with the back of a spoon. (It doesn't matter if your tin is bigger than you need it to be)

Pour your 100g of melted chocolate mixture over the rocky road. Spread it as evenly as you can.

Sprinkle over the remainder of your crushed mini eggs and also some extra mini marshmallows.

Place in the fridge to set. I leave mine for a couple of hours.

Remove from the fridge and cut into pieces ready to eat. Enjoy!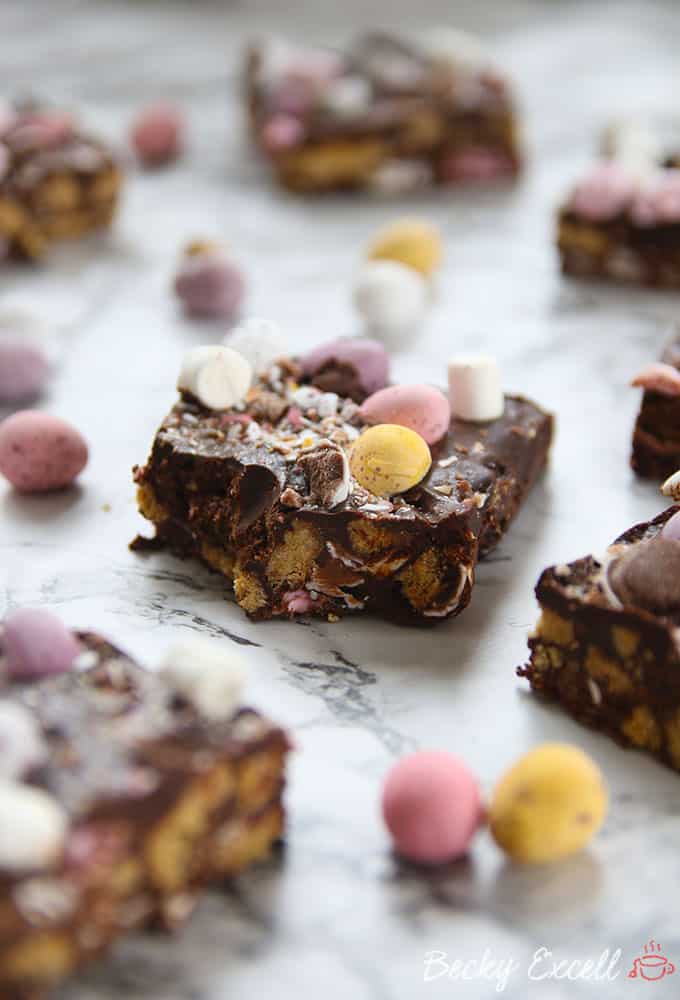 Thanks so much for checking out my gluten free mini egg rocky road recipe!
Any questions about the recipe? What Easter recipes would you like to see next? If you make this recipe, I'd love to see your photos so please send me a snap! You can either leave a comment below or holla at me on Facebook / Twitter / Instagram.
Thanks for reading and happy Easter!
Becky xxx
Oh and don't forget to pin this for later!