Easter is an exciting time of year for baking but so often, mini eggs or creme eggs are often involved and sadly… they're not dairy free. In a quest to bake up something deliciously chocolatey and Easter themed, my Gluten Free 'Sunny Side Up' Easter Cheesecake Brownies were born!
This is a spin on my original fudgy gluten free brownie recipe!
Where do I start with my Gluten Free Easter Cheesecake Brownies recipe? As a kid, Easter always came hand in hand with mini eggs, creme eggs and enough chocolate eggs to make even the Easter bunny feel queezy. But these days, Easter usually involves trying to muster up enough enthusiasm to buy the exact same free from Easter egg I bought the last 3 years in a row. So this year, something had to change! I wanted to bake something intensely chocolatey yet dairy free for Mark, to make up for all those years of chocolate overdose we've missed out on.
But unlike all of the other recipes I found in my search, they all seemed to involve throwing in a few mini eggs or creme eggs into a recipe… and when you remove those, there's nothing remotely Easter about the recipe left. I mean, what's a creme egg brownie without the creme egg? It's just a brownie! So I came up with the idea of Gluten Free 'Sunny Side Up' Easter Cheesecake Brownies that were proudly dairy free too!
Looking for more gluten free Easter baking recipes? Check out this post: 10 gluten free Easter recipes you need to try ASAP.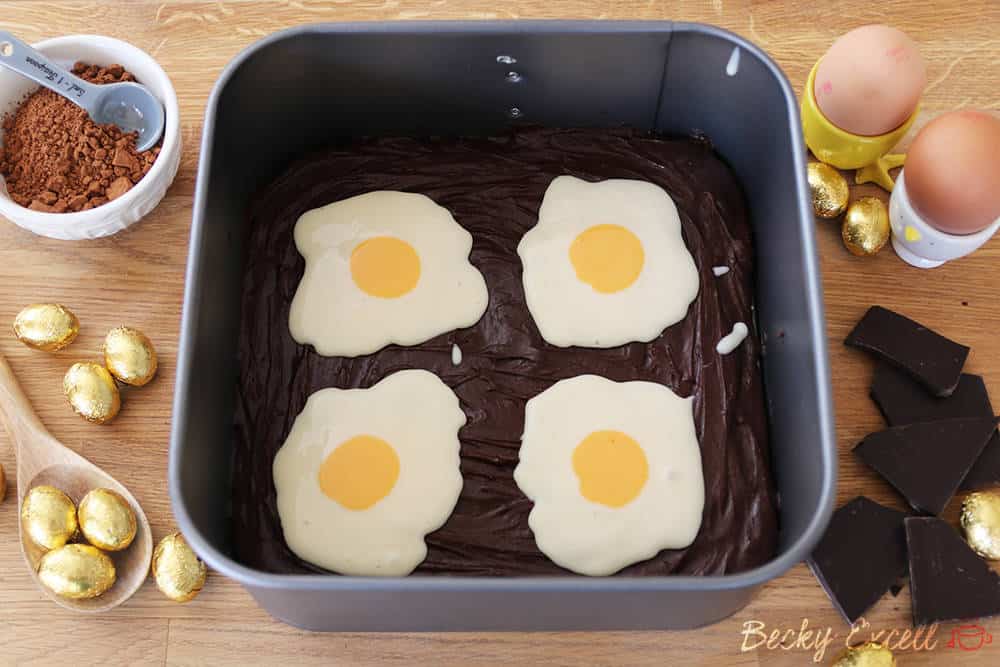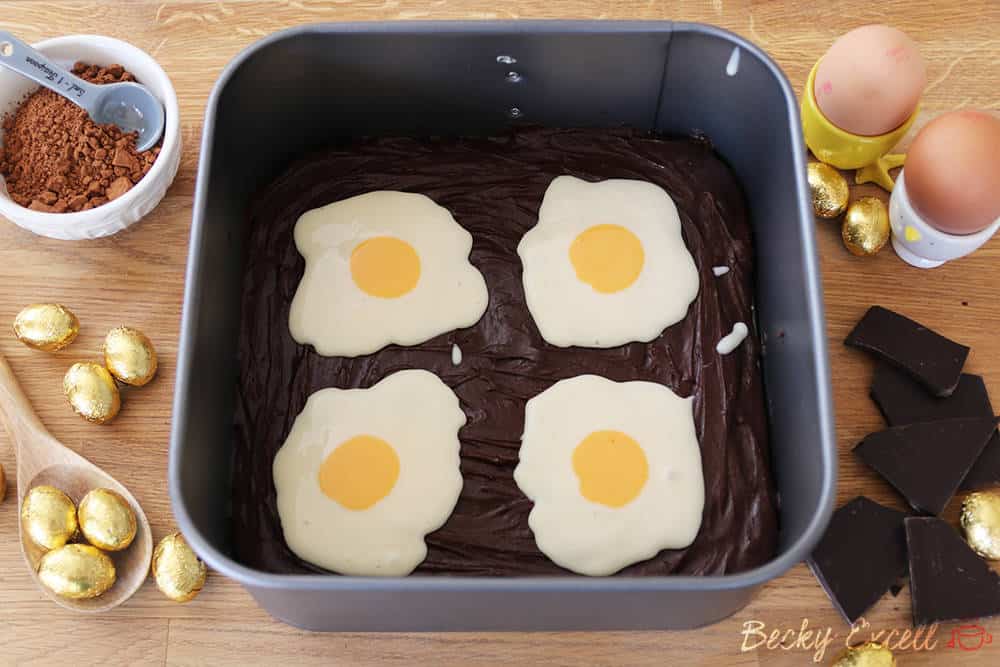 First of all, the brownies. I hope everyone these days realises that dairy free doesn't mean that these brownies are any less intensely chocolatey, rich or decadent than one that does contain dairy. They're unbelievably fudgey, super moist and are quite frankly, "the best brownies I've ever tasted" (Mark's words, not mine!) I actually intended to throw in a few dairy free dark chocolate chunks into the mix too, but decided that it was so good, it really didn't need them. I hope these photos do my Gluten Free 'Sunny Side Up' Easter Cheesecake Brownies justice, as the texture of them was absolutely unreal.
Next, the 'fried egg' cheesecake topping. What surprised me more than how well Tofutti dairy free cream cheese worked for this, is how real the 'fried eggs' look. I half expect someone to find these photos and send them into Buzzfeed proclaiming "Hipsters have gone too far, now they're putting fried eggs on top of brownies too!" before getting shot down by 10,000 comments pointing out that it isn't even a real fried egg. Actually, a similar story happened last year where Buzzfeed posted one of my Instagram photos of an M&S Trifle, calling it a 'hipster cookie'. I still never figured out why or how a trifle could possibly pass as a cookie, and neither did anybody else in the comments. Whatever makes you happy I guess!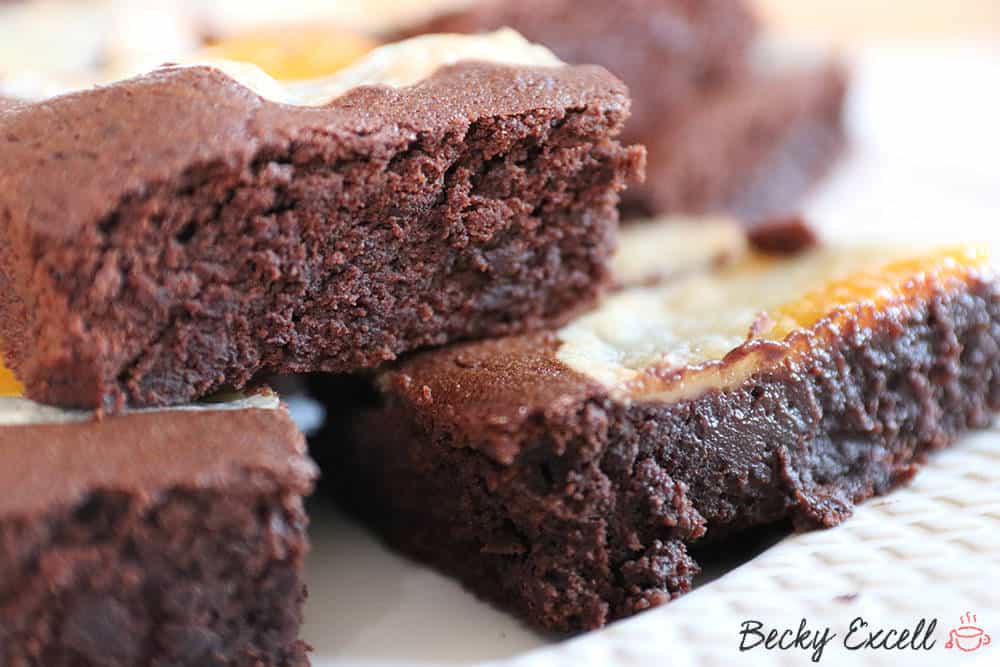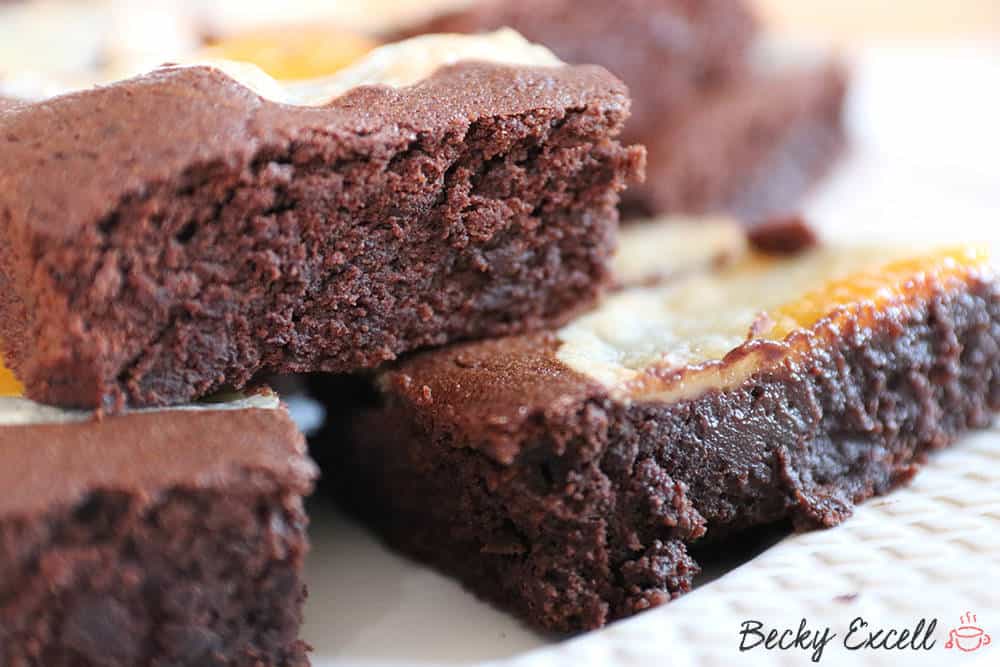 Brownies are such a classic (and very common) gluten free bake and back then, I didn't want to fall into the trap of making 'just another brownie recipe' to throw on top of the pile of thousands that already exist. Using a gluten free brownie mix just seemed like the safest option and it was fun to turn a humble brownie mix into something so 'out there'. But now, I thought it was time to ditch the mix and finally put my name to a brownie mix that I'll never stop being proud of!
I used Tofutti dairy free cream cheese for the topping and I'd intensely recommend you hunt some of it down, it's seriously the best dairy free cream cheese for baking I've ever found. I even used it back in 2015 for that cheesecake brownie recipe too! I never thought I'd find a tub of it outside of Manchester, but I was so happy to find some on the campus of my old University as well as in a health food shop in town with all their vegan cheeses. You'll rarely ever find Tofutti in the supermarket, but I have seen it stocked in some Sainsbury's, or you can buy it online from Goodness Direct. Obviously, if you're not going dairy free, real cream cheese works too!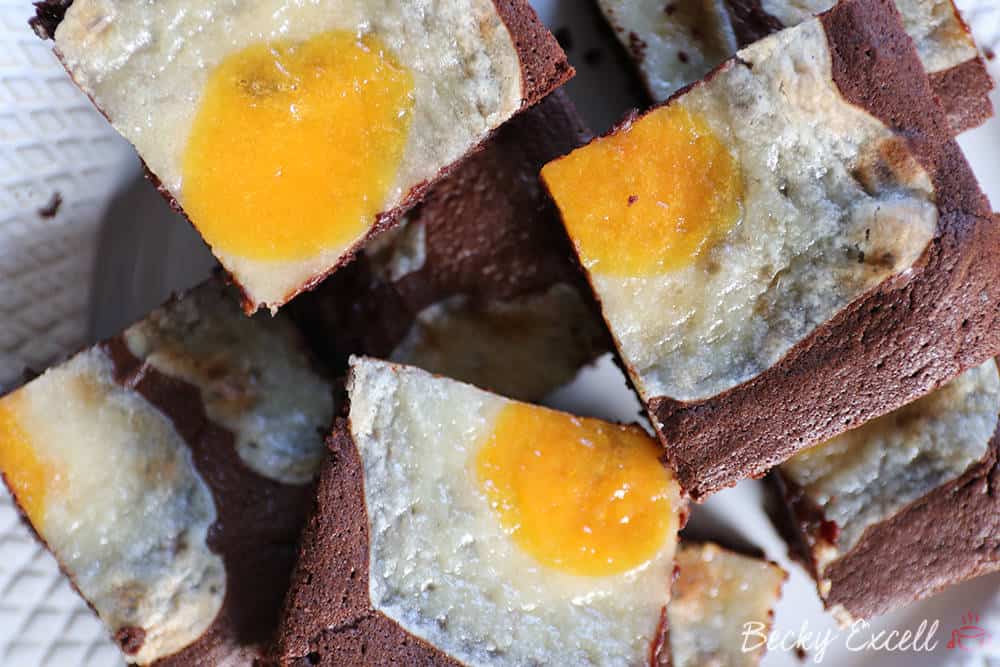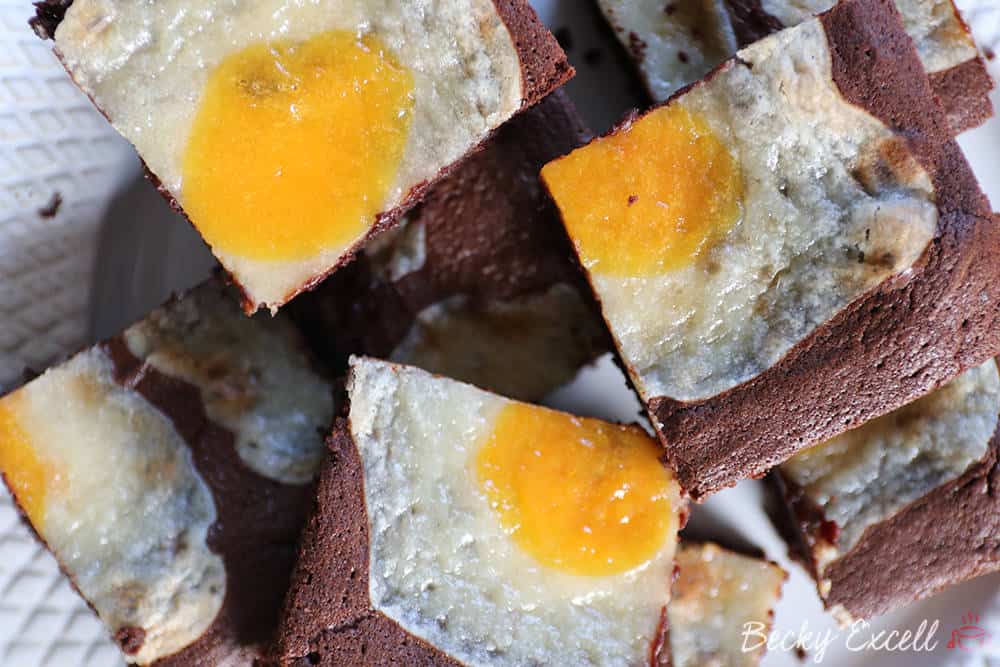 Whilst I absolutely love baking, I've never been one for spending hours and hours decorating cakes. I don't know why, but it's just not my thing. I guess it's the same with everything, maybe if I was good at it, I'd probably enjoy it more! But I have to say, creating the fried egg effect on these brownies was quick and easy and your kids would probably really enjoy the process too! It literally involved spooning the dairy free cheesecake batter on the brownie in a rough egg white shape, before dolloping one teaspoon of coloured dairy free cheesecake batter in the center. The flatter your brownie mixture is in the baking tin, the better, or else your egg can run and become more of an 'egg coloured splat' rather than 'fried egg!' Trust me when I say: if I can do it, then anybody can!
The dairy free cheesecake 'fried egg' layer adds an extra dimension of moist, gooey, ultimate brownie texture and in my humble opinion, they look egg-cellent too 🙂 I'm so happy with how these turned out and I think the world needs more mini-egg free and creme-egg free Easter baking ideas (can we add those as extras to the list of 14 allergens?) so nobody gets left out this Easter! I hope you enjoy making these brownies, here's the full recipe but don't forget to watch the video at the top of the post in full, as sometimes you just can't beat seeing the real deal come to life. Let's get cracking!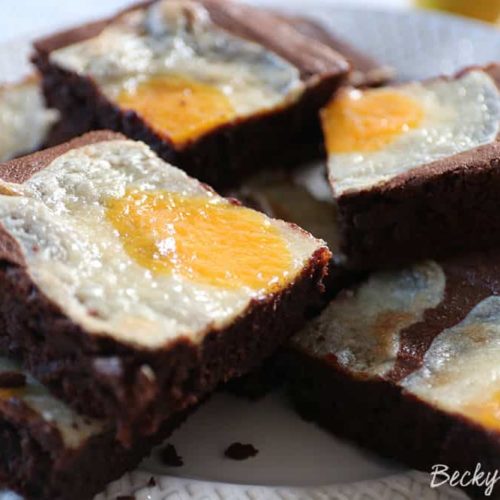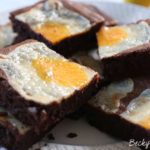 Gluten Free 'Sunny Side Up' Easter Cheesecake Brownies
Ingredients
For the brownies
90g gluten free plain flour

50g cocoa powder

200g dairy free hard margarine

200g dairy free dark chocolate

3 eggs

280g golden caster sugar
For the cheesecake mix
110g dairy free cream cheese

I use Tofutti

75g caster sugar

1 small egg

beaten

1/2 tsp vanilla extract

orange and yellow food colouring gel
Instructions
Sieve together your cocoa powder and gluten free flour in a bowl. Mix briefly until combined, put to one side.

Melt together your dairy free hard margarine and dairy free dark chocolate over a bain marie until completely melted. Mix together and leave out to completely cool.

In another bowl crack 3 eggs and pour in your golden caster sugar. Beat together (I use an electric hand whisk) until pale in colour and increased in volume.

Once the chocolate and margarine mixture is cooled to room temp, pour it into your egg/sugar mixture. Fold it in, it will initially marble and then turn super chocolatey.

Next fold in the your gluten free plain flour and cocoa powder mix. Ensure it's fully folded in.

Spoon your brownie mixture into a prepared tin, smooth it over so it's even and level. (I used a square loose bottom tin) Place to one side.

Now for the dairy free cheesecake 'fried egg' top, place your dairy free cream cheese, sugar, small beaten egg and vanilla in a mixing bowl. Beat until smooth, it should be a creamy batter like consistency.

In a separate small bowl, spoon out a couple of tablespoons of the mixture.

In the small bowl add a little yellow and orange food colouring gel until it turns the colour of an egg yolk.

Spoon your white cheesecake batter onto your brownie mix in 4 egg shapes.

Then with your yolk coloured cheesecake batter spoon a yolk shape in the centre of each.

Bake for about 25 mins at 175C Fan. Cooking for this amount of time at this temp should create incredible fudgy brownies.

Important!! Allow to cool completely before touching them!! Slice them up and enjoy!

You can store in an airtight container until you've finished them (won't take long!!)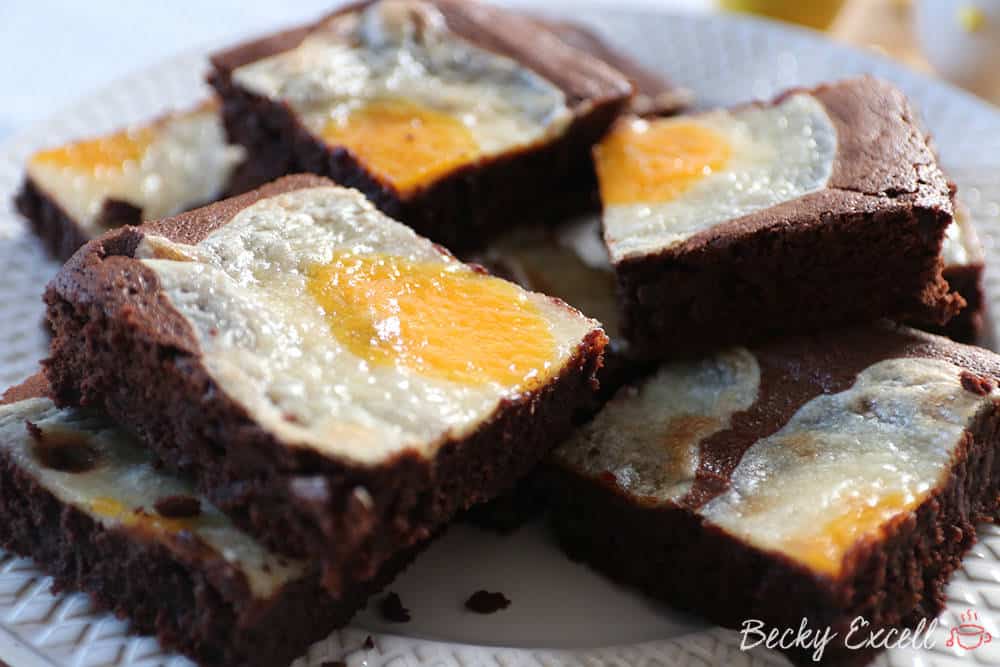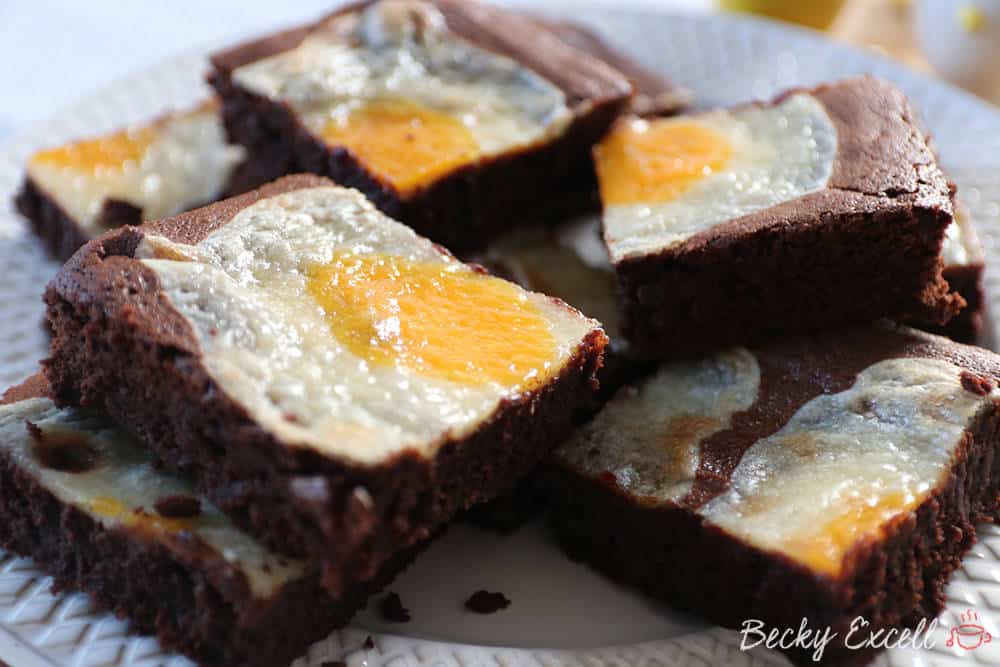 Well, I hope nobody is reading this sentence because everyone is already getting stuck into the recipe above! If you did try my Gluten Free 'Sunny Side Up' Easter Cheesecake Brownies recipe or you have any questions, then please let me know how you got on by leaving a Facebook comment below. I'd love you long time if you tagged me in photos of your Gluten Free 'Sunny Side Up' Easter Cheesecake Brownies on Twitter and Facebook too, so don't forget to take a snap of them before they vanish! Happy Easter everybody 🙂
Thanks for reading,
Becky xxx
Oh, and don't forget to pin this before you leave!