Ok, I said I was done with the Easter egg puns, but I lied. I promise I'll make it up to you though with my gluten free mini egg cheesecake recipe!
Soooo if you're looking for the ultimate Easter showstopper, look no further than my gluten free mini egg cheesecake recipe.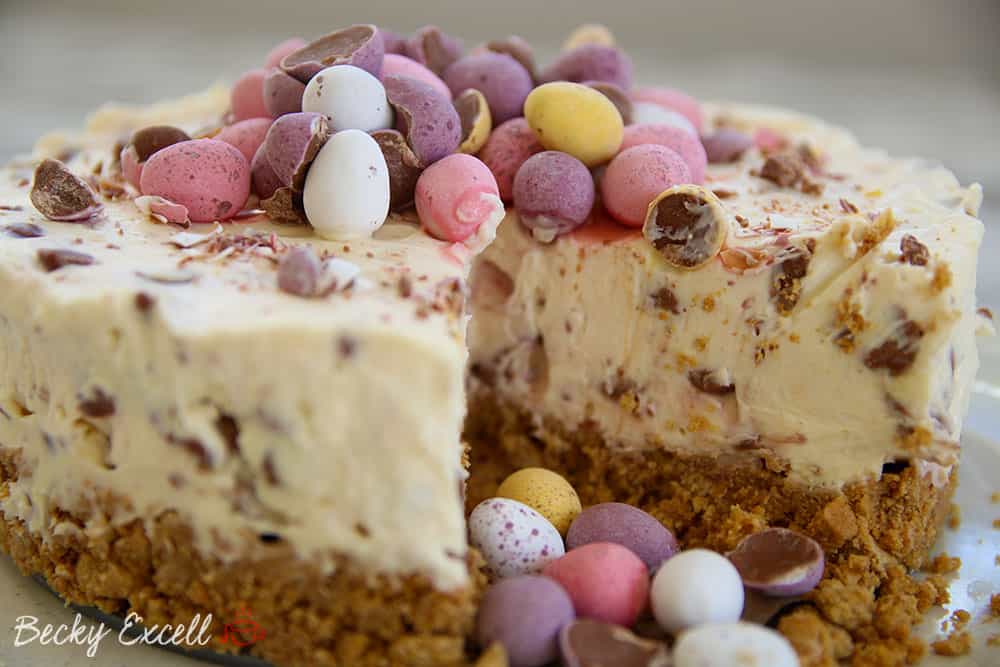 Before we get started on my gluten free mini egg cheesecake recipe, let's talk cheesecake proportions. For me, it's all about that buttery biscuit base!
So that means it's one third biscuit base and two thirds cheesecake topping. That's just the way that my Mum has always made a cheesecake and trust me – you'll never ever want less base than that again!
Looking for more gluten free Easter baking recipes? Check out this post: 10 gluten free Easter recipes you need to try ASAP.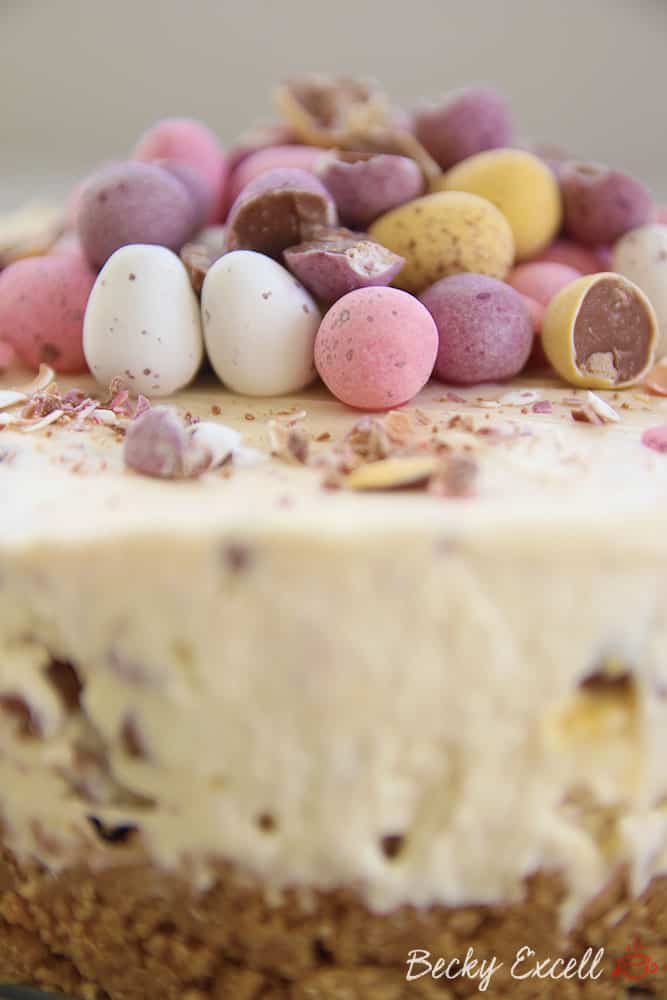 As if a cheesecake wasn't indulgent enough, my gluten free mini egg cheesecake recipe takes it to the next level.
Not only is it rich and moreish but it's got mini eggs inside it AND on top.
(Unlike me, who just has mini eggs on the inside. Oops!)
Every slice of this cheesecake is smooth and creamy, but with lovely chunks of mini eggs in each mouthful too.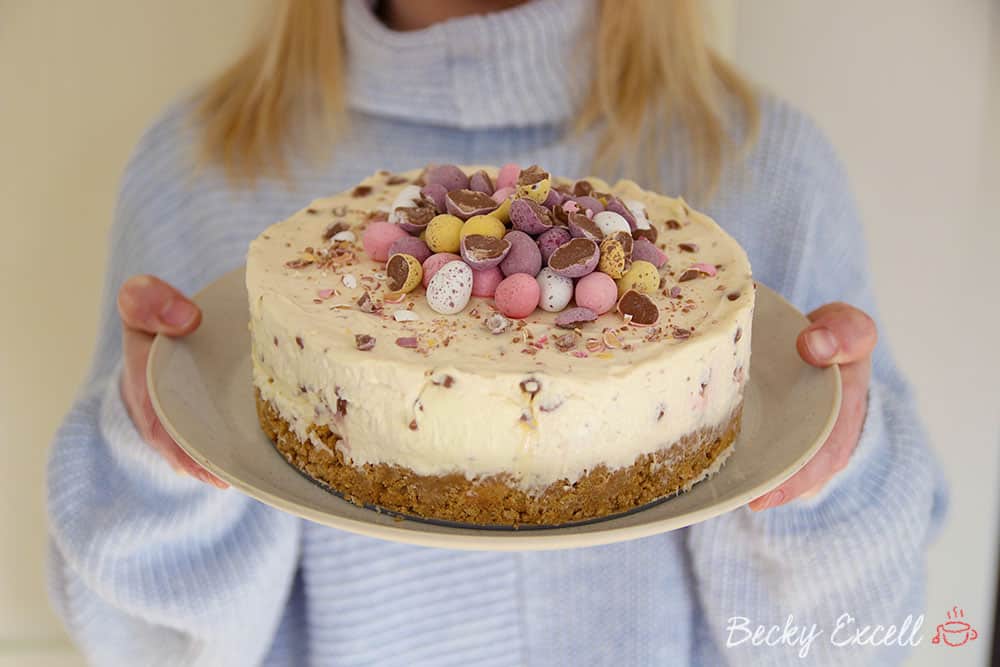 Of course, just like my gluten free mini egg rocky road, this cheesecake is 100% no-bake. No joke.
Simply crush up your gluten free digestives and mix on up with a little melted marg.
Then all you need to do is whip up your cream cheese with crushed mini eggs and you're ready to throw it all together.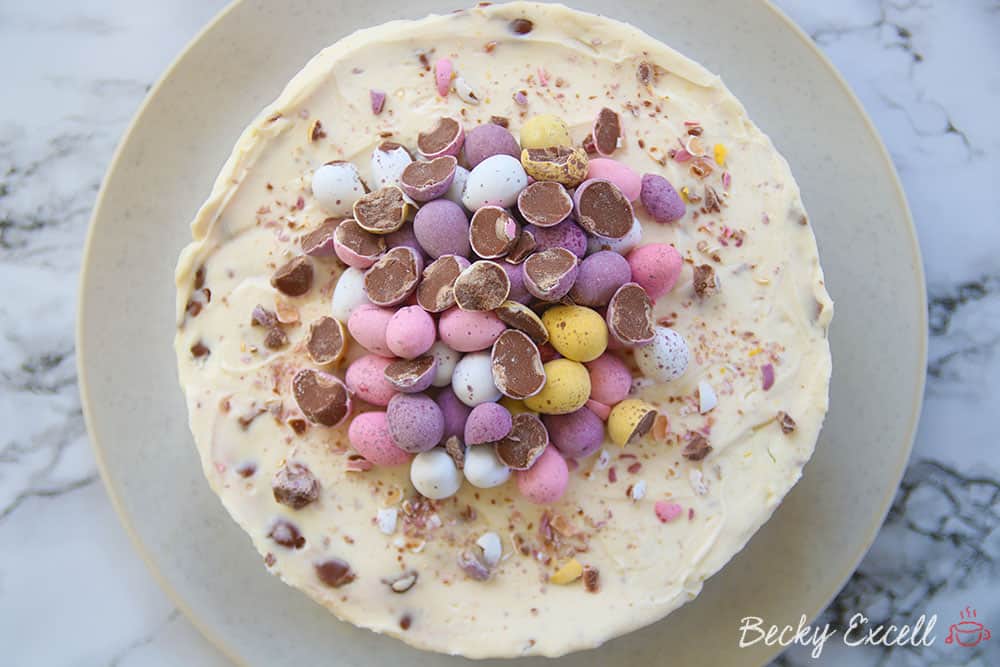 Then, all you need is a little patience while it chills in the fridge.
(and a little self-control to save a few crushed mini eggs for the top of your gluten free mini egg cheesecake.)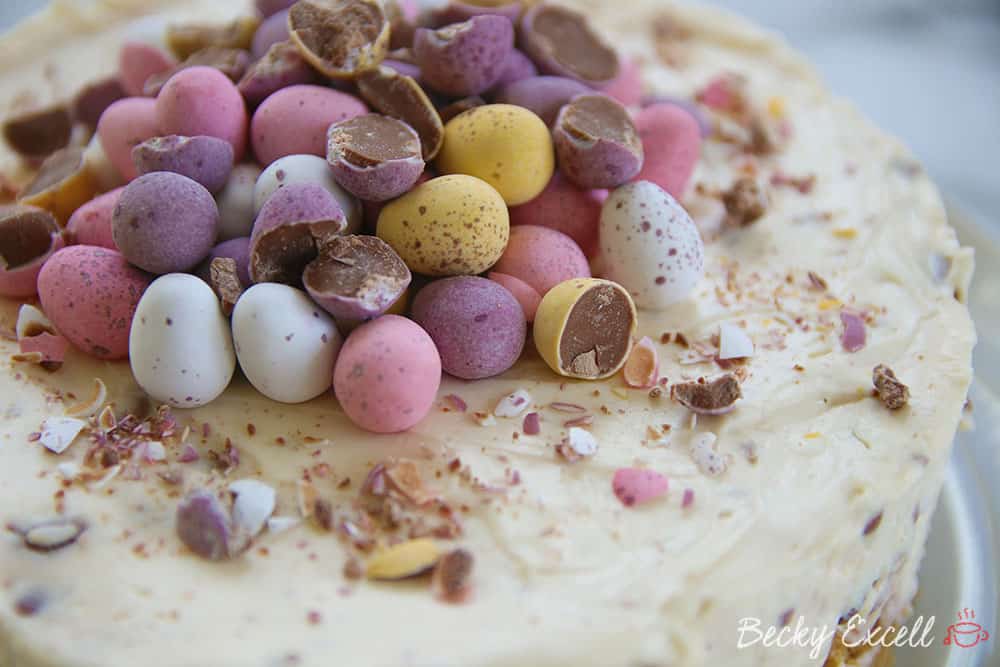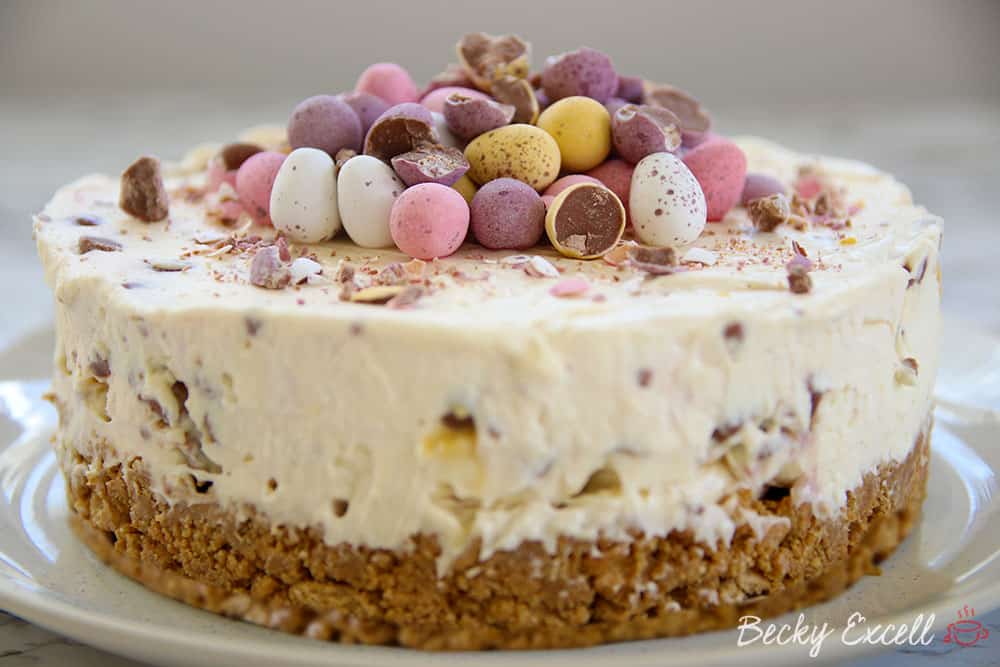 So now that you're well acquainted with my gluten free mini eggs cheesecake recipe, it's about time that you made your own!
Grab your loose bottom round baking tin and let's get started…
Mini Egg Gluten Free Cheesecake
My mini egg gluten free cheesecake is the ultimate treat to have at Easter!
Ingredients
320

g

gluten free digestive biscuits

100

g

hard margarine

I use Stork or butter

560

g

cream cheese

I use full fat Philadephia

100

g

icing sugar

1

tsp

vanilla extract

300

ml

double cream

300

g

mini eggs

crushed for inside the cheesecake

100

g

mini eggs

for on top (any amount works really)
Instructions
Crush your gluten free digestives. I place mine in a sandwich bag and hit them with a rolling pin. You can make them quite small or have some chunkier bits.

Melt your margarine or butter - I do this in the microwave.

Pour your melted margarine/butter into your crushed biscuits and mix together.

Press your biscuit mixture into the tin you are going to be making your cheesecake in. Press it down nice and firmly.

Place it in the fridge to chill whilst you make your cheesecake top. (I leave mine in the fridge for at least 30 minutes)

To make your cheesecake filling mix together your cream cheese, icing sugar and vanilla extract. I use my KitchenAid to do this on a low/medium setting for only about 10-20 seconds. You could you an electric hand mixer too.

Add in the double cream and keep mixing until it firms up a little. (I had the KitchenAid on a medium setting for just under 2 minutes for this - try not to over mix though... don't let it split!)

Fold through your crushed mini eggs.

Spread your mixture on top of the biscuit base and place in the fridge to set for a minimum of 5 hours. I like to make mine the day before and leave it to chill fully overnight.

When you are ready to serve, remove the cheesecake from the tin and top with extra mini eggs - I crush some of mine and leave the rest whole. I also quite like sprinkling some of the dust that comes of the mini eggs as you crush them on top - it looks good!

Keep refrigerated if you have any left over.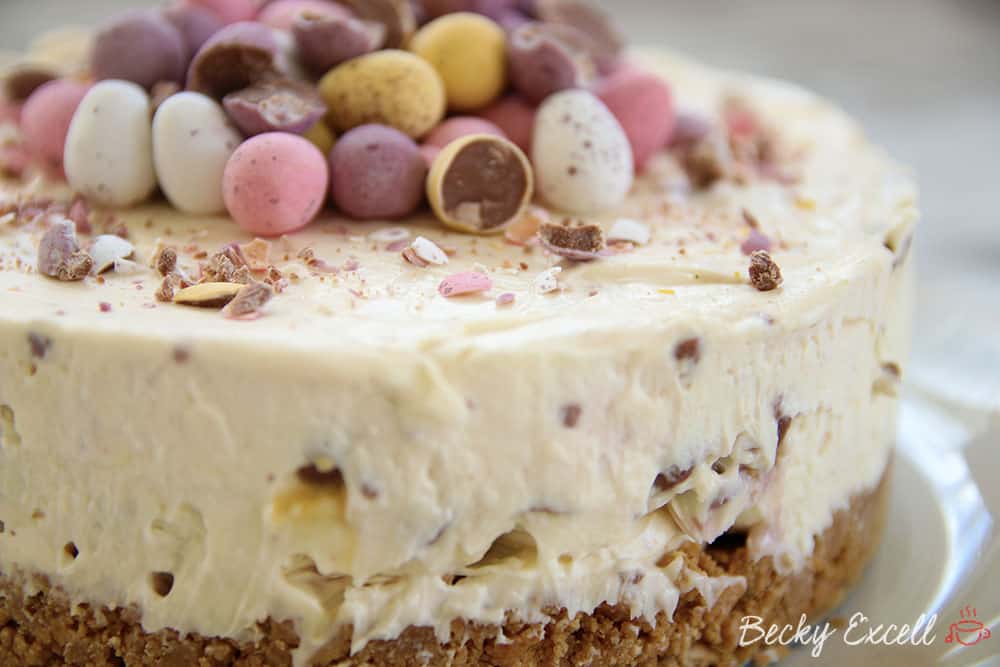 Thanks so much for checking out my gluten free mini egg cheesecake recipe! If you make it, I'd love to see how it turns out. So absolutely make sure that you send me a pic using my social media links below…
Any questions about the recipe? Please do let me know by leaving a comment below or on Facebook / Twitter / Instagram!
Thanks for reading,
Becky xxx
Oh and don't forget to pin this for later!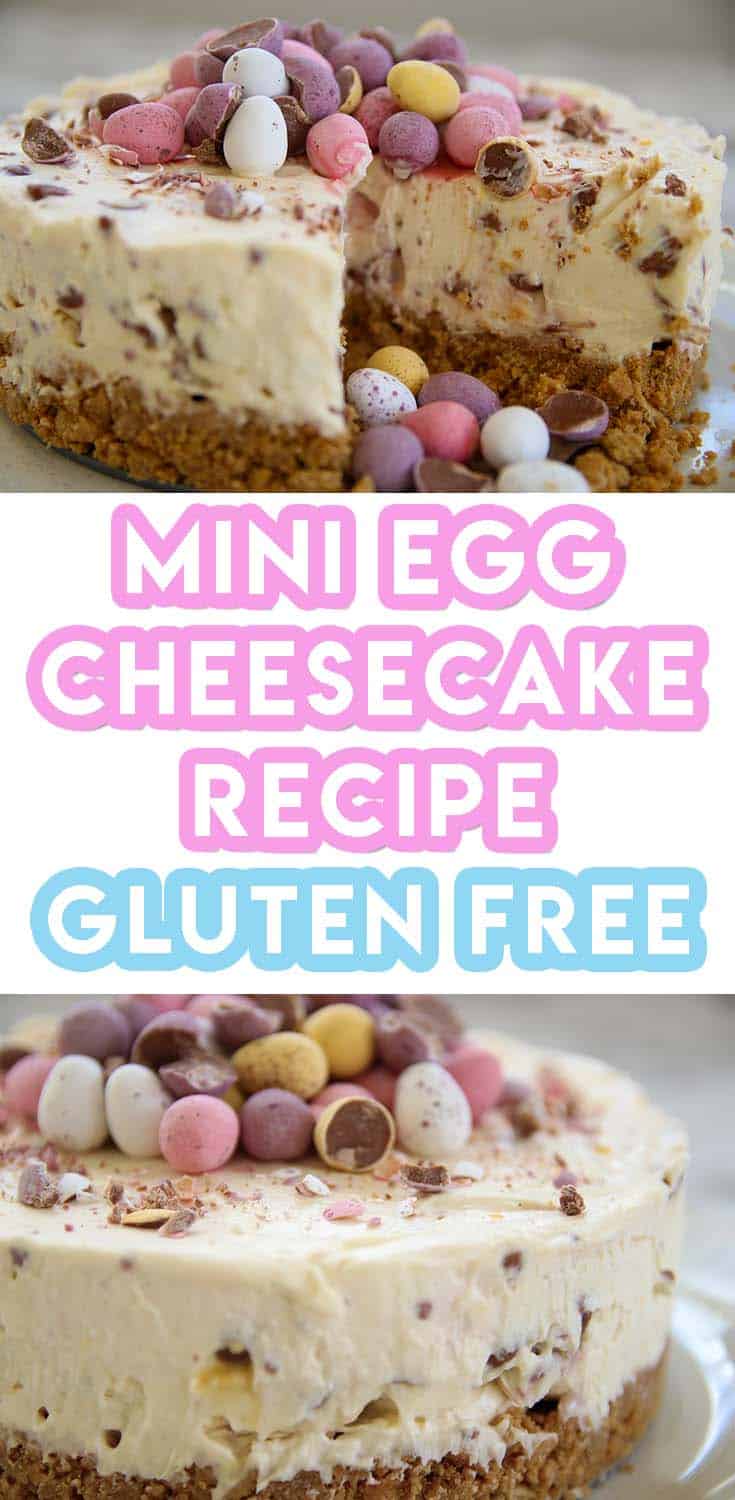 Comments