Gluten-free breadcrumbs recipe – the perfect way to use up leftover gluten-free bread and they're ready in just 15 minutes. Of course, if your bread is dairy-free and vegan, then your breadcrumbs will be too!
Gluten-free breadcrumbs recipe, anyone? There's a million things you can make with gluten-free breadcrumbs – from Katsu chicken curry to treacle tart – so please make sure you never waste a single slice of gluten-free bread again!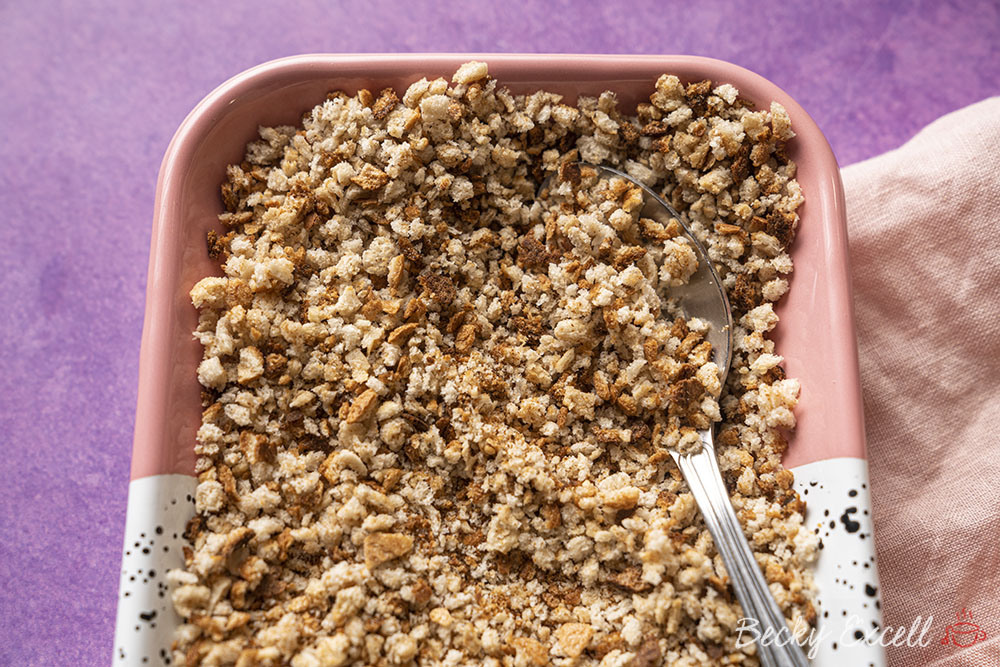 I think we can all agree that the simplest recipes can sometimes be the most useful. And this recipe is definitely one of those.
Though you can fortunately buy gluten-free breadcrumbs in supermarket free from aisles without struggling these days, that isn't much help when you want to use up leftover gluten-free bread, is it?
And I think we can all agree – gluten-free bread is often too expensive to even waste a single slice! So here's a recipe that'll slim your food waste and can easily be used for future recipes.
Best of all, stale bread works best here, so if your gluten-free loaf is a little past its best… then that's the perfect time to give this recipe a try.
What you'll need…
Gluten-free bread: Of course, regular ol' white gluten-free bread is preferable here. Why? Brown bread or seeded bread, for example, add an extra wholegrain flavour that isn't necessarily desirable when cooking with breadcrumbs.
That's it – just 1 ingredient!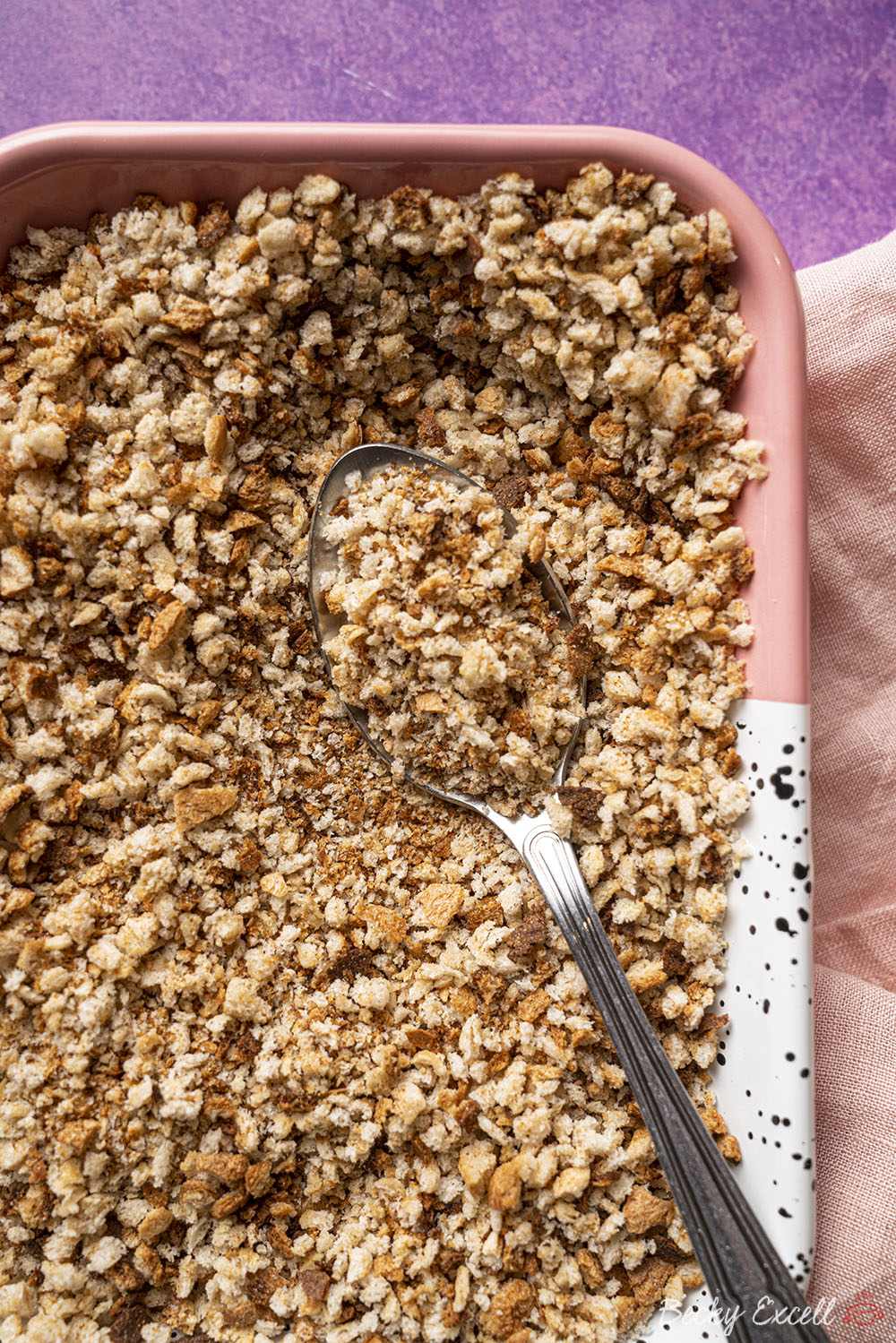 Gluten-free breadcrumbs recipe: Frequently Asked Questions
Can I make this recipe gluten-free? Is it suitable for Coeliacs?
It is gluten-free, though nobody would know by tasting it – trust me!
Bear in mind that minimising cross-contamination is hugely important if you're Coeliac or making this for someone who is. Here's some tips from Coeliac UK on minimising the risk of cross contamination.
Also, make sure that all ingredients used don't have any gluten-containing ingredients. Then make sure that they also don't have a 'may contain' warning for gluten, wheat, rye, barley, oats (which aren't gf), spelt and khorasan wheat (aka Kamut).
Here's some more info from Coeliac UK on identifying safe gluten-free products.
Are your gluten-free breadcrumbs recipe dairy-free?
If your bread is dairy-free, then your breadcrumbs will be too! But wait, isn't all gluten-free bread dairy-free?
Well, actually no – take a loaf like Juvela's white loaf which has dried skimmed milk powder in it.
So, in short, make sure you check the ingredients list on your bread before buying to ensure it's suitable.
Are your gluten-free breadcrumbs recipe vegan?
See the dairy-free advice above on buying gluten-free bread, then ensure it doesn't contain any other non-vegan ingredients such as egg or honey.
Is this recipe suitable for the low FODMAP diet?
If your gluten-free bread is low FODMAP then your bread will be too! Fortunately, Schar's white loaf is certified as being safe for the low FODMAP diet by Monash University.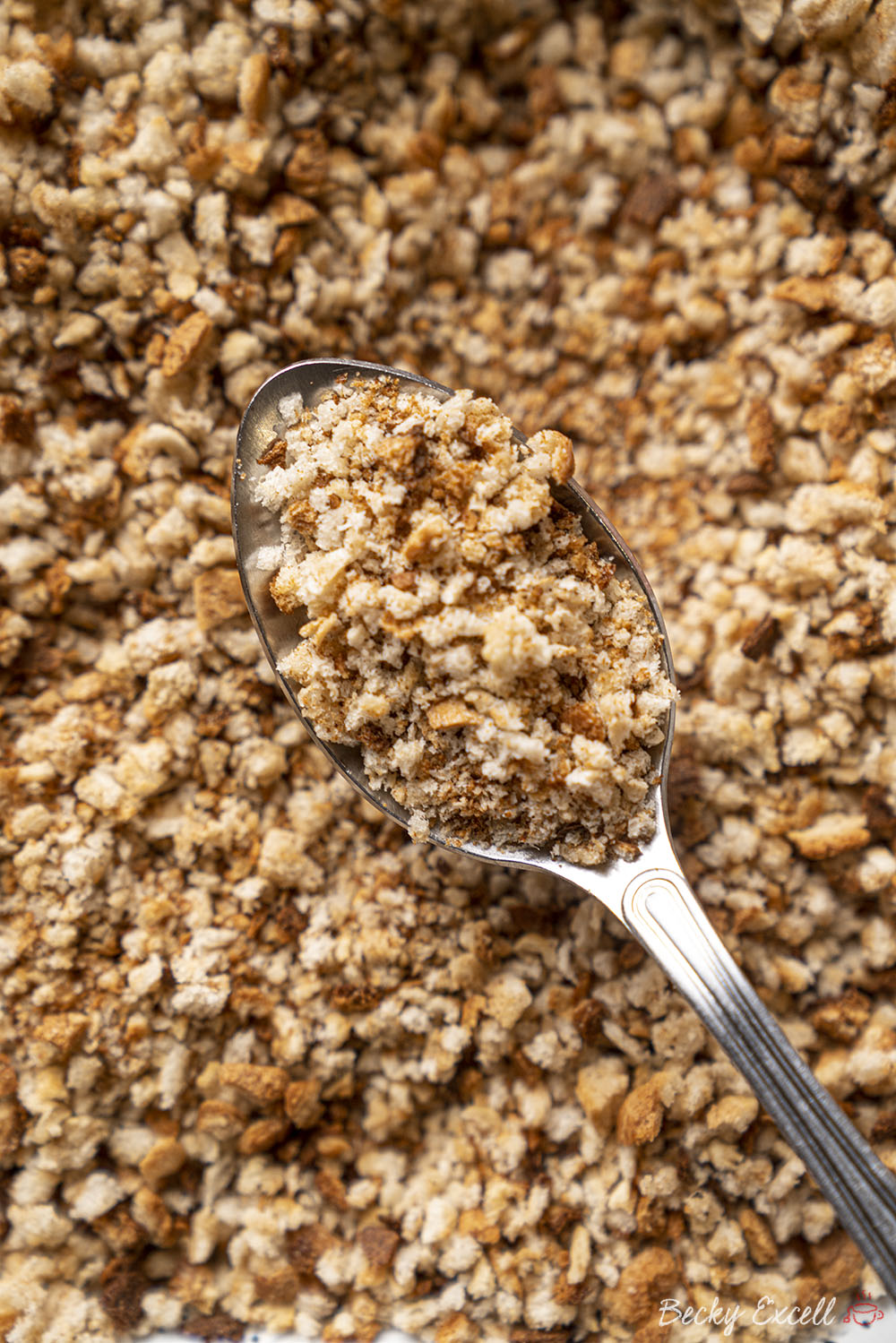 What can I make with gluten-free breadcrumbs?
A lot actually! Here's some of the common things we make at home to get you started on ideas:
How come they don't look like the breadcrumbs you buy in a packet?
Well, if you look at the ingredients on a packet of gluten-free breadcrumbs, you won't find all the ingredients of a loaf of bread.
Instead you'll find very few ingredients compared to a loaf of bread. So basically, packet breadcrumbs aren't even made from a loaf of bread!
So naturally, you won't get some lighter and darker breadcrumbs (the crust part) in packet breadcrumbs. However, they both work essentially the same.
Should I cut the crusts off before blitzing them?
If you want them to look more consistent in colour then you can always cut the crusts off, but for me it sort of defeats the point of using up stale bread to present food waste, agreed?
Plus, if you leave the crusts on, you'll get more breadcrumbs to use in total!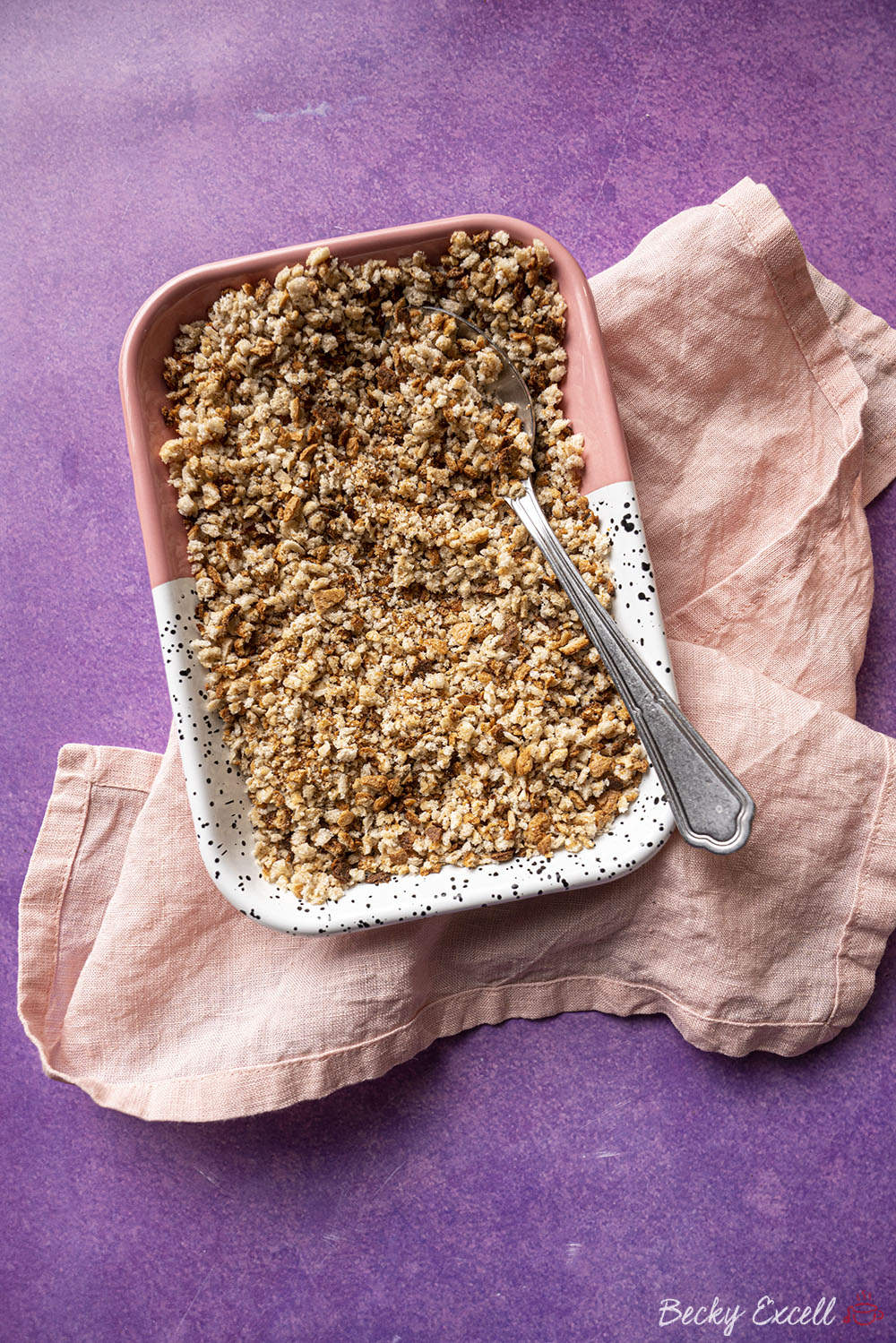 Do I need a food processor to make gluten-free breadcrumbs?
Not at all, but trust me – it helps! It's more than possible to create breadcrumbs by hand, it just takes a little more time and effort.
How fine should I blitz my gluten-free breadcrumbs in a food processor?
It's totally up to you! I opted for a little more chunky in the photos for extra crunch to emulate panko breadcrumbs, but if you'd prefer more of an even coating, you can always blitz them a little bit more.
How do I store my gluten-free breadcrumbs?
Once cooled, store in clean and dry glass jars or airtight containers for 9-12 months. If your kitchen is particularly humid, then store in the fridge if possible.
Gluten-free Breadcrumbs Recipe
Gluten-free breadcrumbs recipe – super simple to make and a great way to avoid wasting gluten-free bread and only takes 15 minutes to make.
Ingredients
5

slices

of gluten-free bread
Instructions
Toast all your slices of gluten-free bread so that they're completely golden and crisp. Lightly toasted bread won't work half as well so make sure they're as golden brown as possible… without burning them, obviously!

Once cooled, grab a large mixing bowl. Either crumble the bread by hand or you can use a food processor to whizz them into nice and even, fine crumbs.

If the breadcrumbs still feel a little soft and bread-like at this point, you can always spread them on a baking tray and briefly bake them in the oven for 5 minutes until they brown a little more.
Thanks for reading all about my gluten-free breadcrumbs recipe! If you make them, I'd love to see what you use them for so don't forget to take a snap of your creations and tag me on Instagram!
Any questions about the recipe? Please do let me know by following me on Instagram and leaving me a comment on a recent photo!
Thanks for reading,
Becky xxx
Don't forget to pin this for later!