My gluten free smoked haddock fishcakes are easy-peasy-lemon-squeezy (well, there is a wedge of lemon there!) and of course, dairy free and low FODMAP too.
What's the ultimate type of potato to create mash with? I'll wait. What do you mean that you never really stop to think about these things?! This is a very important part of my gluten free smoked haddock fishcakes recipe! Well scroll on down to find out the answer…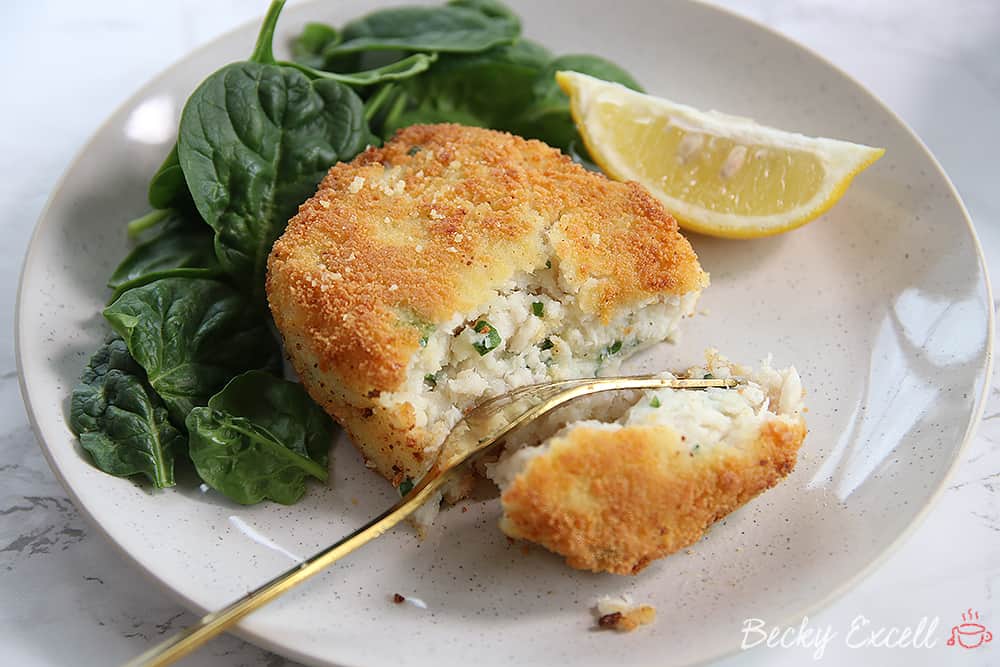 Well, I wasn't aware of this myself, but Co-op actually have a beautiful type of potato that's made for mashing: the Lilly mashing potato!
I wonder if it was named that before people discovered it was perfect for mashing? Gosh, that would have been a bit of a coincidence, wouldn't it?
They're in perfect season right now and promise to produce a beautiful, smooth and creamy texture for the perfect buttery mash. I'm already sold!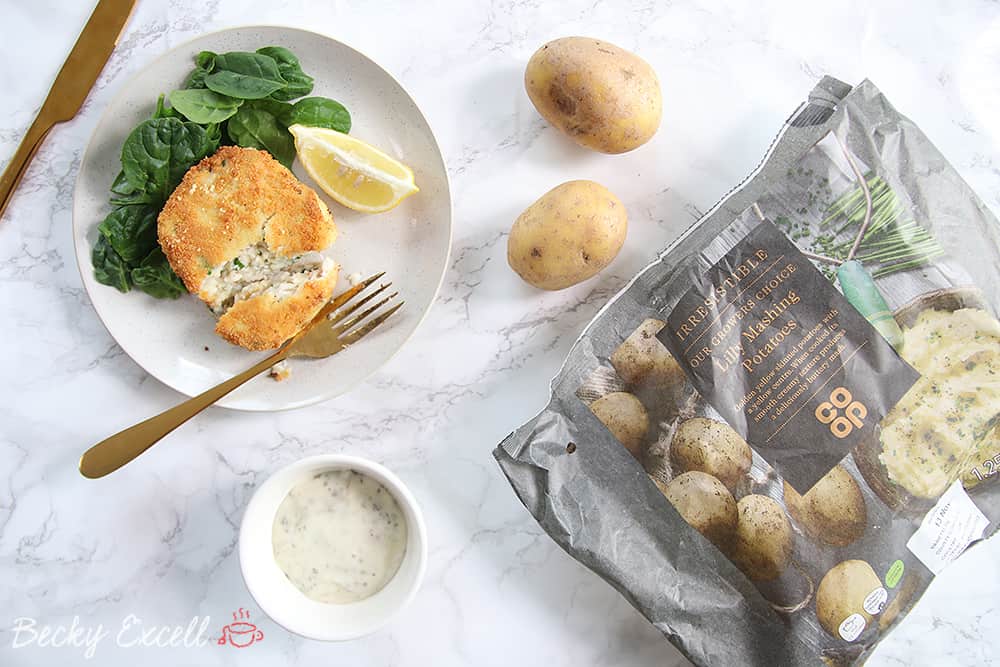 Having already given Co-op's Lilly mashing potatoes a try as mash (the mash was as smooth as velvet with no lumps!) I decided to get a little more adventurous and make my own fishcakes. Gluten free, dairy free and low FODMAP of course.
Fishcakes that both Mark and I can actually eat is very hard to come by. If it's not gluten, it'll be dairy that spoils the party and in the rare scenario where it isn't either of those, it'll be onion or garlic that rains on the parade.
But of course, everything is better homemade anyway! So I set out to make gluten free smoked haddock fishcakes that are simple to make, with velvety mash and flaky, smoked haddock. Let's do this!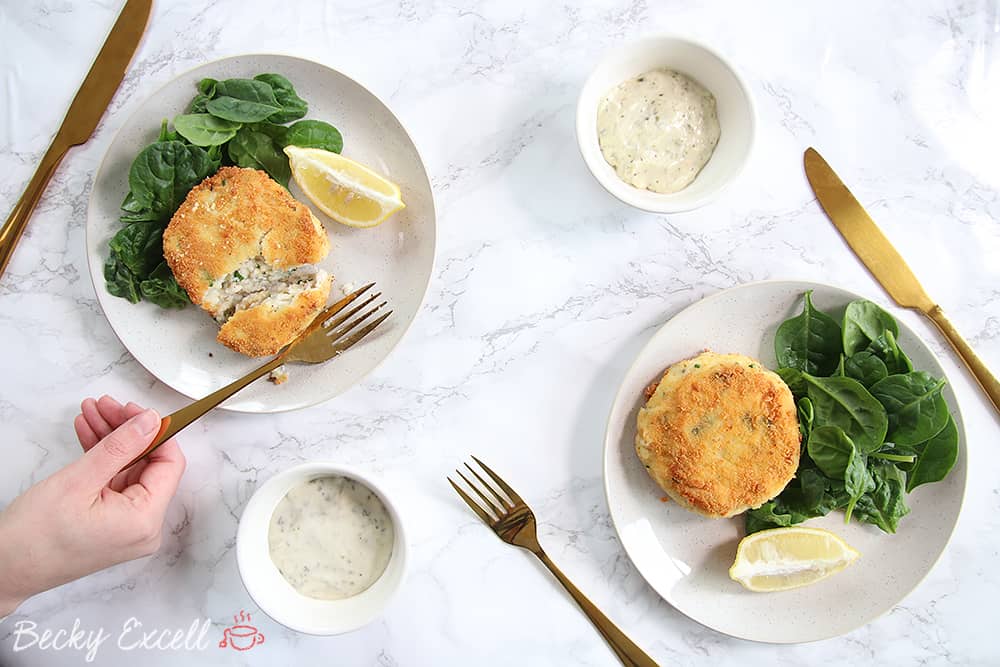 You simply peel and boil your spuds, then give 'em a good ol' mash until they're smooth and lump free! I only needed a smidgen of dairy free marg and a teeny bit of dairy free milk before they looked wonderful and 'buttery'! Don't forget your fresh chives, parsley and seasoning here too!
Then, after poaching your smoked haddock in dairy free milk, you simply flake chunks of the fish into your mash. Next simply divide it into four balls and use your hands to form your fishcake shapes. They should start to slightly resemble the shape of my gluten free smoked haddock fishcakes at this point!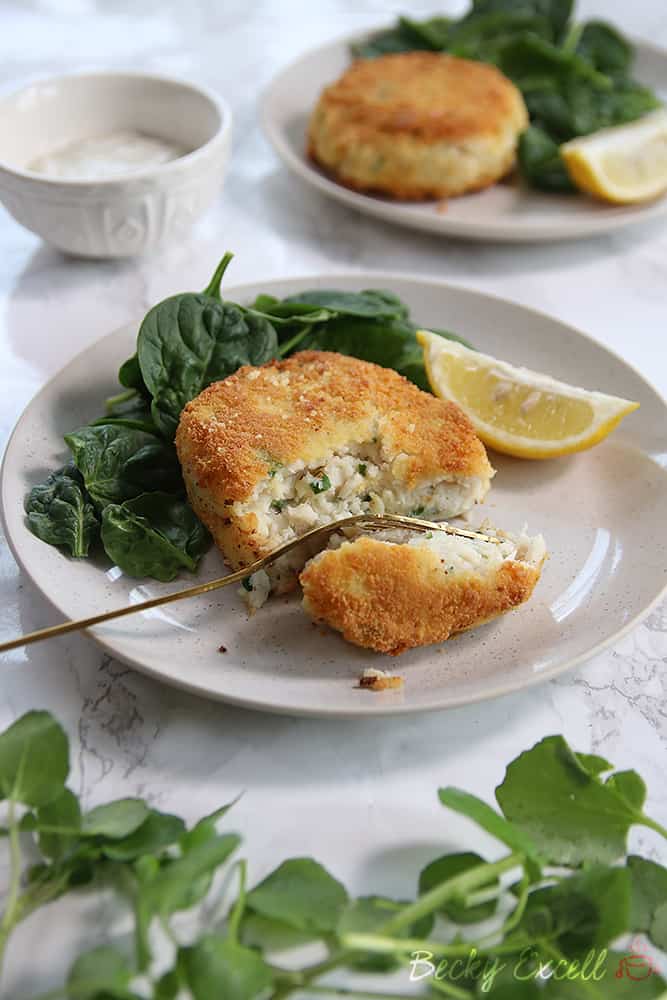 Lastly, coat your fishcake shapes with gluten free flour, then egg wash and finally, gluten free breadcrumbs. After that, both you and your fishcakes need to chill. But only one of you goes in the fridge. I'll let you decide which one that is.
After your mixture is chilled, you can simply fry in oil until golden and crispy. So simple, yet it's a midweek dinner that's healthy, with bags of flavour.
The wonderful, flakey chunks of smoked haddock work so well against the silky-smooth mash of the Lilly mashing potatoes. Then, you've got this beautiful crispy coating in every bite that tastes so much better than shop bought fishcakes (plus, if you have a stomach like me, you can actually eat my ones!)
Once you've got to grips with my gluten free smoked haddock fishcakes recipe, there's a million different possibilities you can do with it. Think of all the wonderful varieties of fish you could use alongside different herbs, spices and dips! I encourage you to take this recipe and make it your own.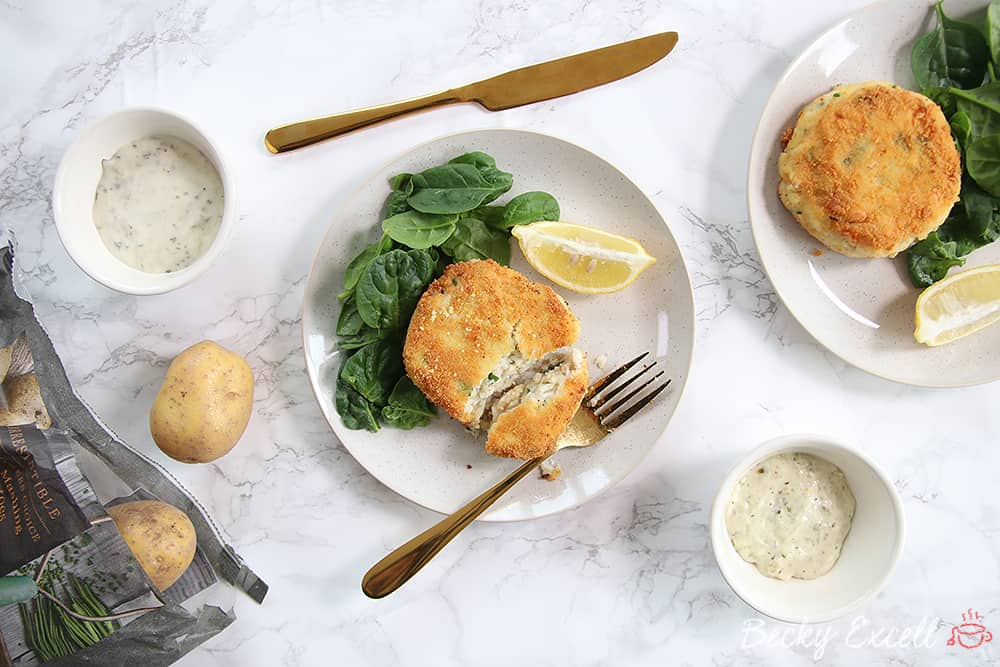 This recipe is super easy to follow, so I don't really have any sage wisdom to impart upon you in terms of making it. However, I do have one top tip for frying them up.
As your fishcakes will be about 2.5cm thick, the sides won't turn nice and golden on their own. So once your fishcakes are perfectly golden on both top and bottom, try using two spatulas (one on top of the fishcake, one underneath) to gently move your fishcake onto its side.
Make sure you support it the whole time it's frying (it'll only need about 15 seconds) and gently rotate the fishcake until all the sides are a little more golden. The job's a good'un!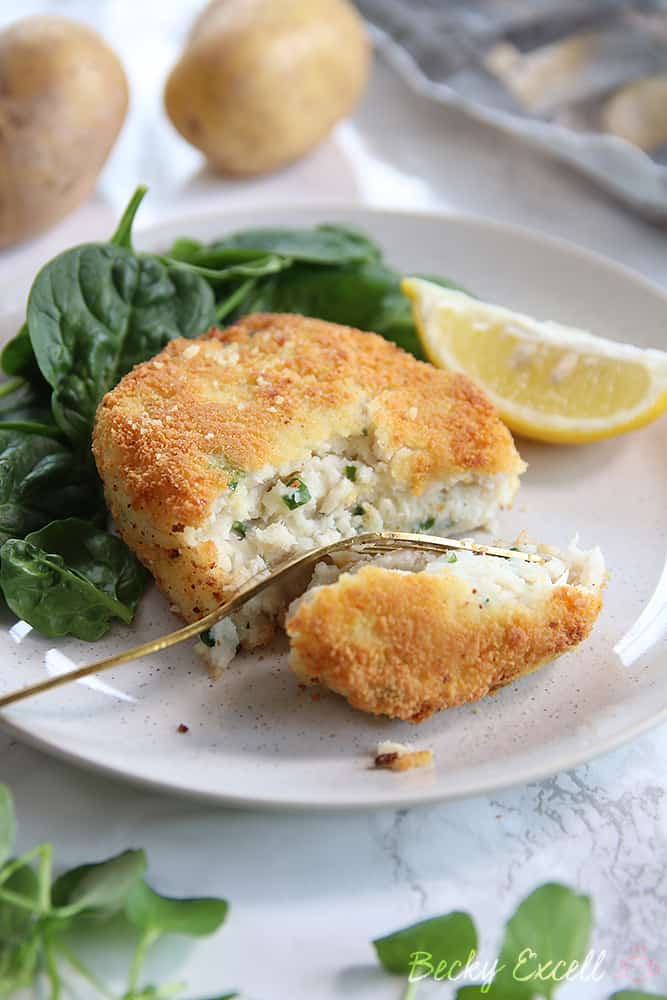 Ok, I think you're pretty well prepared to take on my gluten free smoked haddock fishcakes recipe now! Here's the full recipe…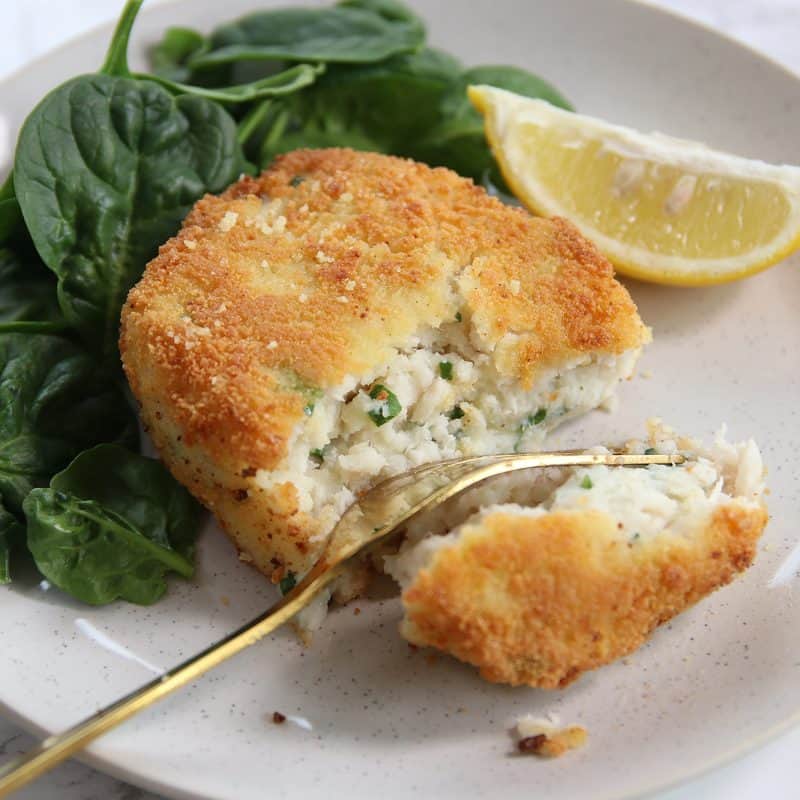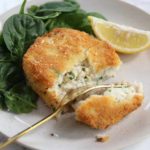 Homemade Gluten Free Smoked Haddock Fishcakes (dairy free & low FODMAP)
My gluten free smoked haddock fishcakes are easy-peasy-lemon-squeezy (well, there is a wedge of lemon there!) and of course, dairy free and low FODMAP too.
Ingredients
350g potatoes

I use the Co-op Lilly Mashing Potatoes

a little dairy free spread and dairy free milk for mashing the potatoes

450g smoked haddock

no skin or bones

3 bay leaves

150ml dairy free milk

any will do

1 tsp lemon zest

1 tbsp fresh chives

finely chopped

1 tbsp fresh flat leaf parsley

finely chopped

1 tbsp capers

chopped (optional)

2 tbsp gherkins

chopped (optional)

salt and pepper

1 egg

50g gluten free flour

just to help shape the fish cakes

85g gluten free breadcrumbs

I buy mine, but you can make your own too

vegetable oil

for frying
Instructions
Place your fish into a saucepan (or I use a cast iron casserole dish) alongside 150ml of dairy free milk, 150ml of water and your bay leaves. Make sure the fish is fairly covered. Place a lid on your pan and bring to the boil. Once boiling immediately drop the heat and simmer for around 4 minutes until the fish is cooked through. Remove your fish from the pan and leave to cool.

At the same time or afterwards, cook your potatoes. Peel, chop and boil them for around 15-20 minutes until tender. Drain your potatoes and mash them with a little dairy free spread and milk. No lumps please!

Next mix into your mash your lemon zest, chives, parsley, capers, gherkins and season with salt and pepper.

Now that your fish has cooled down flake it. Don't flake it too small, I quite like big chunks of fish.

Add the flaked fish to your mashed potato. I like to use my hands here to gently make sure the fish, potato and flavours are all well combined. Do be gentle though so you don't break the fish up too much.

If your fish and potato mixture is warm at this point, allow it to fully cool before going any further.

Spread your gluten free flour over a dinner plate, a beaten egg over another dinner plate and your breadcrumbs over a third dinner plate (also have a fourth plate ready to place your coated fish cakes on).

Now divide your fish and potato mixture into four. Using your floured plate and floured hands, shape each into a fish cake shape (about 2.5cm thick).

Place each floured fish cake onto the egg plate. Ensure it's completely coated, I use a pastry brush for the sides and top.

Next move the egg coated fish cake onto the gluten free breadcrumbs plate and completely cover the fish cake in breadcrumbs. Place your now fully prepared fish cake onto a plate and repeat with the other three.

Once all four are done and on the plate, loosely cover with clingfilm and place in the fridge for around 30 minutes (You can leave them longer if you are preparing in advance, even overnight).

When you are ready to cook, heat up a frying pan with around 4-5 tbsp of oil. Ensure the oil is nice and hot. Fry your fish cakes on a medium heat on each side for about 1-2 minutes, until golden. (Remember the fish and potato is already cooked, we are just looking to get the golden colour!)

Once both the top and bottom are cooked if you want to colour the sides a little bit more carefully get the fish cake between two spatulas and gently rotate the fishcake until all the sides are a little more golden. (It should only take about 15 seconds, but it's a slightly more delicate job!)

Repeat until all your fish cakes are cooked.

Serve up with some lemon and tartar sauce (I make my own low FODMAP version).
Thanks so much for checking out my gluten free smoked haddock fishcakes recipe! This is now a weekly staple in our household and it wouldn't be the same without my trusty Lilly mashing spuds. I just love working with fresh, beautiful ingredients in the kitchen.
Co-op Irresistible Mashing Potatoes are British potatoes and grown by a small number of carefully selected growers and are available in Co-op stores.
Did you try this recipe? Any questions? What fish should I try and make my fishcakes with next? Please do let me know by leaving a comment below or on Facebook / Twitter / Instagram!
Thanks for reading,
Becky xxx
This is a sponsored recipe with the Co-op.
Oh and don't forget to pin this for later!