15-minute sweet and sour chicken recipe – a speedy fakeaway that's ready before a real takeaway would even arrive. Nobody would ever know its healthy, Coeliac-friendly and wheat-free either!
15-minute sweet and sour chicken recipe – a sticky sweet and sour sauce, packed with tender chicken chunks, chopped pineapple and sweet pepper that's perfect with rice. The fastest fakeaway on Earth!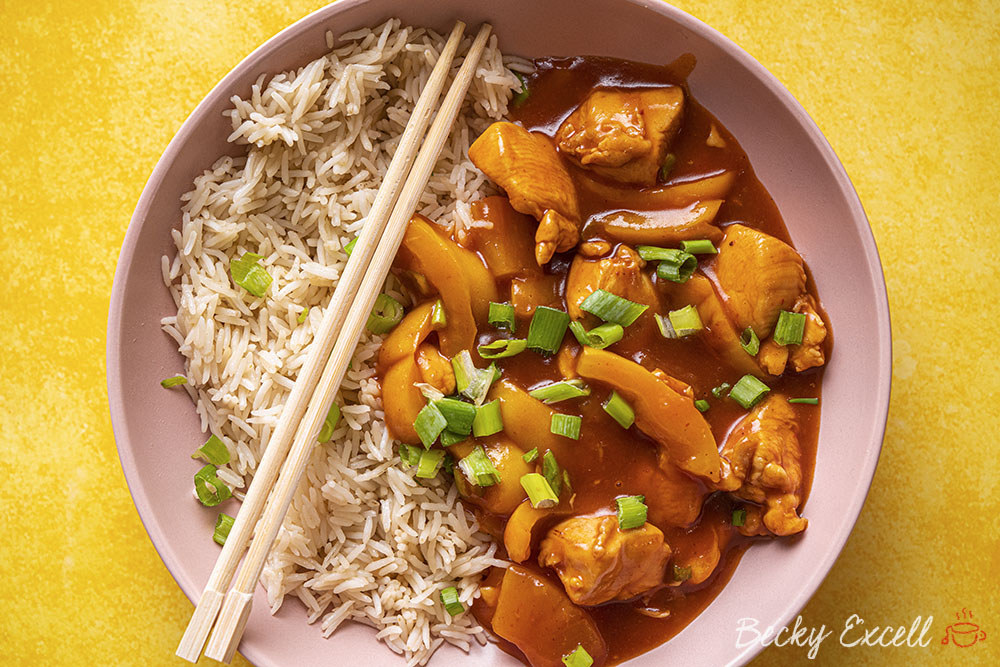 I dedicated almost the entire fakeaways chapter of my first book to recreating authentic Chinese takeaway dishes thanks to Mark's help… with the only difference being that us gluten-free folks can actually eat them!
But here on the blog, I really wanted to create quicker, healthier versions that you can whip up even at extremely short notice. And this recipe is exactly that!
Also, for us, this year has been the first year we could properly celebrate Chinese New Year with Mark's Mum (with the previous years being socially distanced or cancelled entirely). So I thought I'd create this recipe to commemorate that too.
Here's everything you'll need to make it possible – most of these are store-cupboard ingredients so once you have them, you can make this whenever you fancy.
15-minute sweet and sour chicken recipe: What you'll need…
Tomato ketchup: Tomato ketchup is a key ingredient in any good sweet and sour sauce – fortunately, it's something we always tend to have in the cupboard.
Gluten-free soy sauce: This is also sometimes known as 'tamari' and is usually stocked in the free from aisle.
Sugar: Light brown sugar works best here, but caster sugar is fine too.
Minced ginger paste: Add an instant hit of ginger flavour with no chopping required – you can usually find this in little jars next to the spices. Don't skip this!
Rice wine vinegar: Rice wine vinegar is usually stocked with all the Chinese ingredients in or next to the international section of the supermarket. This is the sour part of sweet and sour.
Garlic-infused oil: An instant injection of wonderful garlic flavour – no chopping or pre-frying of fresh garlic required. And if your garlic oil doesn't have any bits of actual garlic floating in it, then it's low FODMAP too.
Bell pepper: Any colour of pepper will do here, but this veg is particular important as it helps to flavour the sauce.
Tinned pineapple: Fresh works too, but tinned pineapple is so easy to use and often what they use in Chinese takeaways anyway.
Chicken breast:

As this is a speedy recipe, chicken breast is preferable as it cooks so quickly. There's no batter or coating on the chicken for this one, so you can simply just chop and throw into your wok.

Gluten-free plain flour: This is important to thicken the sauce, otherwise it will be very watery! I use a simple commercial blend from the supermarket but cornflour (corn starch) also works well here too.
Spring onion: The perfect finishing touch for an instant onion flavour.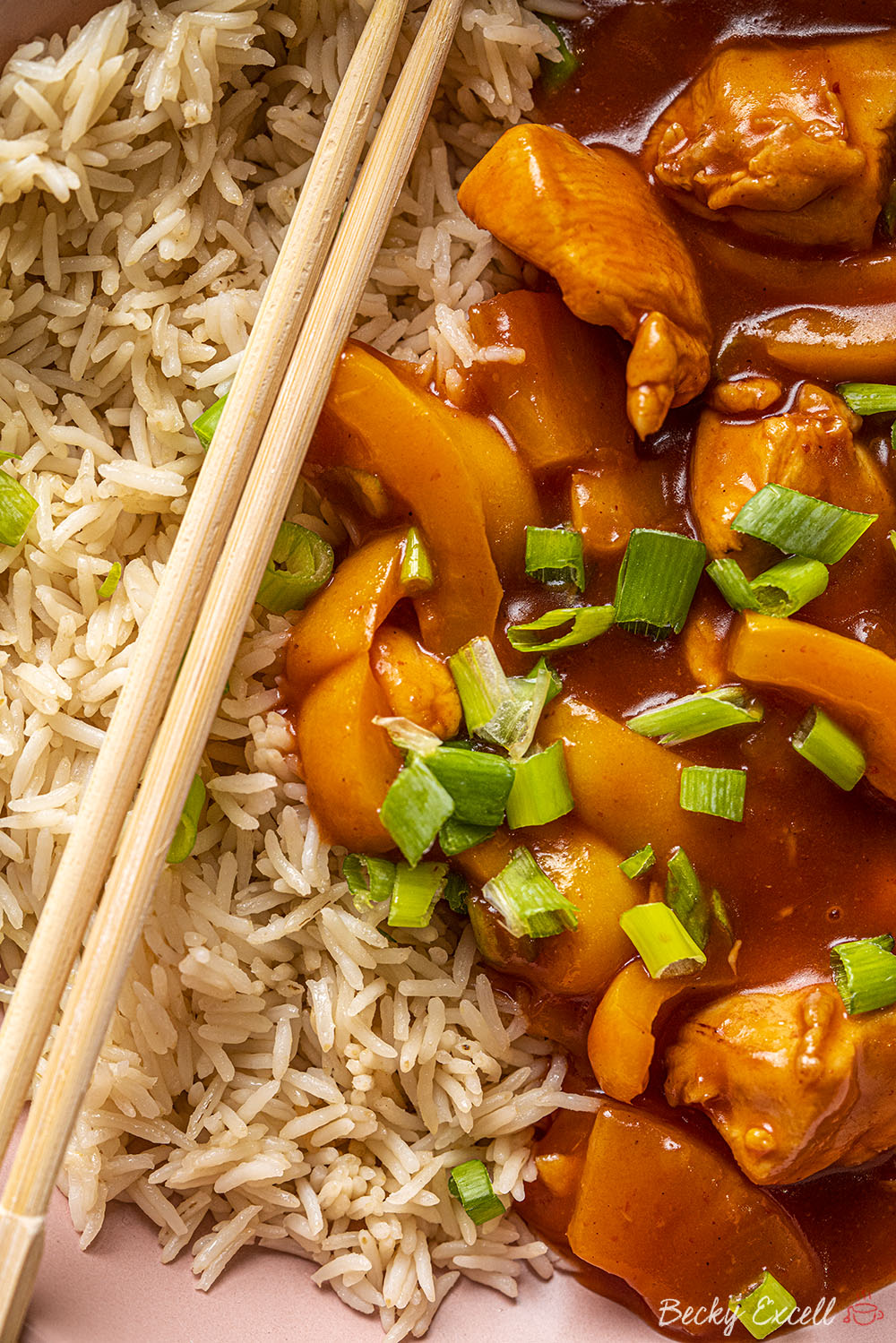 So, what does my 15-minute sweet and sour chicken taste like?
The sauce tastes erm… both sweet and sour! But most importantly, this sauce has the perfect balance of both. The chicken is wonderfully tender, with pepper that still has a little crunch and the sweet sunshine of pineapple.
Finished with spring onion greens for an instant onion flavour, this is the fakeaway dish that you need when you're in a hurry!
15-minute sweet and sour chicken recipe: Frequently Asked Questions
Can I make this recipe gluten-free? Is it suitable for Coeliacs?
It is gluten-free, though nobody would know just by tasting it – trust me!
Bear in mind that minimising cross-contamination is hugely important if you're Coeliac or making this for someone who is. Here's some tips from Coeliac UK on minimising the risk of cross contamination.
Also, make sure that all ingredients used don't have any gluten-containing ingredients. Then make sure that they also don't have a 'may contain' warning for gluten, wheat, rye, barley, oats (which aren't gf), spelt and khorasan wheat (aka Kamut).
Here's some more info from Coeliac UK on identifying safe gluten-free products.
Can I make your 15-minute chicken recipe dairy-free?
It is dairy-free!
Can I make your 15-minute sweet and sour chicken recipe vegan?
The best substitute for chicken here is extra firm tofu, cut into cubes and coated in 2-3 tbsp of cornflour. Then, simply fry in a generous amount of oil until crispy and throw into the wok when instructed to add the chicken.
Is this recipe low FODMAP?
Unfortunately, as ketchup contains a lot of concentrated tomato (which is high in Oligos-Fructans), this recipe is not suitable for the elimination phase of the low FODMAP diet even if you use a low FODMAP ketchup.
However, if you ensure your garlic oil doesn't have any bits of actual garlic floating at the bottom of the bottle and only use the green parts of the spring onion, then it'll be onion and garlic free.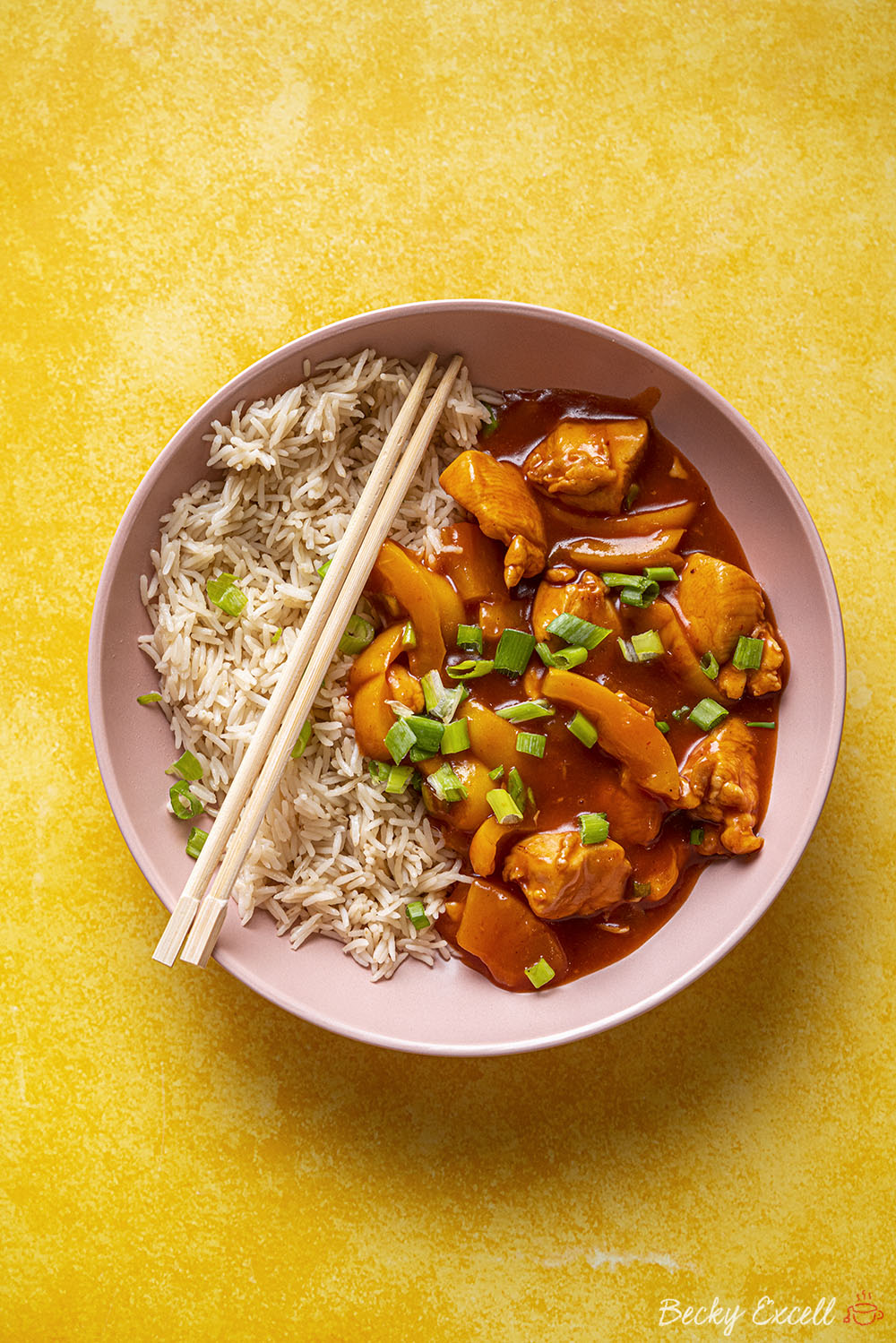 Can I use veg other than peppers?
Bell pepper is the veg of choice when it comes to sweet and sour – the flavour infuses the sauce for an extra dimension of flavour.
However, feel free to mix up what veg you put in if you'd prefer. Anything that cooks quickly in a wok works well! Here's a few alternative suggestions:
Onion, finely diced
Carrot, very thinly sliced
Mangetout
Canned water chestnuts, sliced
Can I make this using chicken thighs?
I wouldn't recommend chicken thighs for this recipe because it's cooked so quickly. Chicken thighs need a little longer to cook than chicken breast before they become lovely and tender – otherwise they can remain a little chewy.
Is this a healthy recipe?
Yes – especially when compared to battered, deep-fried sweet and sour! You guys requested more healthy, every day gluten-free dinner recipes so that's exactly what I'm going to make.
If you want to make it even healthier still, you can always:
Use a low calorie garlic-flavoured cooking spray instead of garlic oil
You might get away with reducing the sugar a little too, but don't reduce it too much – without the right amount of sugar, your sweet and sour chicken will become just 'sour chicken'!
Can I freeze your 15-minute sweet and sour chicken recipe?
Yes! Once cooled, simply portion into airtight containers and freeze for up to 2-3 months.
To reheat from frozen, defrost in the fridge overnight then reheat in the microwave until piping hot in the middle.
You can also store this in the fridge for 3-4 days and microwave until piping hot too.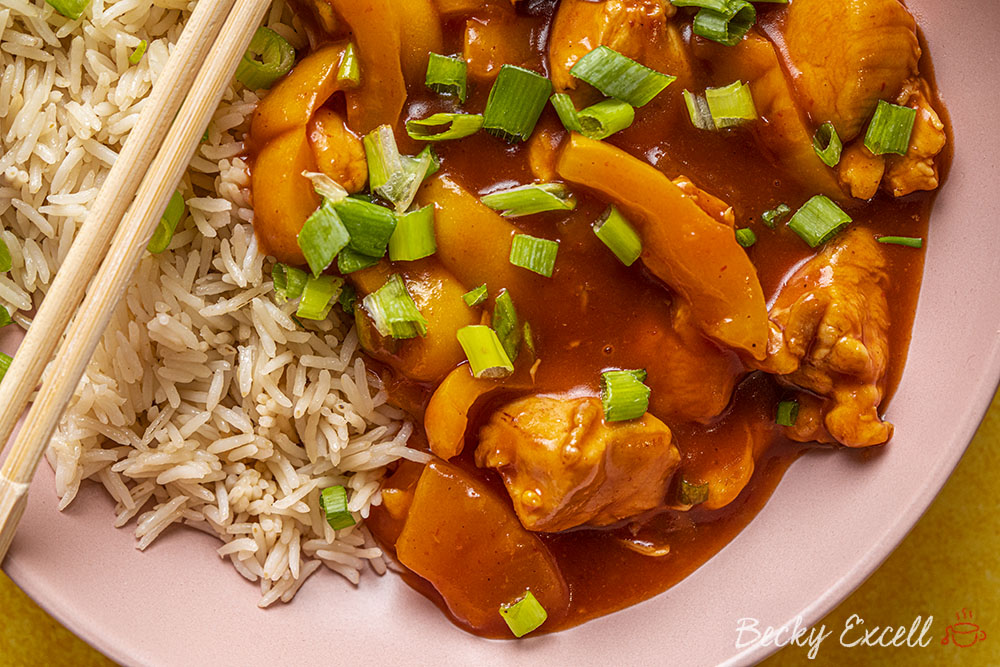 15-minute sweet and sour chicken recipe: Tips for quick and easy prep + cooking
Get the sauce mixed before you start. Trust me, it makes cooking feel a lot easier.
Chop all the veg whilst the oil is heating and the chicken whilst the veg is frying. A little multitasking goes a long way in speedy cooking! Don't forget to get your stock ready before you need it too.
Only fry the chicken until it's sealed, not golden brown. 'Sealed' means that you fry it until it's completely white on the outside, but likely raw in the middle. If you cook it through too much when frying, it can become dry whilst the sauce thickens.
Use a large wok to make this, if possible. If there's more space in the pan, everything will cook quicker and cooking in a wok always results in better flavour.
Prepare whatever you're serving this dish with ahead of time. If serving with rice, put it on before you start cooking this – the same goes for rice too. A microwave packet of rice makes this part even easier and quicker too.
15-Minute Sweet and Sour Chicken Recipe
15-minute sweet and sour chicken – a speedy, healthy fakeaway that's ready before a takeaway would even arrive! Gluten-free + Coeliac-friendly
Ingredients
For the sauce:
100

g

tomato ketchup

1

tbsp

gluten-free soy sauce

80

g

sugar

light brown or caster

1

tbsp

minced ginger

2

tbsp

rice vinegar

230

ml

water
For the rest:
2

tbsp

garlic oil

1

pepper

chopped (any colour!)

150

g

pineapple

chopped (tinned or fresh)

250-300

g

chicken breast

chopped

1

tbsp

gluten-free plain flour

spring onion greens

chopped
Instructions
Mix the sauce ingredients together in a bowl, and put to one side.

Heat garlic oil in a wok and once at a medium to high heat add in the pepper, fry for a couple of minutes.

Pop in the pineapple and fry for a further minute or two.

Add in your chicken and cook till sealed.

Sprinkle in your gluten-free flour and mix.

Add in your sauce and allow to simmer so it thickens up.

Finish with spring onion greens and serve up with rice.
Thanks for reading all about my 15-minute sweet and sour chicken recipe! If you make it, I'd love to see how it turned out so don't forget to take a snap of your creations and tag me on Instagram!
Any questions about the recipe? Please do let me know by following me on Instagram and leaving me a comment on a recent photo!
Thanks for reading,
Becky xxx
Don't forget to pin this for later!