Sweet potato fritters recipe – oven-baked so no need to fry and only asks for 15-20 minutes of effort + baking time. Nobody would ever know they're, Coeliac-friendly and wheat-free either!
Sweet potato fritters recipe – super crispy, packed with flavour and the star of any breakfast, brunch, lunch or dinner. How you serve them up is entirely up to you!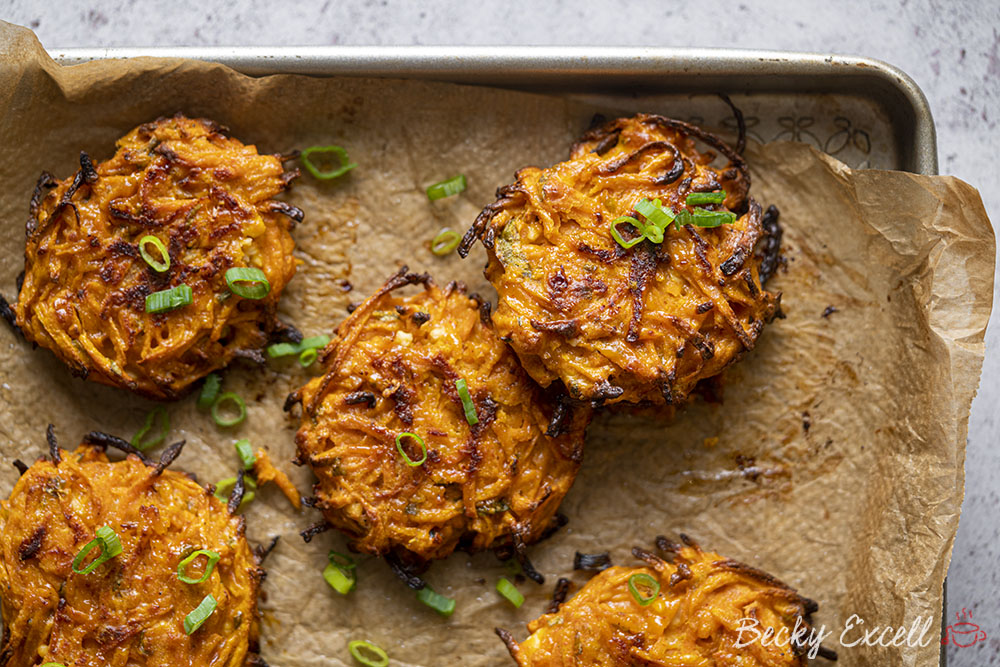 Dip them, stack them, top them… eat them!
Yep, sweet potato fritters are the answer in all those situations where you're hungry but not quite sure what to make.
Why? Because you can serve them with anything! Either as a side, or as part of your main dish with additional topping – it's up to you!
Sweet potato fritters recipe: What you'll need…
Sweet potato: I used two medium sized ones, peeled them and 'grated' them using the grating attachment of my food processor. If you don't have a food processor, a box grater will work fine, it just takes a little more time and effort.
Feta: The tangy, creamy flavour of feta works so well with sweet potato and is super easy to crumble into the fritter mixture.
Spring onion greens: A quick and easy way to add an instant pang of sweet onion flavour. Use only the greenest parts if low FODMAP.
Smoked paprika: Smoked is preferable as it adds an extra flavour element, but non-smoked works fine too.
Garlic-infused oil: An instant injection of wonderful garlic flavour – no chopping or pre-frying of fresh garlic required. And if your garlic oil doesn't have any bits of actual garlic floating in it, then it's low FODMAP too.
Dried chilli flakes: We're not trying to make these super spicy, but a little heat against the creamy feta and sweetness of the sweet potato is divine!
Eggs: This is important for binding everything together – medium or large eggs work fine.
Gluten-free plain flour: This combines with the egg to form a batter which binds everything together. I use a simple commercial blend from the supermarket.
Vegetable oil: If you've got yours in a spray bottle, that would be very handy! It'll mean you can spray your tray to ensure it's completely covered and use less to do so.
Salt and pepper: A little seasoning goes a long way when cooking from scratch, so please don't forget these! Feta is naturally salty, so a pinch of salt is usually enough.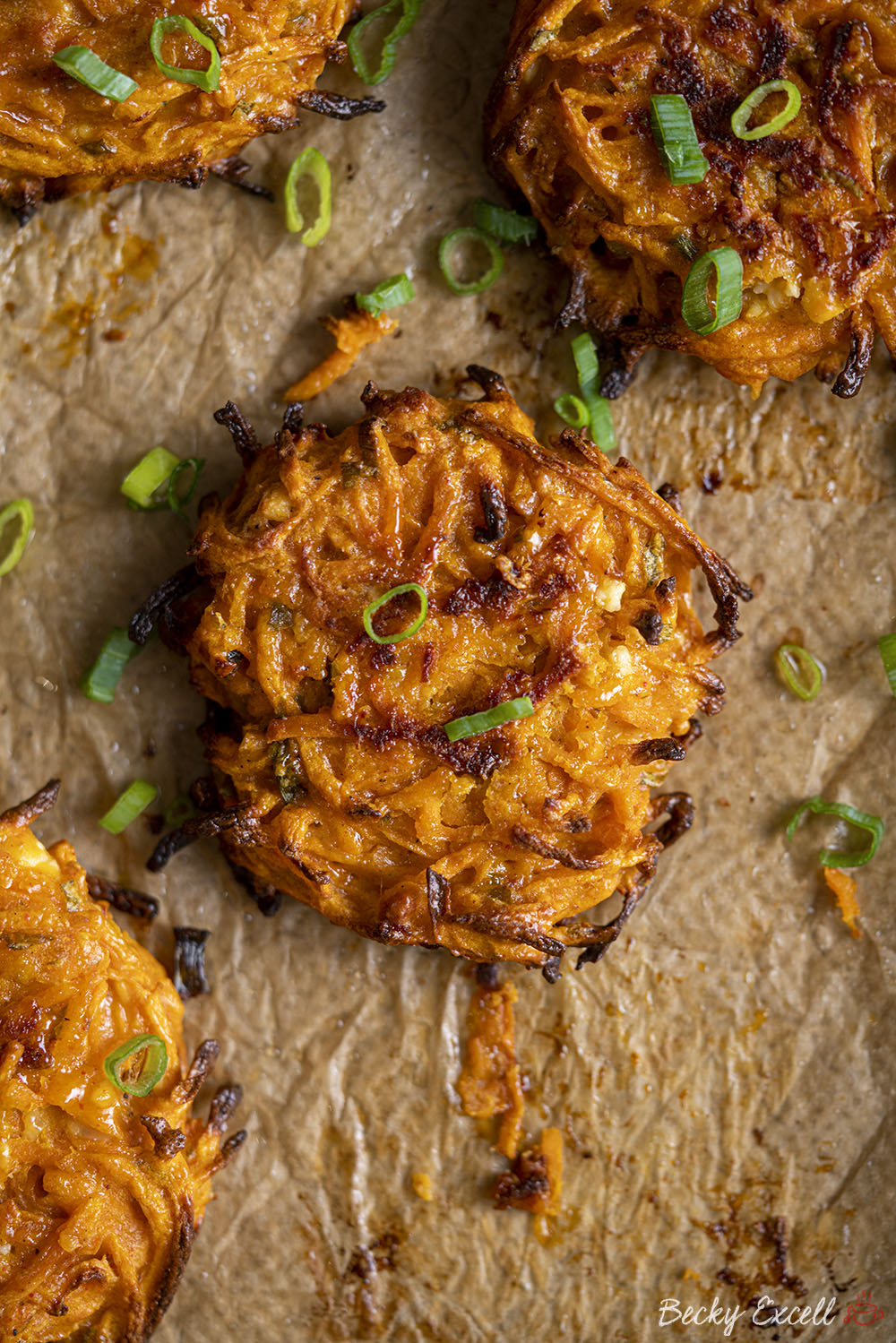 So, what do my sweet potato fritters taste like?
The outside is super crispy and crunchy, yet the inside is soft and fluffy – a little like an onion bhaji in terms of texture.
In terms of taste however, it's a whole different universe. It's subtle sweet and creamy, yet with an indisputable savoury flavour thanks to the tangy cheese flavour, garlic oil, sweet spring onions and mild heat.
When dipped into garlic mayo, the combo is simply divine!
Sweet potato fritters recipe: Frequently Asked Questions
Can I make this recipe gluten-free? Is it suitable for Coeliacs?
It is gluten-free, though nobody would know just by tasting it – trust me!
Bear in mind that minimising cross-contamination is hugely important if you're Coeliac or making this for someone who is. Here's some tips from Coeliac UK on minimising the risk of cross contamination.
Also, make sure that all ingredients used don't have any gluten-containing ingredients. Then make sure that they also don't have a 'may contain' warning for gluten, wheat, rye, barley, oats (which aren't gf), spelt and khorasan wheat (aka Kamut).
Here's some more info from Coeliac UK on identifying safe gluten-free products.
Can I make your sweet potato fritters recipe dairy-free?
Easily, with one simple swap:
That's it!
Can I make your sweet potato fritters recipe vegan?
Follow the steps above to make this dairy-free, then all you've got to do next is substitute the egg. Simply use:
3 tablespoons of aquafaba, pre-whisked until frothy. Aquafaba is simply the water from a can of chickpeas. Keep the chickpeas for a future dinner!
Is this recipe low FODMAP?
Yes! The low FODMAP serving size for this recipe would be 4 fritters which would make it safe for the elimination phase of the diet.
Just ensure that you only use the greenest parts of the spring onions and that your garlic-infused oil doesn't have any bits of actual garlic in it – it should be completely clear.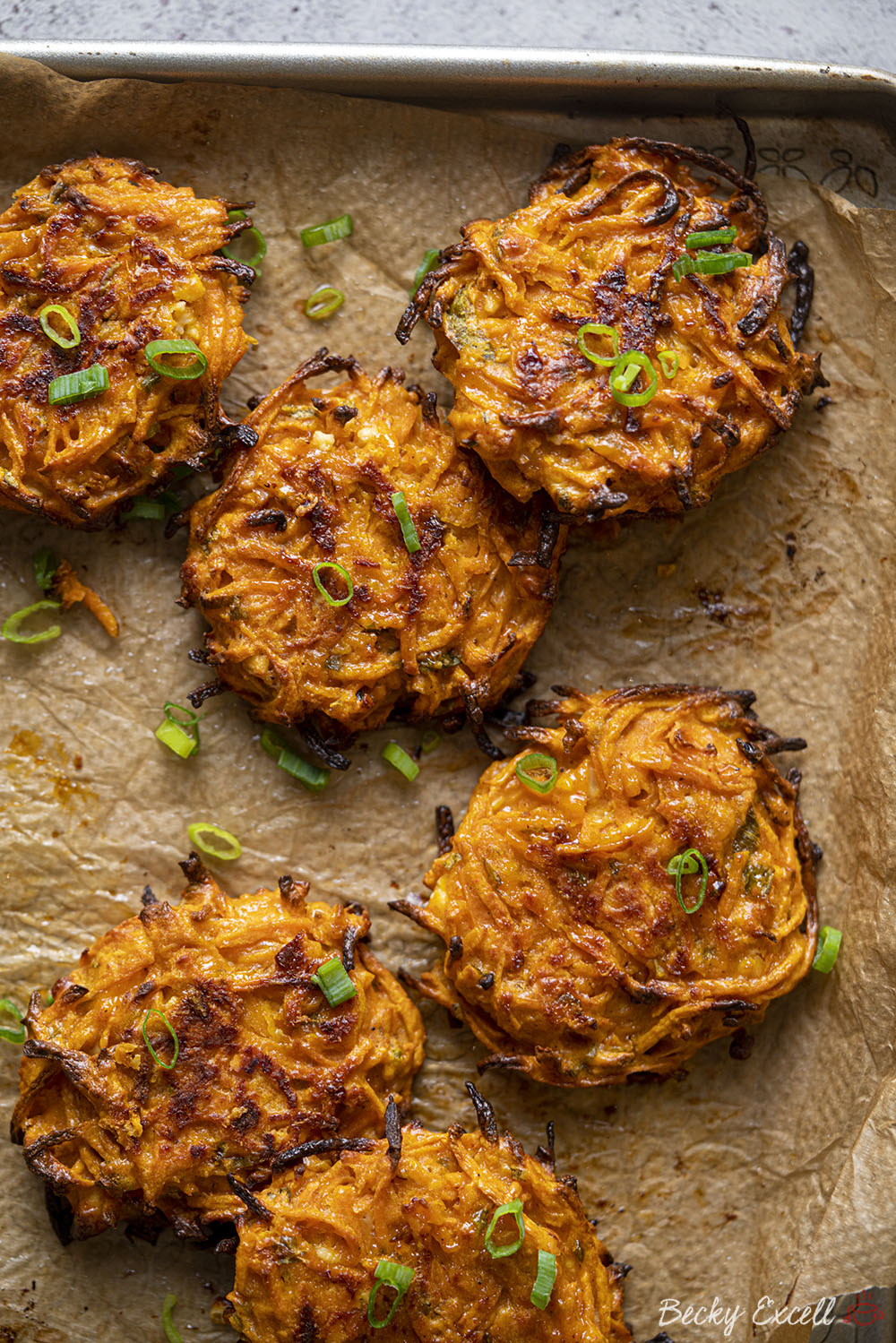 Can I use cheese other than feta?
Yes, but for harder cheese (like cheddar or halloumi) you'd need to grate it first instead of crumbling it in.
However, I wouldn't recommend using soft cheese as this would make the fritter batter too messy and wet to easily handle.
Is this a healthy recipe?
Yes! Instead of frying these fritters, I made sure they were completely oven-baked. Plus, feta has lots of health benefits too.
What should I serve with my sweet potato fritters?
Start simple by serving with your favourite dips – such as sweet chilli sauce, garlic aioli or spicy ketchup.
Serve for breakfast with poached eggs and smashed avo or whip up for lunch and treat them like falafel with gluten-free pittas and hummus.
For dinner, simply serve as a side all stacked up, or serve with your choice of protein on top and salad or steamed veggies on the side.
This. isjust a few examples off the top of my head – you can serve them with almost anything, for any meal!
Can I freeze my sweet potato fritters?
Yes! Once cooled, simply pop into airtight containers and freeze for up to 2-3 months.
To reheat from frozen, defrost in the fridge overnight then reheat in the oven a lightly greased baking tray until crisp on the outside.
You can also store this in the fridge for 3-4 days and reheat as described above.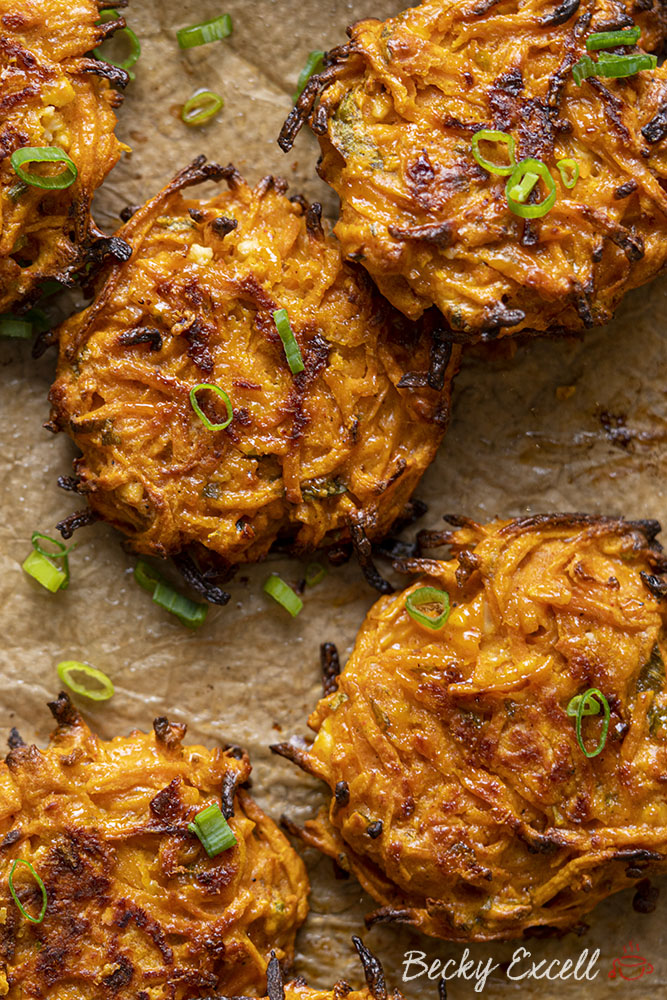 Sweet Potato Fritters Recipe (oven-baked)
Sweet potato fritters recipe – oven-baked and super easy to make. Nobody would ever know they're gluten-free and Coeliac-friendly too!
Ingredients
2

medium sweet potatoes

around 300g once peeled and grated

100

g

feta

crumbled (use dairy-free feta alternative if necessary – linked in FAQ section)

Handful of spring onion greens

finely chopped

1-2

tsp

smoked paprika

1

tsp

garlic-infused oil

1/4

tsp

dried chilli flakes

optional

3

medium eggs

80

g

gluten-free plain flour

Vegetable oil

in a spray bottle is ideal
Instructions
Preheat the oven to 200C fan / 220C.

Peel your sweet potatoes and grate them. You can also use a food processor attachment that helps with the grating if you have one!

Squeeze out as much liquid as you can from the grated sweet potato and place into a large bowl.

Add the crumbled feta, spring onion greens, paprika, garlic oil and chilli flakes. Mix together.

Beat 3 eggs and add them to the mixture alongside the gluten-free flour. Mix once more to fully combine everything.

️Use your hands to form round patties and place them on a baking tray (it can be a little messy!) lined with non-stick baking paper and sprayed lightly with vegetable oil. You can then spray the patties lightly on top too if you wish.

️Bake in the oven for 25-30 minutes until they have a crisp outer and are cooked through. I like to flip mine over half way through as well so that both sides can have lots of colour.

Serve up for brunch, lunch, dinner or as a snack with a dip!
Thanks for reading all about my sweet potato fritters recipe! If you make it, I'd love to see how it turned out so don't forget to take a snap of your creations and tag me on Instagram!
Any questions about the recipe? Please do let me know by following me on Instagram and leaving me a comment on a recent photo!
Thanks for reading,
Becky xxx
Don't forget to pin this for later!