Mark first made me this wonderful gluten free herb-crusted cod a few months ago and we've never looked back. We usually opt for the simplicity of cooking pan-fried seabass or salmon grilled to crispy perfection, but when opting for cod and haddock, a little extra love is definitely required.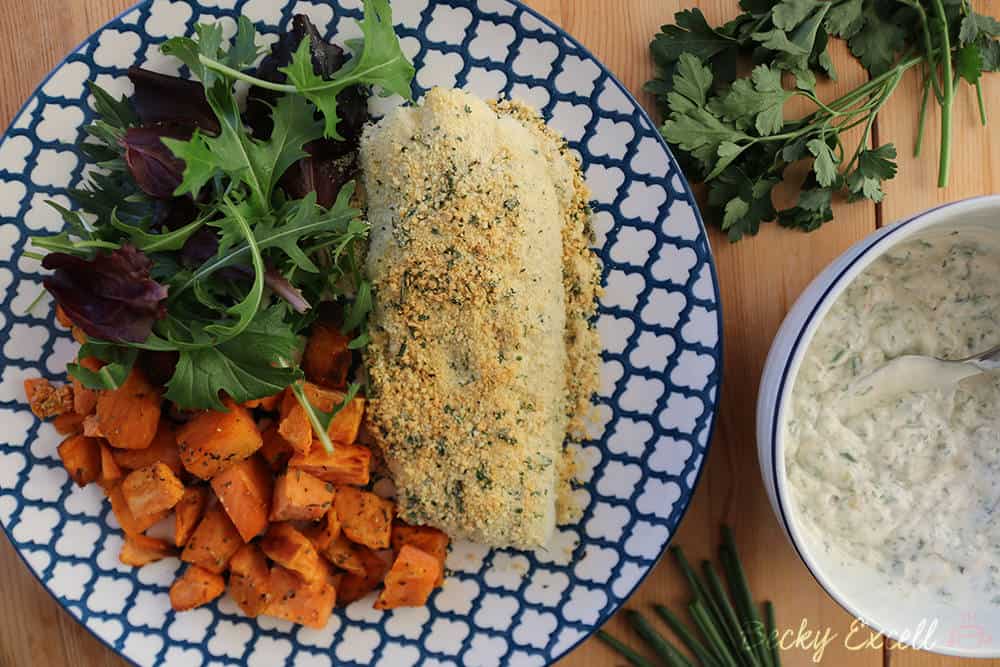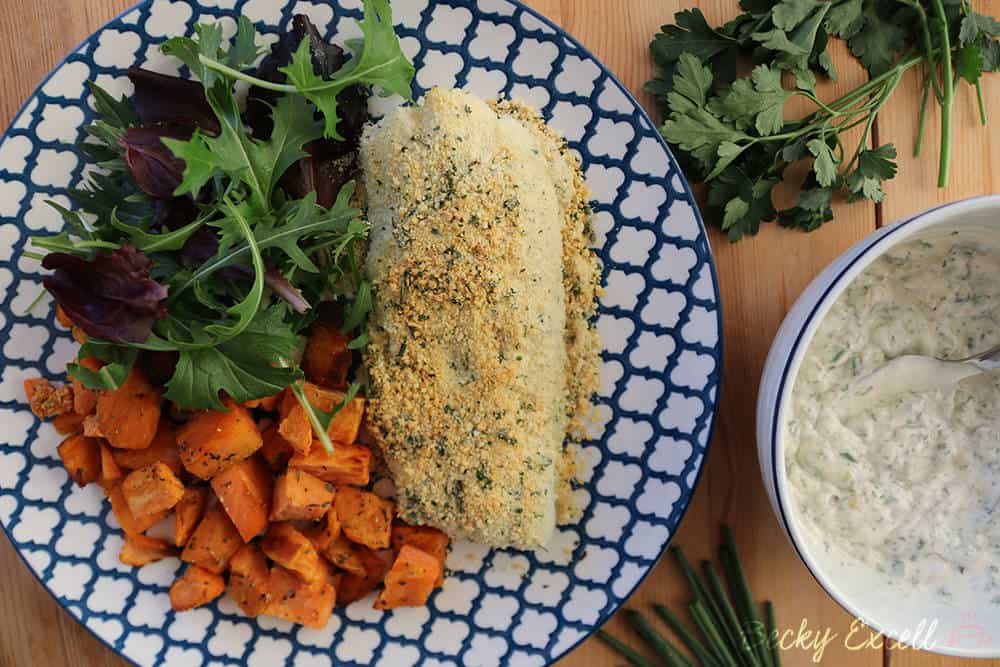 You rarely see cod or haddock outside of battered fish and chips, but Mark was determined to put it back on our menu one way or another – and here we are! Our gluten free herb-crusted cod is so quick and easy to throw together and the herb crumb goes well with pretty much any white fish, as well as salmon too. However, the go-to fish of choice for this dish for us has always been a cod or haddock fillet (skin entirely optional but trust me, it's beautiful on haddock) as the slightly more subtle flavour is brought out so well by the golden, herby gluten free breadcrumbs. I'm sure you won't be surprised to hear that our gluten free herb-crusted cod has been a weekly occurrence ever since the first! We usually serve it up with roasted sweet potato cubes, seasoned with mixed herbs, garlic-infused olive oil and salt and pepper.
Cooking from scratch is a daily occurrence too in our household as the ever-growing list of things that my stomach refuses to tolerate seems to continually grow day by day. Whilst you may know me as Gluten Free Cuppa Tea, I may as well be called Low FODMAP Cuppa Tea as well these days (doesn't quite have the same ring to it, does it?) That means, no onion, no garlic, amongst a bunch of other things that you won't find in this dish, or even in my homemade tartar sauce. Over the two years, me and Mark have learned of the beauty that is garlic-infused olive oil (instead of using garlic) and fresh chives (instead of onion). It's this life-changing discovery that lead to the creation of our super quick low FODMAP tartar sauce too!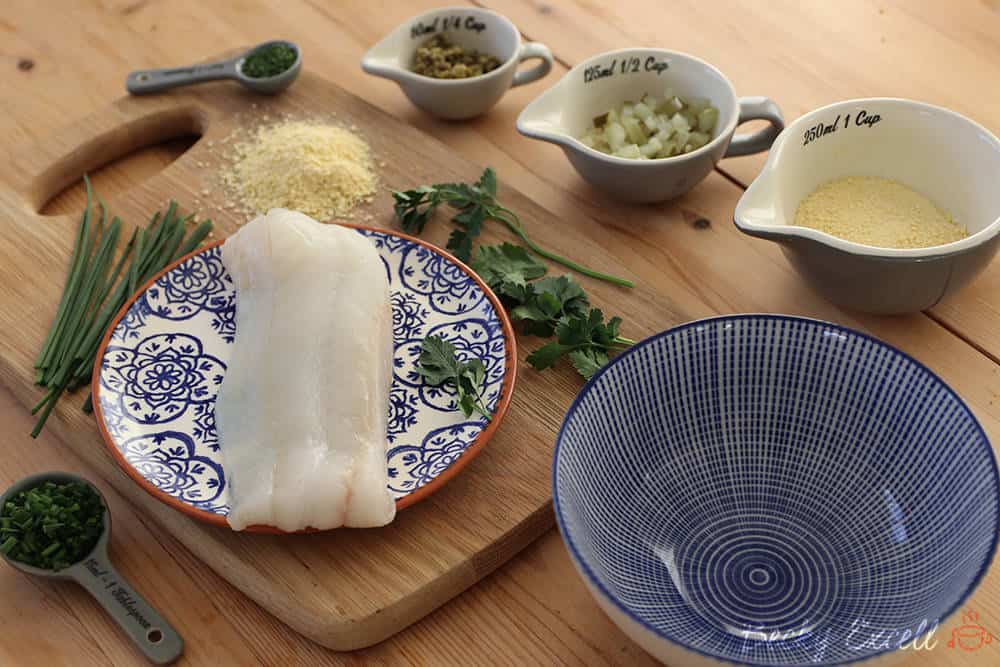 Whilst shop bought tartar sauce can sometimes be free of gluten (but maybe not gluten free), you'll often find garlic and a bunch of added sugar too which always doesn't agree with me too well. Mark, being the amazing boyfriend he is, of course couldn't make me gluten free herb-crusted cod without also providing me with tartar sauce… "It'd be a crime!" he said and I totally agree. So that's how our super quick tartar sauce was first created. I say 'super quick' because making tartar sauce 100% from scratch not only takes bloody ages, but it's also totally unnecessary. We simply add a few freshly chopped ingredients to a healthy dose of dairy-free mayonnaise and boom – you've got low FODMAP, low sugar tartar sauce in under 5 minutes.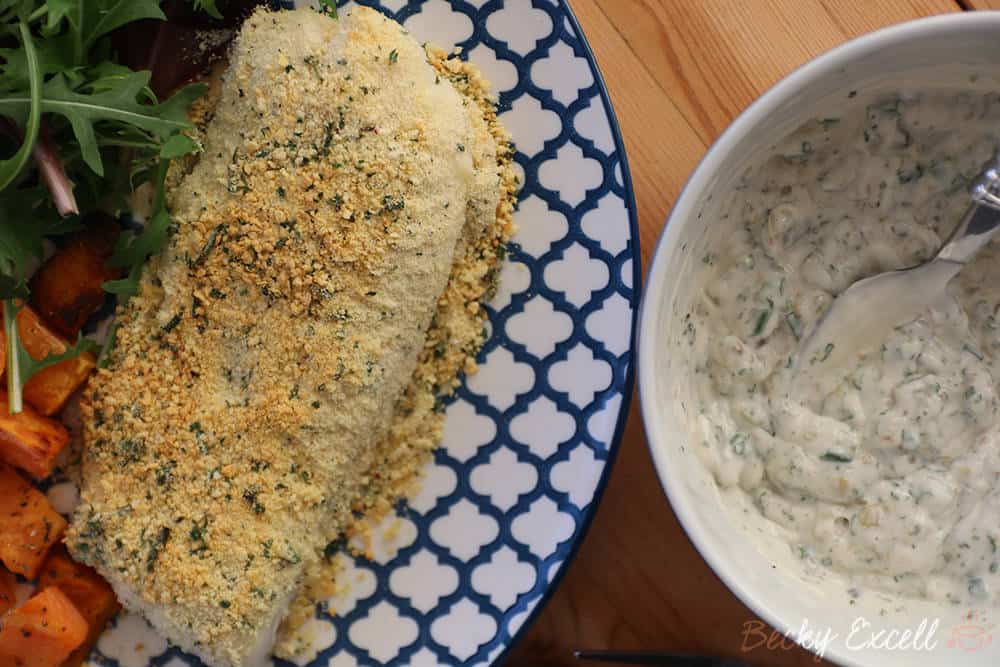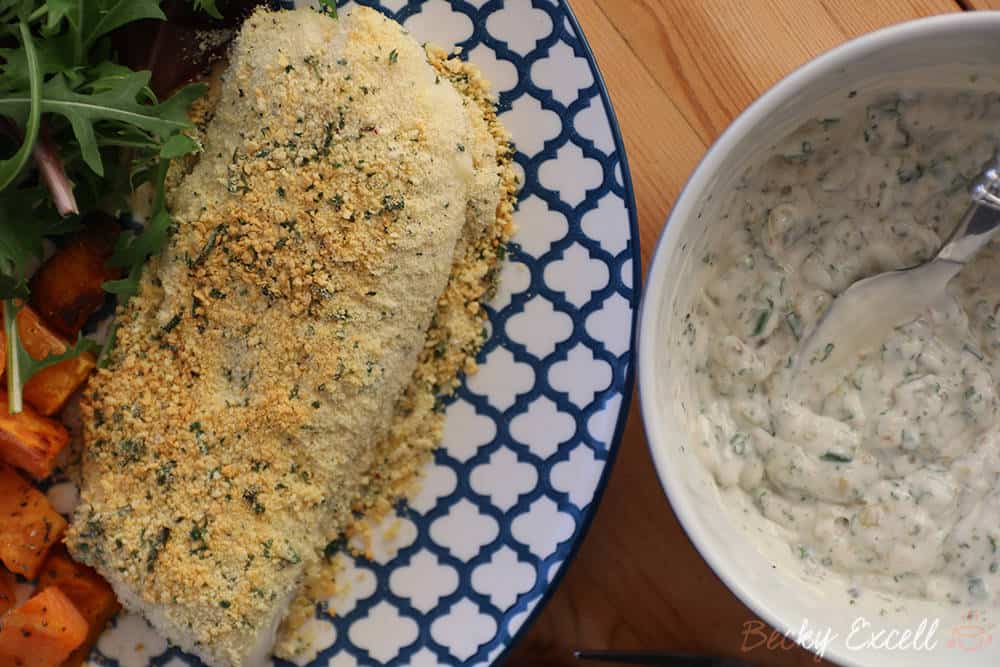 Since the same herbs are used in both the gluten free herb-crust and the low FODMAP tartar sauce, preparation is pretty simple. Once you've then chopped up some capers and gherkins too, your prep is all done! That just leaves you needing two bowls: one to mix the gluten free breadcrumbs and herbs, using the other to mix together the mayonnaise, herbs and gherkins/capers. A lot of people don't know this, but I run my blog alongside a full-time 9-5 job so cooking has to always be quick and convenient for me, even when cooking (almost) from scratch! Anyway, here's the recipe and I hope you enjoy it as much as Mark and myself do every week.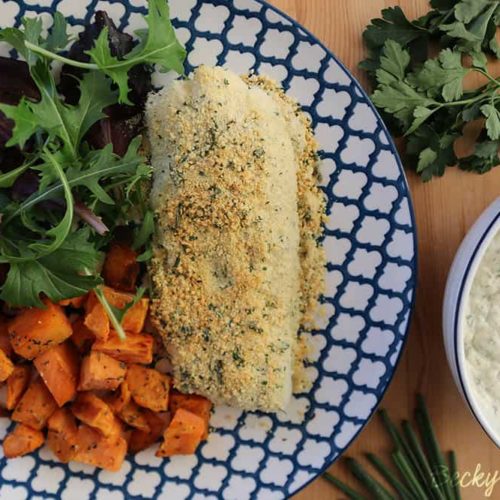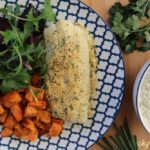 Gluten Free Herb-Crusted Cod with homemade Tartar Sauce.
Gluten free, dairy free, low FODMAP.
Ingredients
For the gluten free herb crusted fish
2 cod/haddock fillets

3 tsp dried parsley

2 tbsp freshly chopped chives

40g of gluten free breadcrumbs

1/2 tsp pepper

1 tsp salt

Drizzle of garlic-infused olive oil
For the tartar sauce
200g mayonnaise

ensure it's dairy free & low sugar

1 tsp dried parsley

1 tsp chopped chives

2 tbsp chopped capers

2 tbsp chopped gherkins

1 tsp garlic-infused olive oil
Instructions
Start by finely chopping the chives, capers and gerkins.

Grab a bowl and begin to combine the ingredients for your gluten free herb crust. Add the breadcrumbs, dried parsley, fresh chives, salt and pepper to your bowl and mix thoroughly.

Take your fish fillet and coat both sides in garlic-infused olive oil and place onto a baking tray.

Lightly dust your gluten free herb crust mixture on top of the fish fillet.

Bake in the oven for a strict 12 minutes at 200 degrees fan.

While your fish is in the oven, it's time to make your tartar sauce! Grab another bowl and add the capers, gerkins, dried parsley and chives before adding in your mayonnaise and garlic-infused olive oil. Mix thoroughly and set aside until serving.

After 12 minutes, remove your fish from the oven and plate up. I usually serve mine with roasted sweet potato cubes seasoned with salt, pepper and mixed herbs as well as a little extra garlic-infused olive oil.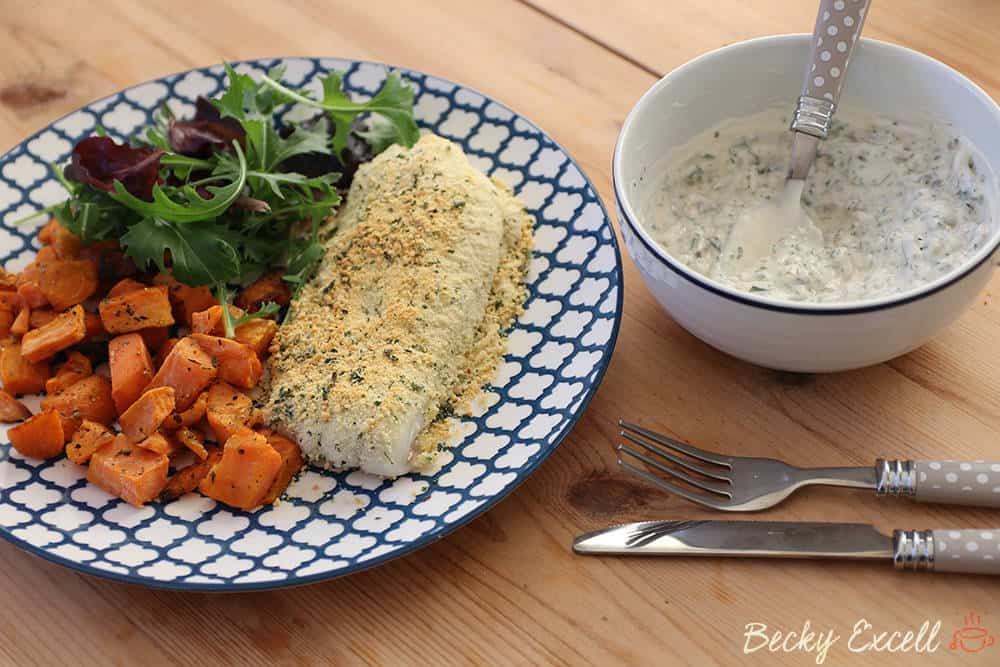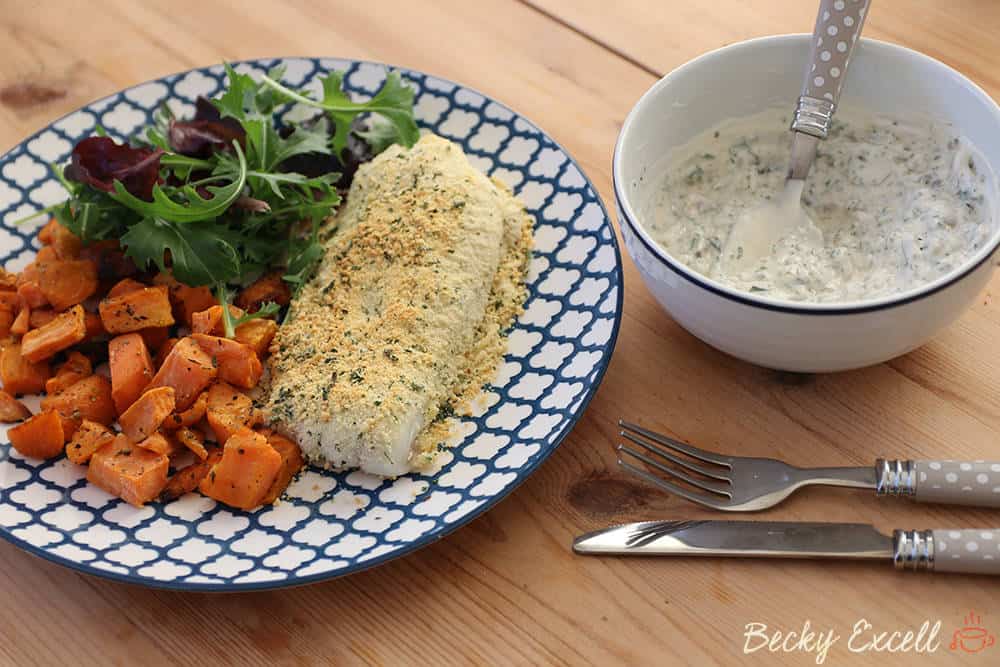 So thanks for stopping by to take a peek at my gluten free herb-crusted cod (or haddock!) recipe. I can't emphasise enough how quick and easy this is to make and I guess that's what I want to do with my blog… just try and prove that cooking allergen-friendly and low FODMAP food doesn't have to be any more awkward or time consuming than cooking 'normal' food! Please do let me know if you try this recipe by leaving a comment below, or on Facebook/Twitter and I'll try my best to answer any questions you may have too 🙂
Thanks for reading,
Becky xxx
Oh, and don't forget to pin this before you leave 🙂