My gluten free Katsu curry recipe was inspired by my first ever trip to Wagamama yeeeeears ago. Sadly, I can't eat gluten anymore, so I thought it was time to make my own version – gluten free, low FODMAP and dairy free!
Wow, it's been FIVE YEARS years since I first posted my gluten free Katsu curry recipe on the blog. So in 2019, I thought it was time for an update… Well, same recipe as always – but with updated photos! What do you think?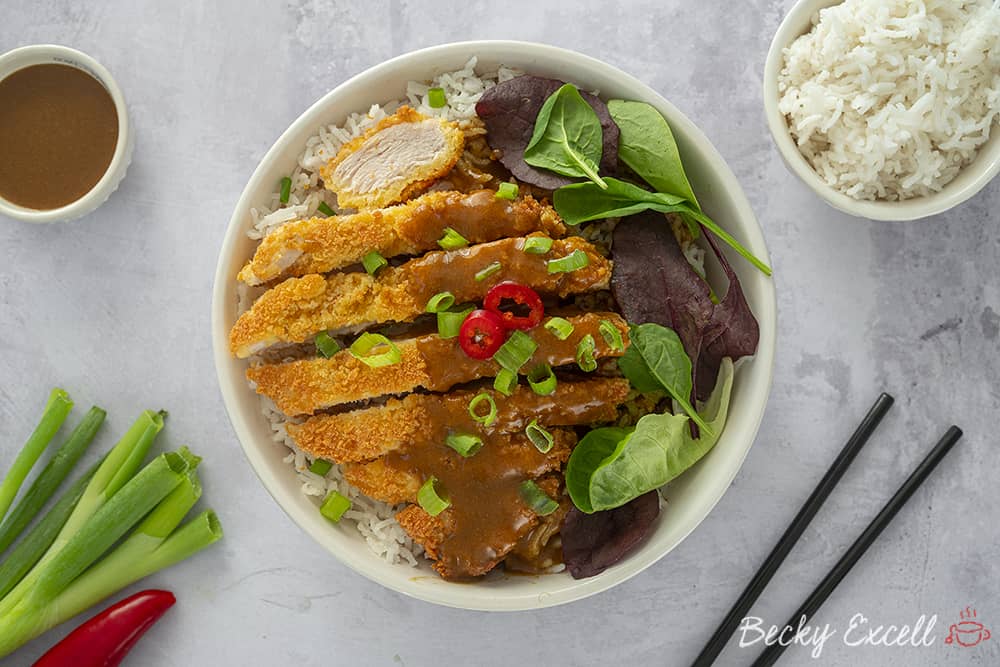 I've dedicated my blog to recreating all of the many, many things I can no longer eat because of my pesky food intolerances.
(turns out that list was a very long one!!)
And one of the first ever recipes I recreated at home was this exact gluten free Katsu curry recipe. Back then, it blew my mind that I could just create all the things I missed at home – 100% gluten free – and they'd always end up the same or even better.
I mean, this recipe is a simple one – just use gluten free breadcrumbs and gluten free flour… easy peasy!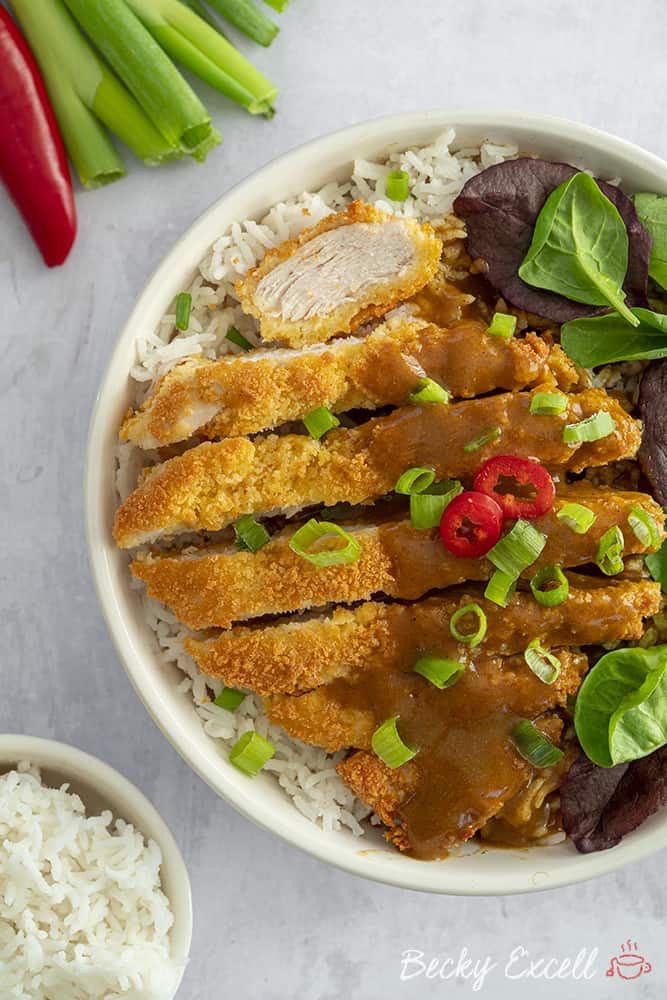 Of course, traditionally, Katsu chicken is made using Panko breadcrumbs, but there really isn't a gluten free equivalent that matches up.
So instead, I'd recommend picking up some gluten free breadcrumbs from the supermarket, or failing that, just whizz some gluten free bread in a food processor until fine.
(I used some of the Mrs Crimbles gluten free breadcrumbs I found in Sainsburys)
All you need to is crispy, golden breaded chicken breast and you're already half-way to a damn good Katsu.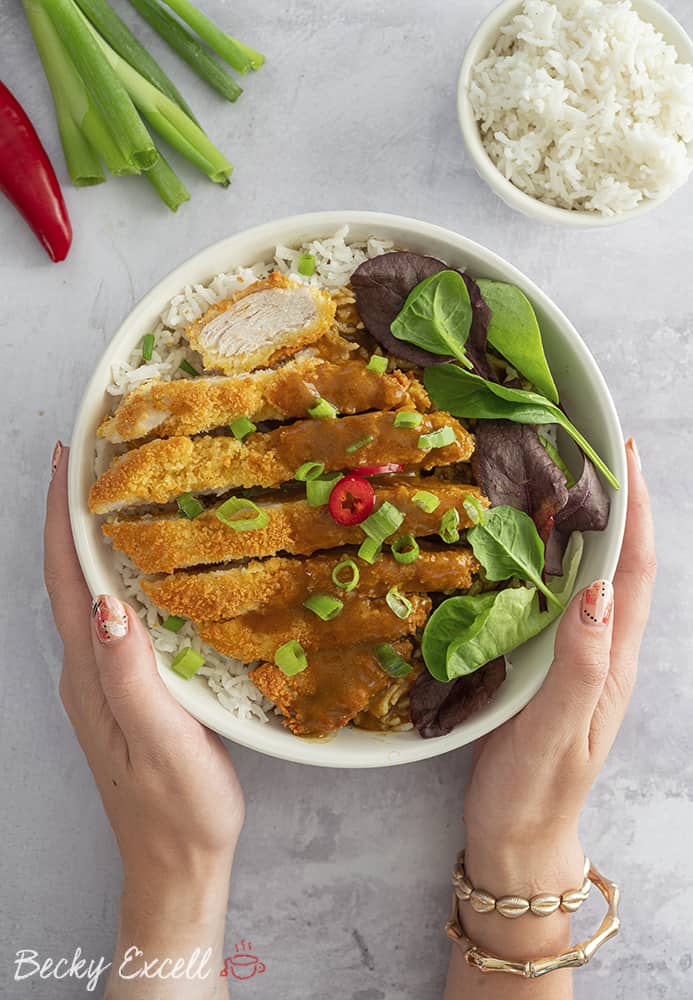 And I guess I lied earlier, because I did make one small update to my gluten free Katsu curry recipe 5 years on!
I added in steps that tell you how to butterfly your chicken before coating it in breadcrumbs. But why?!
(there's a few good how-to instructions and photos here on the BBC website)
Basically, it just involves slicing your chicken breast in half so you can open it like a book, leaving you with one, thin, wide chicken fillet. That means it cooks quicker, but best of all… more surface for crispy breadcrumbs!
I mean, take a look at how it looks in the photos above and below – can you believe that that's just one fairly small chicken breast?!
BUT My biggest cheat (and I'll forgive you for doing so) is picking up some gluten free breaded chicken from the supermarket instead of making your own from scratch. *gasp*
As someone who has to make literally every meal from scratch every day, I know only too well how far a little convenience can go in the kitchen.
Then, all you have to make is the sauce, your rice and you're done. But obviously my breaded chicken is so much better than what you'll find in the supermarket (I'm not biased, I swear) but I'll leave it down to you to decide what you'd prefer!
Here's what my gluten free breadcrumbed chicken looks like having just been fried – just before it goes in the oven to finish off ??
If you're low FODMAP, you might not know all the supplies you'll need to make this recipe a reality!
So here's a link to a low FODMAP curry powder and low FODMAP curry powder. If you're not in the UK, here's the link to my low FODMAP curry powder recipe which you can make yourself!
Also, be careful with gluten free breadcrumbs which often seem to have gram flour in them. Consider making your own from low FODMAP bread if you're on the strict elimination phase.
And now you're all set!
Can I just say a massive thanks to everyone who has supported my blog since I first started posting back in 2013?
This was one of my first recipes and I have no idea how many of you have made it over the years – hopefully loads! I really hope you enjoy it as much as I STILL do today.
Also – something that hasn't changed in 5 years… I still can't eat a Katsu curry at Wagamama ? Not sure we'll ever see that happen!
So until then, I guess I'll keep on sharing my gluten free Katsu curry recipe! It's low FODMAP and dairy free too, of course…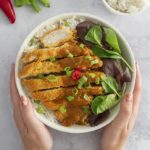 My Gluten Free Katsu Curry Recipe (low FODMAP, dairy free)
Looking for an awesome gluten free Katsu curry recipe? You've just found it! It's also low FODMAP, dairy free and so easy and quick to make at home too.
Ingredients
For the breaded chicken
2

chicken breasts

200

g

gluten free breadcrumbs

(watch out for gram flour if low FODMAP)

50

g

gluten free plain flour

2

eggs
For the Katsu sauce
garlic infused olive oil

(make sure it has no bits of actual garlic in it if low FODMAP)

2

medium carrots

sliced, peeled or spiralised

2

tablespoons

gluten free plain flour

4

teaspoons

mild curry powder

(if low FODMAP, see links above)

600

ml

chicken stock

(if low FODMAP, see links above)

4

teaspoons

gluten free soy sauce

2

bay leaves

1

teaspoon

garam masala

(ensure low FODMAP if needed)
To serve
Jasmine rice

Fresh chives
Instructions
Pre-heat your oven to 180c/200c fan.

Take your chicken and butterfly it (cut it in half and fold it open like a book). Cover it with clingfilm and bash it with a rolling pin so it's really nice and flat.

Roll your butterflied chicken breast it in a bowl of gluten free plain flour until lightly dusted. Then roll it in a bowl of your two beaten eggs.

Then roll it in gluten free breadcrumbs. Dip it back in the egg mixture and then the breadcrumbs once more. Repeat for both chicken breasts.

Heat a generous amount of garlic-infused olive oil in your frying pan, ensuring there's enough oil to lightly cover the entire saucepan.

Shallow fry the breaded chicken until slightly golden (this should only take a minute or two each side) and place into the oven for 12-15 minutes.

Once your chicken is cooked, chop it into strips and keep warm until later.

To create the Katsu sauce, heat garlic infused olive oil in a saucepan or wok.

Add your carrots (chopped however you wish) and fry over a low to medium heat until slightly softened.

Add and stir in the gluten free plain flour, curry powder and cook for 1 minute.

Gradually stir in the chicken stock until combined.

Add the gluten free soy sauce and bay leaves. Slowly bring to the boil.

Turn down the heat and simmer for 20 minutes or until the sauce has thickened but is still of pouring consistency. (Basically, the consistency you want your sauce to be!)

Stir in the garam masala.

Take off the heat and remove the bay leaves. (You can also remove the carrots if you wish by pouring the sauce through a sieve - have them on the side though, they taste good).

Serve up your chicken alongside a pile of jasmine rice and pour your sauce over the top. I also like to add some fresh chives and a few leaves.
Recipe Notes
Watch out for gram flour in gluten free breadcrumbs if you're on the elimination phase or you haven't successfully reintroduced it yet. You might want to make your own out of low FODMAP bread to be safe!
Thanks so much for checking out my gluten free Katsu curry recipe! It's been one of our favourites for so many years now and I hope it is for you too!
Any questions about the recipe? I'd love you to send me pictures of your end result as that always makes my day! Please tag me in your snaps by on Facebook / Twitter / Instagram!
(I'm gonna be honest, I'm a million times more responsive on Instagram!)
Thanks for reading,
Becky xxx
Oh and don't forget to pin this for later!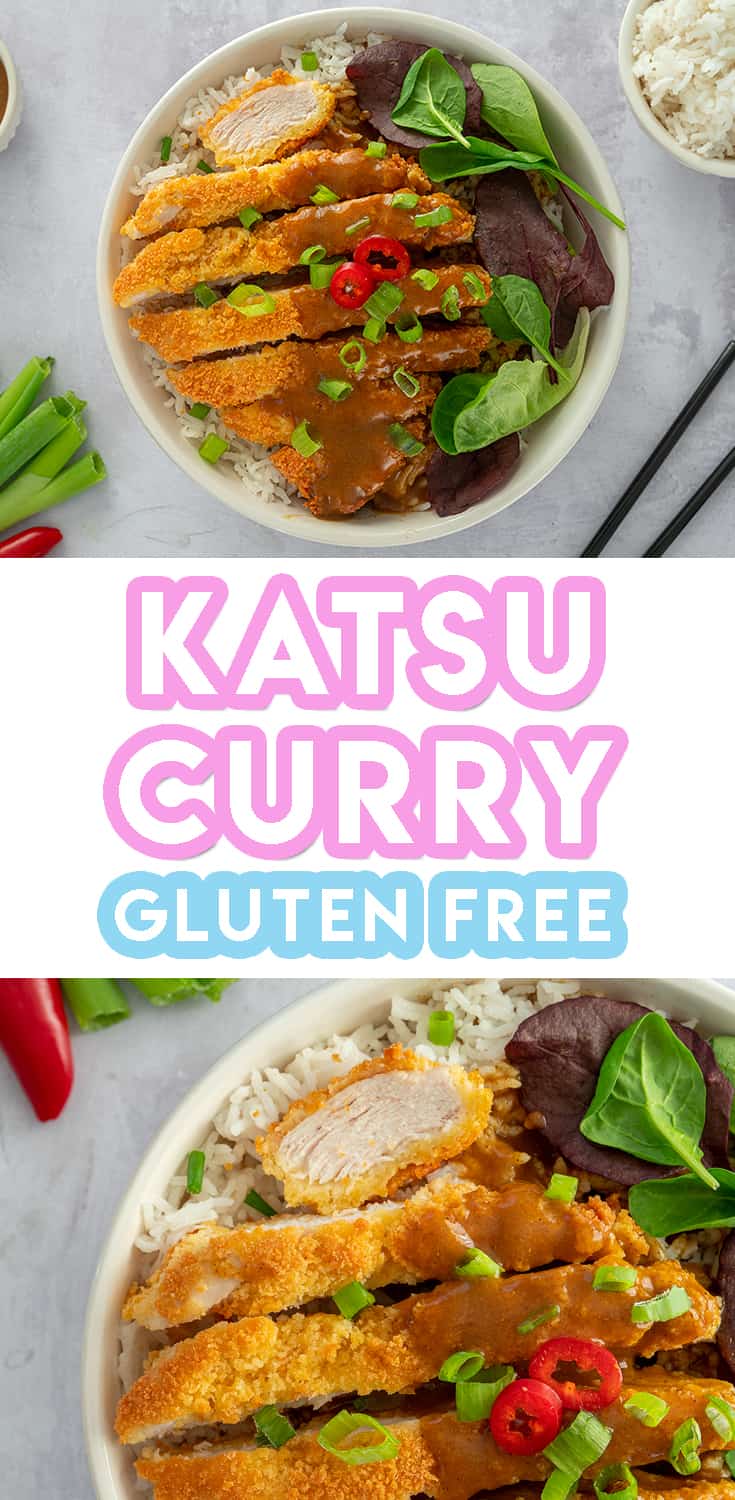 Comments