Gluten free southern fried chicken goujons, anyone? They're golden, a little spicy, with tender, juicy chicken hiding underneath. Plus, they're dairy free and low FODMAP too.
Today, I've teamed up with Genius Gluten Free to bring you my gluten free southern fried chicken goujons recipe. They taste exactly like the southern fried chicken that I'm sure we've all craved and missed for waaaaaay too long.
These finger lickin' goujons are great for dinner at home, but they also make an ideal, home-cooked, mobile gluten free lunch on the go too.
Yep, that's right. As my gluten free southern fried chicken goujons are great hot or cold, you really can enjoy them anywhere, any time.
Lunch out and about? Pop two goujons inbetween a couple of slices of Genius bread and team them up with a little fresh lettuce and tomato. Trust me, there's nothing quite like a hearty 'CLT' for lunch to keep you going until tea time.
Or, if you often eat a salad at your desk at work like I used to, simply chop up your goujons and enjoy with salad and Caesar dressing. Do not disturb sign is optional, but highly recommended.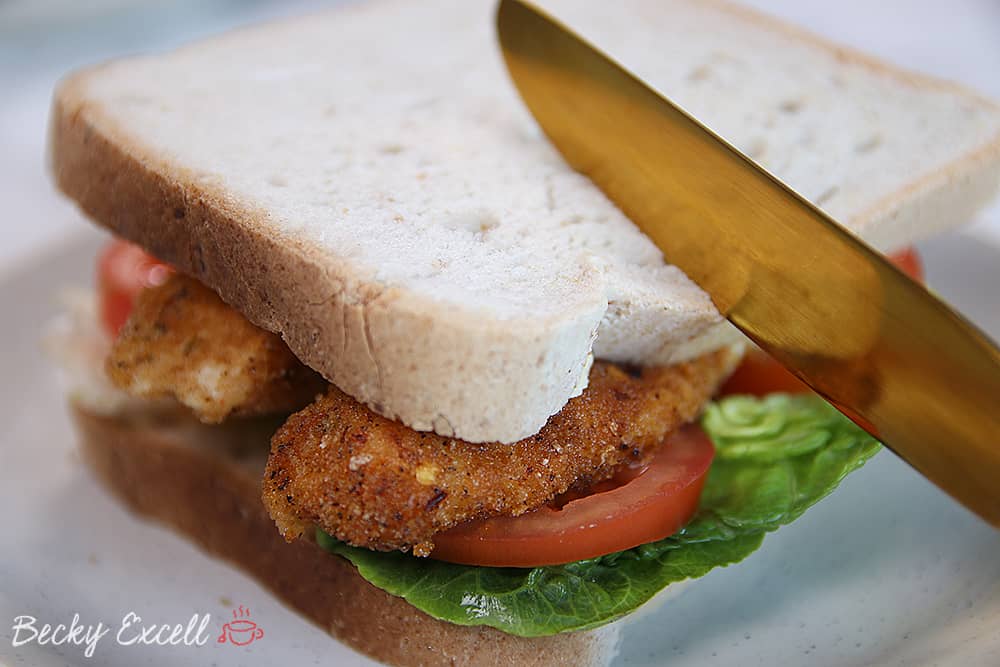 So often in the past, I've had to bring my own gluten free food out and about with me – to meetings at work, to family lunches, coffee shops, you name it.
Whilst everyone else seemed to be enjoying fresh, mouthwatering food from the cafeteria/cafe/restaurant nearby, I would always have a very dull, packed lunch that I made in a hurry. I now refer to it as my 'blandwich'.
But recently I realised… it really didn't need to be that way. Why can't gluten free food on the go be just as vibrant, exciting and fresh as anything you buy out on your travels?
Answer: it definitely can and should be, if not better! My gluten free southern fried chicken goujons will actually make everyone envious of your packed lunch, or your money back.
(Sorry, I actually have no money to return to you).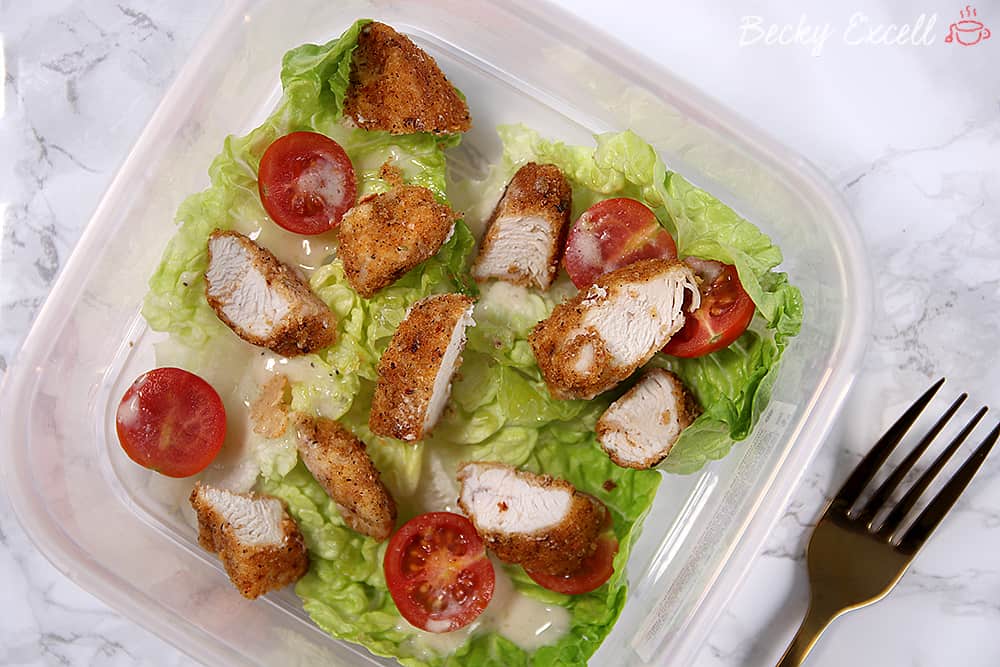 So what's the secret ingredient in making my gluten free southern fried chicken? Why, it's Genius gluten free bread of course!
I used their gluten free toastie bread for this recipe as it works wonders for whizzing into breadcrumbs. But if you're feeling wild, you can definitely mix it up by using any loaf from their range. Why not try it with their soft white farmhouse or wholesome five seeded loaves?
The result? Perfect, golden breadcrumbs that form the perfect crispy coating for my gluten free southern fried chicken recipe.
So, what makes the perfection southern fried chicken?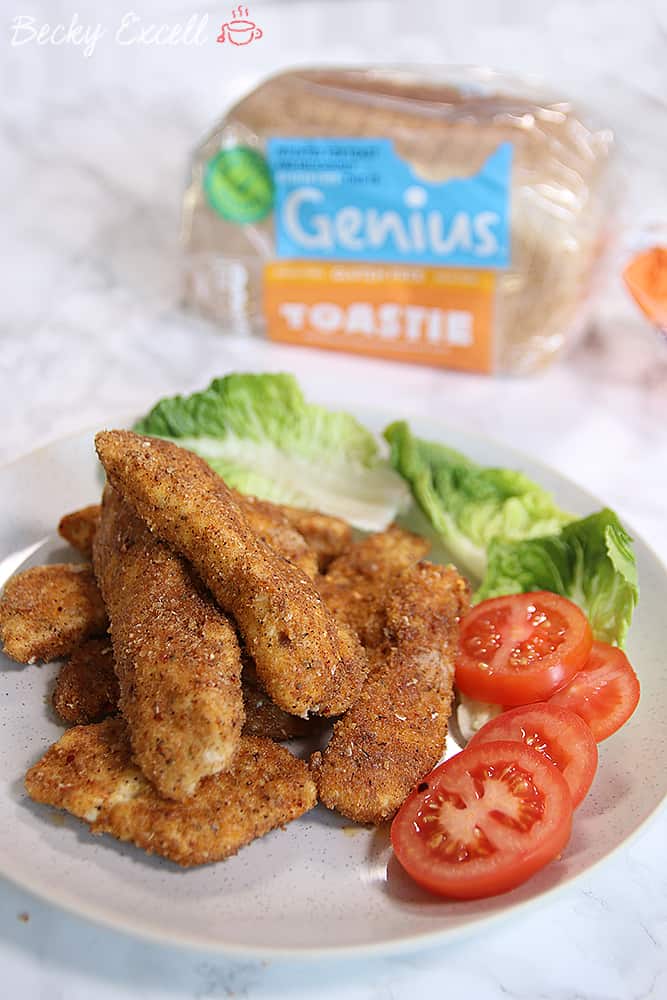 It's been a long time since I've had gluten free southern fried chicken like I remember eating as a kid. There's such a mix-match of recipes on the internet and rather disappointingly, the phrase 'southern fried chicken' seems to have been mistaken for 'fried chicken'.
Spoiler alert: it's definitely not the same thing!
For me, the difference is all in how its spiced. The idillic southern fried chicken I remember wasn't just coated in golden yet plain batter. It had a beautiful balance of spices and herbs.
It was hot, spicy, herby and not exactly golden, but a little darker and breadcrumbed. Sadly, I've never found anything that really compares… until now!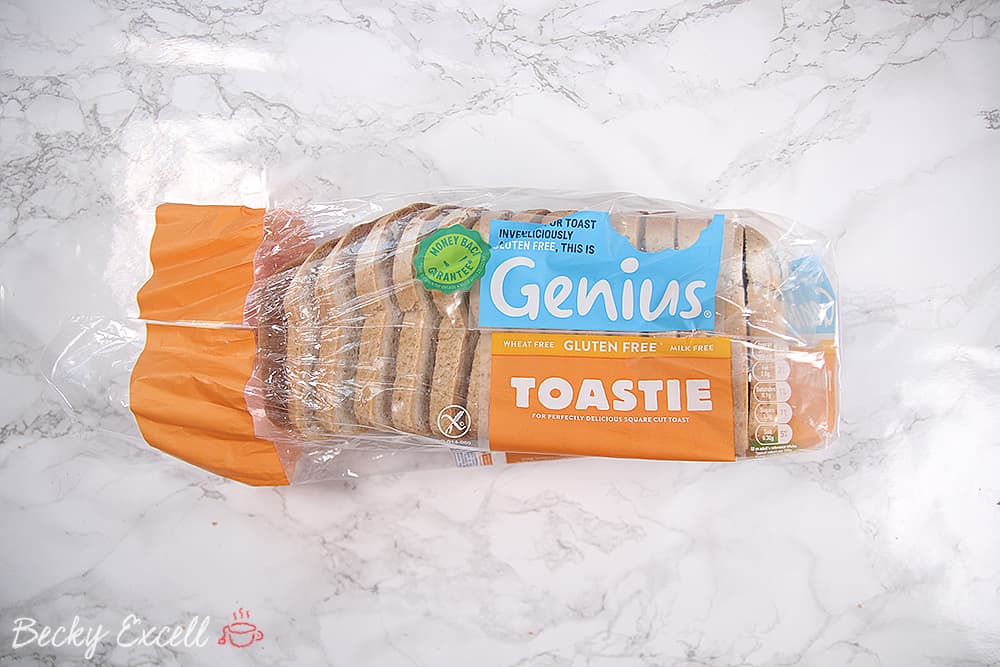 Making your own breadcrumbs is really fun, plus it's a great way to use up stale bread. The more stale the bread is, the better, so it's a great way to avoid losing your prized Genius bread to the food waste bin.
Anyway, get your Genius bread ready! Here's my gluten free southern fried chicken recipe…
Gluten free southern fried chicken goujons
Ingredients
3 slices of genius gluten free bread

1 tsp oregano

1 tsp chilli flakes

1 tsp paprika

1 tsp salt

2 tsp pepper

2 eggs

70g gluten free plain flour

3 chicken breasts

cut into strips
Instructions
Firstly create your gluten free breadcrumbs. Place 3 slices of gluten free bread in your food processor and pulse until quite fine.

Add your oregano, chilli flakes and paprika and briefly pulse again to mix it through.

Add your salt and pepper and give your breadcrumbs a final pulse.

Place your breadcrumbs in one bowl, beat a couple of eggs in a separate bowl and place your gluten free flour in a third bowl.

Coat your chicken strip in flour, then dip it in the beaten egg and finally roll it in the breadcrumbs. Ensure your chicken goujon is completely covered. Repeat this until you have a nice plate of goujons ready to cook.

Heat up a little oil in a frying pan and fry eat goujon for about 30 seconds on each side to crisp up the coating. Once you have done this place them onto a baking tray to finish off in the oven.

Place in a preheated oven (180C) for around 10 minutes, until lovely and golden and cooked through.

Serve up however you wish. I like to put mine in a sandwich or just eat them with some mayo. But chop them up and they'd be an amazing addition to a salad. Enjoy!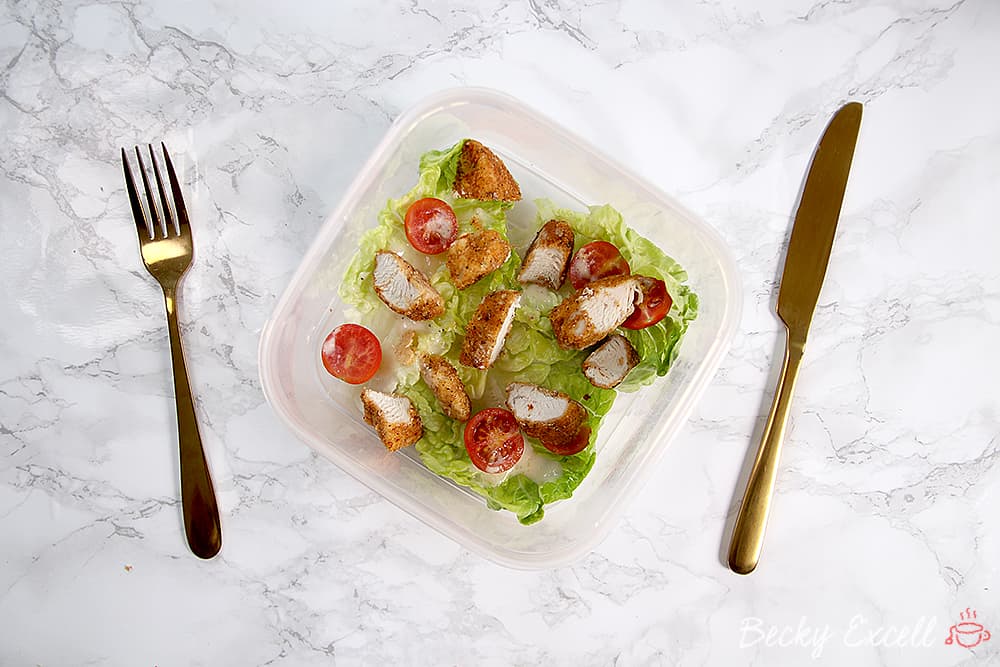 Thanks so much for checking out my gluten free southern fried chicken recipe!
Any questions about the recipe? How do you use up your stale bread? Please do let me know by leaving a comment below or on Facebook / Twitter / Instagram!
Thanks for reading,
Becky xxx
Oh and don't forget to pin this for later!