The Co-op gluten free Christmas range 2019 is here! You might remember some of these from last year, but here's some brand new favourites too.
The Co-op gluten free Christmas range is always an exciting one to post! I mean… you just absolutely cannot find 95% of these products anywhere else. Once you start scrolling down, you'll know exactly what I mean!
Lastly, whilst this is not a sponsored post, I was gifted the first four products and I've been working with Co-op on Instagram to promote them. But how could I not include them here too?!
Oh and also make sure you're following me on Instagram where I post all my latest gf finds first – that way, you'll always know all the most recent finds and never miss any!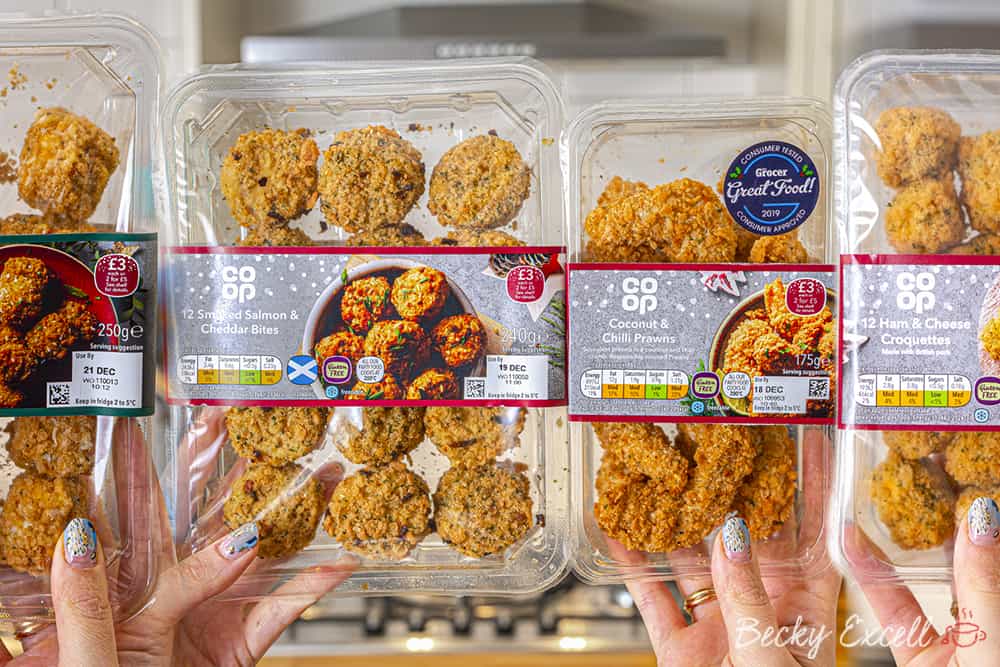 Here's the 22 NEW products in the Co-op gluten free Christmas range
Before we get started, you should probably know that all of the FROZEN party food products (apart from the first four and last few desserts etc) are £2.25 and on a 2 for £4 deal.
And as these products are generally only around for Christmas, so you know what that means, right? Time to stock up!! I was still enjoying these products in March this year and I plan to again in March 2020 😂
The first four products are £3 each and in a 2 for £5 deal and they're not frozen – they're fresh, chilled and higher quality so I've been told!
1. Co-op 12 Smoked Salmon and Cheddar Bites – Gluten free (gifted)
First of all, how awesome is it that these are gluten free?
These look just to be Co-op's regular party food… at regular prices… and they just so happen to be gf! I might have missed this if Co-op didn't give me a heads up.
This product and the next four are £3 each and 2 for £5 – a little dearer than the frozen party food below. But as I said, these are chilled fresh products and supposedly a higher quality. But I'll let you guys be the judge of that!
You can of course freeze these products too after buying them and defrost them in a fridge for 24 hours before cooking.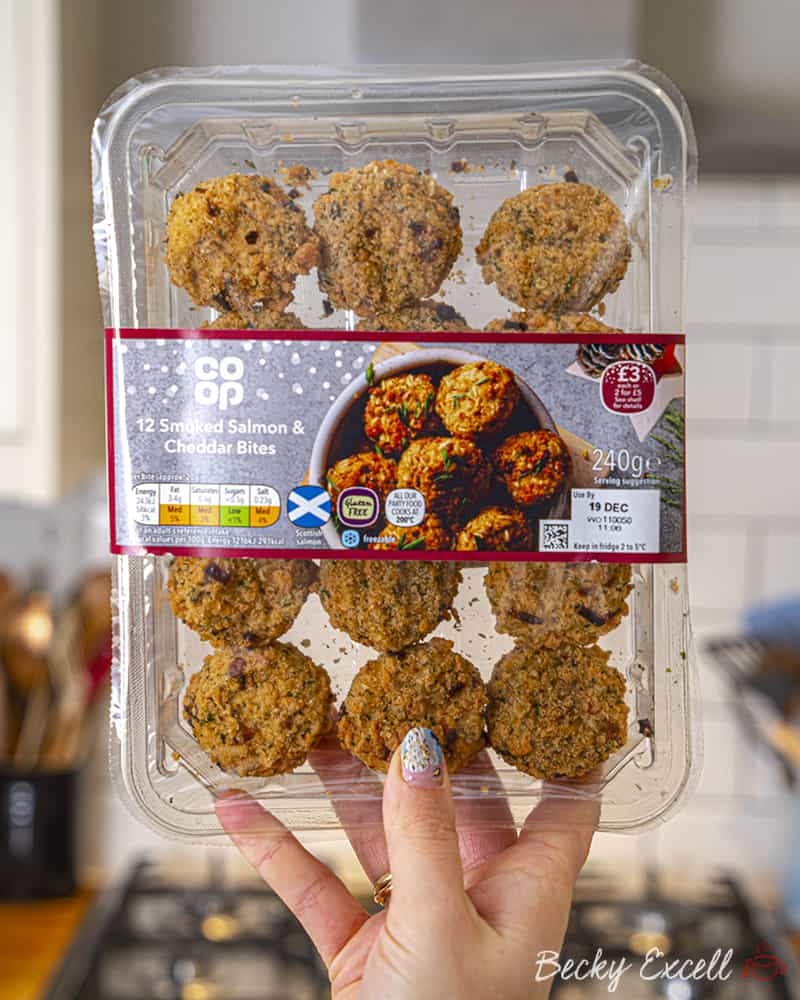 2. Co-op Coconut and Chilli Prawns – Gluten free and don't contain dairy (gifted)
The Co-op gluten free Christmas range just keeps getting better and better, right?!
Yep, these are coconut and chilli prawns and they don't contain dairy either. They're also in the 2 for £5 deal of course.
In case the text is too small for you to read, it says succulent prawns in a coconut and chilli crumb – made with responsibly sourced prawns.
And the best part is that all their party food cooks at 200c, so no madness with baking tray relays this Christmas!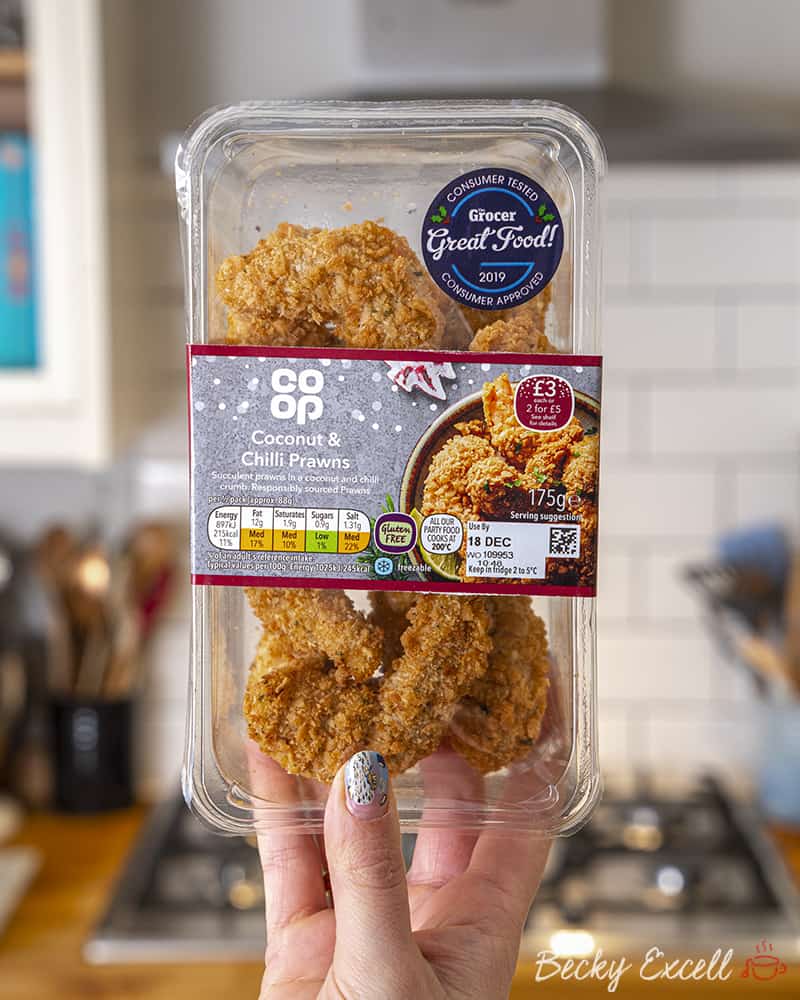 3. Co-op 12 Arancini Bites – Gluten free and veggie (gifted)
And here's one for the veggies out there – twelve arancini bites!
These are rice bites with red pepper, mozzarella and bechamel sauce in a crisp coating. How good does that sound?!
Don't forget that you'll find these products in the chillers, NOT the freezer section.
If you want to freeze them at home though they'll last for up to a month 👌🏻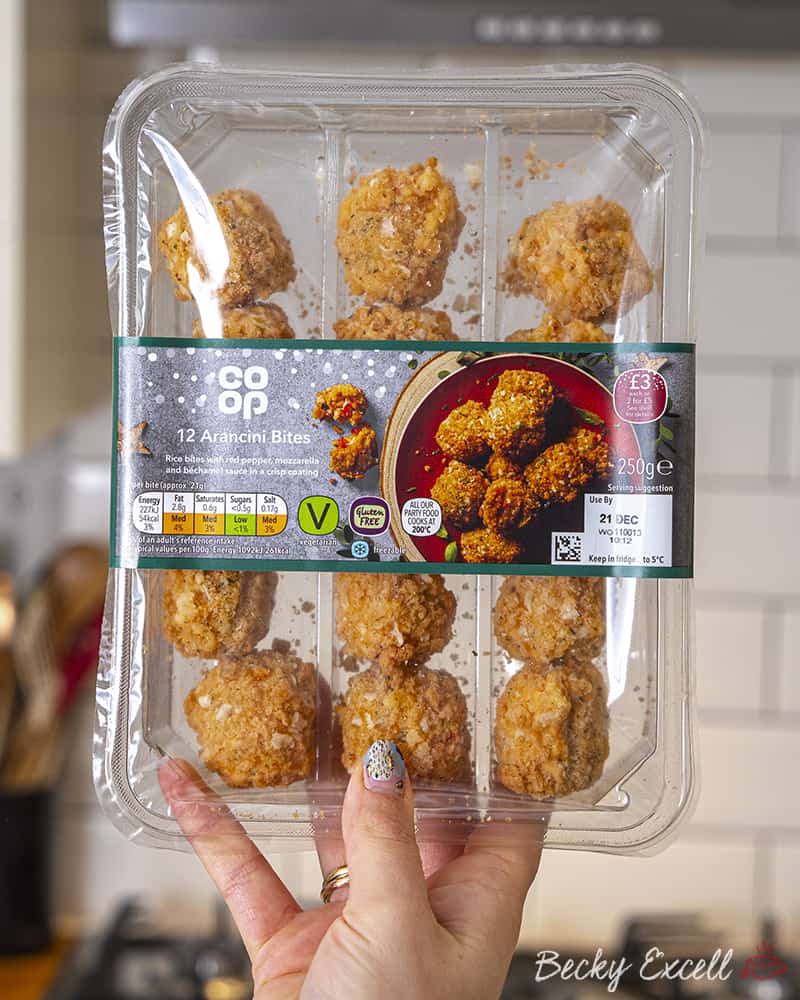 4. Co-op 12 Ham and Cheese Croquettes – Gluten free (gifted)
Here's 12 ham and cheese croquettes made with British pork!
Yep, there's that lovely, golden gluten free crumb again. I'm pretty confident that by the time you've scrolled through this entire post, you could have enough for an ENTIRE gluten free party food buffet.
And there's not many supermarkets you can say that about this Christmas! Who else is planning a 100% gluten free buffet? I honestly don't think most gluten-eaters would notice or care with all these awesome products.
Which one is your favourite so far? Let me know in the comments below this post 👇🏻
5. Co-op Asian Style Sharing Selection – Gluten free, dairy free and vegan
I think Co-op have only gone and done it again for the second year running in terms of frozen gluten free party food as well! Here's all the frozen products.
Yep, that's right – even more brand new party food products that we've never seen before. This time it's an Asian style sharing selection.
That means you're getting 5 vegetable filo candles and 5 crispy vegetable twists in each box.
And believe it or not, they're dairy free too! Don't forget that most of these products are £2.25 or 2 for £4.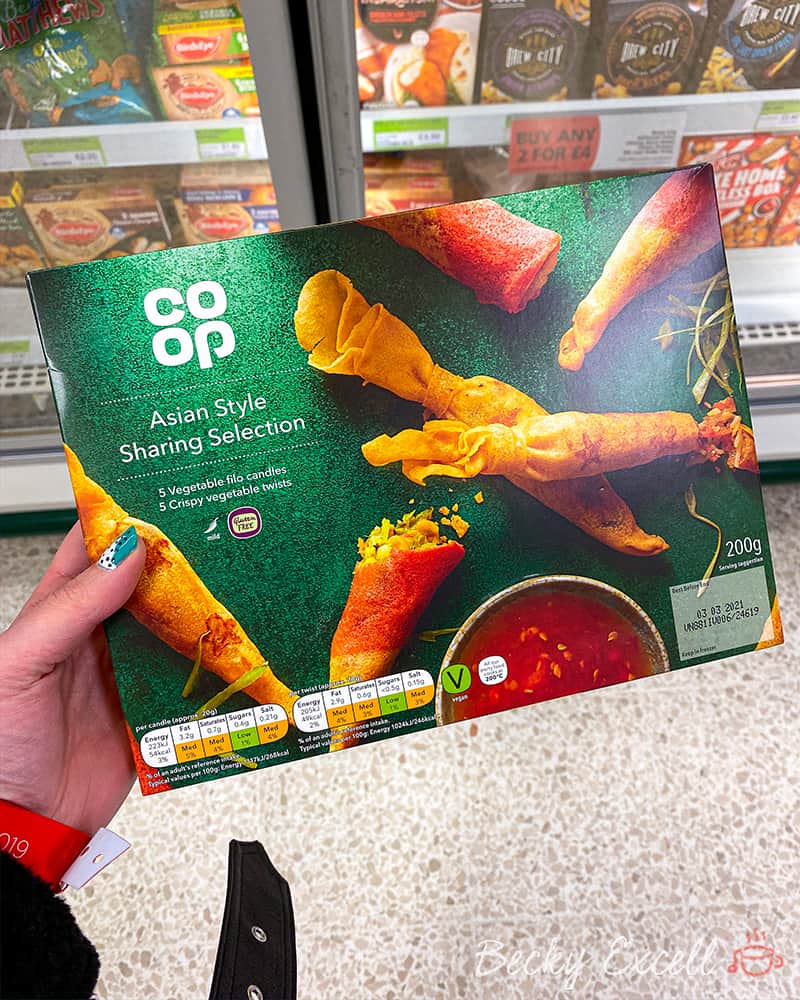 6. Co-op 9 Mini Melting Chocolate Puddings – Gluten free
How cute are these little melting chocolate puddings?!
Fortunately, gluten free desserts are pretty plentiful this year, but I think this has to be up there with some of the best options.
Time to stock up on these!
Whilst these aren't dairy free because of a 'may contain milk' warning, these actually have no dairy-containing ingredients them if that helps.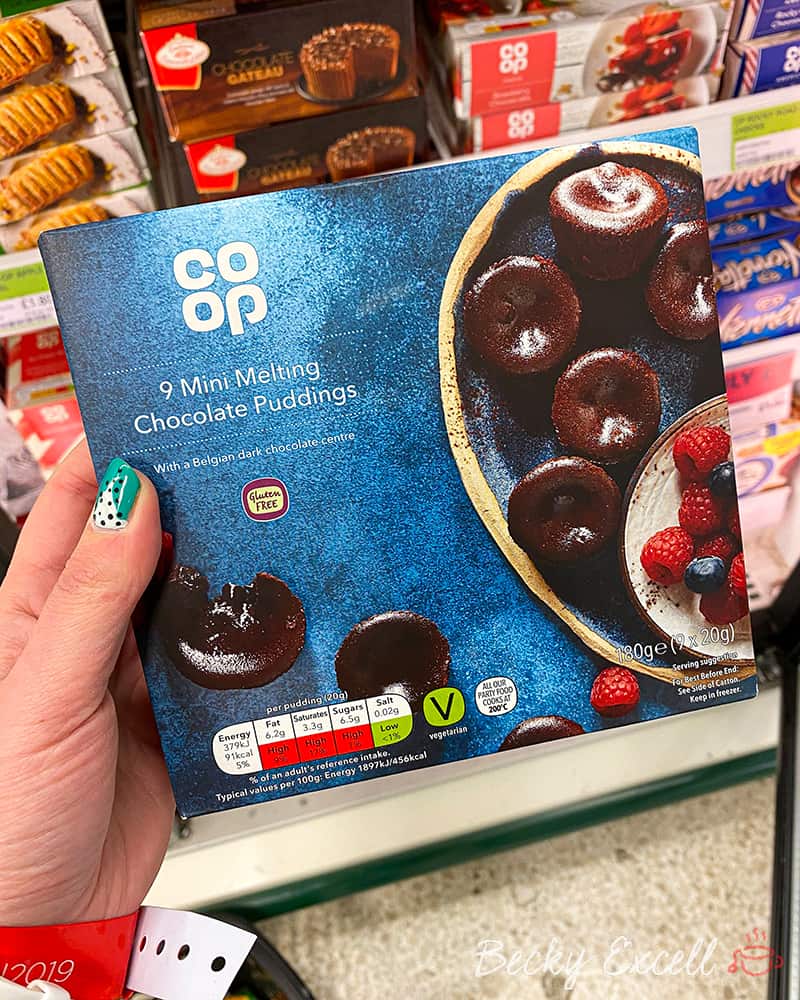 7. 12 Vegetable Spring Rolls – Gluten free, dairy free and vegan
And a returning fave from last year are these veggie spring rolls, filled with vegetables, spices and gluten free soy sauce.
I really don't know how Co-op have done it with all the gluten free filo pastry products…
And that's exactly what I mean about the Co-op having products that you can't find anywhere else.
This is definitely one of them!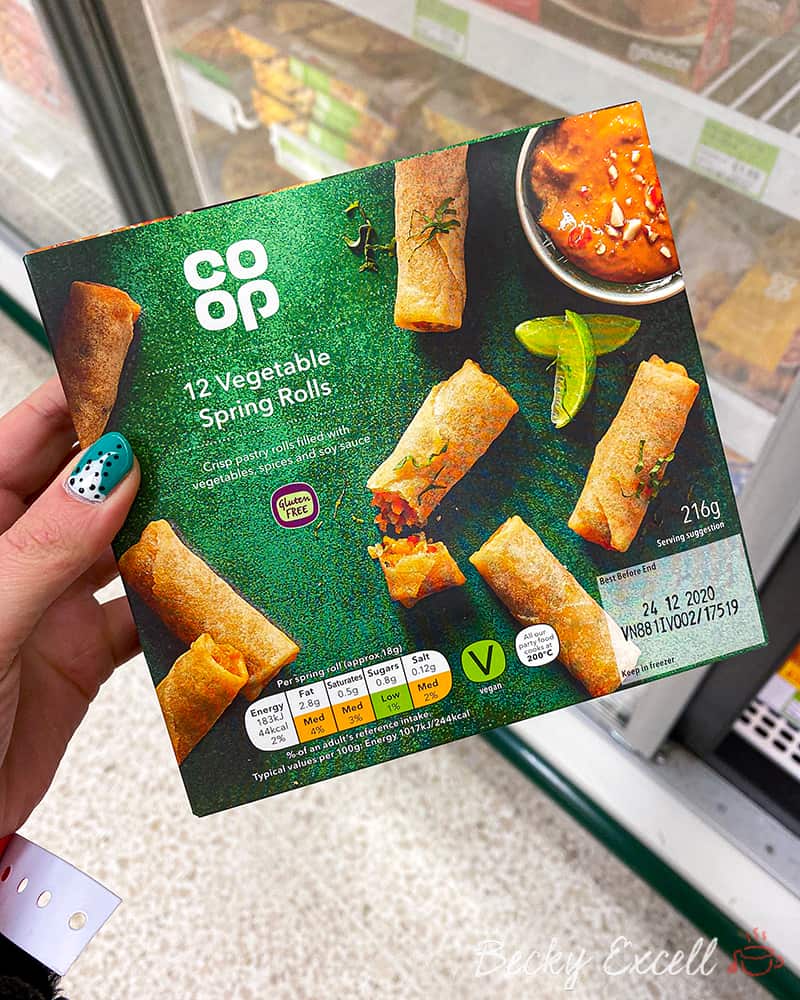 8. Indian Selection – Gluten free, dairy free and vegan
So although Co-op had an Indian selection last year, if you look closer, this is a little different.
Last year's selection was bhajis and pakoras but this box contains a selection of jackfruit samosas and crispy cauliflower popcorn.
So actually, quite different! Which do you prefer? 🤔 Let me know by leaving a comment below this post 👇🏻
Keep scrolling down for a photo of what last year's Indian selection looked like…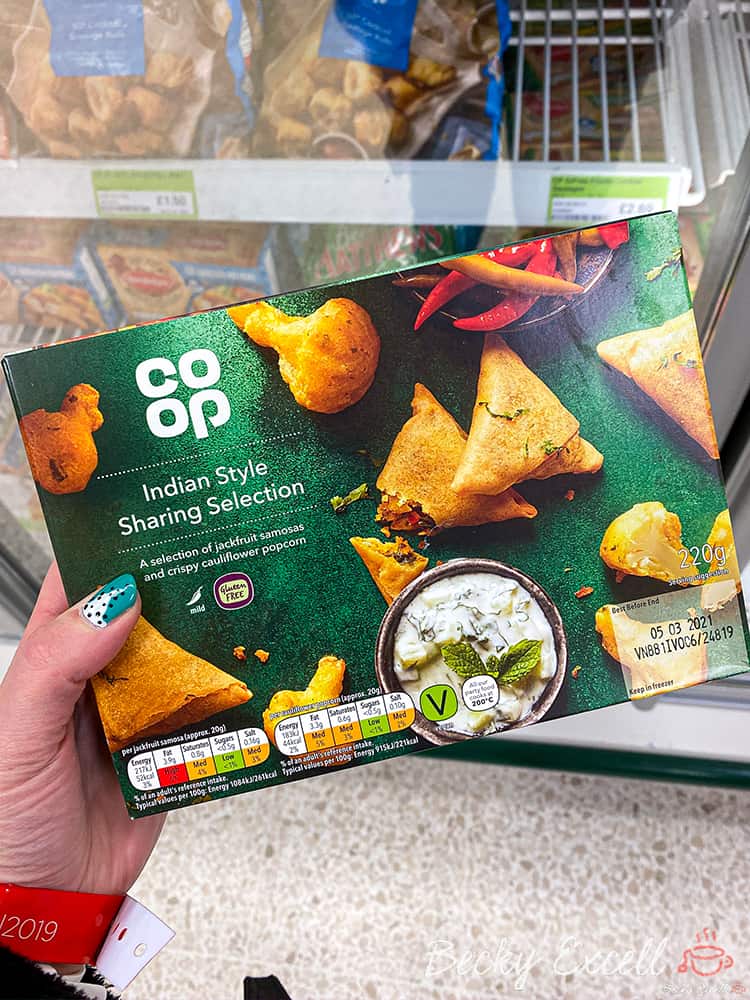 Here ya go!
Yes, my memory was correct! There were 5 onion bhajis and 5 vegetable pakoras in the box from last year.
I'm still not sure which I'd prefer (mainly because I can't eat either product because of onion/garlic 😆) but the bhajis would be more up my street if I could eat them…
But then I used to love samosas too! I can't decide!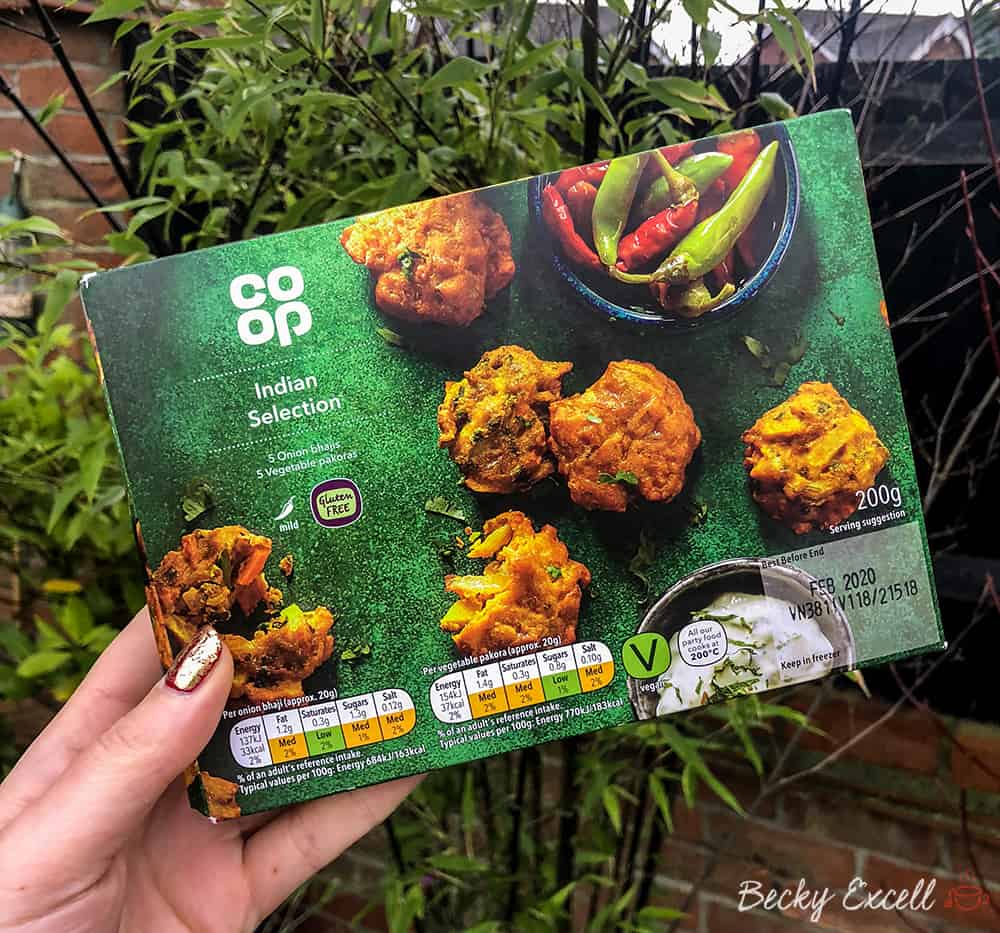 9. 12 Chilli Cheese Bites – Gluten free
These were a massive deal for me last year.
Mainly because I could actually eat these – they didn't contain onion or garlic! Sadly, this year, they do 😭
These are 12 cheddar cheese bites with jalapeno chillies in a crisp batter coating. Yep, not breadcrumbed, actually battered!
And in case you missed it, all these products are £2.25 for 2 for £4.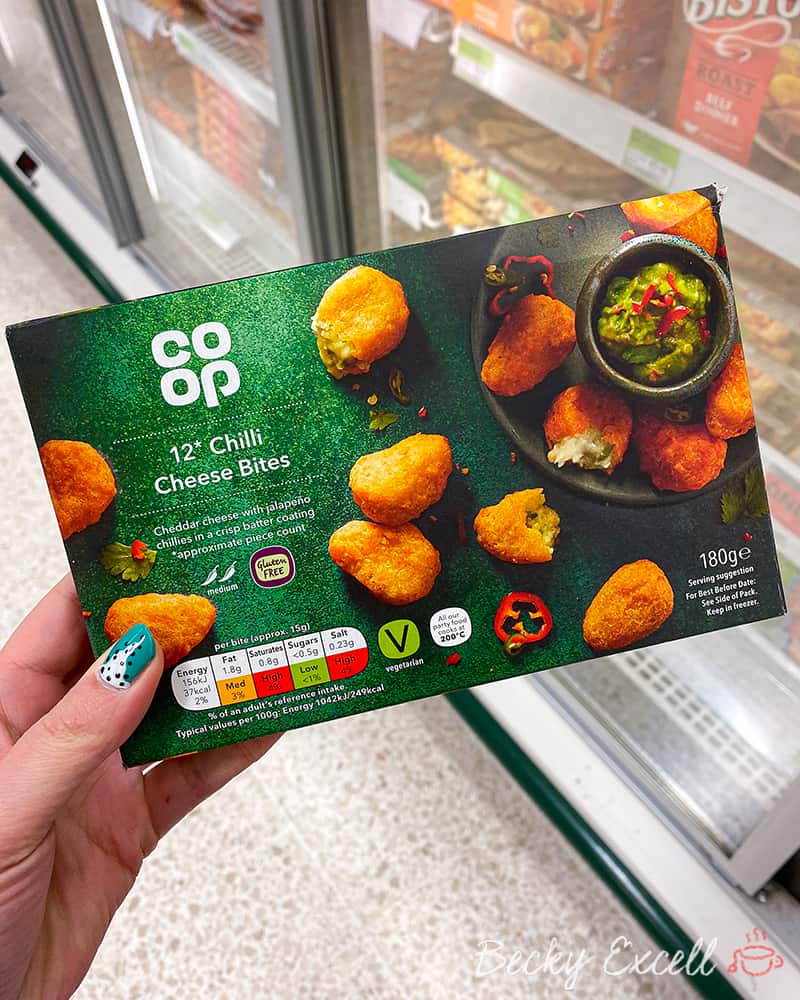 10. 12 Mozzarella Sticks – Gluten free
The 12 mozzarella sticks have also made a come-back.
These are little sticks of stringy mozzarella in a garlic and parsley crumb.
There's quite a few gluten free mozzarella sticks to choose from this year, but the crumb is usually plain.
So maybe the garlic and parsley crumb might swing it for you on these!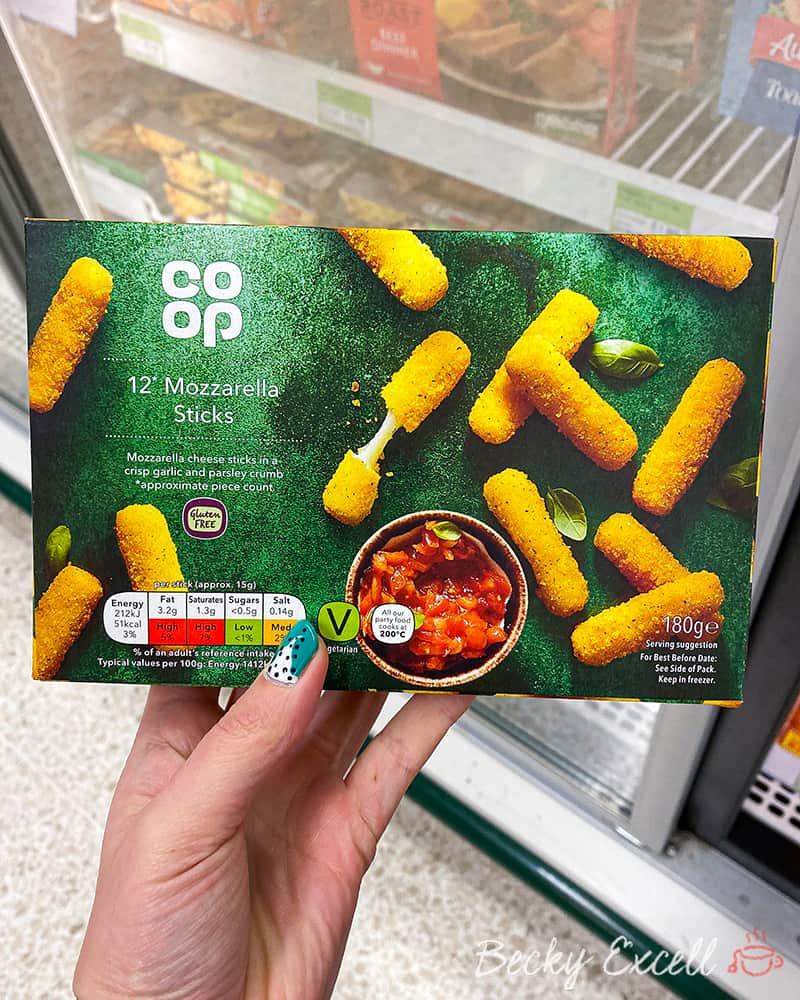 11. 10 Tempura Prawns – Gluten free and dairy free
Guess who's back?
Yep, it's 10 tempura prawns back in time for the Christmas buffet!
Again, a pretty big deal because a proper tempura batter is basically never gluten free. Again, where else can you find gf tempura prawns this year? No where, that's where!
And unlike some of the other gluten free tempura battered products out there, the batter on these looks so nice, light, crispy and airy!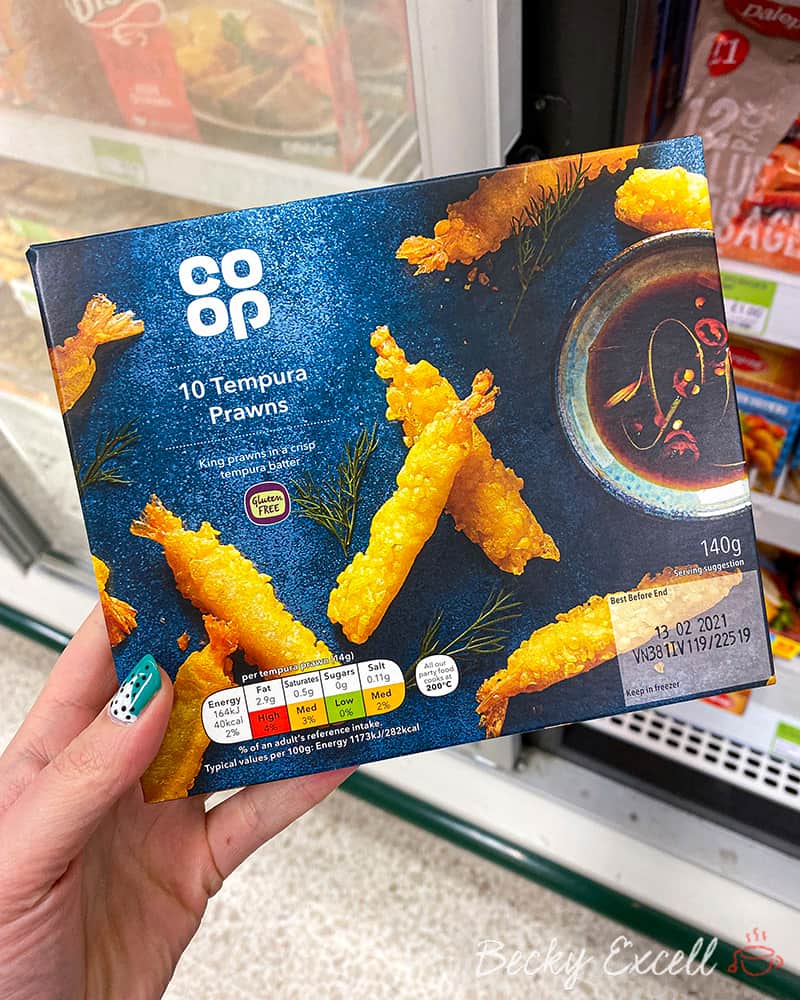 12. 10 Tempura Prawn Lollipops – Gluten free and dairy free
I'm gonna throw these in this post just purely because you never know!
These were in the Co-op gluten free Christmas range last year, but I haven't spotted them this year yet.
They're yet another awesomely unique creation by Co-op so I'm hoping they make another appearance.
Let me know if you spot them or not by leaving a comment at the bottom of this post 👇🏻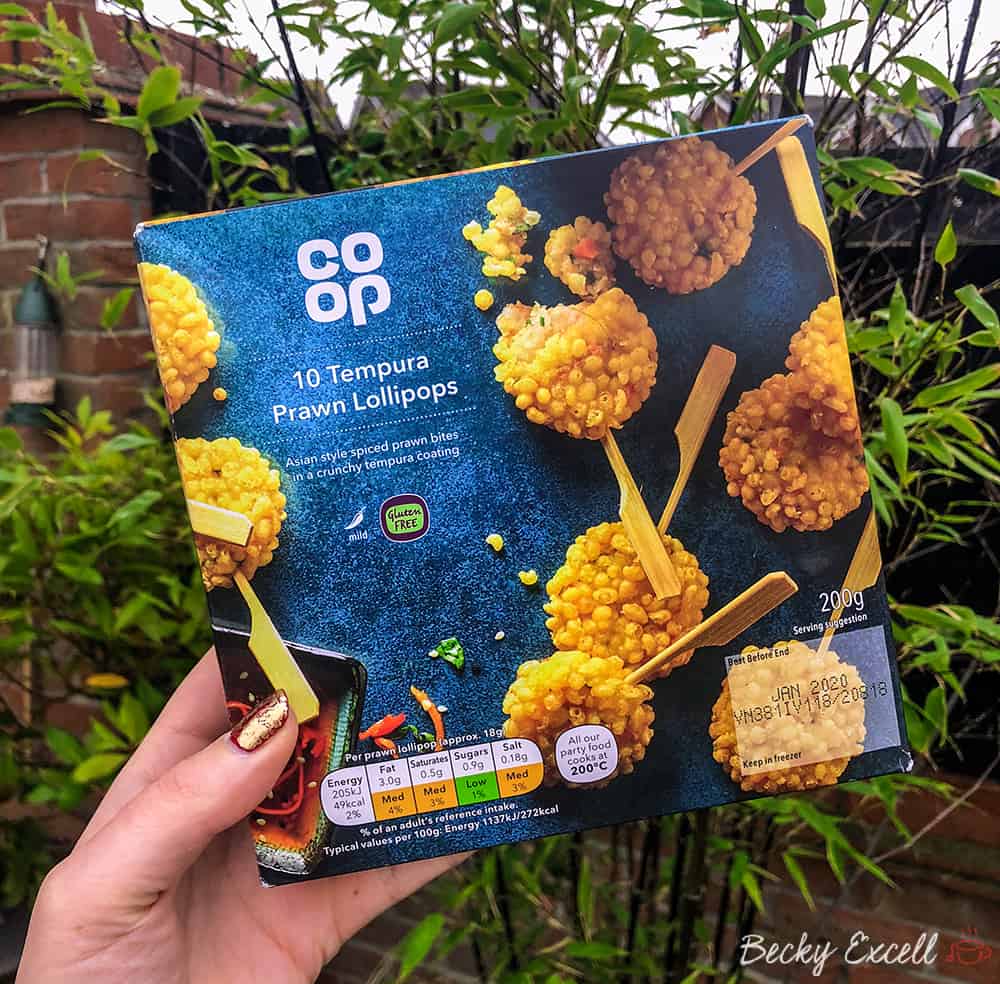 13. Salted Caramel Profiteroles – Gluten free and milk free
Now these. are. amazing.
My boyfriend is lactose intolerant so Christmas desserts can be really tough… but these are everything he ever dreamed of.
(yes, he even ate them straight out of the freezer without letting them defrost – he said it was still great 😂)
A decent amount of products in the Co-op gluten free Christmas range are dairy free, but this one of the only few that actually states 'milk free' on the front.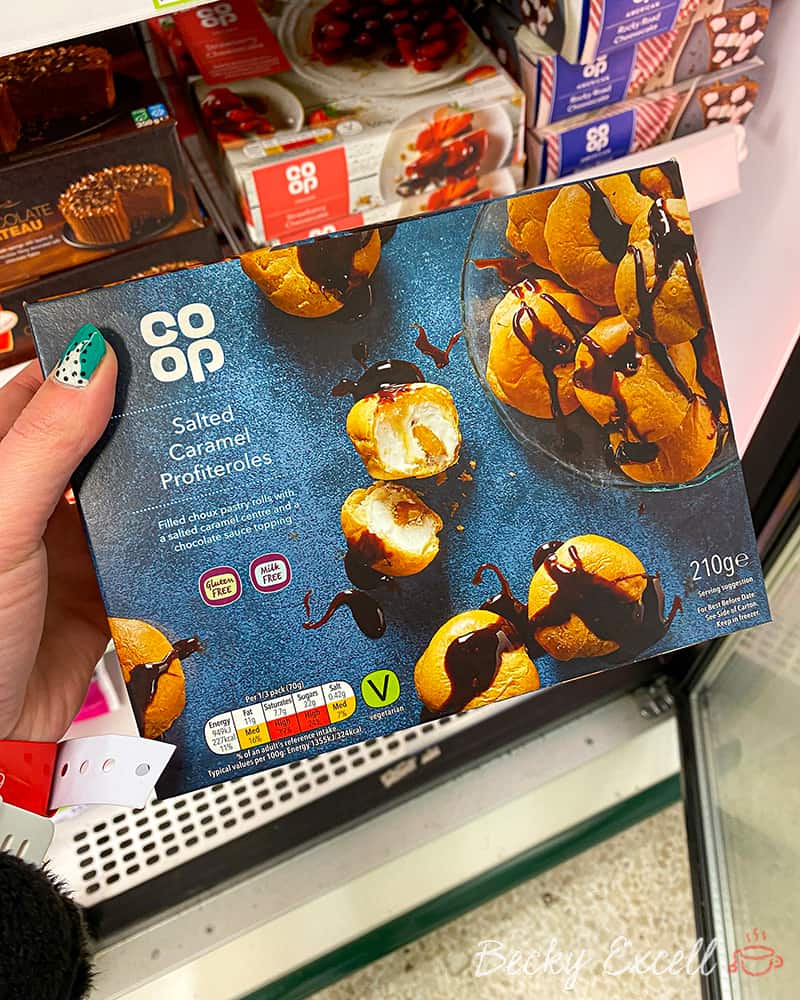 14. Belgian Chocolate Melting Puddings – Gluten free
Yep, more gluten free Christmas desserts to add to the list!
(this is the list if you were wondering)
And again, these are yet another amazing option that I would happily have on Christmas day.
Oh and all of these products are in the freezer btw!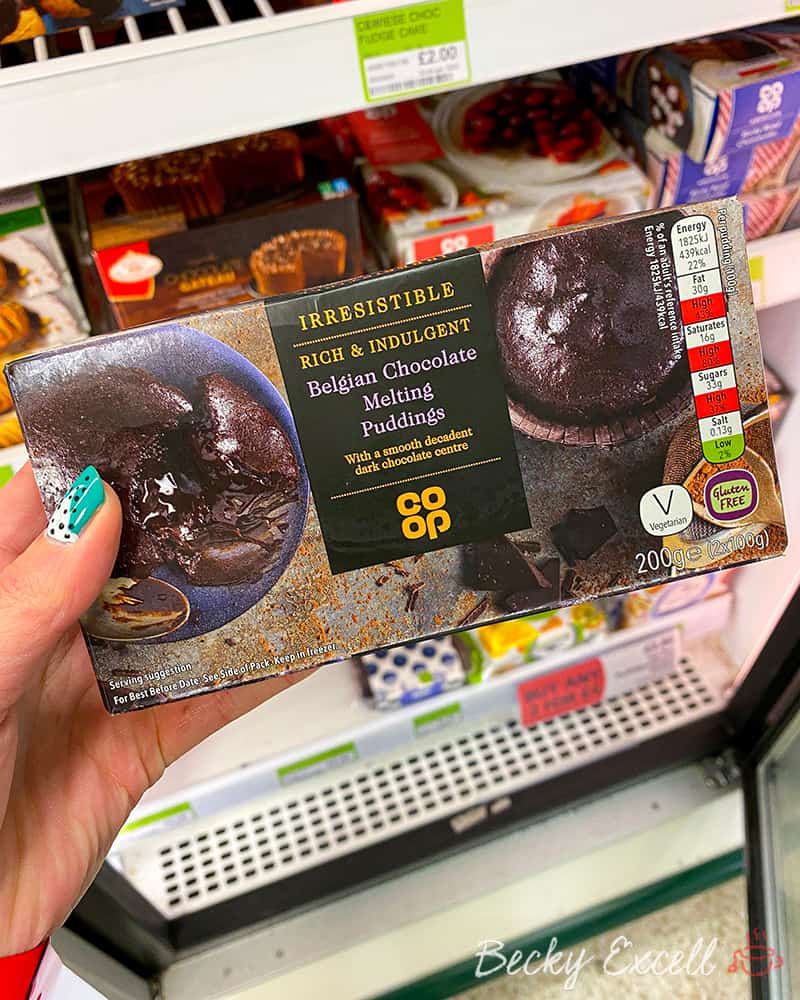 15. 28 Cocktail Sausages – Gluten free
Ok, now this is where the £2.25 each or 2 for £4 deal ends, sadly.
But there's still some amazing party food options to come!
I mean, I was just up for stabbing pigs in blankets with cocktail sticks, but finally, I've found actual gf cocktail sausages!
Pass the ketchup!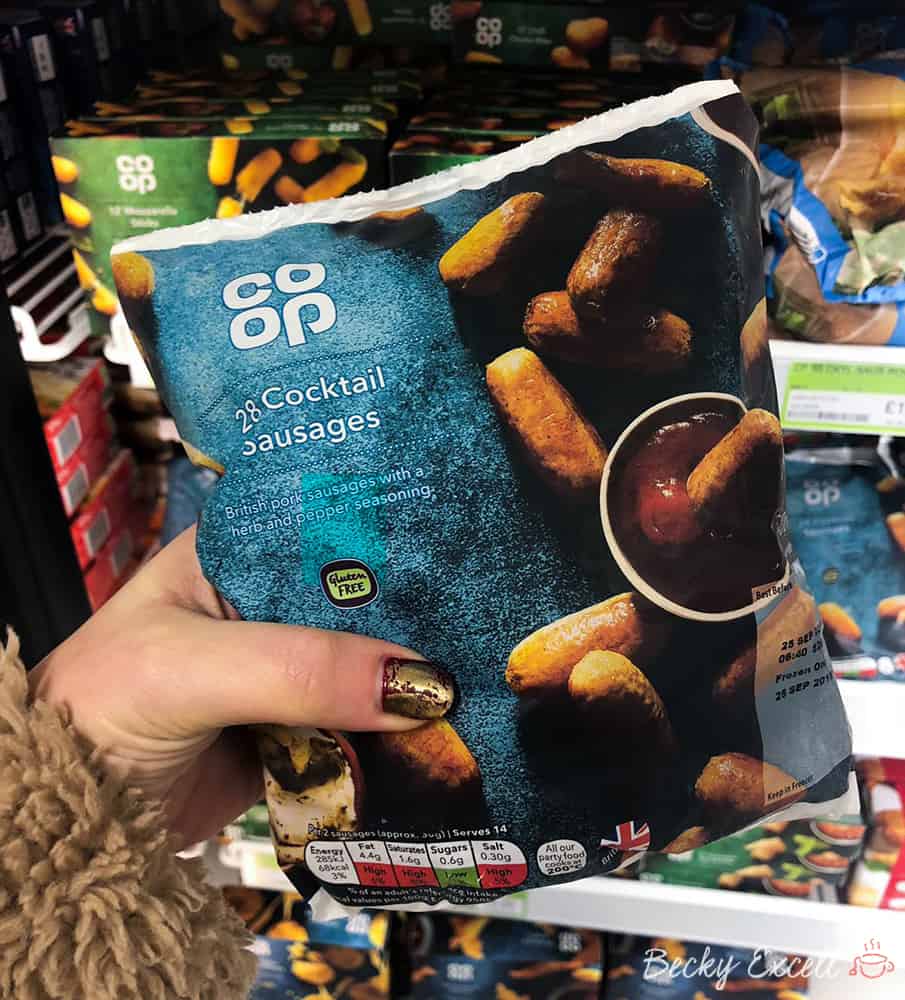 16. Caramel and Pecan Roulades – Gluten free
That's basically all of the party food products done and dusted for the Co-op gluten free Christmas range.
So now I'm gonna just throw in a few festive dessert options for measure!
These are two mini caramel and pecan roulades and they're all lovely and golden too.
I'd be very happy if you got this for me for dessert on Christmas FYI!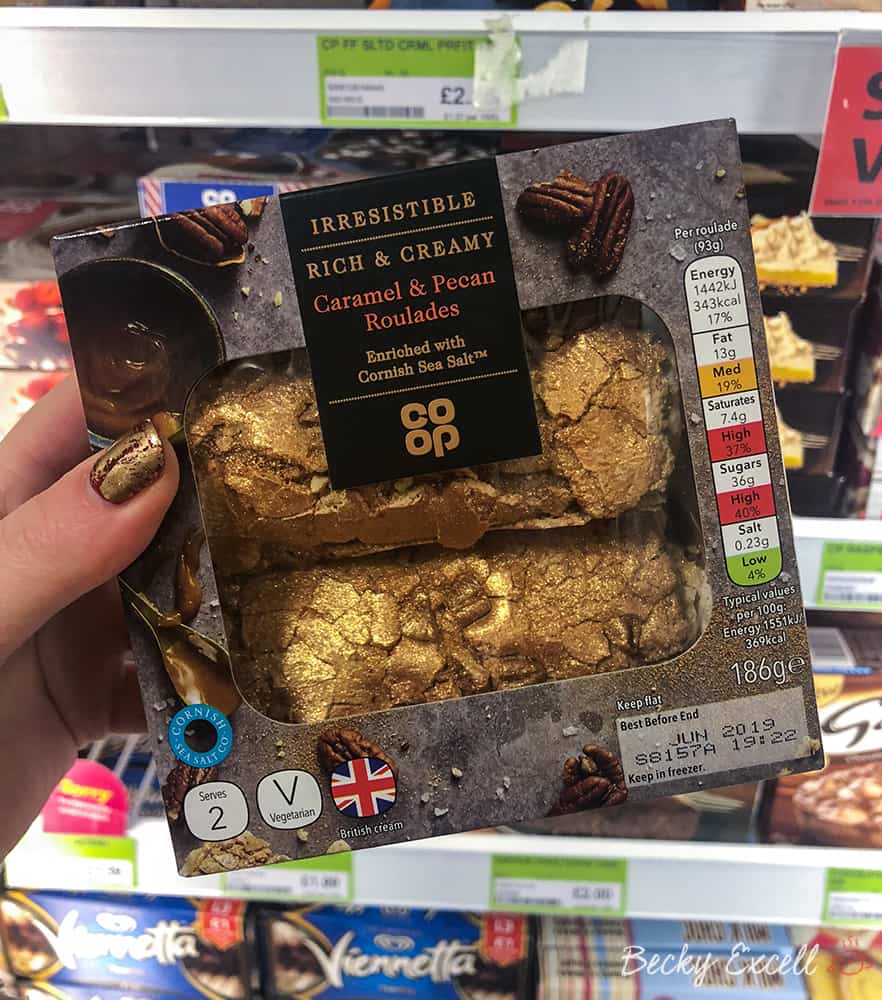 17. White Forest Meringue – Gluten free
If you guys have been reading my other posts, you'll know how much we have to rely on meringue for dessert!
But here's another option to consider – white forest meringue.
And if you can't read it because the writing's too bloody small and you can't find your glasses, then here you go:
It's layers of meringue, white chocolate cream and cherry kirsch sauce topped with cherries, white chocolate and a dusting of silver shimmer. Oh and it contains alcohol!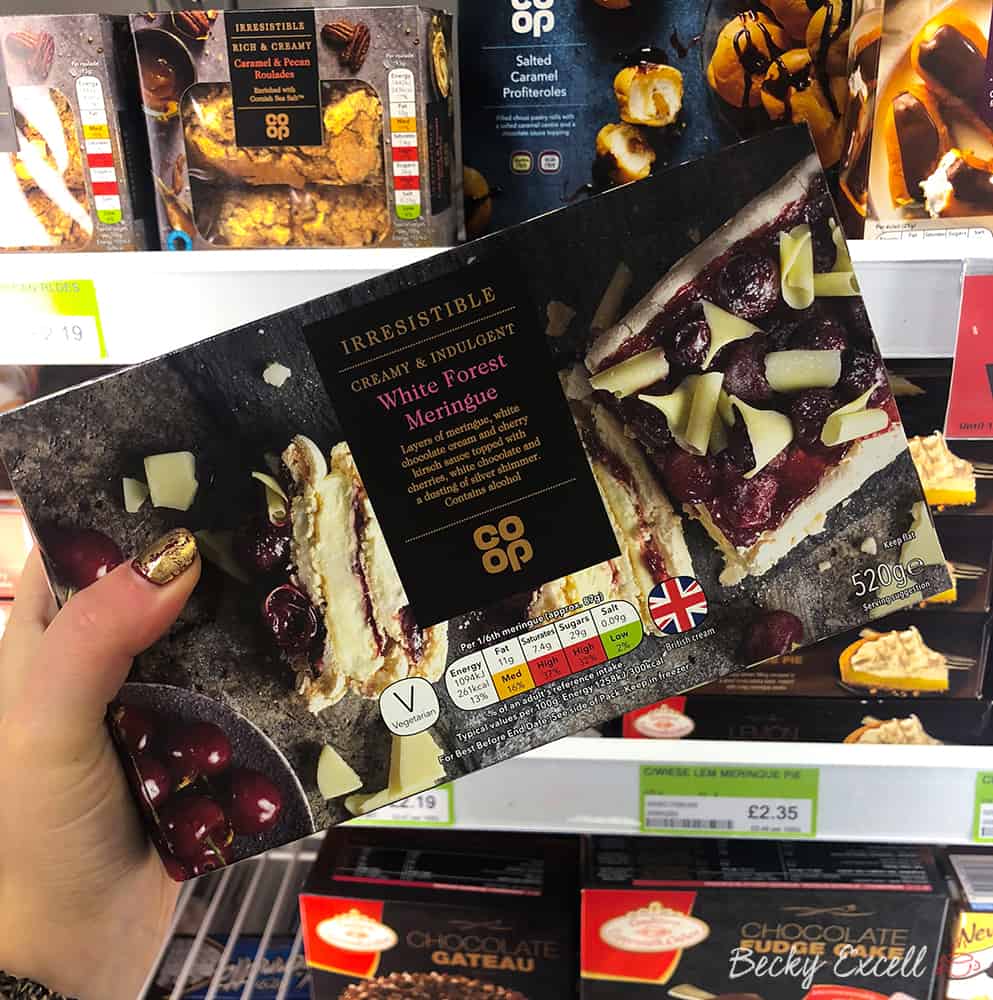 18. Salted Caramel and Passion Fruit Belgian Chocolate Cups – Gluten free
And I always think that these wouldn't make half-bad little sweet canapes at a gluten free party food buffet.
Again, you might need to get your binoculars out to read what they actually are, so I'm gonna write it out here instead:
Hand finished with a choice of 2 luxurious creamy fillings:
6 Belgian White Chocolate and Passion Fruit and 6 Belgian Milk Chocolate and Salted Caramel cups.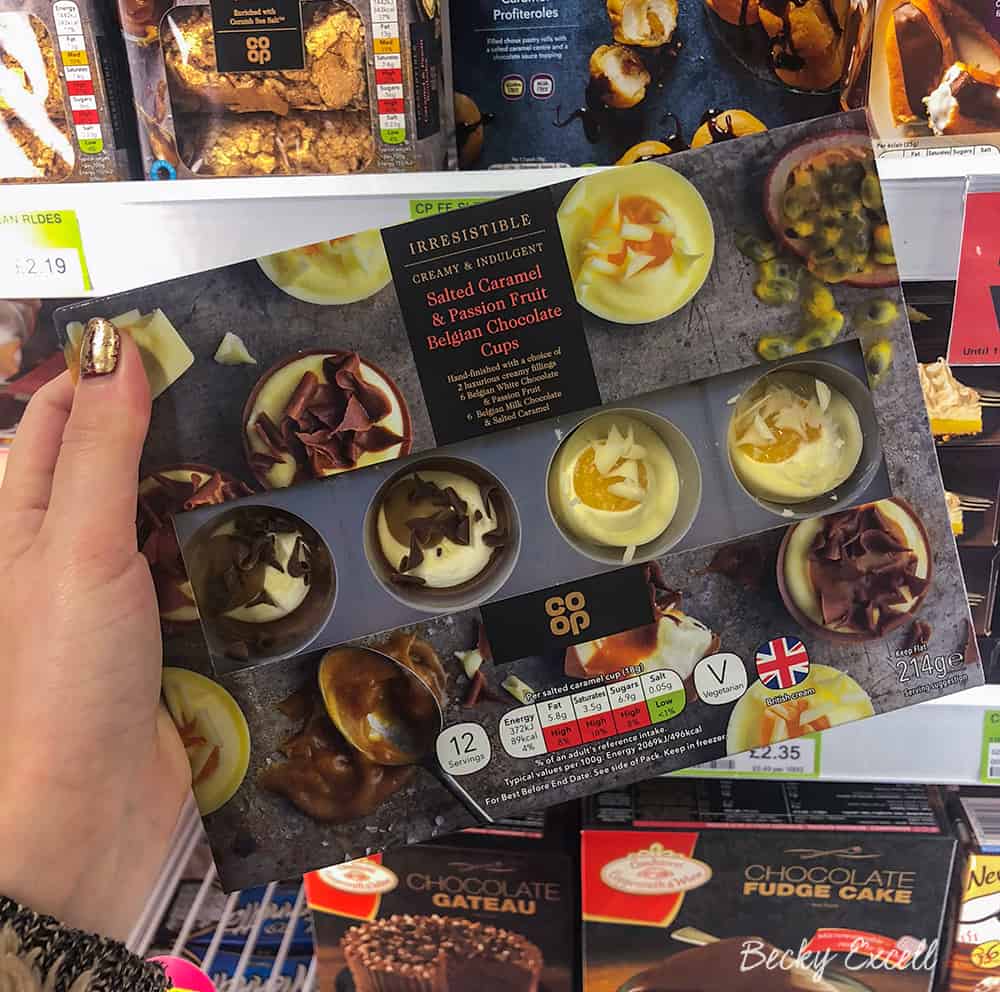 19. 4 Chocolate Eclairs – Gluten free and Milk Free
And just like I raved about the profiteroles earlier, I'm back to rave about these free from eclairs.
You'd honestly never know they were gluten free OR dairy free, so you defo need to give these a try.
Like I said, gf AND dairy free desserts can be a little hard to come by, so that makes these a no-brainer option for Christmas dessert.
I wish I picked up a box of these now!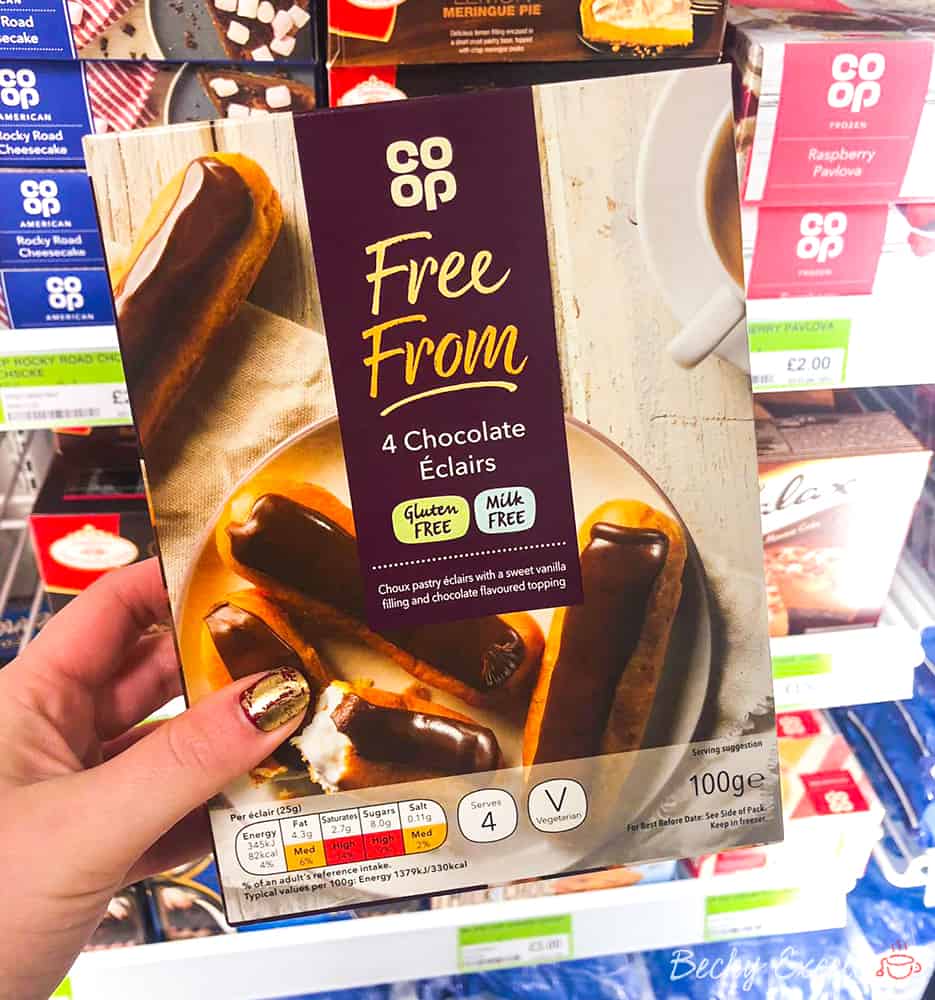 20. 8 Yorkshire Puddings – Gluten free
Oh and when it comes to Christmas food, where would we be without Yorkshire puds?!
(I won't get into the debate of whether it's ok to have it with Xmas dinner or not… I certainly am!)
But these frozen Yorkshires will make an already-frantic Christmas day cooking session a lot easier!
So there you go!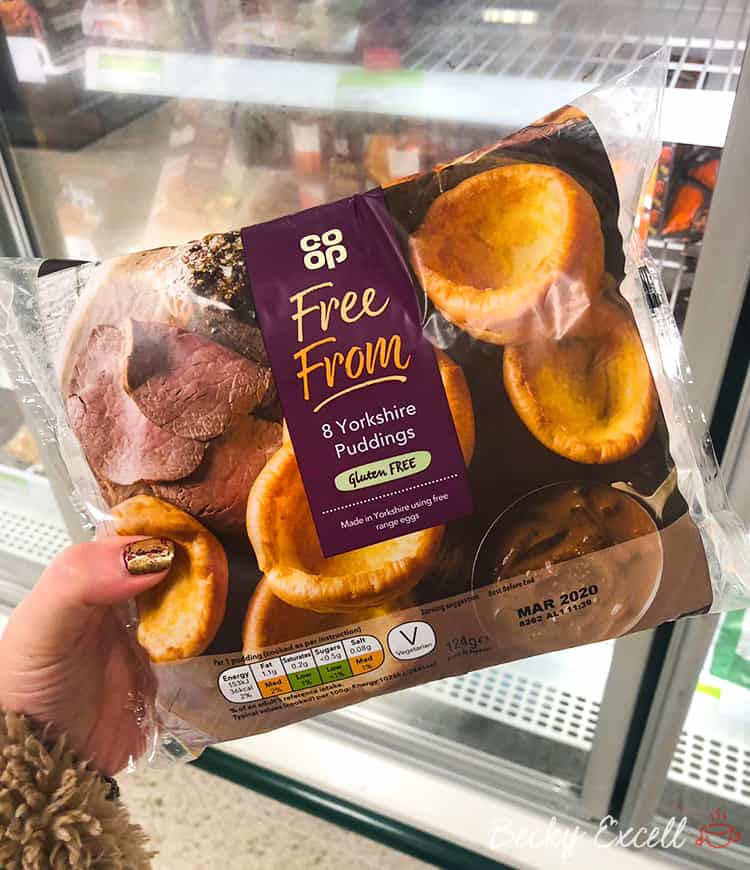 21. Kir Royale Semifreddo – Gluten free
Ok, this is another one with quite a long description, so here goes… *takes a deep breath*
A luxurious Italian-style frozen dessert with mascarpone, Prosecco and a sweet blackcurrant and cassis sauce.
(wait, it's not over yet 😂)
Topped with whole blackcurrants and a dusting of silver shimmer. So it's a bit like a cheesecake, without the biscuit base of course.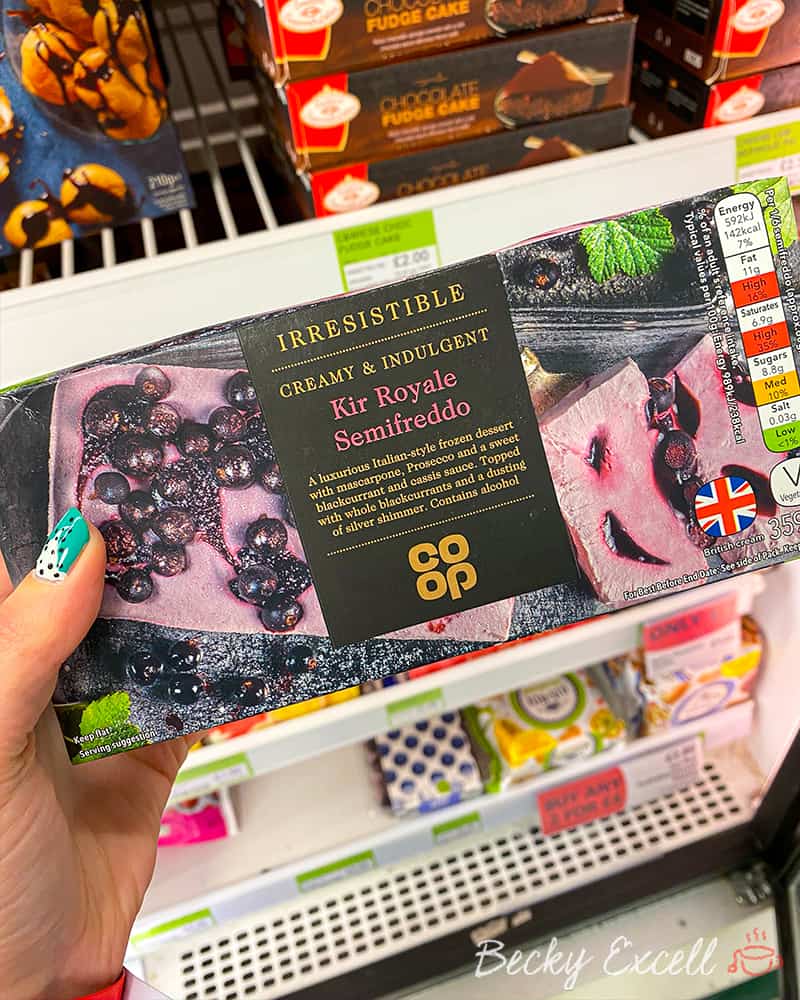 22. Spiced Salted Caramel Roulade – Gluten free
And last but not least is this spiced salted caramel roulade.
It's brown sugar meringue encrusted with pecan pieces, filled with whipped cream and spiced salted caramel sauce. Yum!
And though this is the last product, make sure you keep checking back as there's gonna be lots more to add in this one before Christmas rolls around.
So bookmark this page and keep checking back, or keep an eye on my Instagram for new product announcements!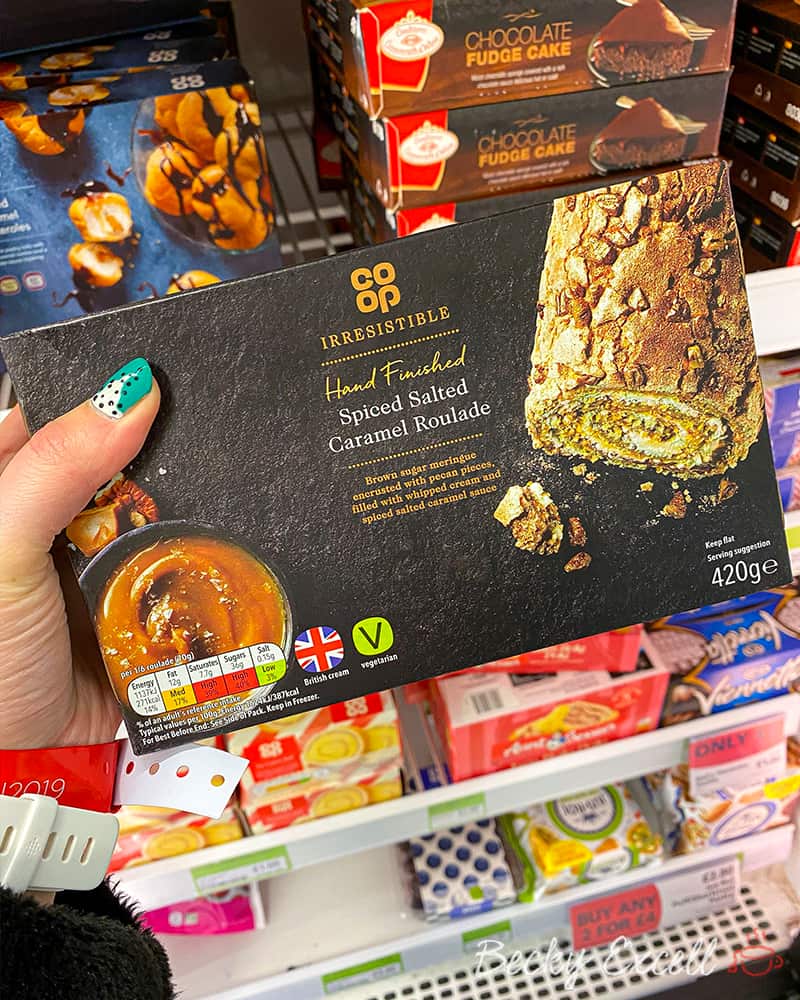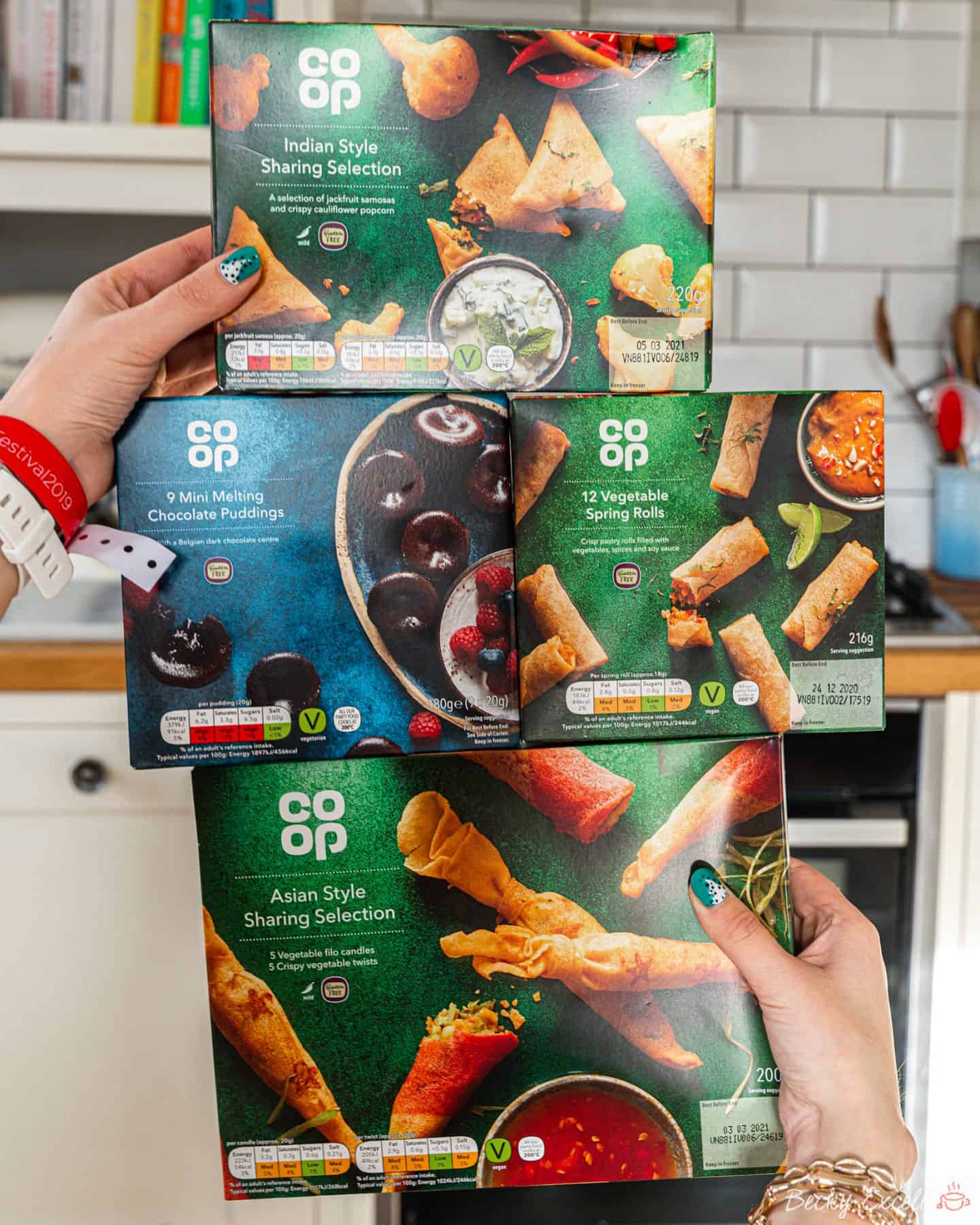 That's the 22 NEW products in the Co-op gluten free Christmas range 2019!
Thanks for joining me in checking out the Co-op gluten free Christmas range 2019! What did you think? Is it too early for Christmas products?! Which one was your favourite? What did you think of the prices? What are we still missing?
If you enjoyed this post, make sure you check out my:
Co-op gluten free Christmas range post
Please do let me know by leaving a comment below or by following me Instagram and leaving me a comment.
Thanks for reading – you don't know how much I appreciate it!
Becky xxx
Comments