Co-op gluten-free Christmas range 2020 – it's here! You might remember some of these from last year, but here's some brand new favourites too.
Co-op gluten-free Christmas range 2020? Yep, its back and Co-op are retaining their great reputation for AWESOME gluten-free party food once again. Here's everything in their range, including desserts, mince pies and more!
Oh and tap here to follow me on Instagram where I post all my latest gf finds first – that way, you'll always know all the most recent finds and never miss any!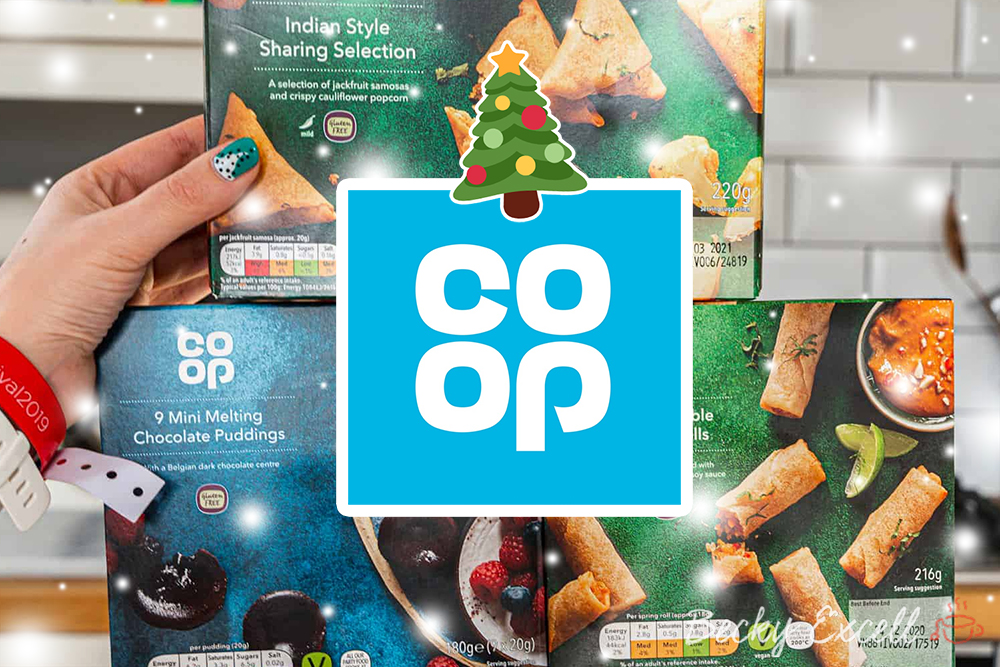 Here's the 30 NEW products in the Co-op gluten-free Christmas range
Before we get started, you should probably know that all of the FROZEN party food products are £2.25 and on a 2 for £4 deal.
And as these products are generally only around for Christmas, so you know what that means, right? Time to stock up!!
I was still enjoying these products in February this year and I plan to again in Feb 2021!
Speaking of February 20201… that's when my first ever gluten-free recipe book is released! If you haven't preordered yet, tap here for the link, or tap the image below. Thanks for even considering it – it means the world!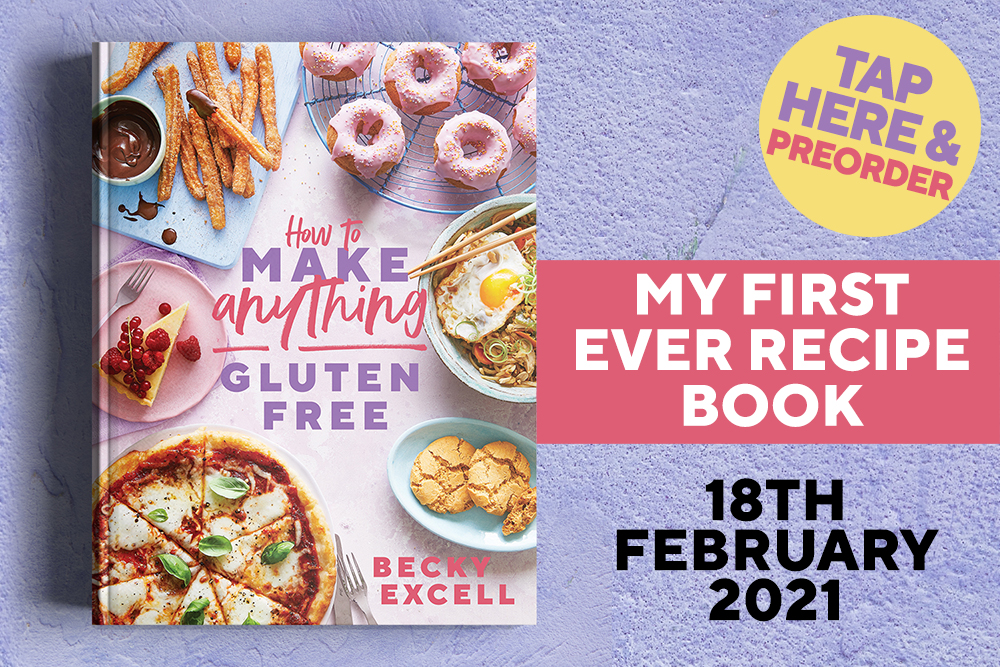 1. Co-op 10 No-Duck Spring Rolls
Finding products that are gluten-free AND vegan is incredibly rare, so let's just appreciate these first two products together, shall we?
Yep, these are 10 'no-duck' spring rolls – crisp pastry rolls filled with jackfruit, hoisin sauce and spices.
If you're doing Veganuary in 2021, it doesn't hurt to start early I guess!
Again, these are frozen products in the freezer section and on the 2 for £4 deal.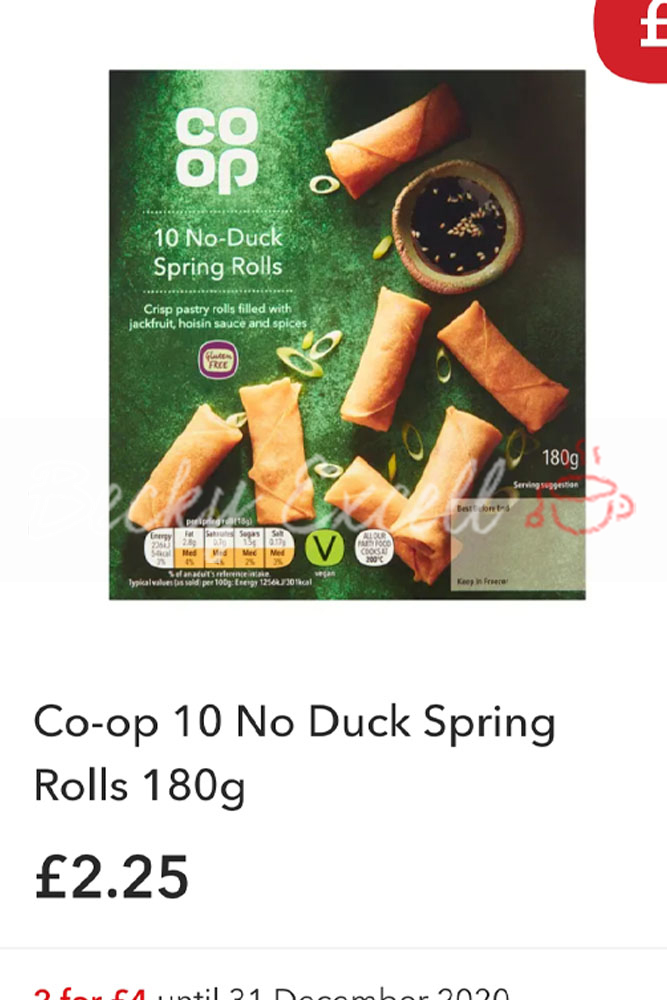 2. Co-op Cauliflower Popcorn
And here's yet another gluten-free and vegan option!
Cauliflower 'popcorn' – lightly fried in a seasoned batter, serve with a sweet chilli dip.
Another new one in the Co-op gluten-free Christmas range 2020!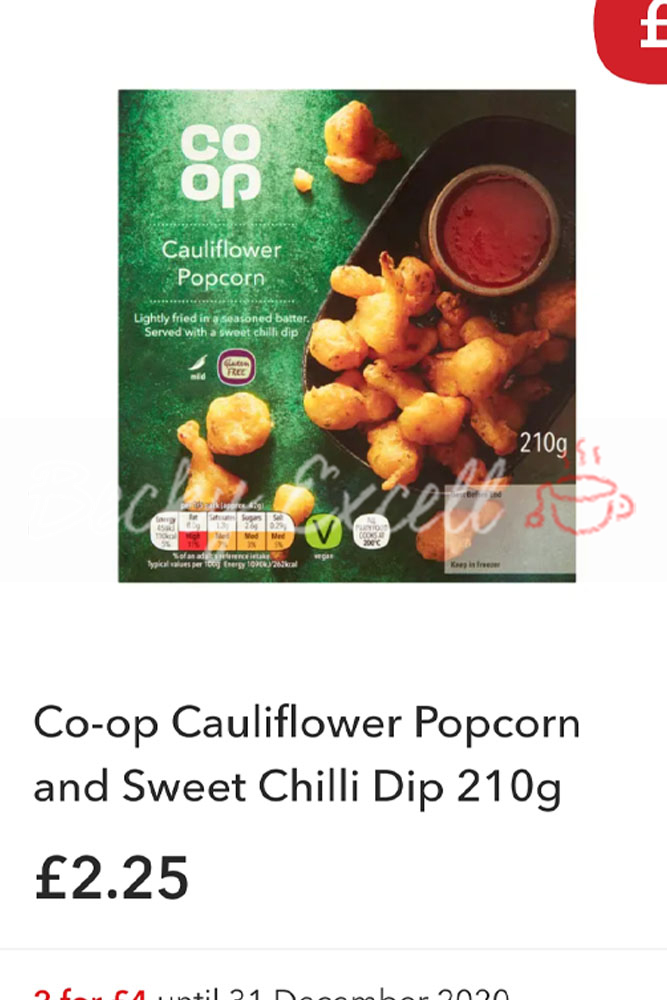 3. Co-op Irresistible Melting and Moreish Shimmering Burnt Caramel Sponge
Now this sounds right up my street!
This is yet another new product that would be perfect for any gluten-free dessert.
Lots of you mentioned how you like to take an 'in case of emergency' dessert when eating at a family member's house on Christmas day.
And this would be a great, easy to transport, easy to prepare option, just for that purpose.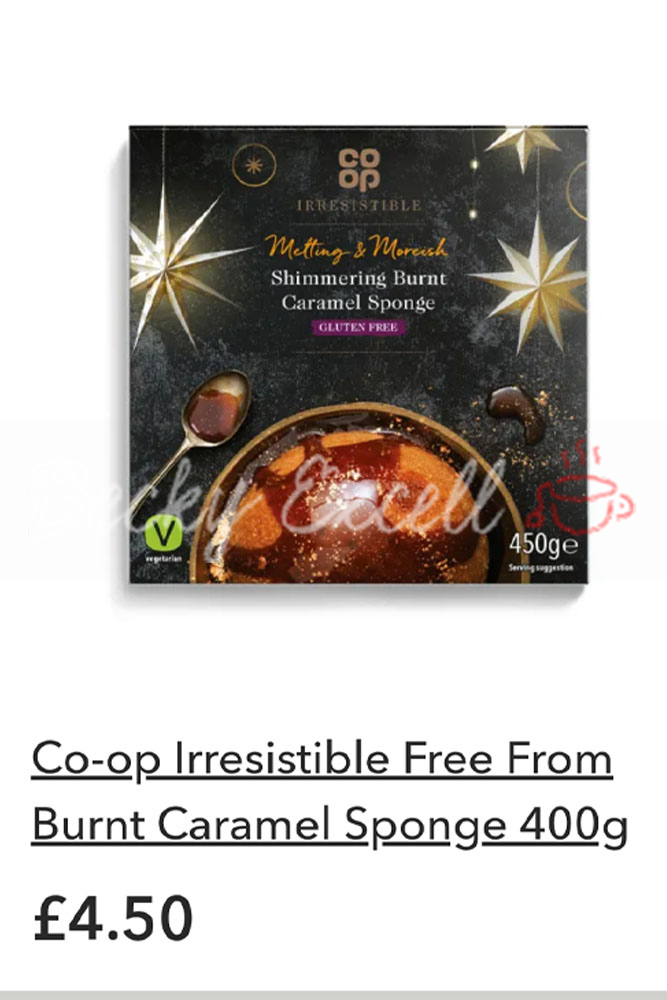 4. Co-op Hand Finished Choc Selection Box
And here's a rather lovely looking milk-free selection box that's also vegan and egg-free too.
I'll definitely be getting this one for Mark as he's a fan of any dairy-free chocolate that isn't just plain!
Sorry I haven't been able to get out and take photos of these products myself this year, but I'm trying not to go out unless completely necessary.
And to be honest, the less products I touch, the better – for everyone!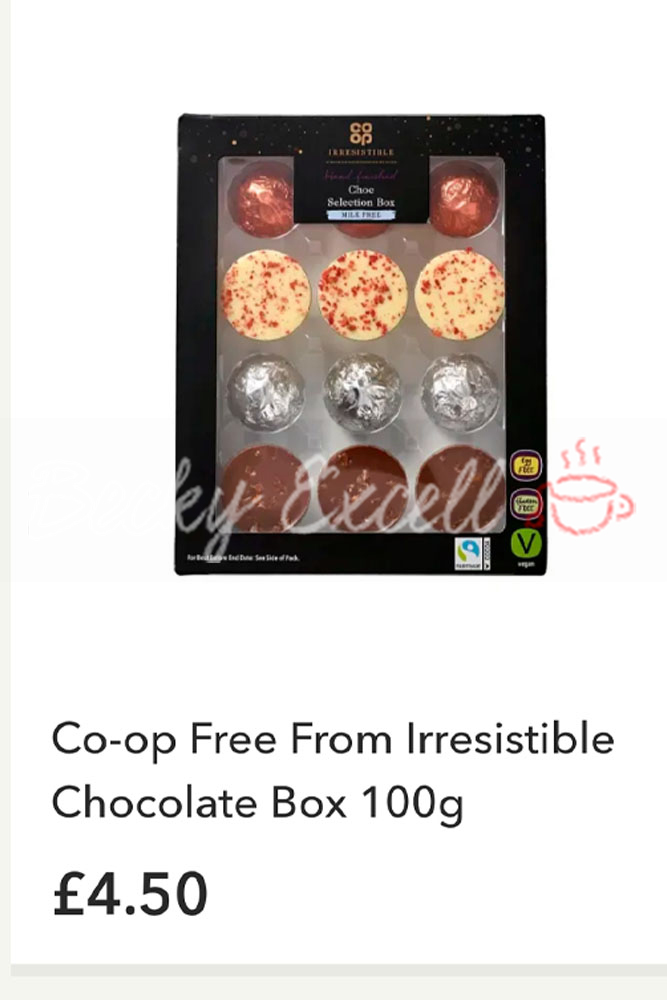 5. Co-op Asian Style Sharing Selection
I think Co-op have only gone and done it again for the THIRD year running in terms of frozen gluten-free party food. Here's a bunch more of them in the 2 for £4 deal.
In this selection, you're getting 5 vegetable filo candles and 5 crispy vegetable twists in each box.
And believe it or not, they're dairy free too!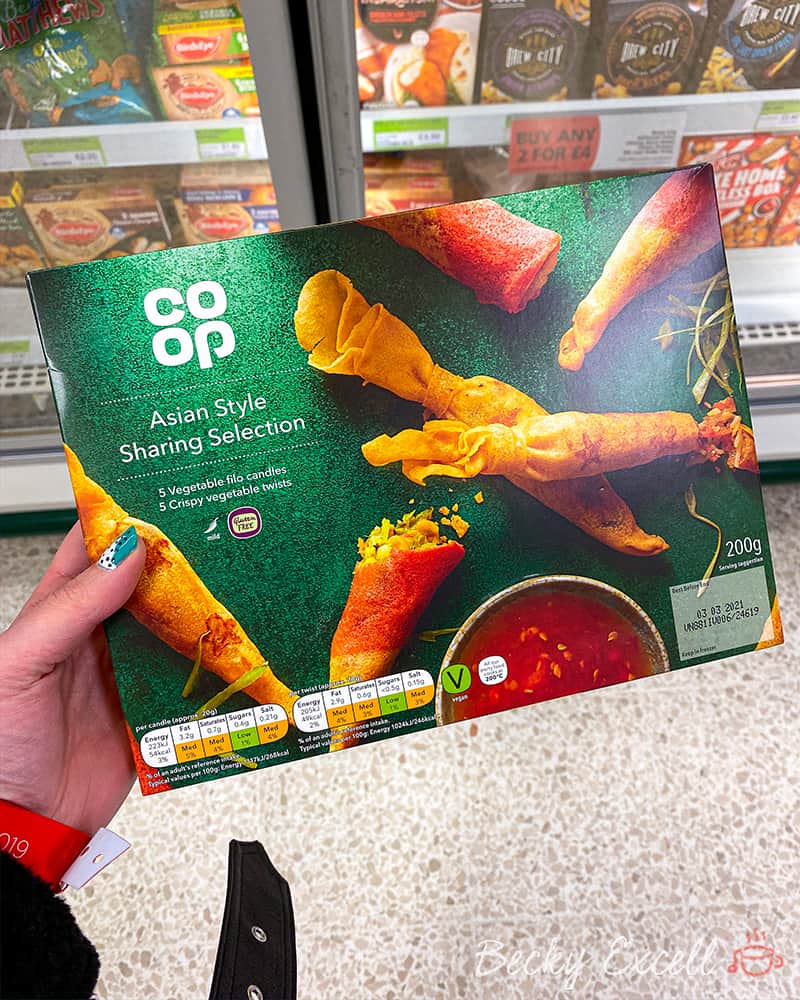 6. Co-op 9 Mini Melting Chocolate Puddings
How cute are these little melting chocolate puddings?!
Fortunately, gluten-free desserts are pretty plentiful this year, but I think this has to be up there with some of the best options.
Time to stock up on these!
Whilst these aren't dairy free because of a 'may contain milk' warning, these actually have no dairy-containing ingredients them if that helps.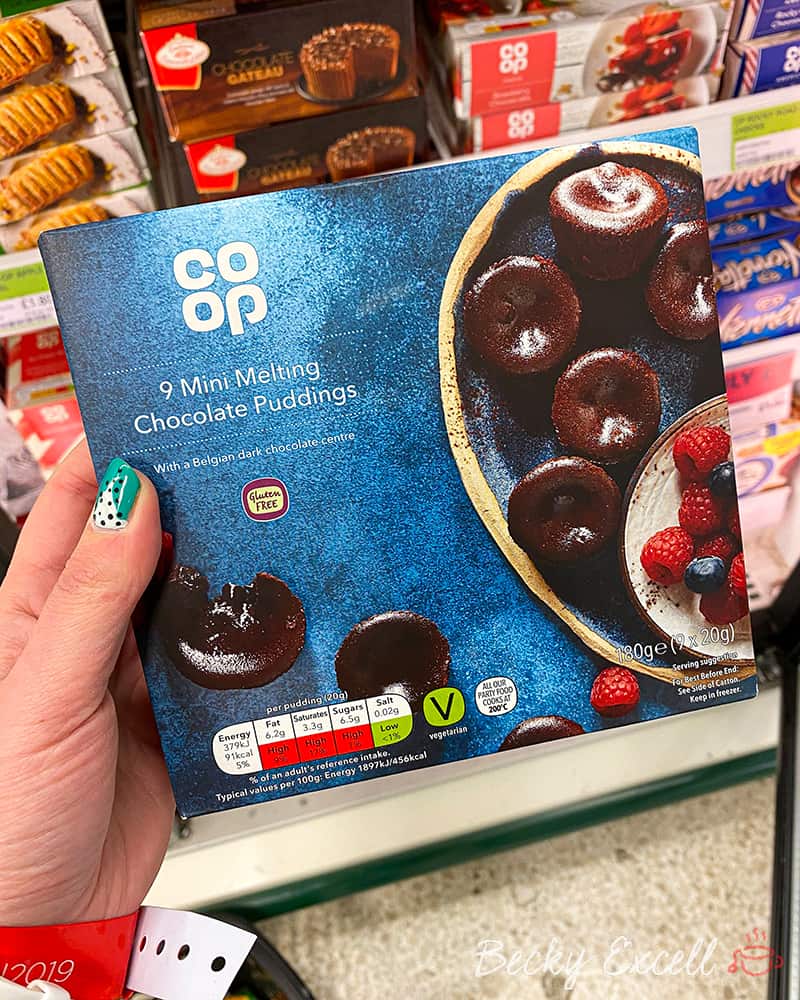 7. Co-op 12 Vegetable Spring Rolls
And a returning fave from last year are these veggie spring rolls, filled with vegetables, spices and gluten-free soy sauce.
I really don't know how Co-op have done it with all the gluten-free filo pastry products…
And that's exactly what I mean about the Co-op having products that you can't find anywhere else.
This is definitely one of them!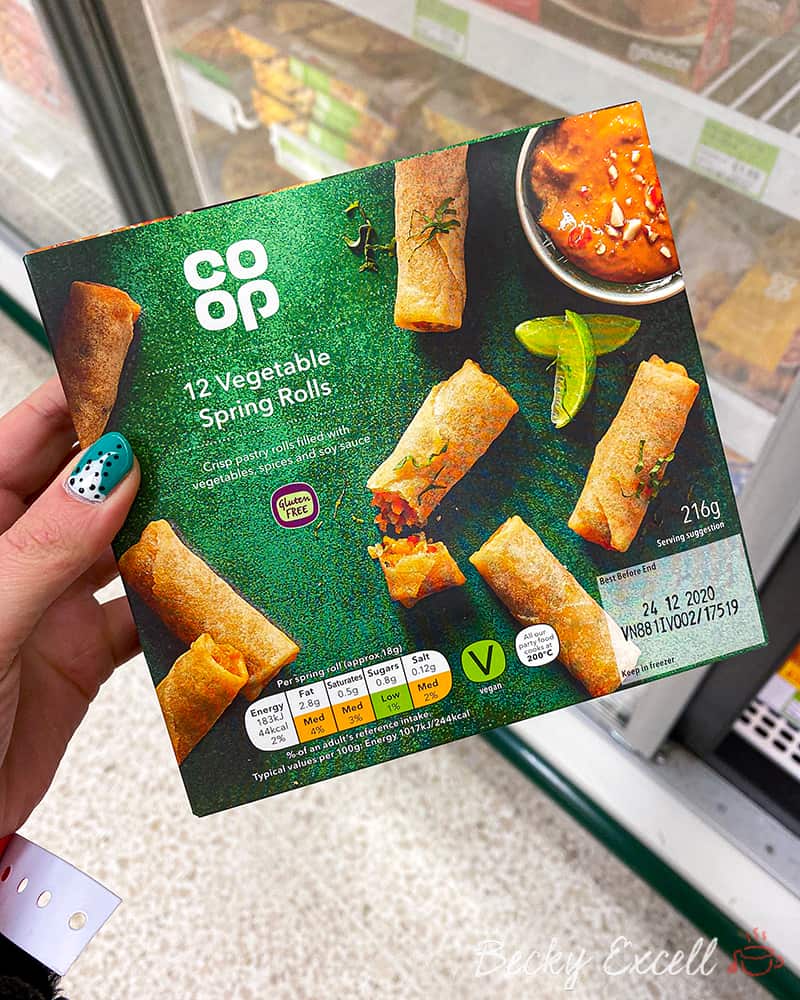 8. Co-op Indian Style Selection
This is the same, great, gluten-free AND vegan Indian-style party food selection from last year.
However, some of you might remember that it USED to be bhajis and pakoras but this box contains a selection of jackfruit samosas and crispy cauliflower popcorn.
Keep scrolling down for a photo of what the Indian selection USED to be…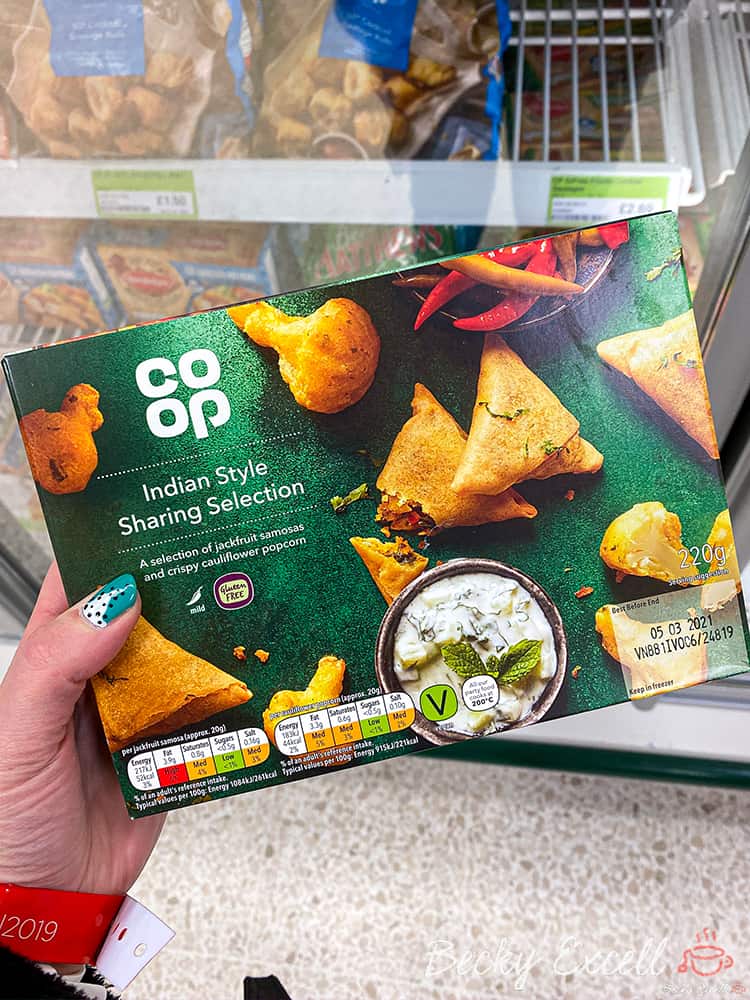 Here ya go!
There were 5 onion bhajis and 5 vegetable pakoras in the box from previous years.
I'm still not sure which I'd prefer (mainly because I can't eat either product because of onion/garlic!) but the bhajis would be more up my street if I could eat them…
But then I used to love samosas too! I can't decide!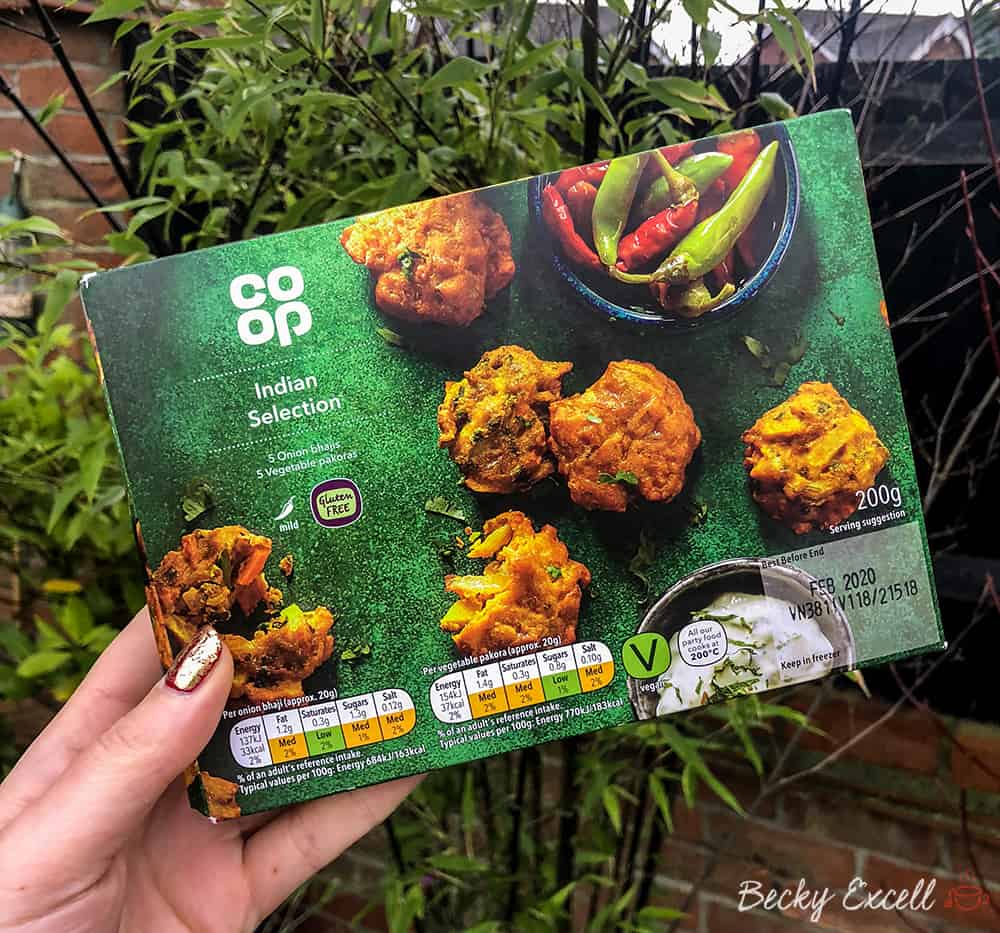 9. Co-op 12 Chilli Cheese Bites – gluten-free
These were a massive deal for me last year.
Mainly because I could actually eat these – they didn't contain onion or garlic! Sadly, this year, they do…
These are 12 cheddar cheese bites with jalapeno chillies in a crisp batter coating. Yep, not breadcrumbed, actually battered!
Yep, still 2 for £4!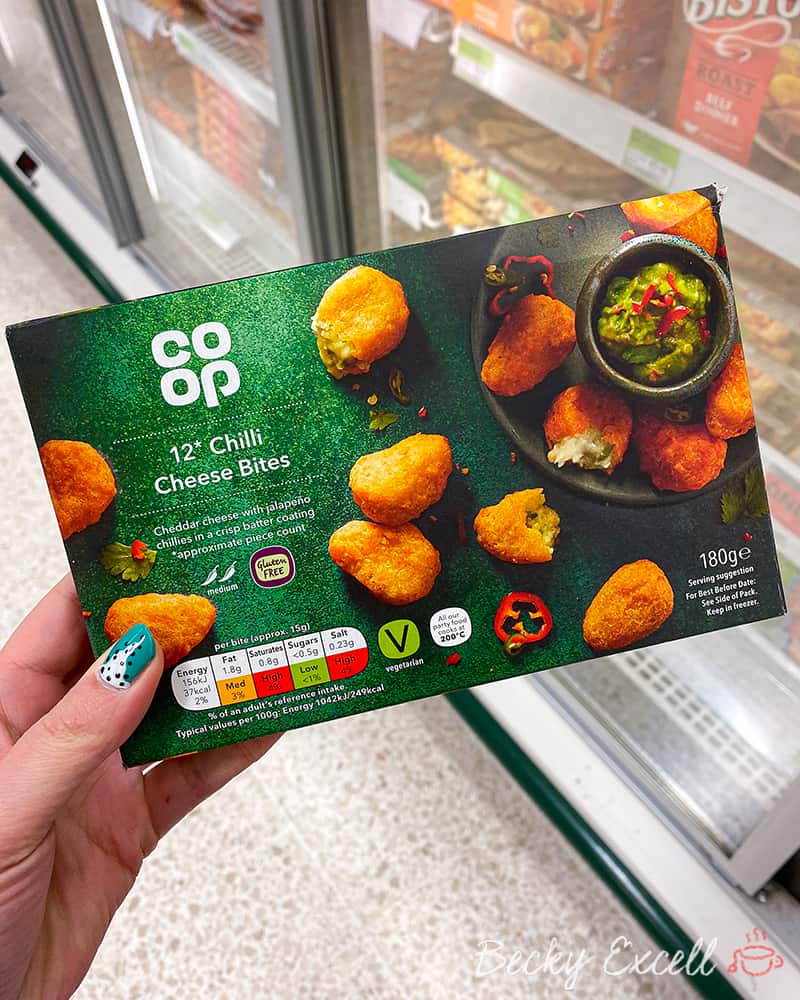 10. Co-op 12 Mozzarella Sticks
The 12 mozzarella sticks have also made a come-back.
These are little sticks of stringy mozzarella in a garlic and parsley crumb.
There's quite a few gluten-free mozzarella sticks to choose from this year, but the crumb is usually plain.
So maybe the garlic and parsley crumb might swing it for you on these!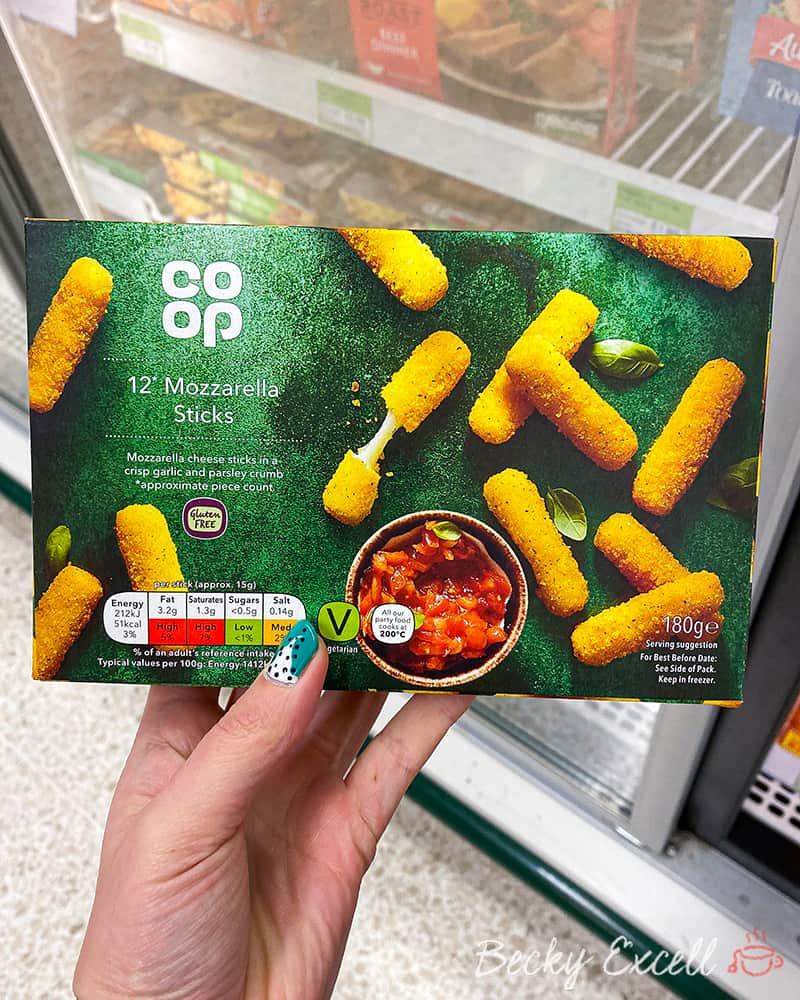 11. Co-op 10 Tempura Prawns
Guess who's back?
Yep, it's 10 tempura prawns back in time for the Christmas buffet!
Again, a pretty big deal because a proper tempura batter is basically never gluten-free. Again, where else can you find gf tempura prawns this year? No where, that's where!
And unlike some of the other gluten-free tempura battered products out there, the batter on these looks so nice, light, crispy and airy!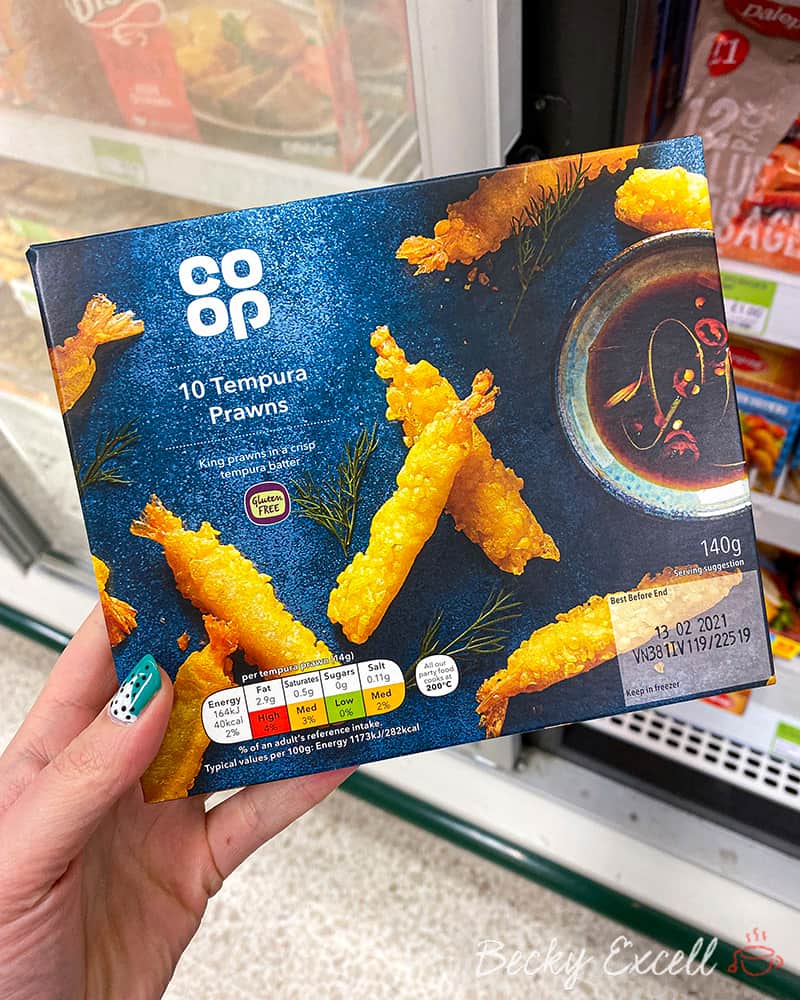 12. Co-op Free From Turkey and Trimmings Christmas Sandwich
And fortunately, Co-op seems to be well on top of sorting us gluten-free folks out with a Christmas sandwich this year!
Most supermarkets have options these days, but it's always good to have options, right?

13. Salted Caramel Profiteroles – gluten-free and milk free
Now these. are. amazing.
Mark is lactose intolerant so Christmas desserts can be really tough… but these are everything he ever dreamed of.
(yes, he even ate them straight out of the freezer without letting them defrost – he said it was still great!!)
A decent amount of products in the Co-op gluten-free Christmas range are dairy free, but this one of the only few that actually states 'milk free' on the front.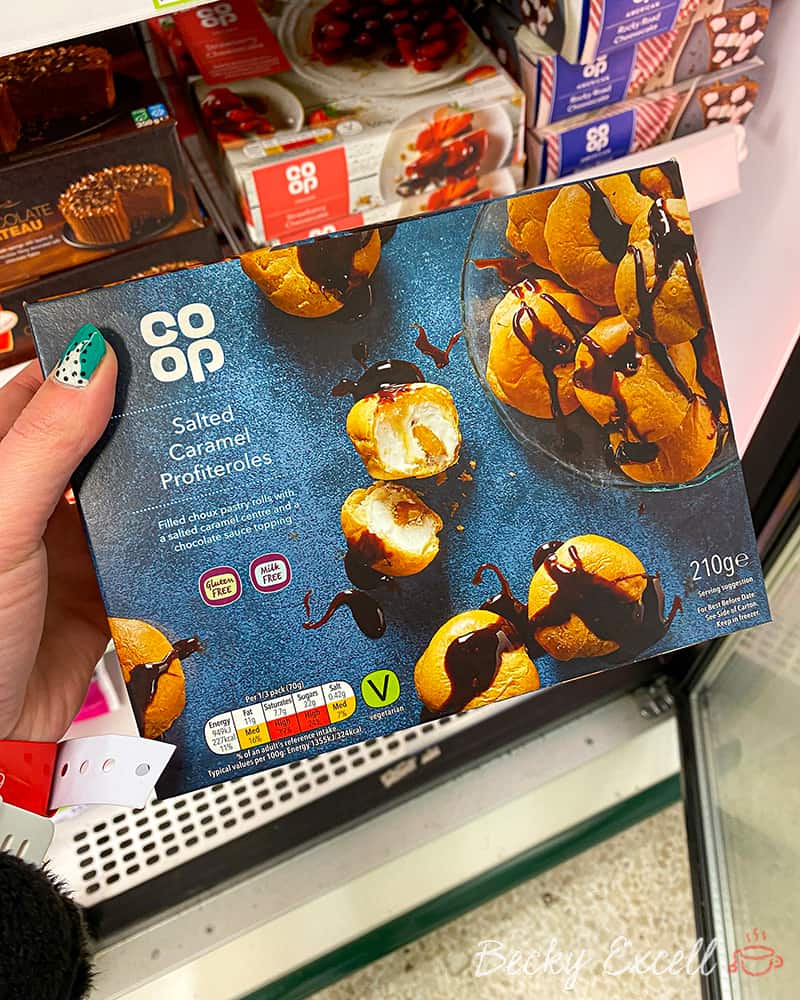 14. Co-op Chicken Goujons
Here's another new one for Christmas 2020 and of course, in on the 2 for £4 deal.
Chicken goujons! They're tender chicken breast pieces in a crispy crumb coating, made from 100% chicken breast.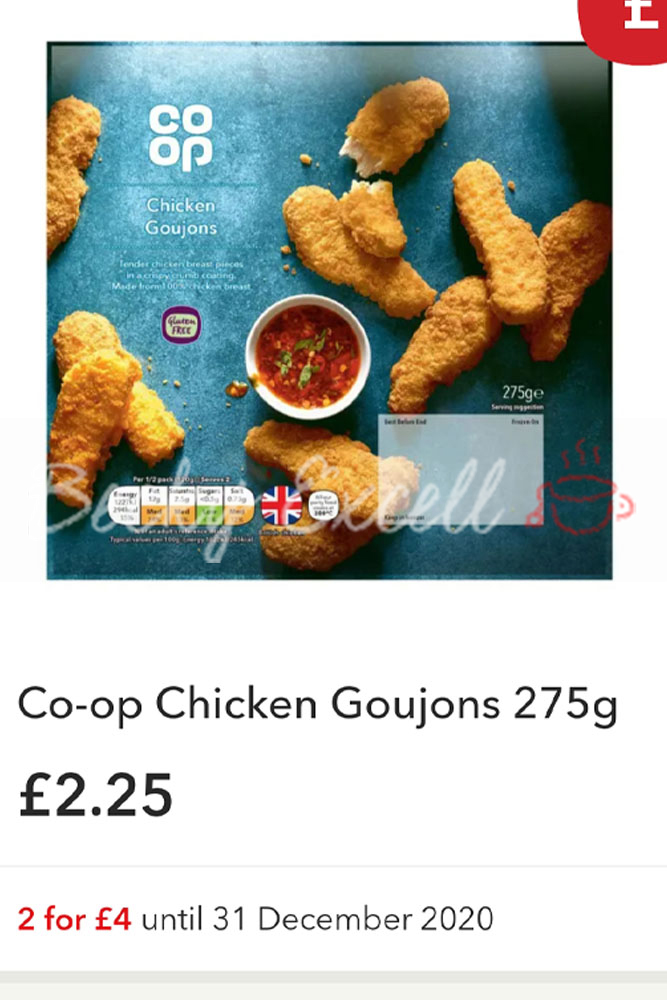 15. Co-op 16 Sticky Honey and Mustard Sausages
The great thing about Co-op products is that if a product is gluten-free, they'll be the first to tell you!
Just look for that little lime green/purple 'gluten-free' logo on the front. It's right at the bottom on the front of these.
This particular chilled product is in the 2 for £5 deal – so separate from all the other frozen products we've seen so far.
Fortunately, I've got a few more products in this deal coming up so yes, you can definitely take full advantage of it!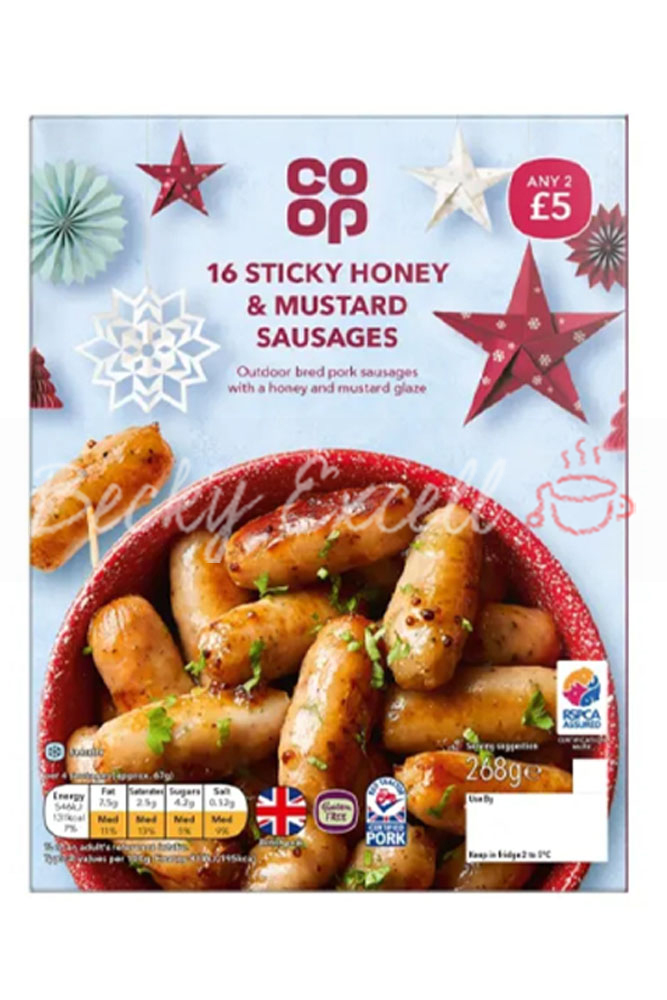 16. Co-op Smooth and Indulgent Salted Caramel Truffles
What would Christmas be without tons of nibbles and chocolate treats?
These are a great place to start, but unlike the selection box I posted earlier, these are NOT dairy-free.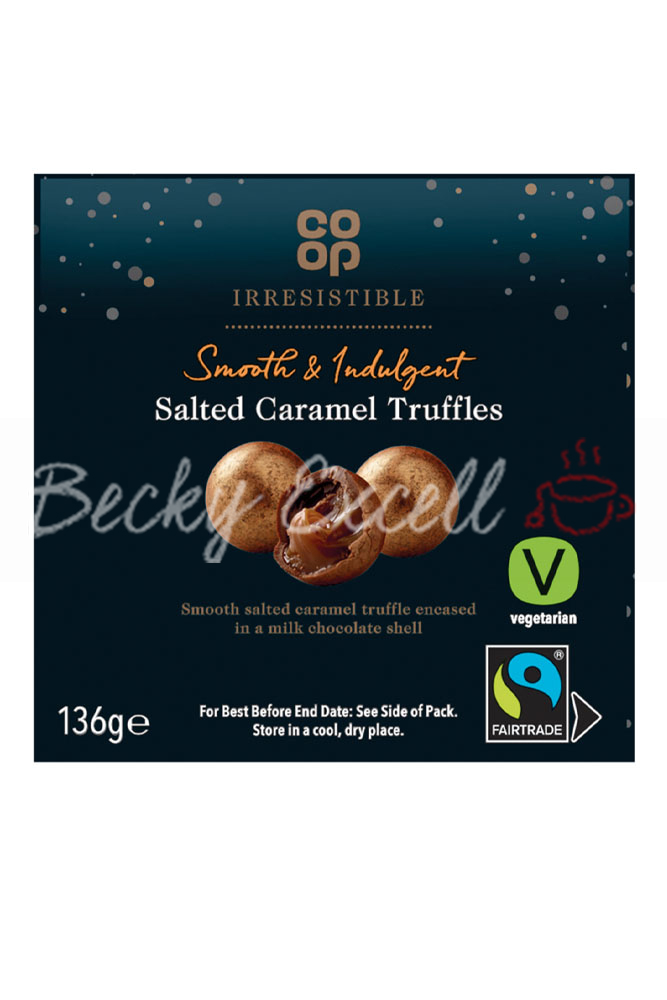 17. Co-op Irresistible Hand Cooked Ultimate Roast Potato Crisps
Speaking of Christmas nibbles, Co-op have some great festive flavoured crisps that would be perfect for sharing!
Starting with the ULTIMATE roast potato crisps, seasoning with Cornish sea salt, extra virgin olive oil, garlic, rosemary and black pepper.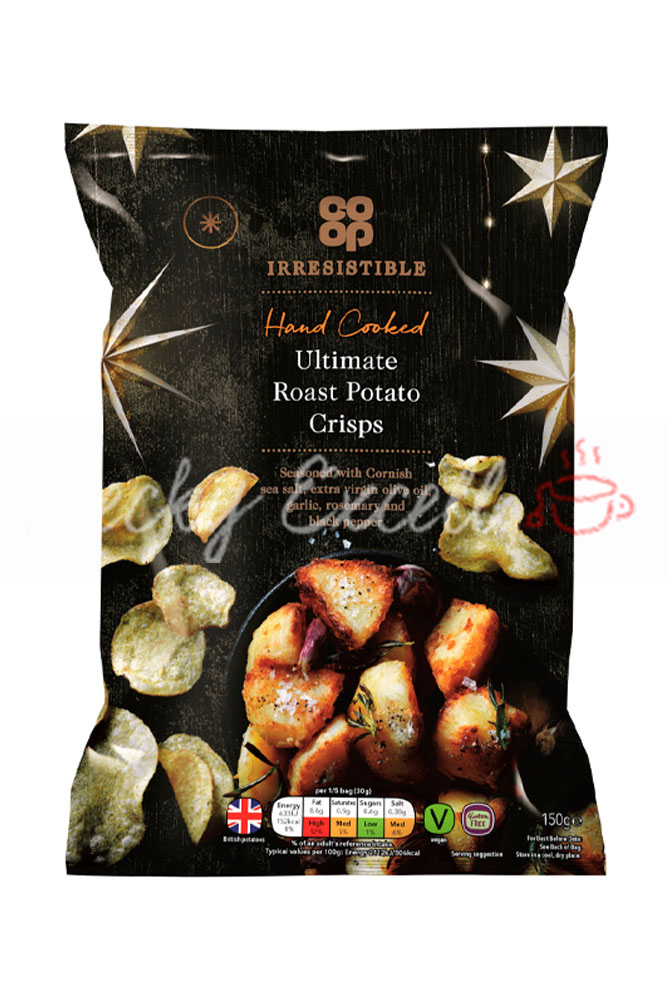 18. Co-op Irresistible Hand Cooked Cheddar Cheese and Truffle Flavour Crisps
And next up are these cheddar cheese and truffle flavour crisps.
They're seasoned with cheddar cheese and aromatic Italian black truffle.
And of course, all of these crisps are clearly marked with the Co-op gluten-free logo at the bottom.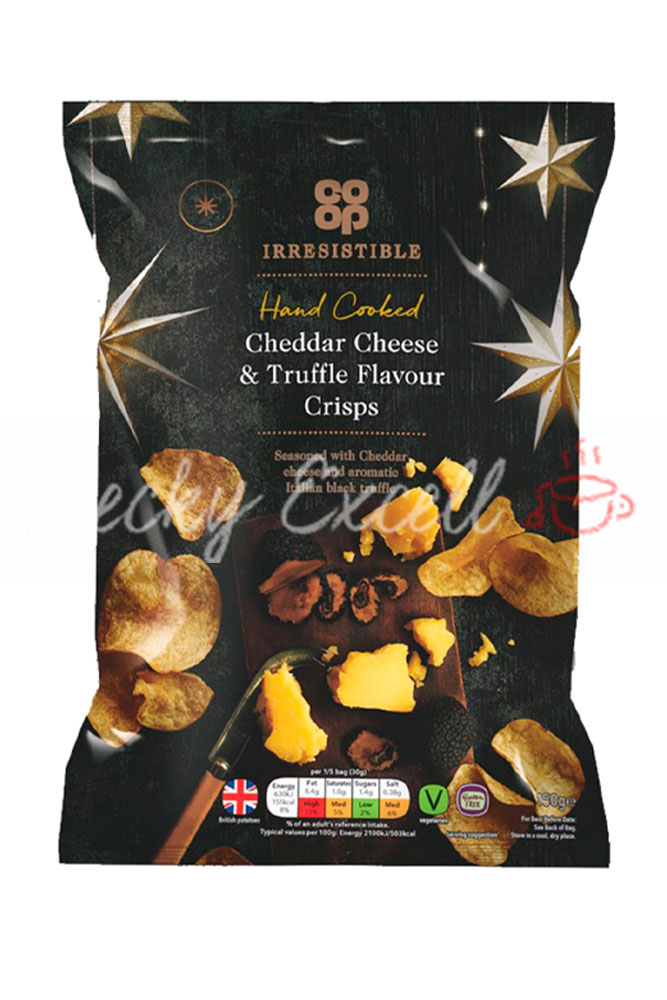 19. Co-op Irresistible Hand Cooked Turkey and Stuffing Flavour Potato Crisps
Last but not least, who could forget about these turkey and stuffing flavour potato crisps?
They're seasoned with a British turkey and sage, onion and thyme stuffing flavour seasoning.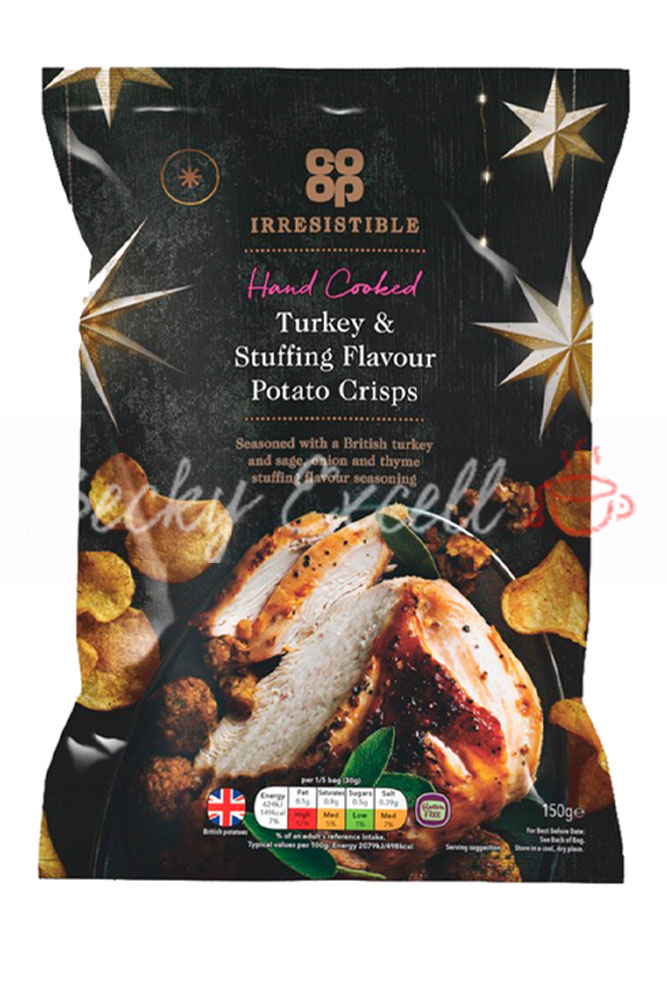 20. Co-op 12 Pigs in Blankets
Oh and when it comes to Christmas food, where would we be without pigs in blankets?!
They're not always gluten-free, so make sure you make a mental note of the ones which are.
Like these!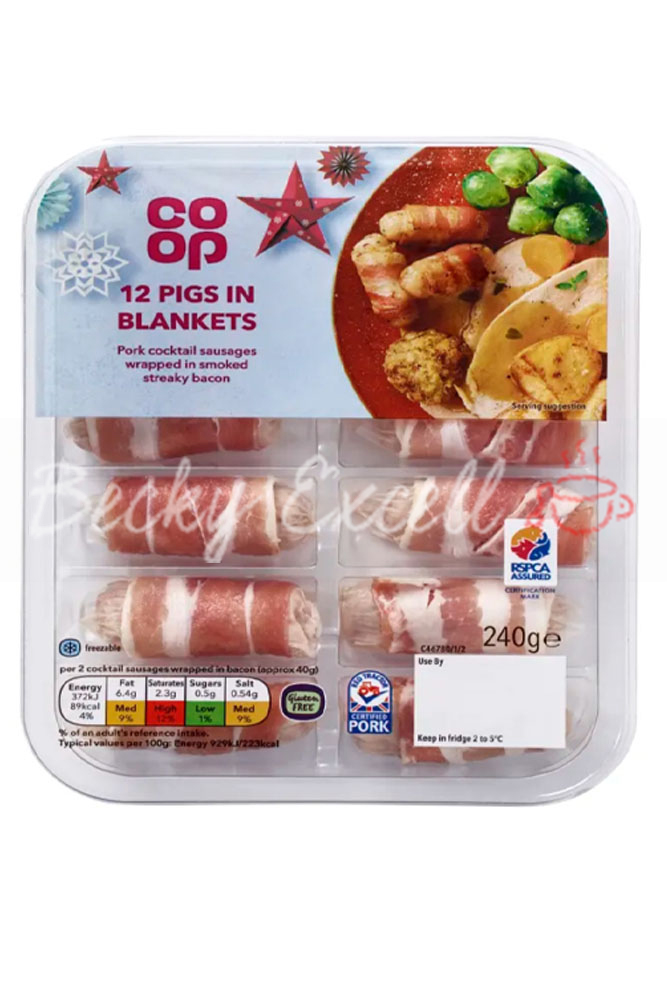 21. Co-op 10 Halloumi Bites
And no, I'm still not done with the gluten-free frozen party food options in Co-op's 2 for £4 deal!
These are brand new for Christmas 2020 – 10 halloumi bites coated in a crisp, golden crumb.
The Co-op gluten-free Christmas range just seems to get bigger and bigger!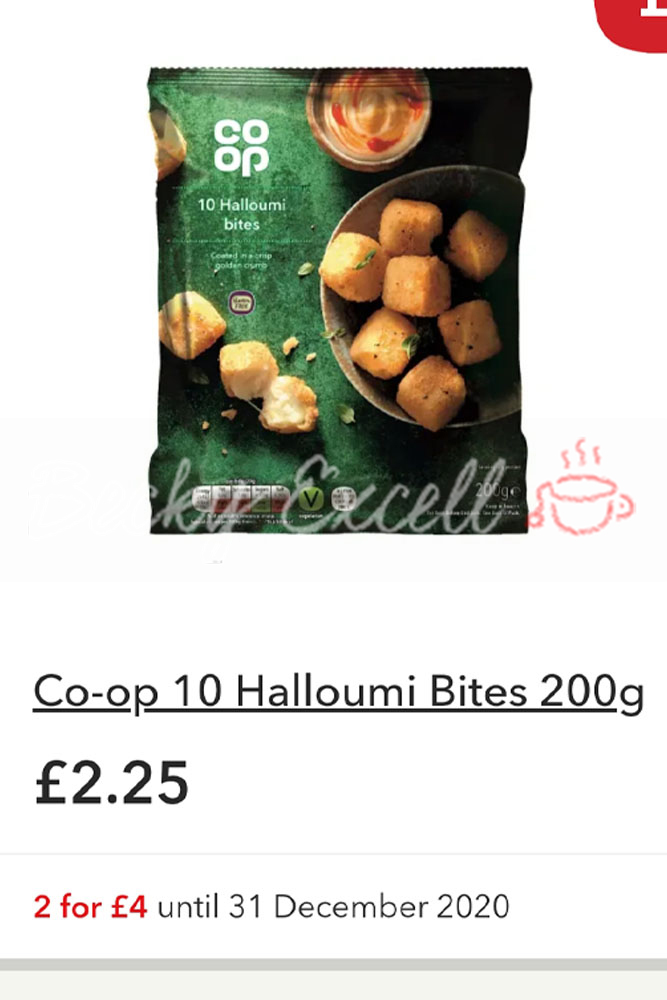 22. Co-op Free From 4 Mince Pies
And how did we get this far without mentioning gluten-free mince pies?
Well, I guess when you look at Co-op gluten-free party food, it's not surprising at all!
These are dairy-free too.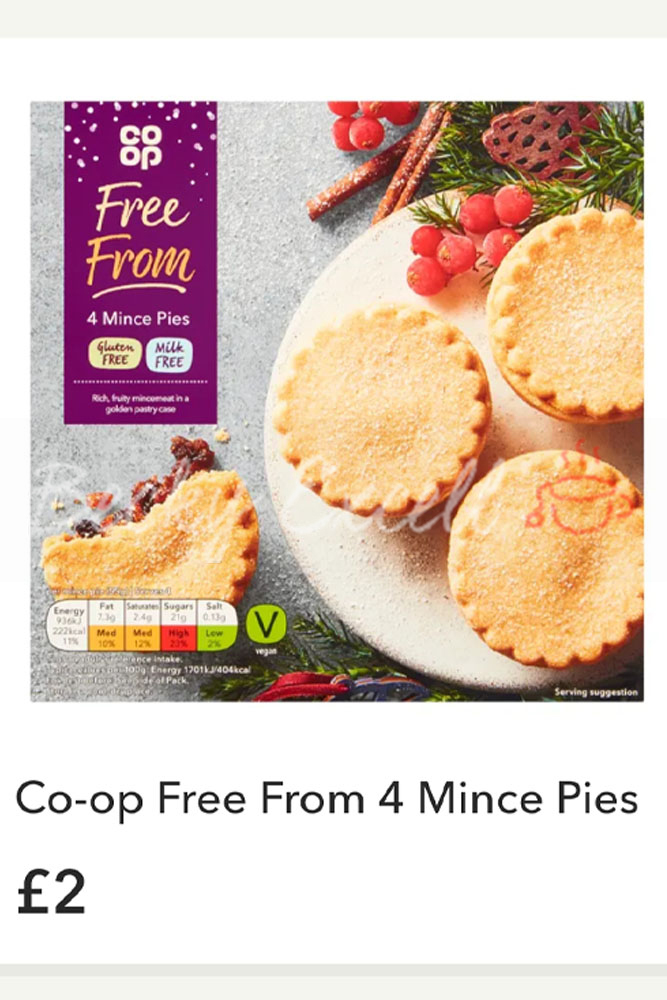 23. Co-op 12 Smoked Salmon and Cheddar Bites
And here's more chilled products in the 2 for £5 deal! These are a returning fave from last year.
You can of course freeze these products too after buying them and defrost them in a fridge for 24 hours before cooking.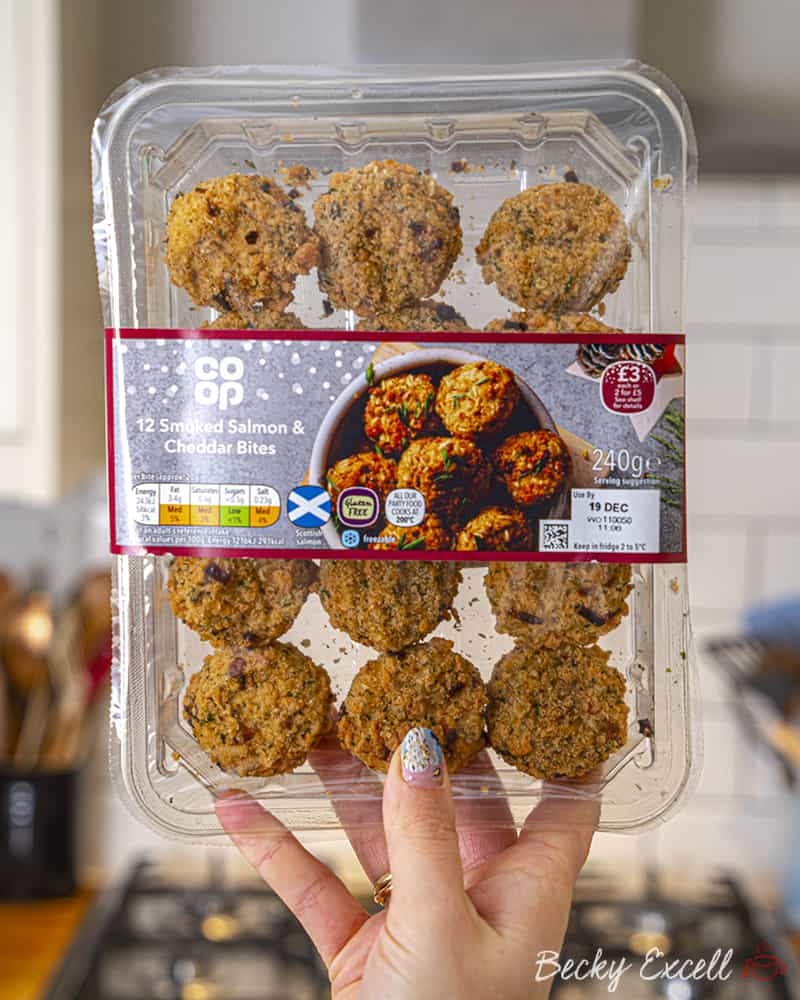 24. Co-op 12 Cheese Bite Selection
The Co-op gluten-free Christmas range just keeps getting better and better, right?!
Yep, these are also in the 2 for £5 deal.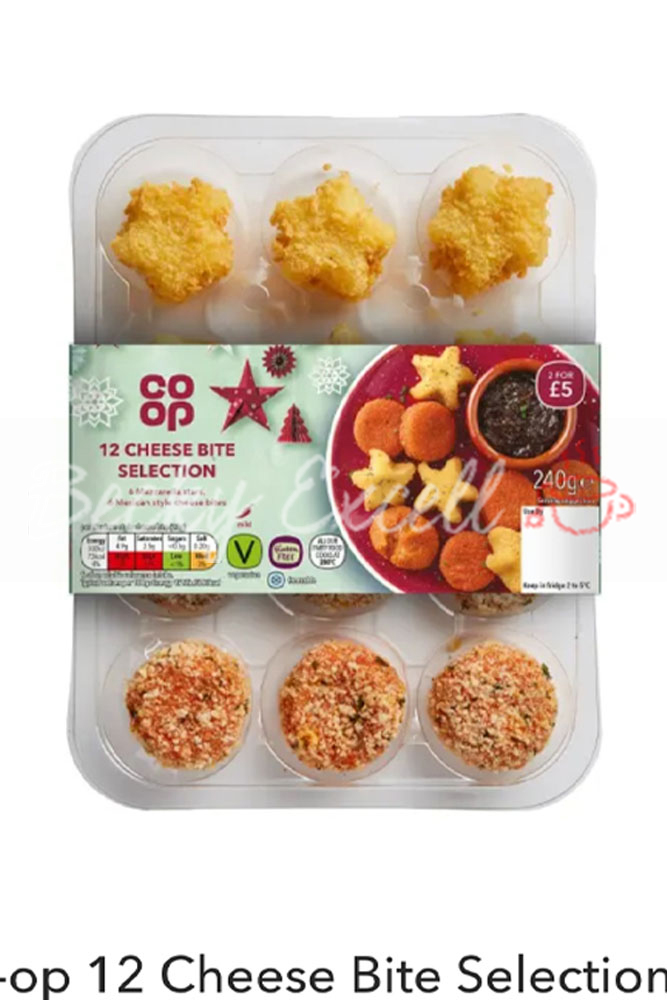 25. Co-op 12 Vegetable Arancini Bites
And here's another one for the veggies out there – twelve arancini bites!
These are rice bites with red pepper, mozzarella and bechamel sauce in a crisp coating. How good does that sound?!
Don't forget that you'll find these products in the chillers, NOT the freezer section – yep, 2 for £5 yet again.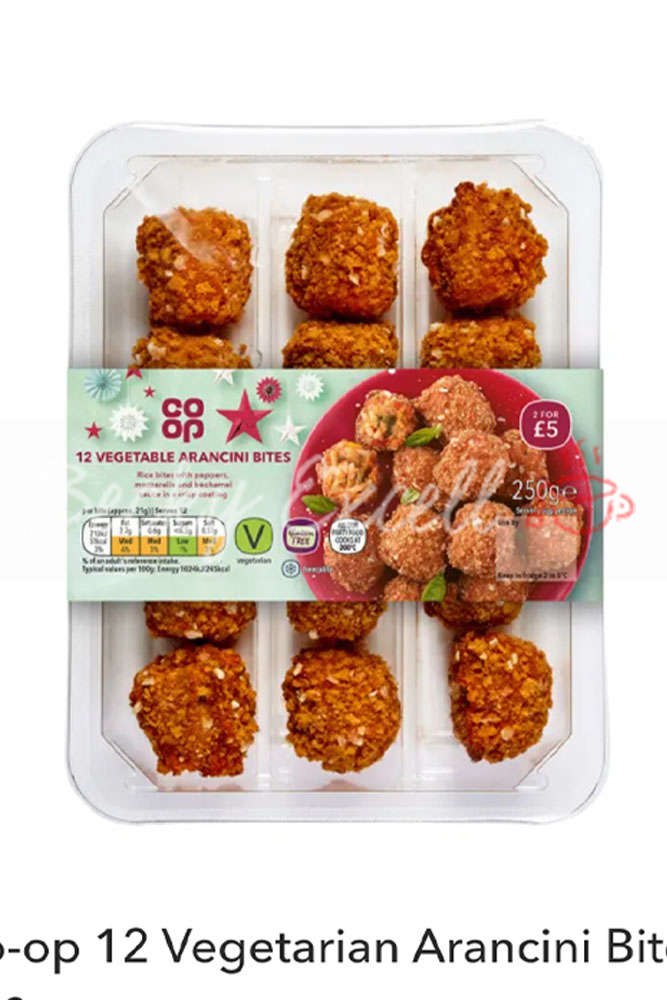 26. Co-op Free From Santa Lolly
Dairy-free Santa lolly, anyone?!
27. Co-op Irresistible All Bute Dark Chocolate Spiced Rum and Raisin Cookies
And Co-op have gone the extra mile this year and spoilt us with some brand new gluten-free cookies!
These are buttery dark chocolate, spiced rum and raisin cookies – like the look of these?
Keep scrolling for another flavour which might be even better!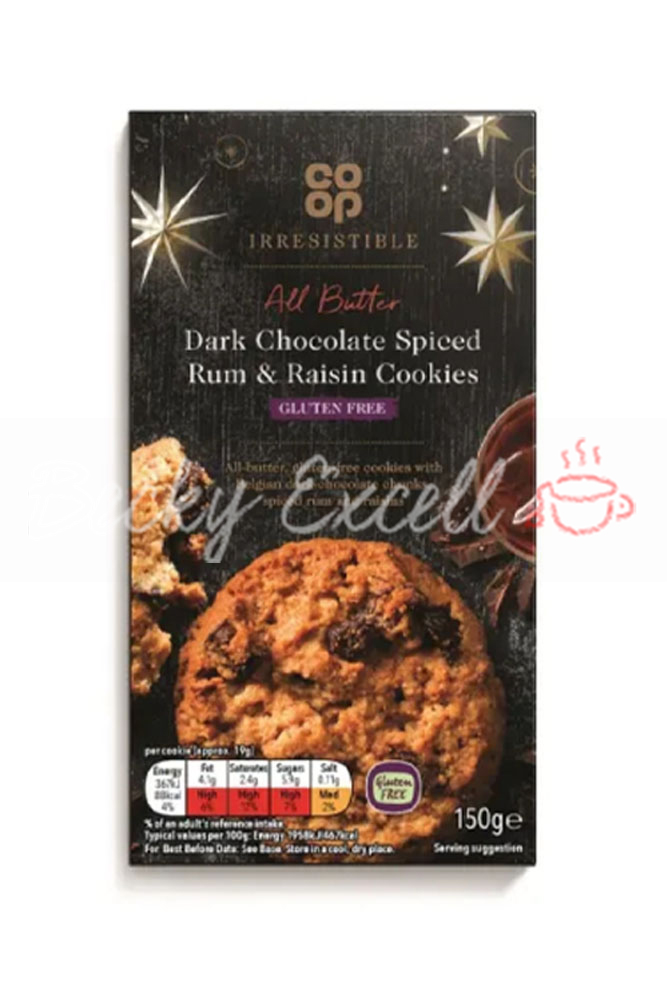 28. Co-op Irresistible Hand Finished Pork, Leek and Maple Stuffing Baubles
Don't forget to pick up your gluten-free stuffing too – another easy option that muggles would eat too.
That way, you don't need to make separate stuffing and risk cross-contamination.
As a lot of you guys have been saying – just make the entirety of Christmas gluten-free to be safe. Nobody will even notice!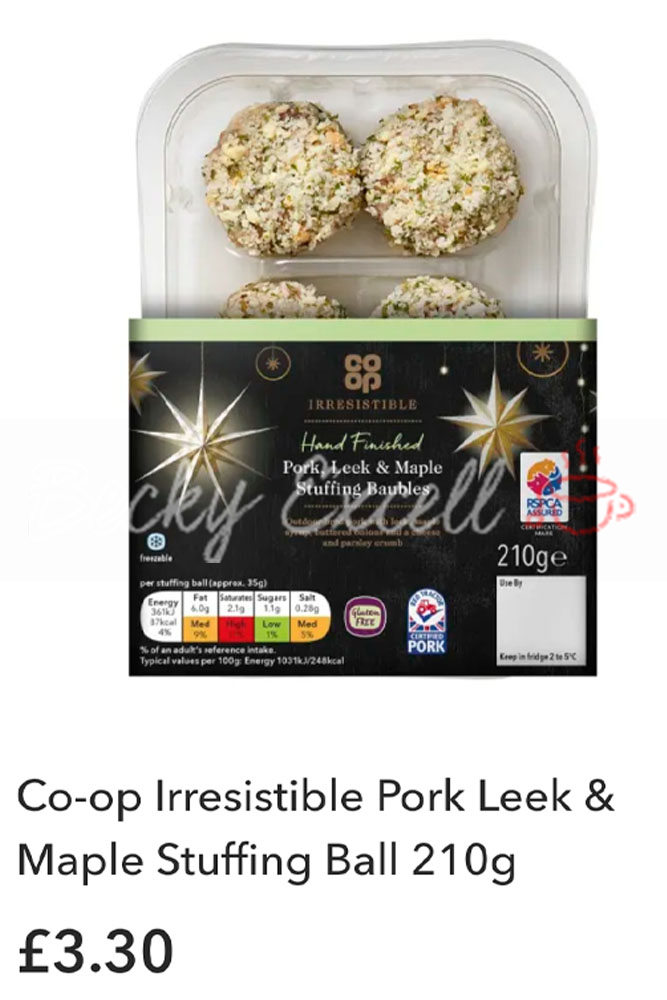 29. Co-op Irresistible Hand Finished Chocolate Yule Log Brownies
These were one of my fave products last year – I love the sparkly finish on top!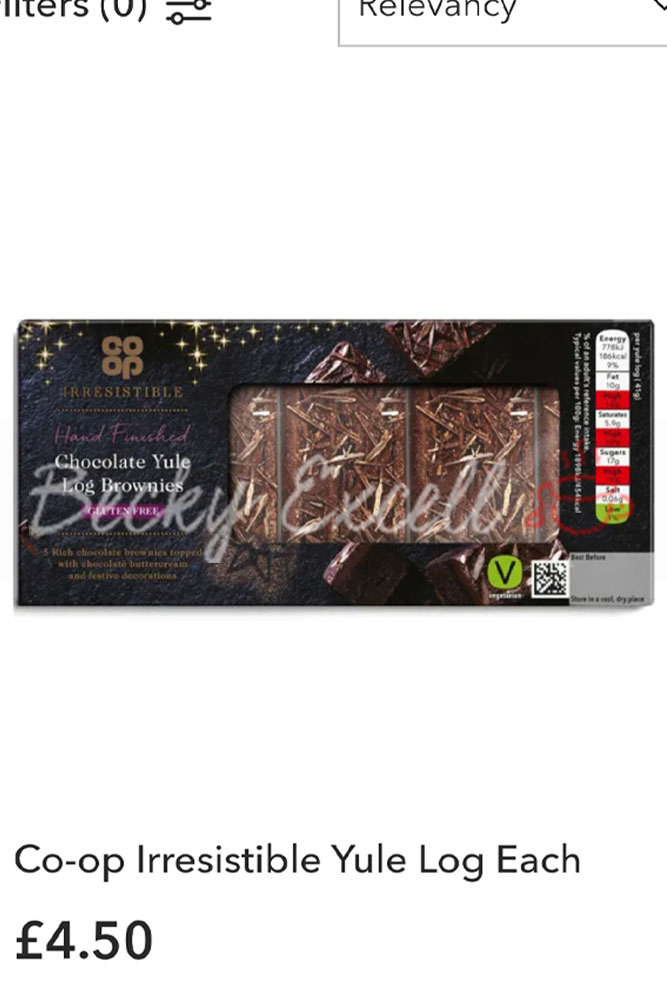 30. Co-op Irresistible All Butter White Chocolate and Cranberry Cookies
And of course, I've saved the best until last. Buttery, white chocolate and cranberry cookies!
Did I miss any products out of this post? Have you found any that I haven't? Let me know by leaving a comment below this post.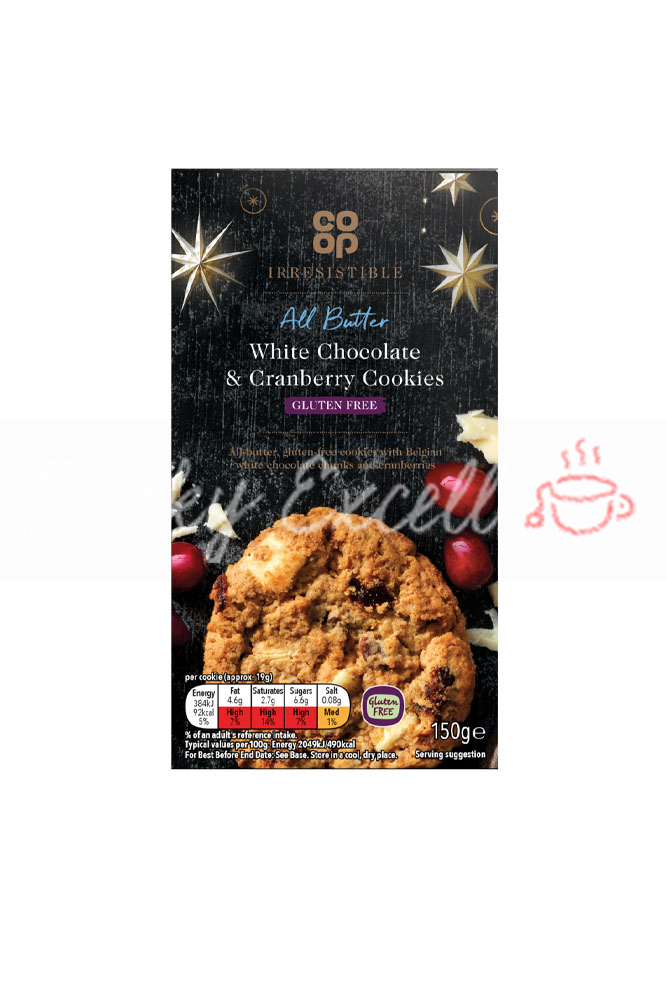 That's the 30 NEW products in the Co-op gluten-free Christmas range 2020!
Thanks for joining me in checking out the Co-op gluten-free Christmas range 2020! What did you think? Which one was your favourite? What did you think of the prices? What are we still missing?
Please do let me know by leaving a comment below or by following me Instagram and leaving me a comment.
If you enjoyed this post, make sure you check out my:
Co-op gluten-free Christmas range post
Thanks for reading – you don't know how much I appreciate it!
Becky xxx