Marks and Spencer Gluten-free Christmas range 2020 – it's all here! There's tons of NEW gluten-free and dairy-free/vegan products that you won't find anywhere else. So lets get scrolling…
Marks and Spencer gluten-free Christmas range 2020 – the ULTIMATE guide to everything you need . There's everything from festive cookies, Lebkuchen, to apple crumble pies, iced-top mince pies and TONS more.
Oh and tap here to follow me on Instagram where I post all my latest gf finds first – that way, you'll always know all the most recent finds and never miss any!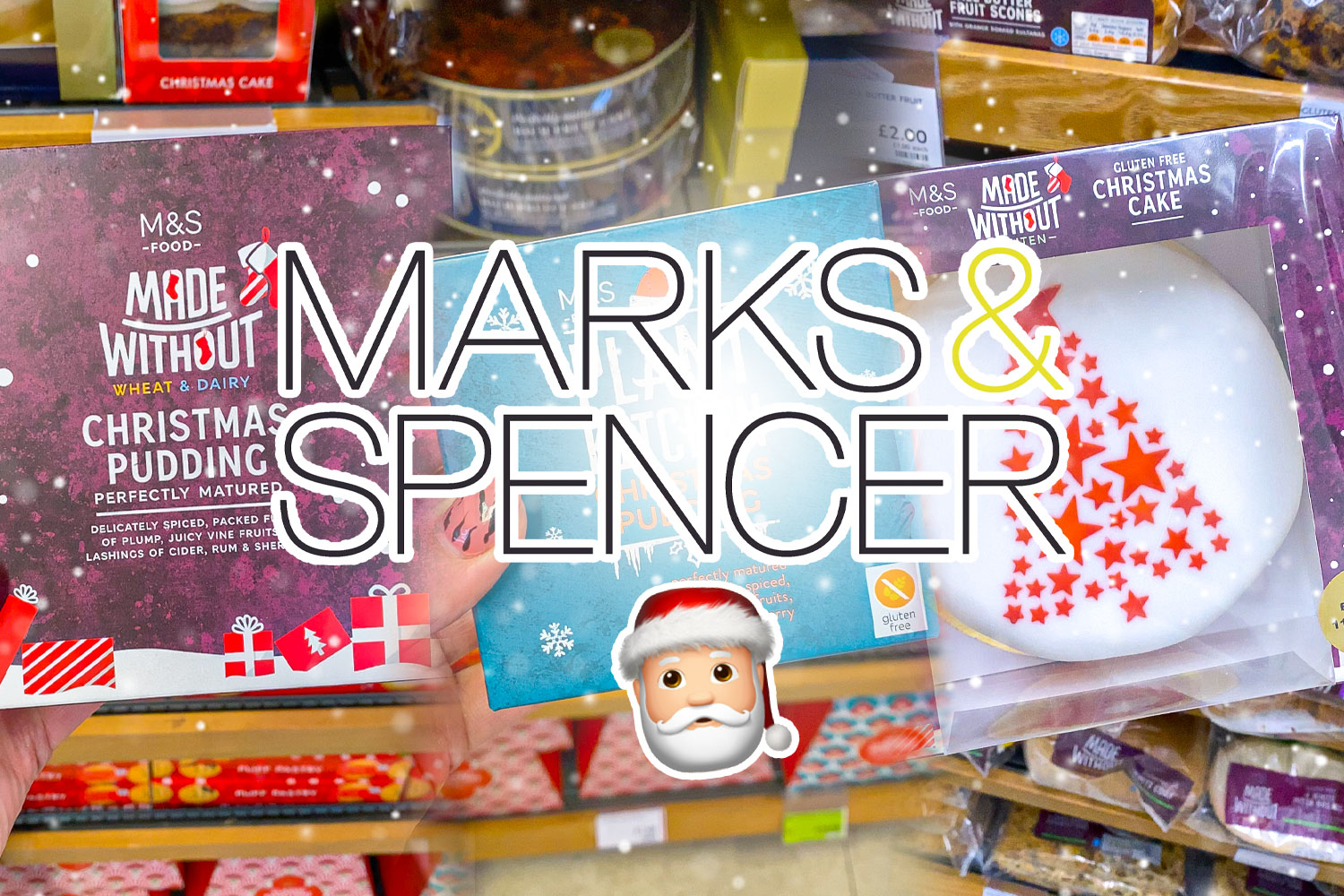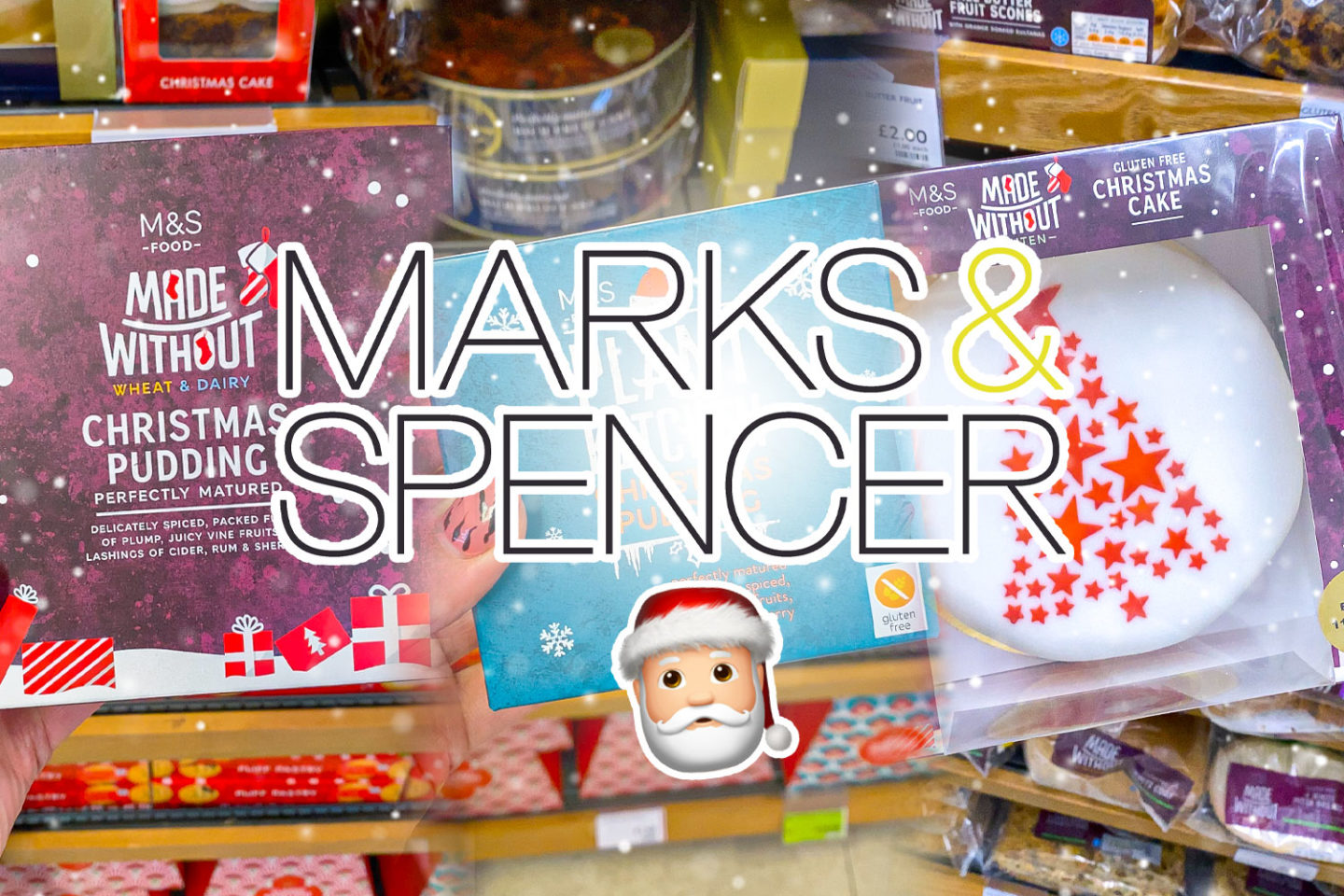 (I'll be keeping this post updated with prices and new products as Christmas approaches as there's usually many more new products still to come, so keep checking back!)
This post is constantly updated! Scroll to the bottom for the NEWEST products…
Marks and Spencer gluten-free Christmas Range 2020: Where can I find these products?
Oh and FYI – not all of these are with the regular Marks and Spencer free from products!
Some were in little Christmas displays throughout the chilled food, the crisps were with all the regular crisps and others were located in their new festive seasonal aisle.
Don't forget to be aware of use-by dates, as lots of them expire before Christmas!
Marks and Spencer gluten-free Christmas Range 2020: Are these in all stores across the UK yet?
As it's still a little early, it can vary from store to store as to which products will be sitting there waiting for you.
I've included all the products I've found so far this year in my local M&S, but for those that are still to come, I've included screenshots instead.
Don't forget that you can order M&S products online from Ocado now too and get them delivered right to your door. Perfect if you don't have an M&S nearby!
1. Marks and Spencer Food 12 Christmas Cake Bites
How on Earth would you ever know these were gluten-free?
Oh wait, I seem to have just cut off the gluten-free logo on the front in this photo ?
But even still, you might miss these with all the muggle cakes, so look out for them!
Let me know if you find them in your local Marks and Spencer! Not a bad start to the Marks and Spencer gluten-free Christmas range, right?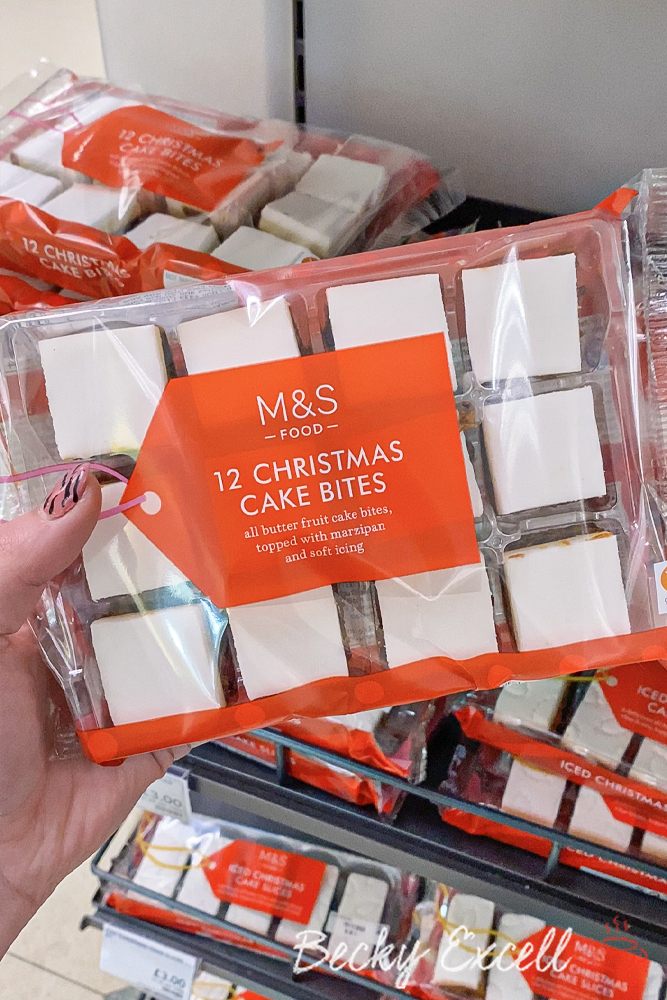 2. Marks and Spencer Made Without Chocolate Yule Log
Hooray – M&S finally gets its very own gluten-free yule log!
(I'm pretty sure they didn't have one last year, but I might be wrong – let me know in the comments below this post)
I'm 99% sure that this is probably identical to all the gluten-free yule logs that will inevitably pop up in other supermarkets.
This isn't in my local store yet, so I've included a screenshot from Ocado instead.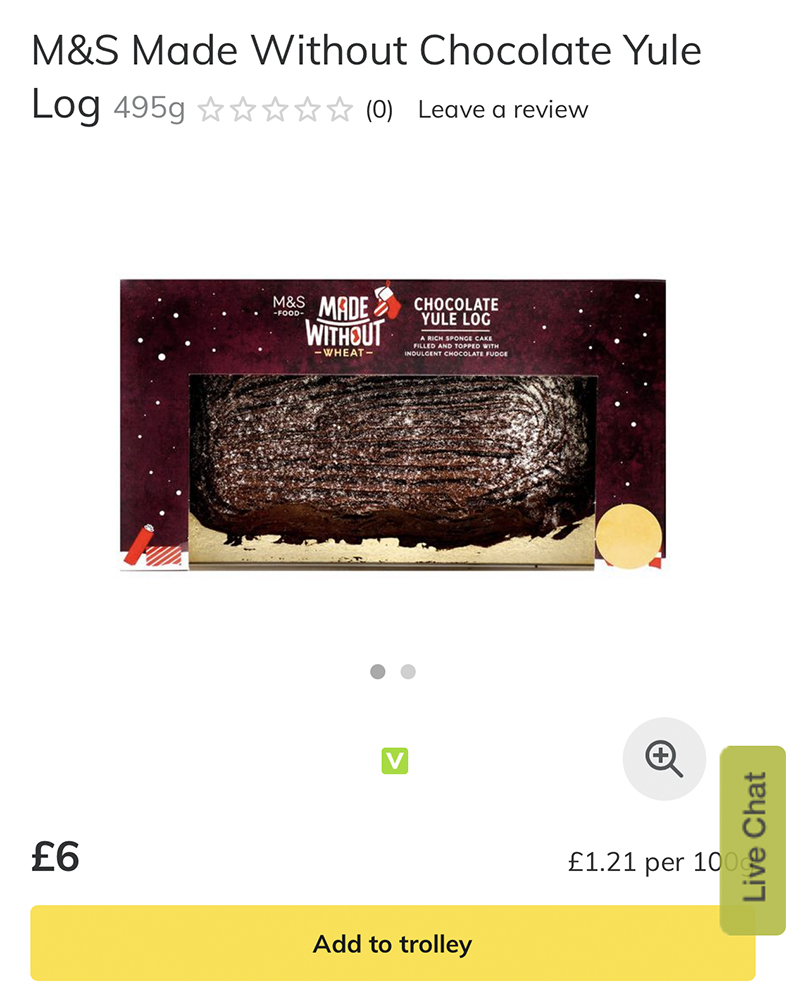 3. Marks and Spencer Food 12 Mini Chicken Kievs (frozen or chilled)
If you didn't know these were gluten-free, then surprise! They're gluten-free.
These have been around for the last few years and luckily for us, they're back again in 2020.
Not a lot of Marks and Spencer' party food is gluten-free, so we'll just have to take this product as a win!
You can find them in a box in the freezers OR in plastic packaging in the chillers. Both are gluten-free.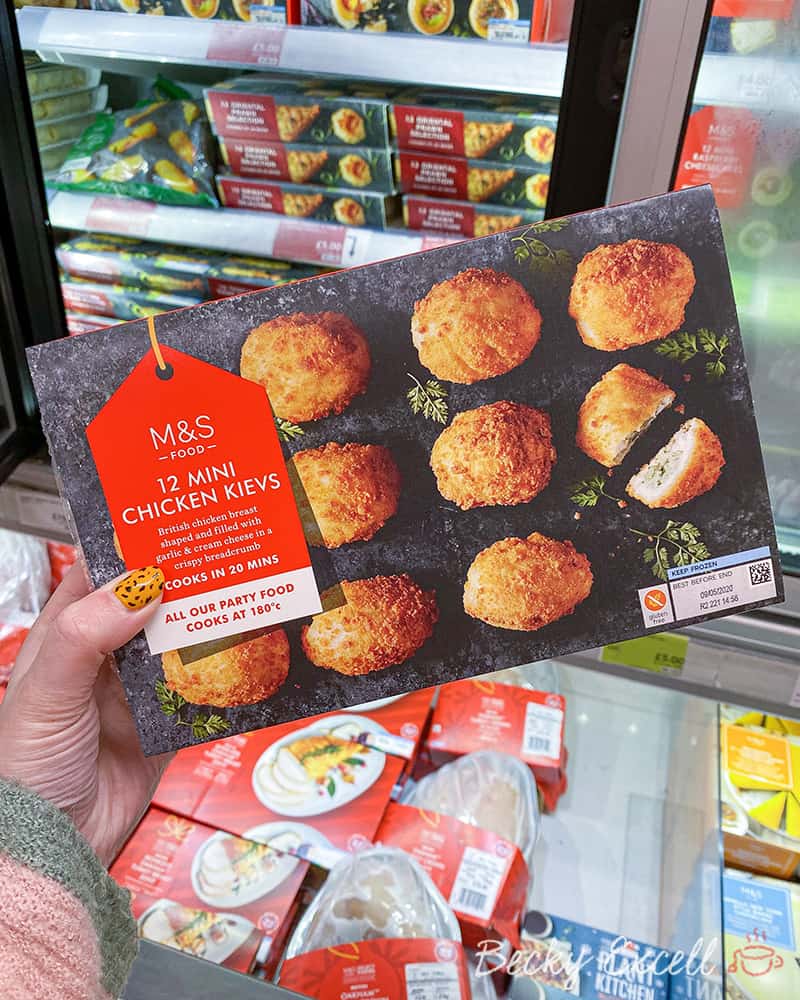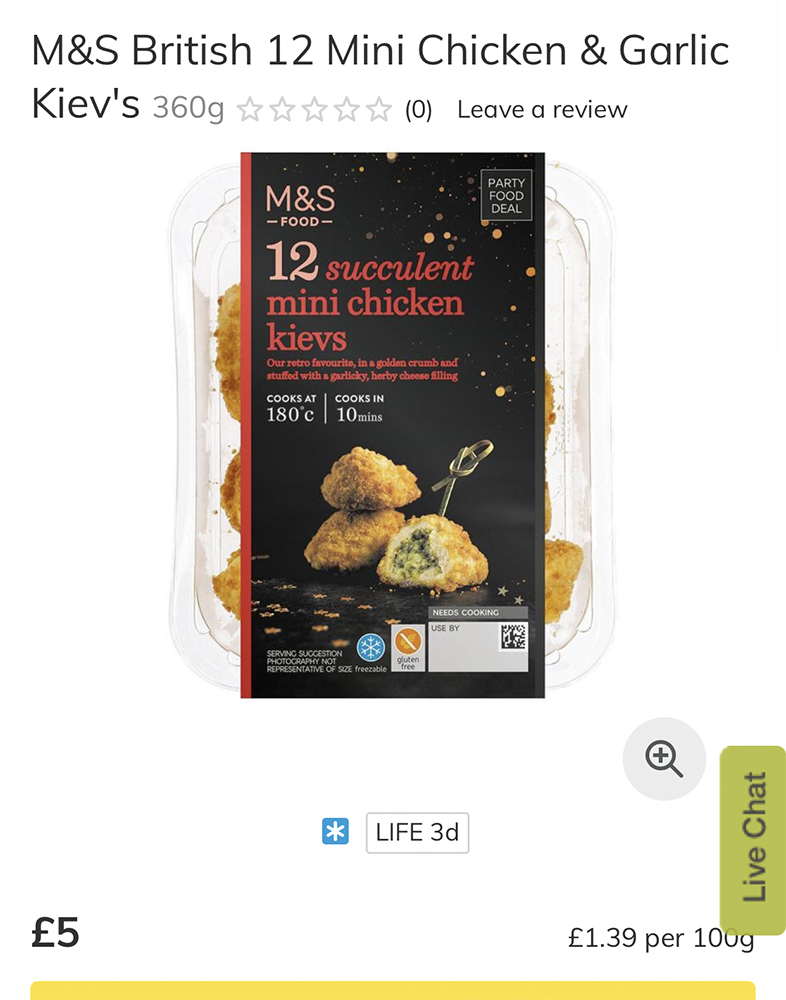 4. Marks and Spencer Made Without Gluten-free Bread Sauce
Am I seeing things? Yup, we're getting gluten-free bread sauce!
Serves 6? Sounds like a challenge to me ?
M&S may not have lots of festive gluten-free cakes and biscuits like Tesco, Asda and Sainsbury's (links to those posts are at the bottom of this one)…
But they do have a great variety of savoury products that are safe for us to eat!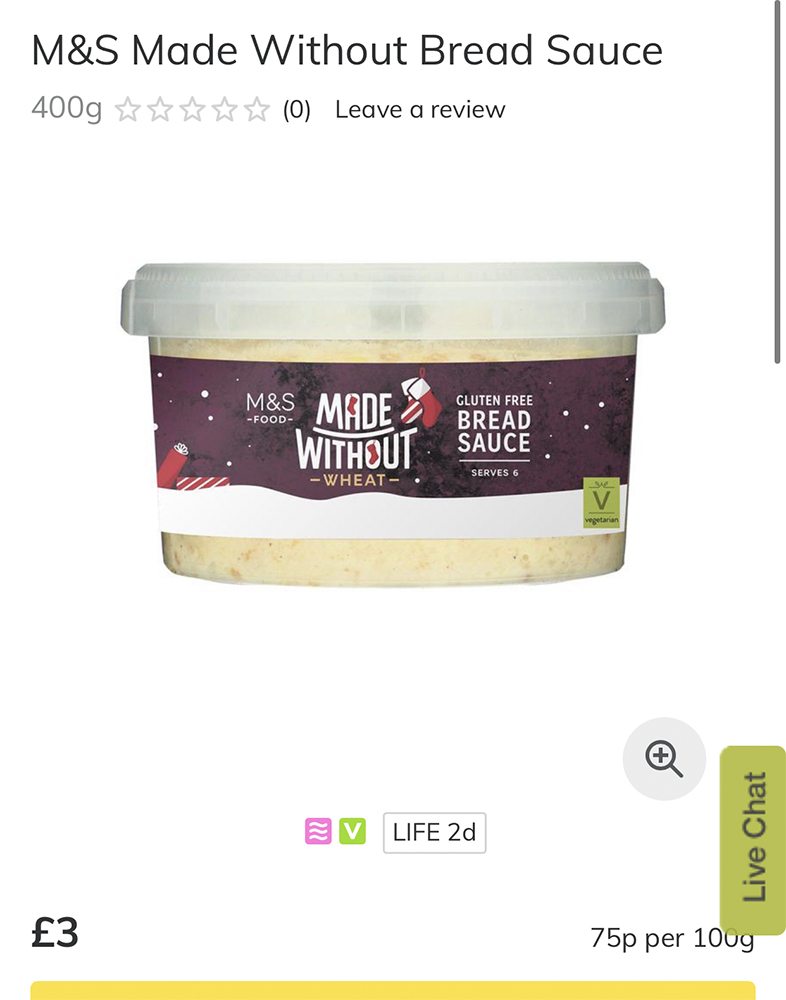 5. Marks and Spencer Made Without Wheat gluten-free Christmas Cake
I haven't really seen a whole lot of free from Christmas cakes so far this year if I'm honest…
But Marks and Spencer is always top of the charts when it comes to stuff like this – I mean, this is a full-sized cake, not a mini one!
(in case you couldn't tell by my hand size!)
This is one of the few things that actually has a date that lasts past Christmas, so don't be afraid to stock up!
6. Marks and Spencer Food Made Without Wheat gluten-free Iced Fruit Cake Bar
I'm pretty sure every supermarket has a free from iced fruit cake bar and Marks and Spencer is no different.
I'm not sure if you can really see, but this has some nice festive imprints on top of the icing – so that might set it apart from other options out there!
Has anyone tried this or found it yet?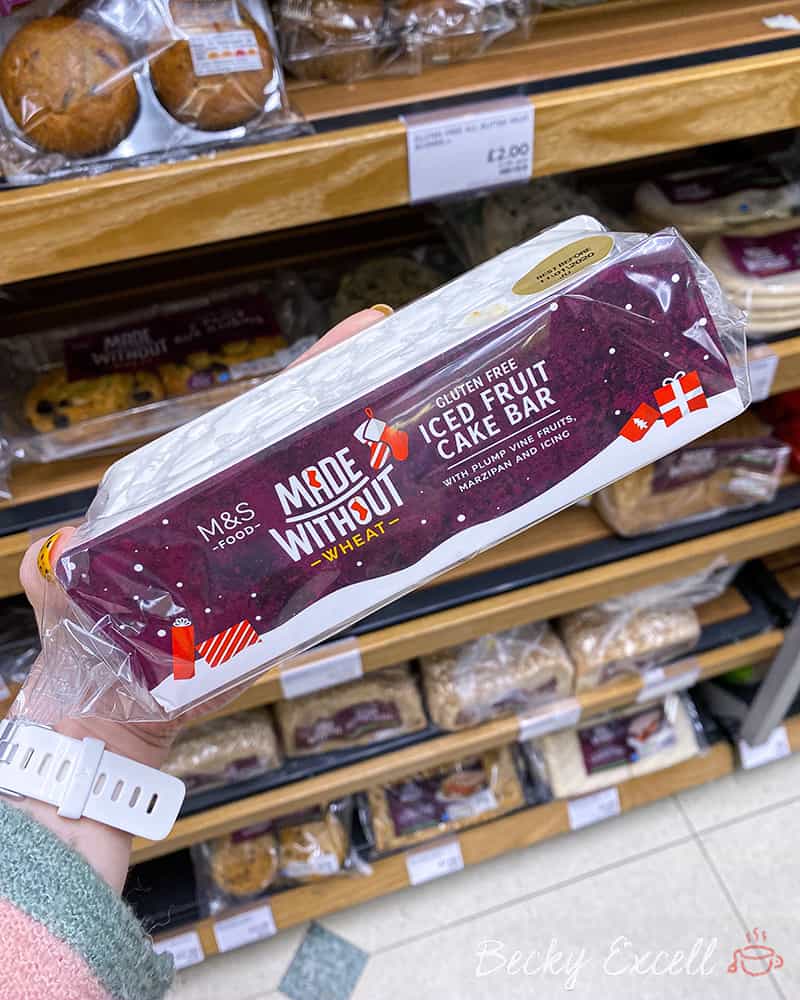 7. Marks and Spencer Food Made Without Wheat 4 Mince Pies
They're back!
Yep, Marks and Spencer' gluten-free mince pies are back and unlike most places, these are NOT dairy free.
So if you like buttery pastry and don't need to eat dairy free, then these are probably the mince pies for you!
These have always been one of my faves so defo give them a try.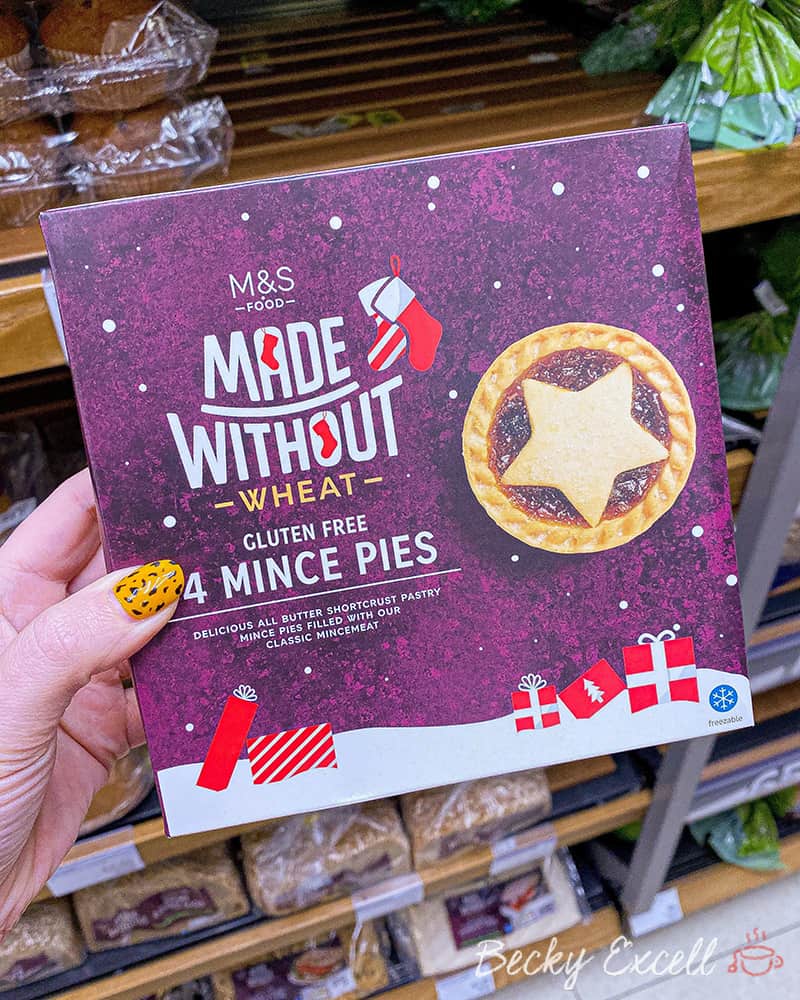 8. Marks and Spencer Food Made Without Wheat and Dairy Mini Christmas Pudding
And yep, like most supermarkets, we've got the usual mini gluten-free Christmas pudding.
(not surprisingly followed by the larger Christmas pudding in a sec)
This is perfect for if you're the only gf person in your house!
Also, this is one of the few products in Marks and Spencer that actual states dairy free on it, so make the most of it if you need to!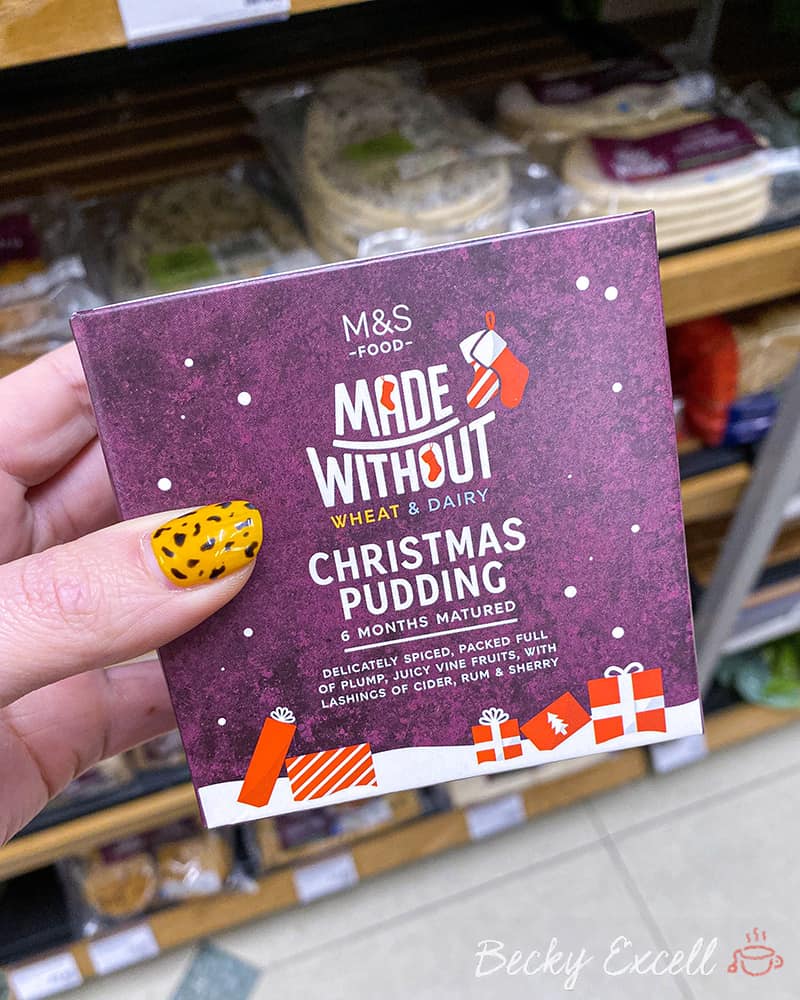 9. Marks and Spencer Food Made Without Wheat and Dairy Large Christmas Pudding
Aaaand here's the larger free from Christmas pud in the Marks and Spencer gluten-free Christmas range.
Yep, it's even dairy free too.
Last year it was 6 months matured, now it's 'perfectly' matured. I'd love to know if this is longer or shorter than 6 months, as I don't know if that makes it better or worse!!
See if your refined palettes can detect any difference from last year… ?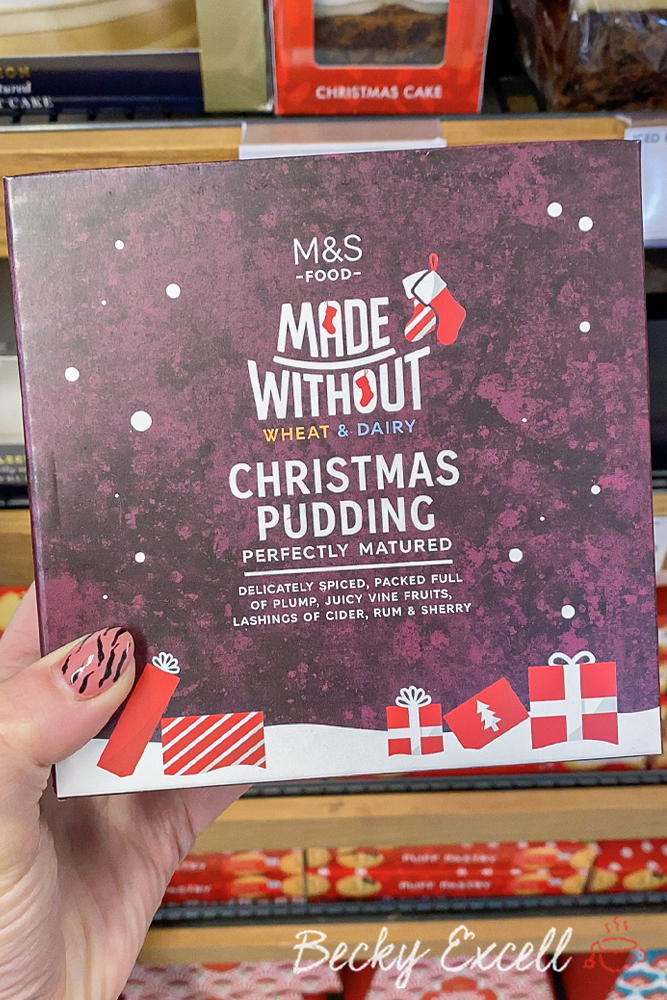 10. Marks and Spencer Food Made Without Wheat Brie and Grape/Turkey Feast Sandwiches
I'm not sure if both of these will be returning this year, but M&S never let us down on the gluten-free Christmas sandwich front!
There's the veggie option of brie and grape and then, the classic turkey feast option too.
Is brie and grape an option that people like eating?! I don't have a clue! Let me know your thoughts in the comments below…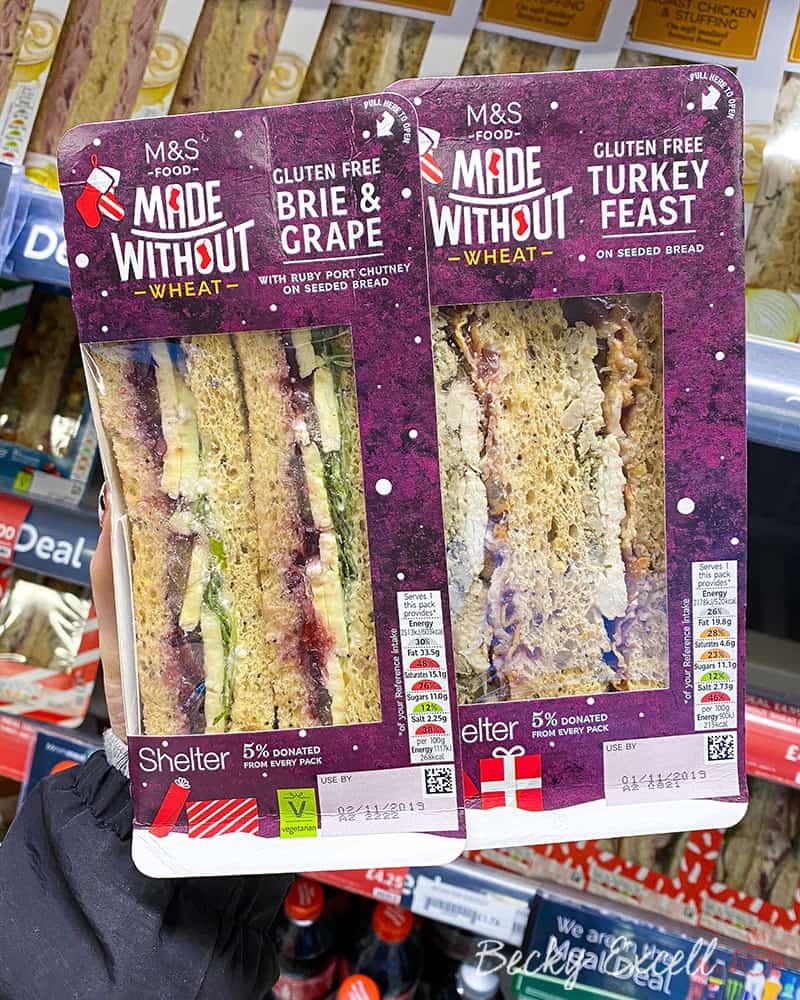 11. Marks and Spencer Made Without Wheat Gluten-free Sage and Onion Stuffing Mix
If you're a fan of the kind of stuffing where you simply need to add hot water, then this is definitely the one for you.
But if you'd prefer, fresh, meaty stuffing or stuffing balls, keep scrolling because M&S has a billion options that are all gluten-free.
Again, these aren't in my local M&S yet, so let me know if you find them in yours!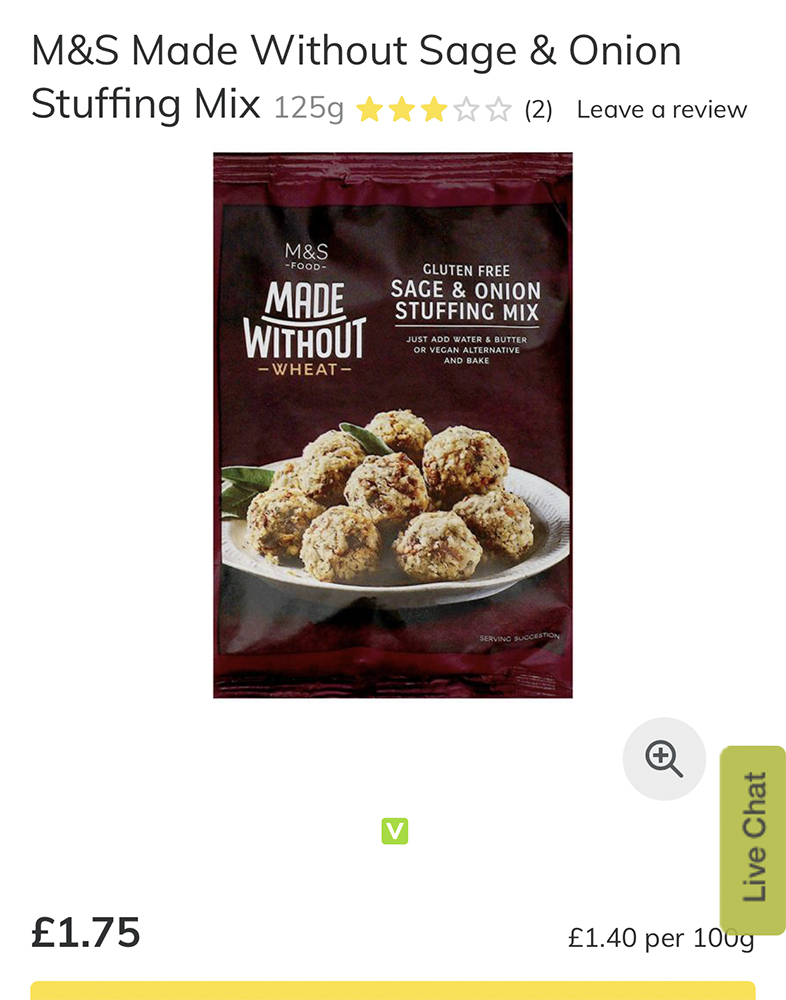 12. Marks and Spencer Food Milk Chocolate Bubbly Santa, Chocolate Sprouts, Milk Chocolate Caramels
And M&S has some great festive gluten-free chocolate options as usual.
This may not seem all that exciting, but the milk chocolate caramels are a big deal in my eyes.
Cadbury Caramel bars ALWAYS have a 'may contain' warning for gluten… but these little caramels don't. That's more than enough to excite me!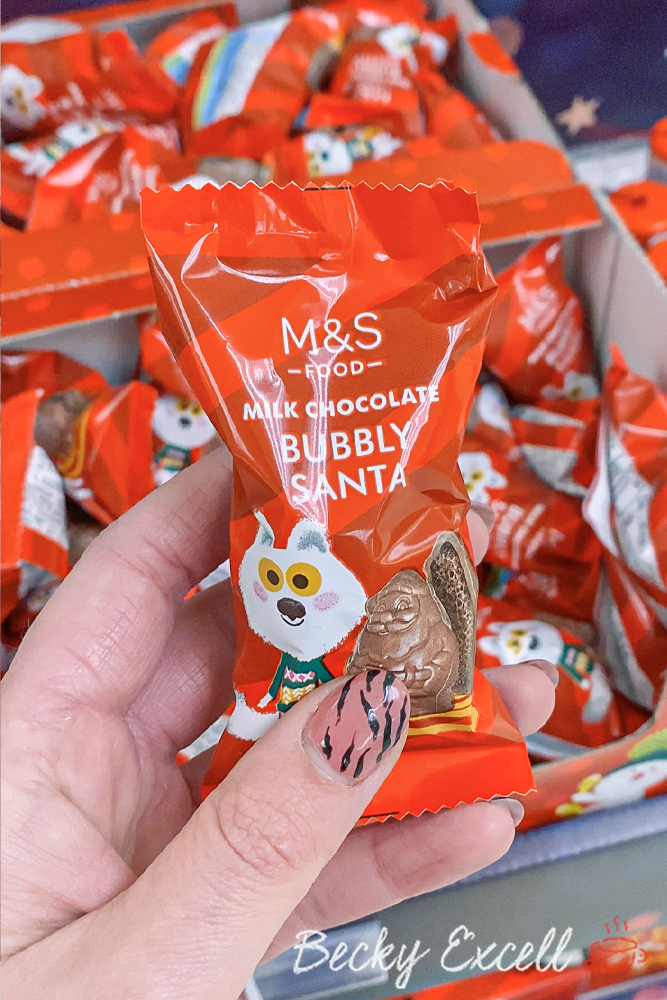 13. Marks and Spencer Food Milk Chocolate and Cinnamon Tortillas, Davidstow Cheddar and Festive Chutney Popped Chips, Tortilla Stars
And once again, these muggle options down the crisps aisle are all gluten-free too.
Not sure how I feel about chocolate and cinnamon favoured 'Doritos' but I've heard that a lot of you guys love them!
Maybe I'll be boring and stick to the tortilla stars, shall I?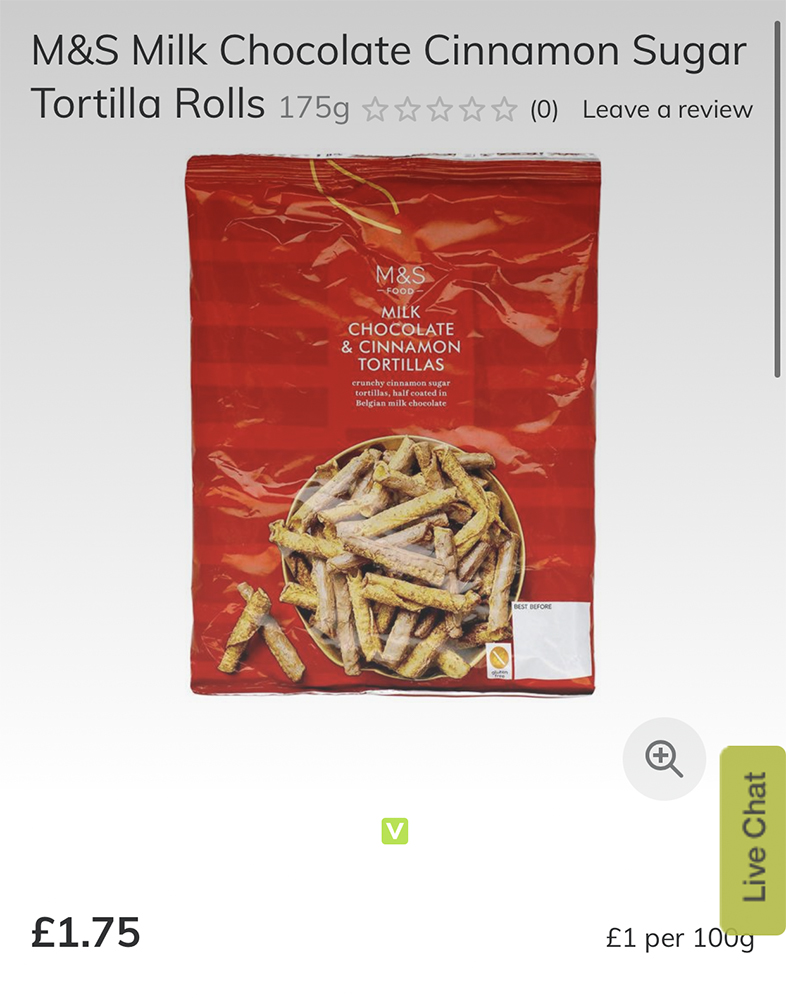 14. Marks and Spencer Plant Kitchen No Pork Cocktail Sausages
Since we can never find gluten-free cocktail sausages (though I did find some raw pork cocktail sausages at Tesco!) M&S have at least got some meat-free 'no pork' cocktail sausages.
I've still never found cooked, pork cocktail sausages, but you'll be the first to know if I do!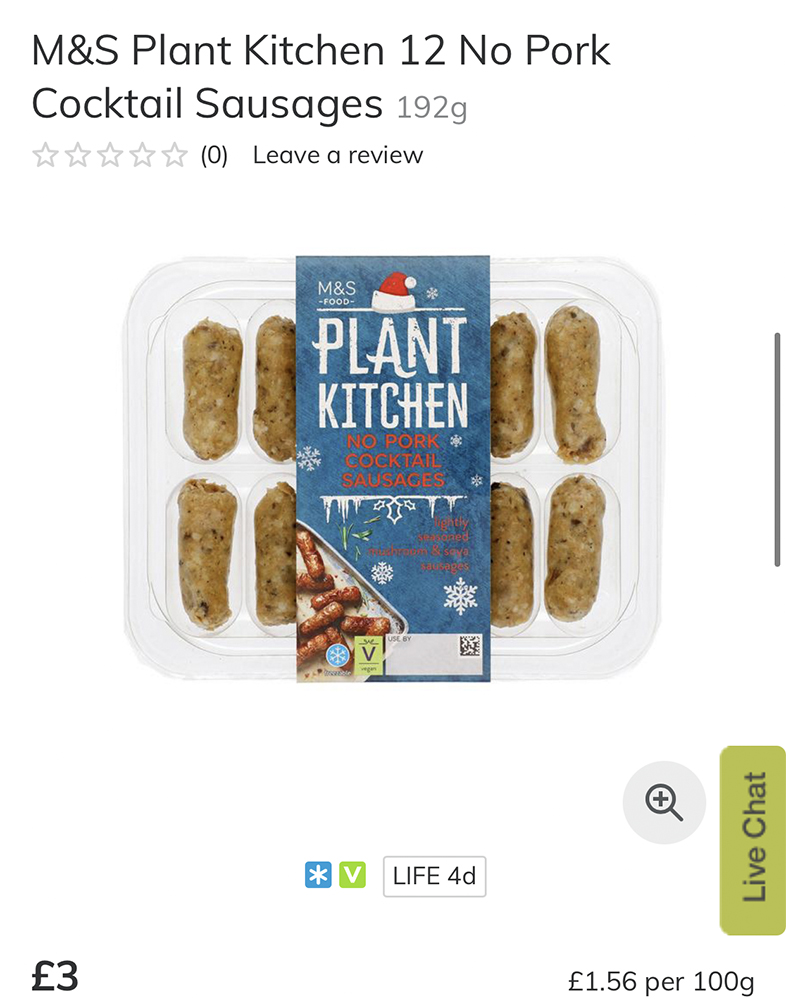 15. Marks and Spencer Made Without Wheat Gluten-free Rich Fruit Cake
And if the iced fruit cake from earlier had you feeling all 'bah humbug', then this rich fruit cake is probably for you!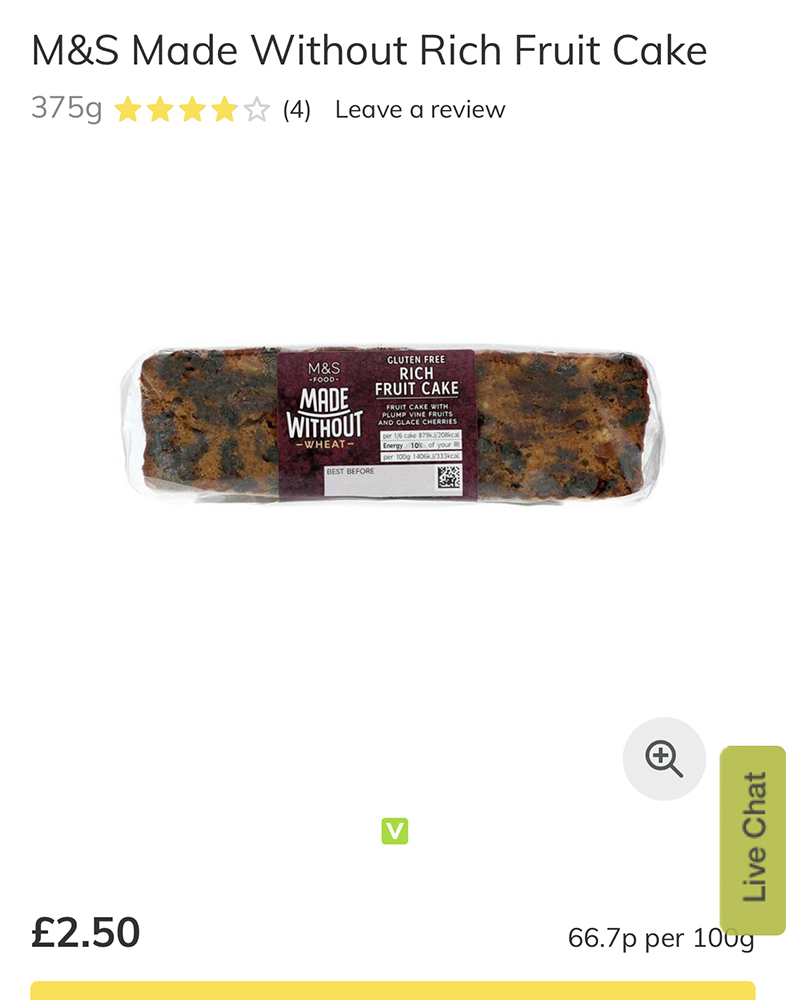 16. Marks and Spencer British Outdoor Bred Luxury Garnish Selection
Nobody does a festive garnish pack quite like M&S!
Especially when it's gluten-free too. In case you haven't got your magnifying glass handy, it's:
12 pork sausages wrapped in bacon and 6 pork and caramelised onion stuffing parcels wrapped in bacon.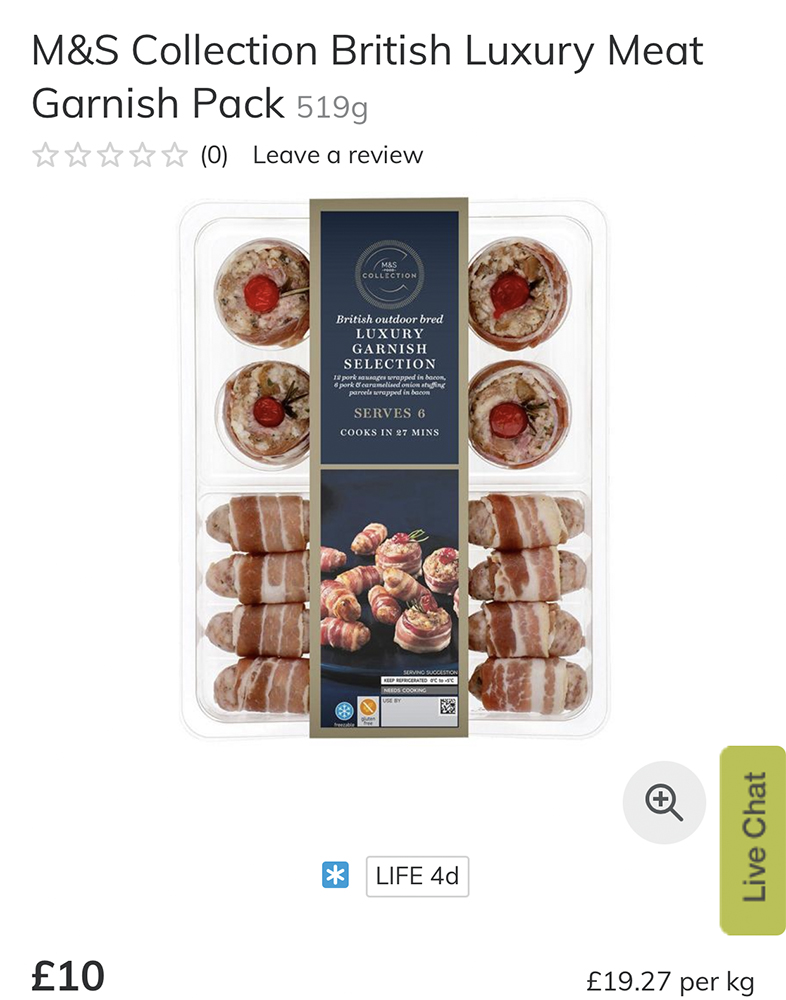 17. Marks and Spencer Food British Pork, Sage and Onion Stuffing (frozen and chilled – pork sausage meat)
And because it's actually pretty hard to find stuffing that's gf outside of M&S, you'll find A LOT in this post.
I can't really eat this because I'm intolerant to onion/garlic sadly, but I usually make my own using this recipe if you're in the same boat as I am.
Remember to look for this in the freezers, but I've also included a (plain) pork stuffing that you can find in the chillers too.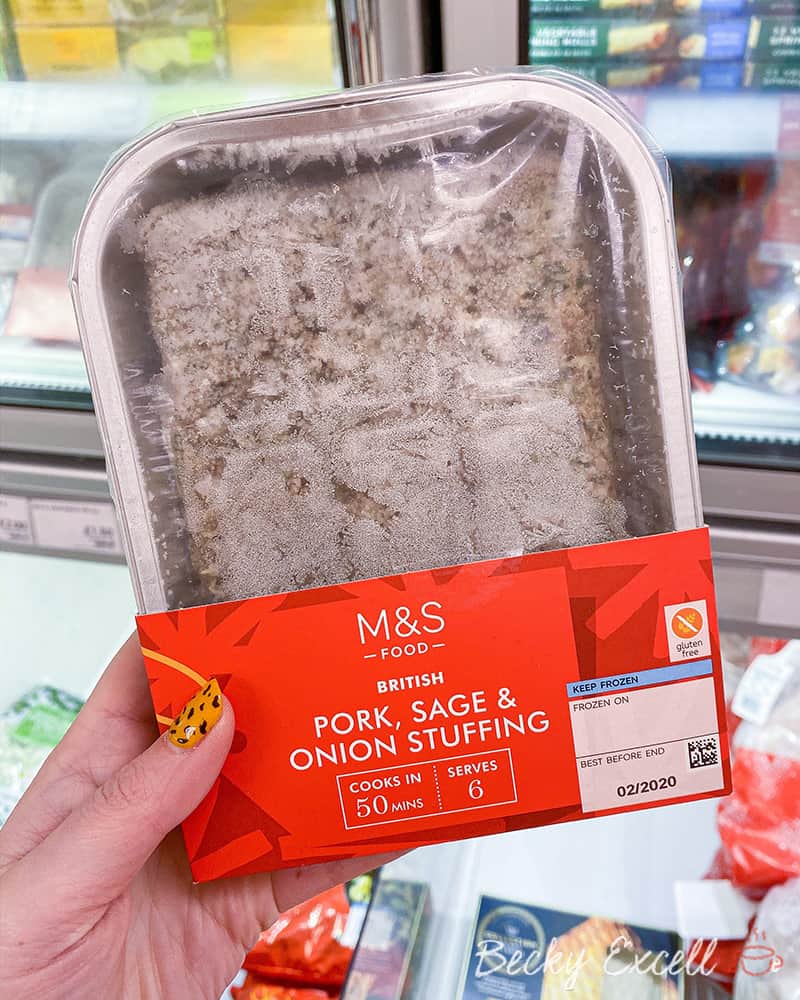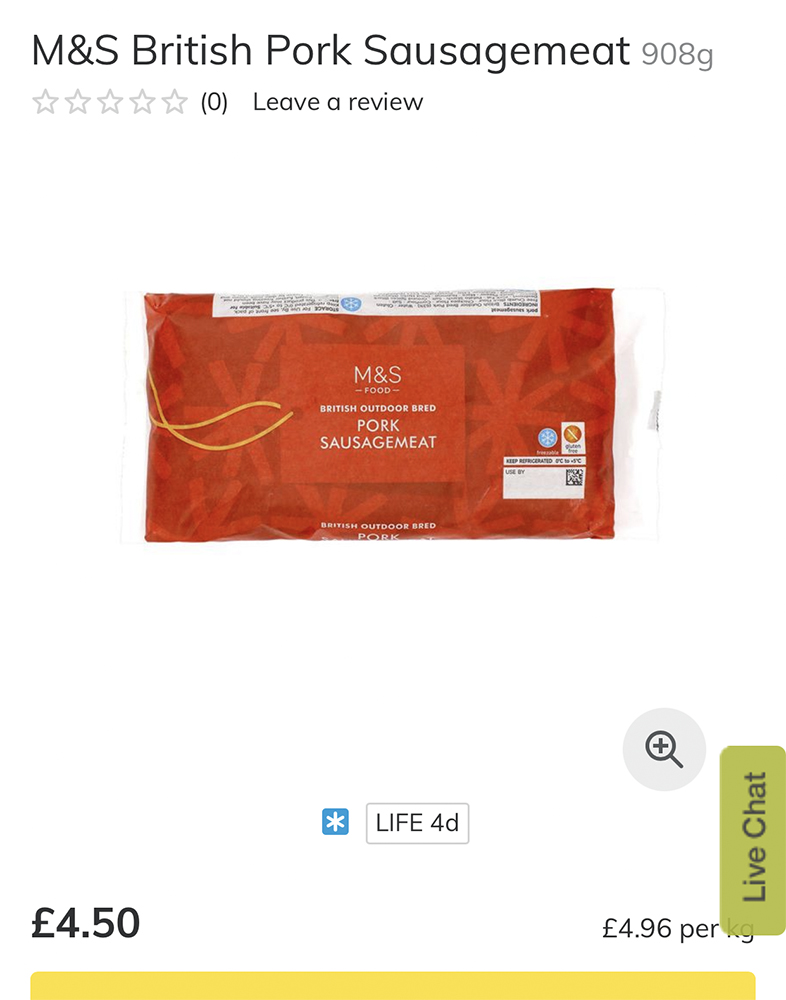 18. Marks and Spencer Swiss Chocolate Truffle Assortment
Did you know that Lindt Lindor milk chocolate truffles contain barley malt extract? Sadly, they're not gluten-free.
Fortunately for us, Marks and Spencer' own version, Swiss chocolate truffles, are entirely gluten-free – no barley at all.
So make sure you've got a box of these around at Christmas instead of the Lindt ones!
Oh and if you loved that news, I've got even more good news for you…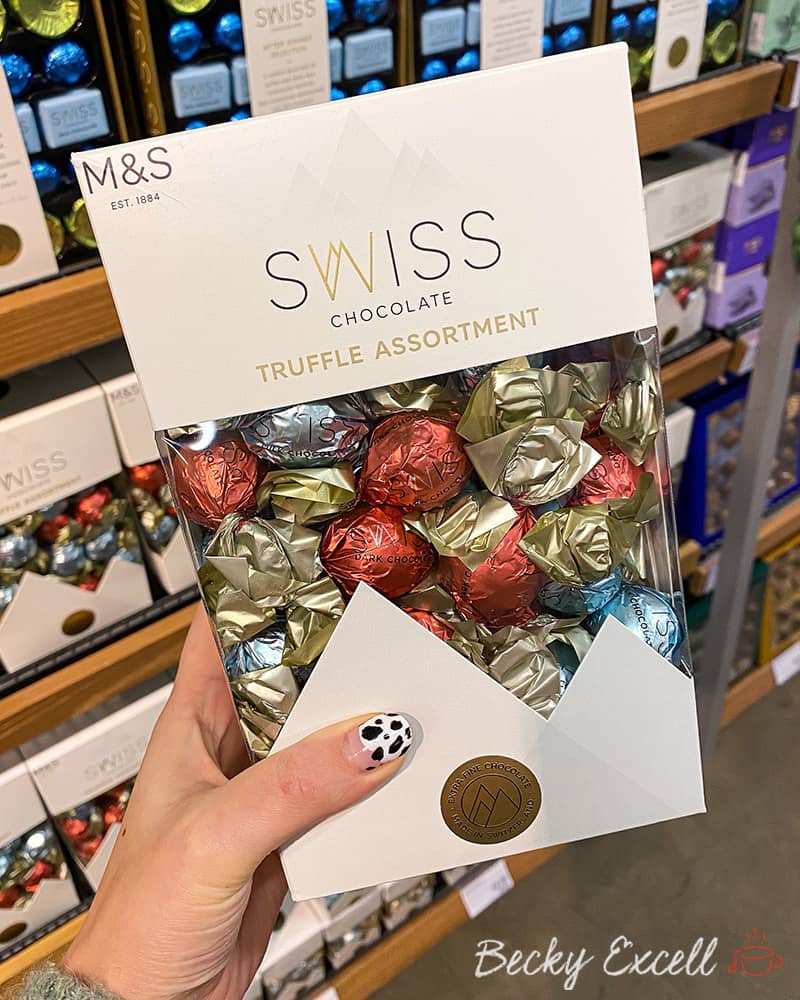 19. Marks and Spencer Swiss Chocolate Advent Calendar with Assorted Truffles
Ta-daaa! Yep, the Marks and Spencer Christmas gluten-free range just keeps getting better and better.
Yep, it's an ENTIRE advent calendar of the Marks and Spencer Lindt-style truffles – milk and dark choc with different fillings too!
I'm probably a bit too old to be getting excited about an advent calendar, but I defo need this by December 1st.
Oh and for those who truly are young at heart, you might like this next one…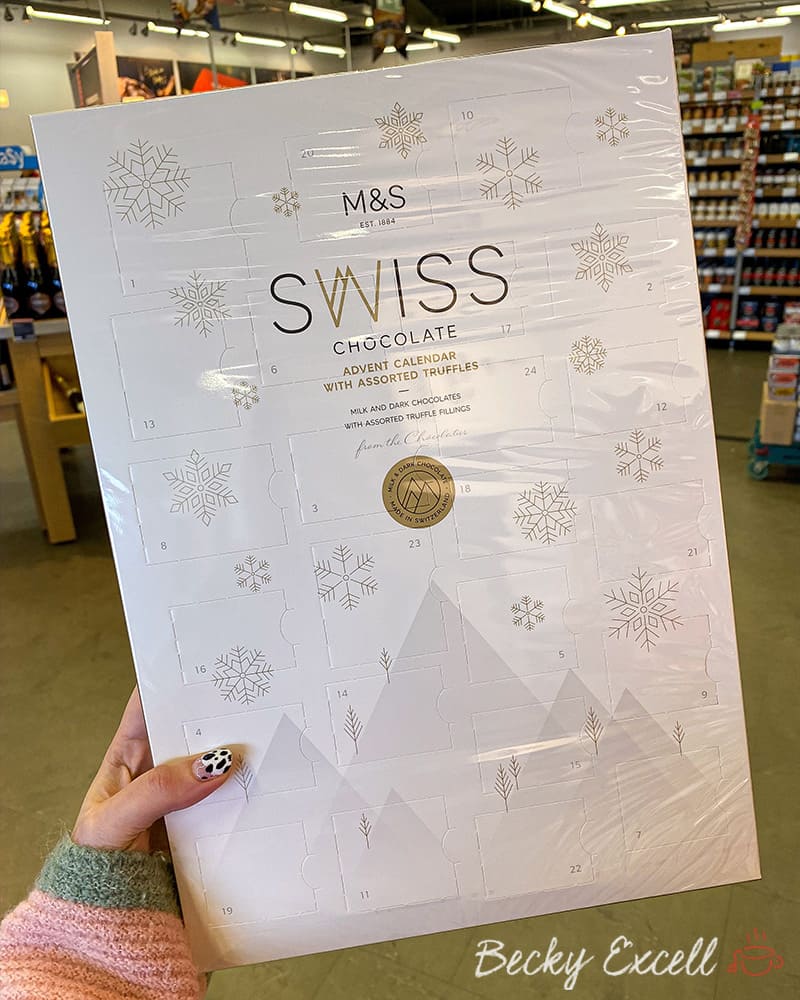 20. Marks and Spencer Food Percy Pig Advent Calendar
Yes, it's a full-on Percy Pig advent calendar!
And these things aren't small advent calendars either. They're pretty big!
BUT, these are actually milk chocolate pig shapes, not actual Percy Pigs… until Christmas day of course.
I'd personally prefer it if it was an actual Percy Pig a day, but hey-ho.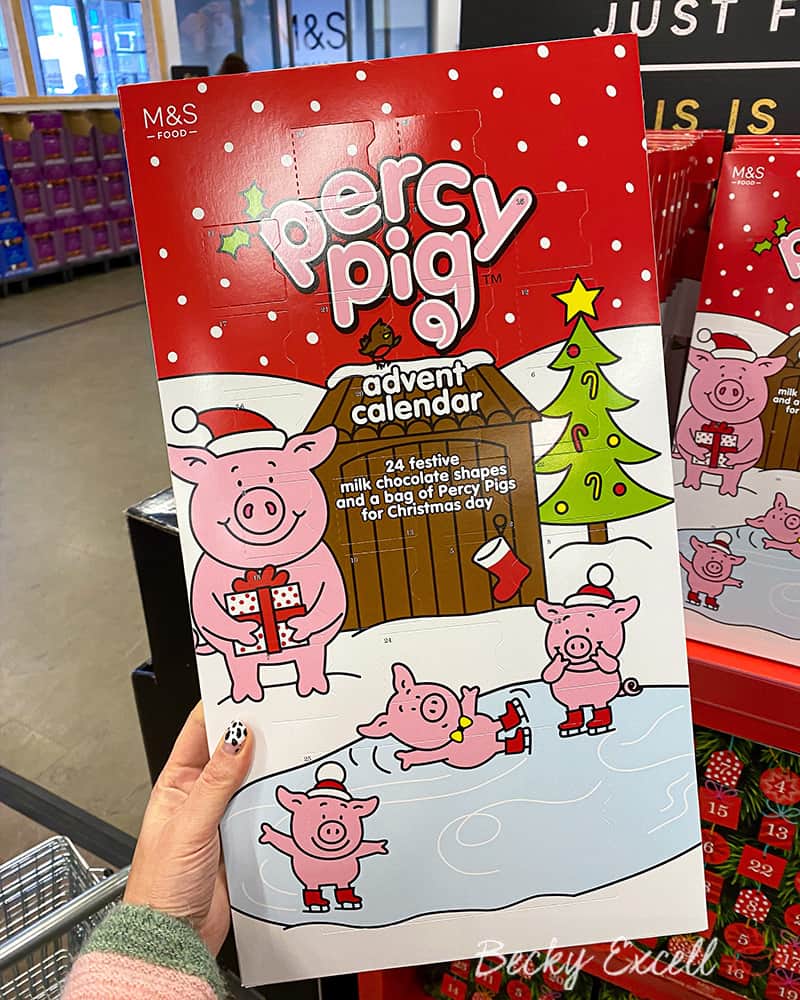 21. Marks and Spencer Salt and Black Pepper Combo Mix
I don't know why, but I just assumed that these crisps weren't gluten-free.
(maybe they aren't in other supermarkets, I don't know!)
But either way, these are gf and I've never been happier! I remember having these in a big bowl on most Christmas days in the past.
I just steal all the wheel-shaped ones!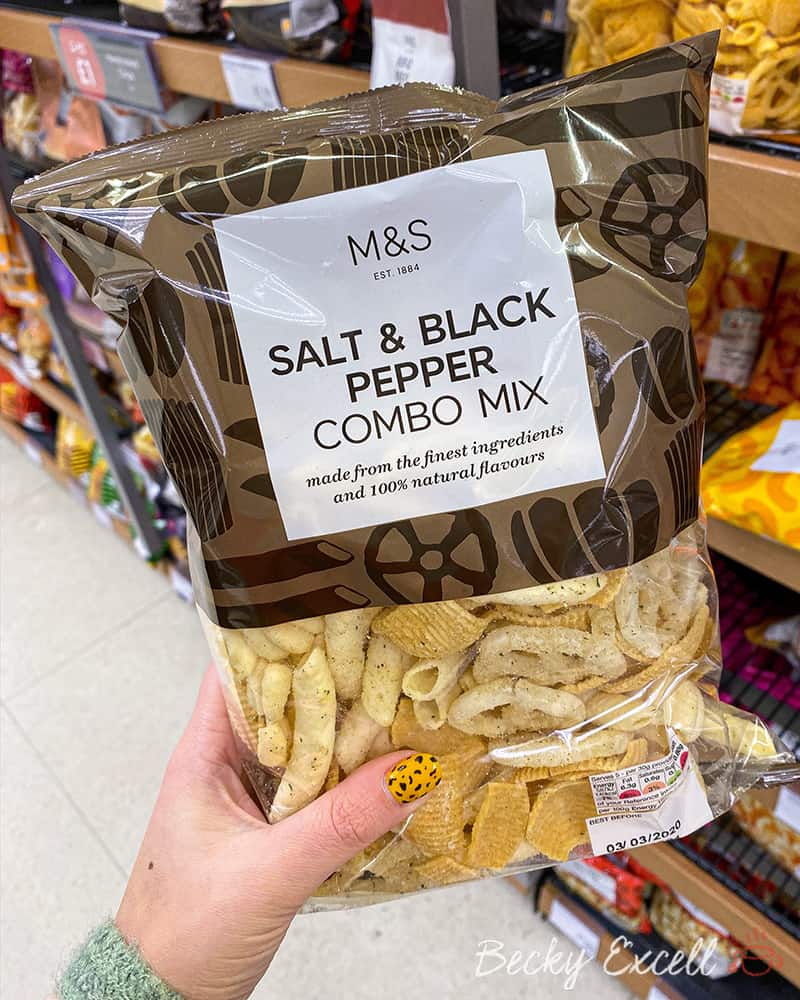 22. Marks and Spencer Ready Salted Combo Mix
And hooray!
The ready salted ones are also gluten-free – in fact there's a few other flavours too. Just make sure you check the ingredients on those first!
(I can only eat these two because of pesky onion and garlic though)
And in the next product, Marks and Spencer actually have a version of something we can't normally eat!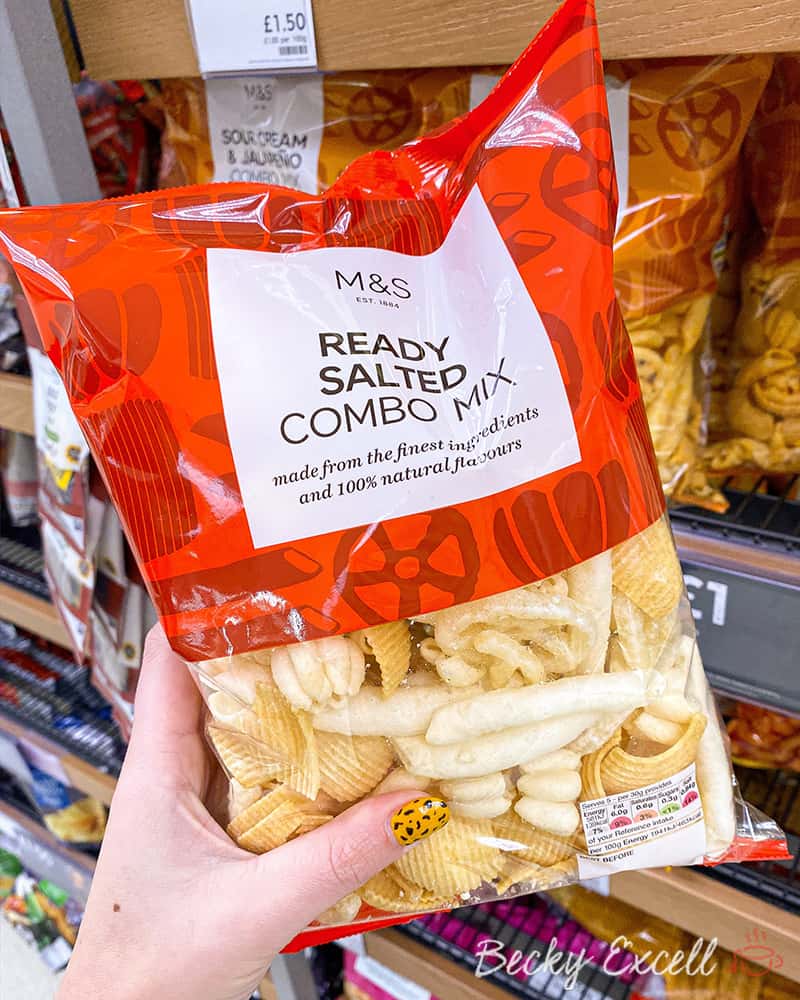 23. Marks and Spencer Cheese Tasters
Wotsits! Actual Wotsits have a 'may contain wheat/gluten' warning on them, but guess what?
These don't!
I did notice that these had a warning saying that the colour may stain clothing? So get your bib on first!
Keep scrolling for some more festive crisps flavours…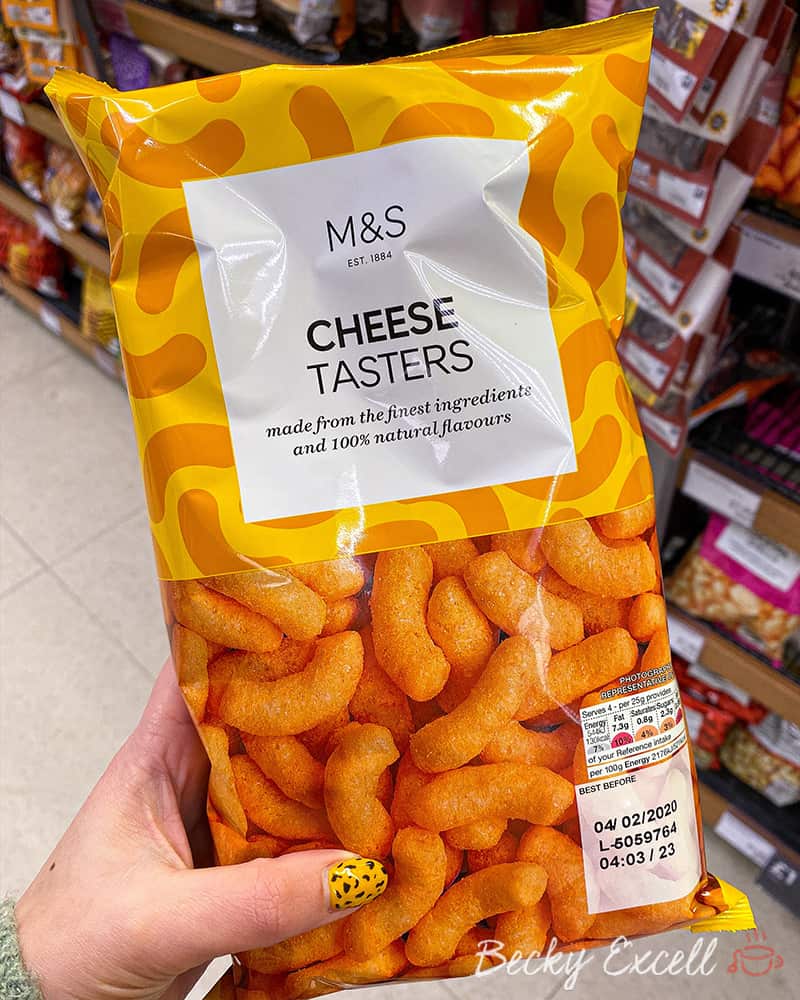 24. Marks and Spencer Beef Gravy, Turkey Gravy, Made Without Gravy and Plant Kitchen Vegan Gravy
As finding gluten-free gravy granules is usually restricted to the free from aisle only, I've always excited to find gluten-free gravy with all the muggle stuff.
Of course, that means it's fresh instead, but at least we get to pay the same price as everybody else!
Here's a selection of their gluten-free gravy, including a new vegan/veggie gravy too.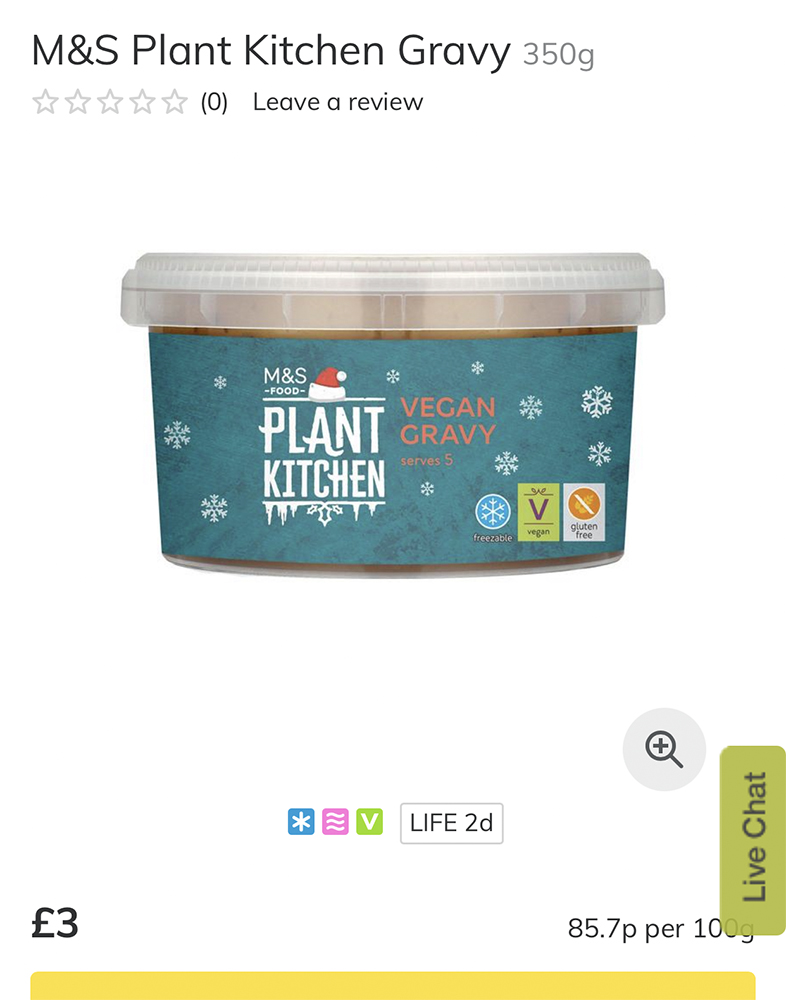 25. Marks and Spencer Food Harry Potter Golden Snitch, Sorting Hat and Bubbly Chocolate Frog
Ok – M&S must have realised that we refer to people who CAN eat gluten as muggles, then made these for us, right? ?
Even if that's not true, at least there's some really cool, hollow milk chocolate, Harry Potted-themed chocolate this year.
I'll be adding this to my xmas wish list!
26. Marks and Spencer Stuffing (various – vegan stuffing, mushroom stuffing, bread sauce stuffing, Pork and Cranberry stuffing, veggie stuffing)
Did someone say gluten-free stuffing? We're spoilt for choice in M&S!
There's everything from fancy pork stuffing, to 'bread sauce' stuffing, vegan stuffing AND veggie stuff – all totally gluten-free.
As soon as this lands in my local M&S, I'll be right on these!
Don't forget you can now also order M&S products from Ocado online too.
27. Marks and Spencer M&S Stuffing Wreath
As if the garnish pack I posted earlier wasn't enough… how about a wreath of all things pork?!
There is so much pork in this product, I can't even begin to count how many different uses there is.
It's a bed of pork, leek and bacon stuffing, with chestnut, bacon and thyme stuffing balls, topped with pigs in blankets.
I think I need a lie down!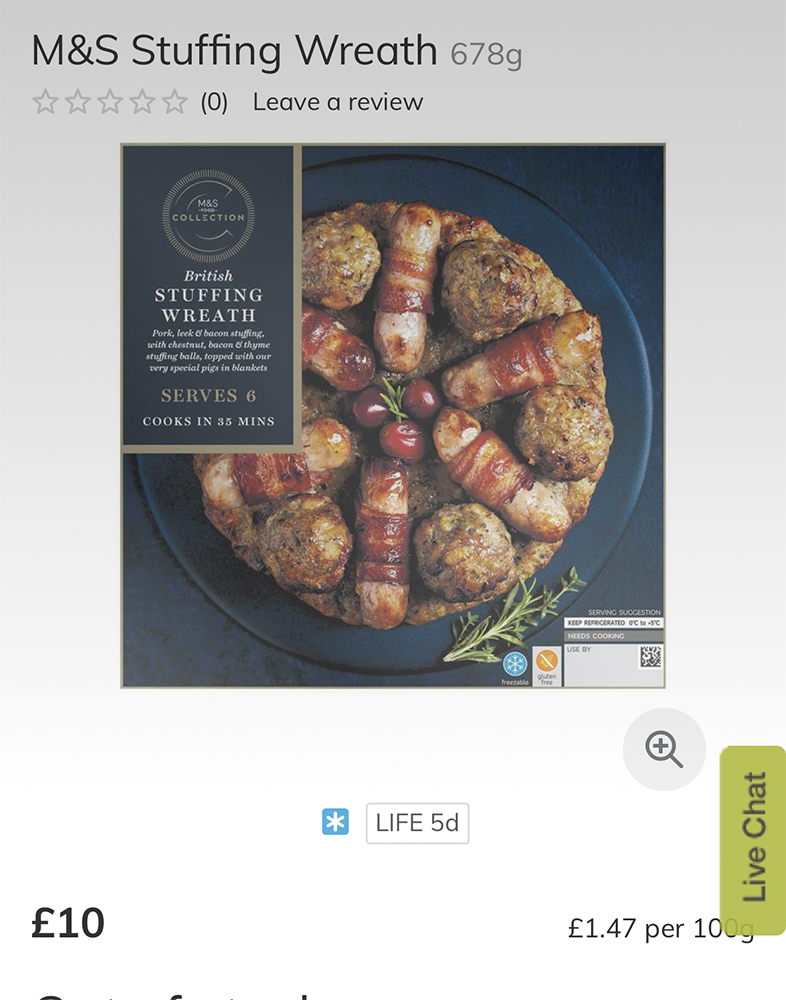 28. Marks and Spencer 2 Foot Long Pigs in Blankets
And for all the pigs in blankets addicts out there… you haven't lived until you've had a 2 foot long pig in blanket all to yourself!
(or both?)
Either way, this was a huge hit this year, so make sure you get one and freeze it just in case they sell out again!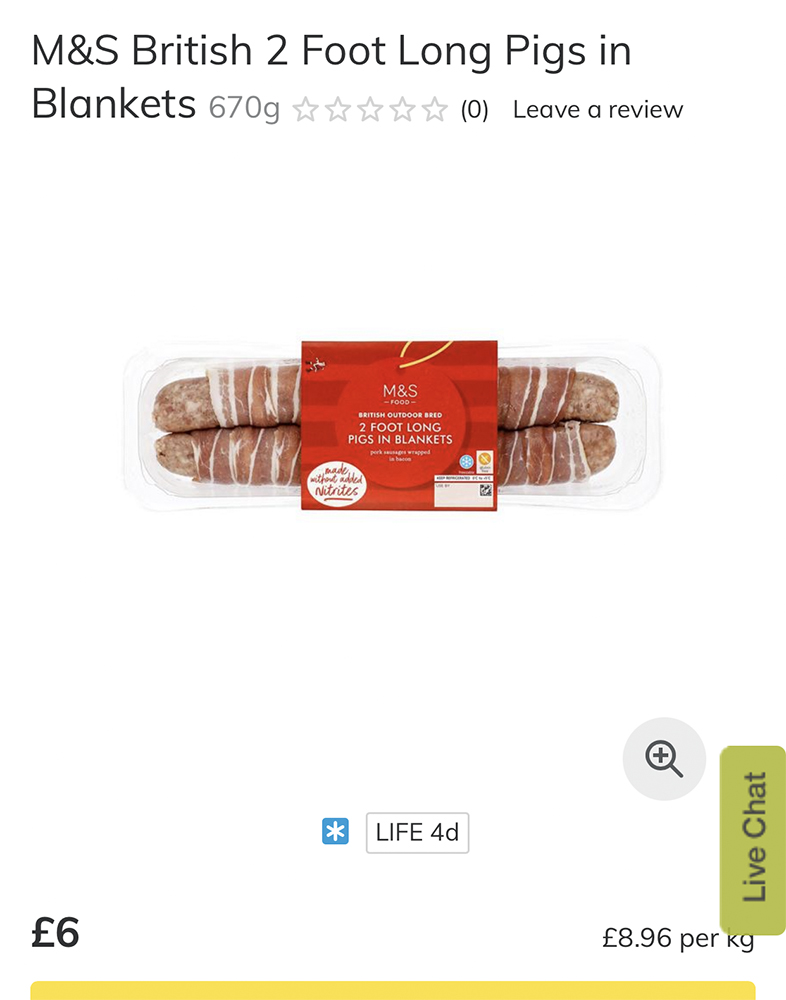 29. Marks and Spencer Plant Kitchen Vegan Festive Wreath
And M&S hit back with EVEN MORE gluten-free and vegan products. Which are usually in very short supply!
Unlike the pork version which featured pork multiplied by infinity, this one is made of roasted mushrooms, chestnuts and pumpkin seeds with a cranberry and orange glaze.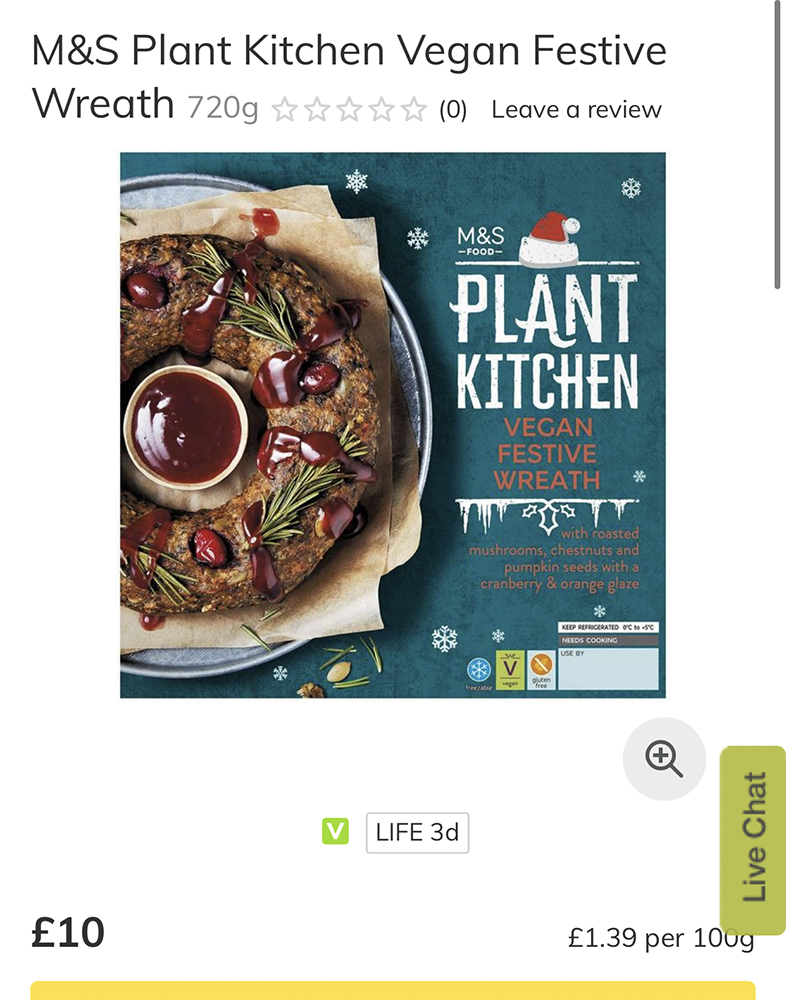 30. Marks and Spencer Vegan Truffle and Caramel Selection and Cocoa Dusted Truffles
There's even lots of vegan chocolate boxes coming to M&S, who have clearly embraced the vegans this year, more than ever.
Fortunately, they're gluten-free too.
31. Marks and Spencer Food Collection Turkey Feast, Pigs in Blankets Crisps
Ok, the intermission of gibberish is over and we're back to the crisps.
And we've got more festive flavours to be more specific – you'll find these down the crisps aisle.
32. Marks and Spencer Toffee and Pecan Meringue Roulade (4 mini or 1 large)
I didn't see the 4 toffee and pecan meringue roulades last year (only the big one pictured below) but now you've got two to choose from.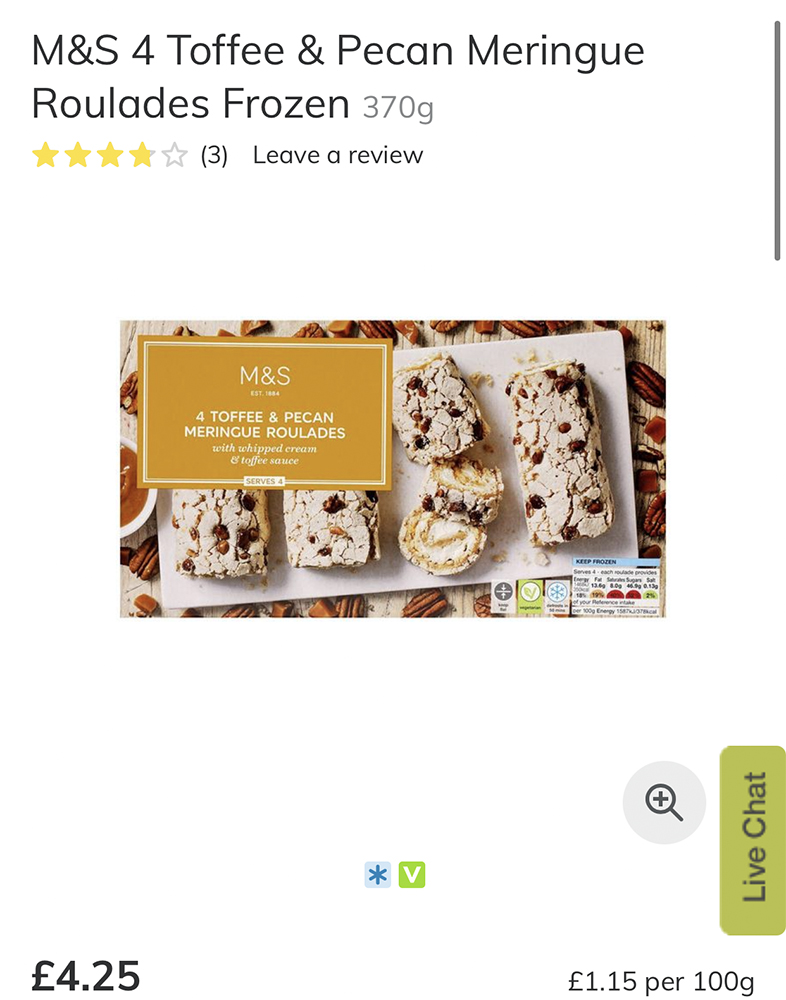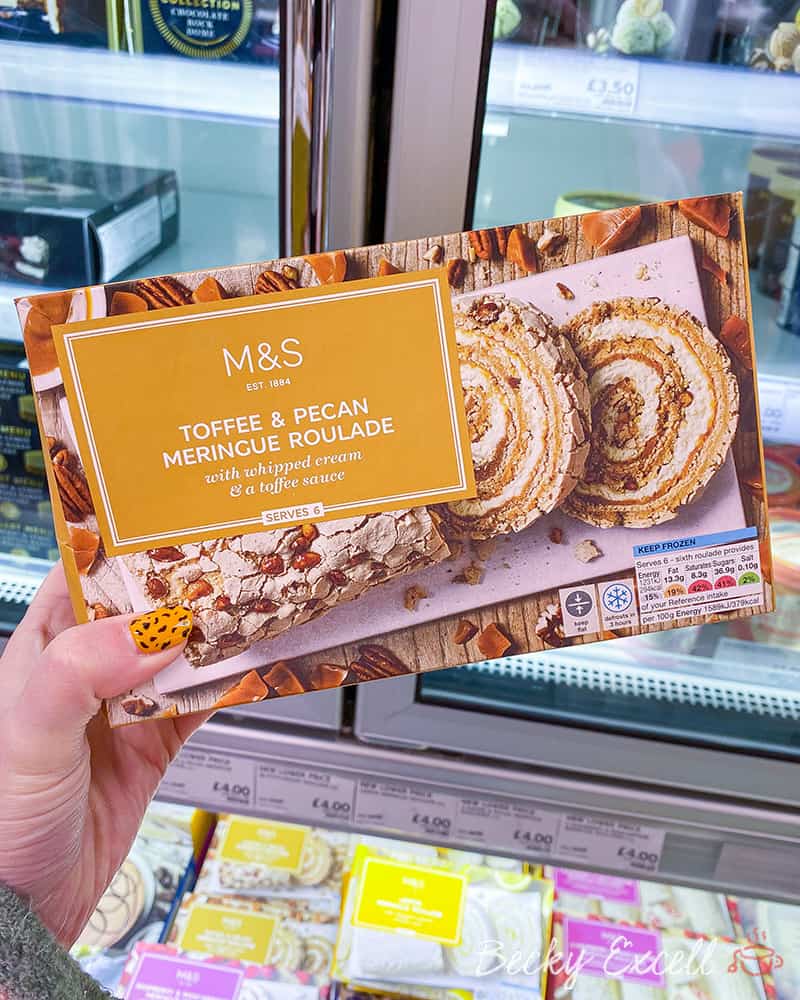 33. Marks and Spencer Lemon Meringue Roulade
And the lemon meringue roulade is back already too!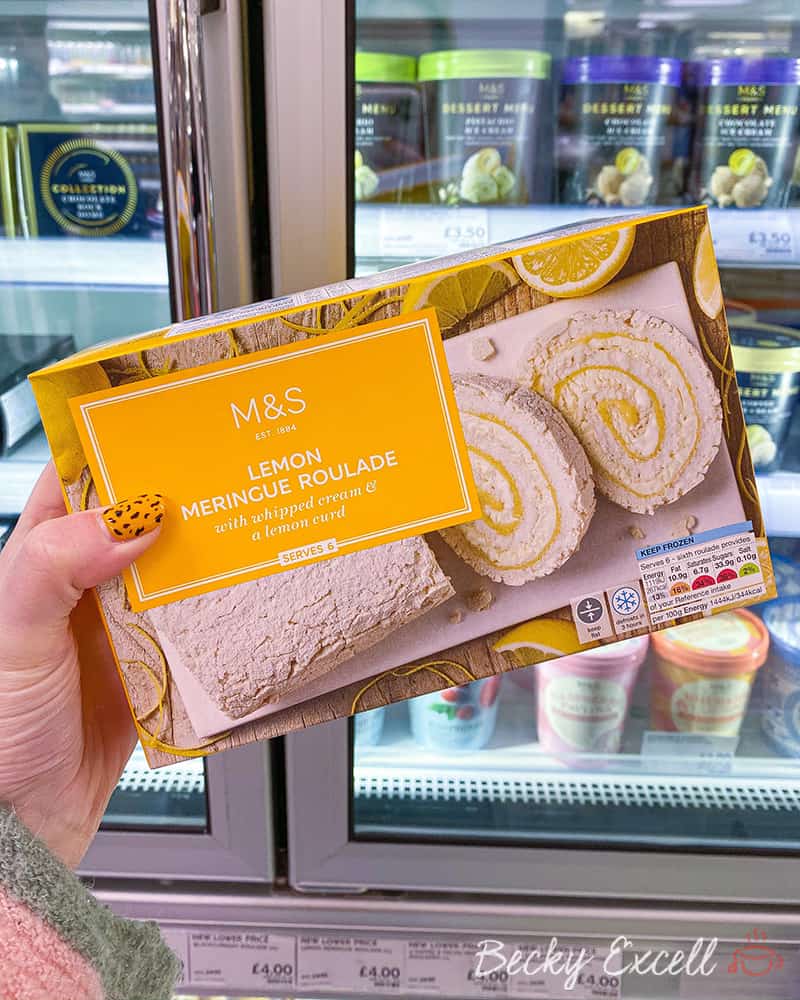 34. Marks and Spencer 4 Raspberry and Mascarpone Meringue Roulades
FYI – not ALL meringue is gluten-free as it can sometimes contain wheat starch.
So thought these may not seem that exciting, at least they're actually edible and safe!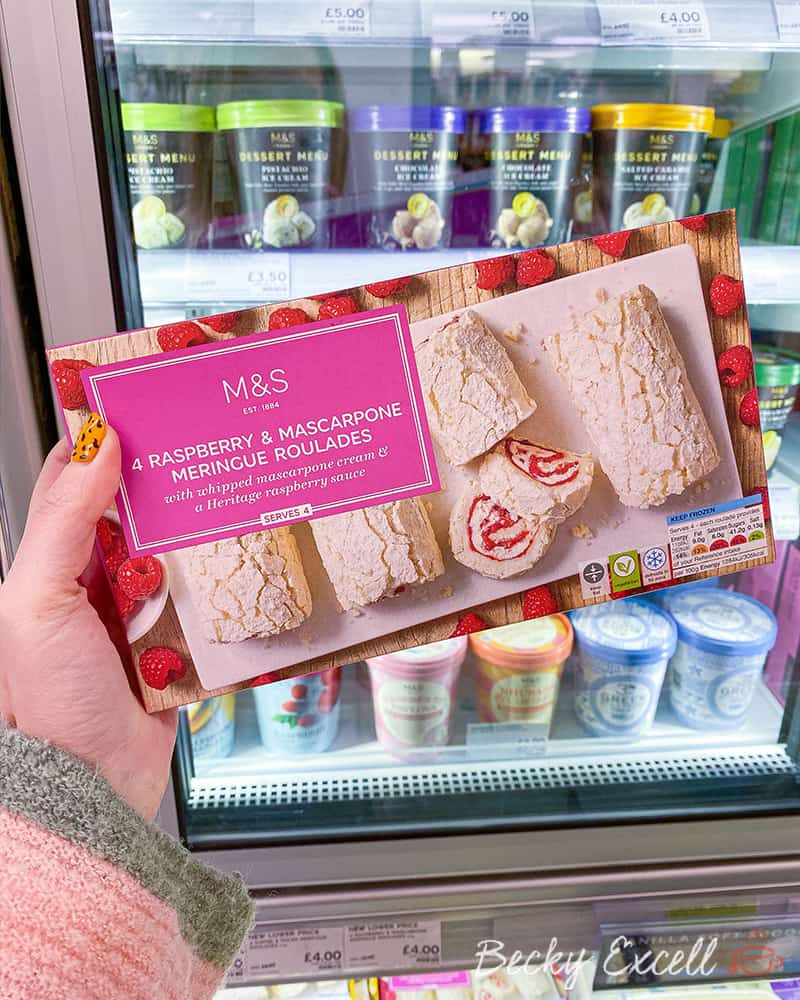 35. Marks and Spencer Blackcurrant Roulade
And here's another roulade – but if meringue is a little too 'gluten-free' for you when it comes to dessert, how about this next one?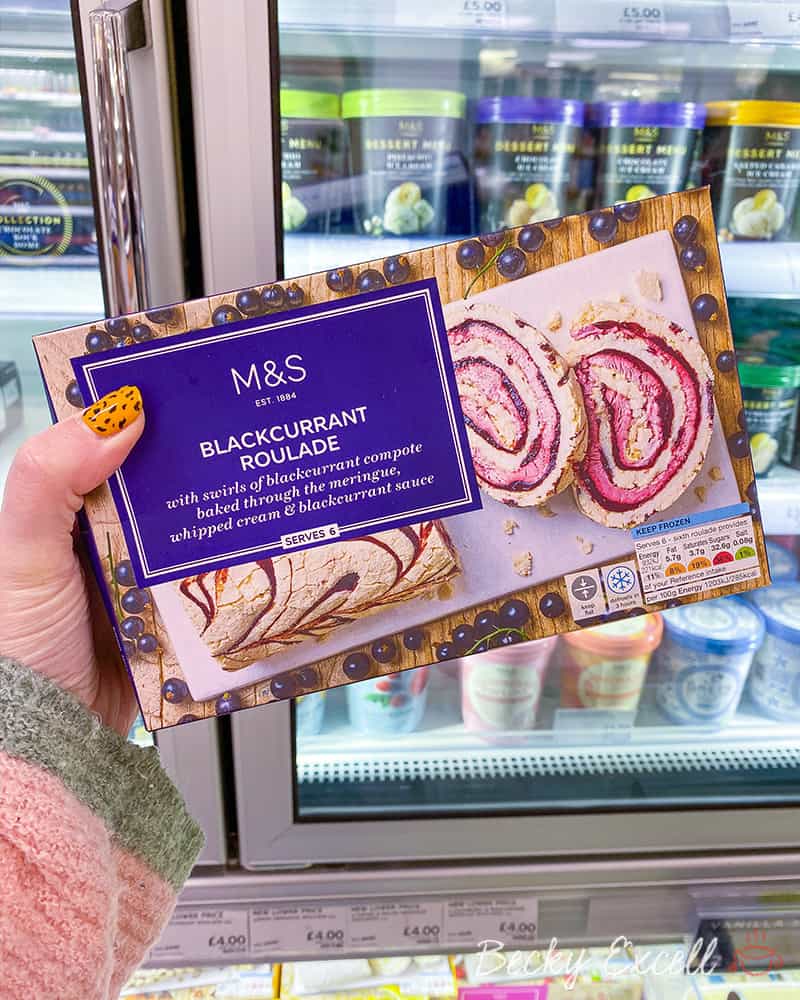 36. Marks and Spencer Hot Chocolate Fudge Pudding
Yep, this reader favourite is still going strong after 2-3 years!
This hot chocolate fudge pudding is gluten-free, but it's super easy to miss as it's mixed in with all the muggle desserts.
It'd make the perfect easy Christmas day dessert with a bit of ice cream and you won't have to pay more than anyone else for it.
Result!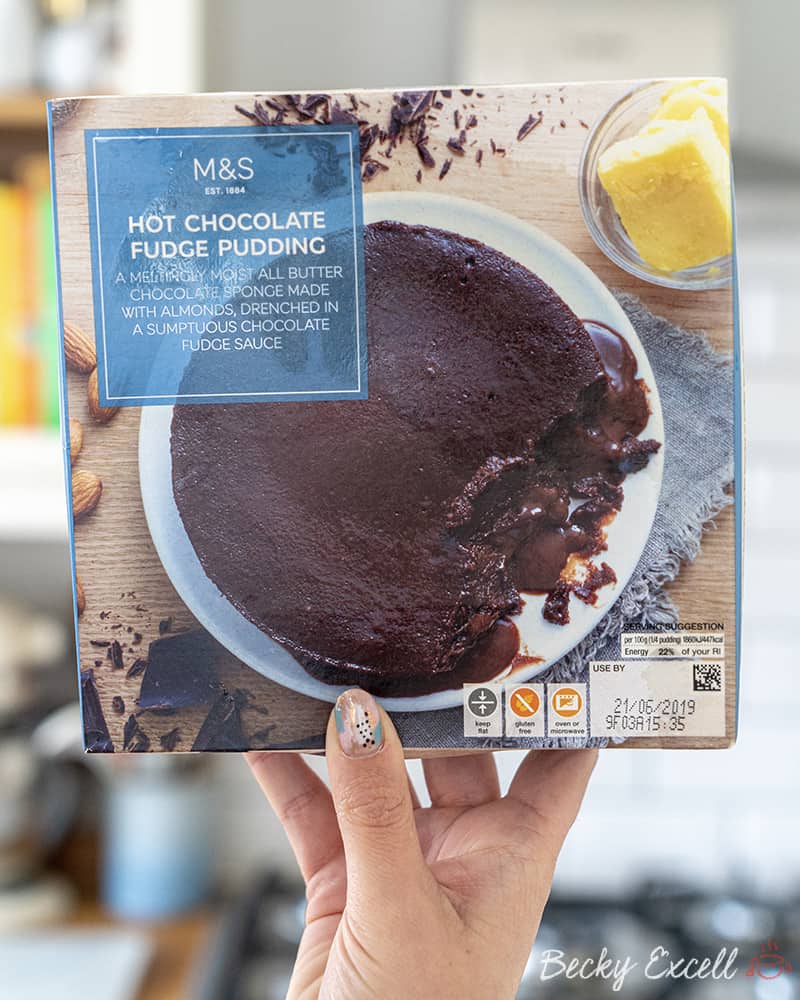 37. Marks and Spencer Food Collection 18 BBQ Pork Belly Squares
And a few of the M&S classic party food options are back, including the BBQ pork belly squares…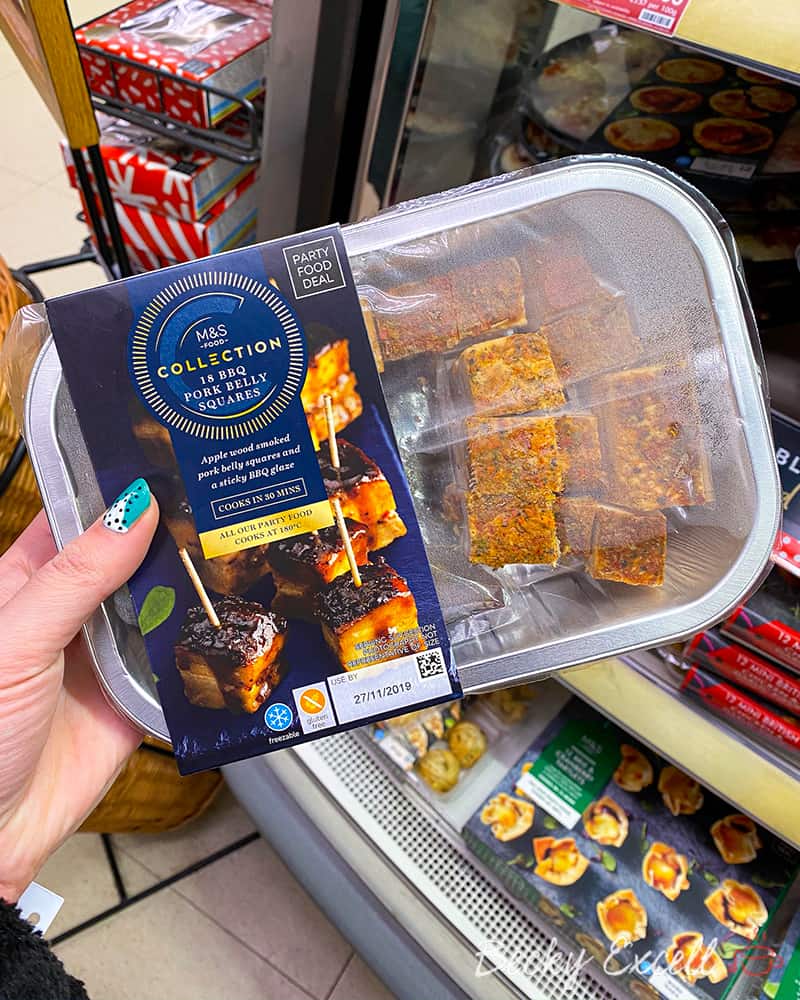 38. Marks and Spencer Food Collection 12 Sticky Asian Style Chicken Lollipops
And these!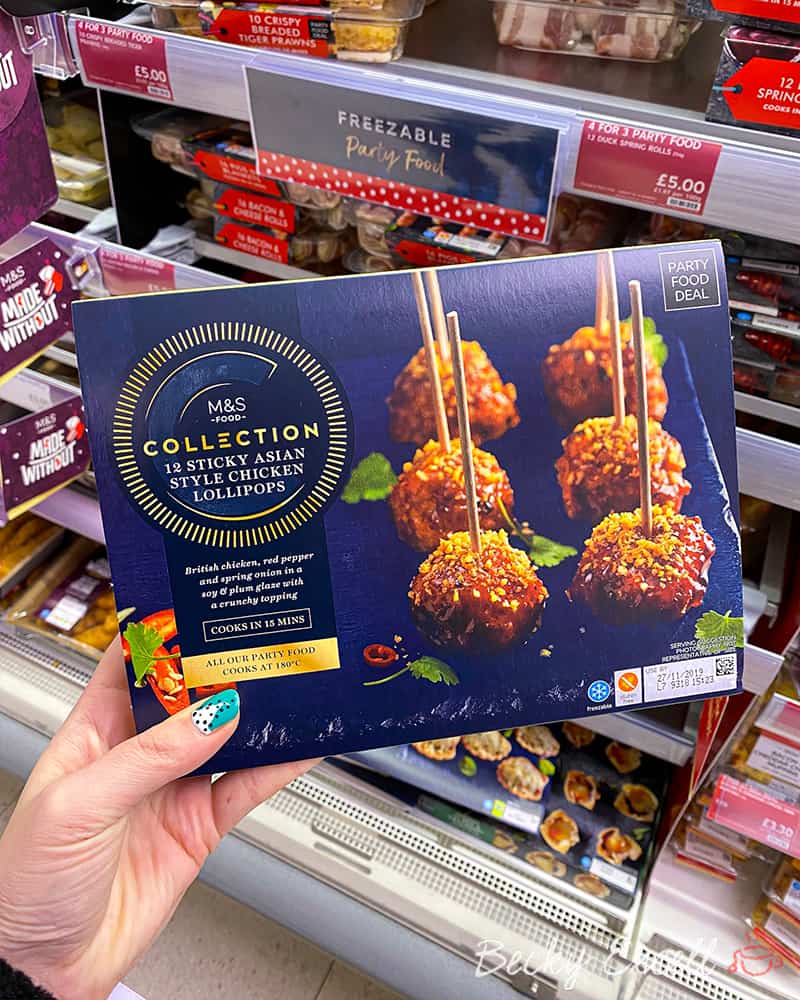 39. Marks and Spencer Food Collection 10 Sticky Chicken Yakitori Kebabs
Of course, these from last year too. Hopefully we'll get a few new options as well – I'll post them at the bottom of this post if I find any.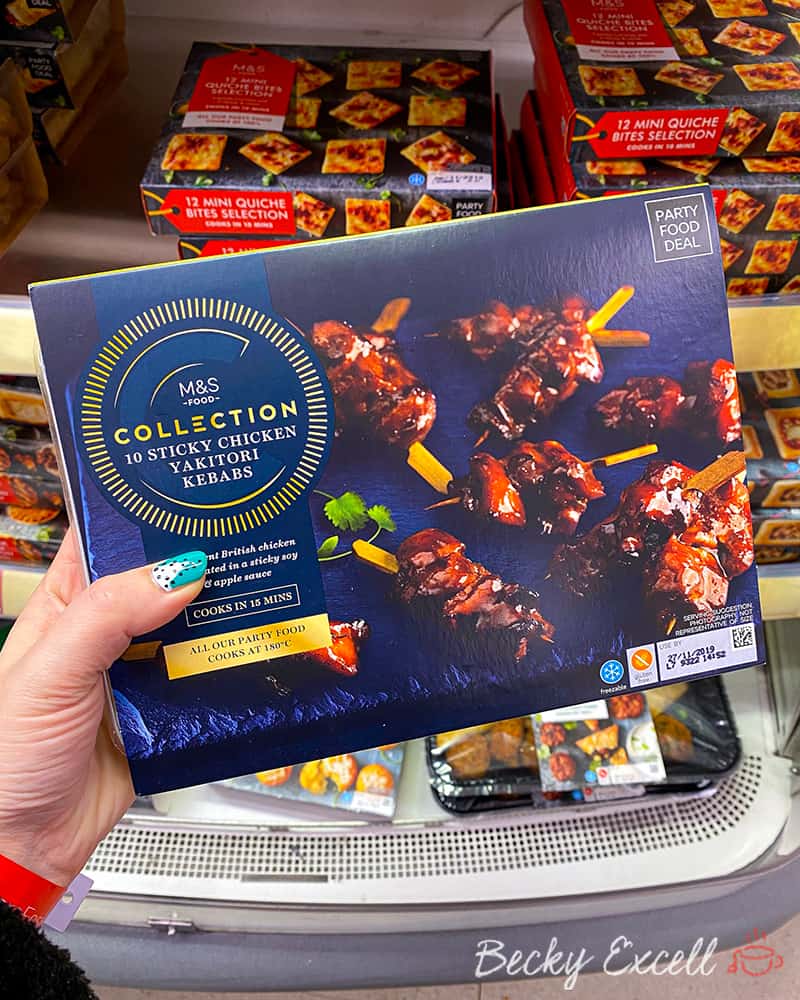 40. Marks and Spencer Food 12 Mini Toad in the Hole
And whilst I haven't seen these in my local M&S OR online on Ocado, I would bet a lot of money on these returning for another year.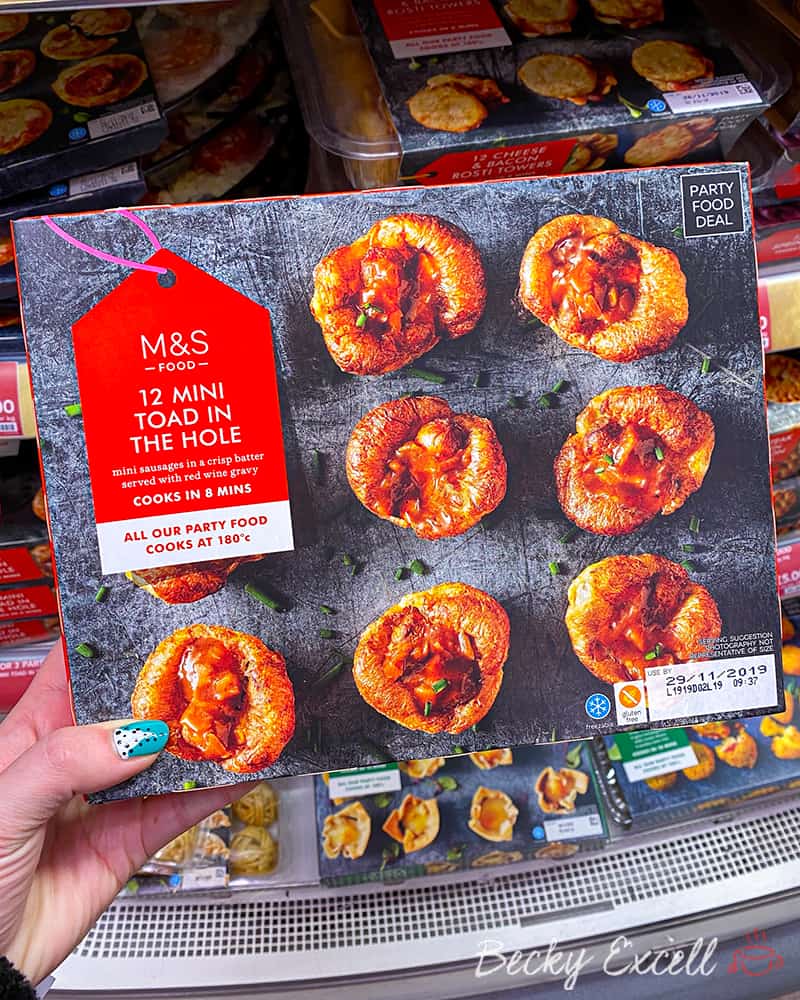 41. Marks and Spencer Food 16 Bacon and Cheese Rolls – gluten-free
Everything is better when wrapped in bacon, right?
And this proves it!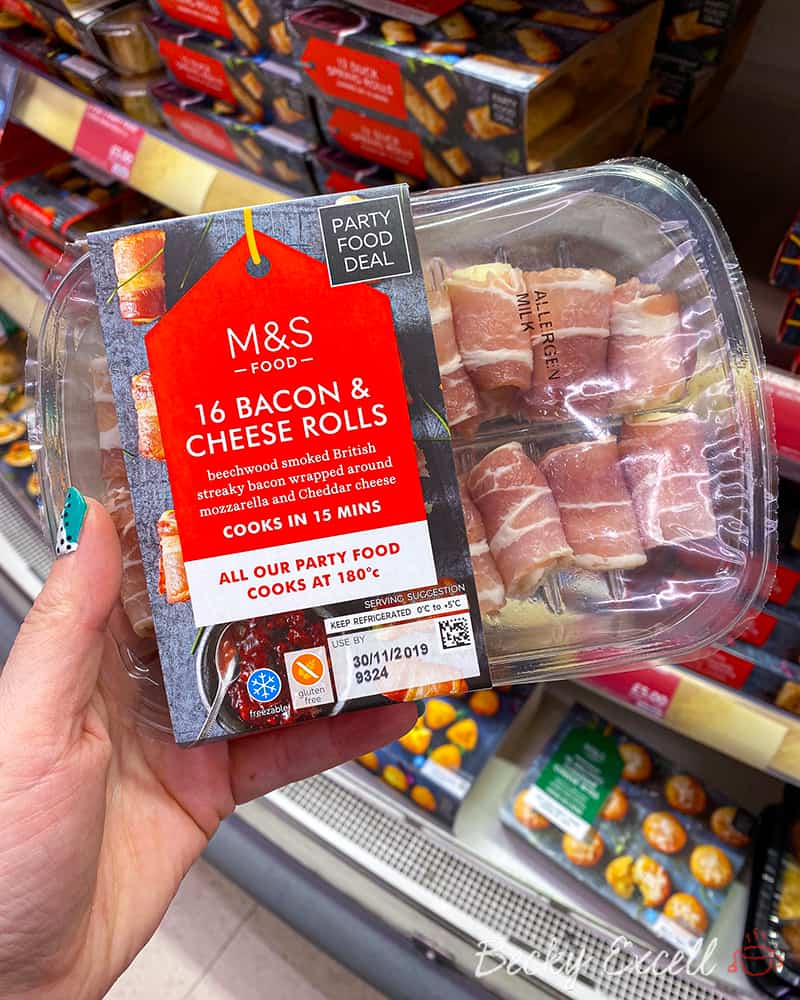 42. Marks and Spencer Food 16 Pigs in Blankets (various)
The sheer amount of gluten-free pigs in blankets in the Marks and Spencer gluten-free Christmas range is mind-blowing.
Here's a few (read: a lot) that I found, though I'm sure there will be more than I've missed.
Will these all basically taste the same? Try them and find out!
The last one is frozen, you'll find the rest in the chillers.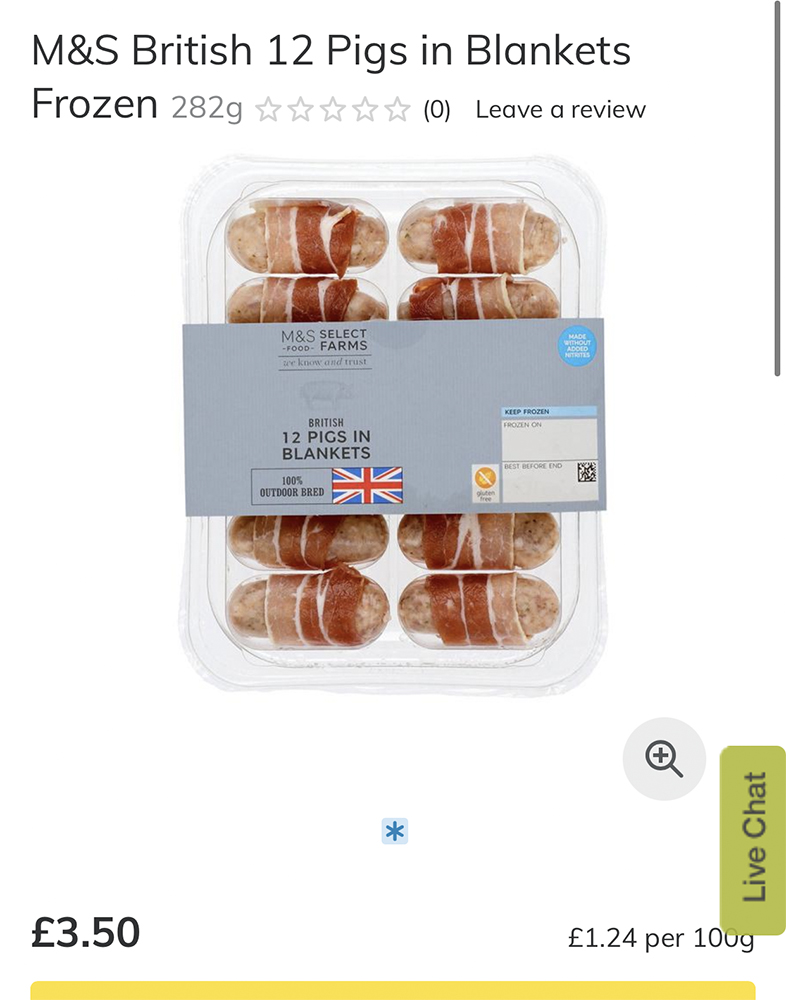 43. Marks and Spencer Food Garnish Selection
Yep, it's yet ANOTHER garnish selection! And of course, this post is now 90% pigs in blankets.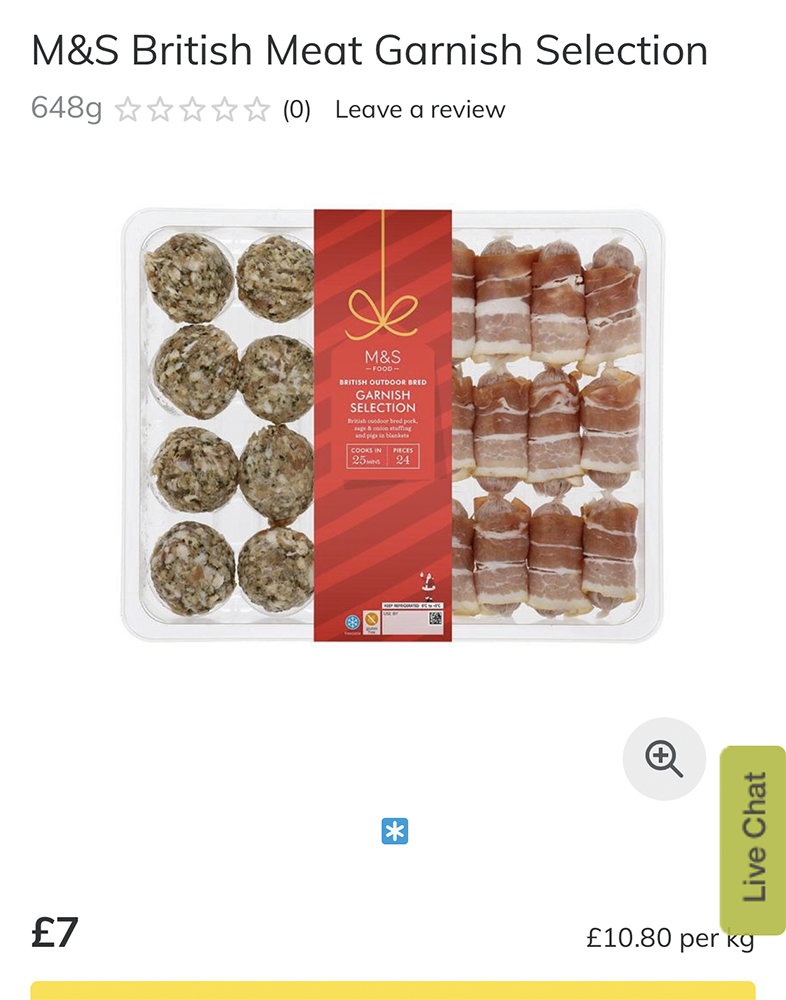 44. Marks and Spencer Food Made Without Dairy Selection Box – gluten-free, dairy free
Marks and Spencer is never overflowing with dairy free products, so I'll take this one as a win!
In the box are 3 raspberry discs, 3 crispy discs, 3 chocolate orange truffles and 3 caramel soft centres.
I believe these were around last year as my Mum bought them for Mark and he really liked them!
As someone who's lactose intolerant, he is pretty sick of eating plain chocolate – so he loved the little twists on each of these.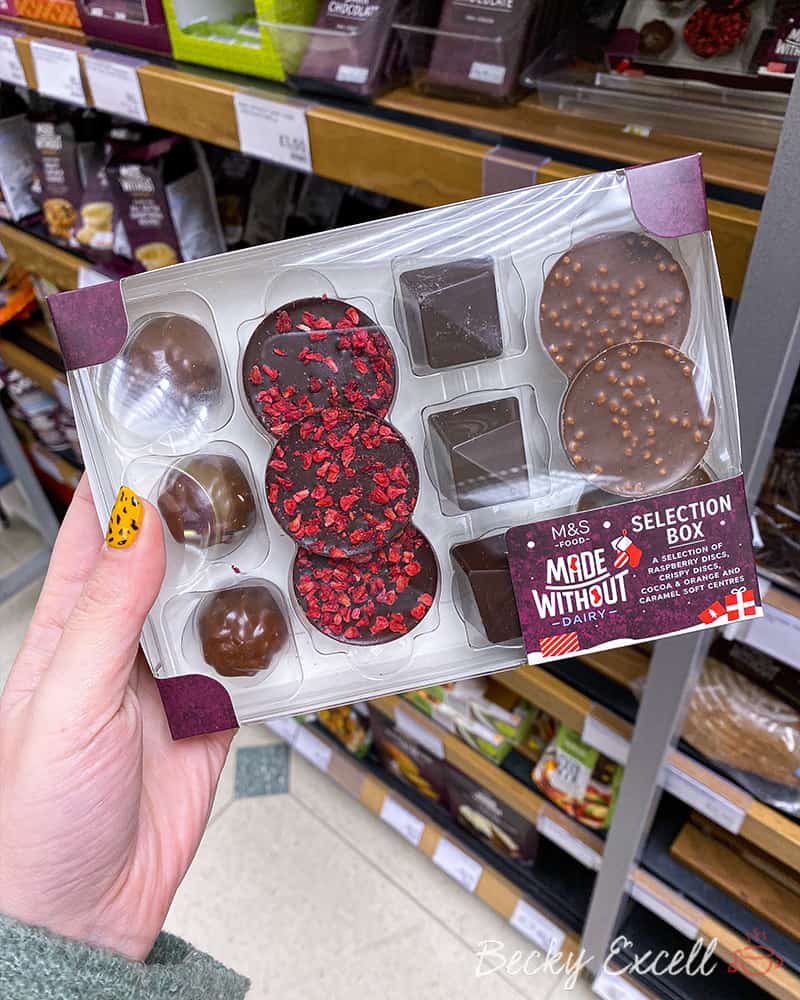 45. Marks and Spencer Vegan Chocolate and Coconut Cream Drink (alcoholic)
And this little tipple just so happens to be gluten-free and vegan too.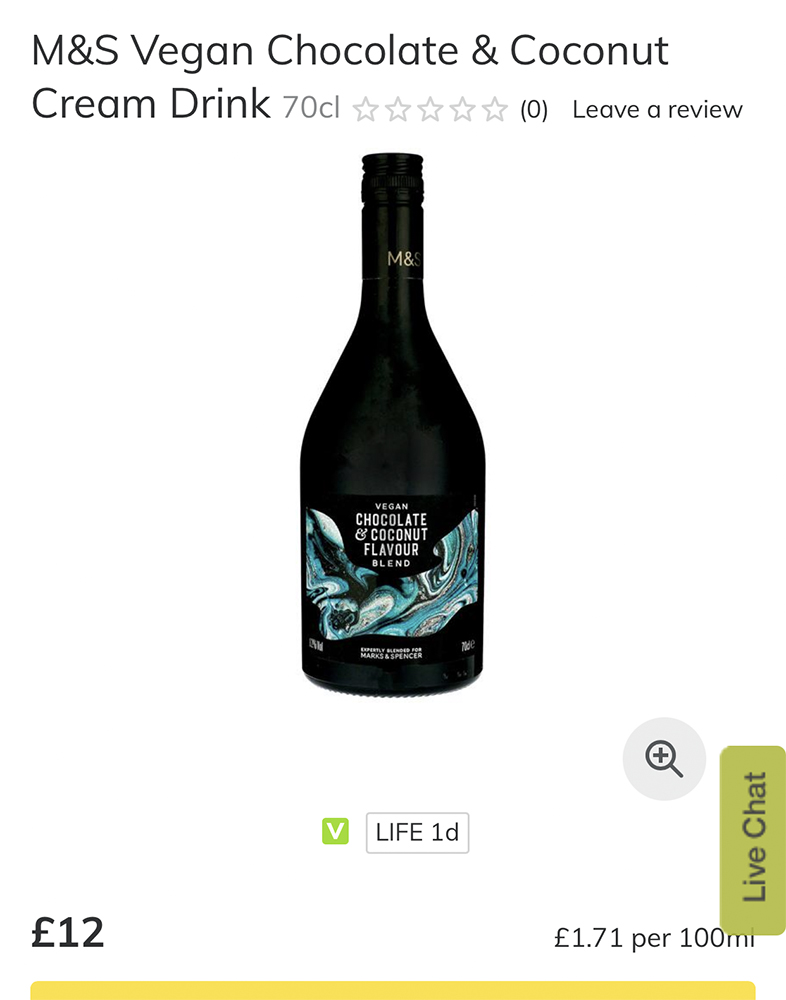 46. Marks and Spencer Milk Chocolate Popcorn Slab
Chocolate and popcorn, what's not to love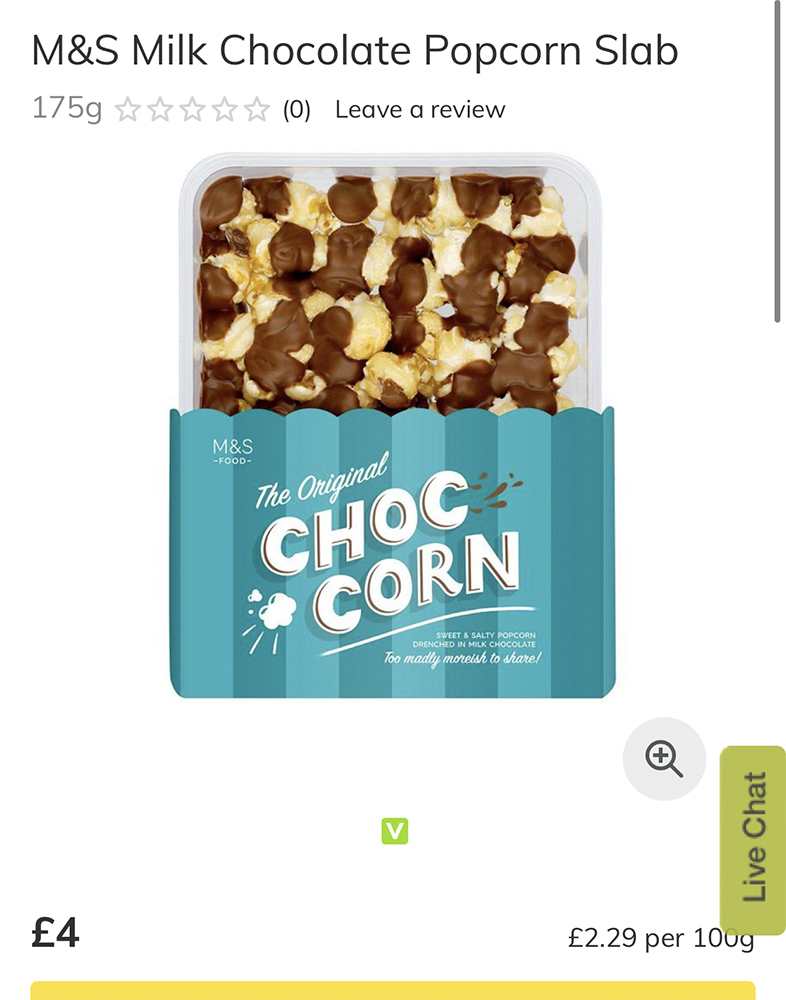 47. Plant Kitchen Christmas Pudding
A gluten-free AND vegan mini Christmas pudding? That could only happen at M&S!
Who's rushing out to buy this one?
I'll be keeping this post up-to-date with more finds as it gets closer to Christmas, so make sure you bookmark this page and check back every now and then!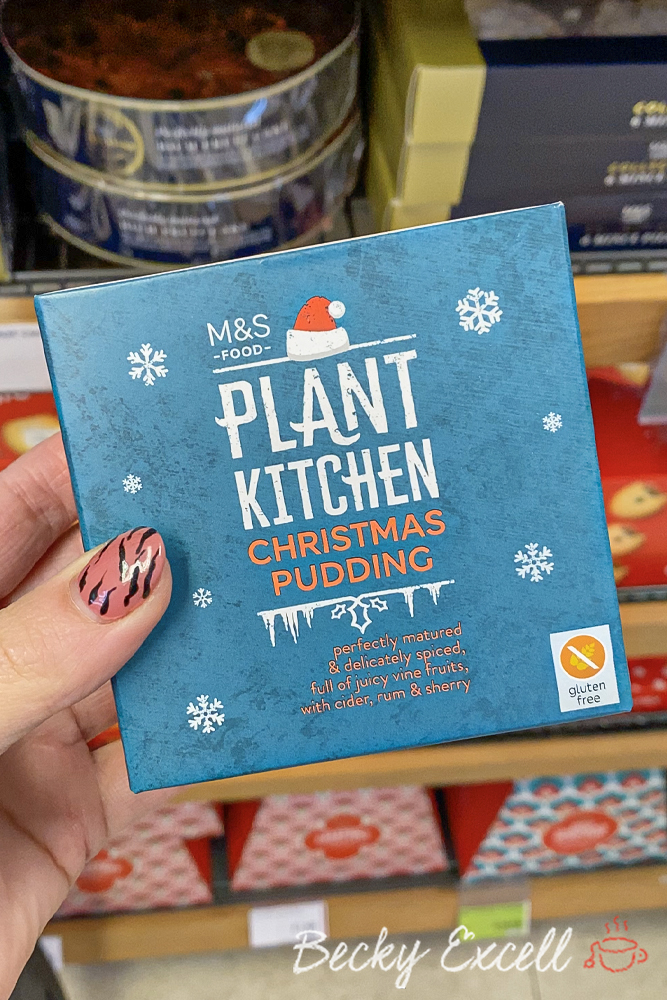 That's the 40+ NEW products in the Marks and Spencer gluten-free Christmas Range!
Thanks for joining me in checking out the Marks and Spencer gluten-free Christmas Range 2020! What did you think? Is it too early for Christmas products?! Which one was your favourite? What did you think of the prices? What are we still missing?
Please do let me know by leaving a comment below or by following me Instagram!
Thanks for reading,
Becky xxx