The Tesco Gluten-free Christmas range 2020 is here! There's everything from mince pies to shortbread, panettone, TONS of dairy-free chocolate and products you probably didn't know you could eat.
Tesco gluten-free Christmas range 2020 – the ULTIMATE guide which I'll be updated all the way up to the big day with NEW products! I've saved the best until last so keep scrolling and find out what's in store for us…
Oh and tap here to follow me on Instagram where I post all my latest gf finds first – that way, you'll always know all the most recent finds and never miss any!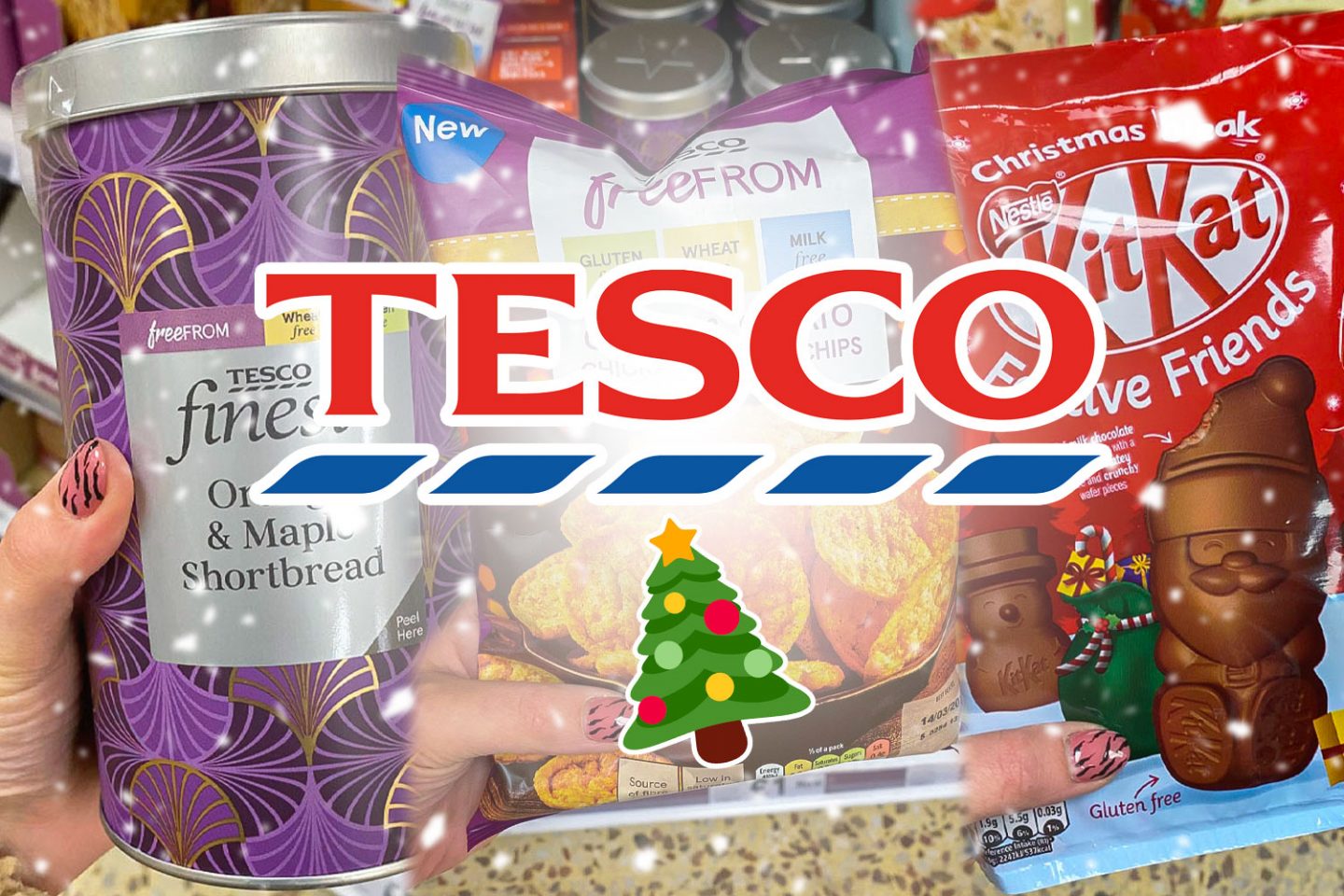 Most of these products can be found down the free from aisle that you're already probably very familiar with by now!
However, some of these are mixed in with all the muggle products down the seasonal aisle. So make sure you check there too if you can't find some of these.
I'll be keeping this post updated with prices and new products as Christmas approaches, so be sure to bookmark this page and keep checking back.
Here's 30+ NEW products in the Tesco gluten-free Christmas Range 2020
This post is constantly updated! Keep scrolling to the bottom for the NEWEST products…
1. Tesco Free From Gingerbread Men
Remember these from last year? I thought I did… then I realised that these are the same, but different!
In previous years, they were arranged in a little house (see the photo below) but they're just in regular free from packaging this year.
You can also find these in Asda too.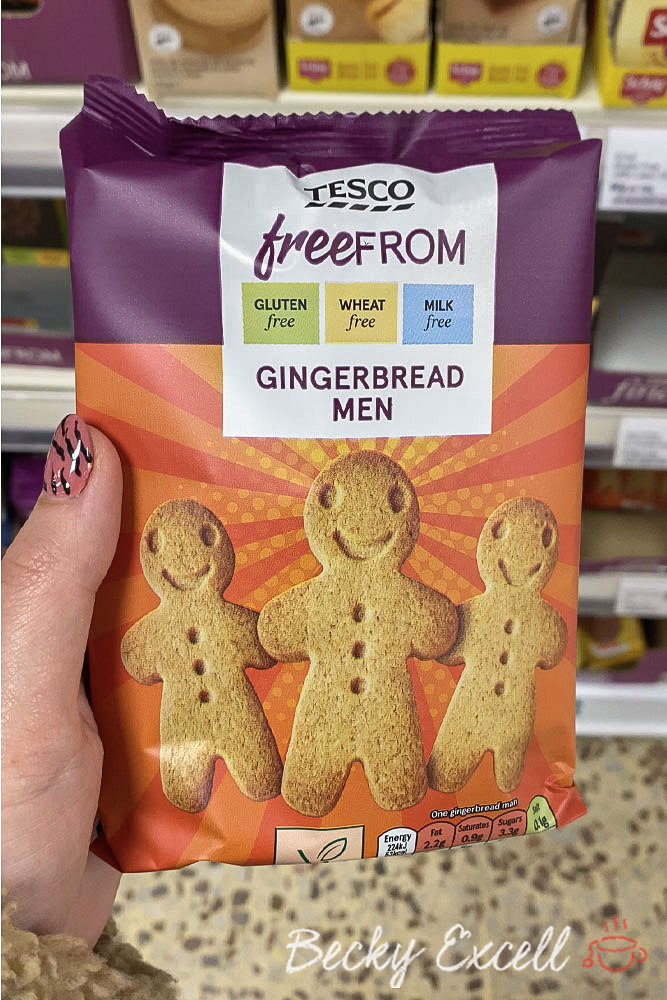 Oh and here's what they looked like last year – not sure if these ones are gonna be coming back or not!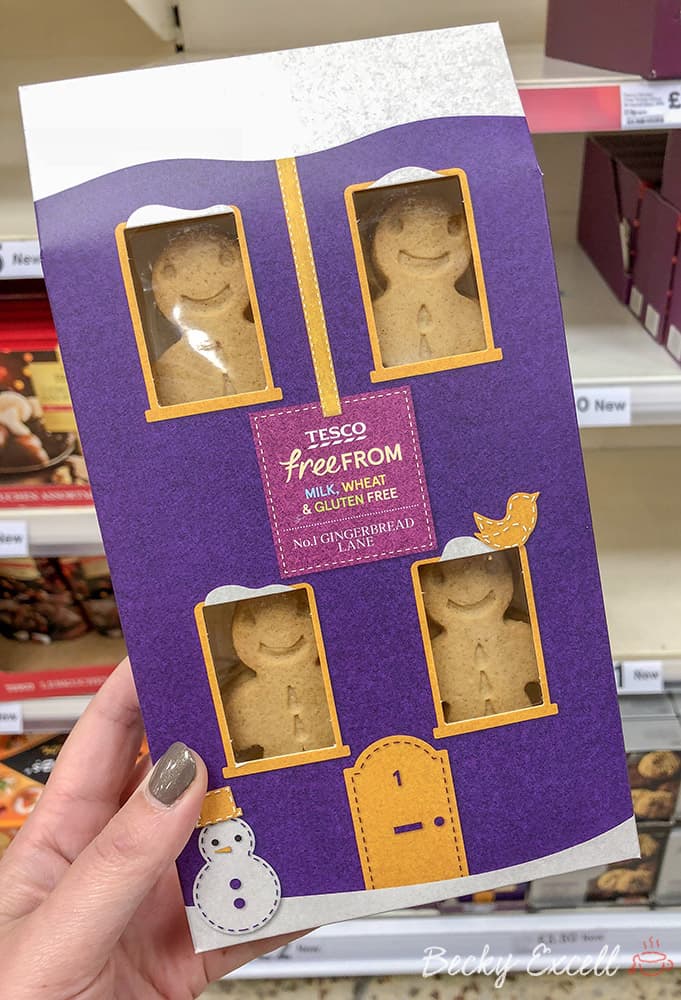 2. Tesco Free From Enrobed Cookies and Cream & Orange Cookies and Cream
Remember these from when I posted them on Instagram last year? They're back!
These are the enrobed cookies and cream biscuits – so like an Oreo, but gluten-free, covered in milk chocolate and orange flavoured. Heaven!
(I may or may not have eaten waaaaay too many of these already)
One of these is chocolate orange-flavoured and the other are milk chocolate-flavoured.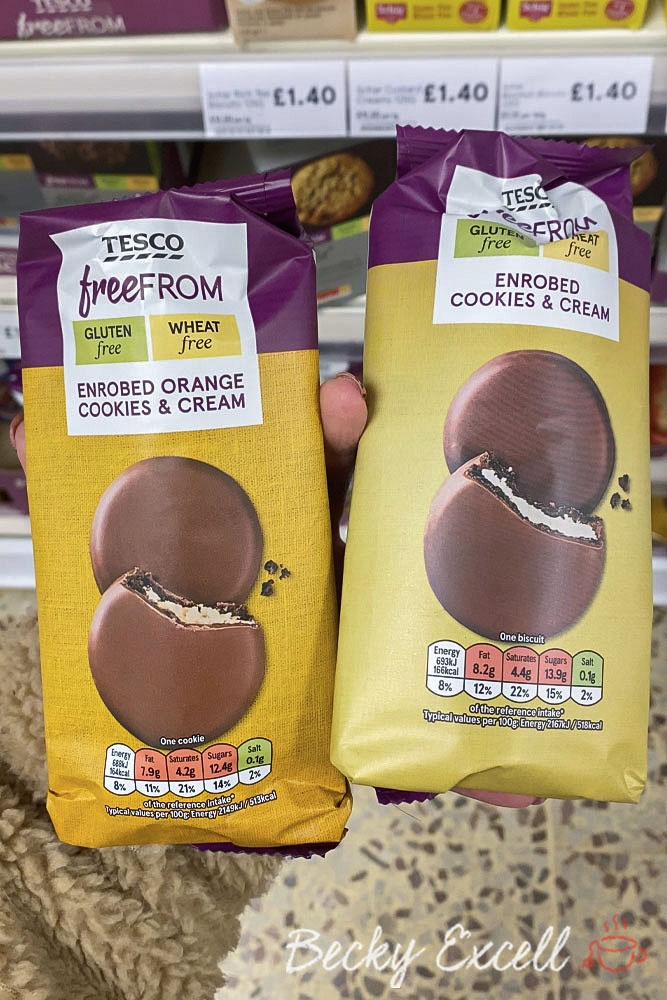 3. Tesco Finest Free From Cookie Selection
Wowww – I love a good biscuit selection at Christmas and this looks like an absolute beauty!
A few of you guys have noticed there's a little less dairy free AND gluten-free products this year… and I'm sort of noticing the same pattern?
Anyone else disappointed with the lack of dairy free products this year? Anyone else unashamedly happy that they're not always lumping gf and df together?
I'd love to know your thoughts!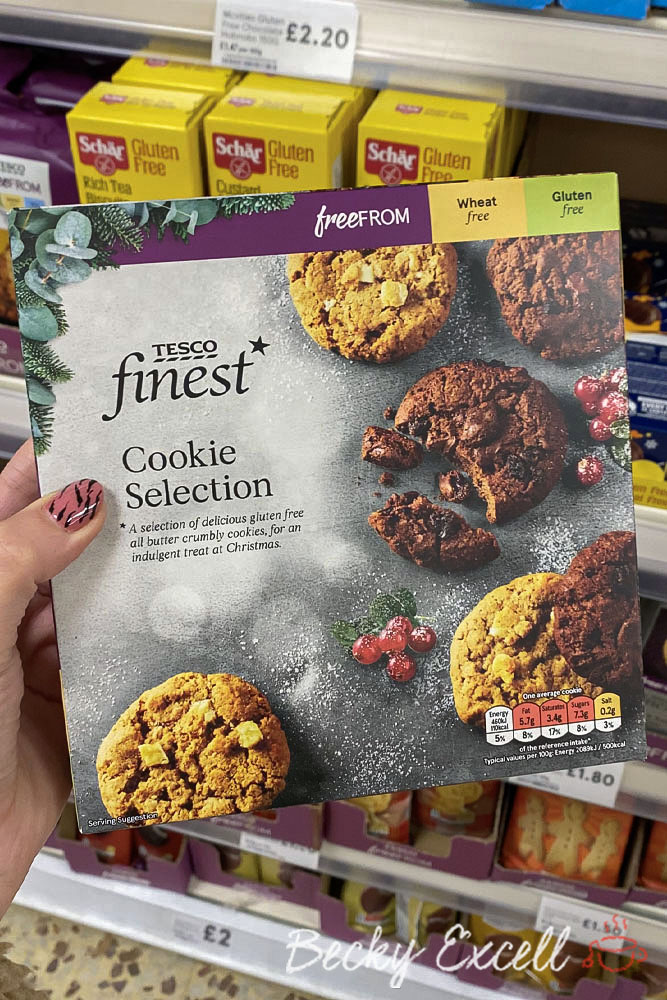 4. Tesco Finest Free From Chocolate and Salted Caramel Sponge
Now this will definitely be in my cupboard come Christmas day and apparently it serves 2… we'll see about that!
I always love having a little pudding like this as a back-up just in case:
a) someone didn't read the ingredients on the dessert properly this year and I can't actually eat it
b) dessert turns out to be Christmas pudding
So I'm covered either way!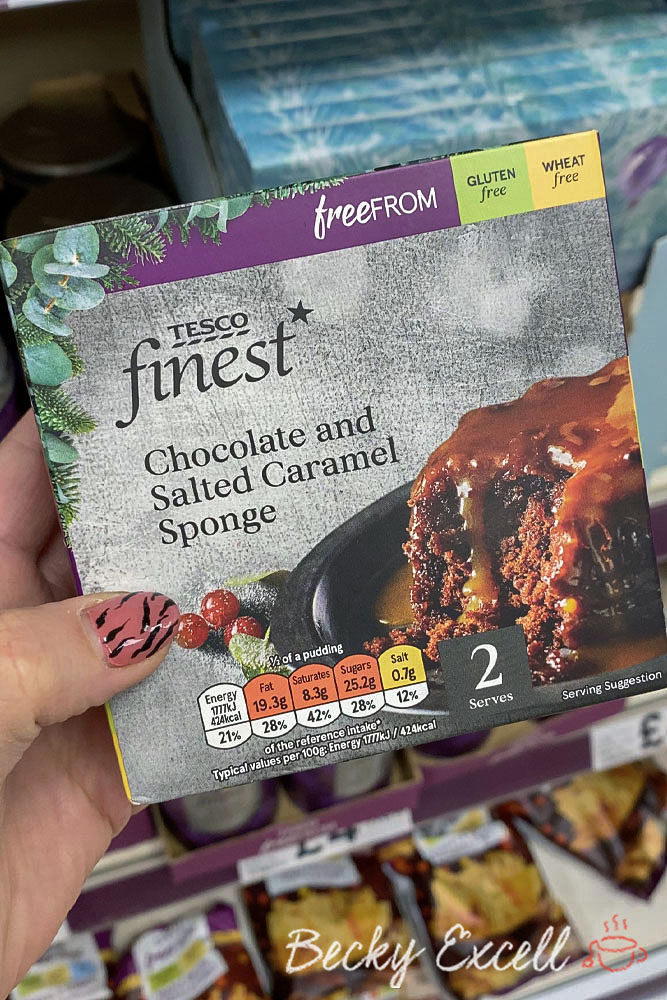 5. Tesco Finest Onion Gravy
Finding gluten-free gravy granules outside of the free from aisle is an impossible task.
That's why I had to absolutely include this one in this post! Though they're not gravy granules, it's FRESH gravy that you just need to warm up and it's totally gluten-free.
So whilst it might not last as long as a tub of gravy granules, at least we've got options this year, which is always a good thing.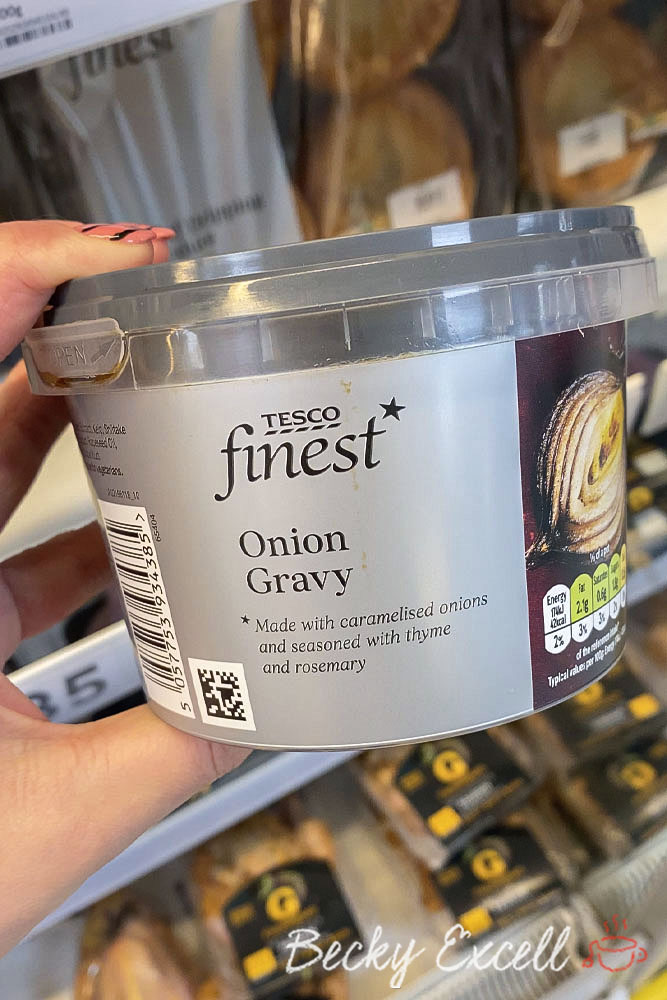 6. Tesco Finest Free From Orange and Maple Shortbread
Anyone else spotted these brand new shortbread biscuits in the Tesco gluten-free Christmas range 2020?
It comes in a nice tin which seems to be a rarity for gluten-free products!
This might make a great secret Santa gift for a gluten-free person, instead of buying them a packet of Schar Rich Tea biscuits which might not have the same impact 😂
Still no dairy-free products yet, but wait…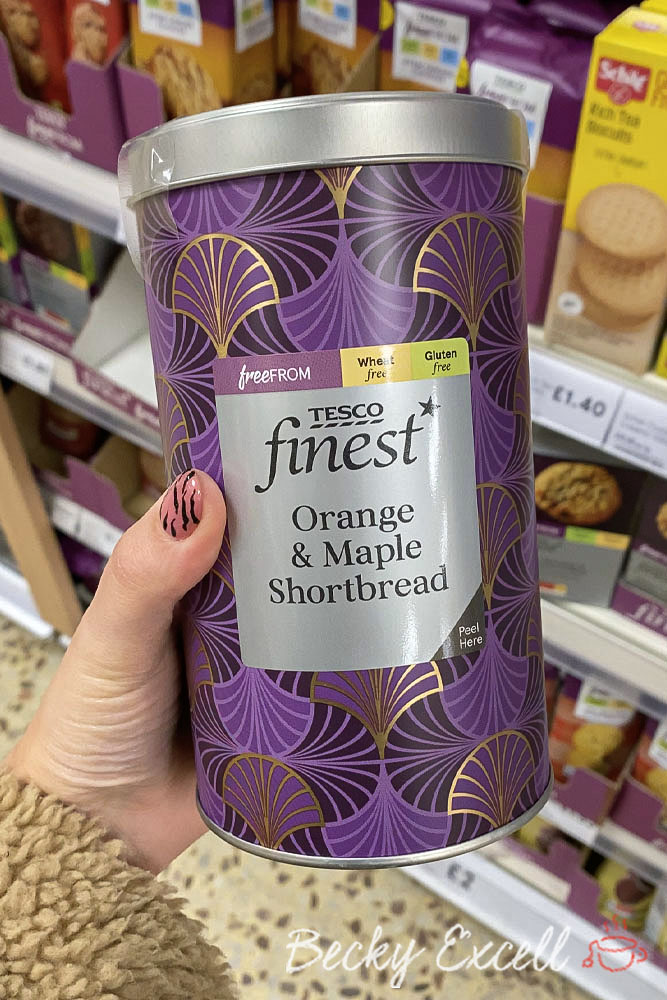 7. Tesco Free From 4 Caramelised Apple Crumble Pies
These are AMAZING and dairy free too – hooray!
Anyone else still hunting for more gluten-free AND dairy free products? Let me know and I'll try and help hunt for you!
They're definitely a little fancier than your standard apple pie in terms of filling too, so make sure you give these a try.
I saw they're selling these in Asda too this year, so keep an eye out for those.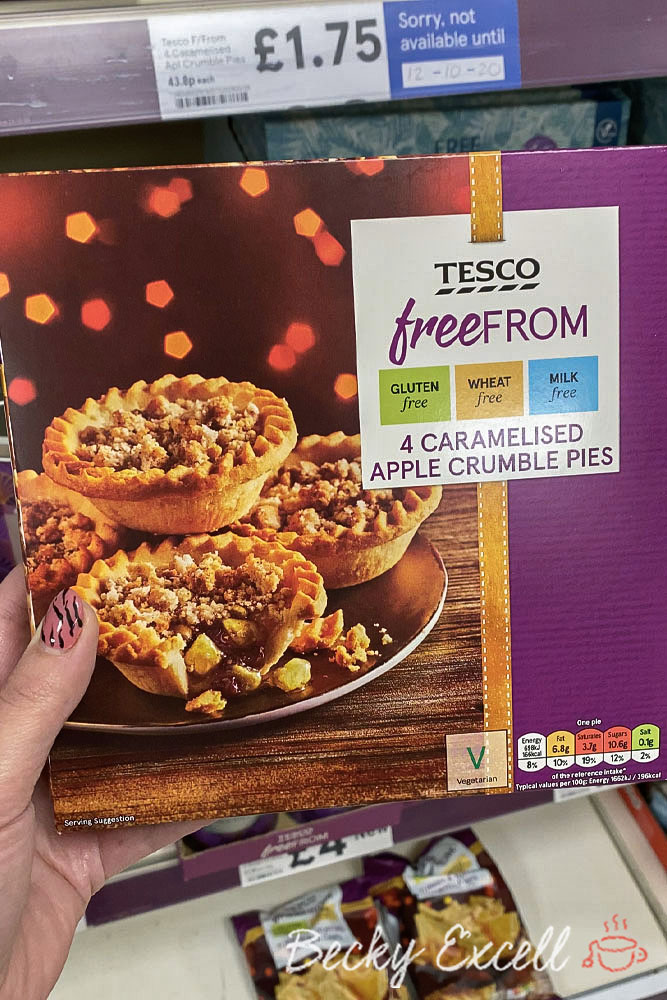 8. Nomo Caramel Filled Choc Drops
My boyfriend, Mark, is lactose intolerant and he loves these!
(of course, I can sneak a few too as they're gluten-free)
He says that these are as good as REAL dairy chocolate caramel, so these come as highly recommended by us!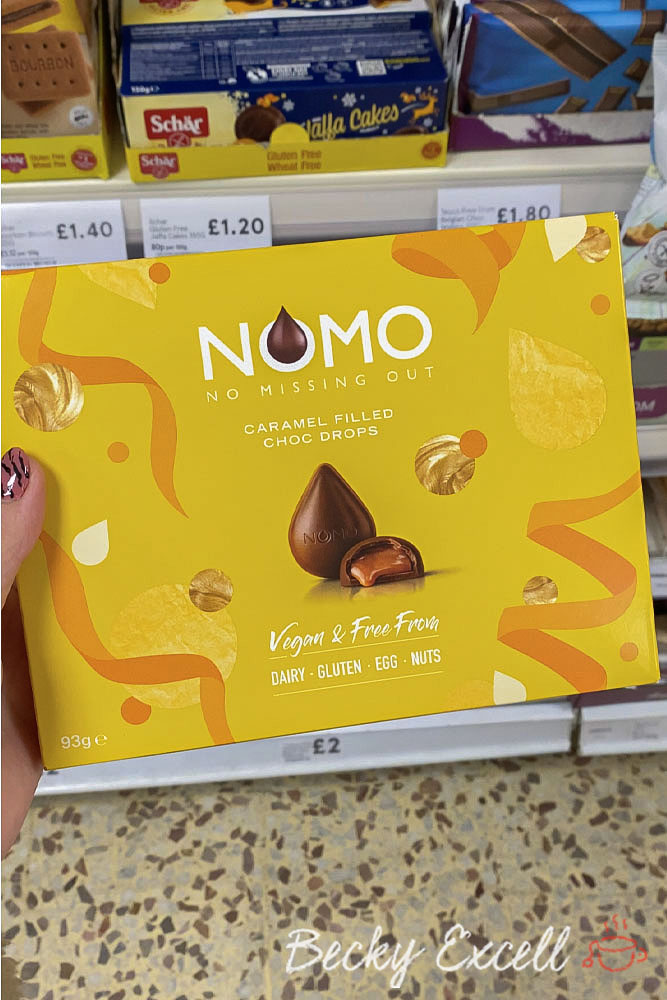 9. Tesco Free From Christmas Pudding
This has been a staple in the Tesco gluten-free Christmas range for years now, but it's back for 2020!
I love that they've made what the products are free from a little clearer by using a colour-coded labelling system, so that gets a big thumbs up from me.
I don't actually like Christmas pudding though, so you don't want my opinion on how it tastes however!
This one is dairy-free and vegan, unlike the smaller, Tesco Finest xmas pud.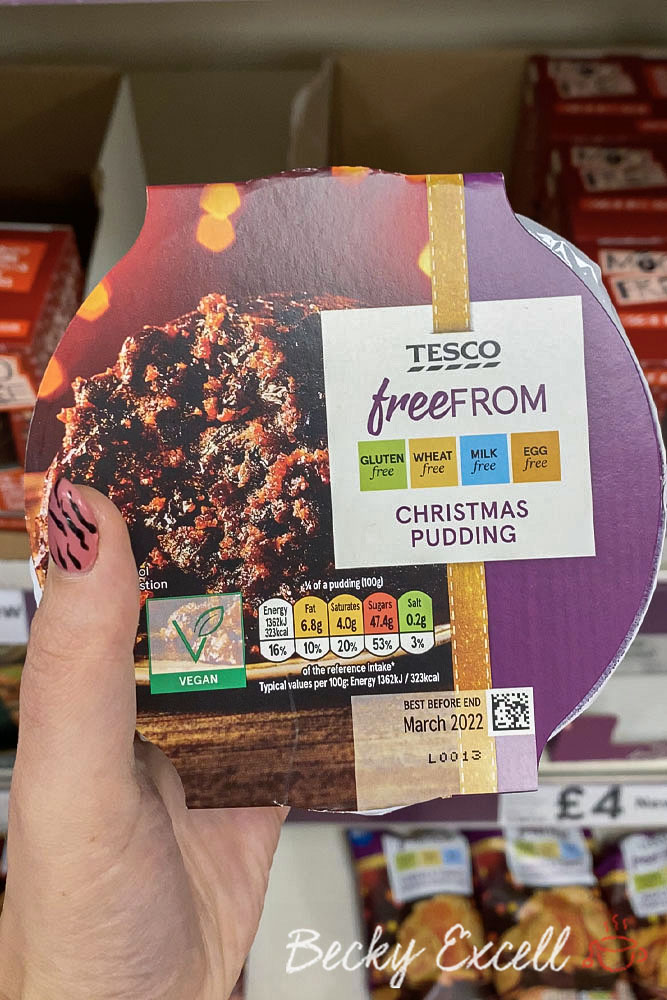 10. Tesco Finest Free From 6 Month Matured Christmas Pudding
Unlike the gluten-free Christmas pudding that serves 4 above, this is a mini one that serves 1. Perfect for if you're the only gf person in your house!
As it's Tesco's Finest range too, it's infused with Cognac – BUT it's not dairy free.
Which gf Christmas pudding will you be trying this year? ? Number 9 or number 10?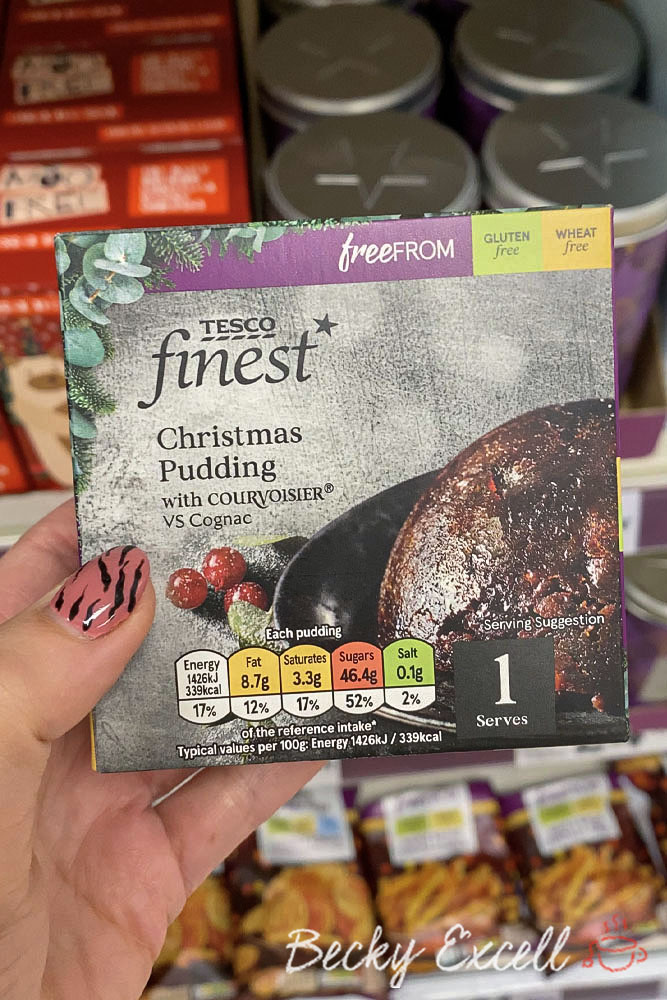 11. Tesco Free From Iced Fruit Slab Cake
This is gluten-free, wheat free AND milk free (hooray!) It's a lovely moist fruit cake with marzipan icing on top.
Again, not the biggest fan of fruit cake either (I'm terrible I know) so let me know your thoughts on how it tastes in the comments below this post.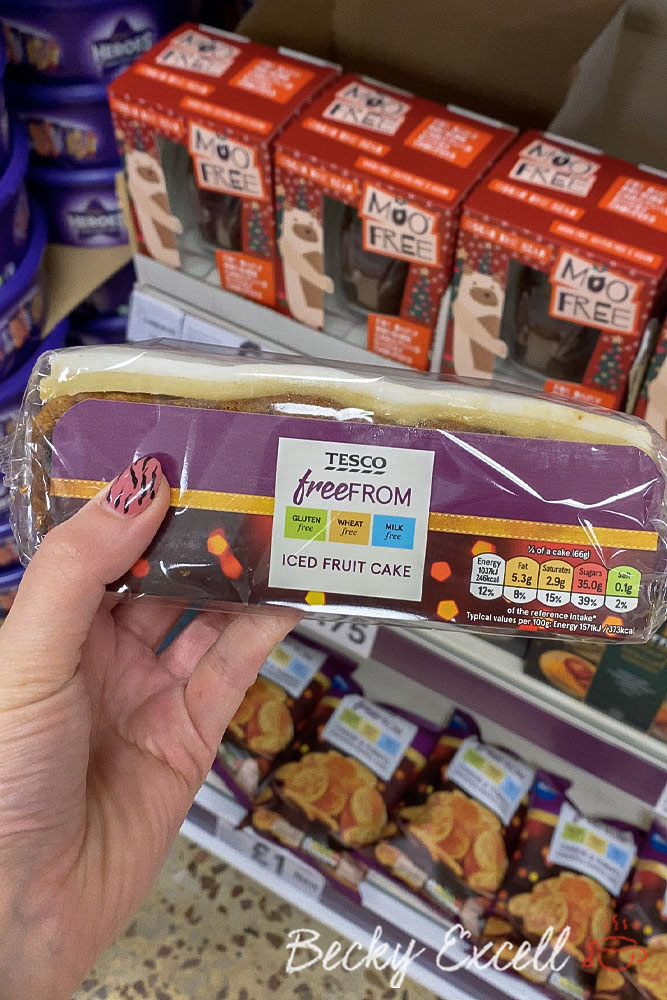 12. MooFree Oscar the Chocolate Bear
Though Tesco has clearly upped their game when it comes to dairy-free chocolate (with the NOMO caramel chocolate drops especially), make sure you check out other dairy-free options at Asda and Sainsbury's too.
There's tons of dairy-free chocolate that isn't just plain – which is always Mark's main complaint!
This cute chocolate bear seems to be unique to Tesco, so if your heart is set on this, set your sights on Tesco.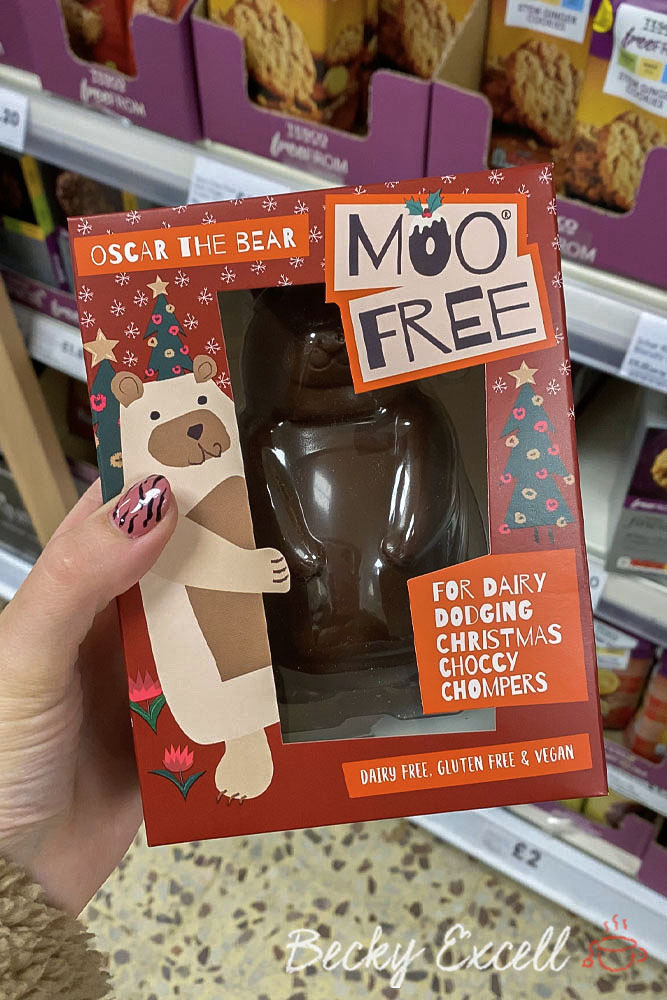 13. Tesco Finest Free From Truffle Selection
The dairy free chocolate options at Tesco just seem to get better and better!
I'm pretty sure we started off with these types of truffles which were a lovely caramel flavour – but now in this box, you've got salted caramel, dark chocolate truffle, coffee and white chocolate AND chocolate orange.
Mark was so happy when I brought this home… half of it seems to have disappeared already!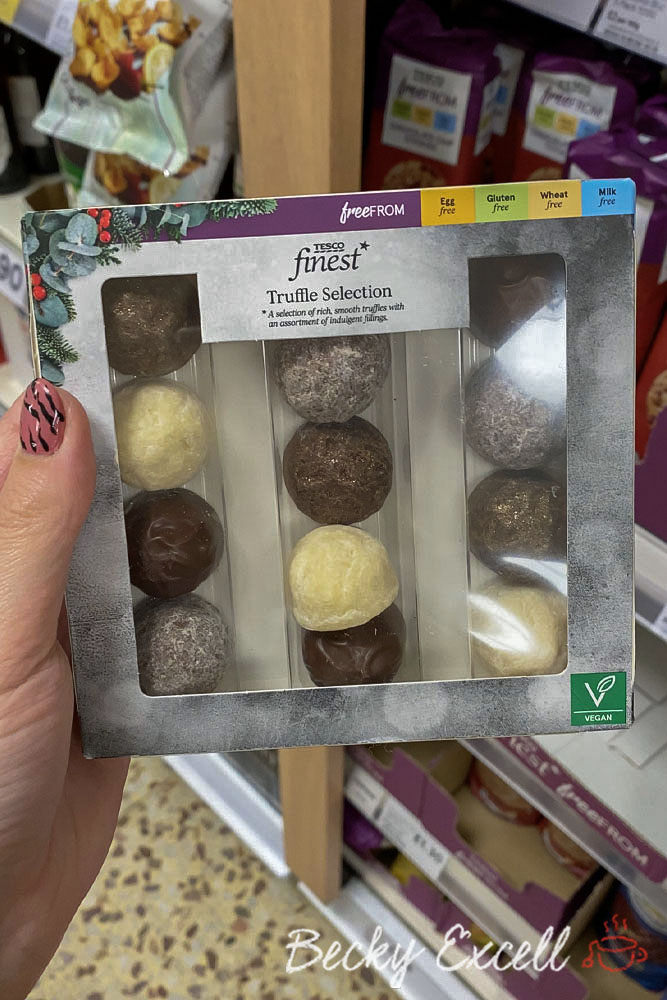 14. Nairn's gluten-free Savoury Biscuit Selection
I was actually sooo excited when I saw this in the new Tesco gluten-free Christmas range 2020! This feels like the type of product we've been missing at Christmas and I can't wait to try it out.
There's a selection of 6 wholegrain crackers, 6 cheese crackers, 6 cracked black pepper crackers…
… 6 oatcakes and 5 cheese oatcakes. I'm so used to having the same gf crackers over and over again, so having a little choice without buying 6 different packs of crackers sounds good to me.
This was £3.75 btw, what do you think? For me, this is gonna be a one-off Christmas day kinda thing so I can deal with that!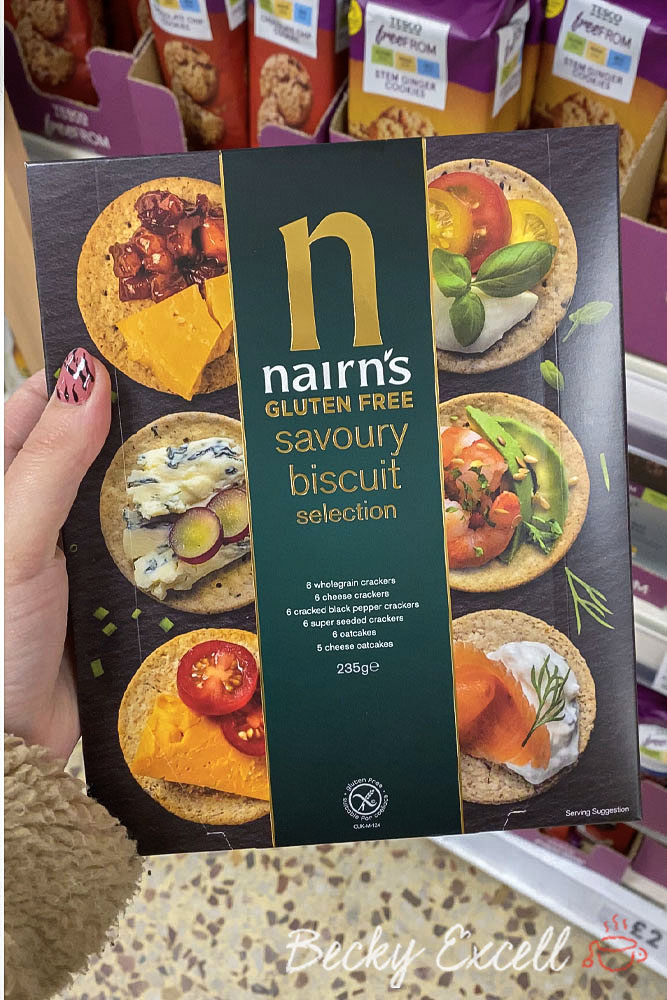 15. Tesco Free From Panettone
This is a hero from previous years, but back for 2020! Here's what the new one looks like…
We've had to go for years with a panettone in the past, so I'm glad to see this return every year in Tesco's gluten-free Christmas range.
Who here has tried it before? Does anyone still want an enormous panettone?! I wouldn't mind!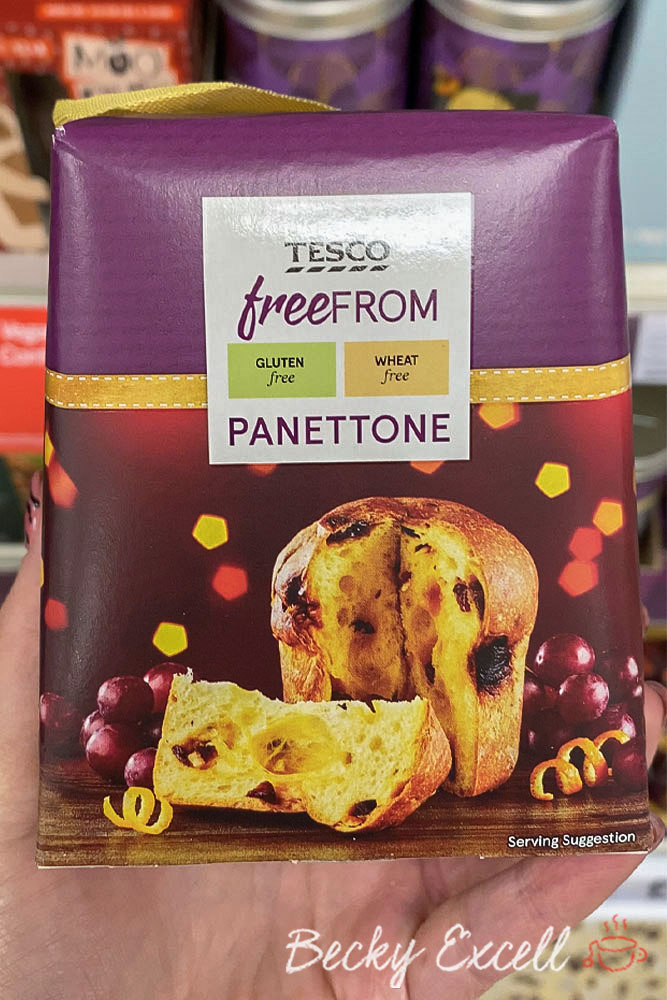 16. Tesco Free From 4 Deep Filled Mince Pies
And what would Christmas be without a good gluten-free and dairy free mince pie?
(well, I can tell you if you want, because I went years without being able to eat one – Mark too!)
But now we can share these together! I won't get into the whole 'which supermarket does the best gf mince pie' thing this year. There's just too many to try these days!
However, you can feel free to let me know your thoughts!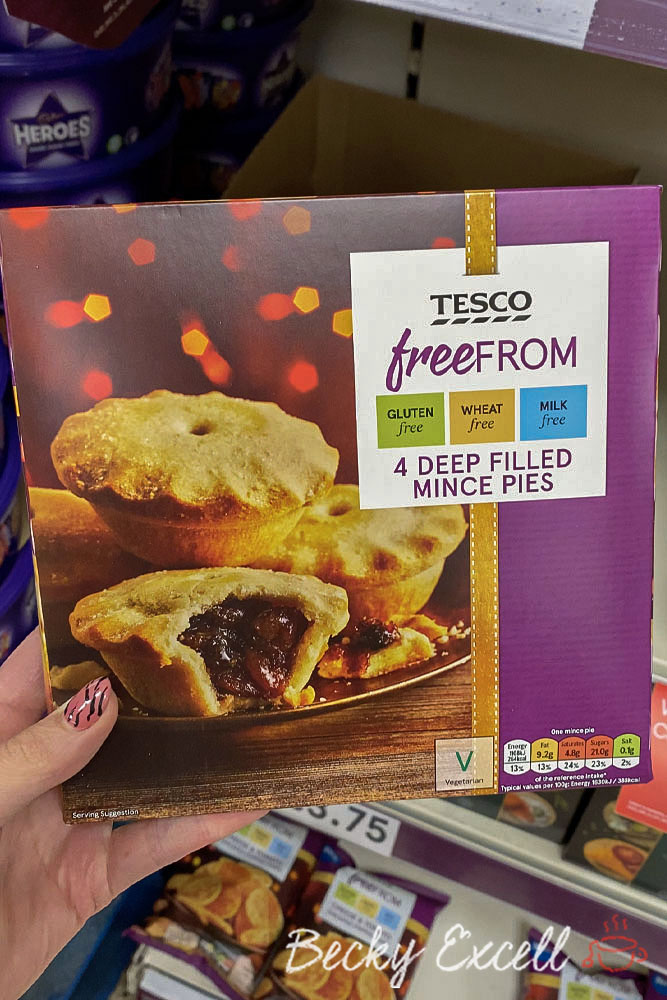 17. Tesco Free From Onion Rings
You'll be pleased to hear that Tesco's gluten-free onion rings just landed for the festive season!
Did anyone also notice that the frozen onion rings have gone missing from Tesco for the last year?! I know lots of you guys loved them!
BUT if you're like me and an onion dodger, keep scrolling to see the maple bacon tortilla curls below which have no onion/garlic. This product is also vegan too!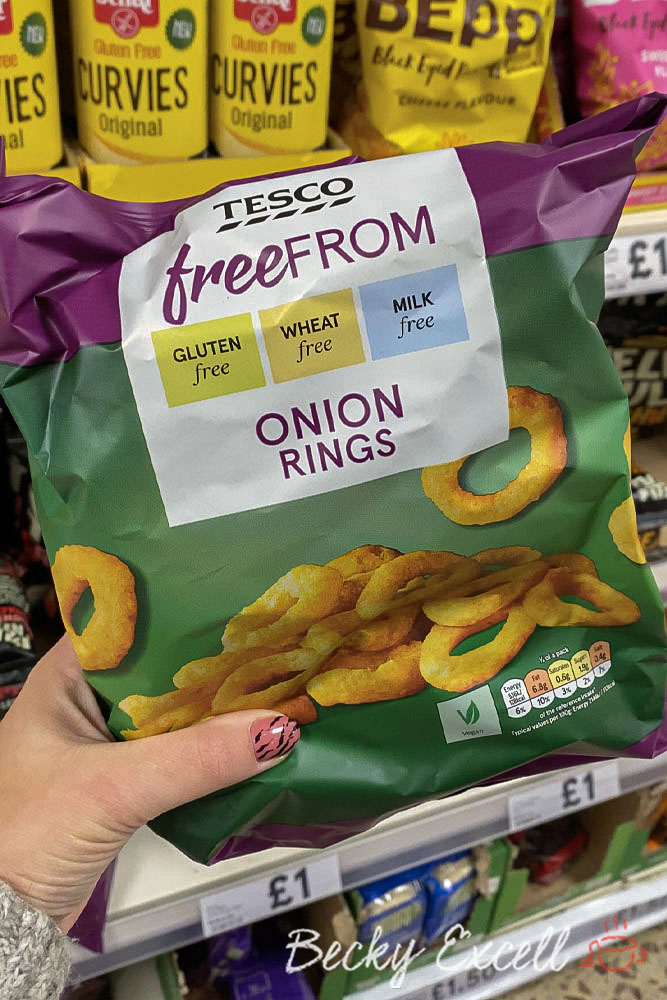 18. Tesco Free From Maple Bacon Tortilla Curls
Yep, here's some more amazing crisps which are *takes a deep breath*…
gluten-free, wheat free, milk free, egg free, vegan, garlic free AND onion free… but most important of all, they taste lovely!
They're basically like a smoky bacon flavour with a subtle sweetness from the maple syrup flavour.
So hopefully everyone can enjoy a bag of these together this Christmas! Plus, they're only £1 – the same price as all the other crisps, hooray!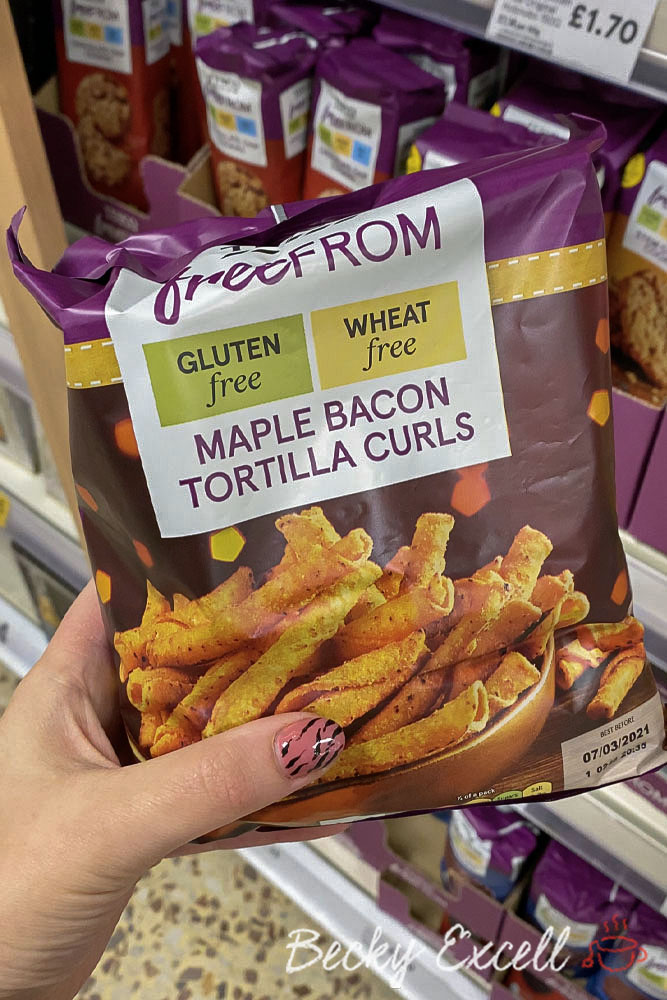 19. Tesco Free From Turkey and Stuffing Tortilla Chips
And yep, there's even more festive flavours of crisps in the seasonal free from aisle section!
These are turkey and stuffing flavour BUT of course… they're vegan too. How is that possible?!
Either way, there's another bag for you guys to choose from!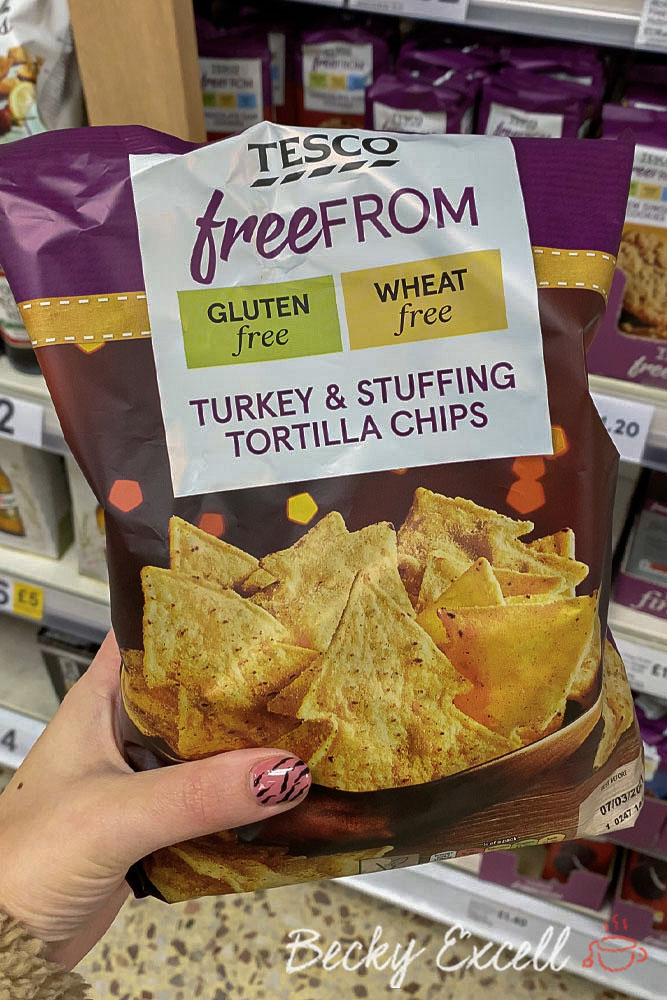 20. Tesco Finest Pigs in Blankets Hand Cooked Crisps – 'Accidentally' gluten-free
Oh and right next to the seasonal aisle in my Tesco, were all the muggle crisps.
And I found these, which are 'accidentally' gluten-free! Unlike the Tesco Free From crisps, they're not free from everything, but if you're solely gluten-free, then these will be perfect.
Which crisps are you opting for this year?
I'm not used to having so much choice! Oh and speaking of choice, keep scrolling for more…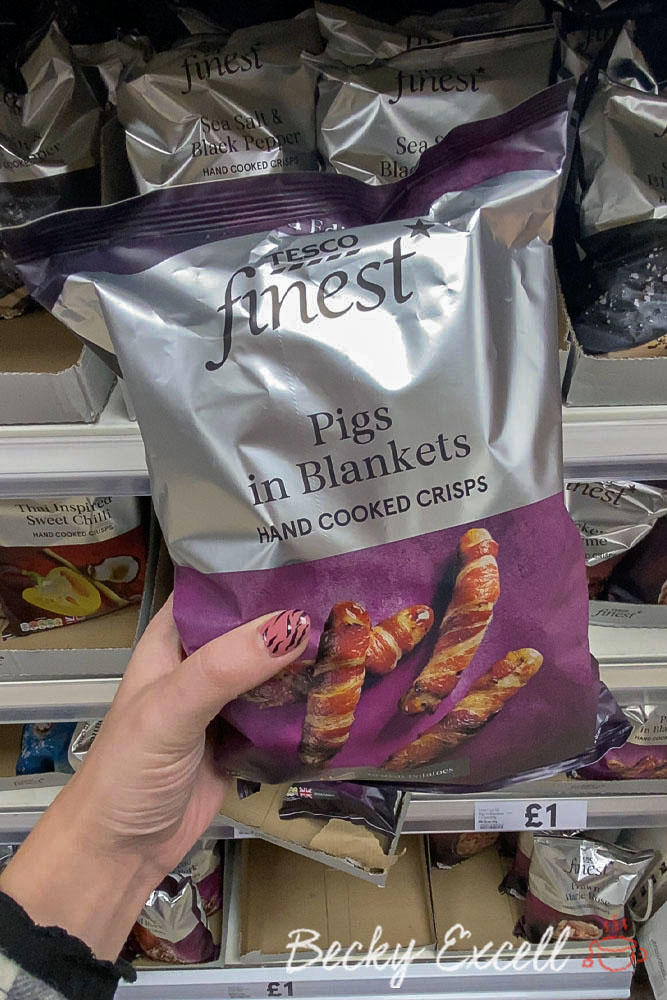 21. Tesco Free From Cheese Flavour Balls
Meanwhile back in the Tesco festive free from aisle section, wild cheese flavour balls appeared!
These are dairy free and vegan, because they're just cheese 'flavour'. A big win for those of us who need more gf and dairy free/vegan products!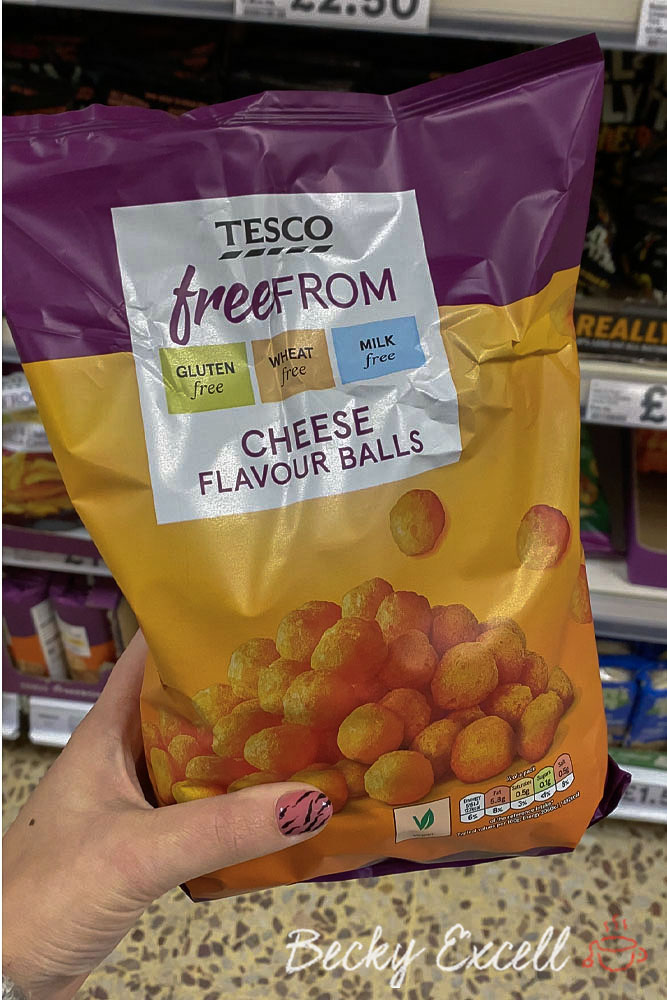 22. Tesco Free From Chocolate Christmas Trees
And here's a quick final run of tons of brand new products in the Tesco gluten-free Christmas range 2020!
Starting with chocolate Christmas trees that are dairy-free and vegan as well as being gluten-free.
I love how we get the regular free from aisle at Christmas… then all of these as a bonus too!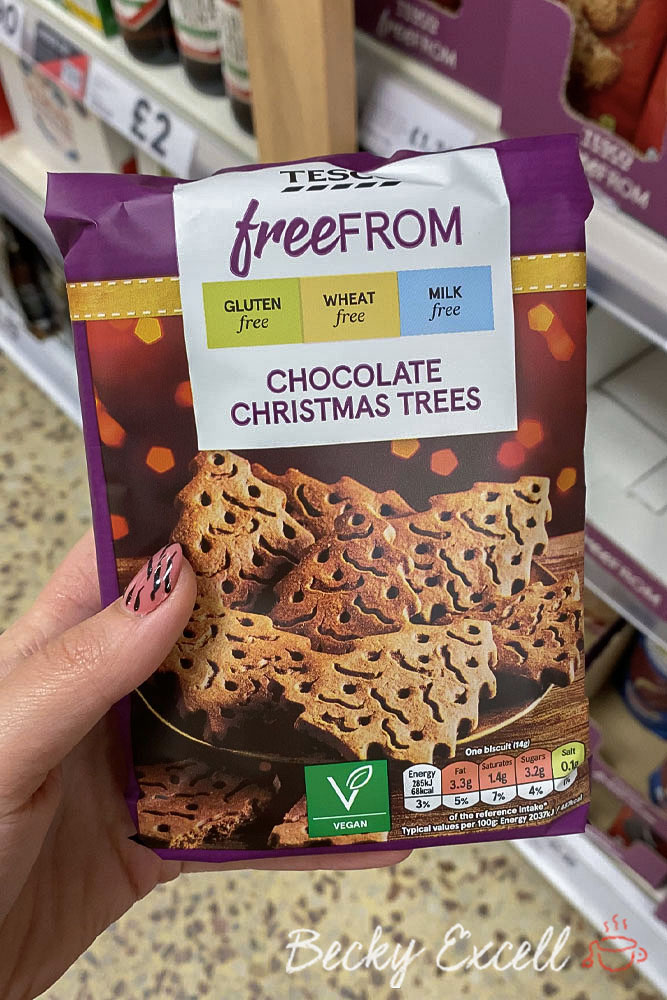 23. MooFree Original Santa Chocolate Bar
And here's another dairy-free festive option from MooFree – a mini chocolate Santa.
Though if you CAN eat dairy, you might be happy with the next couple of products…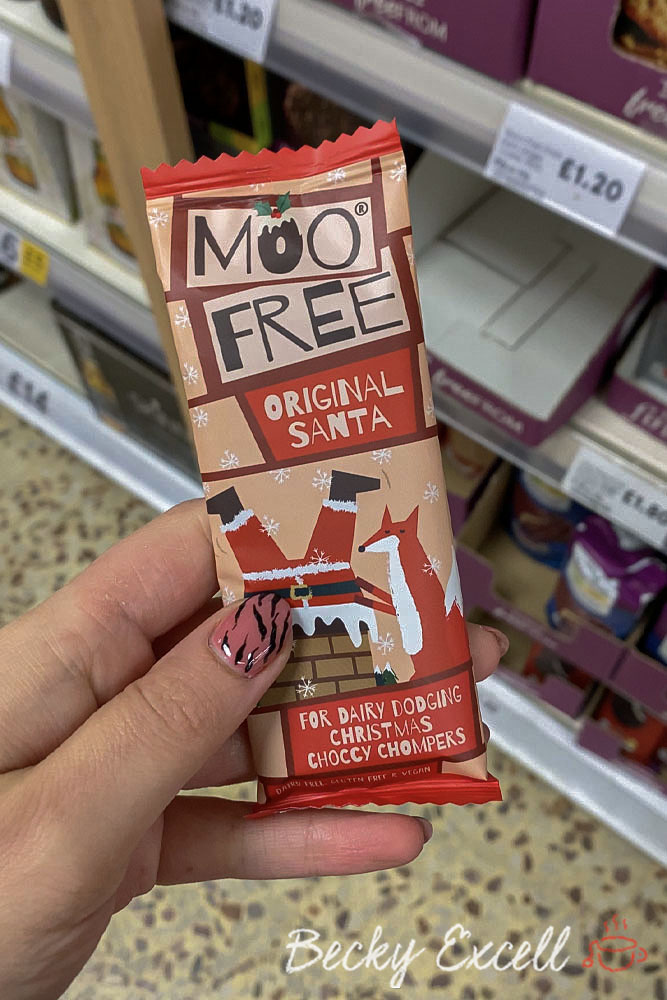 24. KitKat Mini Chocolate Santas x5
Yep, something under KitKat branding is gluten-free – shock, horror!
These are 5 mini chocolate Santas with crispy, crunchy pieces in them. Ok, it's not a 'real' KitKat, but the chocolate alone tastes amazing!
You'll find these mixed in with all the muggle chocolate.
Oh and that's not all…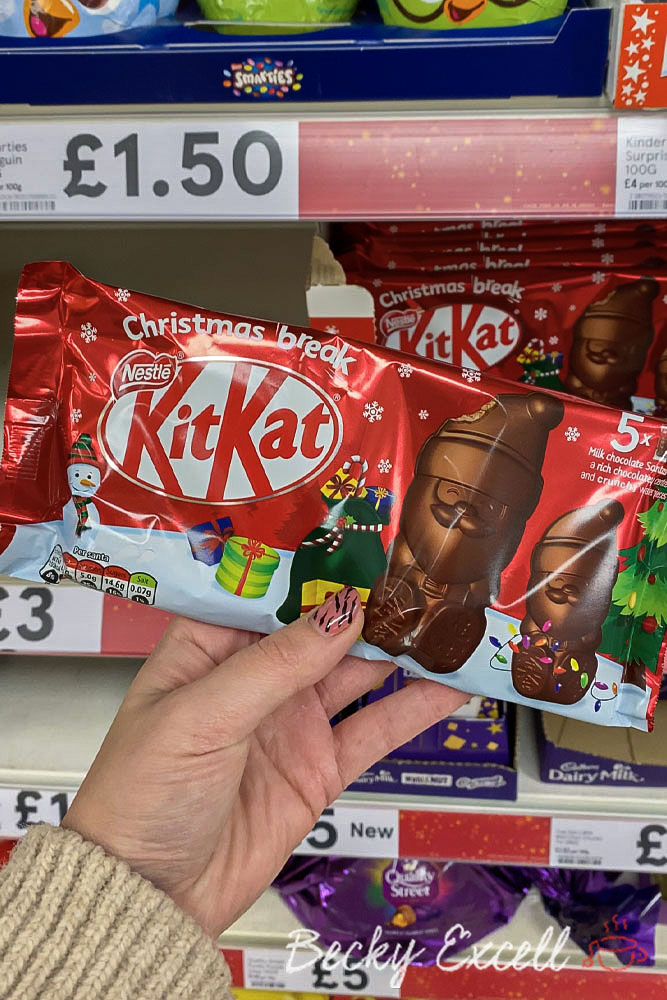 25. KitKat Individually Wrapped Festive Friends
We've also got festive friends! Instead of being all Santas, these are mini bears, snowmen, reindeers AND Santas.
They're smaller than the KitKat Santas I just posted and perfect little individually wrapped treats.
Head over to my Sainsbury's post (linked at the end of this post) and you can actually get them in an awesome advent calendar!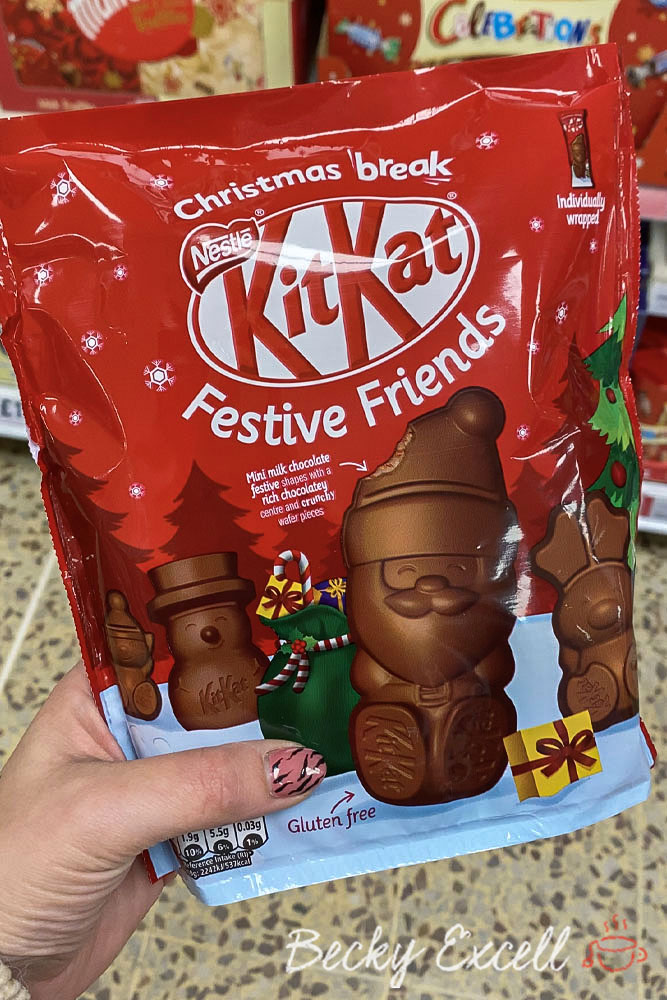 26. Lazyday Foods Free From Tiffin Selection
Meanwhile back in the Tesco festive free from aisle section, there's an awesome gluten-free AND dairy-free/vegan tiffin selection.
Cranberry and orange, Belgian chocolate and Rocky road await you!
Now this is a gift that Mark and I could share, which is very rare, I assure you.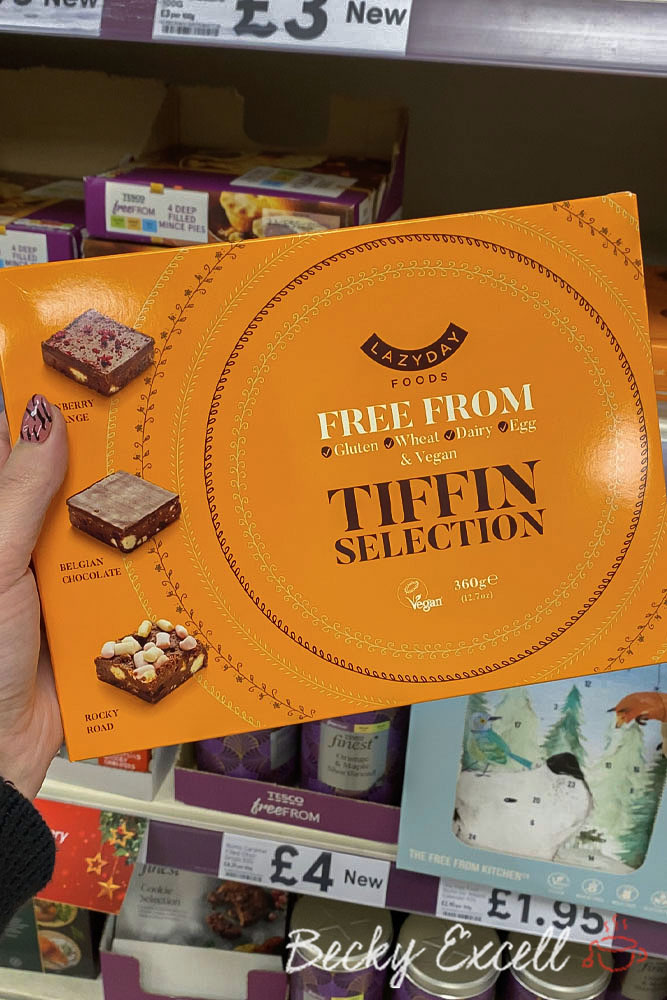 27. Tesco Free From Cheese and Tomato Chickpea Popped Chips
Seeing as we loved the festive crisps so much last year, Tesco have only gone and given us another option!
They're cheese and tomato pop chips BUT… they're dairy-free as well.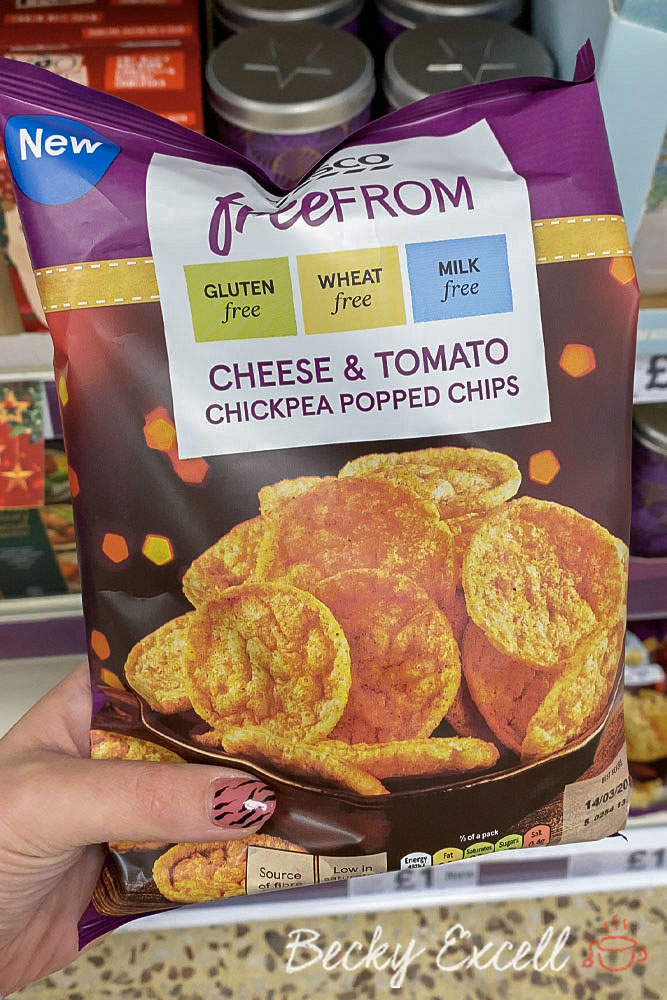 28. Montezuma's Salted Caramel Half Moonies, Half Moonies, Solid Peppermint Discs & 9 Luxury Dark Chocolate Truffles
And back with all the muggle chocolate, you might miss these four Montezuma options which sound awesome.
You might assume that all chocolate would be gluten-free… but you'd be wrong! A lot of the big brands have 'may contain' warnings for gluten.
Plus, some selection boxes will often contain a handful of chocolates that aren't safe – meaning the entire box isn't safe.
So enjoy these easy, delicious options that would make great gifts!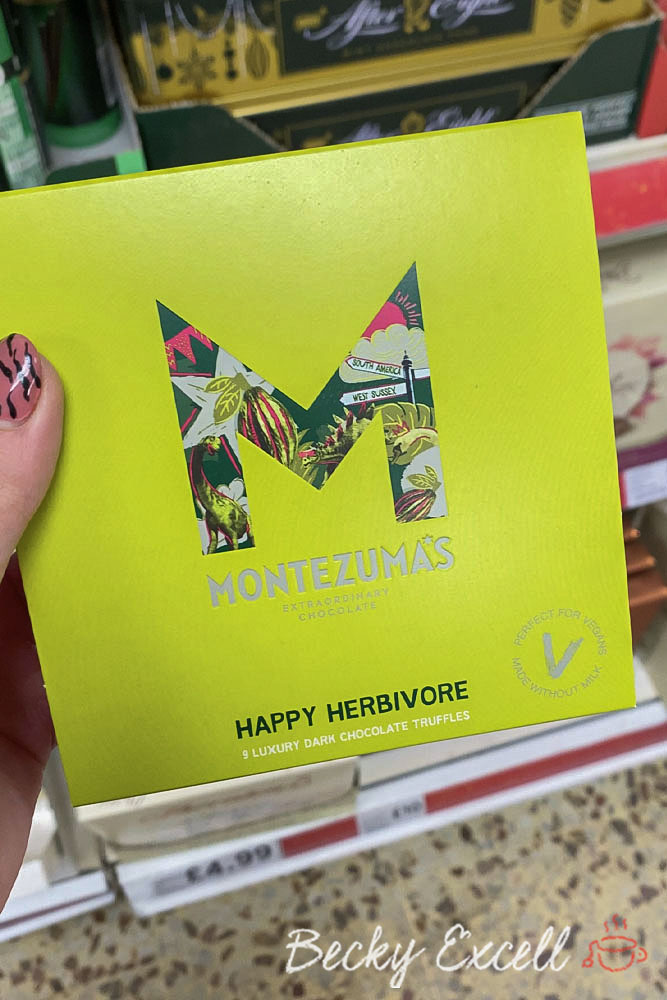 29. Cadbury's Dairy Milk Advent Calendar
Cadbury's Dairy Milk bars ALWAYS have a 'may contain' warning for gluten, meaning they're NOT truly gluten-free.
And that's exactly why this advent calendar is such a big deal!
In each window, you'll find individually wrapped chunks of wholenut chocolate, dairy milk AND caramel.
Make the most of this, because we can't eat these any other time of the year!!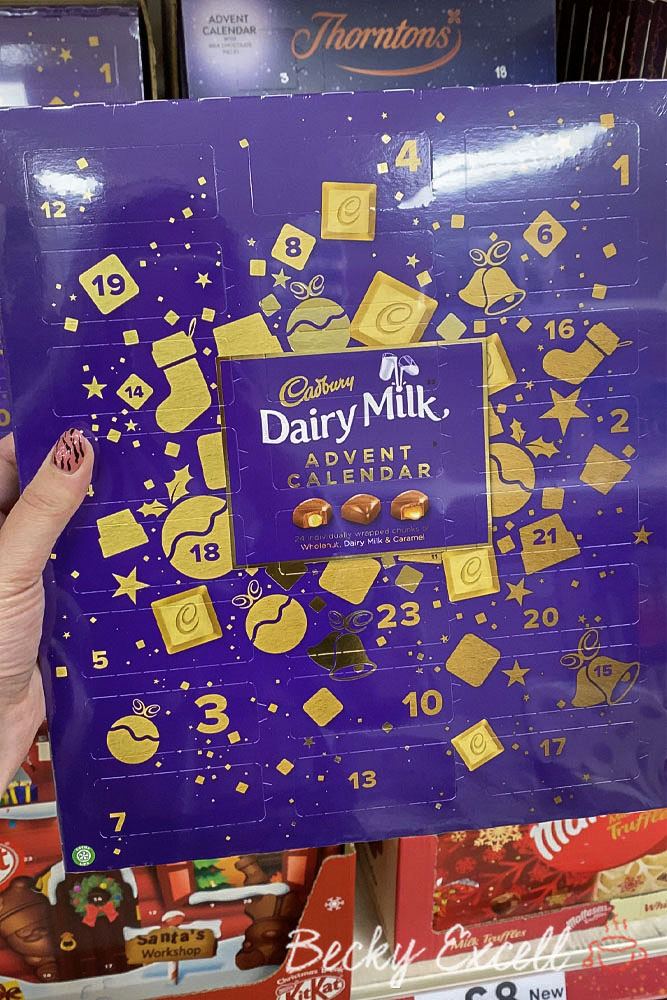 30. After Eight Gin and Tonic Mint Flavour Thins
And how great do these sound? A limited edition product especially for the festive season – and it's accidentally gluten-free!
Yep, After Eights, BUT they're gin and tonic mint flavour.
I'll just take 10 of these, thanks Santa.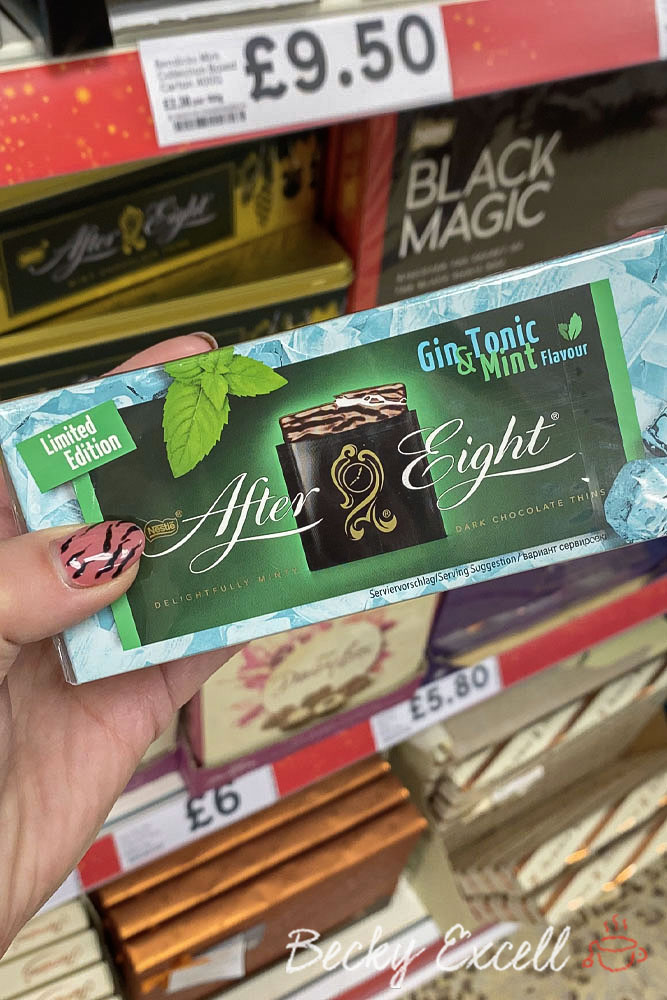 31. Cadbury's Dairy Milk Tin
And if you just want that awesome accidentally gluten-free Cadbury's Dairy Milk chocolate outside of an advent calendar… then just grab a whole tin of these!
I can't emphasise enough how lucky we are to be able to eat this this year (in case you missed it, Dairy Milk bars ALWAYS have a 'may contain' warning for gluten) so make the most of it.
Oh and if this tin is a little too big then…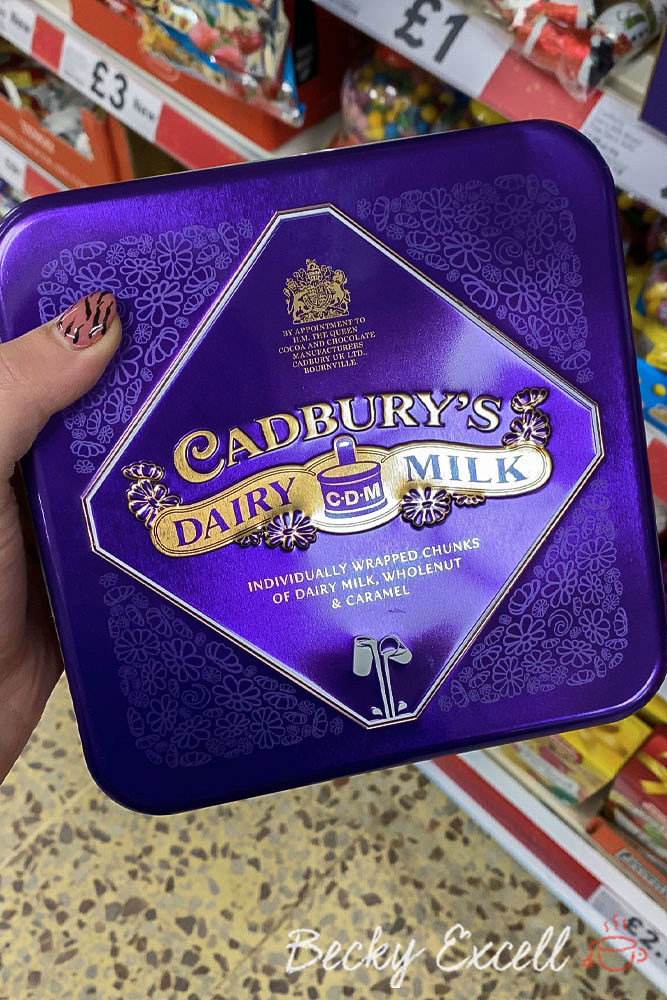 32. Cadbury's Dairy Milk Chunks
How about a smaller selection box of those plain, wholenut and caramel flavoured chocolate chunks?
I'm gonna buy one of these and write "To… Me, From… Me."
I think that'll make it taste even better, don't you think?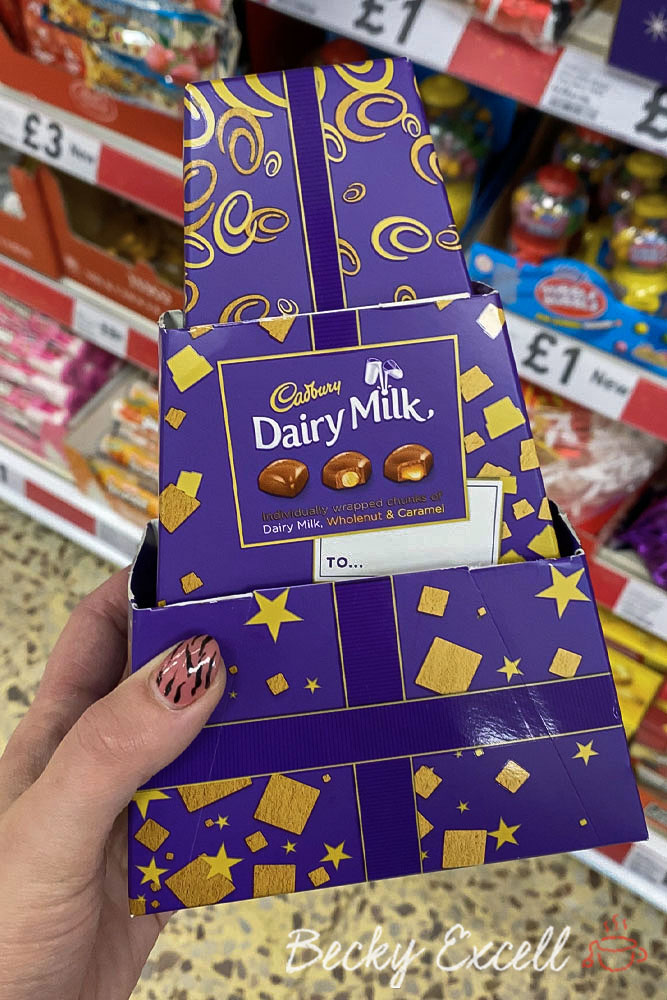 That's the 30+ NEW products in the Tesco gluten-free Christmas Range 2020!
Thanks for joining me in checking out the Tesco gluten-free Christmas Range 2020! What did you think? Is it too early for Christmas products?! Which one was your favourite? What did you think of the prices? What are we still missing?
Please do let me know by leaving a comment below or by following me on Instagram and leaving me a comment!
Thanks for reading – you don't know how much I appreciate it!
Becky xxx
Comments