Yep, I'm back and banging on about Christmas again! Today I'm gonna show you what's new (and old because why not?) in the Sainsbury's gluten-free Christmas Range 2020!
Who knew that the Sainsbury's gluten-free Christmas range would be out on shelves in October?! Either way, I'm definitely not complaining – it's nice to know that we won't go hungry come December, so let's have a look at what's new and a few returning faves.
Oh and feel free to bookmark this page as I update it every year and yep, this has been updated for 2020 already!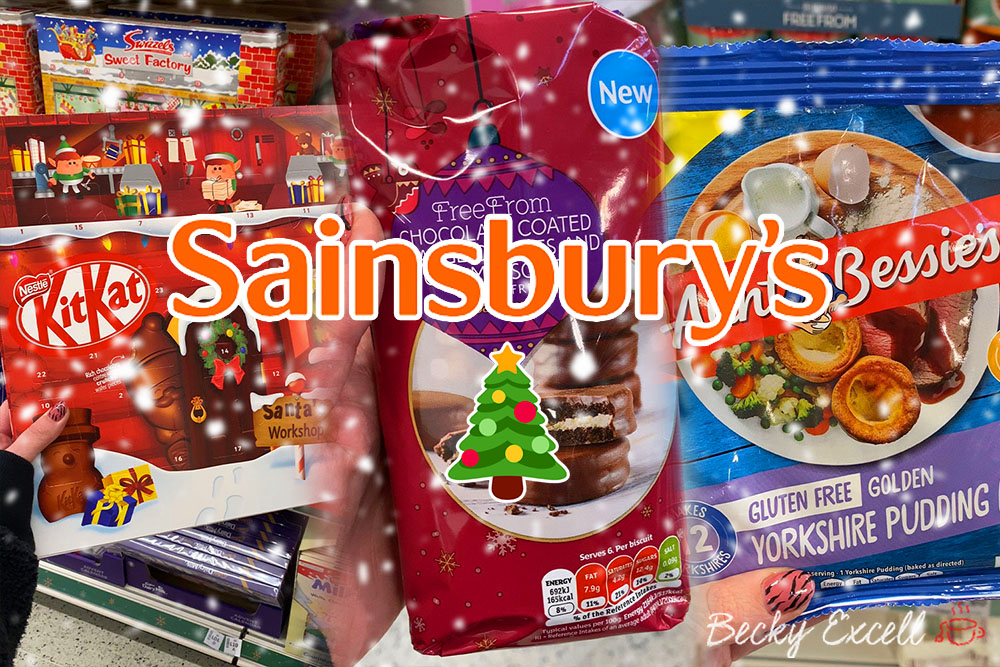 I'll be keeping this post updated with prices and new products as Christmas approaches as there's still a few new products still to come, so keep checking back!
Oh and also make sure you're following me on Instagram where I post all my latest gf finds first – that way, you'll always know all the most recent finds and never miss any!
Here's 28 NEW products in the Sainsbury's gluten-free Christmas Range 2020 ??
Unlike Tesco who seem to have all their free from products down the seasonal Christmas aisle this year (and none of it in the free from aisle), Sainsbury's seems to have done a bit of both.
Most of these products were in the free from aisle, but I did find a few repeats of the same stuff down the Christmas aisle too. So it's probably a good idea to check both aisles if you're not in a massive rush.
(I'm usually a speedy blur when I'm in the supermarket!)
Ok so here's everything in the new Sainsbury's gluten-free Christmas range in 2020…
1. Schar Spekulatius (Gluten-free Lotus Biscoff Biscuits)
Schar's gluten-free biscoff biscuits are back and better than ever!
I thought they were a little bit too spiced last year, but they seem to have toned it down. Also, they seem to have a better texture too.
Give them a try and let me know if you think there's any difference. They're dairy-free too!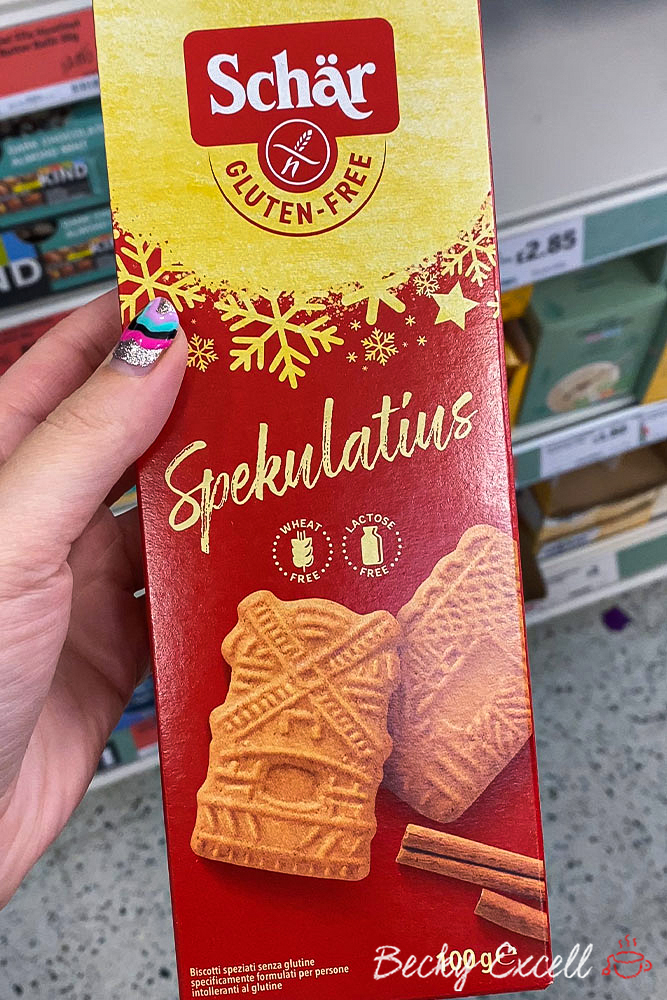 2. Aunt Bessie's Gluten-free Yorkshire Pudding Mix
Whaaaat? Didn't expect to see this, right? Especially from ol' Aunt Bessie!
Of course, I'd still recommend my gluten-free Yorkshire pudding recipe but I'm biased 😂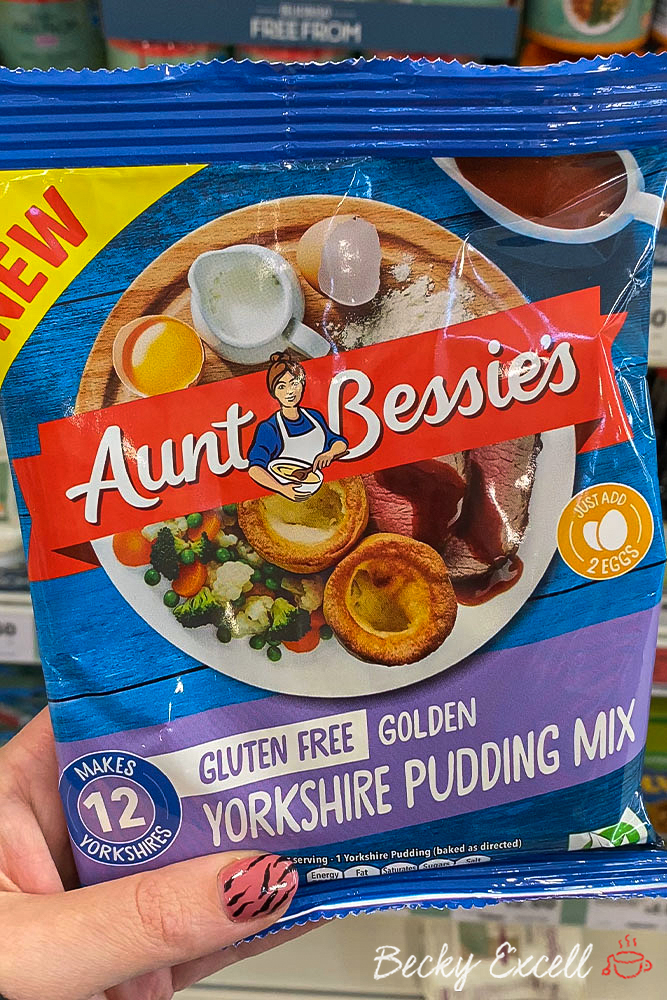 3. KitKat Advent Calendar
Would you ever even give this a second look? Fortunately they're filled with gluten-free Santas, reindeer and snowmen!
Someone buy this for me, please!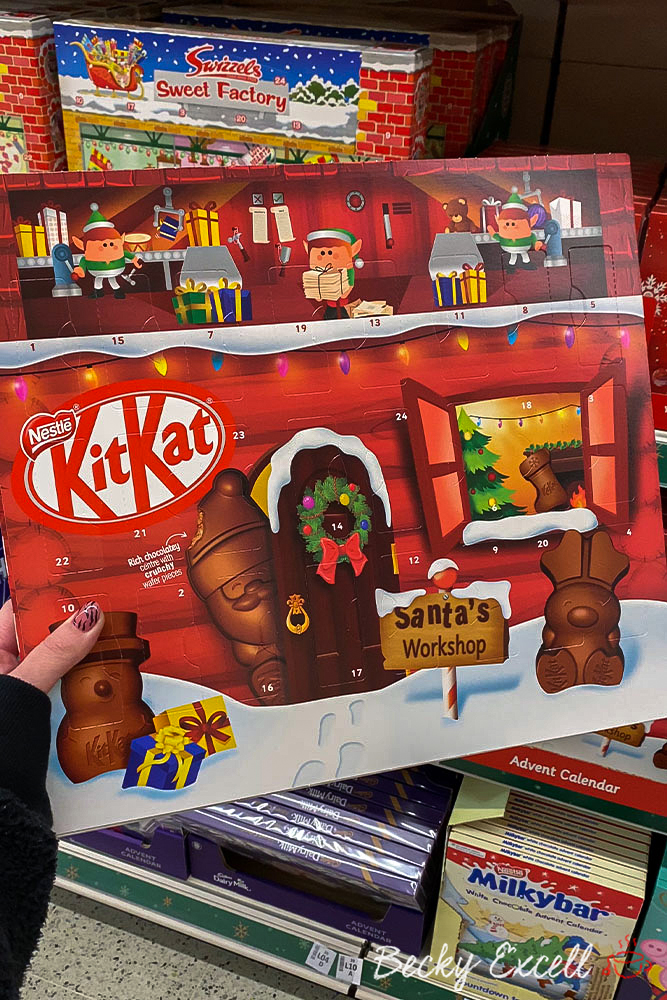 4. Sainsbury's Free From Chocolate Coated Orange Cookies and Cream Biscuits
These were a massive hit last year in Tesco, but it seems that Sainsbury's have their own version this year!
They're basically milk chocolate coated Oreos with a chocolate orange taste.
Perfect for the festive season!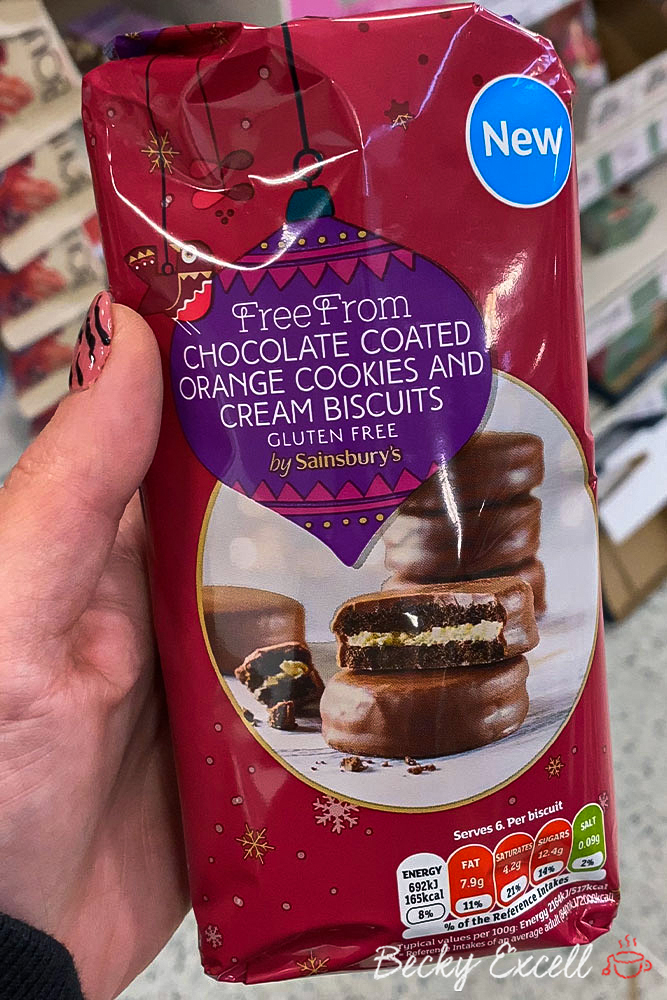 5. Sainsburys Free From Choc Truffles
The dairy-free chocolate just gets better and better – especially with these in Sainsbury's now!
But stay tuned for Mark's fave dairy-free chocolate that he swears tastes like REAL milk chocolate…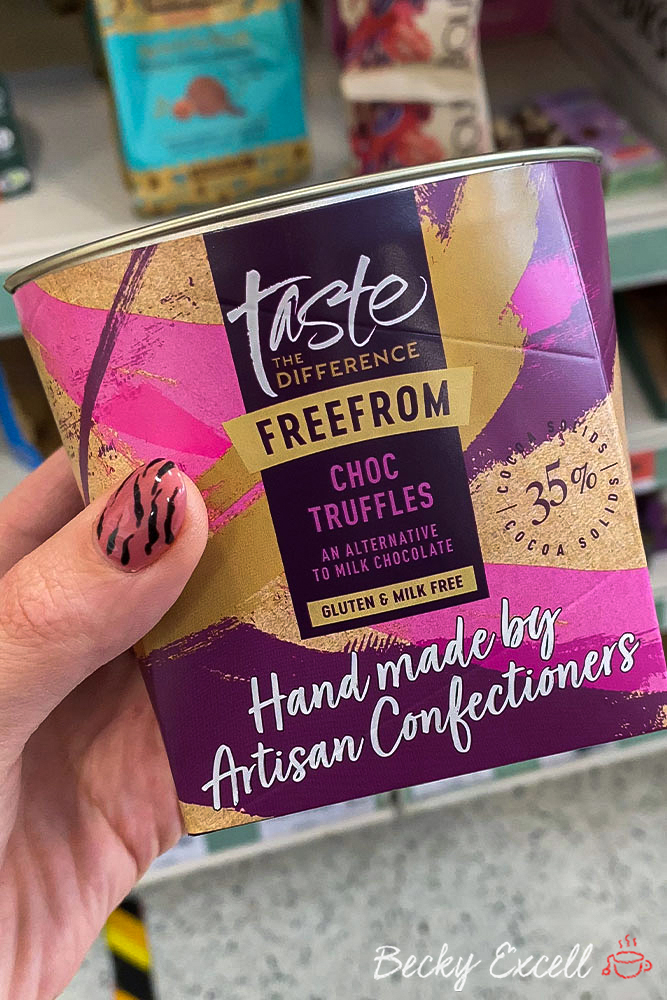 6. Sainsbury's Free From Mini Christmas Pudding
Aaaand here's the first of two Christmas puddings, starting with the smallest one first – the perfect size for a one person serving.
It's great to see that these are nut free too because soooo few products – in and out of the free from aisle – are willing to even state that. So big thumbs up from me for that.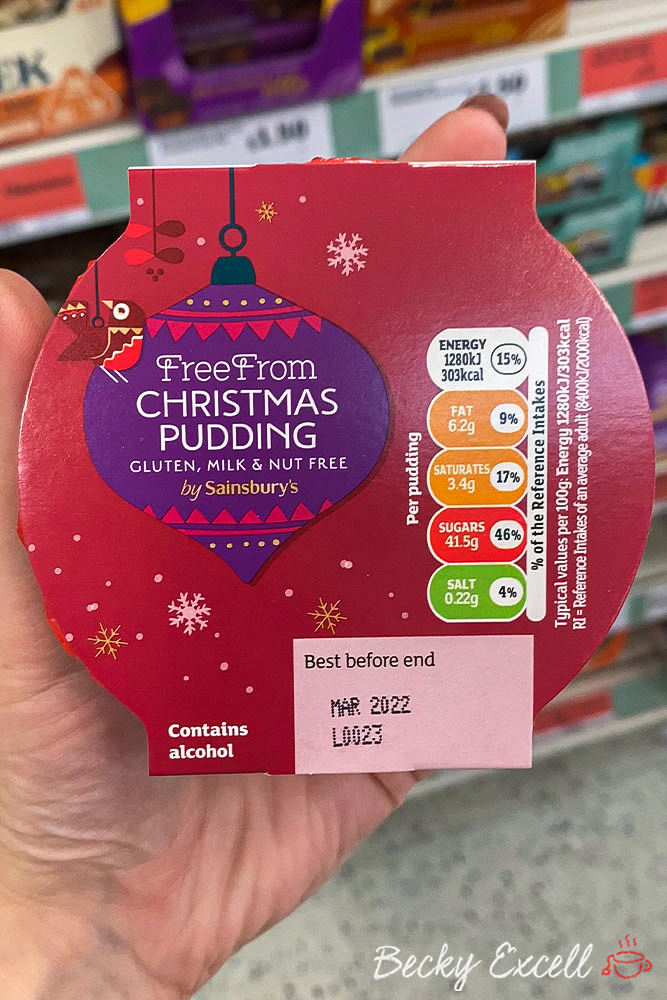 7. Sainsbury's Free From Christmas Pudding
And here's the bigger version!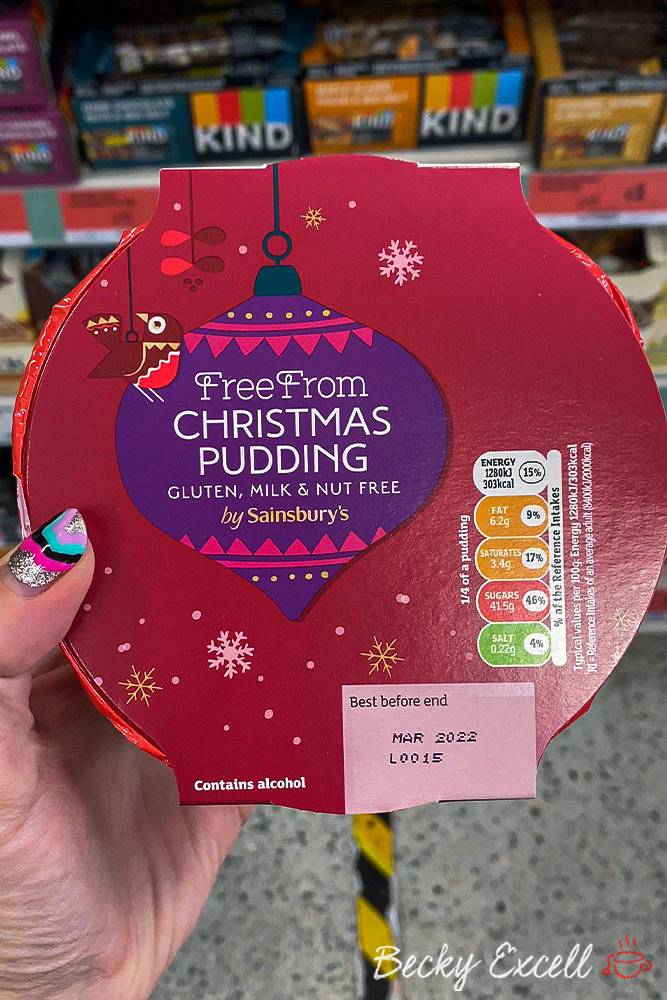 8. Sainsbury's Taste The Difference Free From Christmas Pudding
And of course, a slightly smaller version again, but this time it's from their 'taste the difference' range.
Sounds like a challenge to me! Can you actually taste the difference between this one and the regular free from one?
Let me know!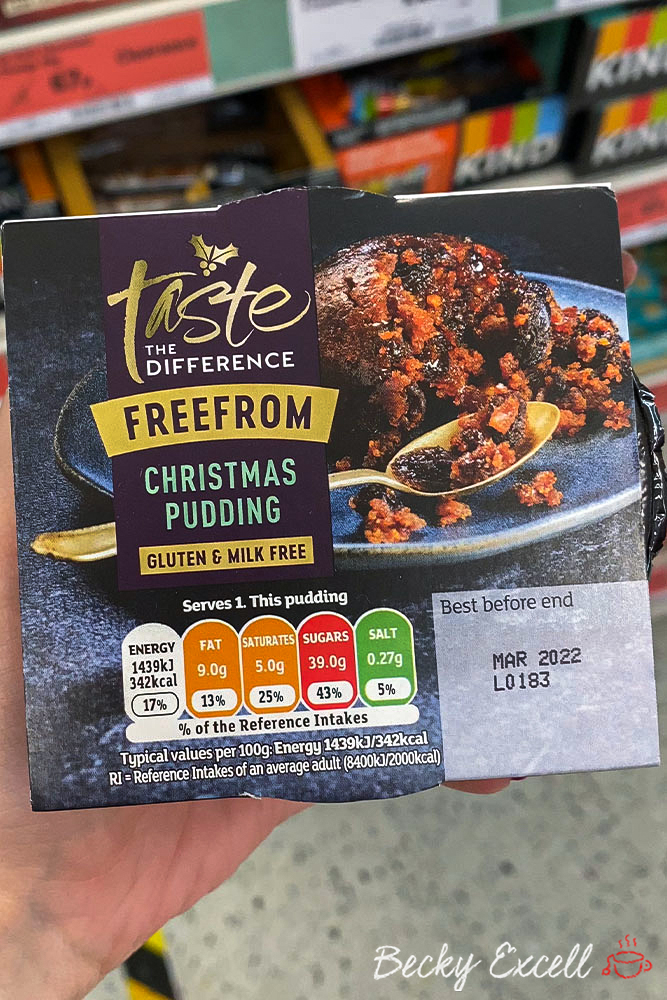 9. Walkers gluten-free Pure Butter Shortbread
You can't beat a bit of buttery shortbread at Christmas, especially when it's the real deal – made in bonny Scotland!
They've even got the Coeliac UK crossed grain symbol on them too.
Again, this isn't a great option for the dairy free readers because it's another biscuit made using butter – but if you can't find any safe options, let me know and I'll happily recommend some.
You can always make my 5 ingredient chocolate chunk shortbread recipe – it's easy, promise!
10. NOMO Advent Calendar
We're getting spoiled for choice with dairy-free advent calendars across supermarkets and this is a great choice!
But Mark actually asked me to get him this next one…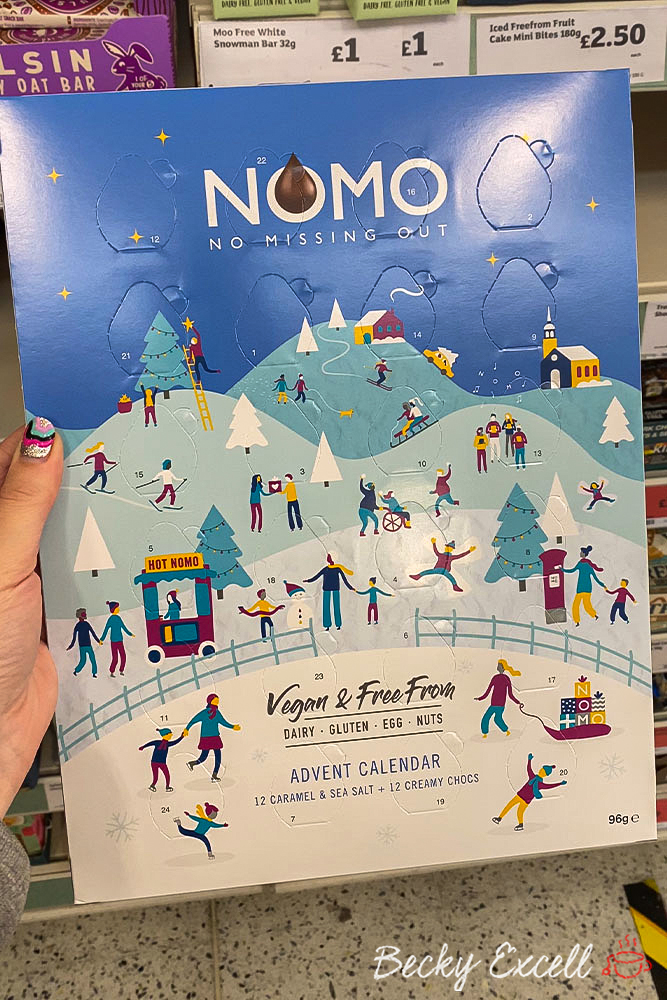 11. NOMO Caramel Filled Choc Drops
Ok – it's not an advent calendar, but Mark is so obsessed with these but he's willing to buy two packs and eat one of them a day 😂
They're a little dear at £5 per box, but honestly… these taste like REAL milk chocolate and REAL caramel.
Probably the closest dairy-free chocolate has come to the real deal. We highly recommend this one!
You can always buy the individual NOMO caramel bar down the free from aisle if you want to see if you agree with us before dropping a fiver.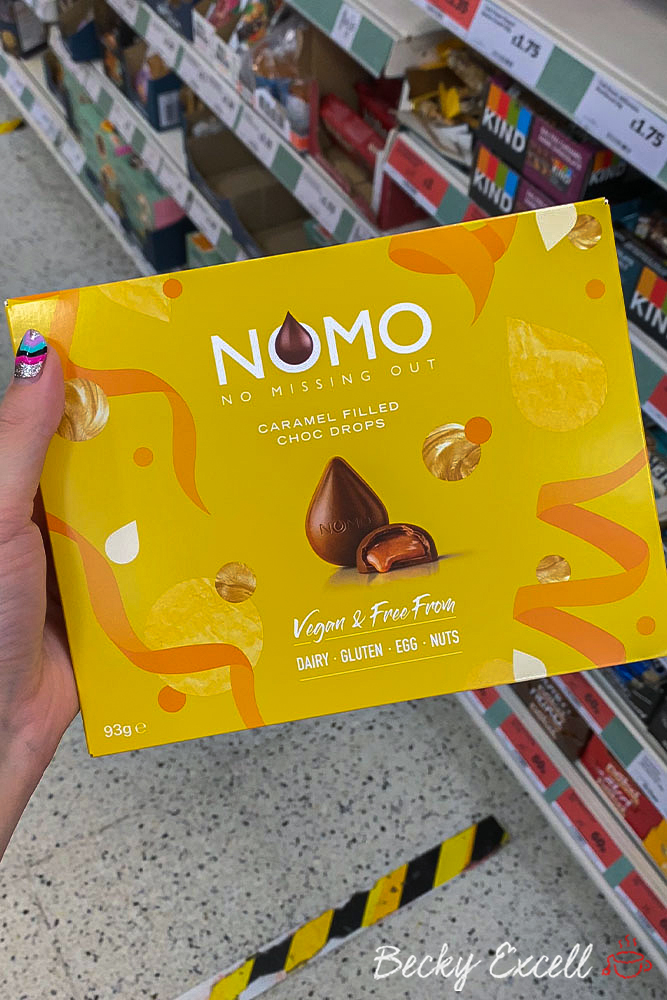 12. Sainsbury's Free From Lightly Salted Christmas Tree Tortilla Chips
Petition to make all food Christmas tree shaped during the festive season – anyone with me?!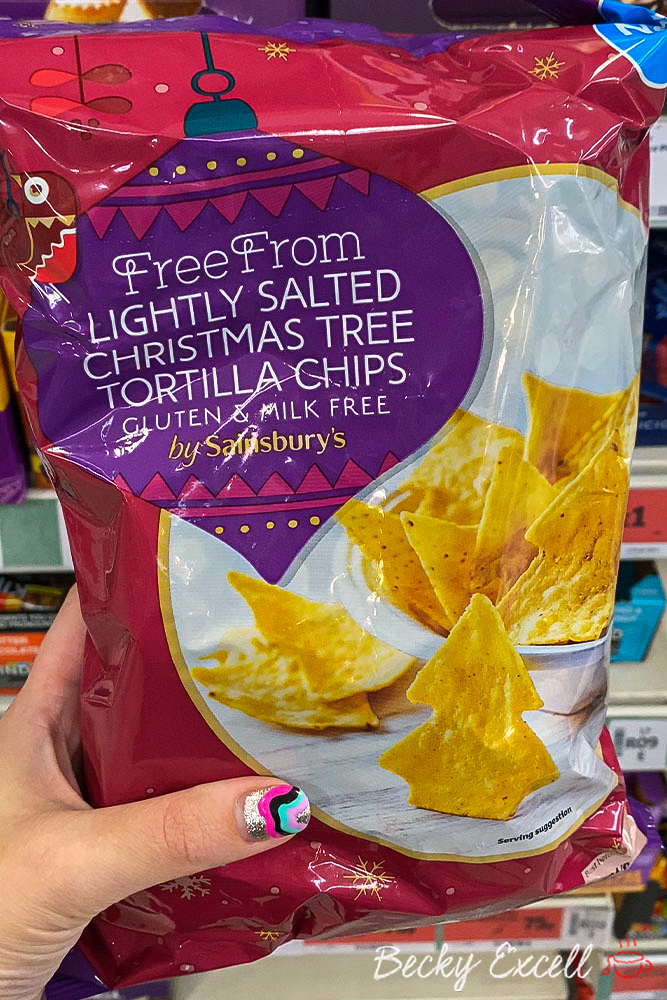 13. Sainsbury's Free From Honey Roast Gammon Flavour Tortilla Curls
You guys absolutely LOVE these, so I'm gonna name this one most recommended by my lovely readers.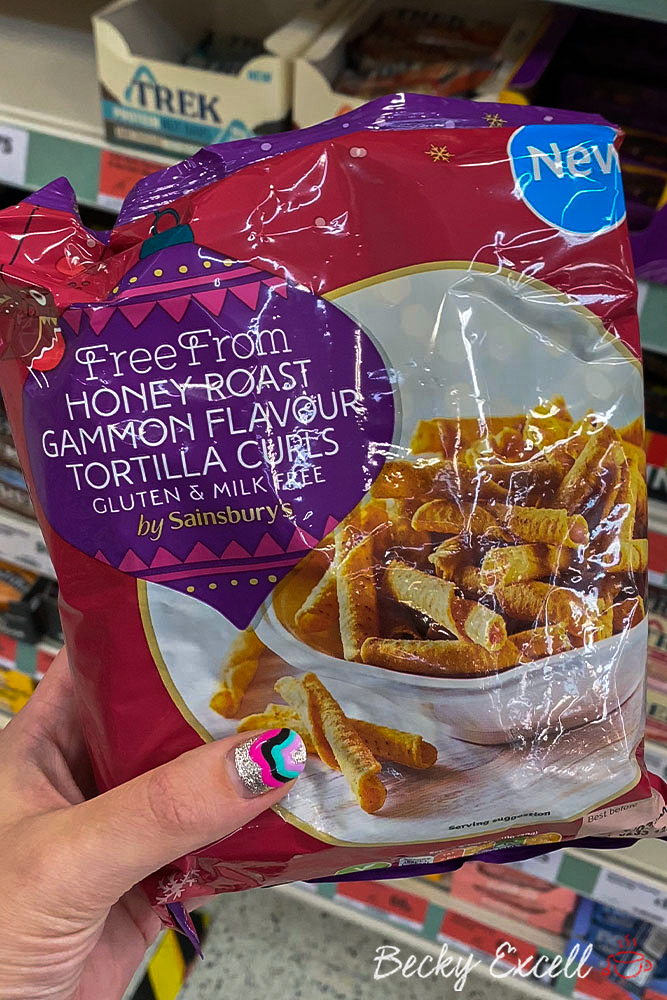 14. Nairn's Gluten-free Savoury Biscuit Selection
You can't go wrong with cheese and biscuits at Christmas. With Santa as my witness.
(sorry, couldn't resist another rhyme)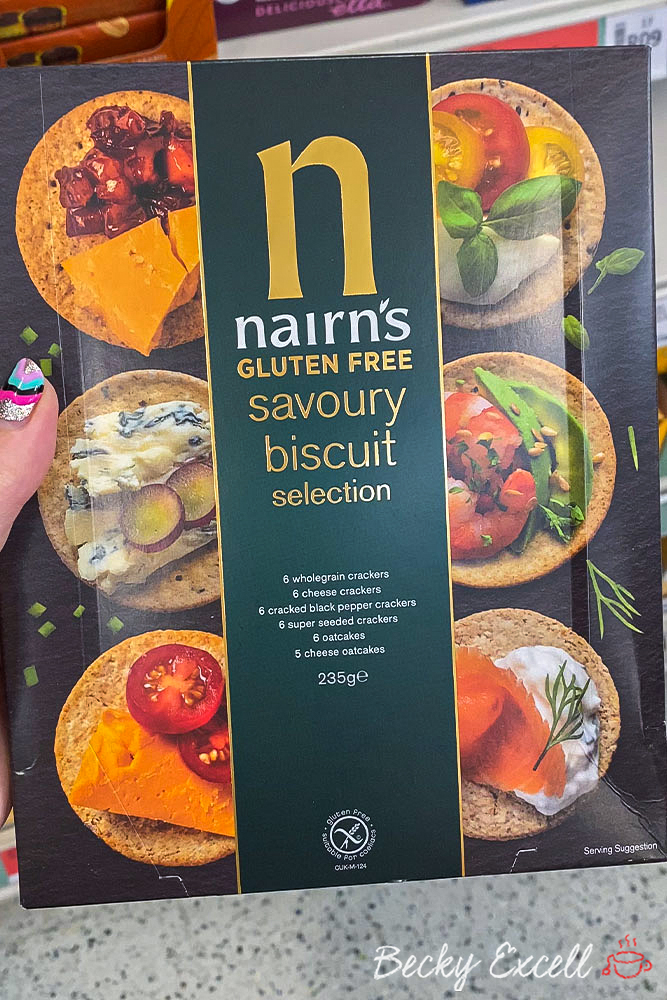 15. Sainsbury's Free From Choc, Amaretto Cookies
These were a favourite last year and they're back for another year!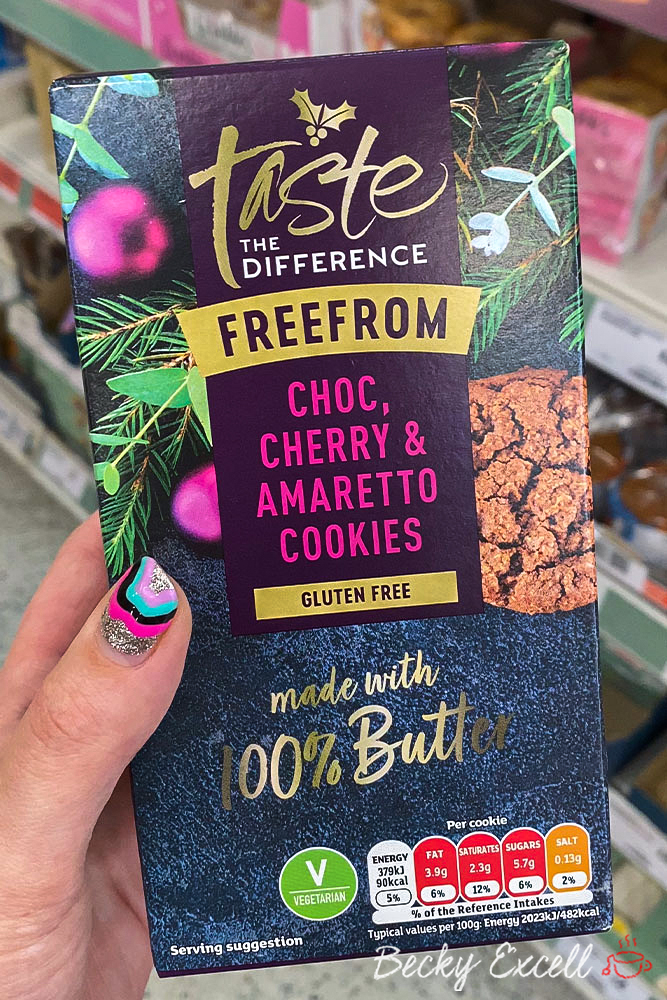 16. Moo Free White Snowman and Original Santa
And here's even MORE dairy-free chocolate ready for Christmas!
These only come in individual bars, but keep your eyes peeled for the Moo Free selection box which might pop up again this year.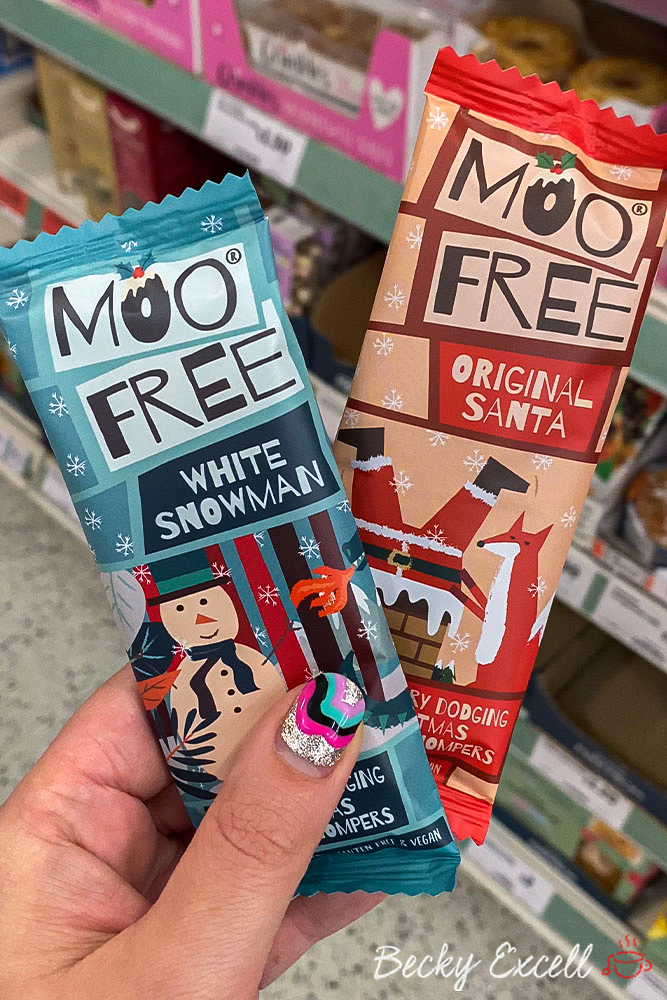 17. Rhythm 108 Chocolate Orange Bar
These are also AMAZING dairy-free chocolate bars, though a little on the small side and quite expensive.
But if you do take the plunge, you won't regret it taste-wise (according to Mark!)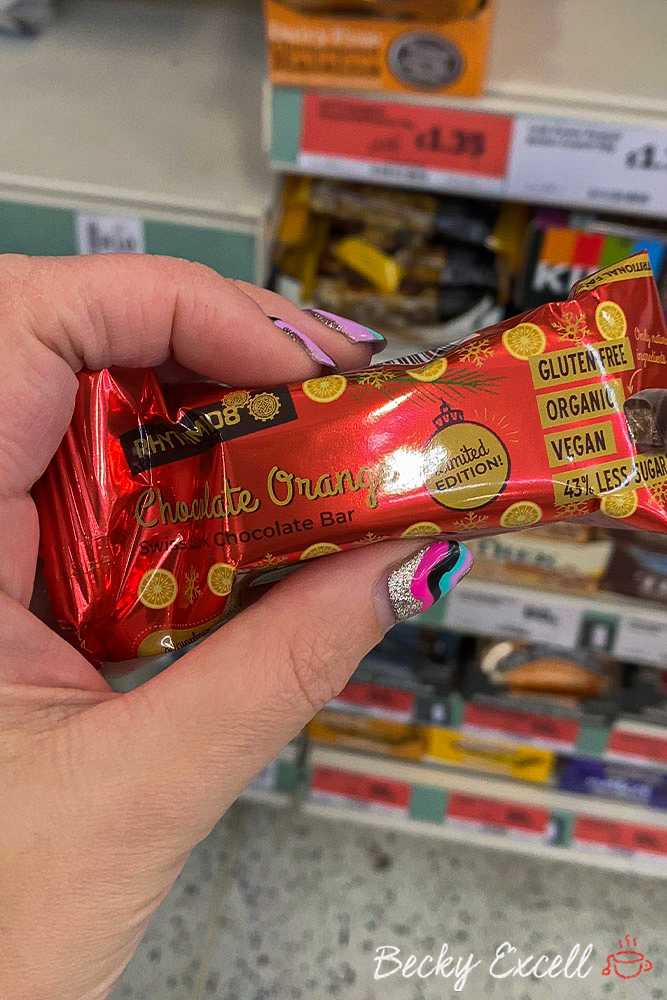 18. Sainsbury's Free From 9 Cranberry and Orange Tiffin Bites, 9 Ginger Tiffin Bites, 9 Christmas Cake Bites
And here's a trio of 9 mini festive bites!
19. Sainsbury's Free From 4 Mince Pies, 4 Iced Mince Pies, Mini Mince Pies
And who could forget gluten-free mince pies?
You guys have told me that the mini ones are especially awesome, so they come as another reader recommendation.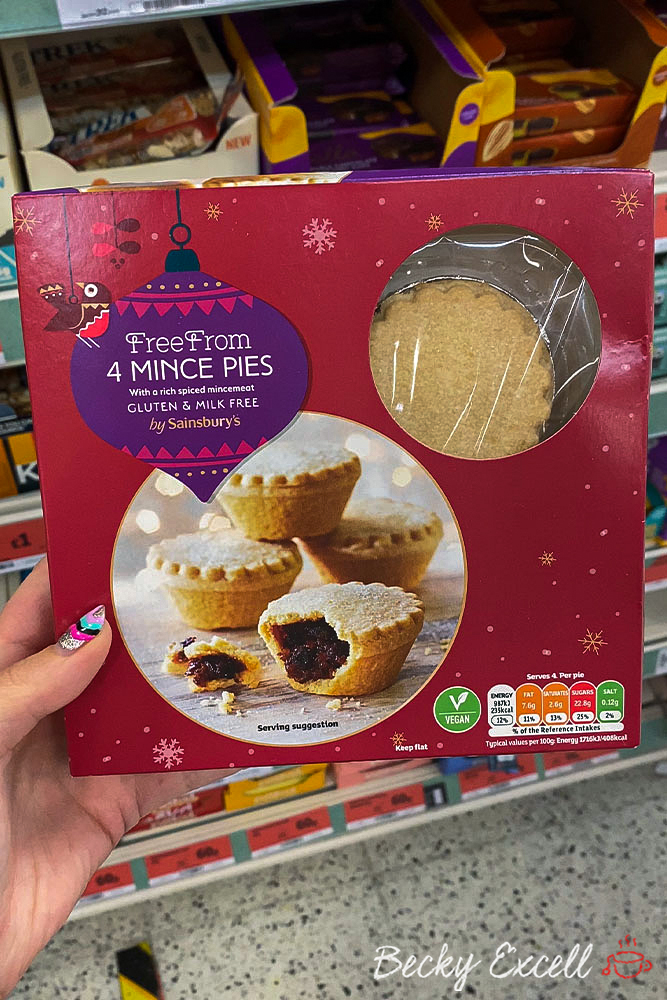 20. Sainsbury's Free From Iced Fruit Cake Bar
And sometimes you just can't beat a big ol' stab of iced fruit cake.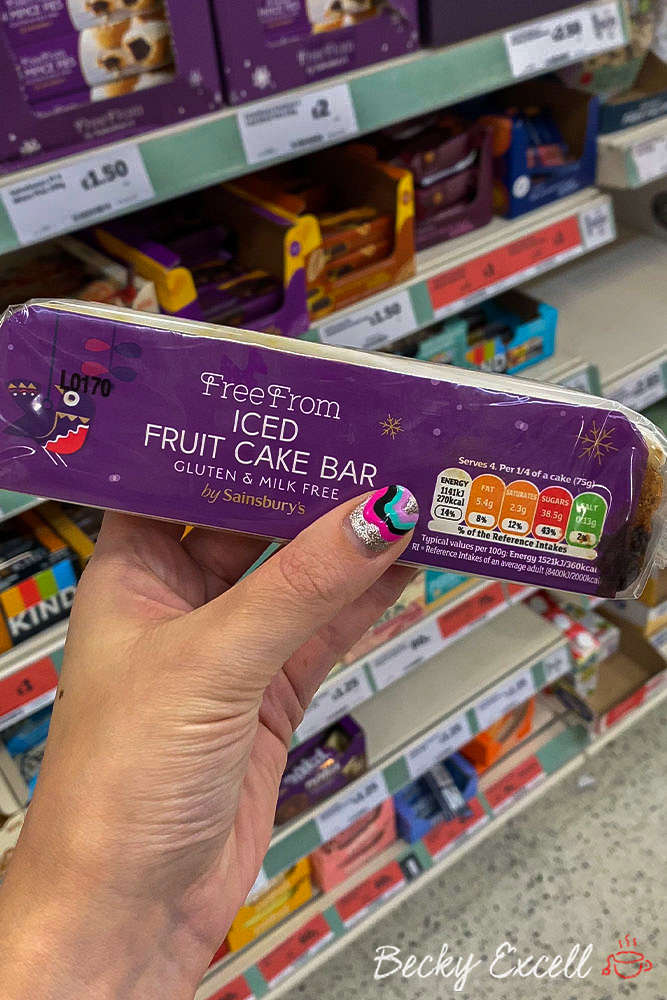 21. Schar Jaffa Cakes
I love how Schar's Jaffa Cakes get new packaging especially for Christmas, even though they're literally identical all year round.
But the fact that I could then feature them in this post means it worked, right?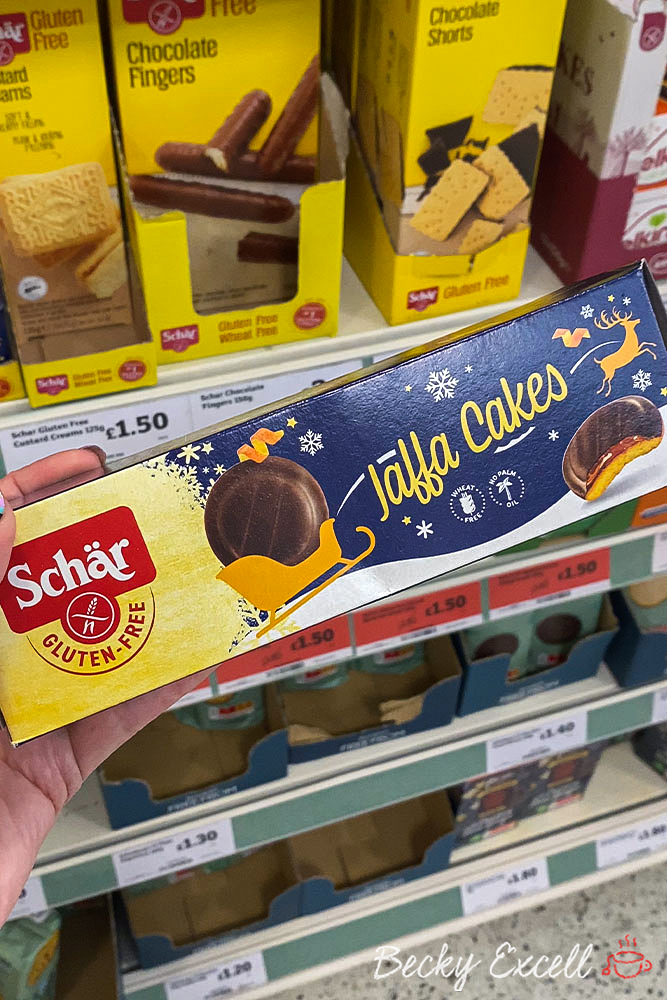 22. Sainsbury's Free From Salted Caramel Cookies
More epic gluten-free cookies down the free from aisle too – this time in salted caramel flavour.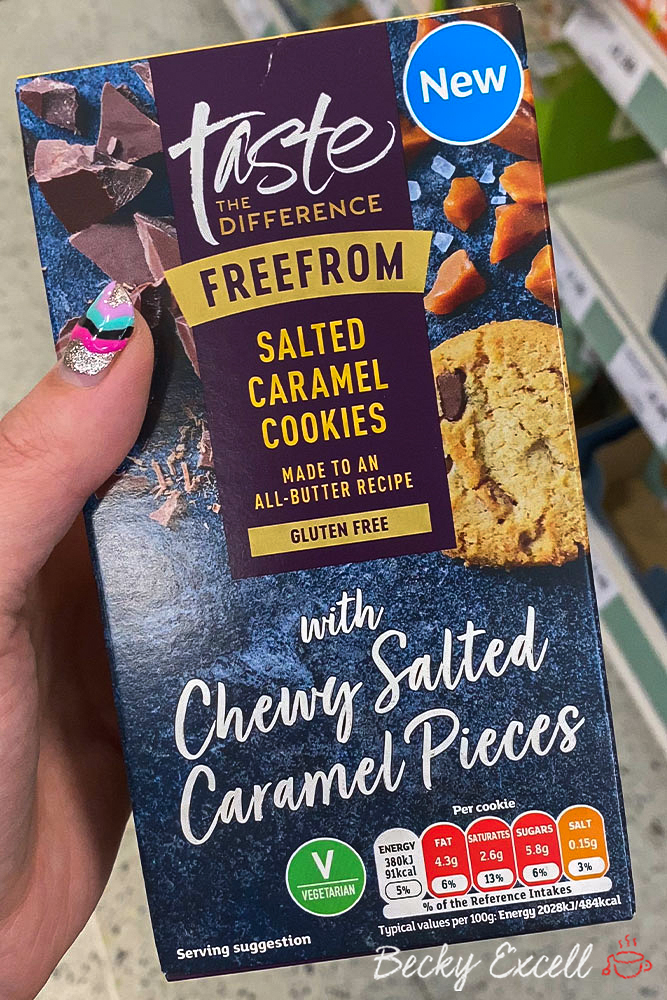 23. Sainsbury's Free From 4 Mini Chocolate Logs
These are yet another new addition to the Sainsbury's free from aisle which I believe were a Co-op exclusive last year.
They're dairy-free too!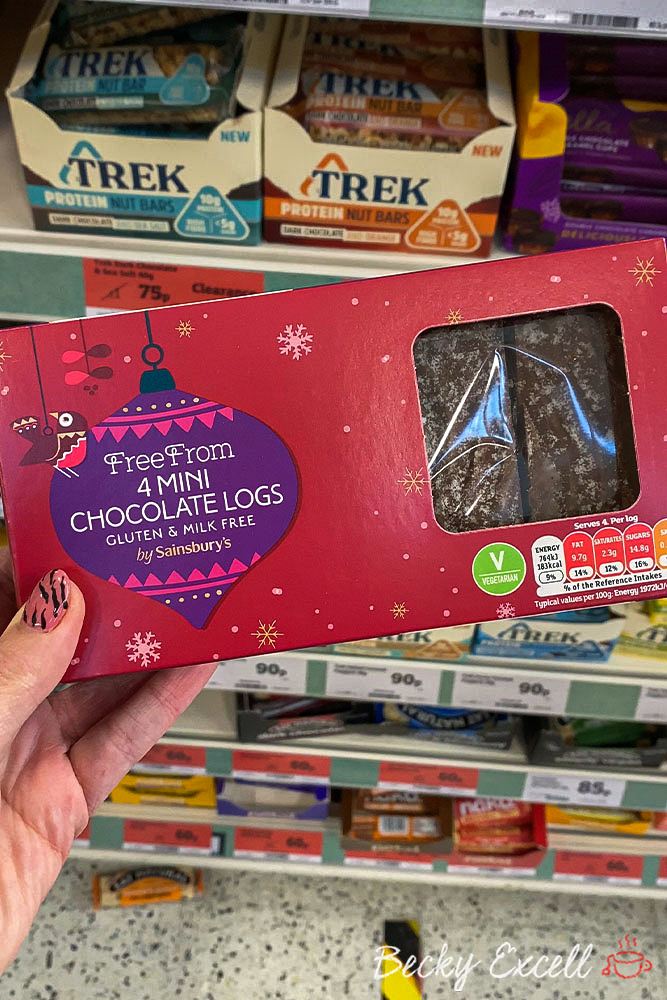 24. Sainsbury's Free From Gingerbread Snowman
Is it even Christmas without a healthy dose of gingerbread? I think not!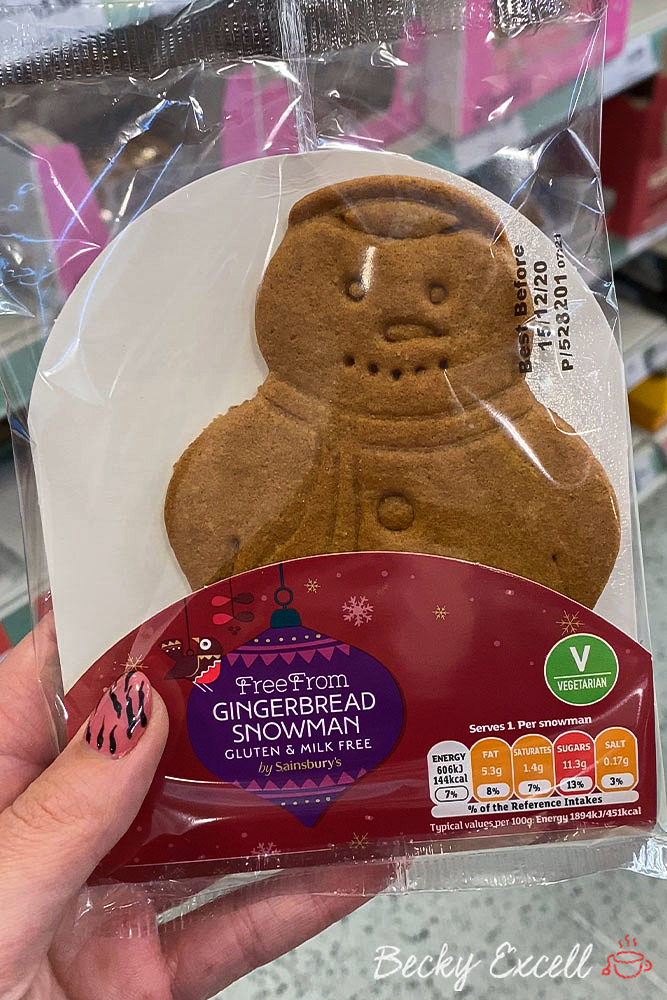 25. KitKat 6 Chocolate Santas + Individual Santas
And just like last year, KitKat have brought back their chocolate Santas which just so happen to be gluten-free.
The closest we'll ever get to a gluten-free KitKat from the real brand!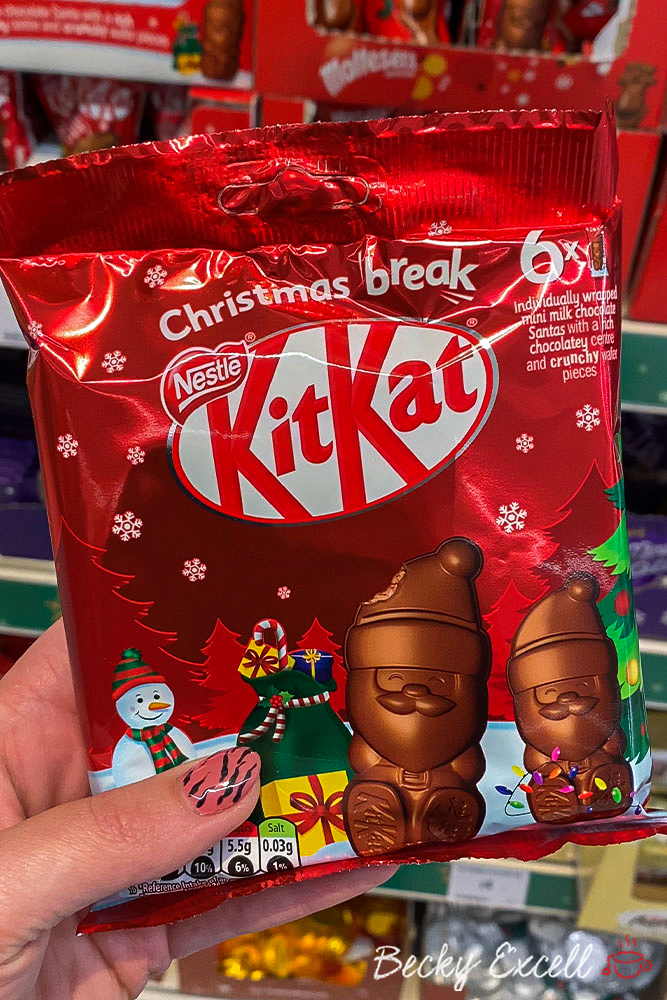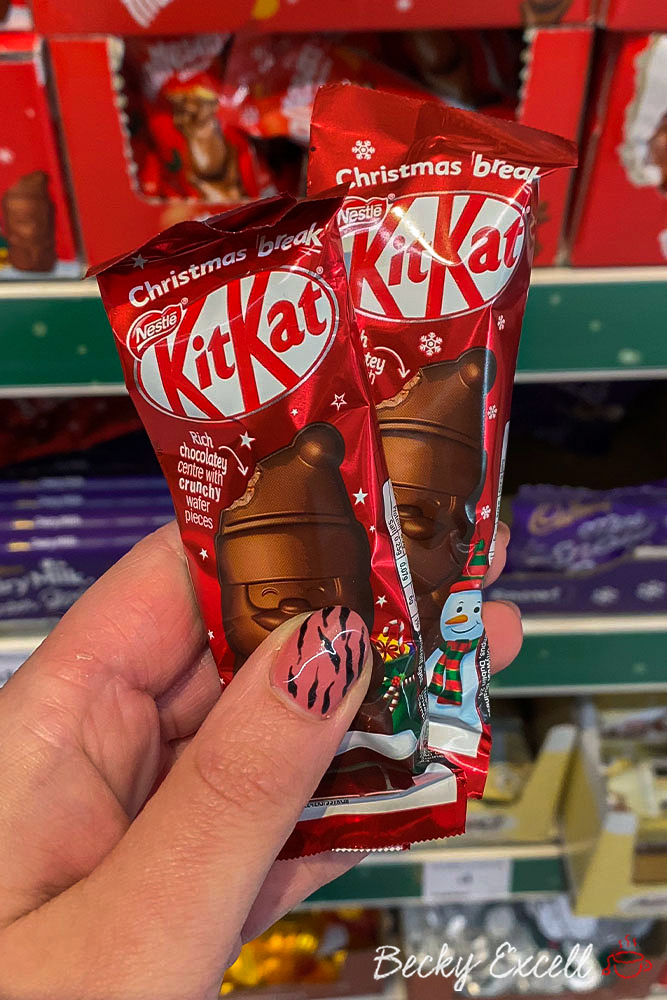 26. Reese's Peanut Butter Snowman + Peanut Butter Tree
And here's more accidentally gluten-free chocolate mixed in with all the muggle options down the Christmas aisle!
26. Cadbury Dairy Milk Orange Snowman
This may not seem like a huge deal, but Cadbury Dairy Milk ALWAYS has a 'may contain' warning for wheat.
But not these orange snowmen!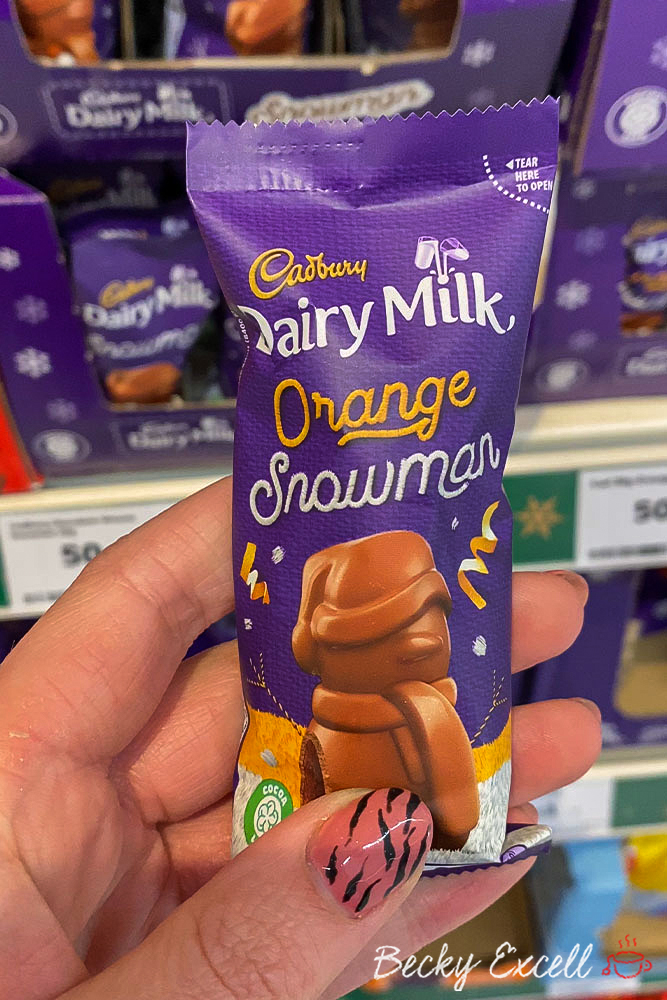 That's the 25 NEW products in the Sainsbury's gluten-free Christmas Range 2020!
Thanks for joining me in checking out the Sainsbury's gluten-free Christmas Range 2020! What did you think? Is it too early for Christmas products?! Which one was your favourite? What did you think of the prices? What are we still missing?
Please do let me know by leaving a comment below or by following me on Instagram and leaving me a comment!
If you enjoyed this post, make sure you check out my:
Please do let me know by leaving a comment below or by following me Instagram and leaving me a comment.
Thanks for reading – you don't know how much I appreciate it!
Becky xxx
Comments