The Asda Gluten-free Christmas range 2020 is here! There's tons of NEW gluten-free and dairy-free products out already. I've saved the newest and best products until the end of this post, so keep scrolling…
Asda gluten-free Christmas range 2020 – the ULTIMATE guide to everything you need for the big day. There's everything from festive cookies, Lebkuchen, to apple crumble pies, iced-top mince pies and TONS more.
Oh and tap here to follow me on Instagram where I post all my latest gf finds first – that way, you'll always know all the most recent finds and never miss any!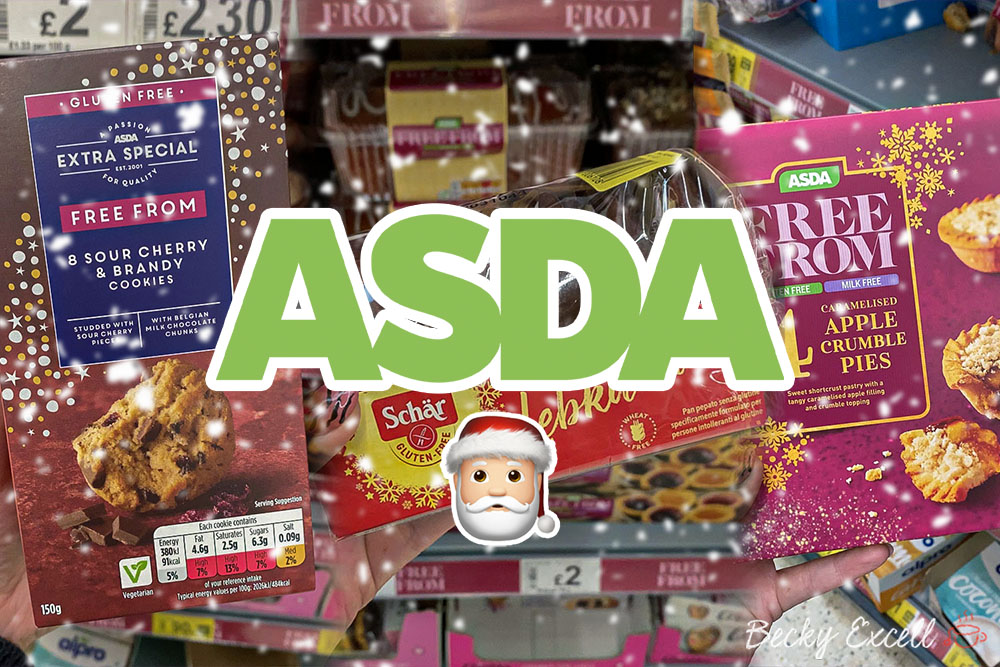 (I'll be keeping this post updated with prices and new products as Christmas approaches as there's still new products to come, so keep checking back!)
Here's 25 NEW products in the Asda gluten-free Christmas Range 2020
This post is constantly updated! Scroll to the bottom for the NEWEST products…
Make sure you let me know if you have any trouble finding any of these ✅
They were all down the free from aisle in my local Asda – not with the seasonal stuff for once!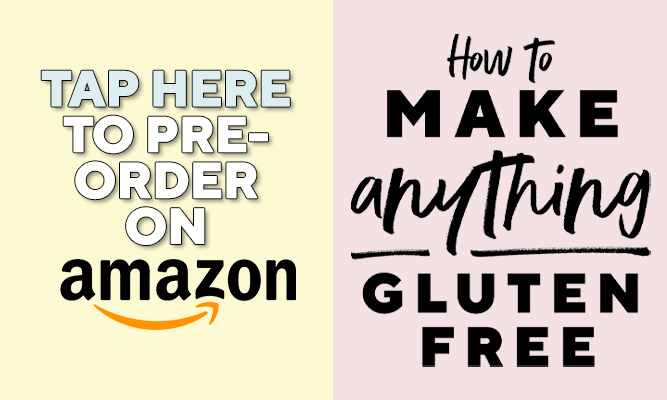 1. Asda Free From 8 Sour Cherry and Brandy Cookies
Let's kick off the Asda gluten-free Christmas range 2020 with cookies, glorious cookies.
These are brand new for this year, as are tons of the products featured in this post.
One of you lovely lot (from Facebook) said how great the free from Christmas ranges in supermarkets are, because they increase the variety in the free from aisle so much.
And I have to agree! More choice when you can't eat a lot already, is never a bad thing.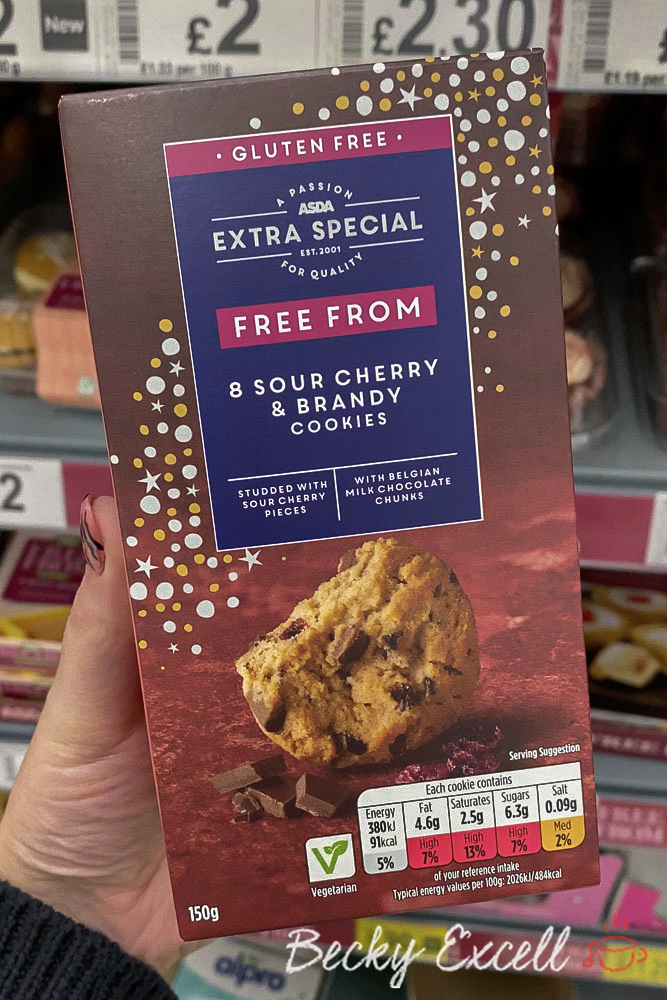 2. Schar gluten-free Lebkuchen
They're back!
Yep, it's gluten-free Lebkuchen from Schar! If you're not sure what they are, they're a German biscuit similar to gingerbread… but BETTER!
After all, these are covered in chocolate too… how could you say no?!
They're £3.50 btw, what do you think of the price? These were in the free from aisle this year – I believe they were in the seasonal aisle last year.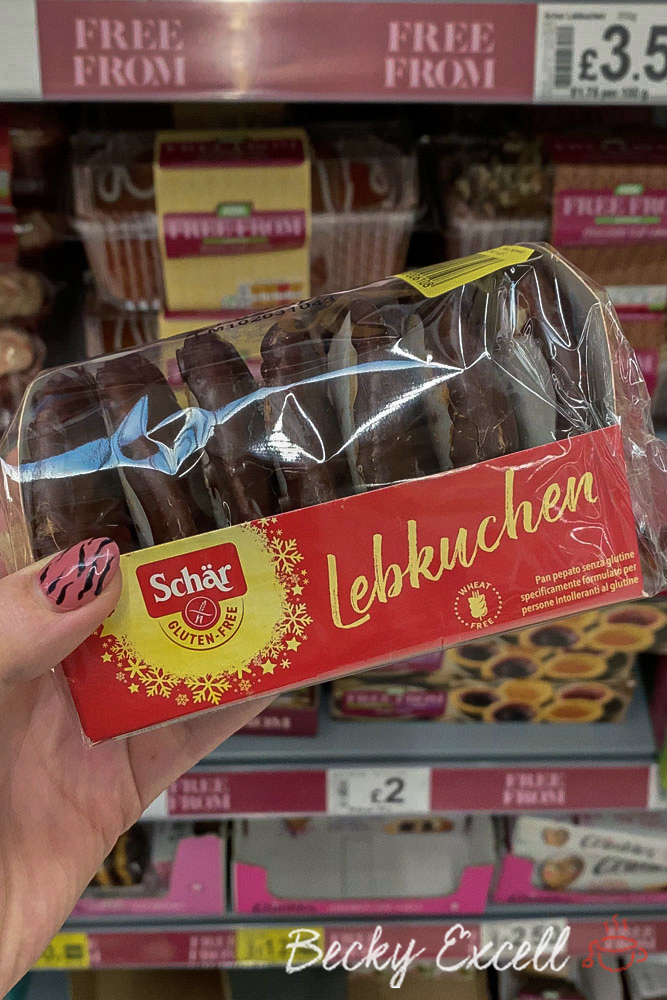 3. Asda Free From 4 Caramelised Apple Crumble Pies
This is one of my fave products in the Asda gluten-free Christmas range this year!
Mini caramelised apple pies (with dried fruit in them) and topped with a crumble top. Obviously I don't end up buying all of these, but I bought these for Mark and I.
After all, they're dairy-free too!
A lot of Asda's free from range is also dairy-free, which I know will please a lot if you guys (even though the next few products aren't dairy-free, but keep scrolling for more!)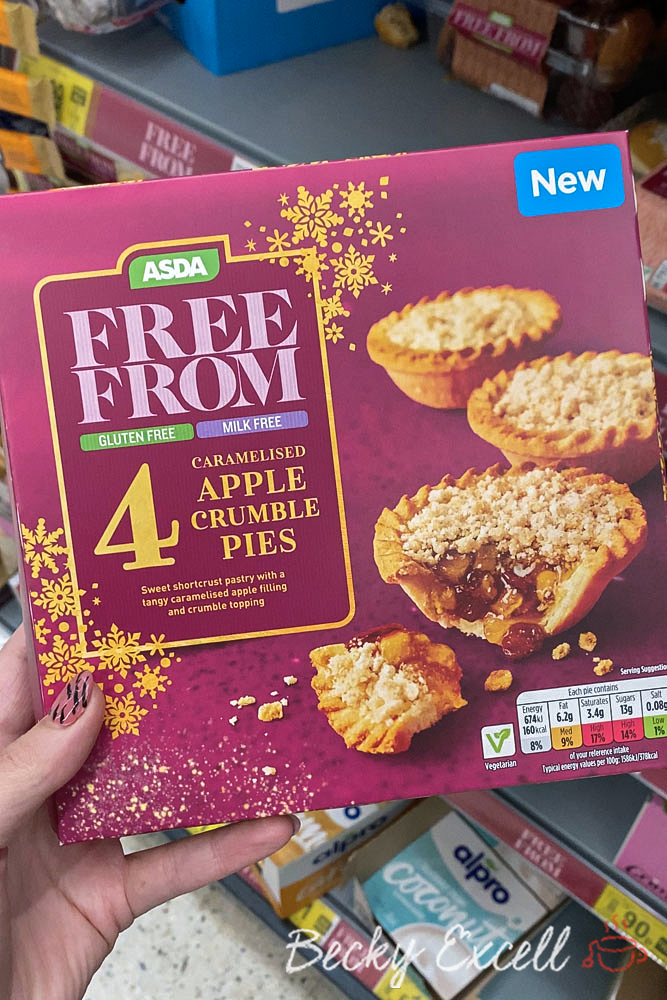 4. Schar gluten-free Jaffa Cakes and Raspberry Jaffa Cakes
Look familiar? Well, you're right!
These are Schar's regular gluten-free Jaffa cakes which are in Asda's free from aisle all year round.
But once again, we've been treated to special festive packaging! Maybe this will increase the chances that Santa will get me these for Christmas?
And ALSO, we've now got raspberry Jaffa cakes – how cool is that?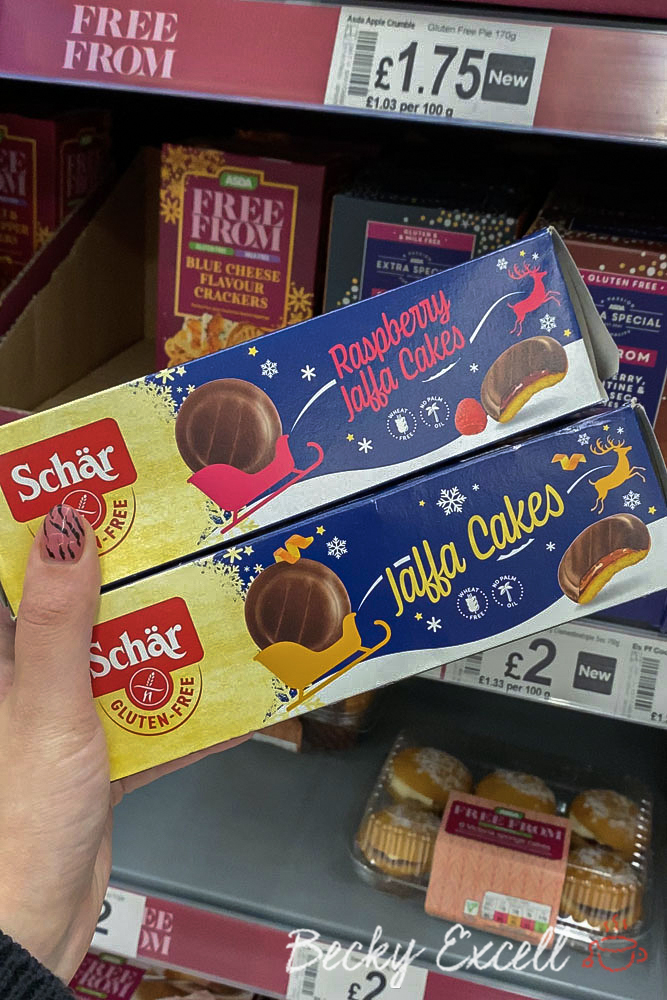 5. Asda Free From Raspberry and White Chocolate Loaf Cake
Raspberry and white chocolate is one of my fave flavour combos in baking.
And now I can easily get that without having to whip up a cake of my own!
Who's rushing out to buy this one?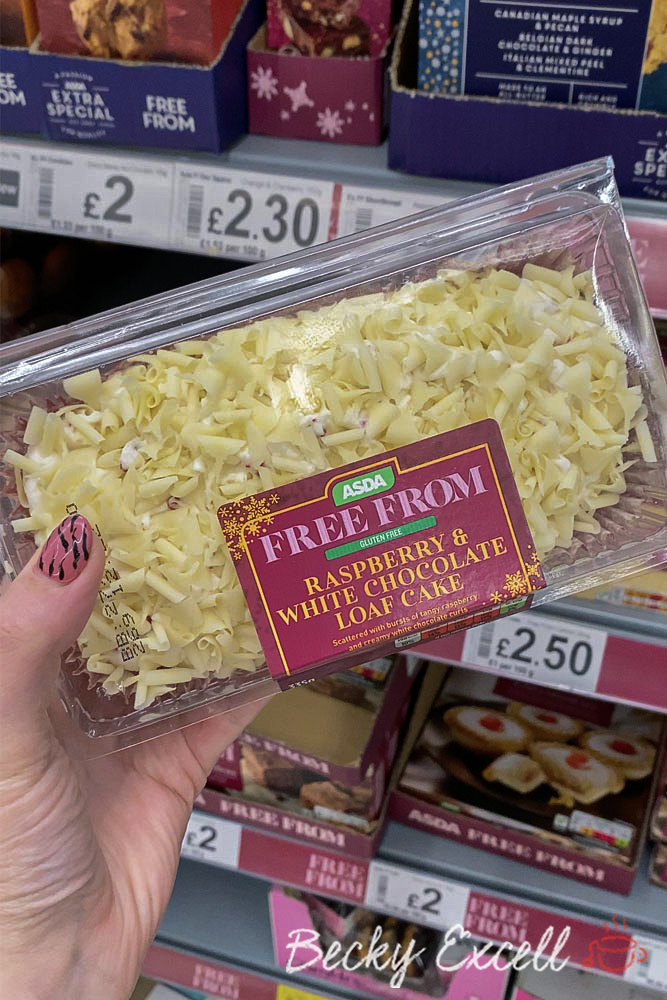 6. Asda Extra Shortbread Selection
You've gotta love a bit of gluten-free shortbread, especially when they're not all the same flavour for once!
In the box there's three different flavours: Canadian maple syrup and pecan, Belgian dark chocolate and ginger and Italian mixed peel and clementine.
This is exactly what I mean about having more choice around the festive season!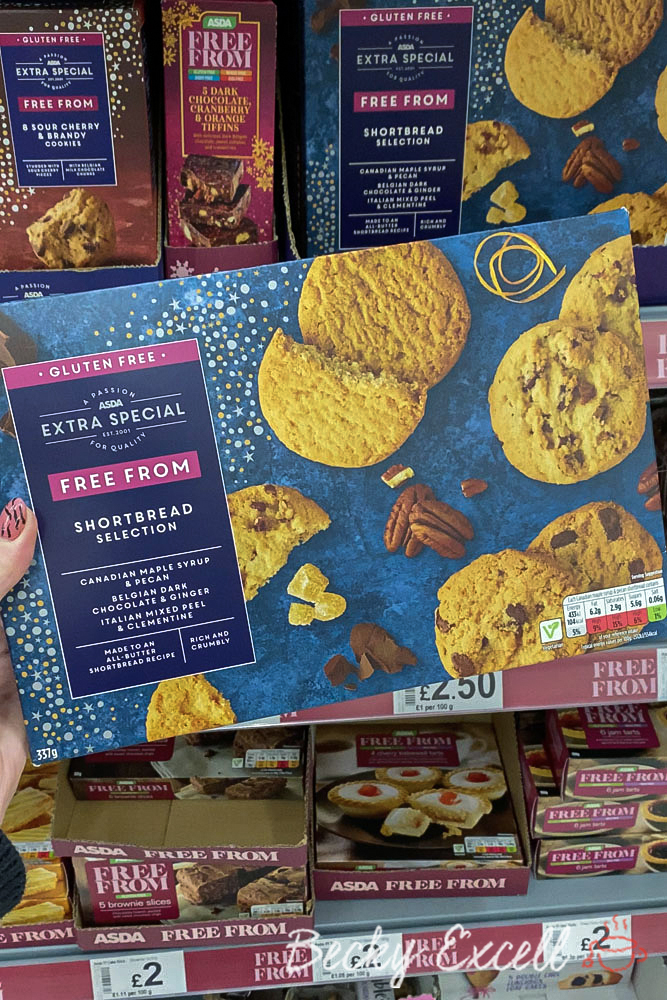 7. Asda Free From 5 Dark Chocolate, Cranberry and Orange Tiffins
These were my favourites from last year and even though they're gluten-free, dairy-free AND vegan… you'd never know they were free from anything.
They also look really nice out of the packet too, which helps!
Did you notice that this is one of the few products in this list that actually states 'dairy-free' on the box instead of 'milk free' btw?
I prefer to say 'dairy-free' as it's clear there's zero dairy products in it, but most supermarkets use 'milk free' instead. Which do you prefer?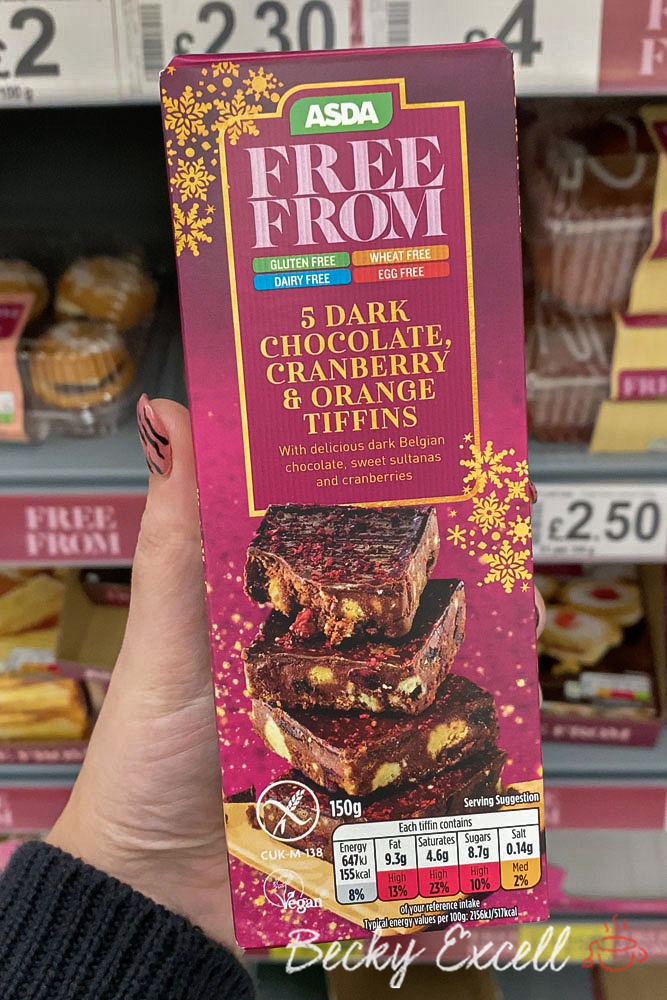 8. Asda Free From Blue Cheese Flavour Crackers
Yep, that's right – blue cheese crackers… but they're dairy-free AND vegan. The Asda gluten-free Christmas range 2020 just upped it's game!
That makes these humble crackers a bit of a big deal! Who's excited for these?
Plus, I'm not sure I can even remember the last time that I ate a gf cracker that wasn't plain! So this is pretty mind-blowing.
I never know what to put on them though, so any suggestions welcome!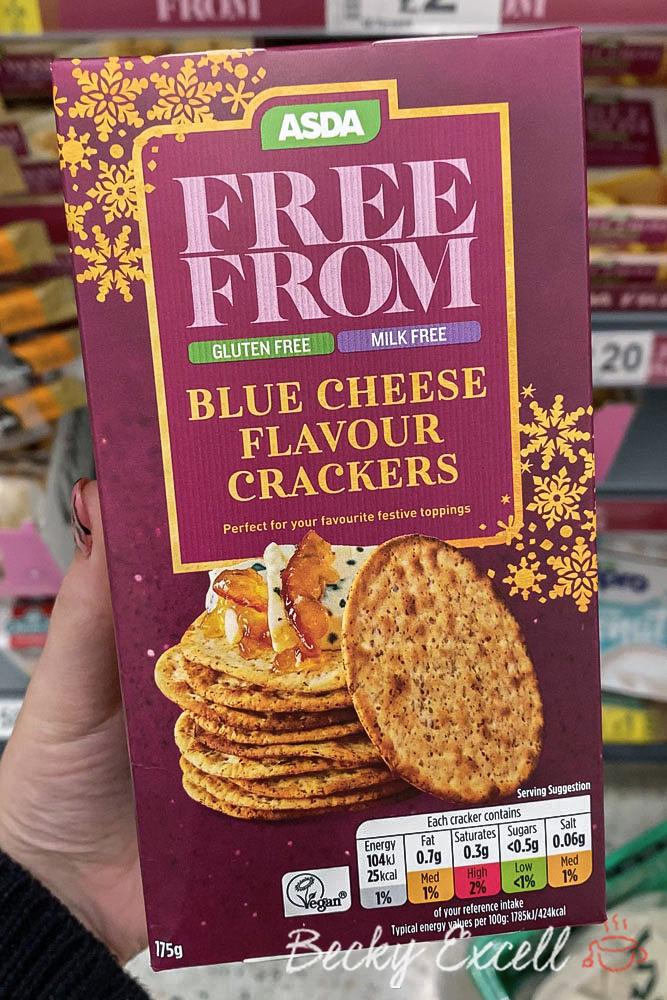 9. Asda Free From Sea Salt and Black Pepper Crackers
And again, hooray for not *totally* plain crackers!
As my boyfriend can eat gluten, he always has salt and pepper crackers and I can NEVER eat them… until now.
How has it taken so long for us to be able to get such a simple product like this?
I wish these were available all year round!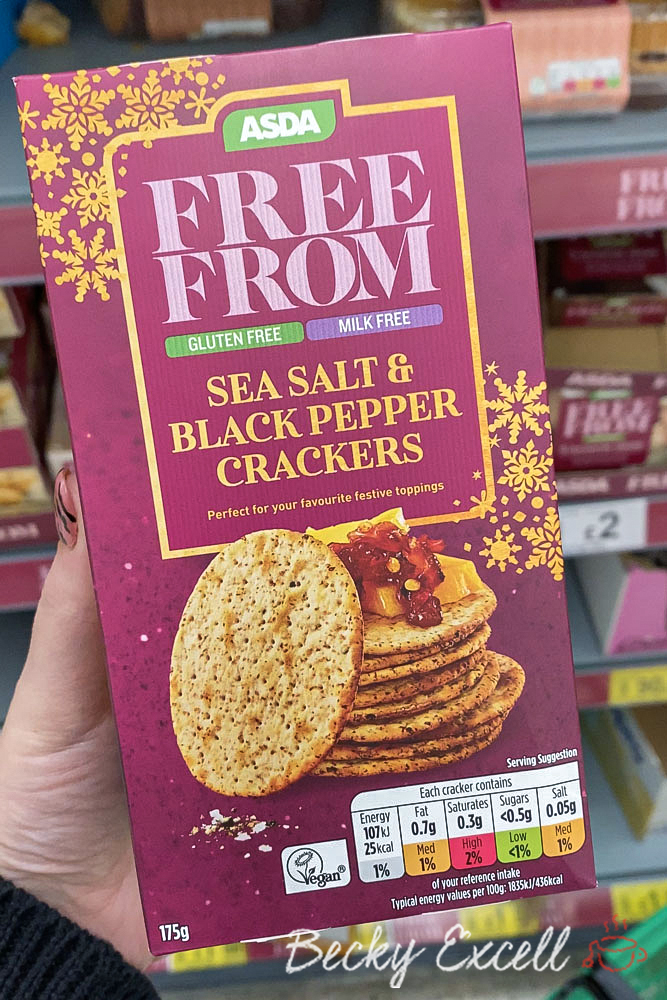 10. Asda Free From Iced Topped Mince Pies
Mr Kipling seriously needs to up his game, because these iced topped mince pies are something I'd expect from Kipling himself!
But instead, Asda have delivered with these classic mince pies, topped with icing like you'd get on a cherry Bakewell.
If you've got a sweet tooth, you'll absolutely love these! They're dairy-free too.
If not, keep scrolling to see the classic version 👇🏻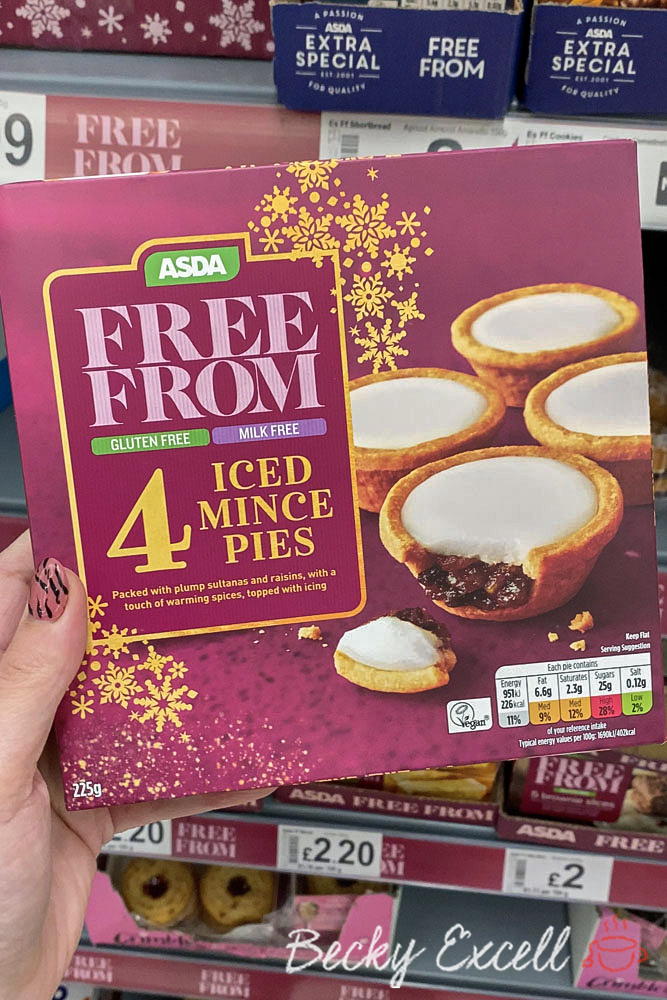 11. Asda Extra Special Free From 8 Cranberry, Clementine and Triple Sec Cookies
More new gluten-free festive cookies!
But these are coated with a layer of milk chocolate on the back… it's so good to see gluten-free products getting closer and closer to muggle products.
Not long ago, we were lucky to get any biscuits, full-stop!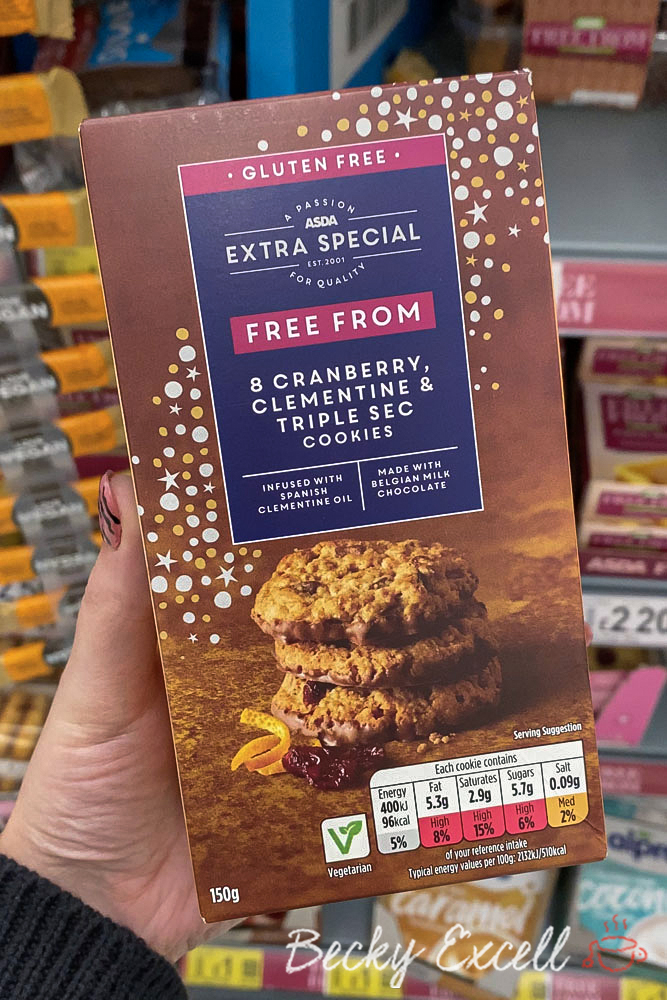 12. Asda Extra Special Free From 8 Amaretto, Apricot and Almond Shortbread
They're amaretto, apricot and almond shortbread, again – pretty adventurous compared to your average free from product, don't you think?
I'll definitely get through a few of these well before Christmas rolls around!
These are dairy-free and vegan too.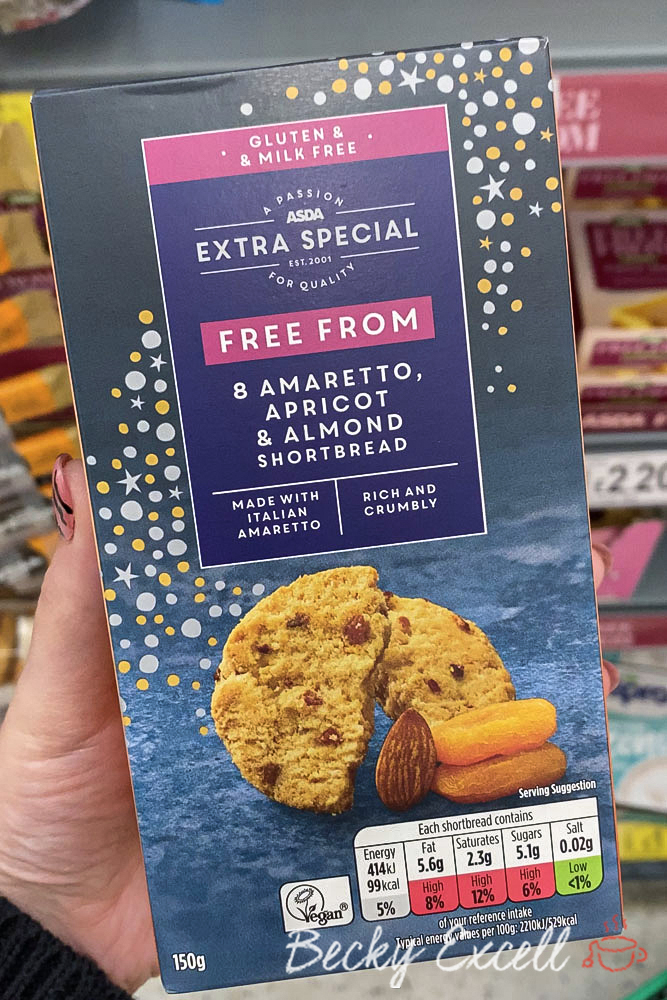 13. Asda Free From Iced Christmas Cake
Another festive fave makes a return to the Asda gluten-free Christmas range 2020!
Yep, it's the same iced Christmas cake which soooo many of you loved last year. Who's gonna be buying it again this year?!
I've still not been converted to loving fruit cake yet, so it's gonna be a bit of a pass for me once again!
I am gonna try and get more festive spices into my baking this year though to hopefully make up for it…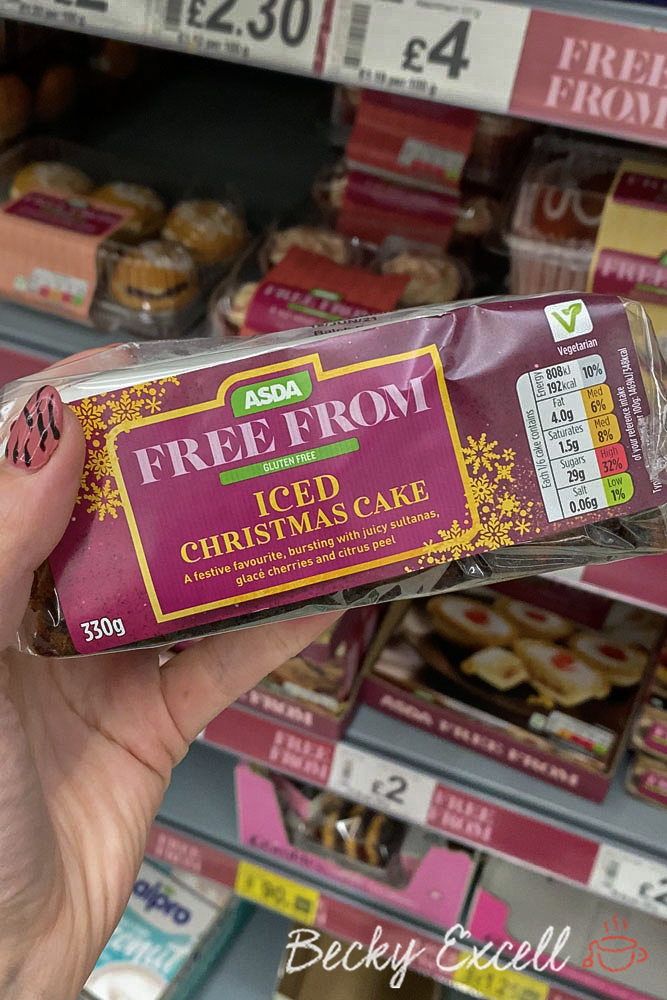 14. Asda Extra Special Free From 6-Month matured Luxury Christmas Pudding
This one is gluten-free and wheat-free, but NOT dairy-free. It's also perfect for one person.
Not a bad option if you just need a little Christmas pud for yourself, while all the muggles share a big one.
I'm sure the bigger free from Christmas pud will still turn up at some point, but this is the only one hanging around at present.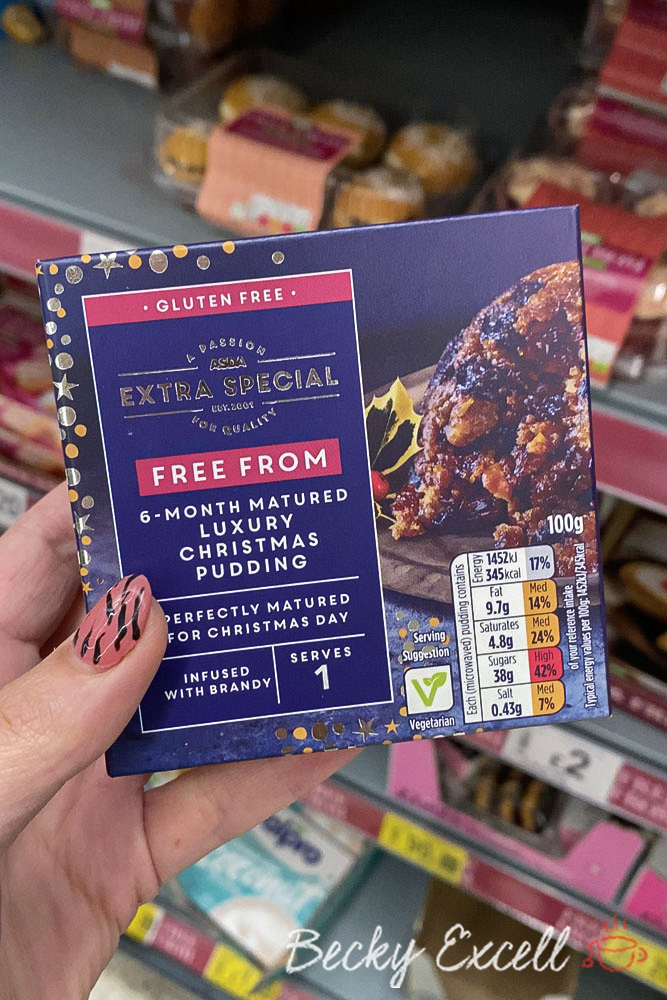 15. Asda Free From 4 Mini Chocolate Logs
Today I found these 4 chocolate log slices, which are a tiny bit like a tiny yule log – though not entirely yule log like!
I spotted them elsewhere this year (in Sainsbury's) and they appear to be the exact same product.
So bear that in mind when you're shopping around.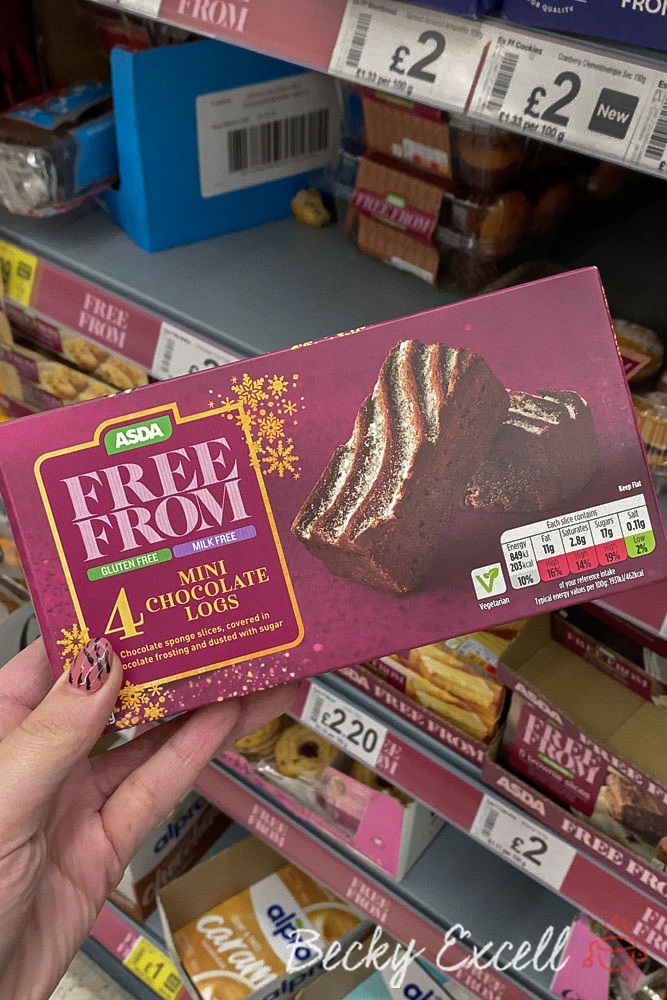 16. Asda Free From 4 Mince Pies
How did I get all the way to 16 products without mentioning regular ol' mince pies?
The Asda free from minces pies are gluten-free and dairy-free too AND this year, they're vegan too.
Like I always say, I'm not gonna even try and weigh in on which supermarket does the best free from mince pie this year!
There's just too many to try them all, so let me know your favourites in the comments below 👇🏻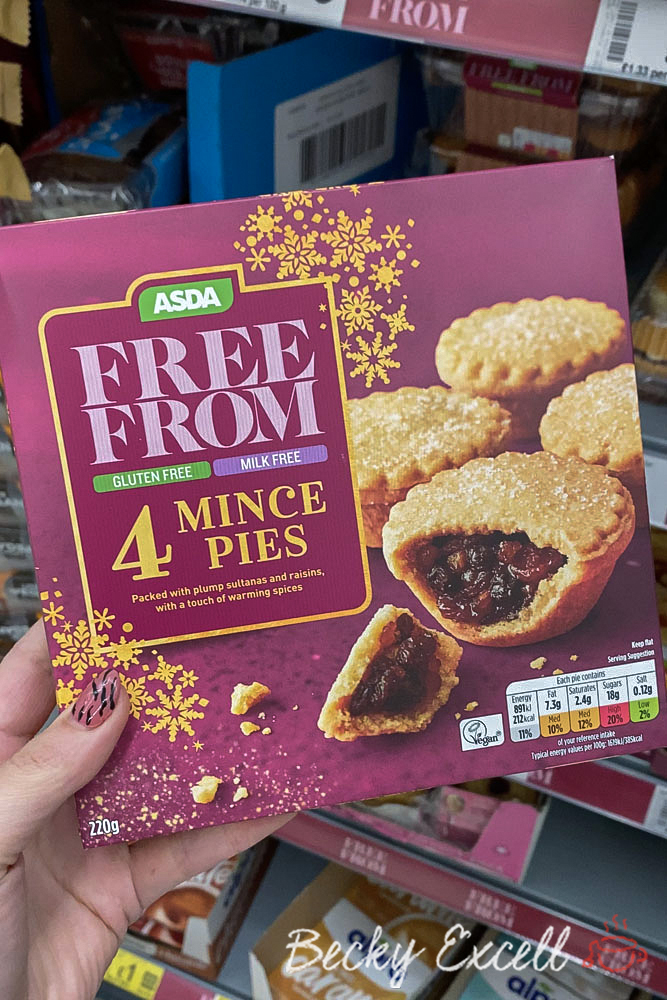 17. Asda Free From 11 Chocolate Dipped Shortbread People
Why have gingerbread men when you can have shortbread people? 😆
Either way, they're dipped in chocolate, which is a great way to improve anything… even people apparently!
Again, love to see these products progressively get a little more exciting year on year – these look like the shortbread 'people' from Tesco last year, but those had no chocolate.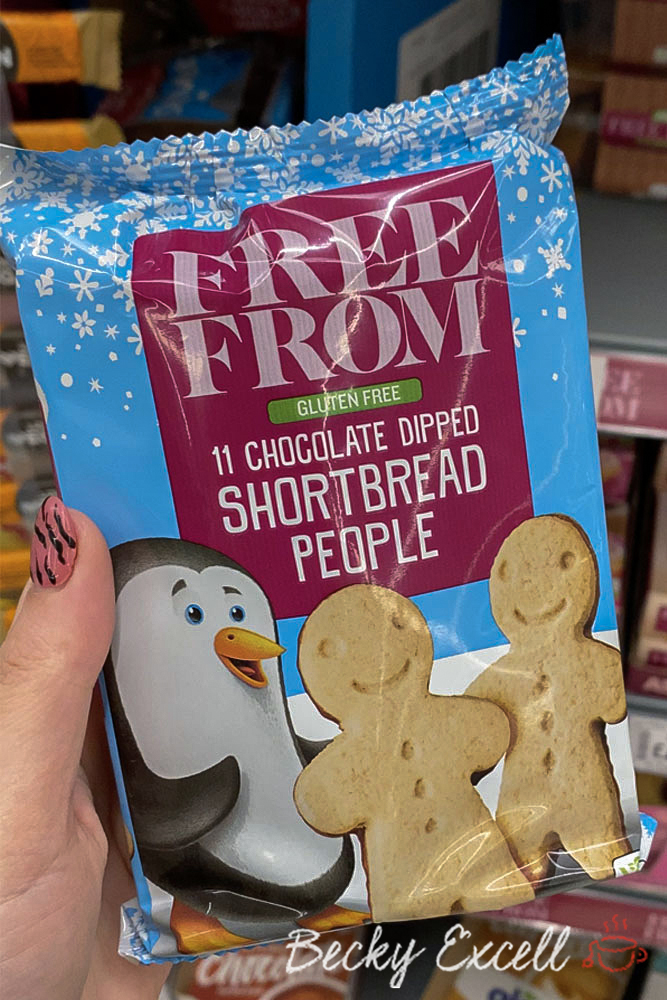 18. Asda Free From 4 Choc Tree Decorations
Here's another new addition to the Asda gluten-free Christmas range 2020 – they're dairy-free and vegan too.
These are chocolate trees topped with candy sprinkles – I thought they were biscuits at first!
I also thought you could hang these on your Christmas tree, but I'm not really sure if that's why they mean by the word 'decorations' or not!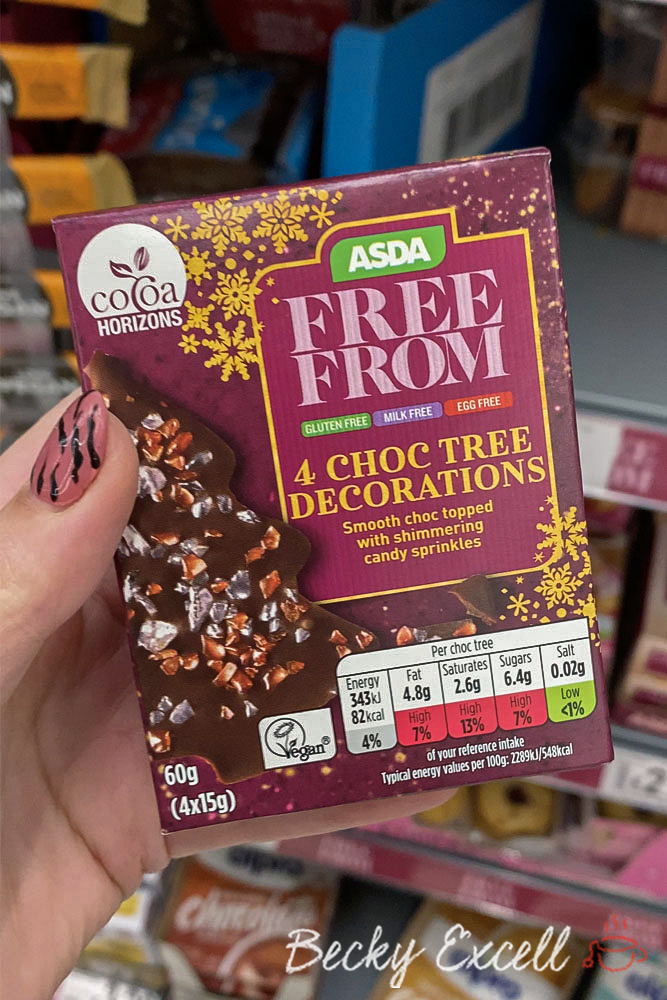 19. Asda Free From Salted Caramel Choc Reindeer Truffles
And again, I've seen the dairy-free chocolate offerings improve so much in 2019 and again in 2020.
All I used to be able to buy Mark for Christmas was plain chocolate – plain chocolate Santas, white chocolate penguins, plain chocolate truffles or plain/white chocolate coins. It was all so plain!!!
But as you can see here (and in the last few products coming up), the free from world has finally figured out how to flavour dairy-free chocolate. And they taste amazing!!
These new salted caramel chocolate reindeer truffles are a great first example.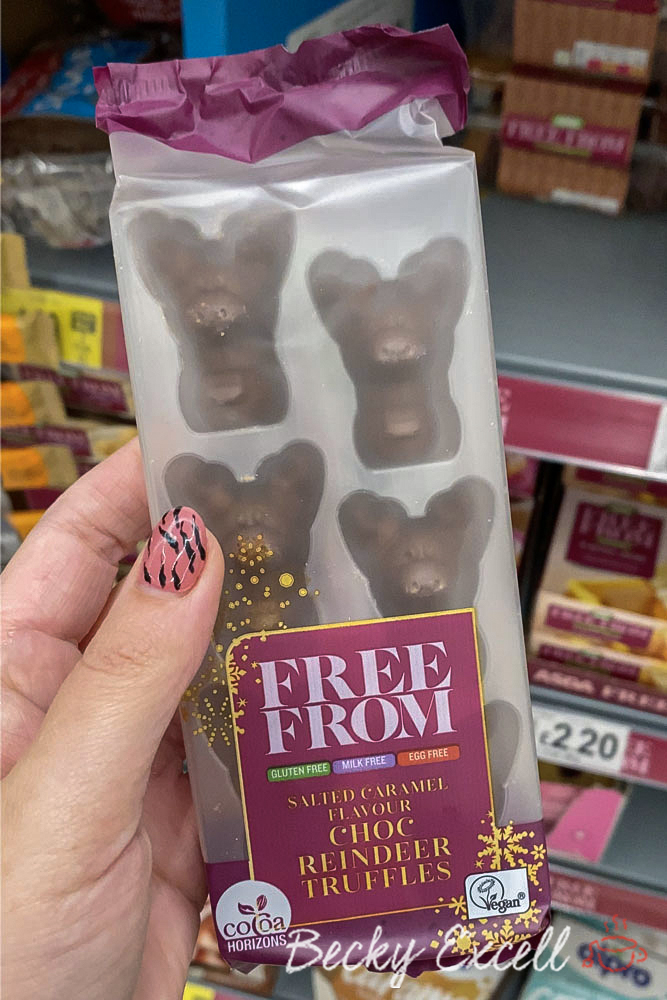 20. Asda Free From Choc Truffles
Not surprisingly, Mark loved these dairy-free chocolate truffles last year too!
And whilst they're plain, they're probably one of the best plain dairy-free chocolate options out there.
Plus, they were made to look like Brussels sprouts which is just awesome!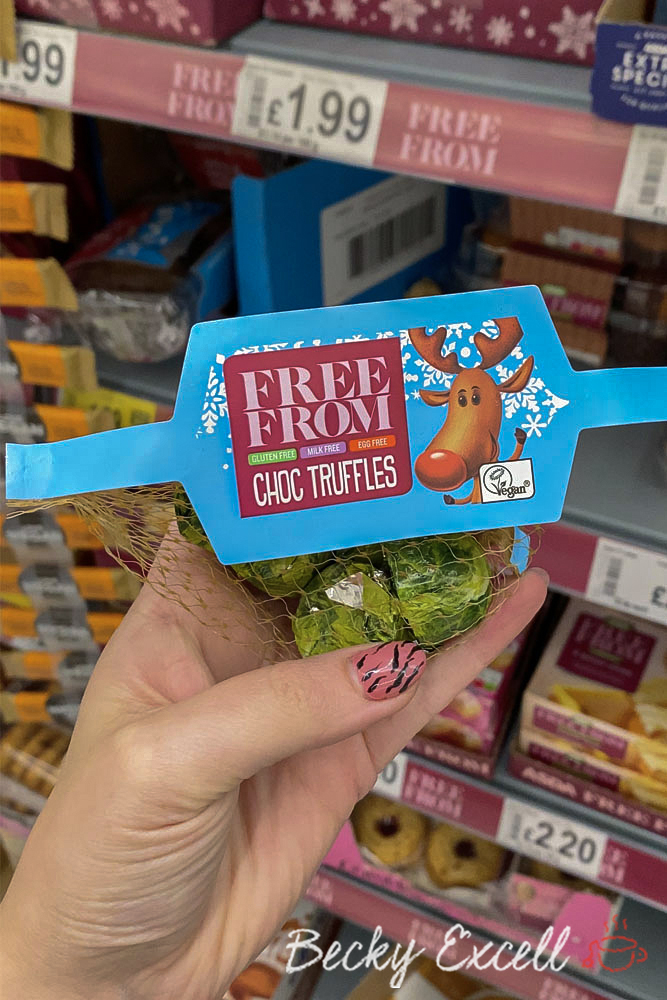 21. Asda Extra Special Free From Choc Coated Caramelised Hazelnuts
And here's another new one that's dairy-free – chocolate coated caramelised hazelnuts.
They're also vegan too. We haven't given these a try yet, but next time we pop in I'm sure Mark will buy these!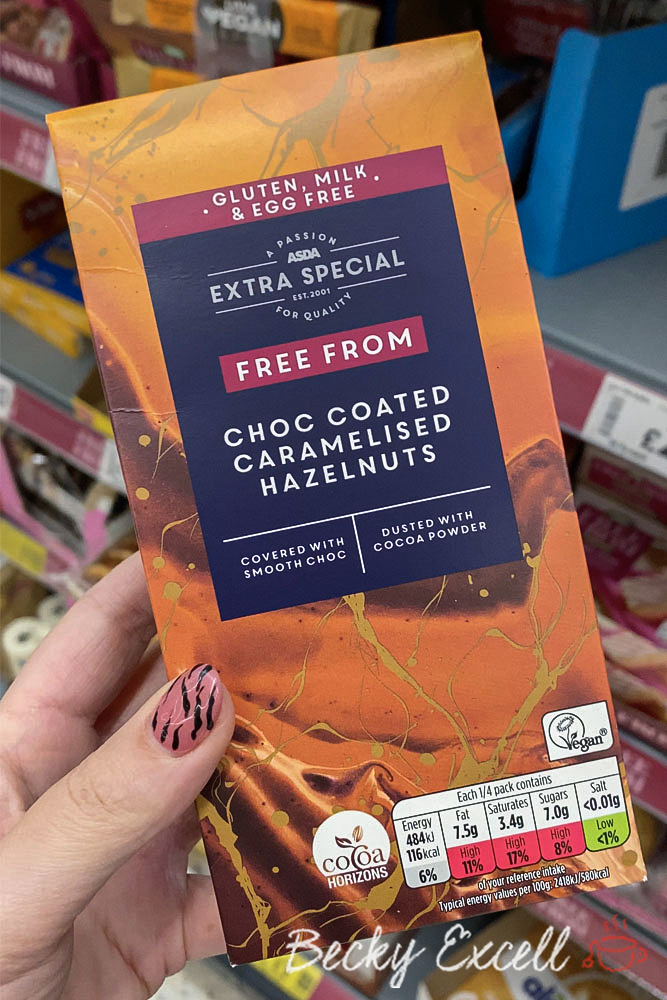 22. Asda Extra Special Free From Marc De Champagne Truffles
These were Mark's unexpected favourites from last year and even though they're gluten-free, dairy-free AND vegan… you'd never know they were free from anything.
Trust me!
These are one of the few dairy-free chocolate options which would genuinely make a nice gift.
The packaging is so much nicer than your average free from product.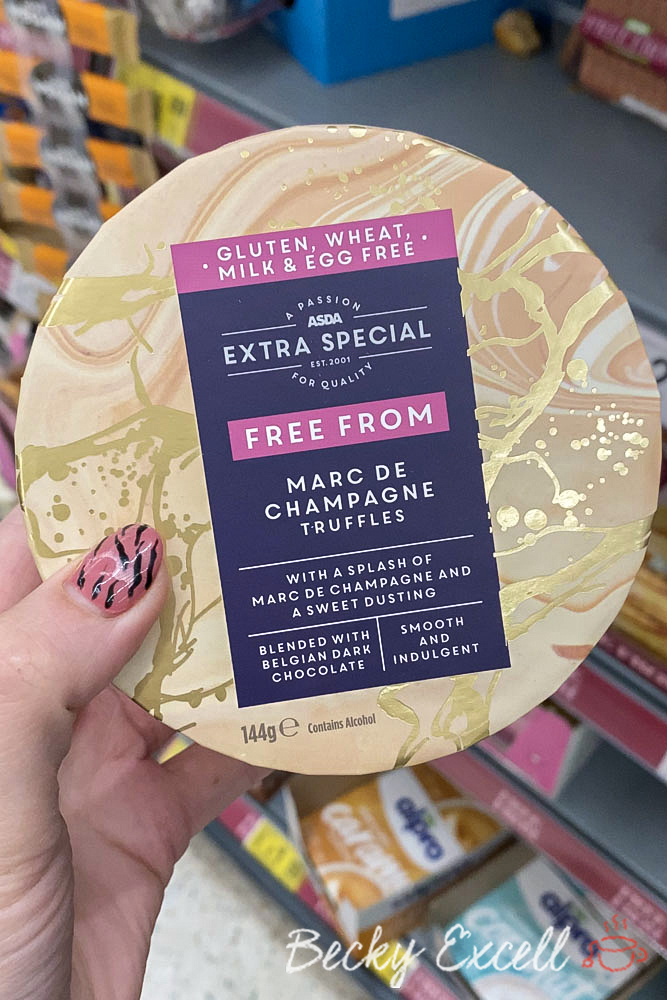 23. Asda Extra Special Free From Truffle Collection
And this is back too – one of the first great dairy-free chocolate products to have more than plain chocolate.
They actually don't say on the front, but from memory (because Mark bought this many times last year), I believe that they're plain, caramel, orange and… something else flavoured!
Let me know if you can remember the flavour of the last one.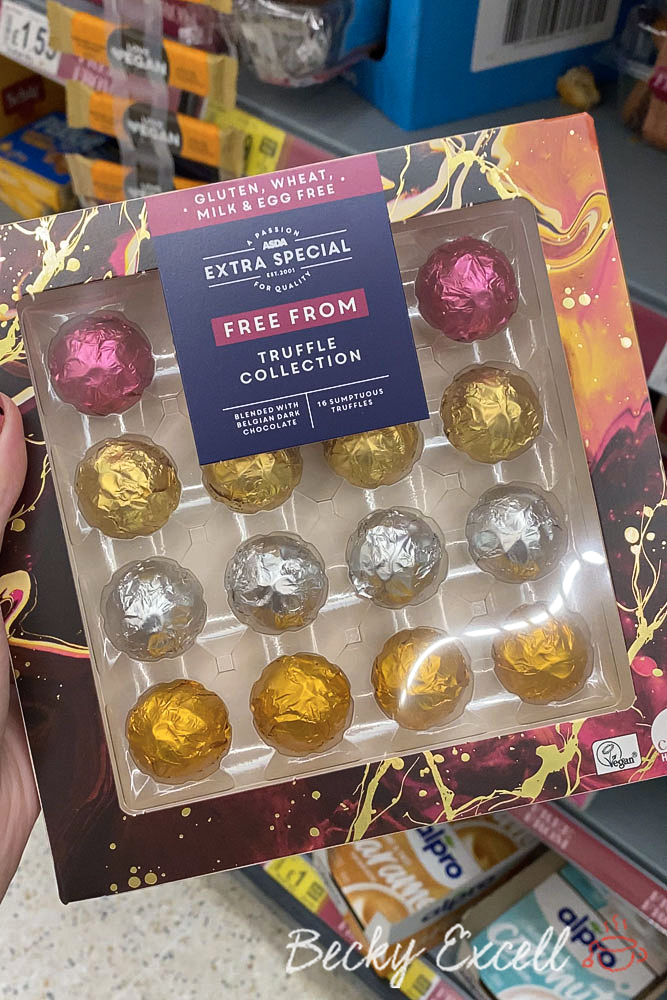 24. Schar gluten-free Spekulatius
You win 10 points if you know how to pronounce this, because I sure can't! They're essentially gluten-free Lotus Biscoff biscuits, or the closest we'll get.
These were around last year, but they seem to have improved A LOT since then. The texture is much better with more of a snap and the flavour isn't quite so overpowering with spice.
If you thought they weren't that impressive last year, give them a try again and let me know your thoughts on the change.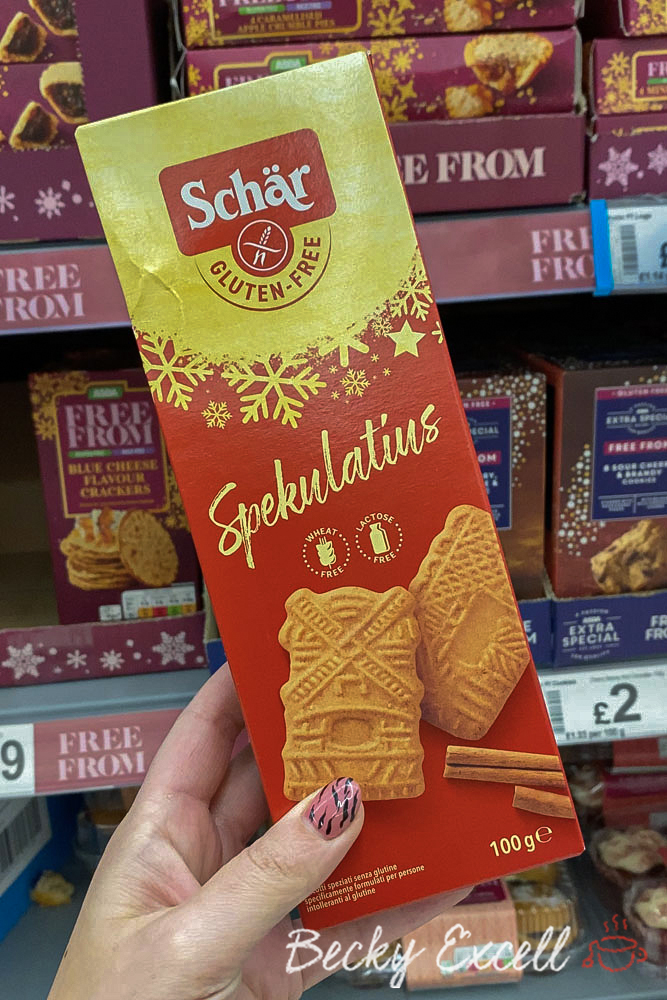 25. The Free From Kitchen Choc Coins
Last but not least – coins, glorious (dairy-free) coins!
Again, we wish they came in a more exciting variation, but I feel like chocolate coins are a must at Christmas either way.
Especially if you're looking for stocking fillers!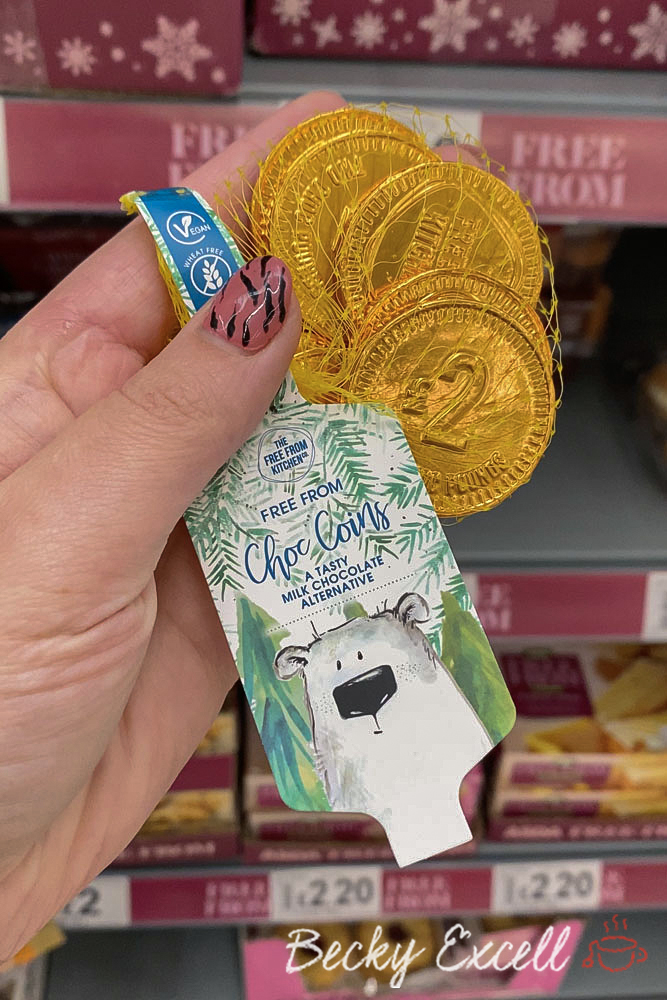 Asda Gluten-free Christmas Range 2020: Keep checking back as I'll be adding new products as I find them!
Thanks for joining me in checking out the Asda gluten-free Christmas Range 2020! What did you think? Is it too early for Christmas products?! Which one was your favourite? What are we still missing?
Please do let me know by leaving a comment below or by following me Instagram!
Thanks for reading,
Becky xxx
Comments