In a recall posted today by the Food Standards Agency (8th of April 2022), Tesco have recalled their Free From Digestive Biscuits as they're not safe to eat.
According to the post on the Food Standards Agency website, Tesco's Free From Digestive Biscuits have been recalled as they 'may contain small pieces of metal which makes it unsafe to eat.' Read on for more info.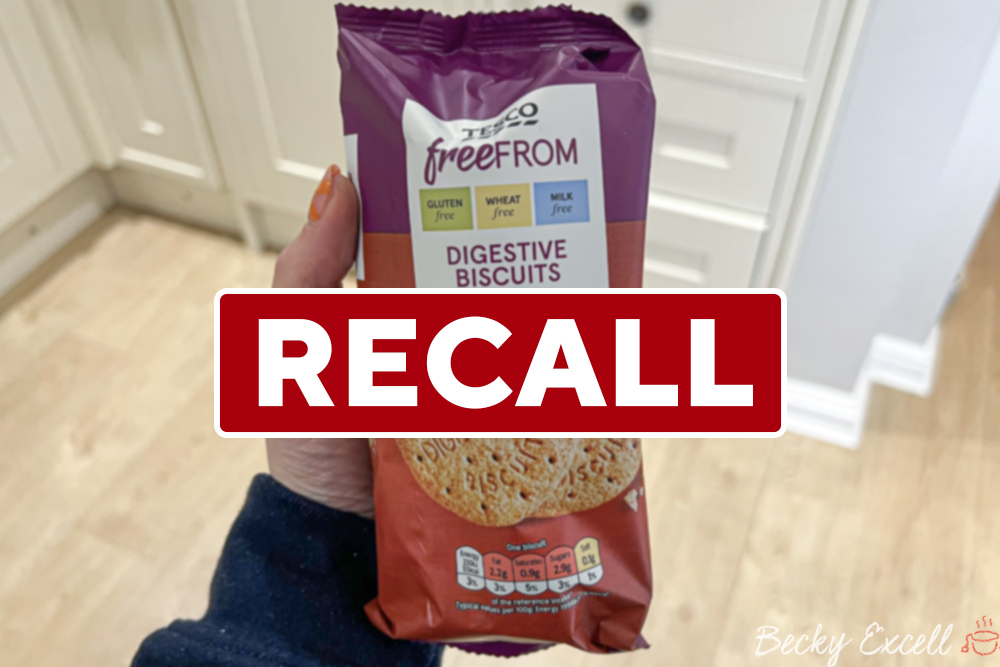 What is a product recall?
According to the Food Standards Agency: "if there is a problem with a food product that means it should not be sold, then it might be 'withdrawn' (taken off the shelves) or 'recalled' (when customers are asked to return the product)."
In this case, the product in question is being recalled by Tesco.
How do I know if my packet of Tesco Free From Digestive Biscuits are affected or not?
Any pack of Tesco Free From Digestive Biscuits with a best before date of March 2023 is NOT safe to eat.
See the photo below for an example of a pack I just happened to have in my cupboard, that is affected by this recall.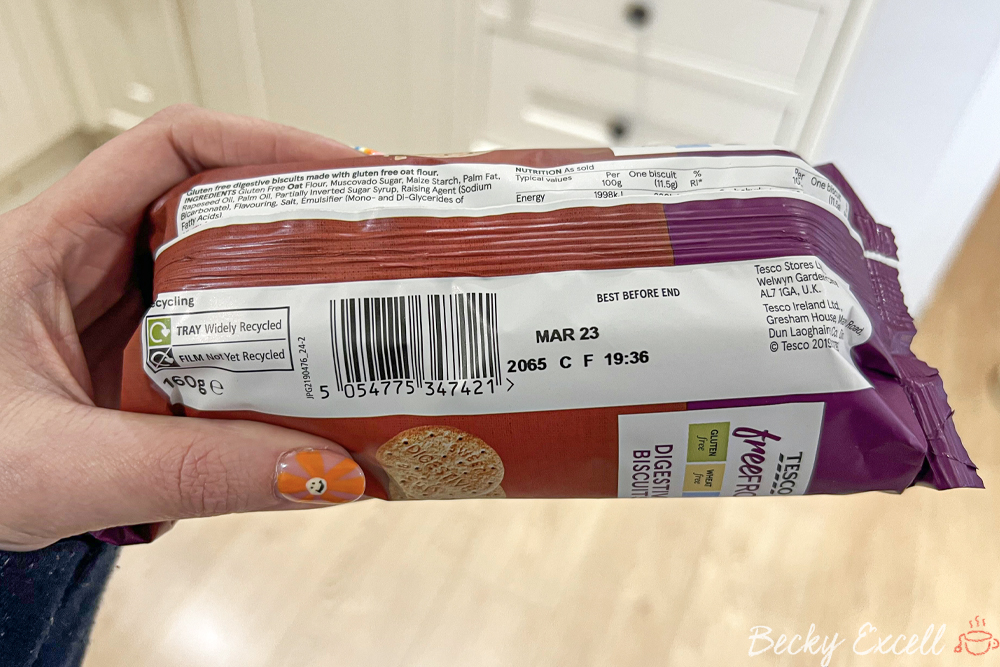 What should I do next if I have this product in my cupboards at home?
Don't open it and don't eat – instead, the Food Standards Agency are advising everyone to return it to the store you bought it from for a full refund. No receipt is required.
You can also contact Tesco UK customer services about this issue on 0800 505 555 or 1800 248 123 in the ROI.
What are Tesco doing to address this issue?
Of course, Tesco is recalling the product. Point of Sale notices will be displayed in all retail stores that are selling the product.
See the image below for the Point of Sale notice that will be posted in Tesco whilst the recall of this product is active: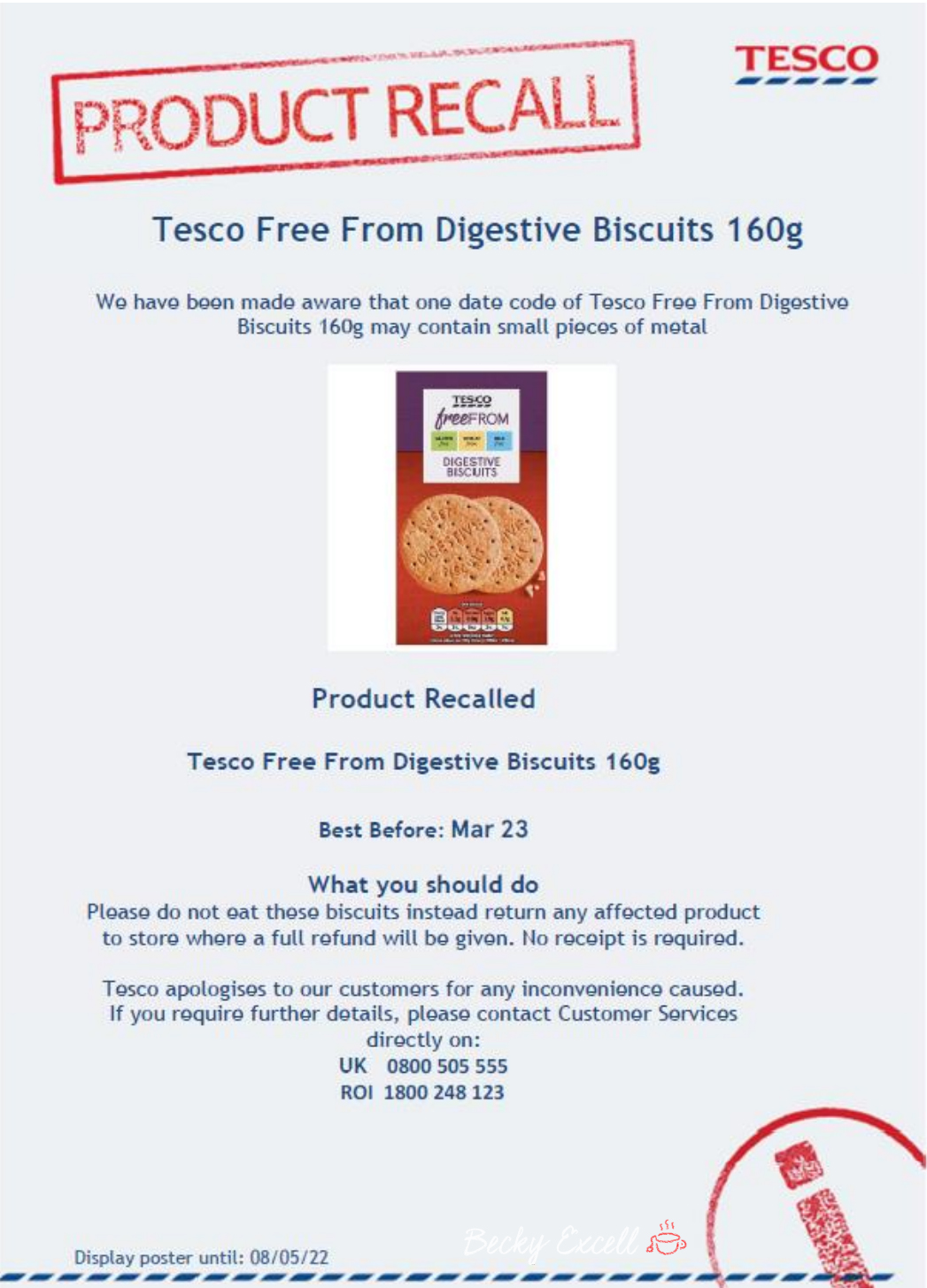 I have already opened the packet and they look fine to me, should I still eat them?
Absolutely not! As with the nature of these things, we have no idea how visible small pieces of metal would be in a biscuit and it's likely that you wouldn't be able to tell just by looking at one.
Below, you can see a photo of mine from the affected batch, which look exactly like any other biscuit.
I've already opened them – can I still return them?
If you still have the packaging with the affected date, I would recommend taking it and as much of the product as possible to Tesco customer services.
In the past, I've found 'unexpected' things in products that weren't apparent until they were opened. And I was still able to get a full refund at customer services in Tesco.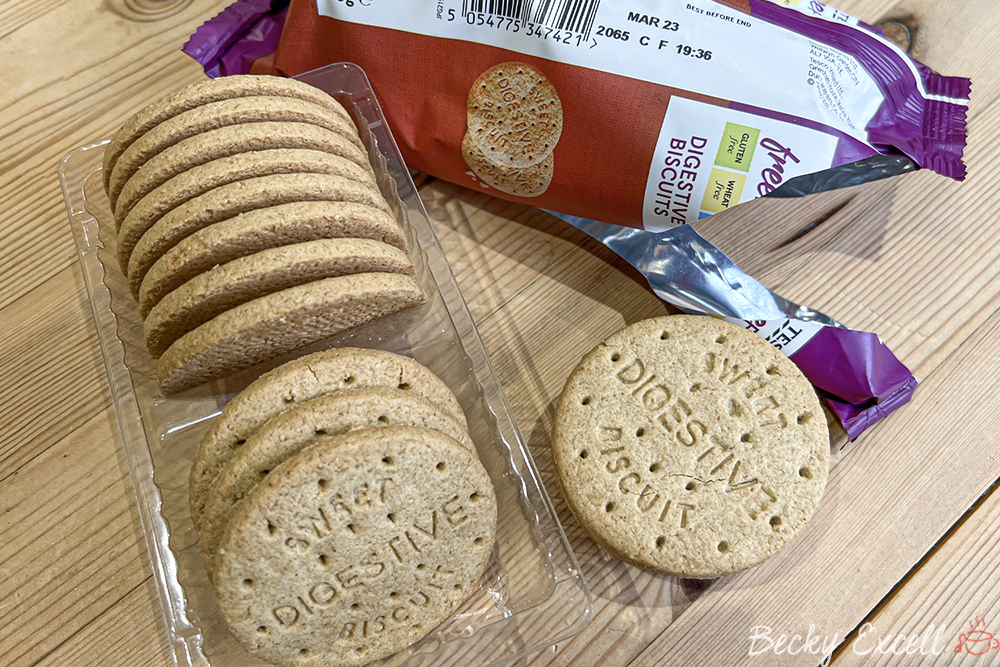 What will you be doing with your pack of Tesco Free From Digestive Biscuits?
Even though I opened them in an attempt to visually show the affected biscuits for the purposes of this post (don't do that if you can avoid it) I will still be returning them to Tesco for a full refund.
Don't forget that, if you've used these biscuits recently in a cheesecake for example, don't eat it!
Where can I read the official Food Standards Agency post about the Tesco Free From Digestive Biscuits recall?
You can find it by tapping here.
Please let as many gluten-free people know about this as possible!
A small Point of Sales poster in store isn't likely to catch the eye of everyone, so please share this news with as many gluten-free people as possible.
I had a packet of these in my cupboard that were affected by the recall, so I'm sure there's many more out there!
What are your thoughts? Are you affected by this recall? Please let me know in the comments below this post.
Thanks for reading,
Becky xxx