The day has finally come, so here's everything you need to know about Iceland's new gluten free range, including price, ingredients, when they're available in your Iceland etc.
I never thought I'd see that day that'd be saying… 'here's Iceland's new gluten free range!' But after 10 years of being gluten free, I finally get to say that! So I'm gonna be showing every product in the range so far in this blog post…
Oh and before we get started – make sure you're following me on Instagram if you never want to miss 'new product alerts' as I always tend to post them there first! Click here to head over to my Instagram.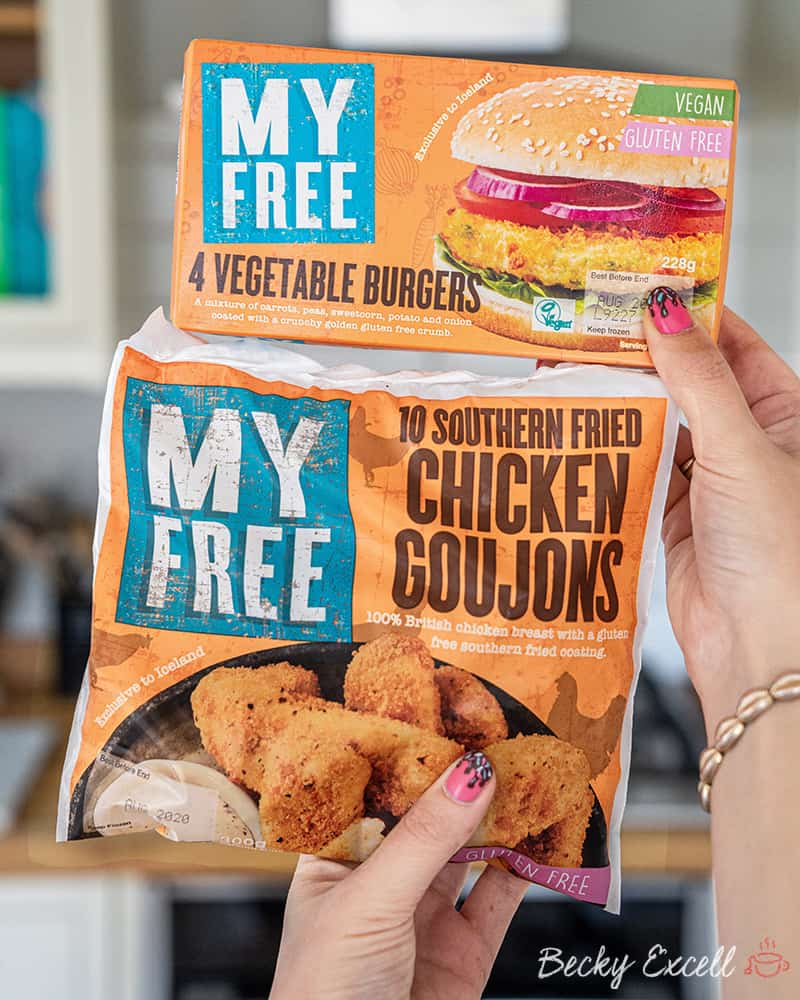 So when can you expect to find all of these new products in your local Iceland? Well… from today onwards! They actually launched in stores across the UK yesterday and out of the two Icelands I have in my town, one had nothing and the other had everything.
Just make sure you keep checking your local stores as they will be in there eventually! Ok here's a list of every item in the range, along with prices and ingredients too ??
1. Iceland's MY FREE Beef Lasagne, £2.75
Ok, so here we've got a 350g gluten free beef lasagne for £2.75. In Tesco, you can get a 300g gluten free beef lasagne for £2.50. So which is cheaper?!
Well, actually the Iceland one comes out cheaper – just! At £7.85 per kilo vs Tesco's £8.34 per kilo.
(yes I did have to get my calculator out for that one – I felt like I was back at school)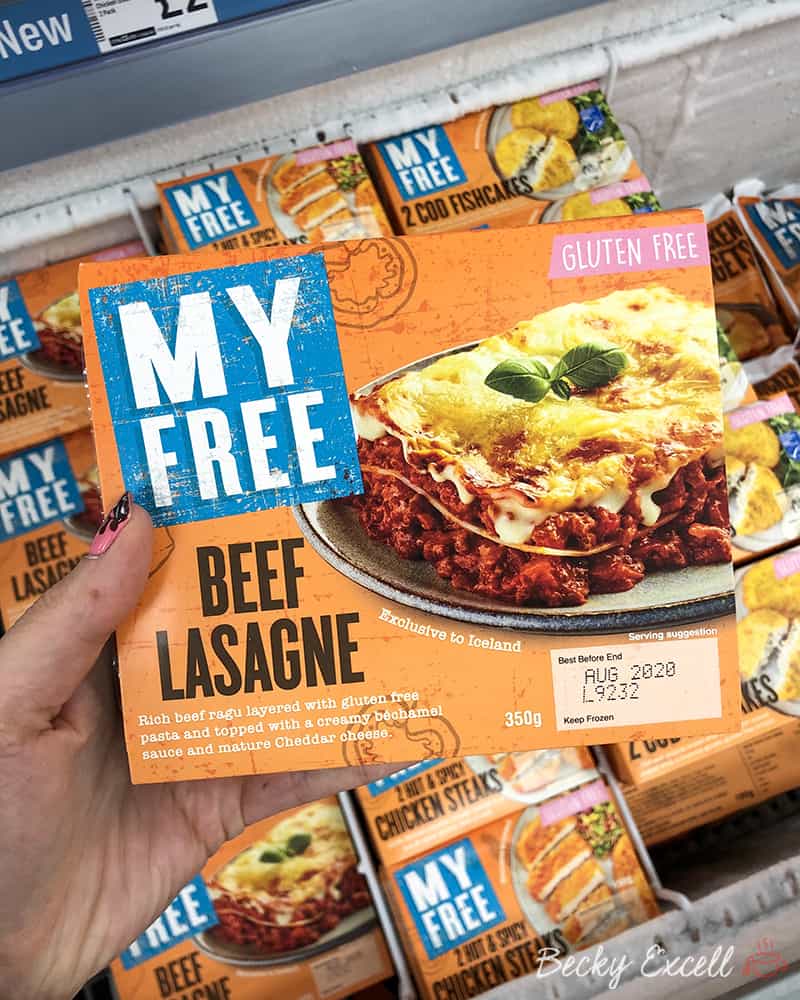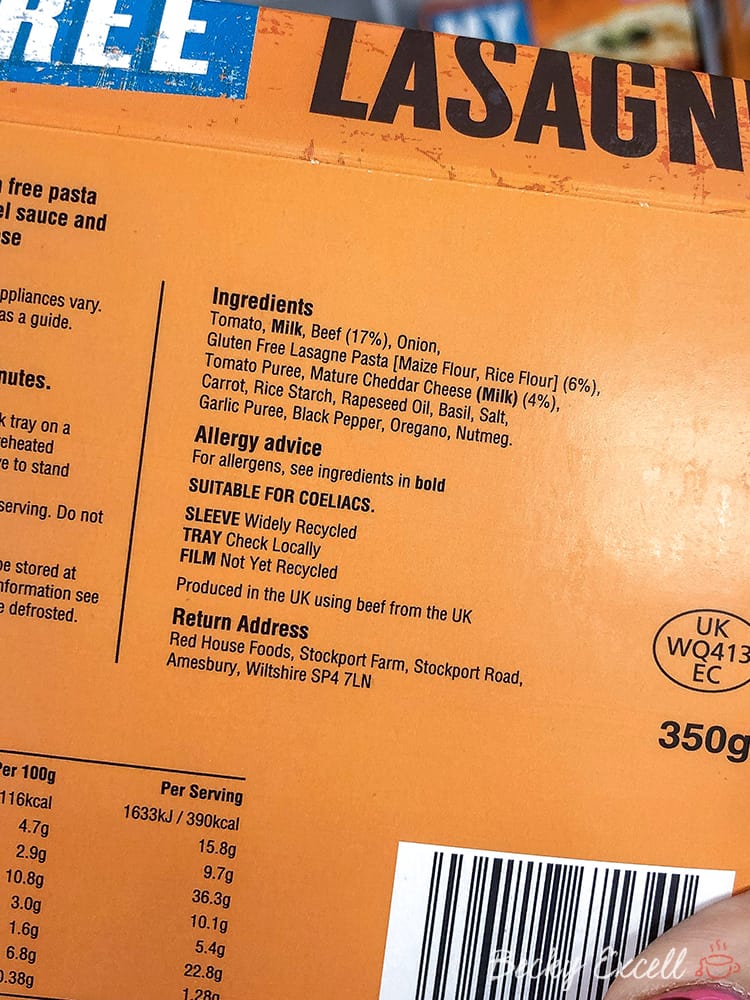 2. Iceland's MY FREE 2 Hot & Spicy Chicken Steaks, £2.00
These are an absolute steal at £2 and an awesome addition to any gluten free person's freezer. Just keep any muggles in the vicinity away from them!!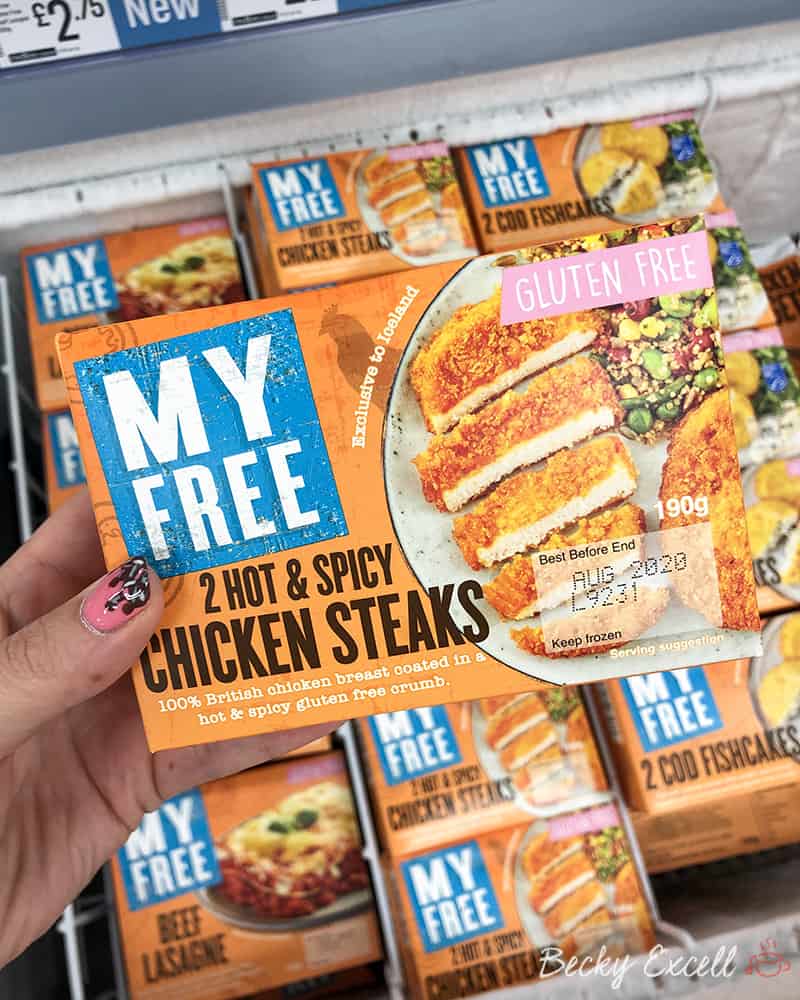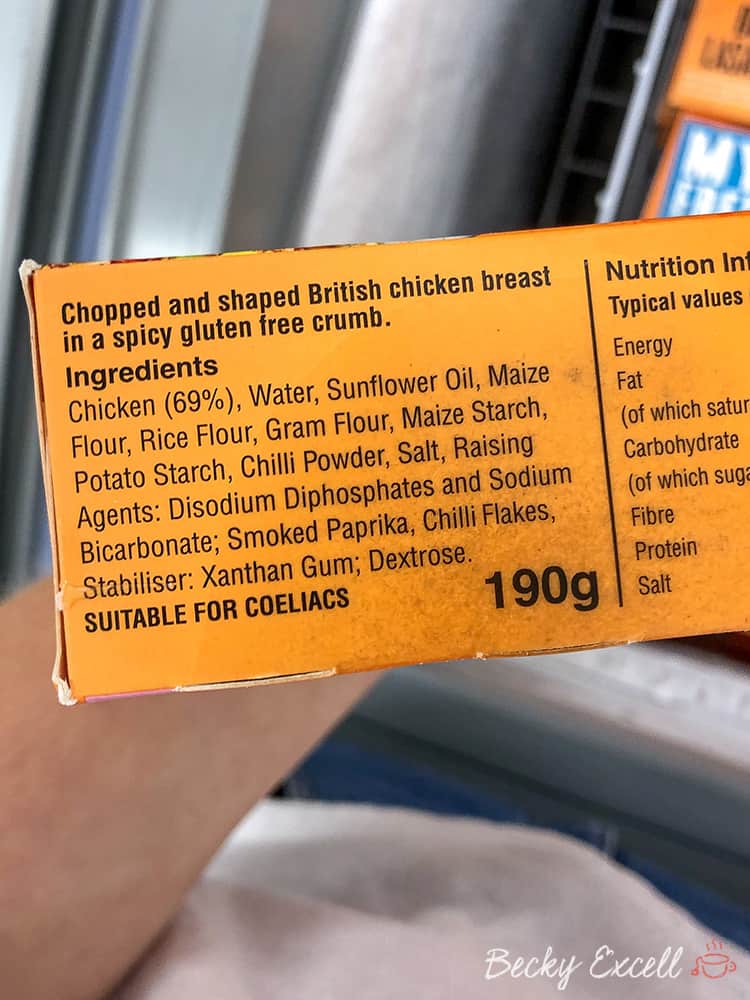 3. Iceland's MY FREE 2 Cod Fishcakes, £2.00
Everywhere seems to do gluten free fishcakes these days, and I was initially blown away by the idea of 2 for £2. But then I remembered that you can get two free from fishcakes in Tesco for £1.75!! But there you go!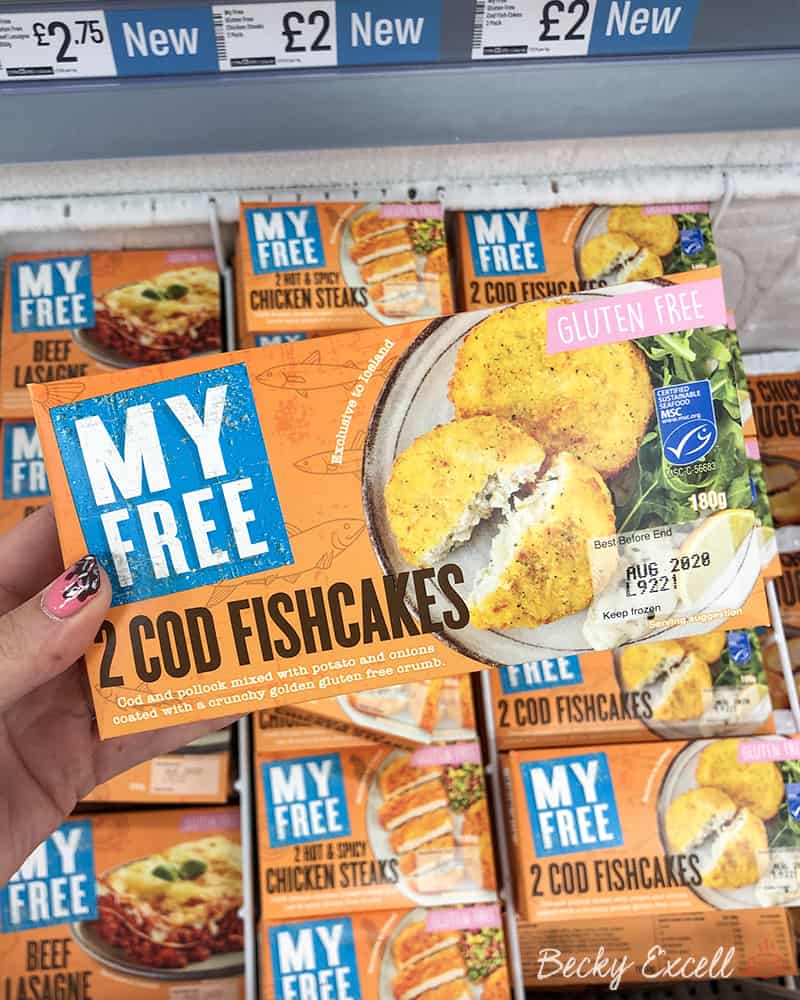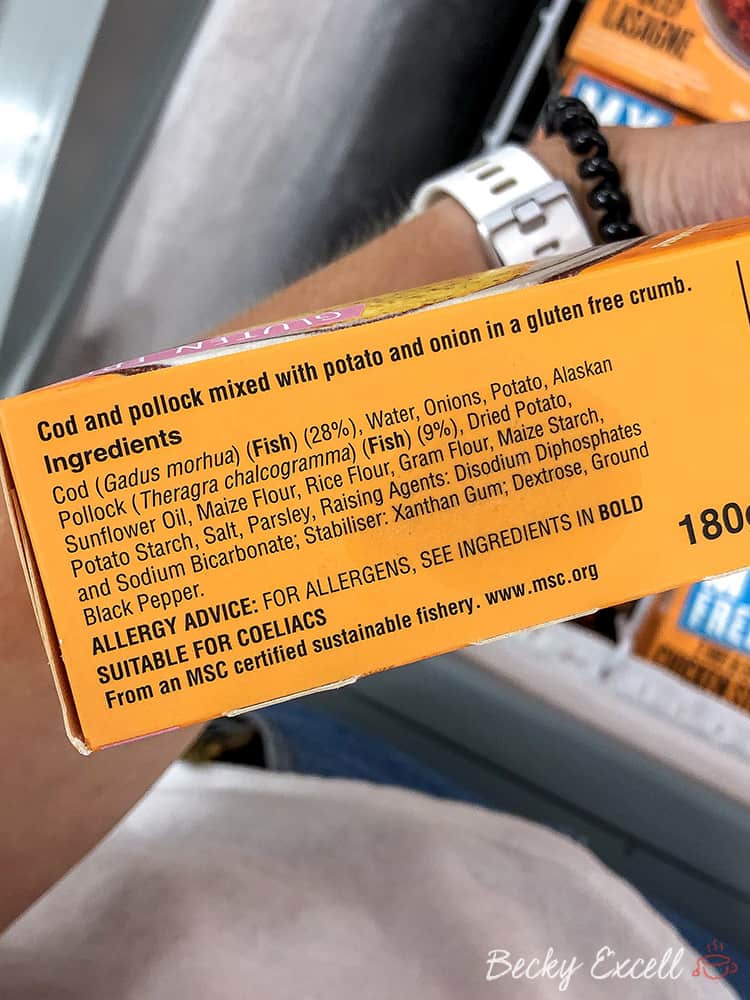 4. Iceland's MY FREE 10 Southern Fried Chicken Goujons, £2.50
Gluten free southern fried chicken goujons are my absolute dream! But just so you know, in Tesco, you can get 300g of southern fried chicken goujons for £2.50, which is the exact same deal as it is here in Iceland.
On another note, it's pretty sad for me as everything so far contains onion and it just does not agree with my stomach one bit. If your stomach is like mine though, keep scrolling because there is something we can eat!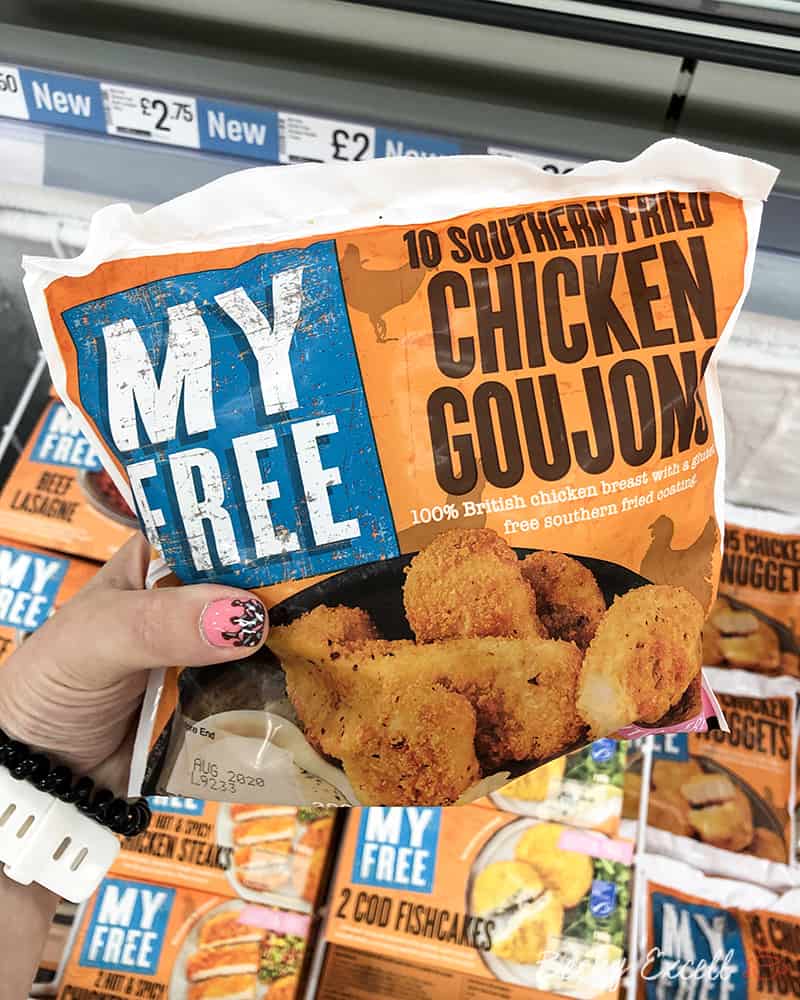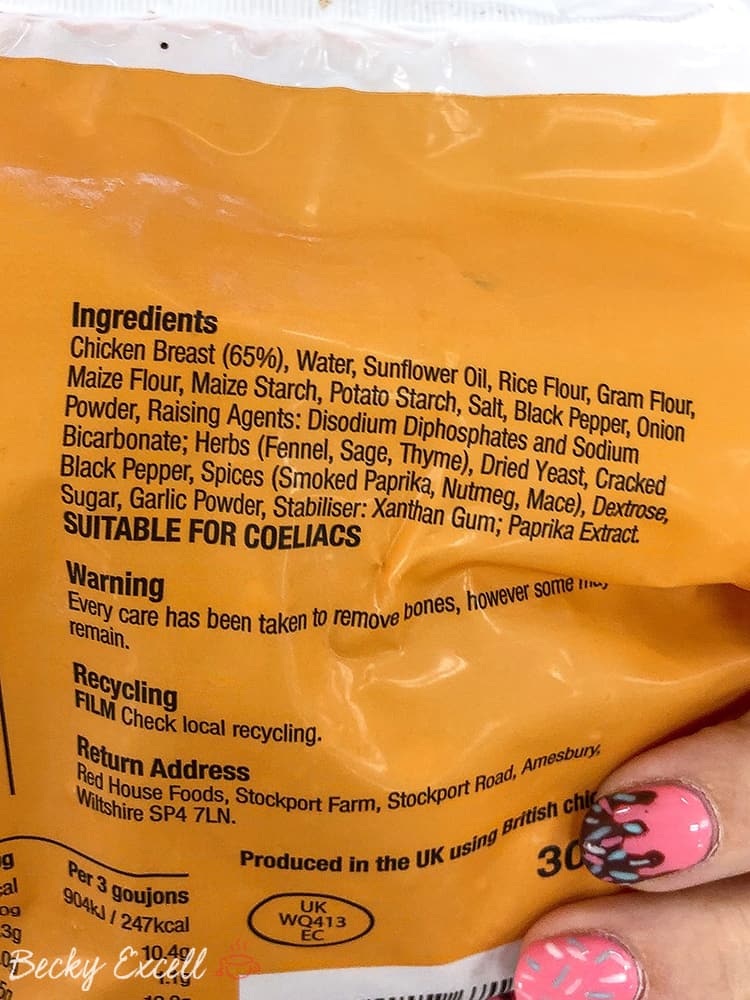 5. Iceland's MY FREE 4 Vegetable Burgers (Vegan), £2.00
As far as I know, I haven't really seen a breaded gluten free veggie burger quite like this, so it's hard to compare prices here. So this is quite a nice, new unique product as far as I know!
I absolutely used to love these as a kid, even though I refused to eat any actual vegetables ? Now we've got a gluten free version!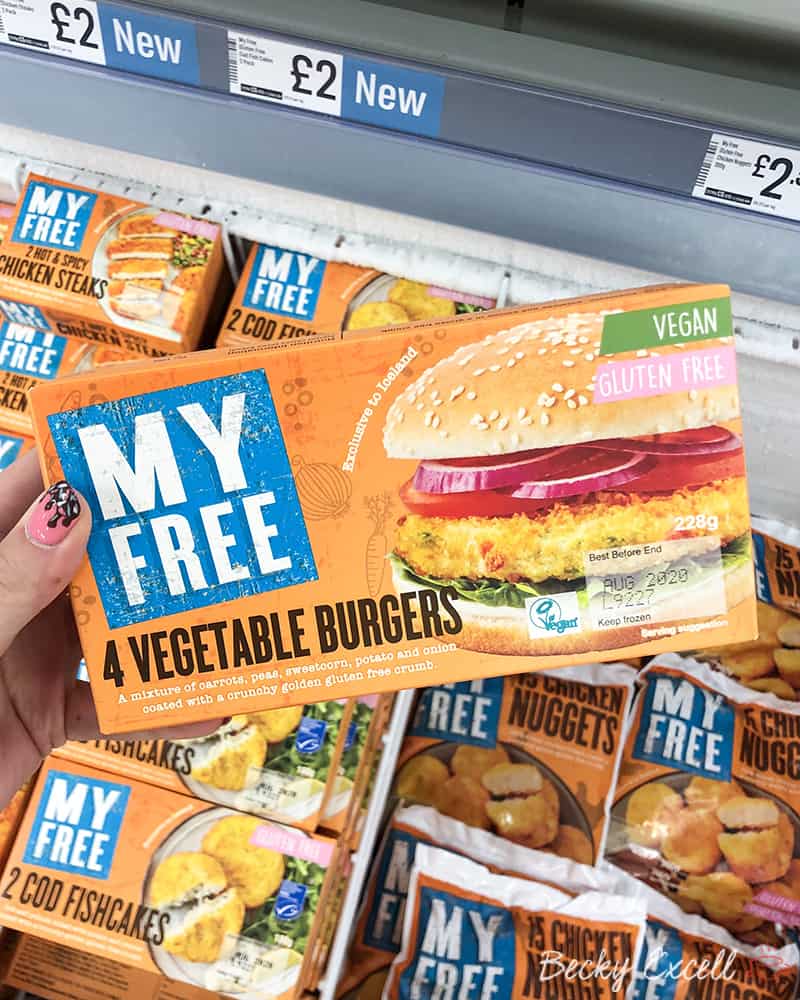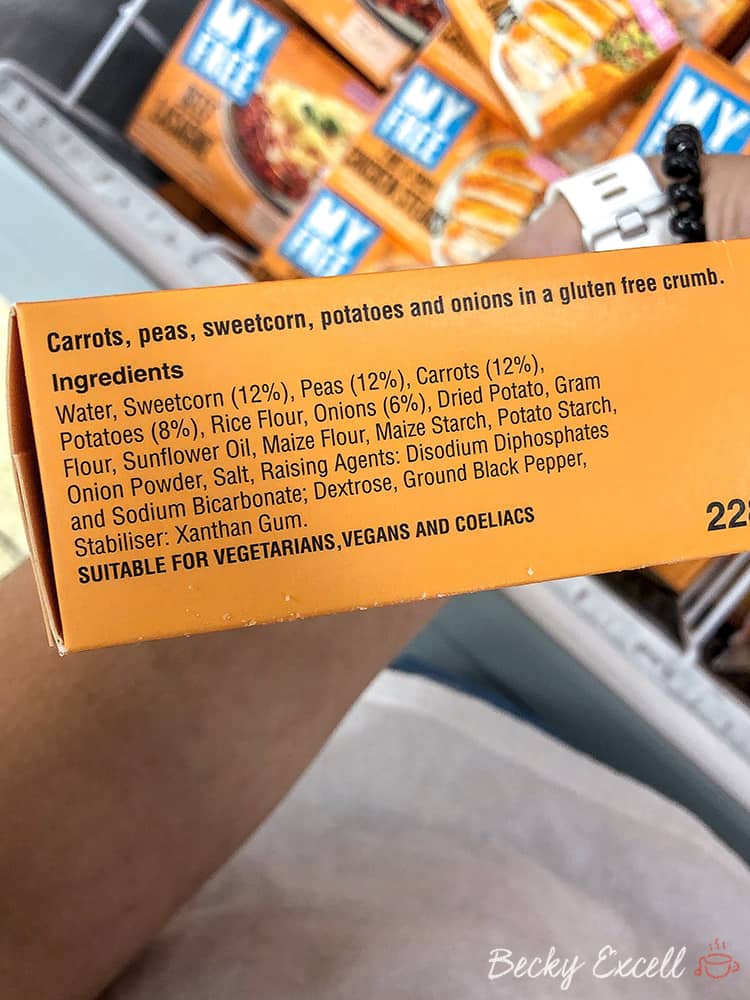 6. Iceland's MY FREE 15 Chicken Nuggets, £2.50
Who doesn't love a good chicken nugget?! It's £3.50 for 400g in Sainsbury's whereas it's £2.50 for 300g here. That does still work out slightly cheaper per nugget when buying at Iceland!
(Yes I did get my calculator out again)
Also hooray, something that doesn't contain onion! ?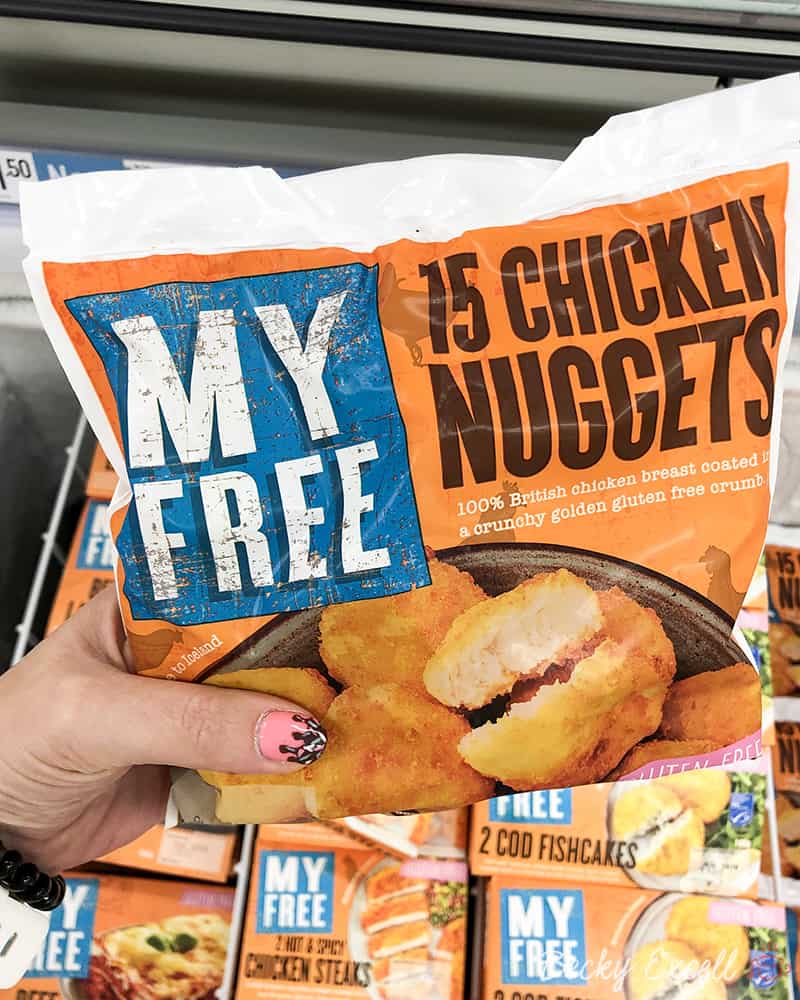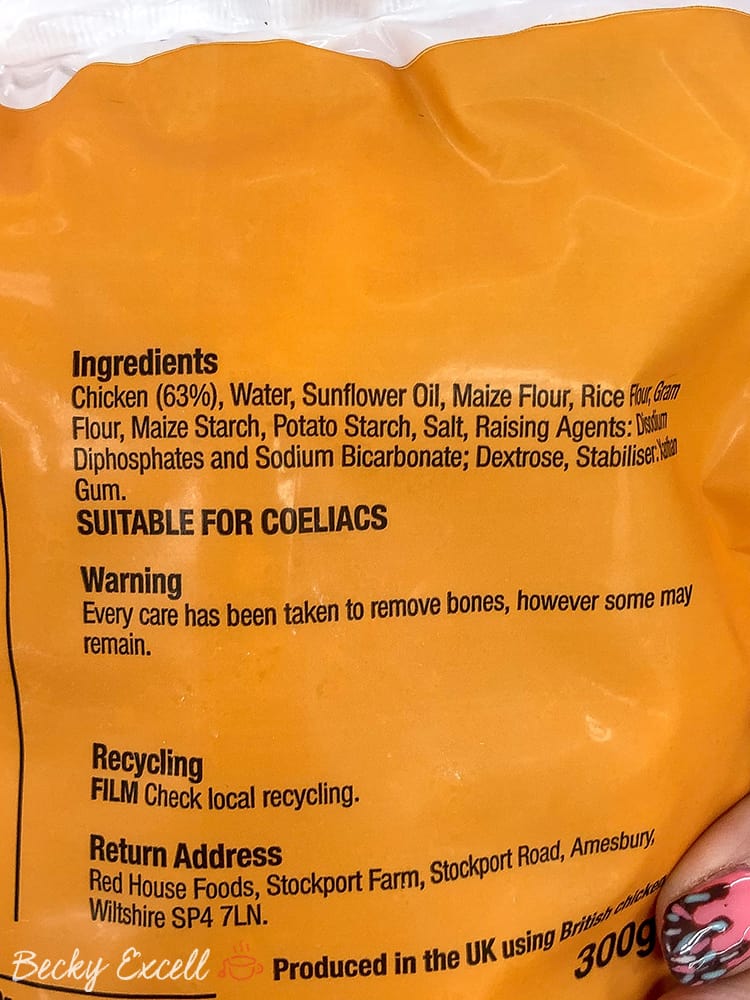 7. Iceland's MY FREE 4 Chicken Burgers, £2.00
Last but not least are these gluten free chicken burgers – breaded, not battered FYI. I was hoping to make my own McChicken Sandwich, but this is close enough I guess!
IIt's £2.20 for 4 free from chicken burgers in Asda, so that's another win for Iceland here!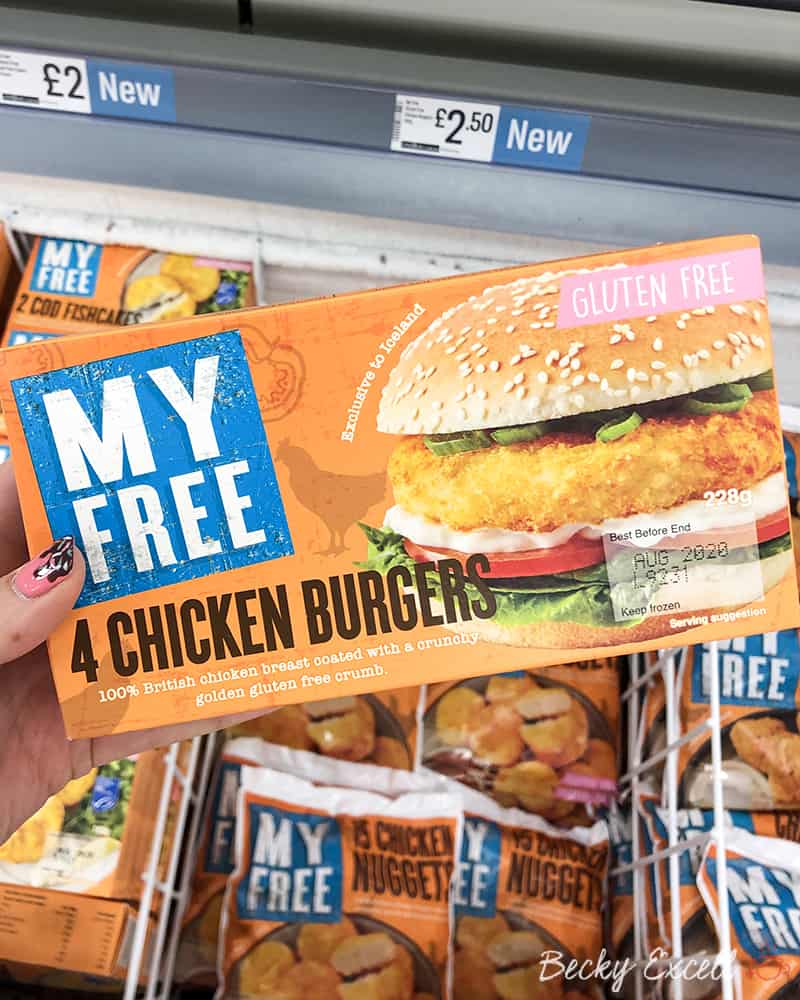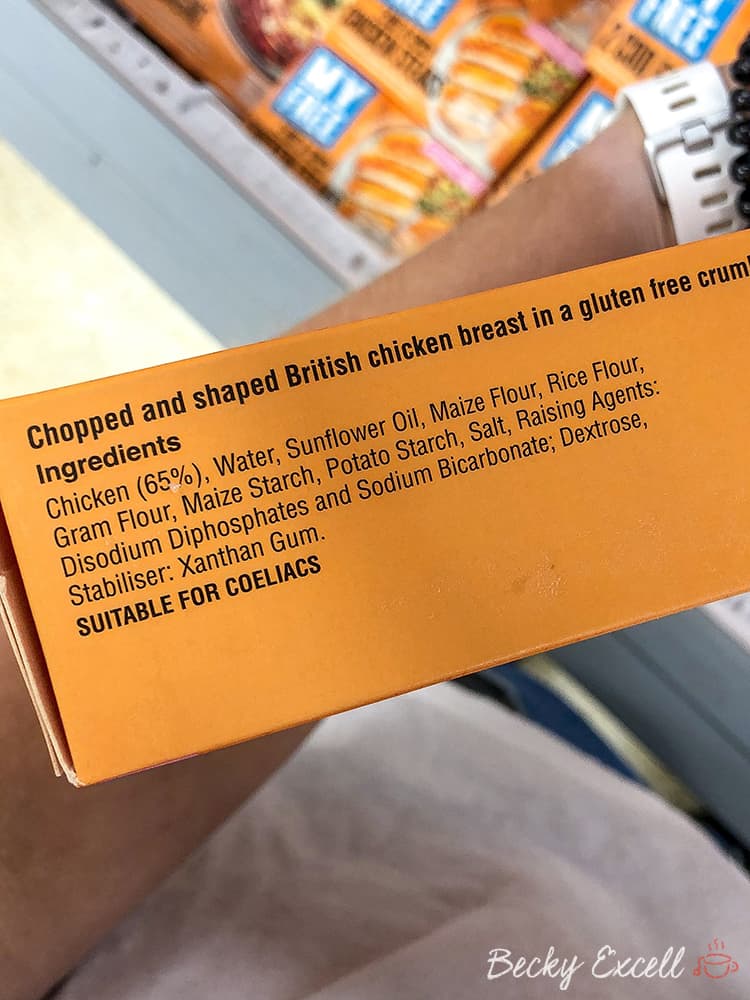 That's everything you need to know about Iceland's new gluten free range!
So what do you think? Is there something in that list that appeals to you? (especially since the prices are quite appealing for once!) Would you prefer if Iceland had a full free from aisle like in the bigger supermarkets? (with bread, cakes etc!) ?
Make sure you let me know your opinion in the comments down below ??
Thanks for reading,
Becky xxx
Comments