Calling all gluten free folks in Barcelona! Here's 5 reasons you need a gluten free pitstop at Conesa Entrepans in Barcelona and trust me, you do!
For us, Barcelona meant exploring and exploring means tired feet, empty stomachs and general hangry-ness! Fortunately, we found an *awesome* place to eat lunch, so I had to share it with you all. So here's 5 reasons you need a gluten free pitstop at Conesa Entrepans in Barcelona…
(oh and if you're looking for the location/address of this place, just check out number 7 in my gluten free guide to Barcelona by clicking here)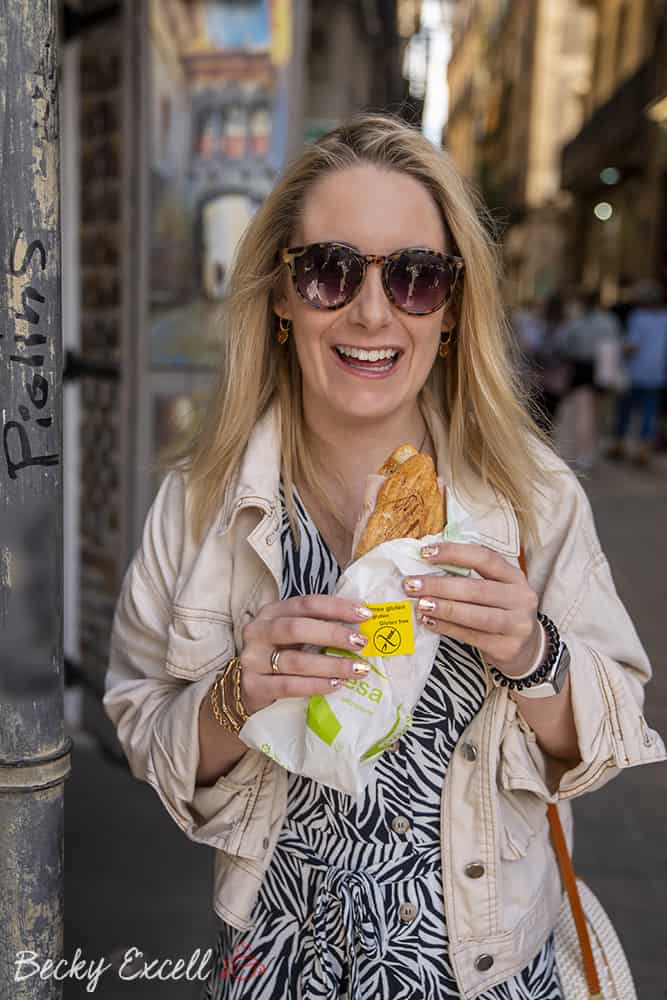 1. It's all freshly prepared.
Conesa Entrepans is basically the sandwich/panini shop of my DREAMS and I wish stuff like this existed at home in the UK.
I mean, it's awesome we can get a gluten free sandwich on-to-go from somewhere like M&S, but I'm talking about freshly prepared, freshly toasted, fresh ingredients here.
You just can't beat it! I mean… I just have to stop and say that the gluten free bread they use is *awesome* and heated up with all those lovely fillings? Well, it's just a real gamechanger!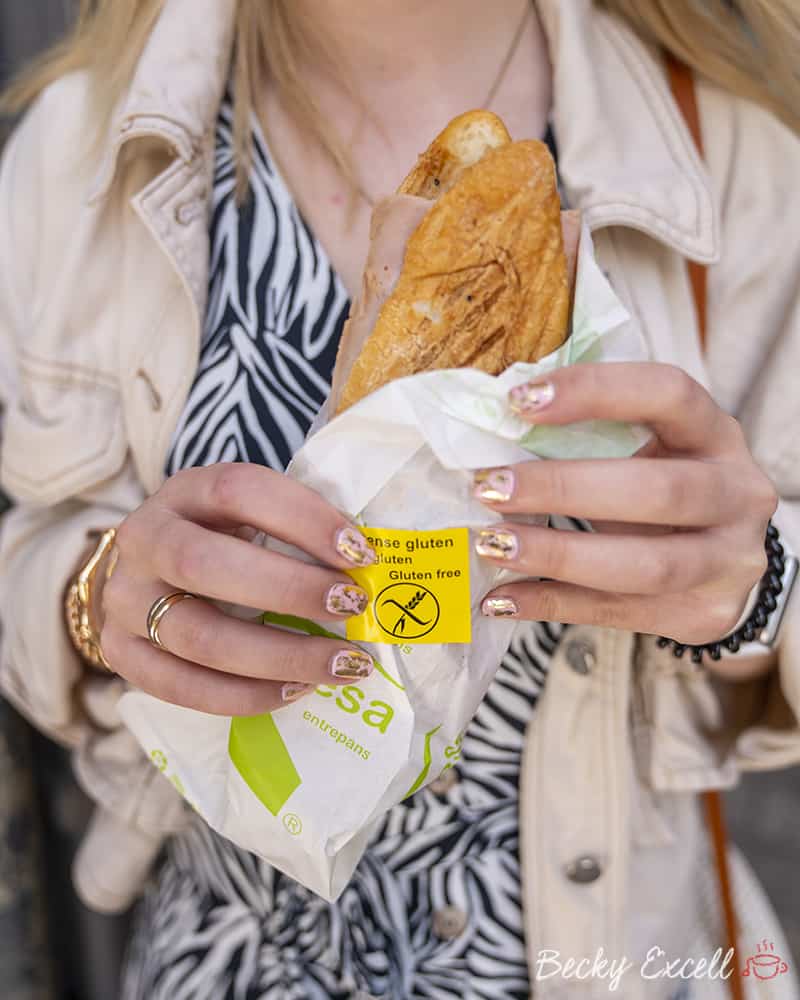 2. The 'zona sense gluten'.
And not surprisingly, the reason that gluten free food is so rarely freshly prepared for us is because places can't guarantee a safe environment when it comes to cross contamination.
As Conesa Entrepans isn't a fully gluten free place like quite a few places in Barcelona I've already blogged about, my mind started racing about potential cross contamination etc.
But then Mark spotted (and stealthily took this photo!) that they have a 'zona sense gluten' which of course, is a 'gluten free zone' where my food was prepared and toasted.
When I ordered mine, they started shouting 'sin gluten' across the kitchen area and then the sandwich arrived with a clear gluten free label on it too. Result!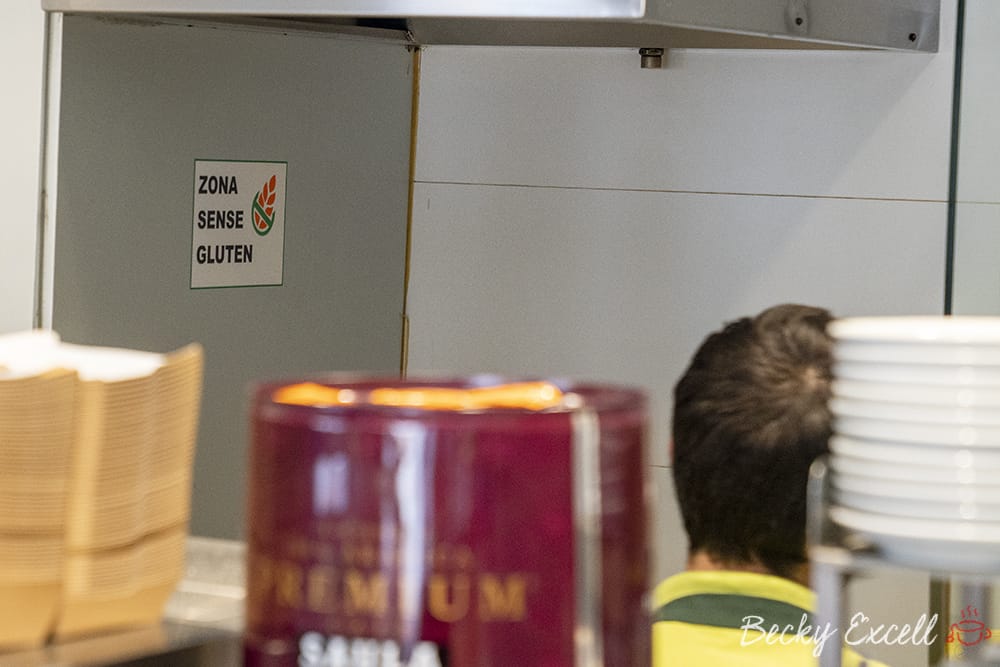 3. The gluten free cakes. Yes, they have some too!
And as if the gluten free sandwiches weren't enough, they also stock a small selection of gluten free cakes which are all pre-wrapped to avoid any risk of cross contamination.
Even though they were just a few simple options like a brownie, macaroon and a lemon slice it's awesome that this little tiny sandwich shop somehow manages to have more choice than we get in the UK!!
Now you know why Conesa is my fave place for a gluten free pitstop in Barcelona! I took a couple of cakes away for later ??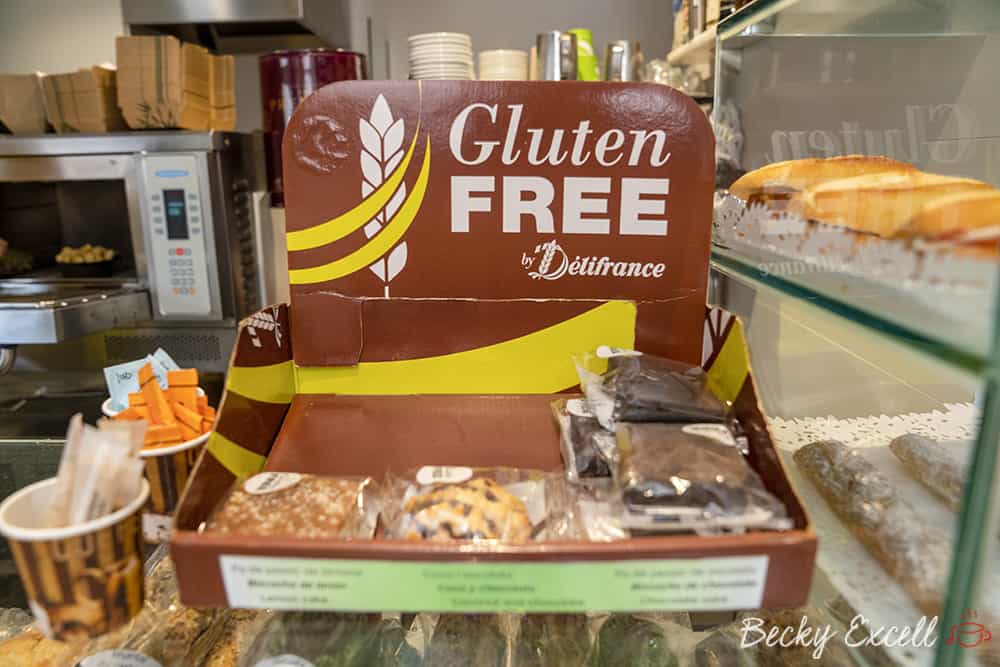 4. It's just over 5 minutes from La Rambla.
Now, myself and Mark are more than happy to go hunting for aaaall the awesome gluten free cafes, bakeries, restaurants and more when we're on holiday.
(after all, blogging is my job I suppose even if that makes it then sound really boring!)
So while we went quite out of our way to track some of these places down for you, but I know that a lot of you guys may not always have that luxury. But that's why Conesa is one of those that gives you no excuse NOT to visit.
Chances are, you'll find yourself somewhere along Barcelona's famous street, La Rambla, and Conesa is only 5 minutes away from the middle of it! So if you find yourself around that area and you're in need of a lunch pitstop, then don't forget about this place.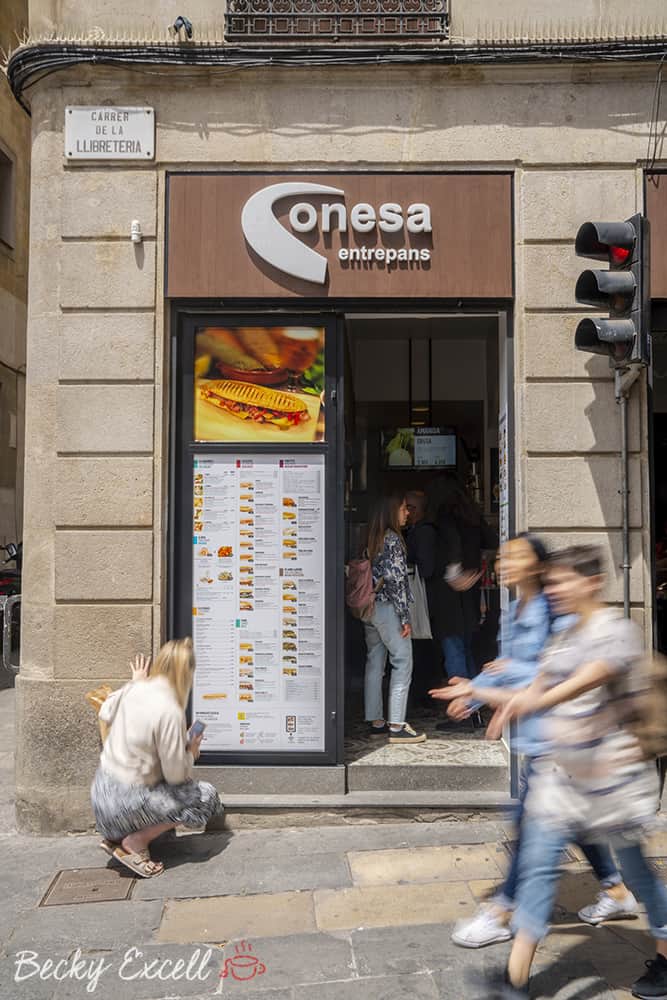 5. You can basically order anything on the entire menu.
The menu is huge, with tons of different fillings and sides and it's just a matter of telling them that you want gluten free bread instead of regular bread.
That's it!
Oh and also, even though it's only a little cafe, they do have some indoor seating inside if the weather isn't playing ball. We walked down the hill and sat in a nice little square in the sun and ate ours!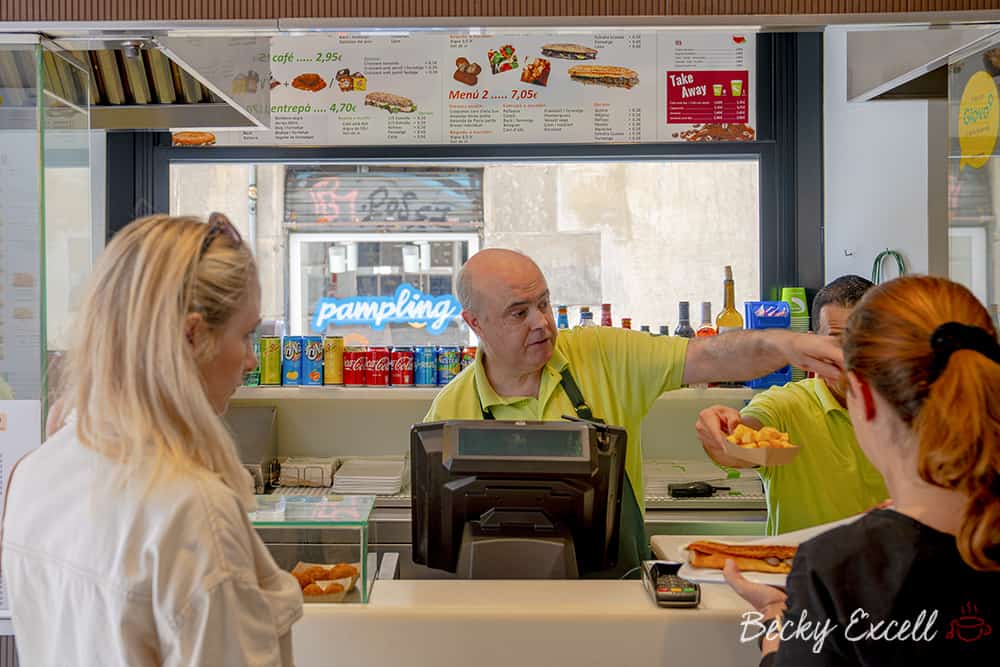 Thanks for reading about my experience with Conesa Entrepans in Barcelona! If you find anymore places that you would recommend I visit, just drop me a message in the comments below, or on Facebook / Twitter / Instagram. Also, if you've been here, let me know your review in the comments below – hopefully this post will be a good guide for those thinking of visiting themselves!
I really can't wait to go back to experience some more gluten free in Barcelona asap! Don't forget to check out my post of the 30 BEST places for gluten free in Barcelona for 35 more places to eat.
Thanks for reading,
Becky xxx
Oh and don't forget to pin this for later!