I've already sung the praises of one gluten free bakery in Barcelona but… here's another! And also, here's 5 reasons to stop by Pasticelia Gluten Free Bakery in Barcelona…
Wait a minute… can we all just appreciate the fact that there's more than one gluten free bakery in Barcelona?! How mad is that? If you haven't booked your trip to Barcelona yet, then what are you waiting for?! If you need convincing then read on for 5 reasons to stop by Pasticelia Gluten Free Bakery in Barcelona…
(oh and if you're looking for the location/address of this place, just check out number 12 in my gluten free guide to Barcelona by clicking here)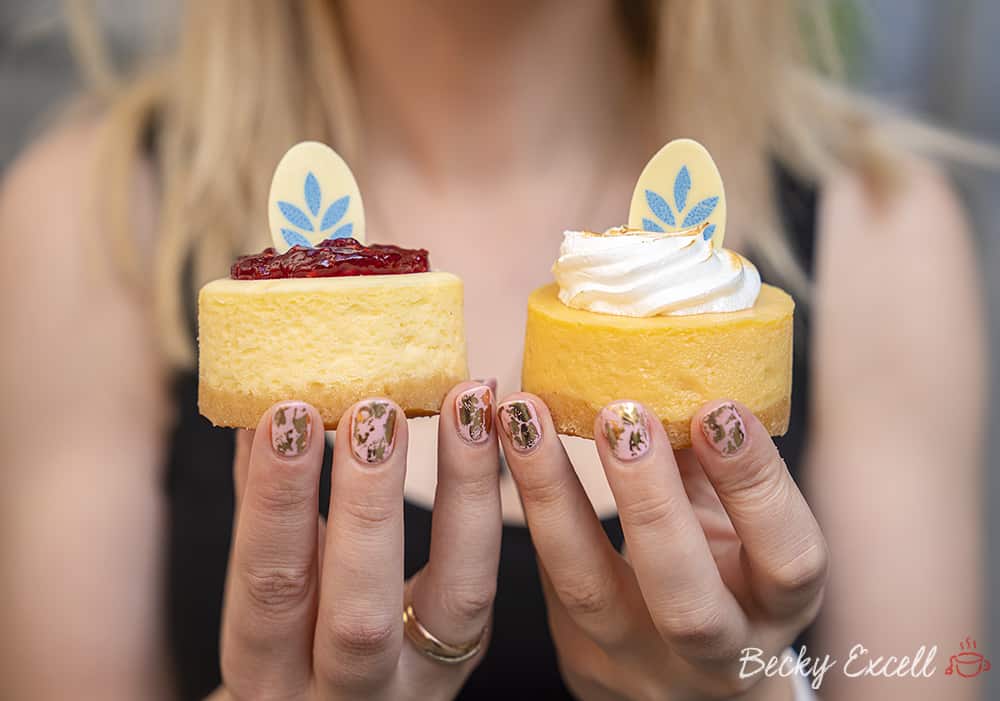 1. It's 100% gluten free.
Yep, like I said, Pasticelia is yet another 100% gluten free bakery in Barcelona. Everything is gluten free. Now you hopefully know why I've been raving about all the gluten free places in Barcelona ever since I came home!
(realistically, I needed to go for two weeks instead of one, though I think I ate two weeks worth of gf food while I was there ?)
There's no risk of cross contamination because everything is gluten free! Which leads me to my next point…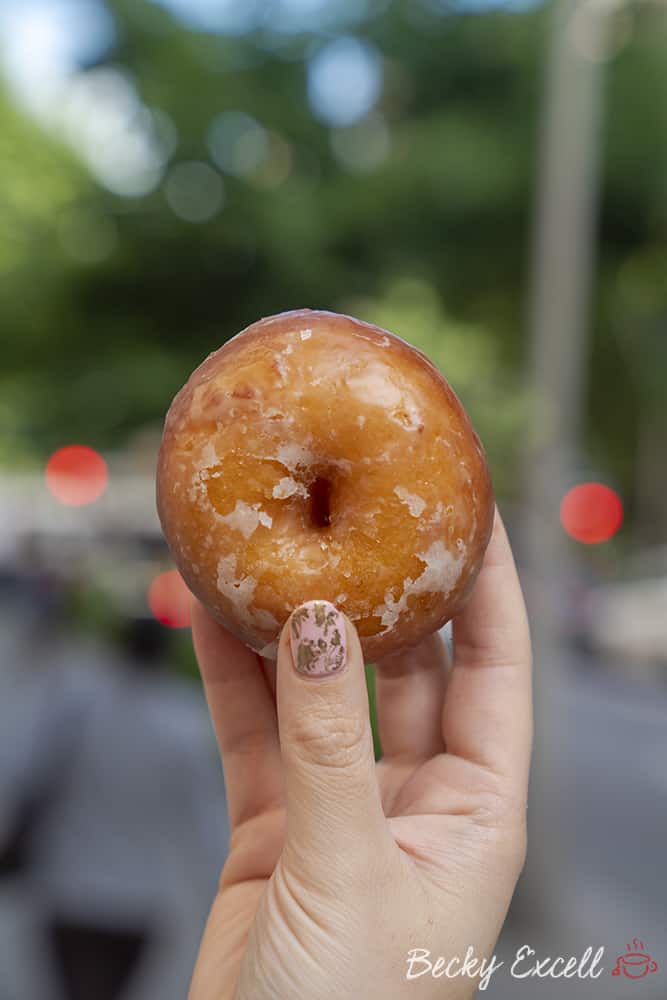 2. They have a 'no gluten on site' policy.
I'm not even joking. You're not allowed to even bring gluten into the shop, fullstop!!
(oh how I wish places in the UK would be even half as good as some of the places I've visited in Barcelona)
How do I know this? Well, Mark and I had just walked in holding a pizza box with leftovers from lunch… and we were quickly asked if the food inside the box was gluten free or not… at first I thought the lady wanted a slice or something!
It turns out that they do check whether or not that the food people bring in is gluten free. How awesome is that?
Fortunately, my pizza was gluten free of course! But I was so impressed how seriously they took cross contamination – I've never seen anything like it.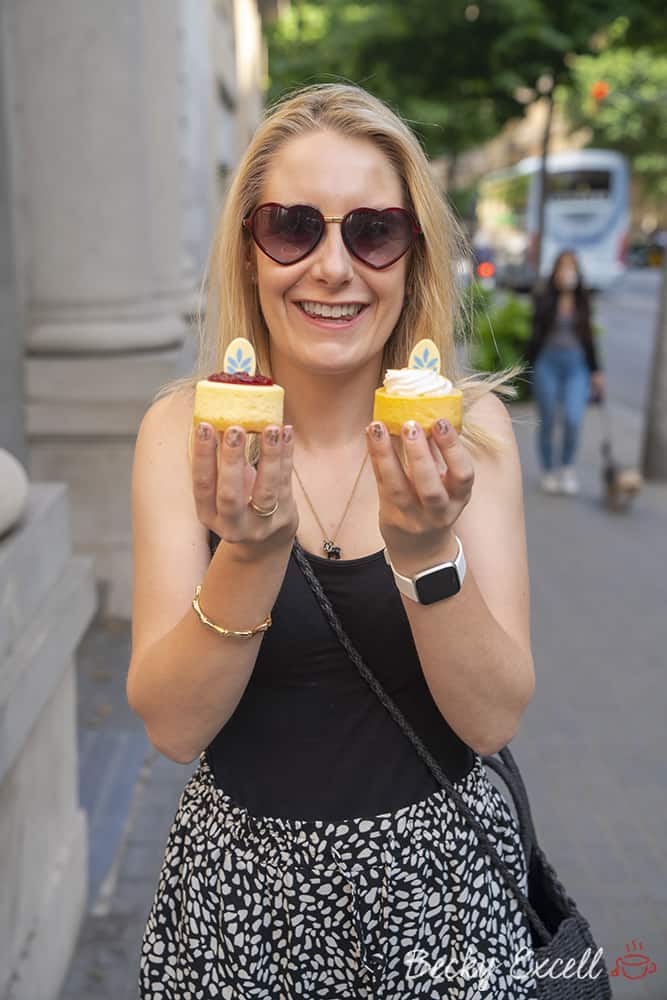 I've also seen a few of the other gluten free places we visited displaying some sort of 'no gluten' sign on the door, meaning you're not allowed to bring gluten into the shop.
Seriously, you just have to see it to believe it.
So there's another massive tick for how awesome it is to be gluten free Barcelona!
3. The amazing selection.
So once we got in after being interrogated about a pizza (?) we were greeted with an amazing spread of fresh gluten free cakes, croissants, biscuits, donuts, pastries and probably more that I couldn't even remember!
To go from being at home where a gluten free brownie is often your only option… and then going to Pasticelia where you can pick anything you fancy… well, it's just like night and day!
After standing there drooling for about 10 minutes and taking way too many pictures so I could show you guys, I eventually narrowed down my selection. But it was tough!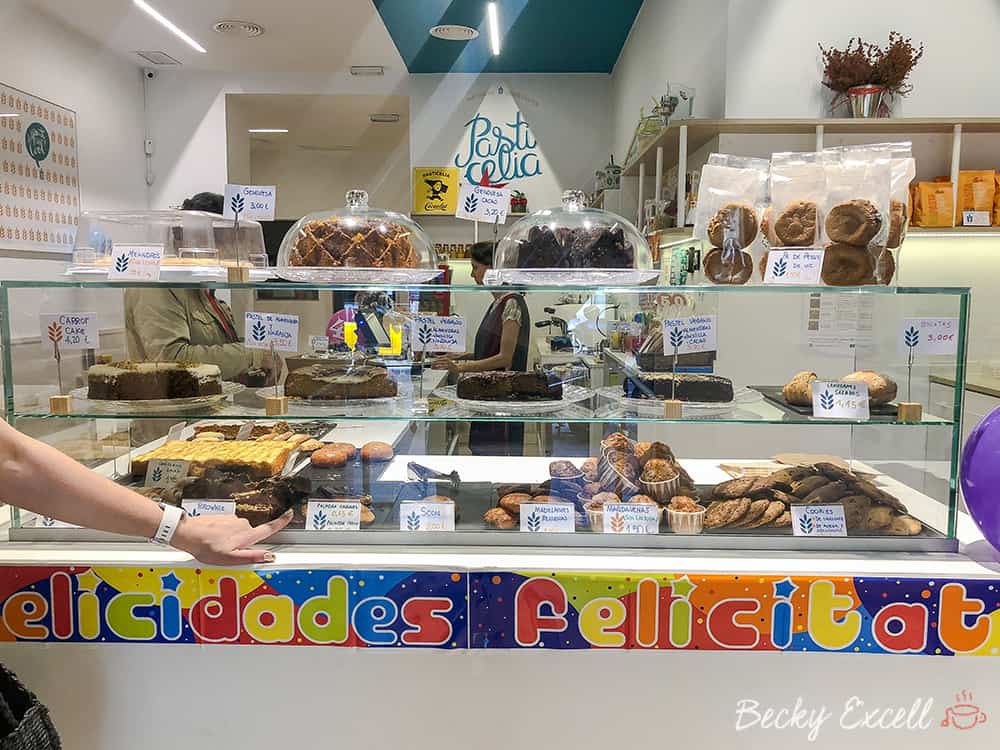 4. The cakes.
But what would a great selection be if everything tasted awful?!
(a bit like how I'd describe scrolling through a billion films/tv programmes on Netflix having already watched everything half decent)
Fortunately, everything. tasted. awesome.
Honestly, I don't know what it is about Barcelona in particular, but they seriously know how to bake gluten free cakes, pastries, biscuits etc.
The pastry tastes like ACTUAL pastry – light, flaky and buttery. Honestly, give the croissants a try because you won't regret it!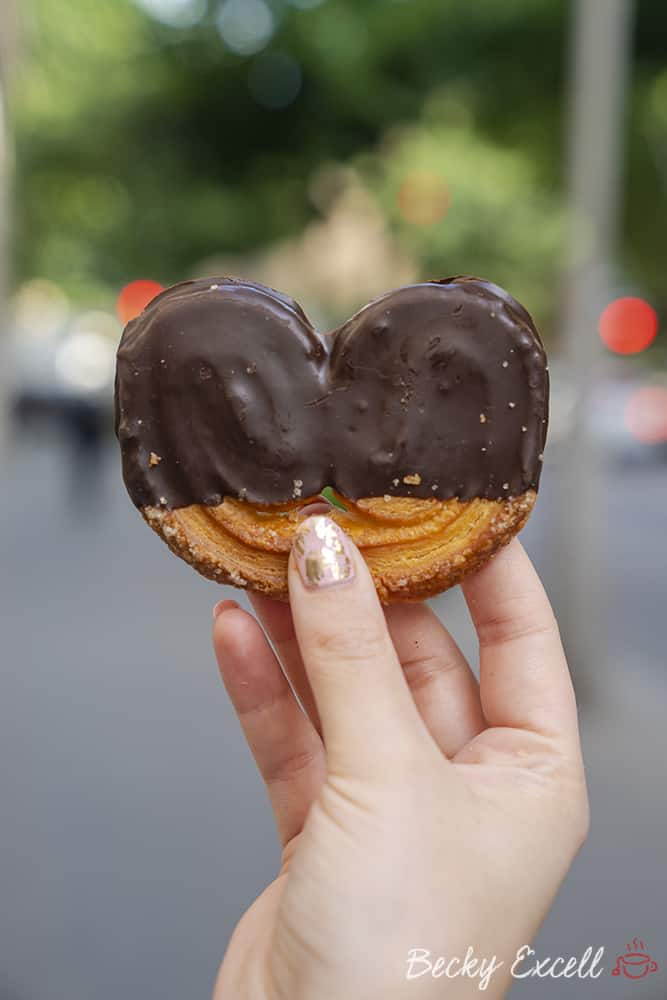 5. They have seating inside too.
Hooray! I know this isn't that exciting and especially not vital when it's sooo bloody sunny in Barcelona 99% of the time.
But when we stopped by, the weather wasn't exactly great (we went in May) so it was nice to have the option of somewhere nice to chill out and enjoy epic gluten free baked goods!
Of course, you can get a takeaway too as you can see in the photo below – they package everything up so well!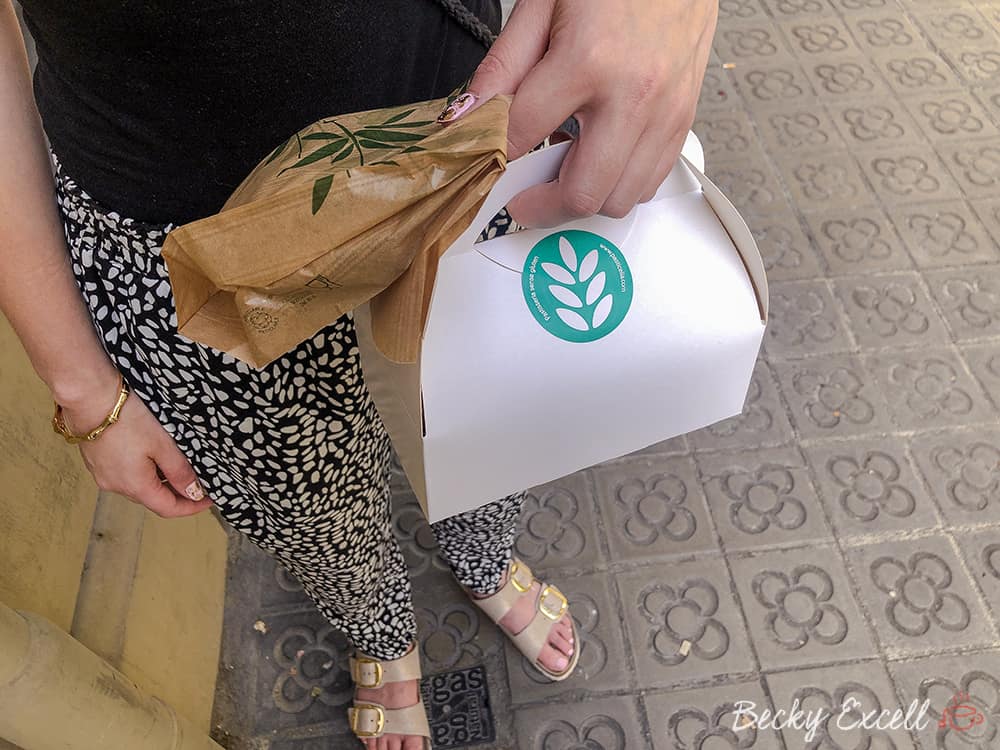 Thanks for reading about my experience with Pasicelia in Barcelona! If you find anymore places that you would recommend I visit, just drop me a message in the comments below, or on Facebook / Twitter / Instagram. Also, if you've been here, let me know your review in the comments below – hopefully this post will be a good guide for those thinking of visiting themselves!
I really can't wait to go back to experience some more gluten free in Barcelona asap! Don't forget to check out my post of the 30 BEST places for gluten free in Barcelona for 35 more places to eat.
Thanks for reading,
Becky xxx
Oh and don't forget to pin this for later!