Gluten free in Barcelona? You've come to the right place! When it comes to food in Barcelona, I just felt like a normal person again who could choose to eat whatever they wanted. So here's my 'sin gluten' or 'sense gluten' guide to Barcelona!
And I want you to have that exact feeling too! That's why I absolutely HAD to create this guide to gluten free in Barcelona. Here's OVER 30 awesome places you NEED to visit! Oh and there was lots of lactose free and dairy free options for Mark too so I'll mention that were applicable too. Ok, let's get started…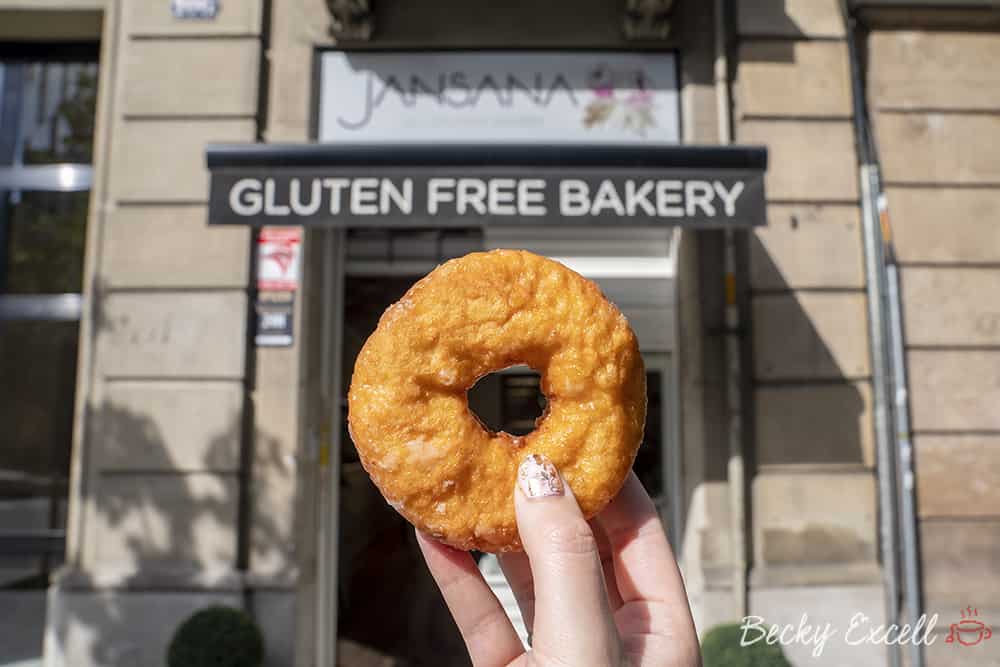 Just like in my gluten free guide to Rome where lots of restaurants are accredited by the AiC (the Italian Coeliac Society), in Barcelona lots of places are accredited by the Catalonia Celiacs Association.
You can check their website out for lots of good info (Google translate is your friend!). Not only that but lots of the restaurants and cafes I mention in this guide have Catalonia Celiacs Association stickers on their door, many going back years and years.
Saying that though, plenty of amazing restaurants for gluten free in Barcelona don't have accreditation and they are very suitable for coeliacs. Hopefully my guide here will help you out, alongside a bit of your own research too 🙂
Here's my guide to gluten free in Barcelona…
1) Gula Sana, Carrer de la Diputació, 361, 08009 (my fave overall for gluten free in Barcelona)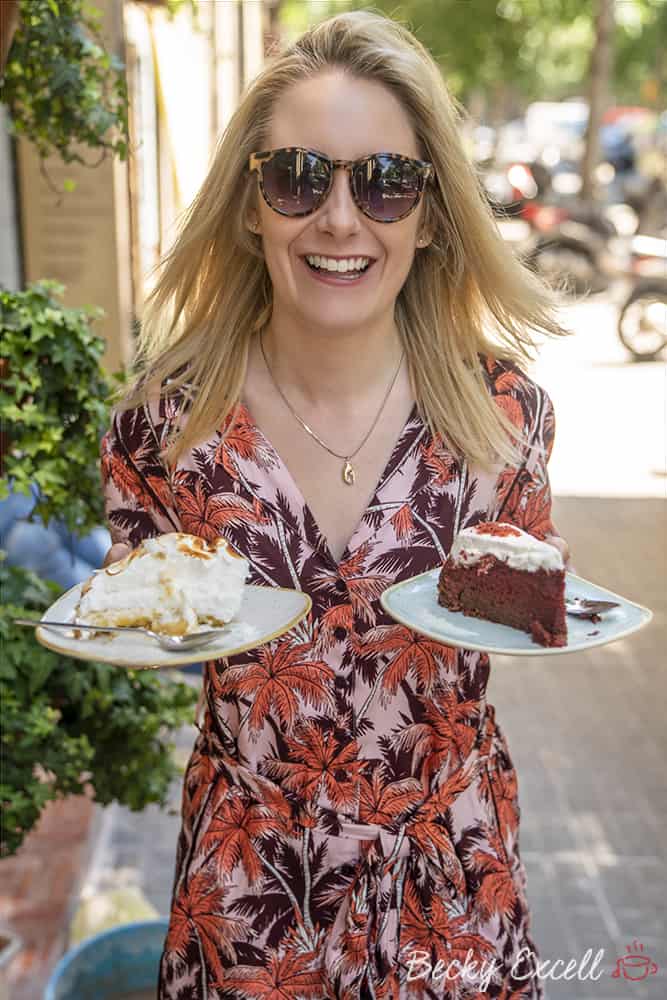 I've started my guide to gluten free in Barcelona with Gula Sana because for me, it really did have it all. It's a 100% gluten free cafe that's the perfect place to go for breakfast, brunch or lunch. We popped in for brunch (and actually met someone who follows me on Instagram there, so hello if you're reading this!) and it was awesome.
I went for the eggs benedict with grilled sweet ham and Mark had a Breton galette with lactose free cheese, ham and eggs. It was a great start to the day and I could have eaten brunch there every single day if I had the chance!
We also decided we had a little bit of room after our brunch so ordered a couple of different cakes to share. They have a huuuuge counter filled with fresh gluten free cakes, pies and cheesecakes.
We opted for a slice of the red velvet cake and a slice of the lemon meringue pie and both were absolutely insane. The red velvet was the best I've ever had! You can also get a wide range of other cakes and traditional Spanish biscuits too.
Besides the brunch that we had they also offer pancakes, sandwiches, nachos, croquettes and empanadas – so definitely something for everyone at any time of day! (They're open 9am – 9pm everyday FYI)
We even went back a little later as we were passing again to get an ice cream, as yes… Gula Sana even do gluten free ice cream in a cone. I mean, what more could you want from a little cafe?! NOTHING.
Click here for my full review of Gula Sana.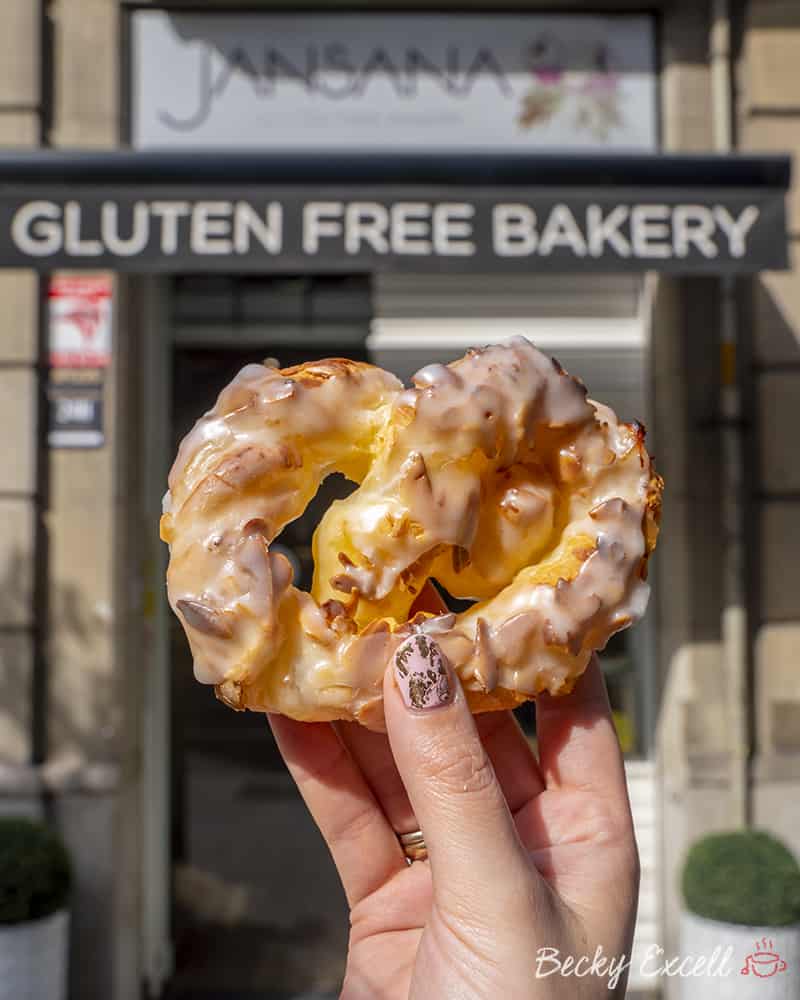 The Queen of gluten free bakeries across the land has got to be Jansana. Every single gf person who's ever been to Barcelona shouts about this place and rightly so. We were SO lucky that our hotel was a 5 minute walk from Jansana – it was very dangerous but very delicious indeed!
You can tell this place is popular just by the sheer amount of people constantly coming and going, and that doesn't stop the service being fab! Everyone was so, so friendly here.
The options are just silly here… they are too good! For an indecisive person like me, it was sooo hard. The pastries I had tasted better than anything I've ever eaten before. The profiterole cream cake and the tiramisu were divine (two of my favourite desserts!)
They also have lots of doughnuts, other cream cakes, biscuits and a mad amount of fresh bread. It's a gluten free heaven inside that you must not miss out on. I repeat, do not leave Barcelona without visiting Jansana!
Jansana is open till 8pm Monday – Saturday and until 2pm on a Sunday FYI. This is a must visit for gluten free in Barcelona.
Click here for my full review of Jansana Gluten Free Bakery.
3) Messié Pizza Sin Gluten, Carrer de Muntaner, 109, 08036 and Carrer de Siracusa, 15, 08012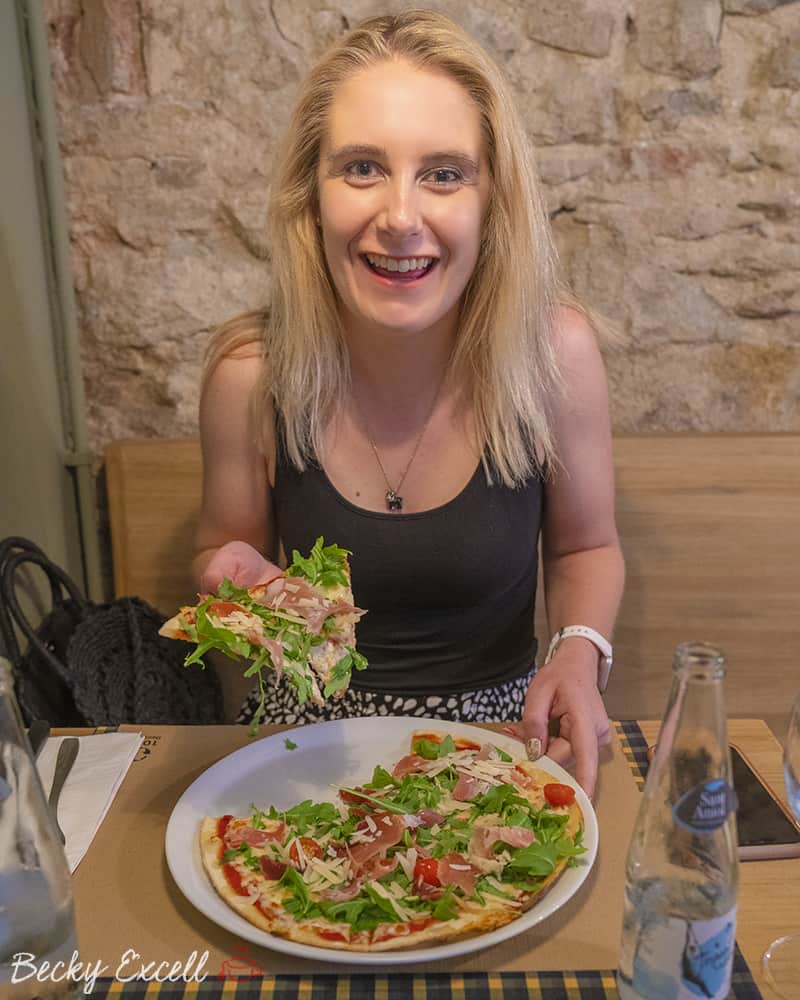 Our first evening meal in Barcelona was at Messié Pizza Sin Gluten which is 100% gluten free – and what an introduction to gf it was! It was really conveniently located for us but I would have travelled far to go!
With the restaurant being 100% gluten free it meant that Mark was going to have a gluten free pizza as well, he honestly said it was one of the best he's had… and he can eat gluten!! They do also offer both lactose free and vegan cheese too.
(Dairy free side-note: I've found a lot of places in Barcelona cater really well for those who are lactose free and also for those who are dairy free and/or vegan. There are more options than most places I've been to.)
I went for the Madame pizza which was tomato, mozzarella, rocket, Serrano ham and Parmesan whilst Mark went for a veggie pizza. There wasn't even a crust left of either of our plates! They do also offer pasta dishes and salads if you don't fancy a pizza… but seriously, you need to try the pizza!
They also have the largest gluten free beer menu I have ever seen with 50 different choices!!! I wouldn't have a clue where to start!
Messié Pizza is open all day everyday so definitely pop it on your gluten free Barcelona to do list!
Click here for my full review of Messie Pizza Sin Gluten.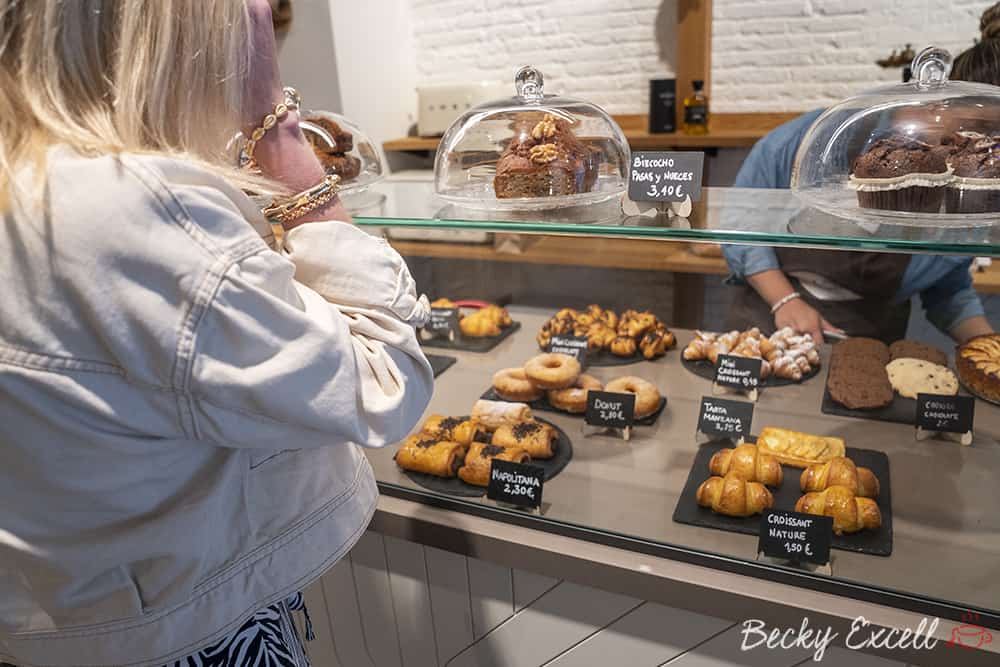 I was so excited to visit Amiette as I had heard soooo many good things about it. It did not disappoint! Yep, it's yet ANOTHER epic bakery in my guide to gluten free in Barcelona.
We visited a couple of times and on the first visit I bought some of their bread to try. Honestly it was so amazing – if you're like me you'll probably have missed eating a crusty french stick for yeeeears… but it Barcelona it simply isn't a problem.
We visited Amiette again on our final day to pick up a few things to take home with us. I bought more than a few croissants from here (mini ones and the full size ones) and they were amazing, I had them for a couple of days after we got home and they still tasted incredible!
100% make sure you get to Amiette for gluten free in Barcelona, it's a really fab bakery. It's shut on Sundays. During the rest of the week it's open all day except from 2pm – 4pm.
5) Cal Màrius 449, Carrer de Mallorca, 449, 08013

Cal Màrius 449 is a gluten free dream once again. This place is entirely gluten free and offers a wide range of traditional tapas as well as being a pastrami lovers dream. They use the hashtags #PastramiLover and #NoglutenNoproblem everywhere for good reason.
It's nice to find really traditional places that offer gluten free tapas in Barcelona as there aren't that many that safely offer up a wide range of things – but Cal Màrius 449 definitely does. They have a huge range of croquettes, Spanish omelette, cured meats, anchovies, cuttlefish (even frogs legs and snails if you fancy) and something on the menu called 'fried nose'?!
(I don't think I'm doing a great job of selling this so far!)
They also have a large selection of gluten free cakes and desserts – banana chocolate cake, red velvet cake, apple pie, Oreo style cake. They all looked amazing!
On this occasion I opted for what they specialise in, which is pastrami! They do so many different types of pastrami sandwich and bagels. Some are quite rediculous like the 'XXXL (Do You Have the Hunger)' bagel.
My bagel was quite big enough though and the bread was UNREAL. It's also quite close to La Sagrada Familia, so if you're in the area and fancy some tapas this is the place to go!
Oh and if you do go here and like beer, please order the one called 'The Walking Coeliac' – what an amazing name for a beer!! My guide to gluten free in Barcelona wouldn't be the same without this place!
6) En Ville, Carrer del Dr. Dou, 14, 08001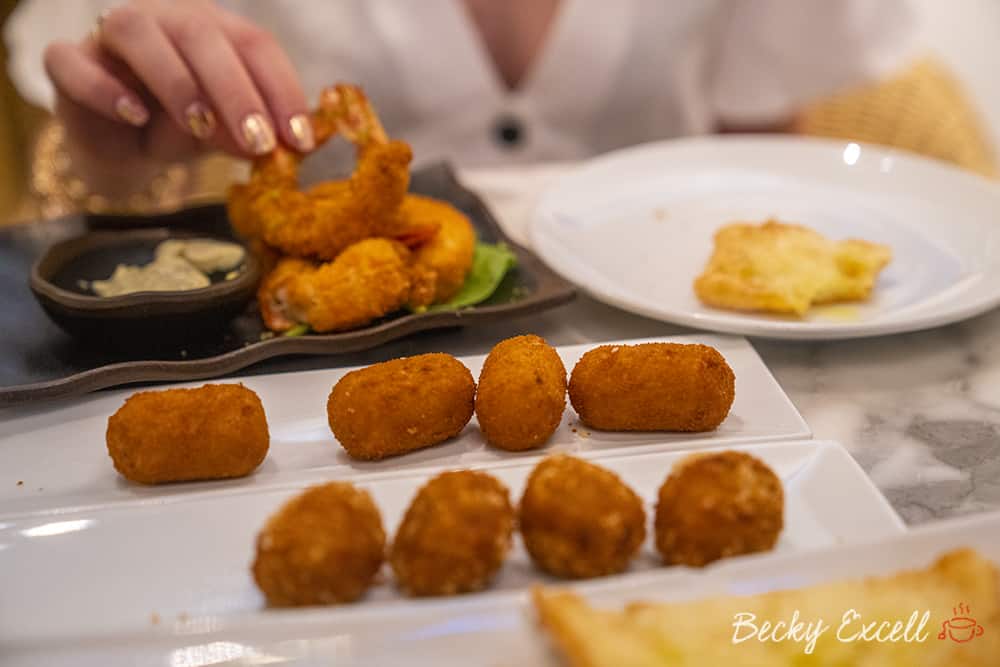 En Ville restaurant where the entire menu is gluten free, except they do offer regular bread as a starter for those who want it. They state on their menu how every single dish is suitable for coeliacs, which is a nice touch!
The menu is a traditional mix of Catalan and French cuisines, plus if you like your fine wines this is definitely the place to go. We went for a mix of croquettes, crispy prawns, gluten free bread (which was insanely good), a rocket and parmesan salad and some patatas bravas. Everything was absolutely delicious and I was able to order all of these without onion and garlic too.
If you were going to have a main instead of ordering a mix of stuff like we did, they do a paella, duck confit, grilled octopus, burgers, suckling lamb, Iberian pork rib – the list is endless, and everything we saw being served looked incredible.
I would definitely recommend booking ahead as it gets very busy here. They're closed on Sundays and shut between lunch and dinner every other day of the week just so you know!
7) Conesa Entrepans, Carrer de la Llibreteria, 1, 08002 (my fave lunch spot for gluten free in Barcelona)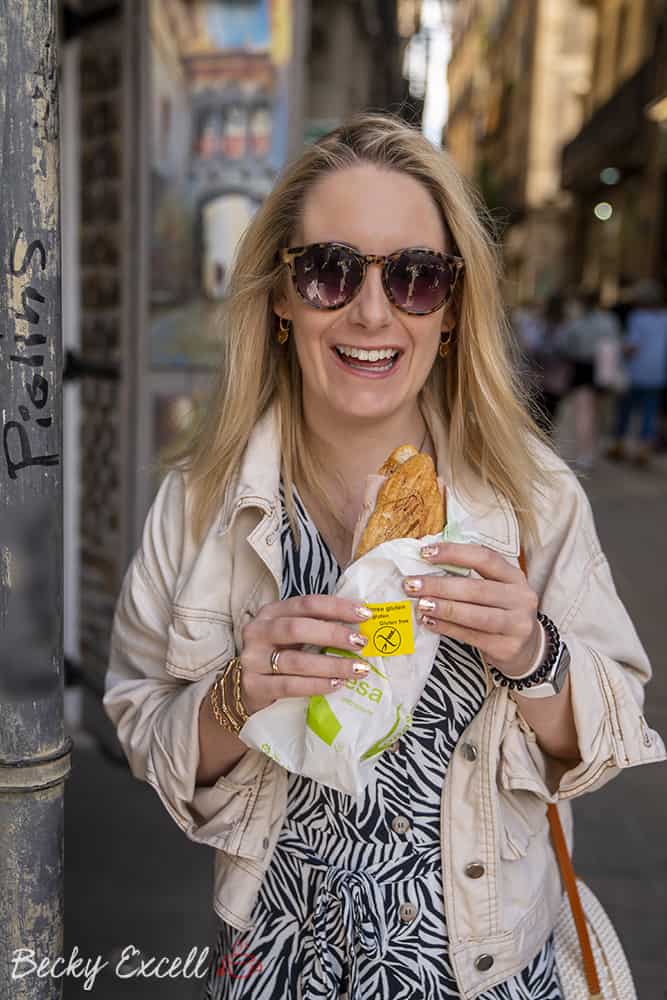 Conesa Entrepans in the sort of place I wish we had at home so badly!! I wish I could visit it everyday for my lunch and I'm not sure why it's so hard to get a decent, freshly prepared gluten free sandwich at home.
This place is a sandwich shop that understands gluten free better than anywhere I've ever been! You can order basically the entire menu (it's all very clear as well) and they safely prepare all the gluten free orders in a completely different area.
When I ordered mine, they started shouting 'sin gluten' across the kitchen area and then the sandwich arrived with a clear gluten free label on it. Result!
They have loads of hot and cold sandwiches to choose from. I went for a hot ham and cheese sandwich and it was amazing! It honestly did not feel gluten free at all, it was absolutely perfect and the bread… it was some of the best I've ever tried. EVER.
I've got to say Barcelona has offered me the best gluten free bread I've ever tried many times over.
I know for those who can eat gluten a place like this might not be super exciting, but to me it was such a luxury being able to get a hot gluten free sandwich on the go. You can also sit in if you want to. It's open all day until late except on Sundays when it's closed. This was my fave lunch spot for gluten free in Barcelona!
8) Out of China, Carrer d'Aribau, 112, 08036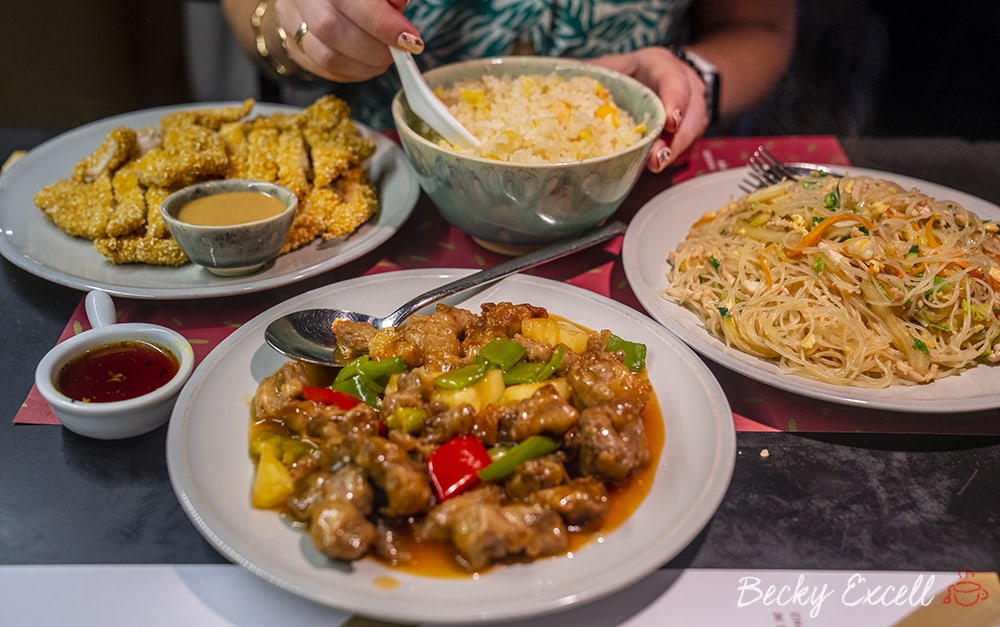 The biggest and best surprise of the trip for me was Out of China. A Chinese restaurant (yes you read that right!) that is accredited by the Catalonia Celiacs Association. The menu clearly states what's gluten free… and it's A LOT.
With me not being able to eat onion or garlic either I thought we wouldn't be able to come here, so I contacted them in advance and they told me it wouldn't be a problem at all as they cook everything fresh.
We were looked after so well by Chenming Wang (I want to put her name so as she was so helpful so if you're in a similar position, ask to speak to her!). She told me exactly what I could and couldn't eat onion and garlic wise and honestly we had the best dinner!
We ordered the gluten free fried bread and vegetable dumplings to start (both were amazing!) and then followed with sweet and sour Iberico pork sirloin, deep fried chicken with sesame, shrimp and coconut fried rice and cantonese noodles. It was a DREAM for us both as we never get to eat food like this together.
I was really sad that I just couldn't fit in a dessert. The gluten free options sounded amazing, they had incredible flavoured mochi (tiramisu, white chocolate and lime, milk caramel etc) but I really wanted either the carrot cake or the pancake with banana and chocolate. We went for a mint tea instead!
Basically I would really recommend Out of China for gluten free in Barcelona as we had a great experience; plus there were so many people ordering gluten free when we were there which made me feel very safe and happy!
9) Celiadictos, Carrer de la Pobla de Lillet, 5, 08028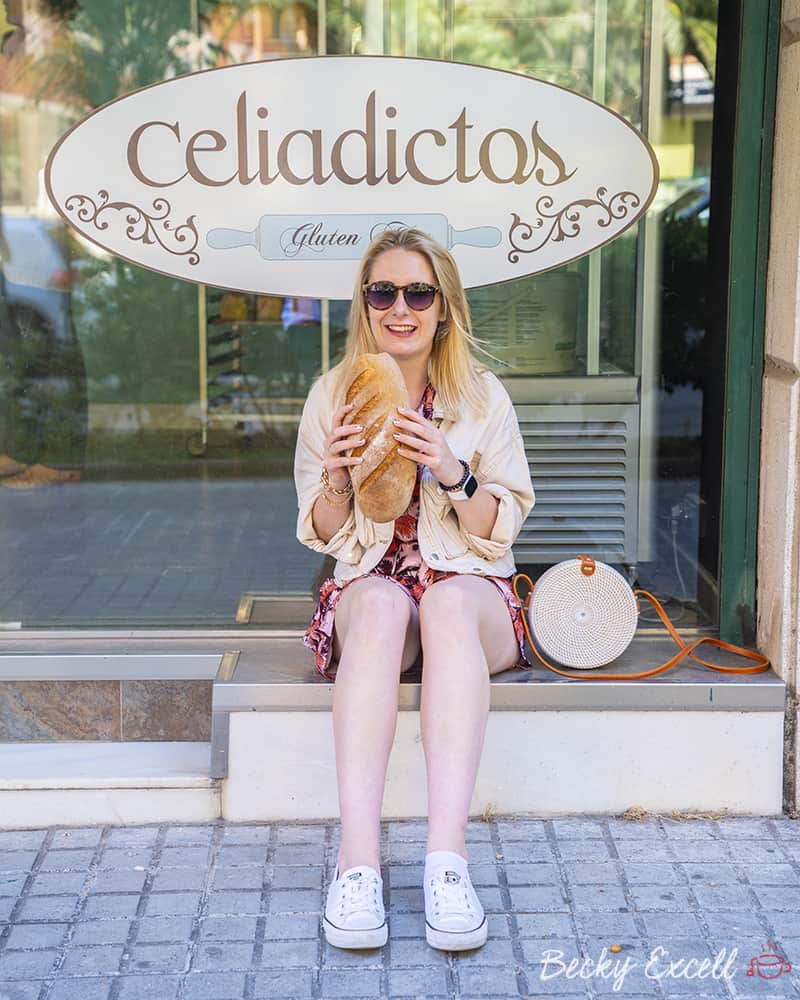 Yes, that's me sitting with probably the best loaf of bread I've ever tried – it was so good I just started eating it like that! Celiadictos is within walking distance of the Nou Camp if you're planning to go there. Otherwise make your way across anyway, trust me – it's a small bakery but one that you defo need to visit for gluten free in Barcelona.
Yep, once again, this place is 100% gluten free too. I love that you can see the bakers working hard in the room behind creating gluten free masterpieces! I know I've already mentioned the bread, but seriously, it was divine. I've never seen, smelt, felt or tasted a gluten free loaf like it. I'm sad I can't have some now!
They also do a huge range of cakes, pastries and cookies. I bought a pastry filled with chocolate cream, even the next day when I got round to eating it, it was pure heaven.
If for some reason you don't get the chance to pop across to Celiadictos as it's a little further out, then fear not! The likes of Cal Màrius 449 and Petritxol Xocoa do stock some of their cakes (I'm sure other places do too).
Celiadictos is shut on Sundays and Mondays as well as Saturday afternoons – but the rest of the week, they are open all day until 8pm! GO!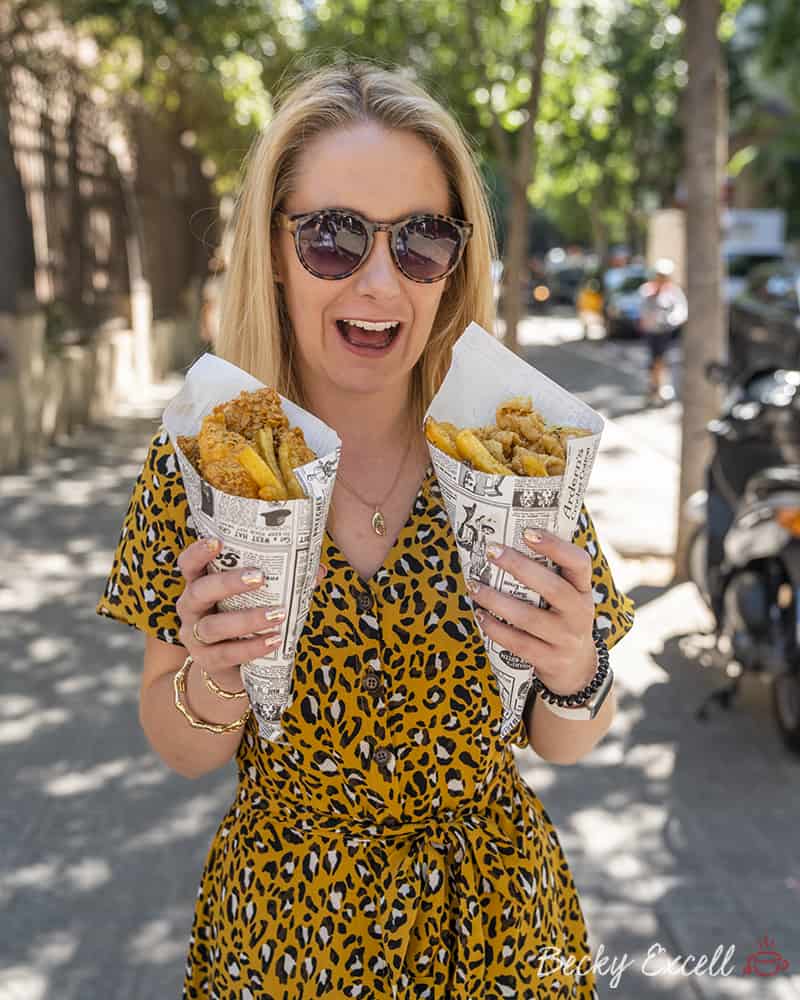 Gluten free fish and chips in Barcelona?! You didn't misread that! The Fish and Chips Shop in Barcelona has a few branches across the city but one of them is entirely gluten free – yes the entire menu! You can sit in or takeaway – either way your food can come in a proper traditional cone if you fancy!
They also have gluten free beer to wash it down with. Mark and I couldn't resist so we had a portion each. Mark went for the traditional fish and chips whilst I went for calamari and chips… as there's one sad reason I couldn't have the fish and chips myself!
Basically the fish is battered in a smoked tempura batter and the chips are usually seasoned with an Indian twist (they smell amazing!). But that meant there is some onion/garlic in the batter and the seasoning. For me this is a huge problem but they were able to make me calamari and chips without the seasoning on request.
So if you are an onion/garlic intolerant like me, make sure you ask – don't assume it's ok just because it's gluten free! Honestly though, this is definitely the place to go for lunch or dinner. It's open all day from 1pm, just make sure you go to the gluten free location using the address above the photo!
11) Flax and Kale, Carrer dels Tallers 74b, 08001 and Sant Pere Més Alt 31-33 08003
Flax and Kale was recommended to me by a lot of different people and I can totally see why. I visited both of the main Flax and Kale's in Barcelona and they are stunning. The Carrer dels Tallers location is literally what I would describe as 'Instagrammable'!
We stopped by for some frozen smoothies that were delicious and the food looked stunning, much of it is gluten free and clearly stated. The menu at the Carrer dels Tallers location is 80% plantbased with the other 20% being made up of oily fish. It's a health conscious venue for sure.
The other Flax and Kale (known as Flax and Kale Passage, Sant Pere Més Alt 31-33 08003) is the one I would 100% recommend though. It's still a beautiful space BUT better still, its 100% gluten free!! They don't allow gluten on the premises and have breakfast, brunch, lunch, dinner and a gluten free bakery within.
The menu is different to the other Flax and Kale with pizzas, waffles, bao buns and a whole variety of different homemade gluten free breads. They also have a range of ice creams you can get in a gluten free cone and a whole host of desserts. How is that even possible?!
Flax and Kale is definitely on the healthier side, everything is super fresh and colourful. Definitely check out their menu and take a trip if you fancy!
12) Pasticelía, Carrer de París, 165, 08036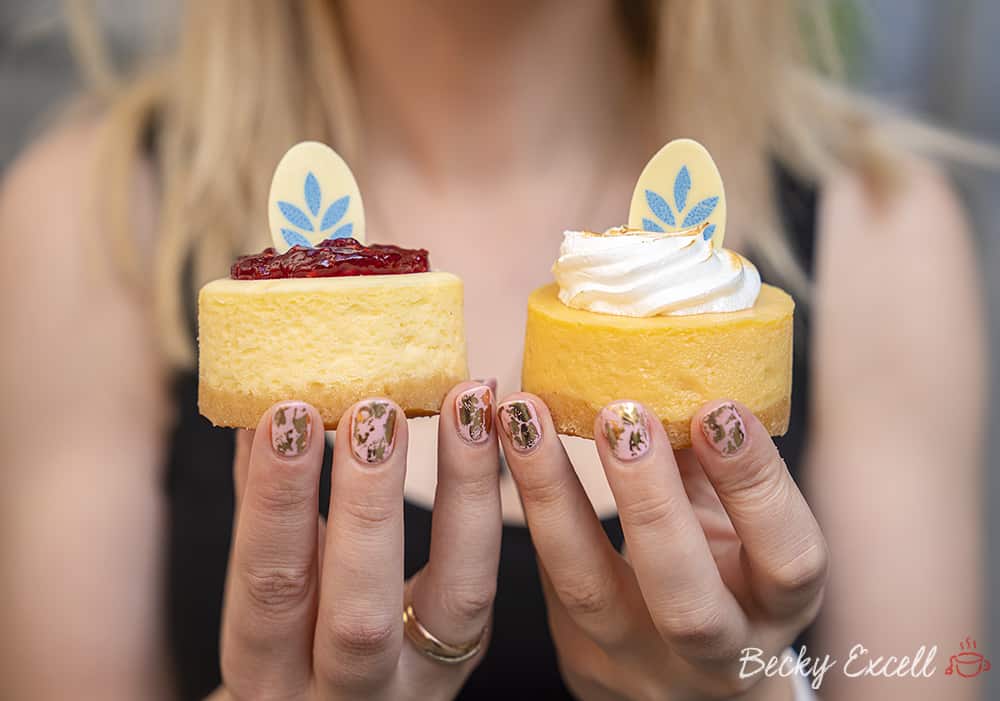 This was the one of the first bakeries we wandered into when we arrived in Barcelona and it still stands out to me as being one of the best for so many reasons.
Obviously the fact it is 100% gluten free is a massive double thumbs up from me. They have lots of bread, tons of cakes – the doughnuts were delicious and the cream cakes were to die for! They have plenty of seating inside which is nice too.
But what made it stand out the most is that we had some food with us when we walked in (a pizza box and a few other bits), the lady came over and checked with us that our food was gluten free as they do not allow any gluten in the bakery at all.
For me it really showed how seriously they take it and how much they care… if only places in the UK understood gluten free like this!
Click here for my full review of Pasticelia.
13) Copasetic, Carrer de la Diputació, 55, 08015 (best breakfast/brunch menu for gluten free in Barcelona)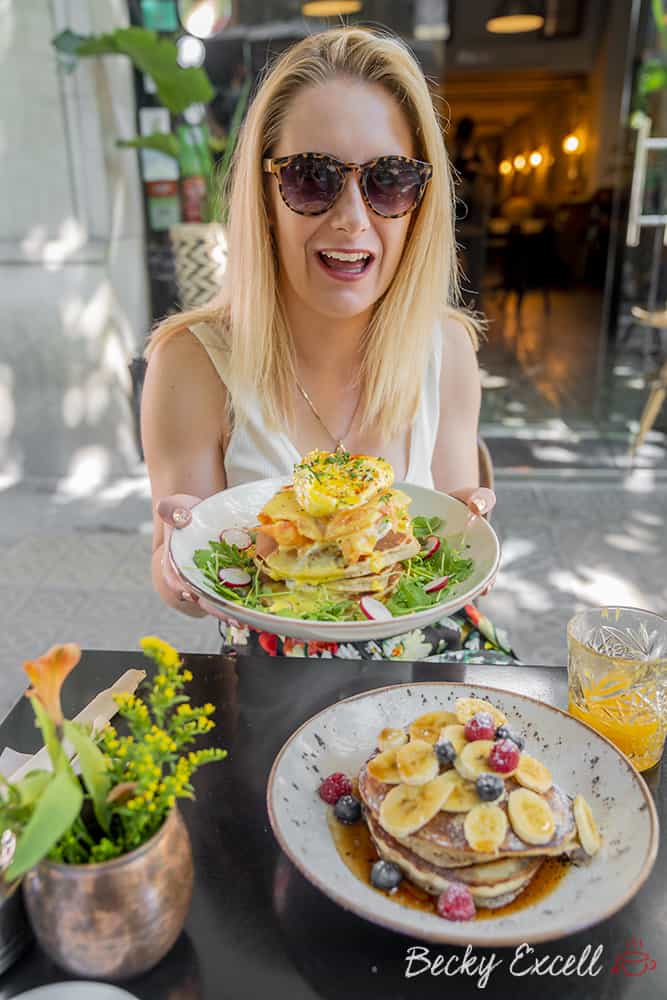 I'm so glad that we got to go to Copasetic for brunch. We'd walked past it on one of the earlier days of our trip and I was determined we would go before leaving… and thank god we did!! The menu is amazing for gluten free as well as for lactose free and vegan. They offer breakfast, brunch, lunch, dinner and amazing cocktails too.
We went for brunch and both went for pancakes – all the pancakes are gluten free as standard. Mark went for maple syrup and banana, whilst I went for a savoury stack with smoked salmon, poached eggs, hollandaise and ricotta cheese – it was incredible!
All the french toast at brunch can also be made gluten free, as can the entire brunch menu. Oh, and they have a special brunch cocktails menu which looked very appealing!
The lunch and dinner menu included sandwiches, burgers and savoury crepes but what I liked the look of the most was the dessert menu! Red velvet crepes and tiramisu crepes… these sound heavenly to me!
Copasetic really has an amazing vibe, the presentation of the food is great and I felt very at home here. 100% recommend a trip if you're gluten free in Barcelona!
14) M2 Gluten Free, Avinguda Diagonal, 505, 08029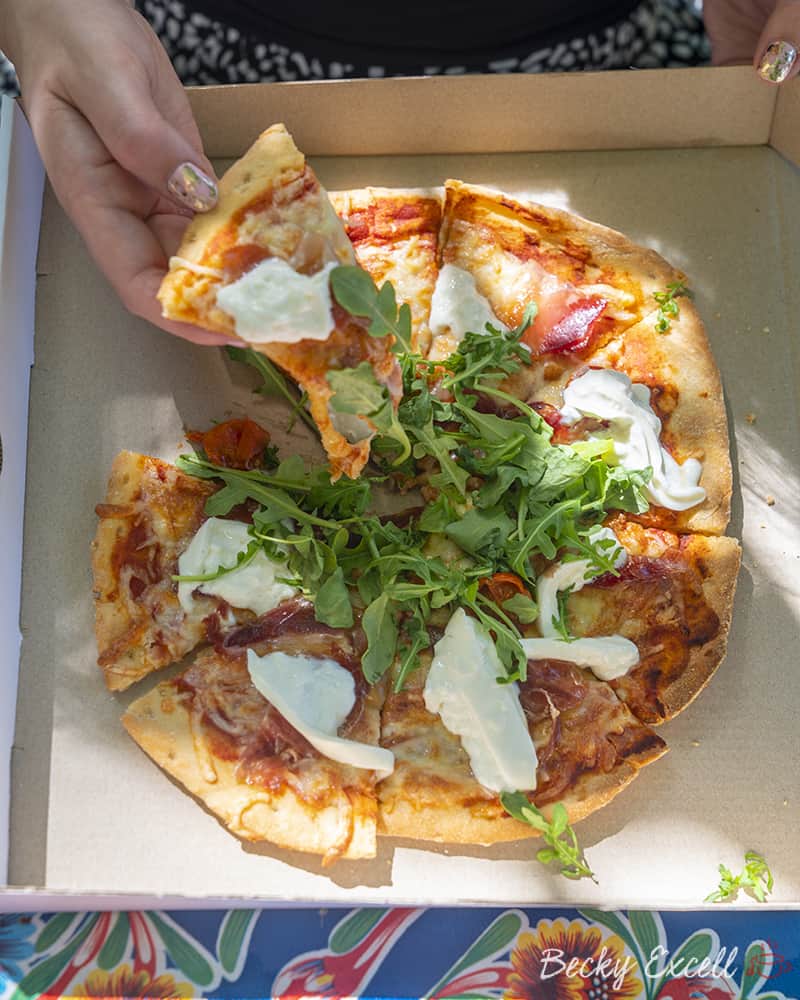 We popped into M2 Gluten Free during a busy working day in the city and were very happy with what we found! It is a little bit further out (not too far), but this worked in our favour as the work I was doing was based a little further out of the city centre.
M2 is fully gluten free as the name suggests and has a really wide menu. They offer poke bowls, fresh juices and salads. But then they also offer pizza, pasta and burgers too. Plus, they have a fab sounding brunch menu which I'd definitely try if we had more time, the warm sandwiches sound fab!
As well as being gluten free they have plenty of options if you are lactose free, dairy free or vegan – they have different cheeses to cater for everyone 🙂
The interior is also lovely inside and theres a few tables out the front if you want to sit and watch the world go by like we did. They also do takeaway if you fancy it – I grabbed a pizza which was a totally unexpected gem. I'd definitely recommend!!
Oh yeah and M2 doesn't shut in the afternoon, it's open all day until late.
15) Santa Burg, Carrer de València, 273, 08007 (best burger place for gluten free in Barcelona)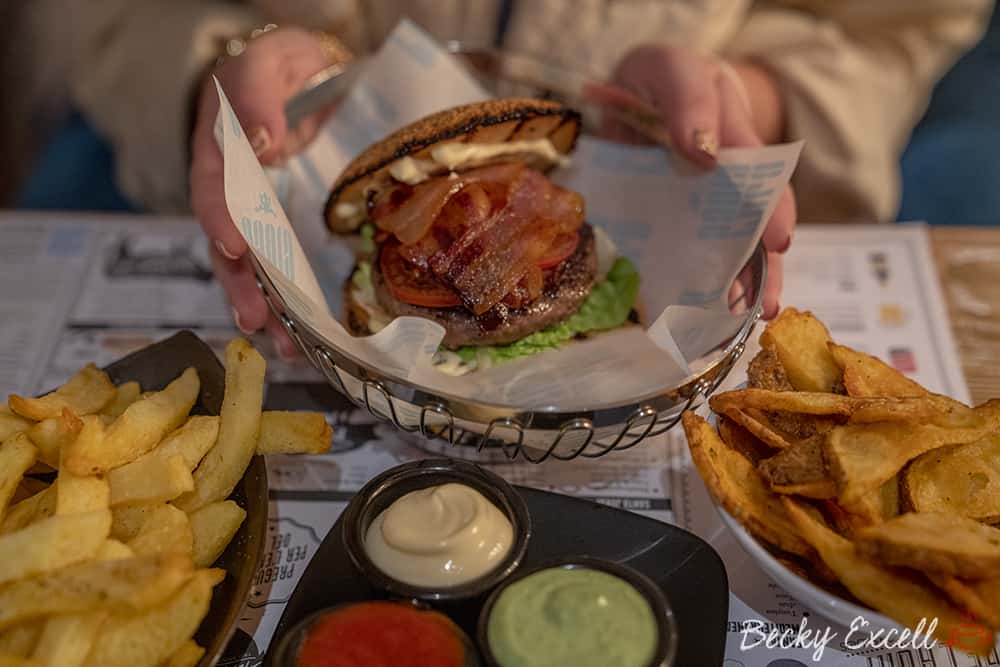 I was recommended to go here by someone who lives in Barcelona and I'm sooooo glad that we did – thank you for the recommendation, you know who you are!
This place is all about burgers, and I LOVE burgers! They offer gluten free buns and fries upon request and the gf sesame seed buns are actually wonderful.
Whatever type of burger you fancy you can have it – beef, chicken, fish, veggie and pork. We both went for beef burgers and they were huge! The meat was super smokey which was amazing and the bun was lovely and soft – it didn't fall apart at all.
Santa Burg doesn't shut in the afternoon so you can go whenever you fancy, it opens till very late too. People in Barcelona love to eat late, so you might as well just go with it!
16) Il Piccolo Focone, Carrer del Dos de Maig, 268, 08025 (best pizza place for gluten free in Barcelona)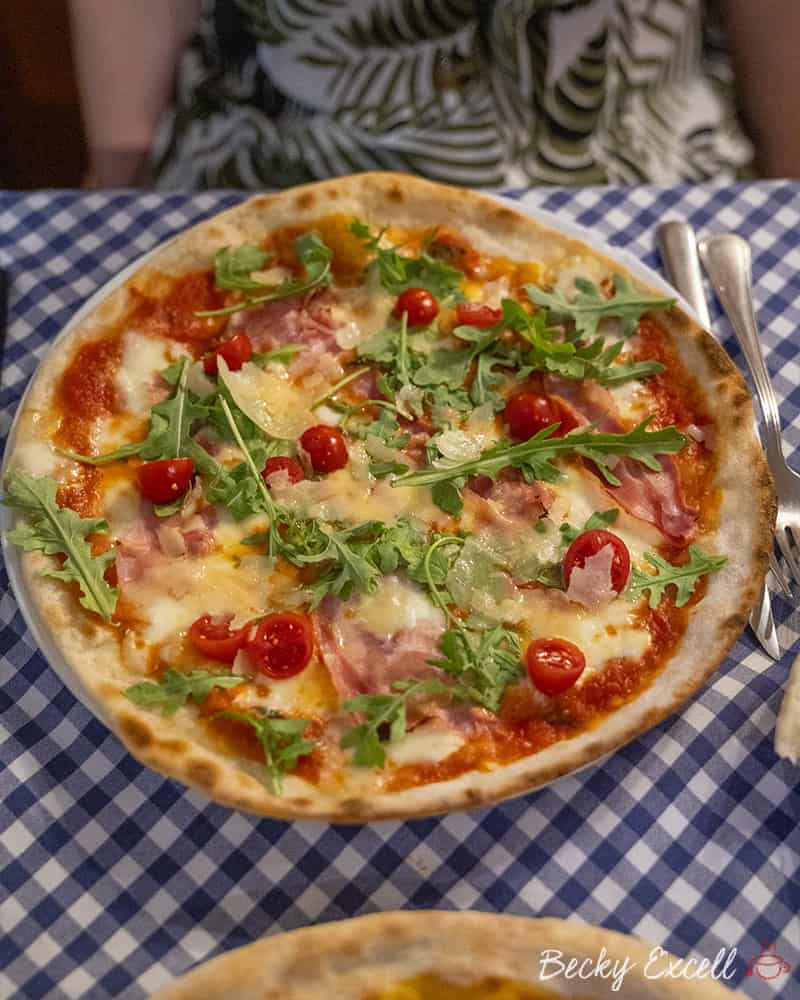 This is a delicious, very traditional italian restaurant, not far from La Sagrada Familia. We had our final dinner here and it was a real gamechanger.
Basically the entire menu can be made gluten free (pizza, pasta, filled pasta, fritters, croquettes etc) and they do it very well. We ordered a focaccia to share for starters, which we then followed with pizza.
The base was absolute perfection, lovely and thin – like nothing you find in the UK currently! They also offer gluten free tiramisu here which I really wanted to order but I was so full and for once, actually listened to my stomach!
It's another place that opens for lunch, then shuts and reopens for dinner. I'd definitely book if you want to come for dinner, it got so busy! Just remember they don't open for dinner till 8:30pm and they're closed on Sundays.
17) Thai Barcelona, Carrer de la Diputació, 273, 08007
I never thought I'd be talking about a Thai restaurant in Barcelona that has a gluten free menu, but here we are!
Thai Barcelona have developed a menu specially for Coeliacs which is very extensive and very exciting! From noodles to curries and a large dessert menu, honestly – its a place you need to visit for gluten free in Barcelona.
It's actually accredited by the Catalonia Celiacs Association, like quite a few of the restaurants on this list. Basically Thai Barcelona is a restaurant that understands the importance of safe gluten free food whilst also creating dishes that you'd never know were gf.
They opens for lunch (at 1pm) and then later on for dinner (at 7:30pm). It's also open every day of the week, so you have no excuse!
18) Arrossería Xàtiva, Carrer de Bordeus, 35, 08029; Carrer del Torrent d'En Vidalet, 26, 08012; Carrer de Muntaner, 6, 08011
If you're looking for a traditional Valencian paella in Barcelona then this is definitely somewhere you should check out ASAP.
Their menu clearly states which paellas are gluten free – which is nearly all of them. All their frying is done using chickpea flour which their menu clearly states is suitable for Coeliacs. Paella-wise there is a wide range from vegetarian and fish to meat, black rice or creamy.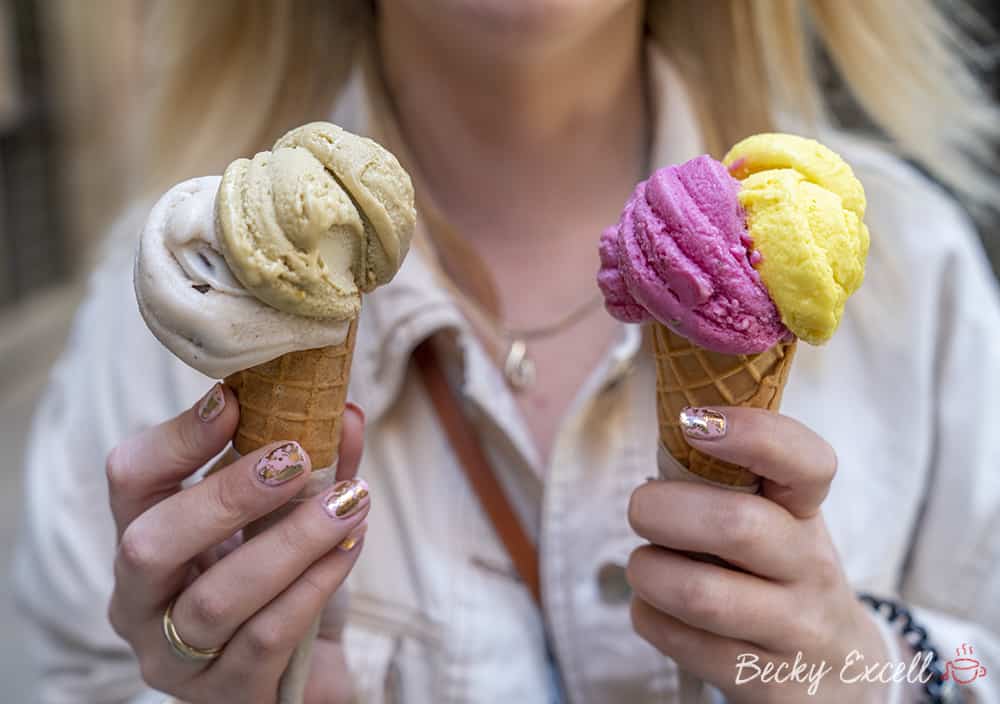 So before we even get started, you should probably know that there's two shops: Gocce Di Latte AND Gocce Di Latte Vegan.
If you're looking for gluten free (not sure how you got here if you're not!), you need to make sure you go to the vegan one. They are literally a minutes walk apart from each other with Gocce Di Latte Vegan being down a side street. Everything here is gluten free – they do gluten free cones and a wide range of flavours.
Some of the flavours are very unconventional such as beetroot or turmeric… but then they do banana and peanut butter which is amazing! Of course all the ice cream here is dairy free as well so thats a bonus for many.
I noticed they had waffles on their menu as well and upon asking, they told me that they do gluten free waffles with ice cream too. If I wasn't so full I would have definitely tried them!
20) La Desayunería, Carrer del Comte Borrell, 75, 08015
La Desayunería is a place that specifically focusses on breakfast – breakfast all day long!
Their pancake menu can be made gluten free and they have both sweet and savoury options too. The Hawaiian pancakes caught my eye – caramelised pineapple and crispy bacon! We also really liked this area, it's not very touristy and it has a lovely indoor market just across the street.
If you visit Amiette Bakery that I mentioned above and then want to walk across to the Gothic Quarter, you'll walk right past, so pop in for pancakes 🙂
21) Hard Rock Cafe, Plaça de Catalunya, 21, 08002
The Hard Rock Cafe is just one of those places you come across in nearly every city across the world. We always pop in for a drink, a look round the shop and, at the very least, a look at the menu (not that is ever really changes!).
As in many Hard Rock Cafe's these days you can order a burger in a gluten free bun and they also have a separate fryer for chips. It's very central in Barcelona so if you're a Hard Rock fan like us, definitely take a look!
In the heat of Barcelona, gelato is always a good idea. Gelati Dino has shops all across the city that offer gluten free cones and plenty of gluten free gelato flavours.
They have procedures in place to ensure there is no cross contamination, just make sure you tell the staff before you order so they know! You can also go onto their website and click on each of the flavours they offer to see which are gluten free!
23) Paisano Café, 277, Carrer de Lepant, 08013
Paisano is a moments walk away from La Sagrada Familia. If you haven't planned a trip to La Sagrada Familia, I'd definitely recommend it, even just to look at from the outside – it's an unfinished Gaudi masterpiece that's still in construction!
Anyway, Paisano is a lovely little cafe that has gluten free bread which means all their sandwiches and toasts can be made gluten free. They do also offer tapas but only 5 dishes are gluten free, so I'd stick to having a delicious sandwich. It's always nice to find options near sightseeing locations!
24) Gut, Carrer del Perill, 13, 08012
I love the name Gut for a restaurant. I mean, I don't particularly like my gut with all the pain it gives me, but I talk about it enough!
Gut is a restaurant that offers a huge variety of different dishes, many of which are gluten free. They also really understand allergies so it's a great place to go for those with multiple allergies. The menu is really varied with plenty of offerings for meat, fish and veggie eaters too.
25) Green & Berry, Carrer d'Enric Granados, 153, 08008
Green & Berry is definitely more on the healthy side of all the restaurants I've featured in this list. It's 95% vegan and they pride themselves on creating delicious fresh options that are all 100% organic.
They serve their breakfast menu all day which includes gluten free french toast and pancakes. They have gluten free bread here and love a good bit of avocado toast.
Green & Berry also offers a large assortment of cakes and sweet treats, with many of them being suitable for us gluten free folk. It's a pretty place and the food looks very 'Instagramable', so if that's your jam, head on down!
26) McDonalds, across the city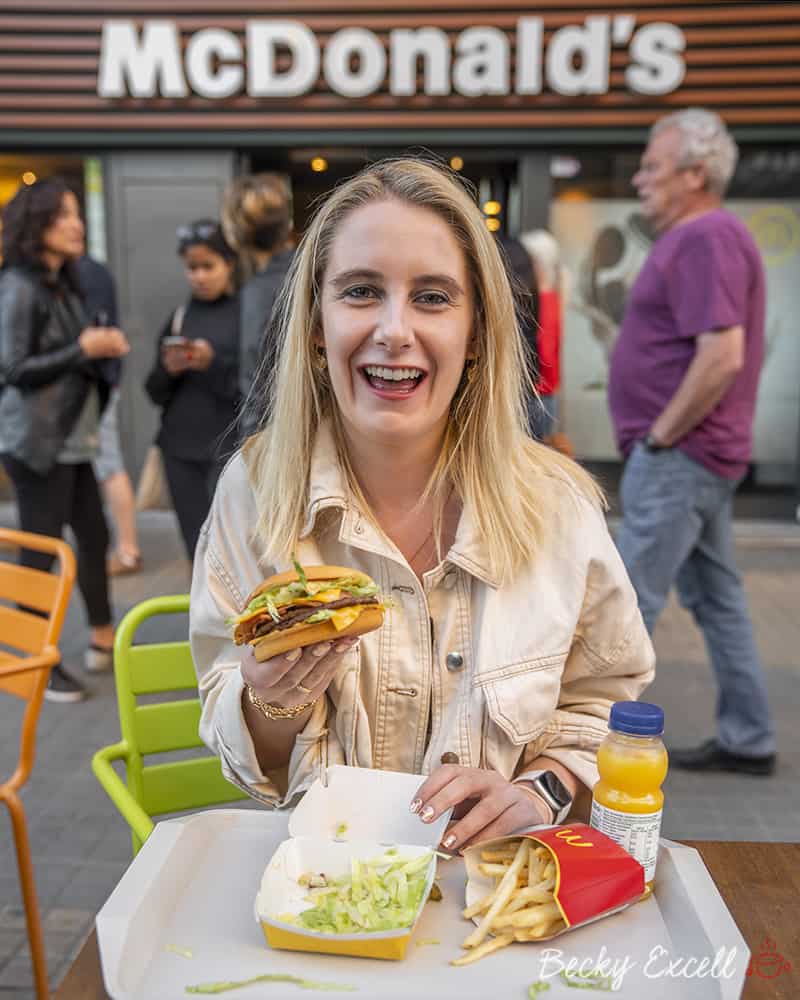 McDonalds are everywhere in Barcelona, and for once I don't mind as they have a fabulous gluten free menu!
You can have the fries here as well as a choice of burgers in a gluten free bun. You can have hamburgers, cheeseburgers, a McRoyal, a Big Mac AND children can have a gluten free happy meal with a hamburger.
Plus you can even order an egg and bacon McMuffin or an egg and sausage McMuffin off the breakfast menu – how crazy is that?! The food is great in Barcelona, but, seeing as we can't get McDonalds at home, I'd highly recommend taking a trip!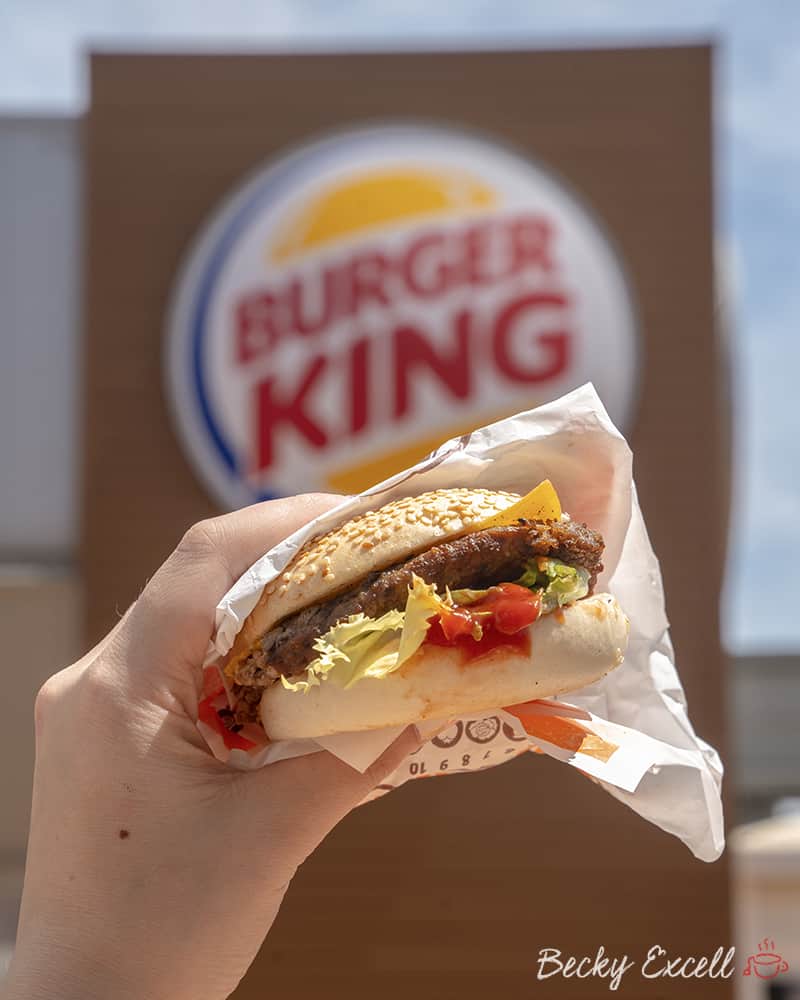 There are plenty of Burger Kings dotted around Barcelona and they offer gluten free cheeseburgers! I grabbed one when we first arrived as I was starving and it was actually really good!
The chips aren't gluten free so it comes with a salad which is a shame, but, to be honest it's all about the burger isn't it?!
There is a Burger King at Barcelona Airport T2 however they were not offering the gluten free options when we went.
28) Supermarkets – Carrefour, Mercadona, El Corte Inglés, Bonpreu, Veritas and more
All the supermarkets in Barcelona seem to cater for gluten free. Of course the bigger the supermarket, the more options, but even the smallest ones have the basics.
We were staying slightly further out on our first night in Barcelona and there was a *huge* Carrefour right next to our hotel – the free from section was like a dream! It had 2 large aisles of gluten free plus a large freezer and chilled section too! We grabbed some gluten free pringles and a few other bits, there was just so much choice!
We also popped into quite a few other supermarkets more centrally and they all had options, many had a gluten free section but others (such as Mercadona), seemed to have gluten free items scattered all over the shop, so keep your eyes peeled!
29) Glut End, Carrer de Rocafort, 139, 08015
Not far from Amiette and Copasetic is Glut End lies an entirely gluten free shop. They sell all the essential store cupboard items like gluten free pasta and biscuits but also have a wide range of gluten free croquettes and even gluten free cannelloni.
If you are staying in an apartment, you could buy these to enjoy on a night in as they need to be cooked 🙂
They also sell an assortment of desserts and cream cakes in the freezer at the back too. I bought an amazing raspberry cake which defrosted so quickly in the hot sun (well that was my excuse for scoffing it anyway).
30) Mercado de La Boqueria, La Rambla, 91, 08001
The market on La Rambla is big tourist attraction in Barcelona and gets verrrry busy. If you are passing, it's a great place to have a wander round and see (and smell!) all the wonderful fresh fruit and vegetables.
They also have lots of fresh fish and meat counters as well as tapas stalls. The most popular thing you will see everyone consuming whilst in the market is fresh fruit or one of the delicious smoothies/juices. I went for a strawberry, coconut and dragon fruit juice and it was fab in every single way – the colour was what drew me in and the taste was like a fromage frais I remember loving as a child.
I'd definitely recommend grabbing some fruit or a drink whilst you're here. I also found one stall that sold mini gluten free bread sticks to go alongside some cheeses and meats which was a pleasant surprise (you'll have to search for it though!)
Oh and there was also a gluten free and vegan falafel stand on the edge of the market – we didn't try anything but the food looked amazing.
31) Ca La Nuri Restaurant, Passeig Marítim de la Barceloneta, 55, 08005
This is defo somewhere to consider going to if you are on the hunt for paella whilst in Barcelona!
Whilst I've been told paella is traditionally a dish from Valencia, wherever I am in Spain, a paella is always a good shout. The menu at Ca La Nuri has a symbol next to all the dishes that are suitable for Coeliacs (they write 'Celiac' rather than gluten free on their menu).
There is lots of fish and seafood on the menu that's gluten free, but it's the 5+ paellas that drew me in. Oh and I almost forgot to mention, this restaurant is right on the beach! It isn't cheap, but I guess you are paying for the beach views after all.
32) Petritxol Xocoa, Carrer de Petritxol, 11, 08002
We came across Petritxol Xocoa whilst wandering just behind La Rambla. It is literally a chocolate shop with much of the chocolate having 'may contain'.
HOWEVER, they also sell cakes from the amazing Celiadictos that I mentioned earlier in this guide – they come packaged up so are completely safe from cross contamination and taste absolutely amazing.
If you don't get the chance to go to Celiadictos, make sure you pop in here to try one of their cakes as it's really close to La Rambla.
33) Ginos, across the city
Ginos has a number of restaurants across the city. It's an Italian chain with a full gluten free menu.
Whilst the menu isn't the biggest, they do offer both gluten free pasta and pizza as well as gluten free tiramisu. And from what I've tried at some of the Italian places I visited above, Barcelona can do Italian food really, really well!
34) Mussol, across the city
There are a handful of Mussol restaurants across Barcelona. It's a restaurant that offers traditional Catalan dishes and best of all has a gluten free menu too.
Their gf menu is filled with charcoal-grilled meat, fish and vegetables – they also offer gluten free bread and beer.
The gluten free menu doesn't apply to Mussol Arenas in particular but it does the other four Mussol's in the city so make sure you go to the right one!
35) Otto Sylt, Gran Via de les Corts Catalanes, 622, 08007
This is a German restaurant that's accredited by the Catalonia Celiacs Association which is a great start!
They have a really good gluten free menu that's full of frankfurters/hot dogs, sandwiches and burgers. They also have gluten free beer like so many other places in Barcelona. If you're passing by I'd definitely recommend popping in!
I thought I'd leave this one till last just because… well, the name is something else! It's hilarious but maybe not child friendly!!
This restaurant serves up tapas which is nearly all gluten free (not entirely) but they fully understand the importance of CC and Coeliac disease. It's not too far from La Rambla so if you're central and need somewhere to go then it might be worth a shot.
They do change their menu every so often but the majority always remains gluten free. Definitely check with your server though as they should fully understand 🙂
Few notes on other restaurants for gluten free in Barcelona…
I'd seen Foster's Hollywood mentioned as somewhere that is good to go for gluten free. However when we arrived they told us they don't have anything gluten free to offer. This completely put me off obviously so I would not recommend.
There are lots of reviews online for Gelaaati Di Marco being a great place to get gluten free ice cream / gelato. I went in and asked them as I really fancied an ice cream!
However, although lots of the flavours are clearly labelled as containing no gluten free ingredients, the staff member I spoke to said they are not actually gluten free as all the gelato is made in the same machines and therefore cross contamination is very possible. I was told I should only try the sorbet flavours.
Oh and we filmed a couple of days of our week for a video too!
Go book a trip and enjoy being gluten free in Barcelona right now!
I really hope this has been a useful guide to gluten free in Barcelona. If you find anymore places that you would recommend just drop me a message in the comments below, or on Facebook / Twitter / Instagram. Also if you have any other questions please do the same!
I really can't wait to go back to experience some more gluten free in Barcelona asap! And who knows where my next trip will be, let me know where I should go next!
Also, anyone here heading to Florence in Italy? Don't forget to check out my gluten free guide to Florence next!
Thanks for reading,
Becky xxx
Oh and don't forget to pin this for later!