Being gluten free in Barcelona is definitely not a hinderance on the enjoyment of your holiday! In fact, hunting down all the gluten free bakeries, restaurants, cafes was half the fun! Here's my gluten free guide to Barcelona, Spain – updated and ready for 2019…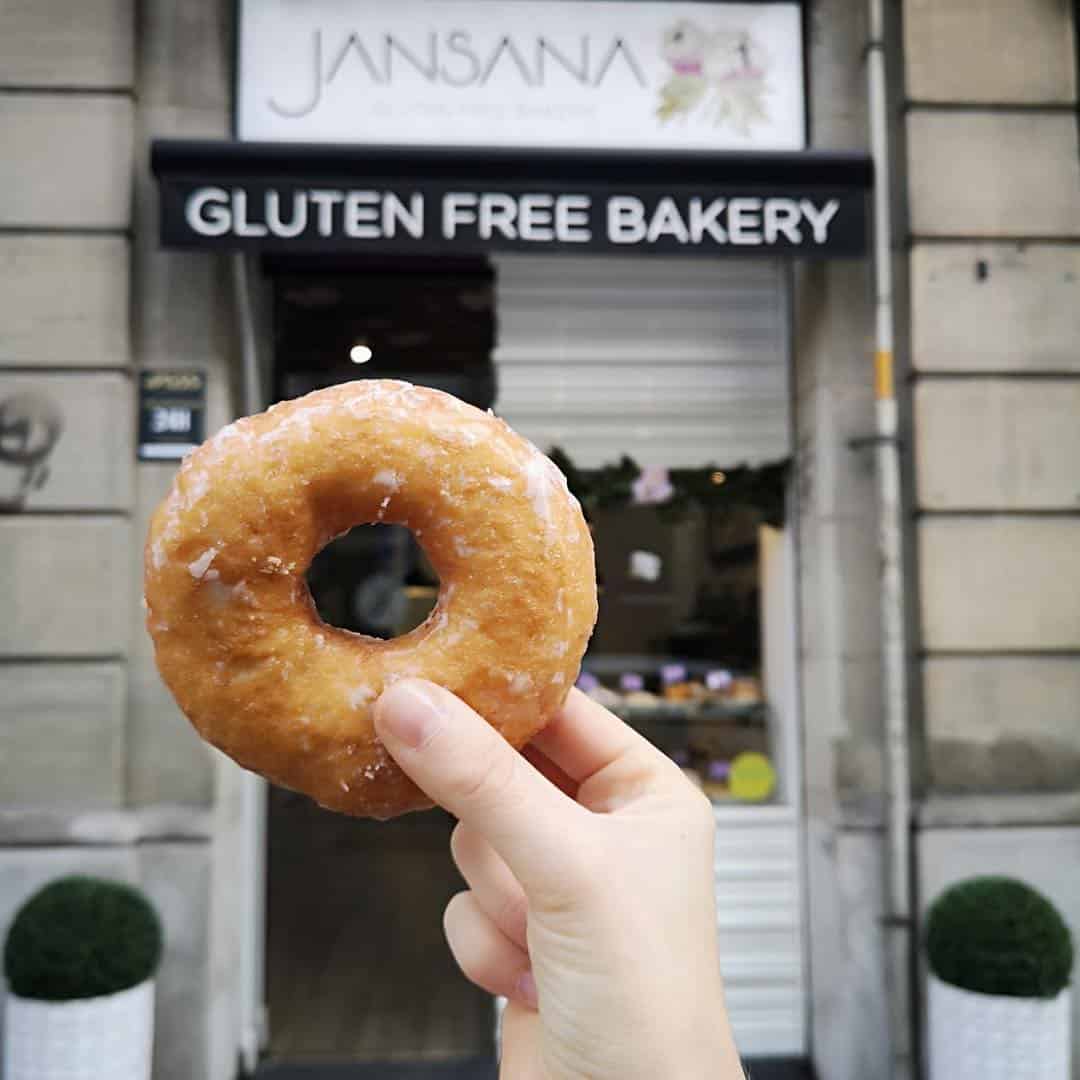 You never know what to expect when you arrive in a new city with a rumbling stomach, but when it comes to gluten free in Barcelona, you definitely won't leave hungry.
There's actually quite a few places that are 100% gluten free (so zero gluten in the place at all) and as my boyfriend is lactose intolerant, I'll always mention whether places had dairy free options or not too. They use the phrase 'lactose free' more than 'dairy free' though so bare that in mind!
So let's get started with my gluten free guide to Barcelona, 2018…
Disclaimer: Whilst I've put a lot of work into this guide and double-checking everything is gluten free – things may change over time, so always make sure you ask first and check for cross contamination before eating. Enjoy!
You absolutely cannot leave Barcelona without visiting this 100% gluten free bakery. Expect pan au chocolat, croissants, doughnuts and tons of lunch options too.
Don't even get me started on their bread – their baguettes are amazing! If you only visit one place for gluten free in Barcelona, make sure it's Jansana.
There's also a lot of dairy free options too (sin lactosa) as they often don't use butter in everything. Mark was over the moon!
2. McDonalds (various across Barcelona)
That right, all McDonalds across Barcelona offer gluten free buns at request, plus their chips are cooked in a dedicated fryer too.
I'm not saying I booked my holiday with gluten free McDonalds in mind but… it was worth every penny! Of course, dairy free wasn't a problem here either.
Conesa Entrepans is a great place to stop for gluten free lunch in Barcelona. They have tons of sandwich fillings available and nearly all of them can be made gluten free – I went for the ham and cheese sub and it was amazing. Mark was easily able to find dairy free options too.
My gluten free sandwich was prepared in a separate area to avoid cross-contamination and a dedicated gf sandwich toaster. That gets a massive thumbs up from me! Don't forget to try some of the gluten free cakes and biscuits too.
Yep, we're not even half way through the guide and here's another 100% gluten free bakery in Barcelona!
Their fresh gluten free bread is out of this world – I hadn't had a decent gf bagel in years! Plus, you absolutely need to try their mini-flatbread pizzas too. We stayed in an Air BnB so I'd always pick up bread so I could make a sandwich when we got back to our apartment.
But of course, you have to try their churros, croissants, muffins, doughnuts and pastries too!
We always stop by a Hard Rock Cafe wherever we go – not just for the music and cocktails – but for the gluten free menu too! If you tap the link above, you can check out their gluten free menu online too.
(Just look for the GLUTEN FREE in capitals alongside the Starters, Salads, Entree options.)
So make sure you ask for the gluten free menu before you're seated. All the burgers can be made with a gluten free bun and they have a separate fryer for chips.
If you're not having a burger, you're then looking at lovely steaks or chunky salmon portions which I can all vouch for. They even have gluten free beer too!
Of course, dairy free wasn't a problem here either – just watch out for the cheese. You can always ask for options without.
Copasetic is a wonderful restaurant for gluten free in Barcelona. They have everything from burgers in gluten free buns, to pancakes, savoury or dessert crepes and even brunch options too. What more could you want?
Their crepes and pancakes can be made dairy free too which was just the icing on the cake for us! Or the gluten free bun on the burger, I should say! Also yes – all gluten free food is prepared in a separate area too.
Now, before we get started – there's actually two Messié Pizzas in short distance of each other. One has zero gluten free options and the other is a 100% gluten free pizza and pasta restaurant – quite the contrast!
So make sure you head to Messié Pizza Sin Gluten and not just Messié Pizza! If you make the right decision, you'll find a 100% gluten free menu of tons of pizzas, pasta dishes and salads. They even have cakes too. You'll definitely know if you're in the right or wrong one!
And amazingly enough, this is another place with dairy free options too as they also have dairy free cheese on request. What a time to be alive!
If you're looking for authentic an Spanish/Mediterranean restaurant for gluten free in Barcelona, then make sure you stop by La Lluna. It's right by Las Ramblas.
Oh and make sure you ask for the gluten free menu first! Not only are most of their options gluten free to start with, but they also have gluten free bread and pasta too.
M2 Gluten Free is a cosy 100% gluten free cafe with tons of healthy options. They offer everything from pizzas, to burgers, salads and beautifully presented salad options and fresh juices.
For dessert you'll be spoilt for choice – there's cheesecake, chocolate cakes, mousse and more. They had tons of vegan options so dairy free wasn't a problem for Mark either!
Last but my no means least is Gula Sana, another 100% gluten free cafe in Barcelona. We went here three times while in Barcelona as I just couldn't get enough of their baguettes… they were unreal. Mark even agreed that they tasted like normal bread!
But I haven't even mentioned all their lovely selection of cakes yet either… I could spend hours in there just trying to choose! (now you know why we went back so many times!)
Plus, they had lots of dairy free for Mark too which were all clearly labelled with sin lactosa. This place basically made our trip!
Go book a trip to Barcelona now!
I really hope this has been a useful guide to gluten free in Barcelona. If you find anymore places that you would recommend just drop me a message in the comments below, or on Instagram. Also if you have any other questions please do the same!
If this guide helped you, please share it with a friend or with other fellow gluten free folks. I'd love for this guide to help as many people as possible enjoy the food in Barcelona like I did.
Thanks for reading,
Becky xxx
Comments