Being gluten free in Rome is such a surreal experience… I still can't quite believe how much I could eat! Who'd have thought that the home of pizza and pasta would be soooo amazing for gluten free? (and lactose free too) Here's my 'senza glutine' guide to Rome!
Honestly, I've never felt safer eating out than in Rome. If you visit any of the places here in my guide, you'll probably find that they just 'get it' when it comes to being gluten free. I had such an amazing time, that I absolutely had to share my guide to 30 of the best places for gluten free in Rome.
But one of the best things about Rome is the Italian Coeliac Society (abbreviated to AiC). You'll see their badge (shown in the photo below) on the door of pretty much every single place on this list. Familiarise yourself with the logo now and watch out for it while you're hunting for gluten free in Rome – it's everywhere on my list!
For more info on the AiC and a few other gluten free travel tips, check out my 11 gluten free travel tips you need to know before going to Rome. Ok, so let the guide begin!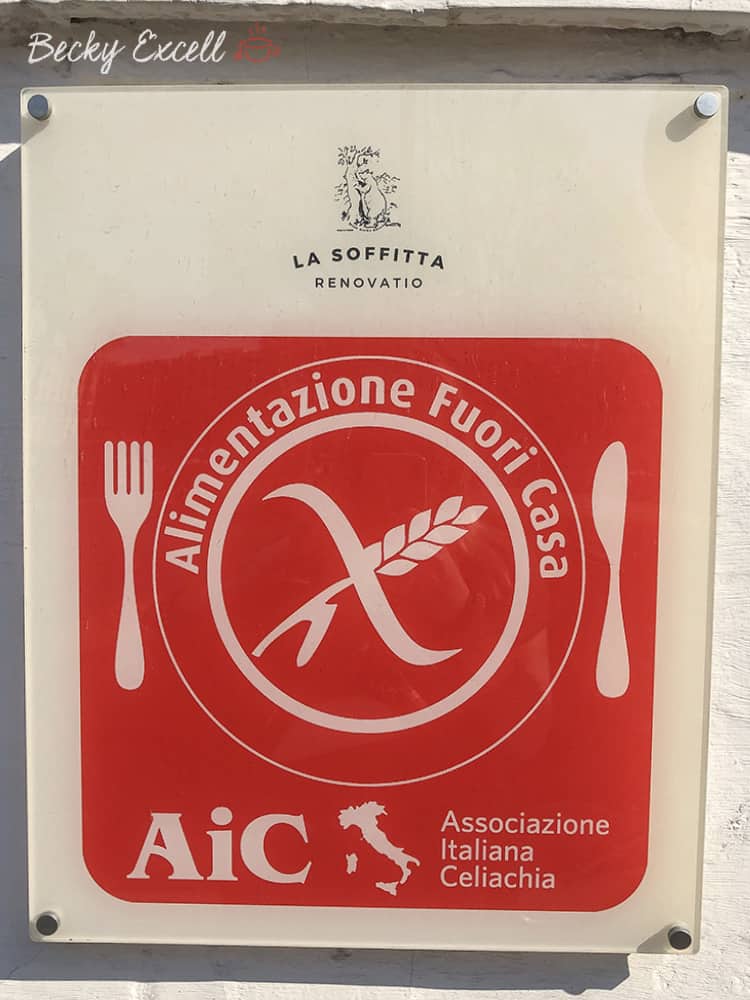 1) Mama Eat, Via di S. Cosimato, 7/9, 00153

Mama Eat is the ultimate place to go for gluten free in Rome, tucked away in the lively area of Trastevere. It was less than 5 minutes from where we stayed!
From pizza to pasta, fried fish and tiramisu – every single thing on the menu can be made gluten free. I just couldn't quite believe it, which is why it was the first place we ate in Rome and the first place in my gluten free guide to Rome!
The gluten free pizza bases are *incredible* – they are super soft and puffy… I honestly didn't know it was possible to have that sort of texture in gf food. I'd recommend the Montanare (mini fried pizzas) for a starter, they are stuuuupidly good!
They have a completely separate kitchen and chef for gluten free and all gluten free food is served up on clear glass plates to distinguish them from regular food. And for those who avoid lactose too – all the cheeses Mama Eat serve are lactose free.
Oh and they even made us pasta without onion and garlic upon request… what more could you ask for?! Click here for my full review of Mama Eat.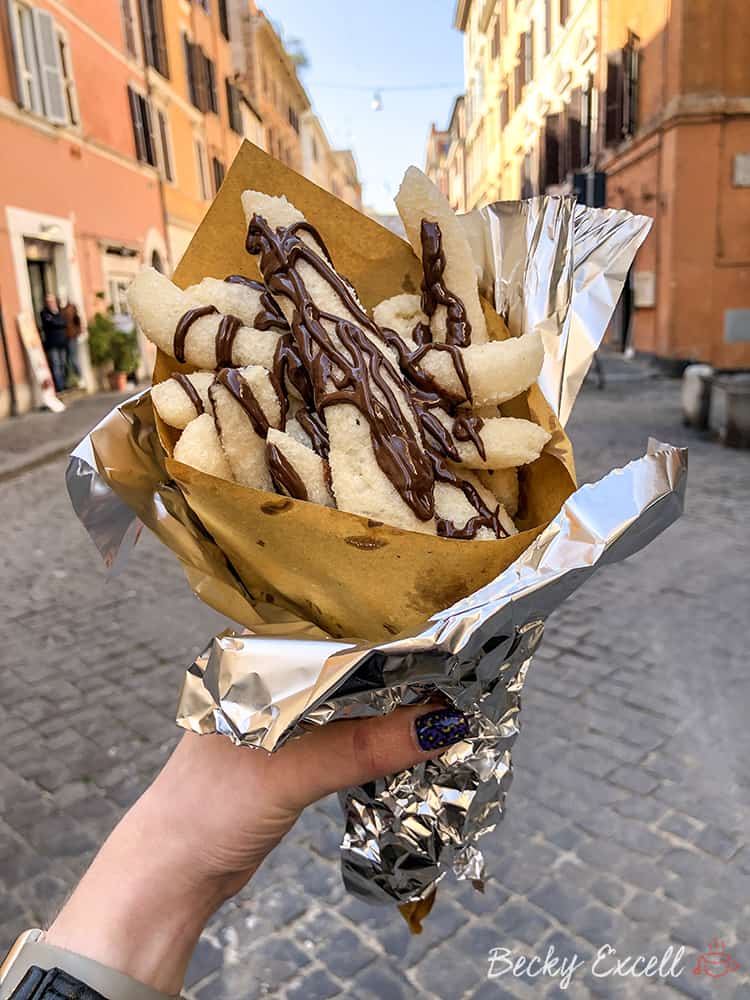 As the name suggests, Mama Eat Street Food is the street food sister of Mama Eat. It's based in the Vatican City, a short stroll from St. Peter's Basilica and everything on the menu is gluten free.
Expect fried-chicken sandwiches, cones filled with fish and chips and even dessert options like donuts or fried pizza strips covered in Nutella. This is a total must visit whilst in Rome. Why don't places this good exist in the UK?! You'd never guess anything here was gluten free.
Whilst you can sit and eat inside, the weather in March was lovely so we opted to enjoy our food in St Peter's Square. It was a moment I won't forget any time soon… this place is exactly why it's a pleasure to be gluten free in Rome!
3) Fiocco di Neve, Via del Pantheon, 51, 00186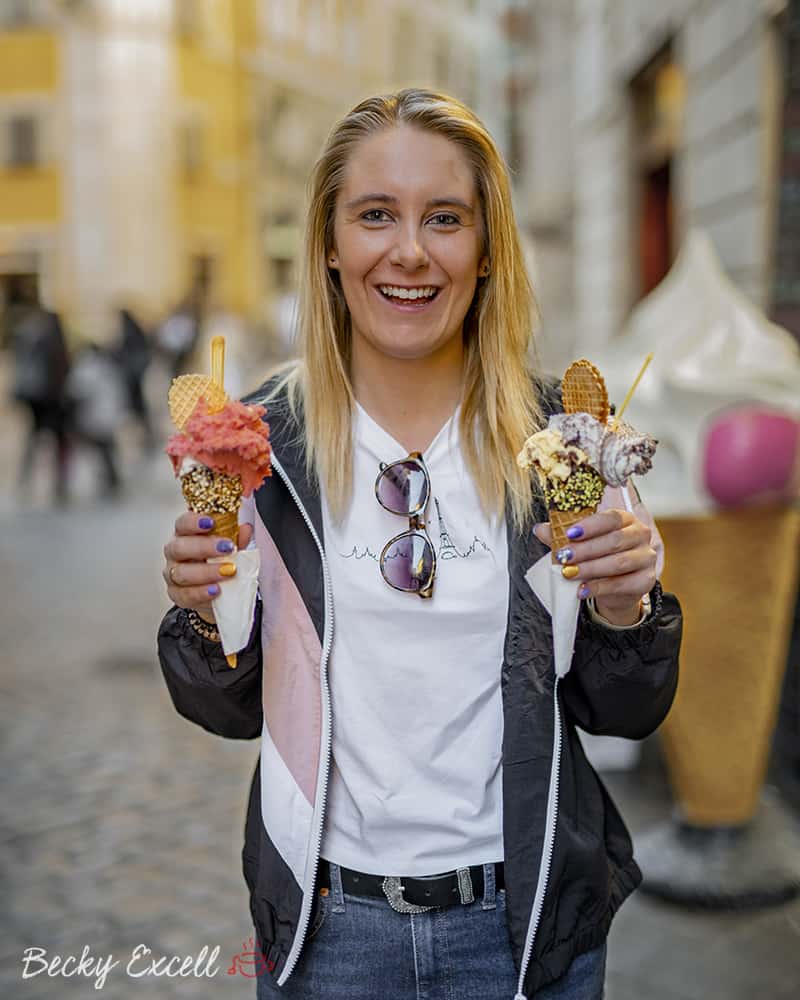 Now, Rome is the place to go if you love gelato (basically ice cream, although there is a slight difference between the two) and being gluten free somehow doesn't change that. That's why the next place in my gluten free guide to Rome is Fiocco di Neve.
Fiocco di Neve is my top pick for gelato in Rome because everything is 100% gluten free. It's situated minutes from the Pantheon and in my opinion, nothing else in Rome comes close.
The waffle cones are to die for, and the wafers are amazing too. It's been soooo long since I had a wafer in my ice cream!! How about you?
There is a huge range of gelato flavours as well from Oreo and Tiramisu to Cookies n Cream and Snickers – so obviously, we went back several times. There are plenty of lactose free flavours too – the banana and dark chocolate are particularly epic!
Click here for my full review of Fiocco di Neve.
I fell in love with this restaurant as soon as I saw the huuuge sign saying 'senza glutine' with lots of smiley faces surrounding it as you walk in. Let's just get this out of the way before I say any more: I have never eaten a gluten free pizza this good IN MY LIFE.
La Soffitta Renovatio is very close to the Vatican area and it's a great spot for lunch or dinner. It's downstairs so you could quite easily wander past it… but you definitely don't want to be doing that!
They offer an amazing selection of starters, delicious pasta, gnocchi and their absolutely *heavenly* pizzas. Honestly, it was impossible to decide between two places for my fave gluten free pizza in Rome… but this was one of them. Just look at the photo above… does that look gluten free to you?!
(the pizza, not me!)
It was mega crispy but with an almost sourdough-like crust. I would have gone back everyday if I could! They also have a large fridge of desserts with 'senza glutine' written on it, so we shared a tiramisu as it was both gluten and lactose free. Another must visit for gluten free in Rome!
Click here for my full review of La Soffitta.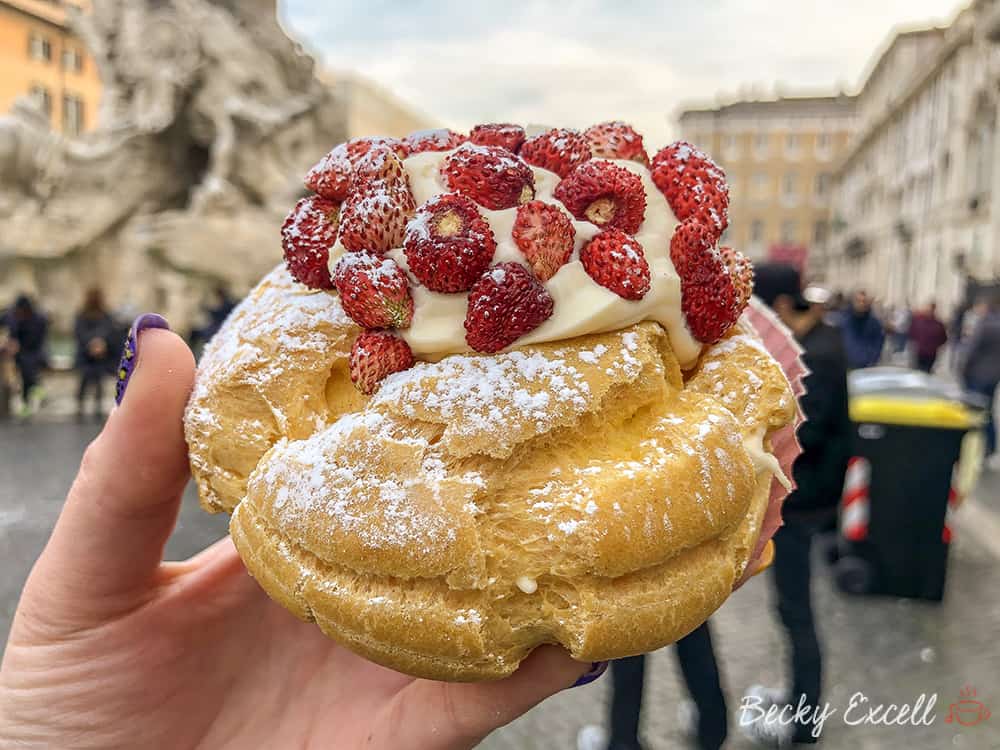 Just beneath the Vatican on the map is another absolute dream of a place for gluten free in Rome. We came across Le Altre Farine Del Mulino just by chance and noticed their AiC (Italian Coeliac Association) red badge on the outside.
(I now see this logo every night when I'm happily dreaming in bed)
What we discovered inside was even better though! It's a bakery, a pizza place and a coffee shop all in one and once again, everything is gluten free.
The gluten free cannoli and croissants are absolutely amazing. The cannoli is filled fresh, right in front of you, so I went for the traditional sweet cream cheese filling and then had mine dipped in nuts and chocolate. I never thought that I'd be able eat all of these traditional Italian treats!
They'll also kindly fill the croissants for you if you fancy, which is equally dreamy. The amount of tarts, bignè (fried Italian style profiteroles filled with a custard like cream) was just quite overwhelming.
And then to swing over to the other counter which was filled with fresh Italian pizza, paninis and arancini was more than I could cope with! That's why I absolutely had to include it in my gluten free guide to Rome!
6) Voglia di Pizza, Via dei Giubbonari, 33, 00186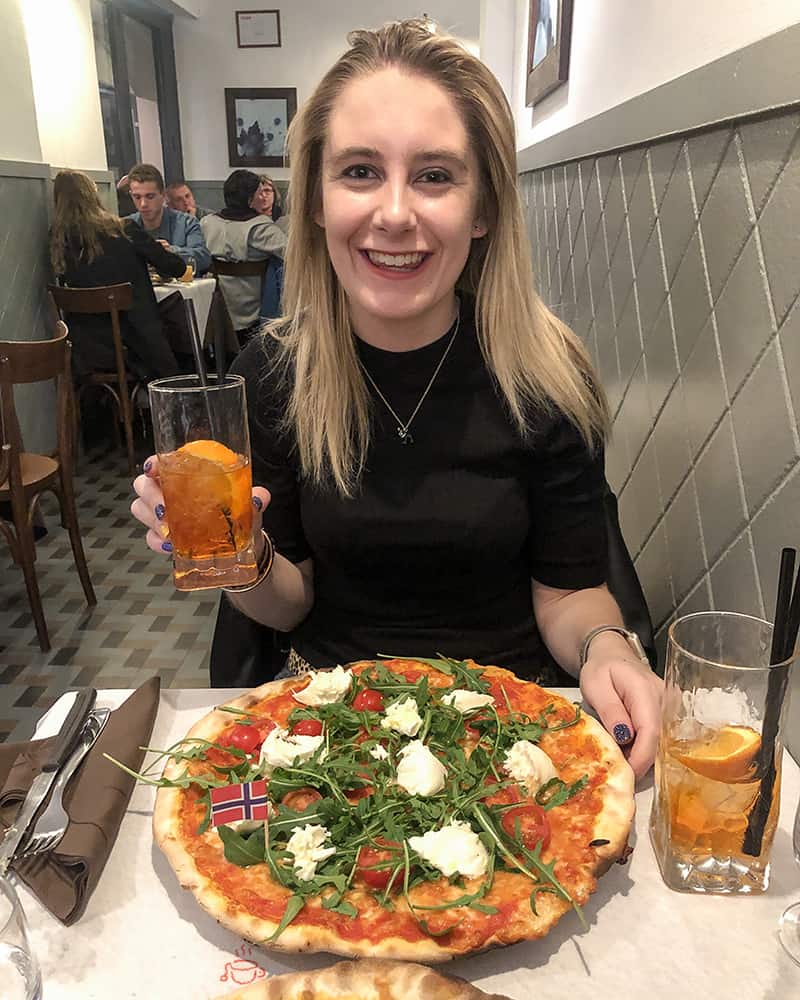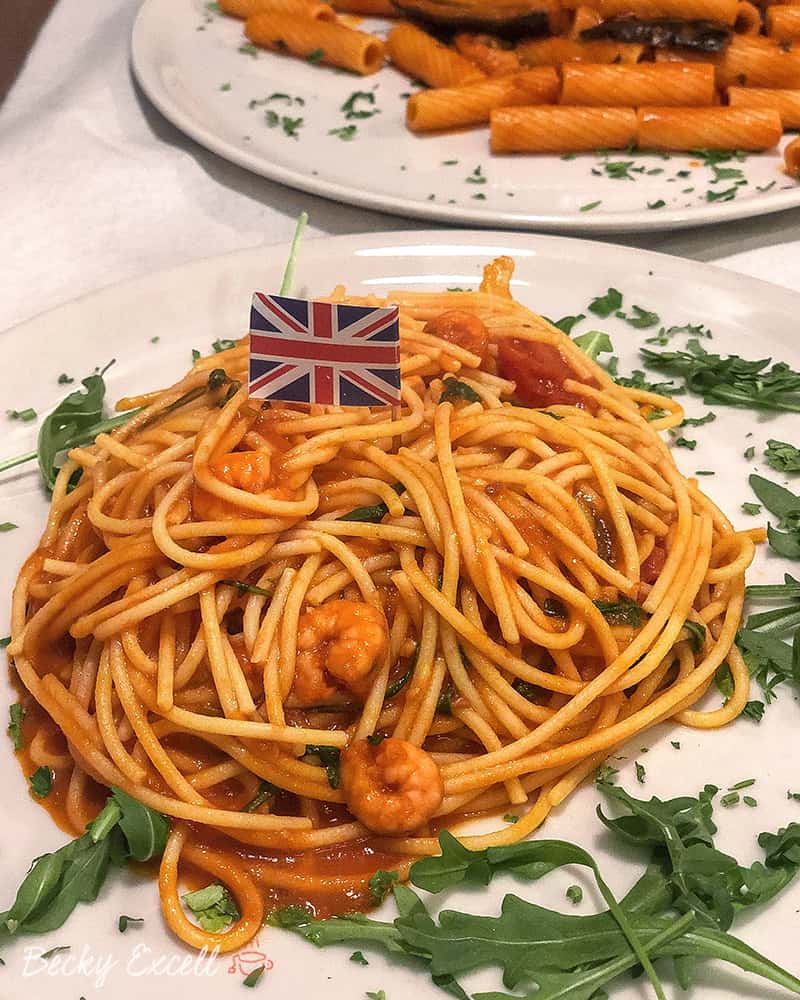 A massive personal highlight in my gluten free guide to Rome is Voglia di Pizza.
I mentioned earlier that I just couldn't choose my favourite pizza that I had in Rome. The battle was between the pizza I had at La Soffitta Renovatio and the humongous, crispy pizza served here at Voglia di Pizza. Honestly the base is incredible so please don't make me decide between the two!!
(clearly, you just need to go to both places and decide which is the better base for yourself – I can't handle all these important decisions!!)
Voglia is a restaurant that has an amazing focus on gluten free. As soon as you arrive, they ask you if you need a gluten free menu… which had *everything* on it from the regular menu. I wish that was the case here in the UK where the gf menu is always half the size of the 'normal' menu!!
We went a couple of times as it was located close to where we were staying and both the pizza and pasta were perfection. Lactose free wasn't a problem either for Mark which made his day and became a real theme of the holiday.
We also had bruschetta and croquette starters which were great and as with most restaurants we visited, gluten free tiramisu is available.
I would 110% recommend this restaurant for gluten free in Rome! I couldn't finish my pizza and it made me sad ? Oh and if you want pasta without onion or garlic in it, then just ask, like we did!
Click here for my full review of Voglia di Pizza.
7) Pizza in Trevi, Via di S. Vincenzo, 30-30A, 00187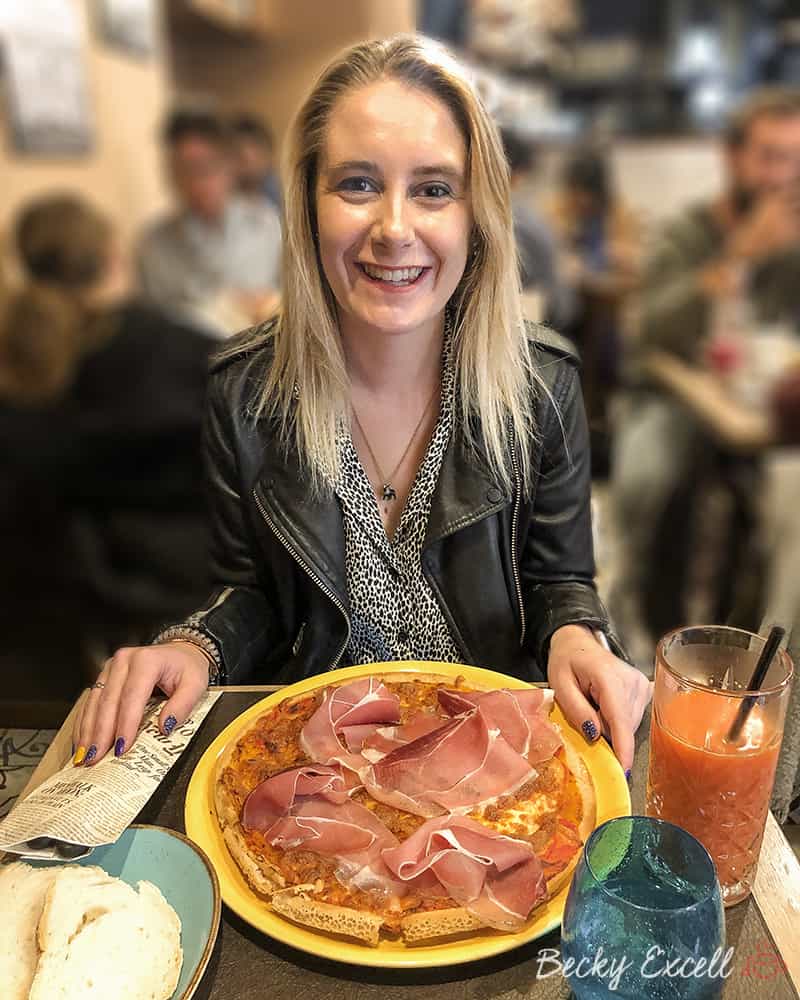 My gluten free guide to Rome wouldn't be complete without Pizza in Trevi.
If you're looking for a gluten free destination literally around the corner from the famous Trevi Fountain then… here you go! Pizza in Trevi is soooo close to a popular tourist attraction that I would normally assume it wouldn't be anything special. But this place really is.
From the moment you walk in, they ask if you are gluten free and straight away your cutlery is swapped for special packaged cutlery and a new, different coloured glass. They even brought us a plate of gluten free breadsticks with an amazing dip and said it was on the house for all gluten free guests!
(when I eat out at home, the only gift I get for being gluten free is a rude look!)
The gluten free pizza here was delicious once more. The base was a bit different to the others I had tried (you could see lots of air bubbles underneath it) but it was lovely and light and perfect for a lunchtime pizza. It set me up nicely for our walk up the Spanish Steps which aren't far away either.
8) Pandali, Via di Torre Argentina, 3, 00186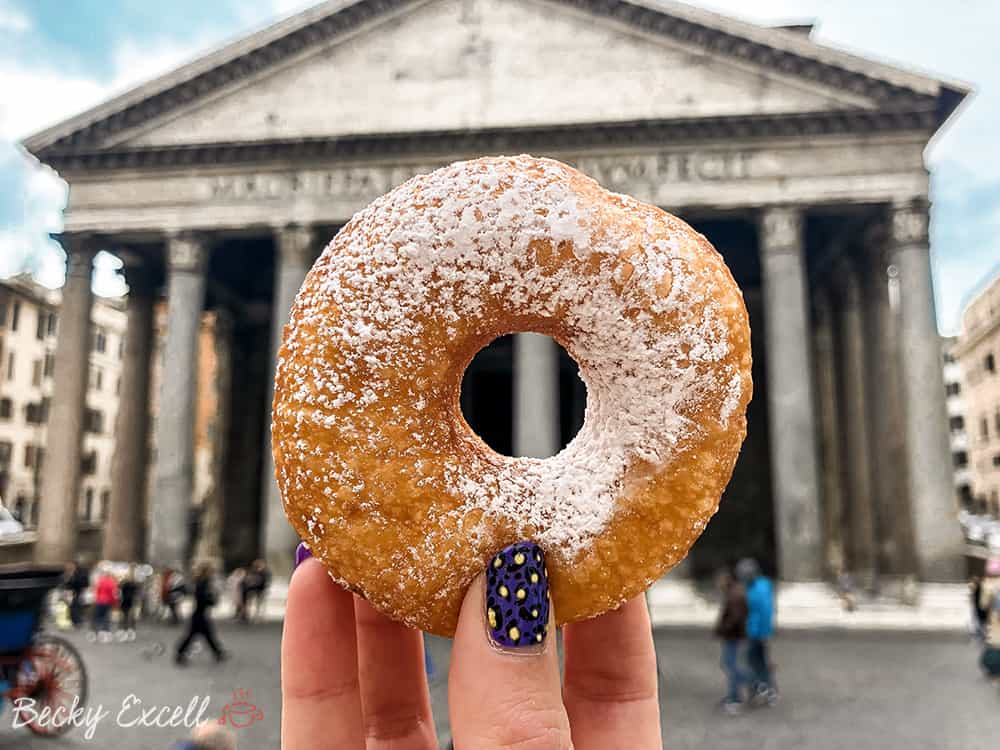 Pandali was the first bakery we visited in the hunt for gluten free in Rome and we loved it so much that we went back again on our last day. It's located very close to the Pantheon and it's 100% gluten free.
This friendly, local bakery has both sweet/savoury options and plenty of space to eat in if needed. As it's such a short walk from the Pantheon, we decided to enjoy our gluten free treats in the sunshine with the amazing view you can see in the photo above.
Savoury-wise, they have a lots of calzones, pizza slices, pasta and fresh breads/focaccia. I actually took some of their fresh bread with me for the journey home as I wasn't sure what options there would be at the airport… and it was some of the best gluten free bread I've ever had!
Sweet-wise, they have everything from lattice tarts (which seem very popular in Rome) to the most mind-blowing donuts and pastries. The gluten free donuts are incredible – I had one plain and one filled with a custard. They tasted like the best iced bun ever!
I also had some mini bignè filled with lemon custard too – these seemed to be really popular in Rome and they were absolutely divine.
Pandali is open from 10 till 4 each day so make sure you visit at the right time. A lot of places have longer opening hours but this is one that you must go to at the right time. It's worth it!
9) Pantha Rei, Via della Minerva, 19, 00186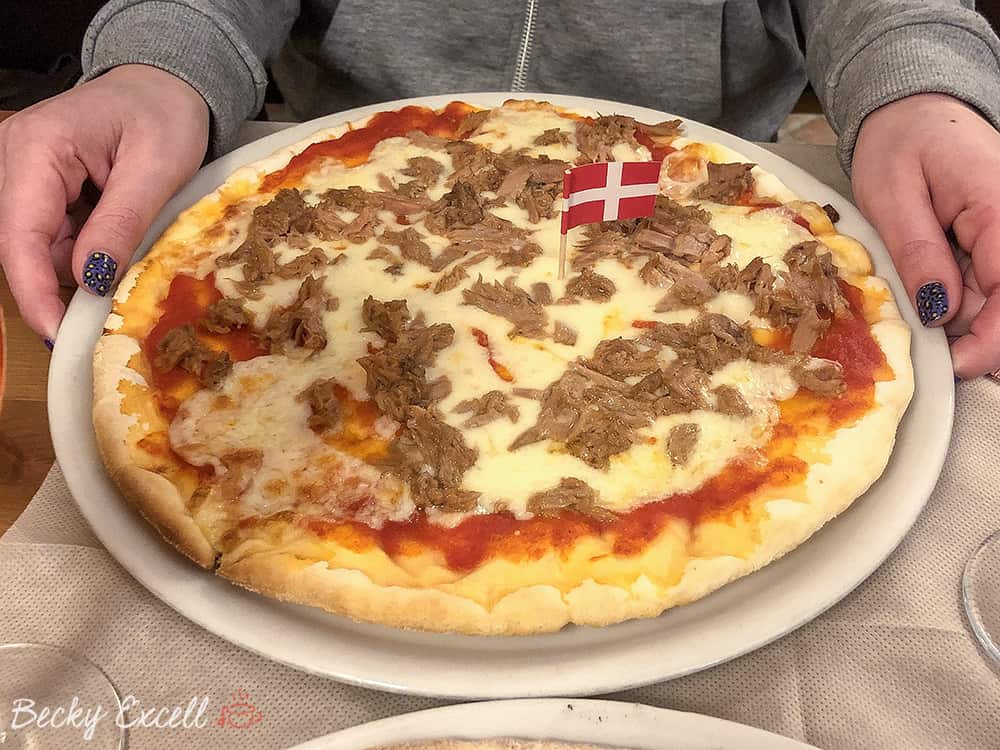 If you're looking for a gluten free restaurant near the Pantheon then I wouldn't hesitate to recommend Pantha Rei – it's about a 1-2 minute walk at the end of a little alley which you would *definitely* miss if you didn't know about it.
(but now you do know about it!)
The menu can be made entirely gluten free; from pizzas to filled pastas and all the fried food options too. As with most places in Rome, they indicated my pizza being gluten free with a cute little flag.
I really liked this place not only for the delicious food, but also for the setting – it felt very traditional and rustic. I would definitely have gone back if time had allowed! Tuna was quite a popular pizza topping in Rome so I gave it a go… and it was awesome!
10) New Gluten Free Food, Piazza Carlo Alberto Scotti, 18, 00151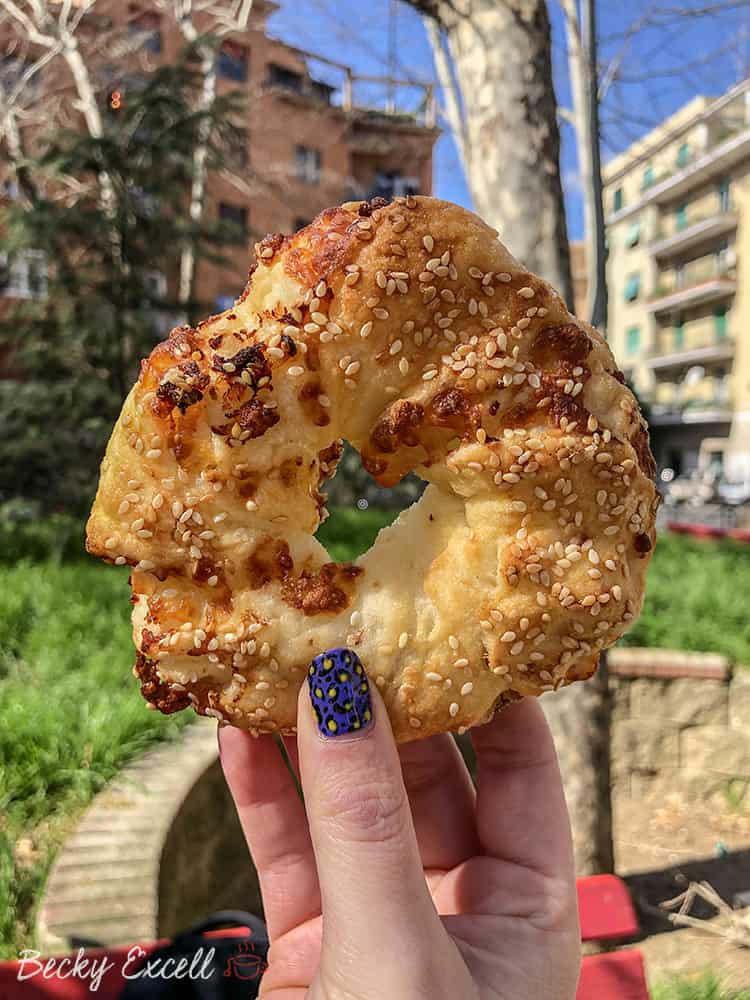 As you can probably tell already, Rome is somehow filled to the brim with gluten free bakeries. No wonder I loved it so much! We found that some were very dotted about in less touristy areas, but what they had on offer was sometimes even better than what we found more centrally.
So even though some are a little less central, I felt that I had a duty to include them in my gluten free guide to Rome! Trust me – they are so worth the walk or a short taxi.
We actually walked to New Gluten Free Food from our AirBnB with no expectations and it was the best surprise when we arrived. I honestly felt a little lost because there was so much bloody choice!
Pizza, calzone, fresh bread, donuts, custard filled pastries, palmiers, desserts, fresh chilled pasta to takeaway. I can't do this place justice… you've just got to visit if you can. This ring beneath is filled with cheese and prosciutto and it was glorious!
The staff, as always in Rome, are really friendly too. There's only a small area to sit in New Gluten Free Food, but there is a lovely little park in the middle of a round-a-bout opposite. It's a lovely place to sit and enjoy your gf treats on a sunny day… which is what we did!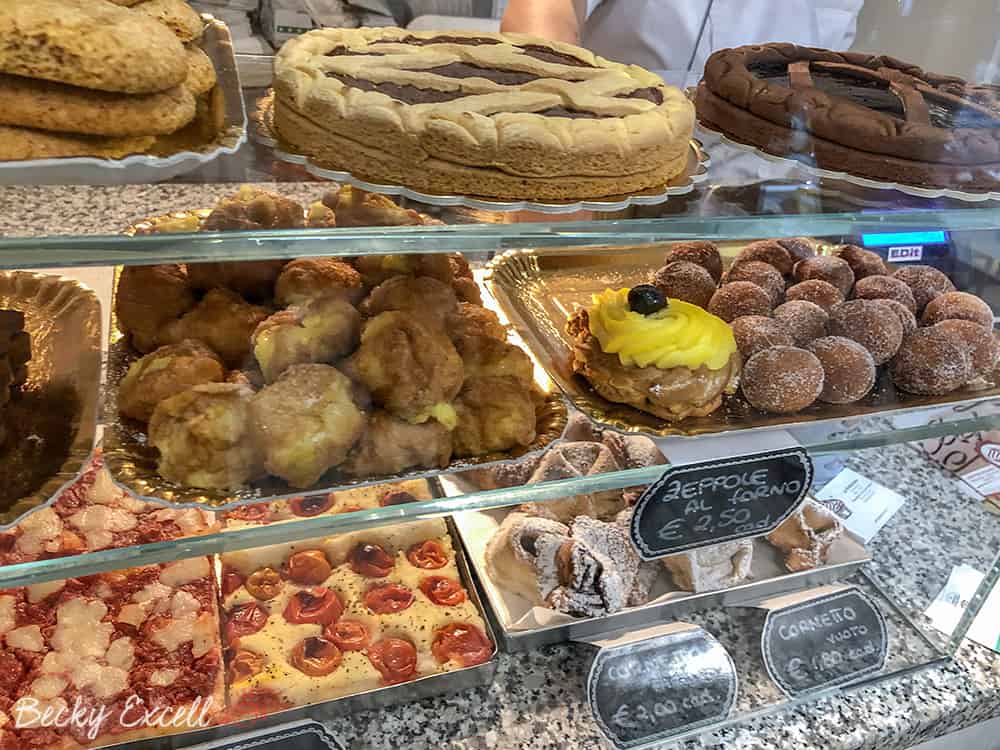 Next stop on my gluten free guide to Rome (didn't you know this was a guided tour?!) is La Pasticciera.
You could almost miss this little gluten free bakery near the main Termini train station. It's down a few steps and a little hidden, but you definitely don't want to miss it!
Everything here is gluten free and the choice once again is crazy, especially as this is quite a small shop. The donuts are amazing, the Italian croissants are off the scale -in Italy, they love to fill them with sweet creams… and I would definitely recommend that you do!
They also offer lots of savoury options if you are looking for some lunch, like the awesome pizzas in the photo above.
I tried my first Chiacchiere of the trip here – little fried pastries that are eaten during Carnevale (I think this is around Shrove Tuesday in Italy). They are amazing and we even brought so home with us as a souvenir. If you get the chance to try them, make sure that you do!
12) Celiachiamo, (various locations with Celiachiamo Lab being the largest – but all are good!)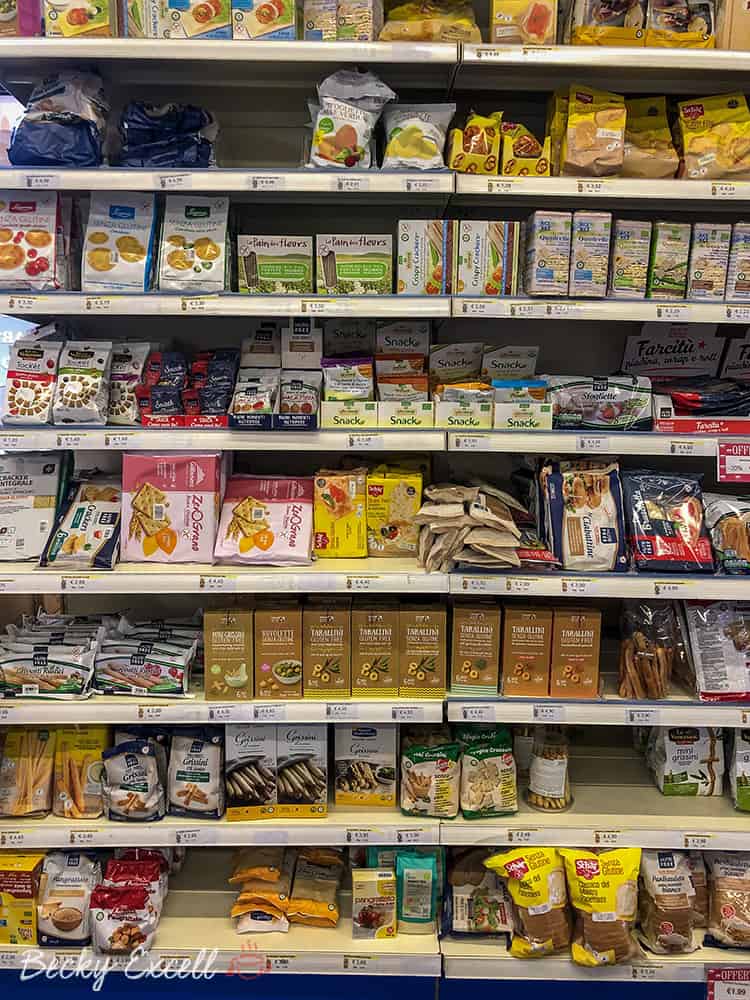 And what would my gluten free guide to Rome be without the BEST GF SUPERMARKET EVER?! It's like the free from aisle finally got it's own dedicated shop!
Not far from the Vatican, we came across Celiachiamo which was filled with more gluten free products than I've ever seen in my life. Honestly it was incredible. Frozen products, fresh products and shelves filled with cakes, biscuits, pasta, breakfast options, pizzas, desserts. I was blown away.
It made the free from aisles we have at home look like nothing!! The good thing about this shop is that it's walkable from the Vatican, so if you need to grab some snacks for whilst you are in Rome or to take home with you, this is a great place to go.
However!!!
(yes, I just threw in a dramatic however with not one, but three exclamation marks. Brace yourself!)
Celiachiamo have gone one step better and have an even bigger supermarket which was a 15 minute drive from where we were staying and it's probably the best gluten free supermarket in the universe.
I've never seen anything better (not even in my wildest dreams) and I'd be surprised if I ever do! It's called Celiachiamo Lab and it is *huge*. They have over 1500 gluten free products and also an in-store bakery where fresh bread is baked daily, as well as pizza, pastries and cakes.
I mean, it's a gluten free dream right?! It definitely has to be seen to be believed and it definitely a great stop for gluten free in Rome. I'm getting excited just typing this!
13) A gogo, Viale Giulio Cesare, 66/68, 00192
Here's another place fairly close to the Vatican. In Rome, cafeterias seem to be fairly common and this one offers tons of gluten free options.
Not everything is gluten free as they do have some croissants with gluten in them, but everything is clearly labelled and kept separate.
If I was in the Vatican area, it wouldn't be my number one choice as there are SO many amazing places there, but if you are walking past it's definitely worth a visit. They have tons of traditional Italian treats and the gluten free biscuits we picked up were delicious!
Gelateria Fata Morgana is another fully gluten free gelato spot (gluten free cones too) with 8 locations across Rome.
I did mention earlier that Fiocco di Neve was my favourite place for gelato in Rome but this is a not too distant second (we ate a lot of gelato in Rome as you can imagine!).
What Makes Fata Morgana unique is their crazy selection of flavours, many of which you won't find anywhere else. From fig, banana, lime and loads of other eccentric variations between, these gelaterias have something for everyone. They do have more simple, traditional flavours of course!
The owner of Fata Morgana is a Coeliac herself too. My gluten free guide to Rome wouldn't be the same without Fata Morgana!
15) Sans de blé, Via Gabriello Chiabrera, 58C, 00145
It's crazy to think that I am telling you about another gluten free bakery, but that's just gluten free in Rome for you!
Sans de blé is situated to the south of Rome and had a handy Metro station close by which made it easy to get to.
I feel like I'm just repeating myself throughout this guide but again they do the most amazing selection of cream filled pastries, tarts, pizza, focaccia and cakes. I just can't believe the quality is so high across every single one of the gluten free bakeries in Rome I've mentioned so far!
16) Il Viaggio, 14, Via Isonzo, 00198
Il Viaggio is another restaurant accredited by the AiC and a great dinner location if you are staying more towards the north of the city.
We came across it purely by chance as we were up exploring the area after a trip to the Spanish Steps and onwards to the Hard Rock Cafe.
Once again, *everything* on their menus can be made gluten free so they don't even need a dedicated menu for gluten free. This is the case in a lot of AiC restaurants in Rome. Whilst there's no pizza on the menu here, there's tons of lovely pasta, fish and meat options alongside some Italian classic desserts.
I noticed they even do gluten free cooking courses here if you fancy it whilst in Rome… which I will defo take them up on next time! I need to know how they make their food so yummy ?
17) Grom, (10 locations across Rome)
Grom is always a safe spot for gluten free in Rome as it's 100% gluten free and serves some of the best gelato around in gf cones.
They have 10 shops in Rome so wherever you are, you won't be far from one. And if you don't have gelato in Rome, you haven't done it properly!
I'd recommend Crema di Grom and Stracciatella, my favourite two flavours ?
I don't think there's been enough Risotto on my gluten free guide to Rome so far!
As the name suggests, this restaurant is all about Risotto – an Italian dish that's sometimes forgotten about. We all swarm the pizza and pasta when we arrived but nothing is more homely and traditionally Italian than a hearty bowl of risotto!
The menu here is 100% gluten free yet again and there is soooo much choice on the menu in terms of flavours. For me, I just go for anything with Pecorino cheese so the cheese and bacon risotto tickled my fancy!
But if you wanted to go proper traditional, the veal risotto would be a good choice. As well as all the mains being risotto, the appetisers and desserts are all rice-based too.
However, when we talk about rice based desserts its not all rice pudding at all… think rice flour cream puffs filled with hazelnut cream or tiramisu (The beers are all rice based too!).
19) Croquembouche, Viale dell'Arte, 42/44, 00144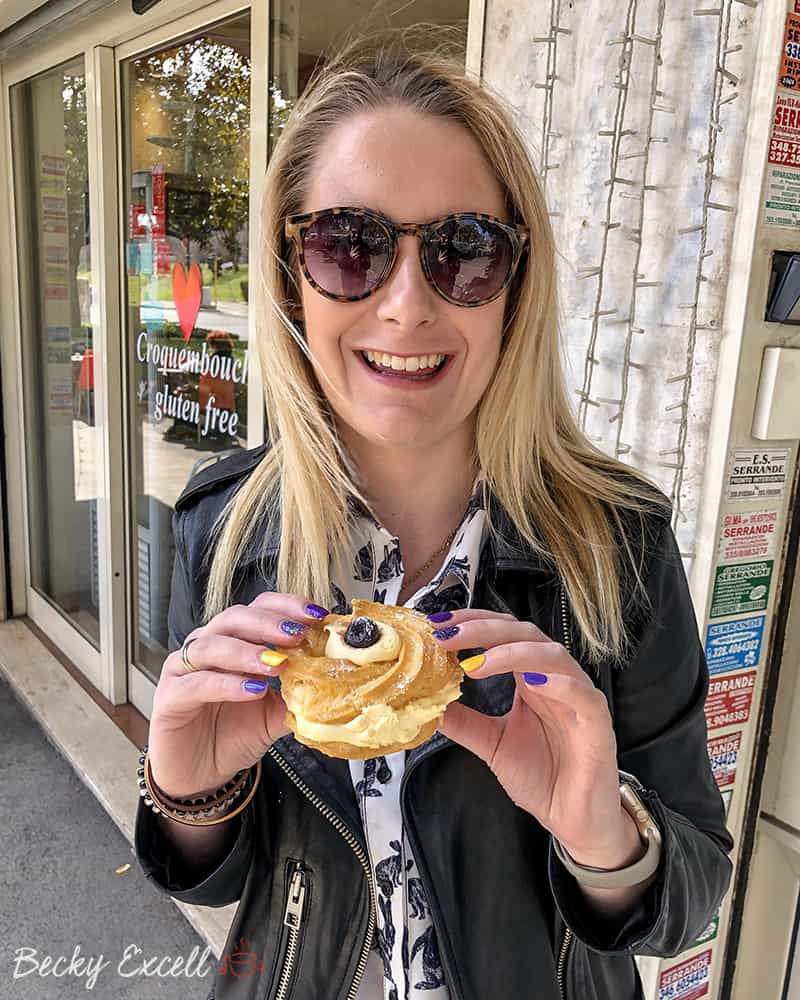 I've totally lost count of how many gluten free bakeries are in my gluten free guide to Rome… oh well!
Like a lot of the gluten free bakeries in Rome, Croquembouche is not situated in the centre of Rome.
But again, this is somewhere that is well worth a trip out to if you have some spare time. We used the 'mytaxi' app when we wanted to visit places that weren't so easy to walk to or get the bus/metro to, and it worked really well.
We grabbed ourselves some Zeppole di San Giuseppe (cream filled pastries with a little alcohol in the cream) and they were delicious. I also grabbed a platter of Chiacchiere (the Italian fried pastry strips) which we successfully brought home on the aeroplane with us – so worth it!
Honestly, you could have a holiday in Rome just going from gluten free bakery to gluten free bakery! Which is what I basically did ?
20) Cumbo Bistrot, Via Collatina, 86, 00177
To the east of Rome is Cumbo Bistrot, another fully AiC accredited gem.
If you are staying further out this way it's somewhere you need to go. They serve delicious gluten free breakfast, lunch and dinner as well as having a bakery with cakes, pastries and croissants – all gluten free.
21) El Maiz, Via Tolemaide, 16, 00191
One observation we made in Rome was that there is a lot of Italian restaurants!
(don't laugh!)
That might sound stupid, but when you compare it London where there are sooooo many different cuisines on offer…. it's such a contrast to Rome. I found that in Italy, they really embrace their own cuisine 90% of the time – and rightly so… they do it so well!
However, it's still nice to find a few different restaurants in Rome and El Maiz is one of them.
El Maiz is Venezuelan so think Arepas and Empanadas freshly made gluten free for you. It's another AiC accredited place and one for those who fancy a change from pizza and pasta.
22) Mangiafuoco, Via Chiana, 37, 00198
If you are further up towards the north of Rome, Mangiafuoco is a definite visit as most of the menu can be made gluten free.
As with a lot of places in Rome, a country flag is placed in food that is gluten free to distinguish gluten free food from regular food…
(they are not just trying to guess what country you are from like I thought ?)
Gluten free pizza, calzone, pasta and gluten free beer on tap are all on offer here. We didn't go for gluten free Sunday brunch, but they told me that this is an all you can eat style buffet that's entirely gluten free. Defo check this place out for gluten free in Rome!
23) Erudito Burger Bar, Largo di S. Luca Evangelista, 4, 00176
How is this the first burger place in my gluten free guide to Rome?!
Yep – Rome is also home to a burger restaurant that's 100% gluten free and accredited by the AiC.
Erudito Burger Bar is on the east side of Rome and easily accessible via the Metro if you are staying further away. The bread is freshly baked and it's definitely the sort of place that nobody would know is totally gluten free.
They also do some delicious gluten free desserts if you can fit one in after your burger! There's lactose free and vegan options too.
Here's another patisserie/bakery for gluten free in Rome that's also situated in the south.
We made quite the trip around a lot of these and each time I debated whether it was worth it… and it always was! If you have the time to explore a little bit further out and are on the hunt for gluten free pastries and fresh cakes, it's definitely worth a trip.
25) Il Punto, Via Gasperina, 151, 00173
Il Punto is located on the outskirts of Rome and not far from the airport we came into, Rome Ciampino. This restaurant has a dedicated gluten free kitchen so everything is kept completely separate ??
26) Pane & Vino, Via Ostilia, 10, 00184
Now, I'm popping Pane & Vino in because I have no doubt that people will be looking for gluten free options around the Colosseum whilst in Rome – we were!
I'd heard this was a good place to go so we wandered across. It's very small and serve what look like amazing fresh sandwiches. They offer gluten free bread and a couple of the sandwiches could be made gluten free I was told.
They said that we would need to wait 20 minutes for our gluten free bread to be ready, but we unfortunately had to pass as we had a busy day ahead. I've heard good things though so it might be worth visiting if you are in the area and after some lunch! Let me know how it is if you stop by.
27) Zum Roma, Piazza del Teatro di Pompeo, 20, 00186
I've popped Zum Roma in as it's in a great location near Campo de' Fiori and Piazza Navona (a lovely area that we drank many an Aperol Spritz and watched the world go by – I'd recommend at least walking through this area).
Zum is a great place to pick up a tiramisu (it's their speciality) and of course they have gluten free and lactose free options!
They have lots of tiramisu flavours but only the regular one comes gluten free. I enjoyed mine so much I thought it was worth popping in my gluten free guide to Rome (If you want a pistachio gluten free and lactose free tiramisu head to Mama Eat though… it's great!).
28) McDonalds, (various locations across the city)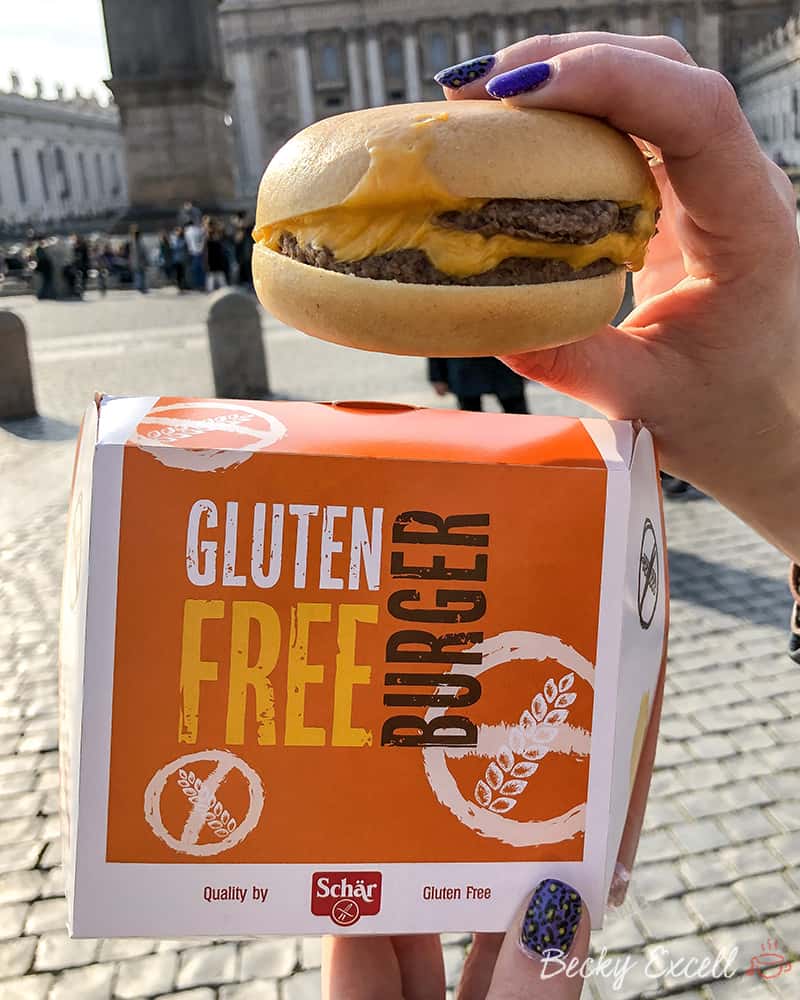 Yes McDonalds is yet another unexpected place for gluten free in Rome!
I feel bad putting this in here surrounded by so many amazing traditional gluten free places… but McDonalds in Italy does do gluten free! So I absolutely had to include it in my gluten free guide to Rome.
You can order a hamburger or a cheeseburger gluten free and it comes in plastic packaging within the box. It must be cooked in the packaging to avoid cross contamination FYI.
The bun is the Schar hamburger bun which is a bonus but I did find the burger to be a little soggy due to the condensation from being cooked in plastic. If you are wanting something quick on the go, it's an easy option… and when we don't have gluten free McDonalds in the UK it is so tempting!
29) General Supermarkets across Rome (Conad, Carrefour Express, Coop)
Your average supermarkets in Rome are pretty good with stocking gluten free products. Of course when you're in the city centre. the supermarkets are very small versions but they all seem to have more than the basics – bread, cakes, biscuits, cereal, pasta etc.
Sometimes they have a dedicated 'senza glutine' area and other times it seems to be blended in with the rest of the products. The bigger the supermarket the better the choice, just as it is in the UK.
We found a bigger supermarket called Conad in the Trastevere area where we were staying. The actual shop has books, clothes, homeware etc, but there's an enormous supermarket downstairs with tons of gluten free and lactose free products dotted around.
30) Fiumicino and Ciampino Airports
If you are visiting Rome you are most likely going to visit one of the two airports in the city. There's two airports in Rome – Fiumicino and Ciampino.
Fiumicino is substantially bigger than Ciampino and has a lot of choice gluten free-wise. There is a guide on their website to all the food and drink places which even has a section dedicated to which places have options for gluten free.
However, we flew into Ciampino airport which is much smaller and I was told that there would be no options for gluten free. However, this is not the case.
The airport is very small but they still have space for a chiller with lots of gluten free sandwiches before security and after security, in the departures area. We really enjoyed travelling through Ciampino airport – it's so small that in February/March the airport is pretty empty!
Overall thoughts on gluten free in Rome…
Rome absolutely blew my mind when it came to gluten free. There were soooo many gluten free places located centrally, including restaurants, bakeries, gelaterias, cafes and more.
And then, the fact that they were all AiC accredited just made it even better. I found that places approved by AiC had amazing knowledge and practises on cross-contamination, ingredients and everything gluten free.
If you're like me and the only gluten free person in your party, then don't hesitate to drag your whole group to any of these restaurants/bakeries/cafes. Gluten free in Rome is so great that a. nobody would ever notice anything is gluten free and b. tons of places in this list serve gluten free and regular, gluten-containing food as they understand how to serve both safely.
Also, if you're dairy free, be aware that lactose free does NOT always mean dairy free. A lot of the cheese used in Rome, like mozzarella, pecorino etc. are naturally lactose free… but they're still made using real cow's/sheep milk. So bear that in mind and remember to always ask first!
Without overstating things, it is literally the best place I've ever been to for gluten free. So many of you messaged me saying how nervous you were about going to Rome because of all the pizza and pasta… but with this guide, you'll have a whale of a time. Enjoy yourself, take lots of snaps, post them on Instagram and then tag me!
Nothing makes writing this all this down more worth it than seeing all you guys enjoying yourself.
Go book a trip to Rome now!
I really hope this has been a useful guide to gluten free in Rome. If you find anymore places that you would recommend just drop me a message in the comments below, or on Facebook / Twitter / Instagram. Also if you have any other questions please do the same!
I really can't wait to go back to experience some more gluten free in Rome asap! And who knows where my next trip will be, let me know where I should go next!
Heading to Florence in Italy? Don't forget to check out my gluten free guide to Florence next!
Thanks for reading,
Becky xxx
Oh and don't forget to pin this for later!