Most people's 'must visit' recommendations are probably cultural things like landmarks, museums etc. But mine all seem to be awesome places for gluten free ? Hopefully that's ok by you! Here's 5 reasons you can't leave Barcelona without visiting Jansana Gluten Free Bakery…
Having been to Rome and Florence in Italy earlier this year (both amazing for gf) I can't believe that in Barcelona, I'm still finding places that totally blow me away. So without further ado, here's 5 reasons you can't leave Barcelona without visiting Jansana Gluten Free Bakery…
(oh and if you're looking for the location/address of this place, just check out number 2 in my gluten free guide to Barcelona by clicking here)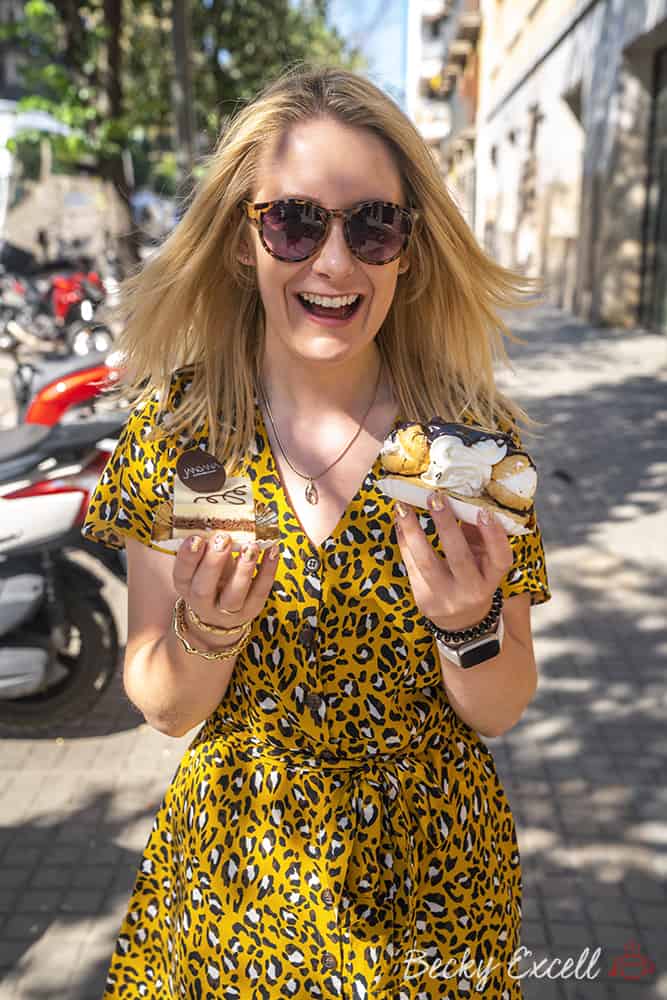 1. It's 100% gluten free.
Yep, it's a bakery. And everything is gluten free. No gluten on the premises – nothing.
Think of how it feels to walk into any bakery in the UK as a gluten free person… then imagine the total opposite of that. That's how it feels to walk into Jansana.
You can eat whatever you bloody well like! And fortunately they have an insane selection of goodies, as you'll find out if you keep reading…
2. The bread.
Have you seen the bread I'm holding in the photo below? How can that possible be gluten free?!
Surely it should just flop and bread in half, right? But no, lovely, crusty baguettes are easy peasy for the humble Jansana gluten free bakery.
Honestly, it was so close to eating real bread that if it wasn't 100% gluten free, I'd definitely be going back to double check it was actually gf!!
I mean, I don't often munch on a baguette in the middle of the street but… trust me, this was necessary!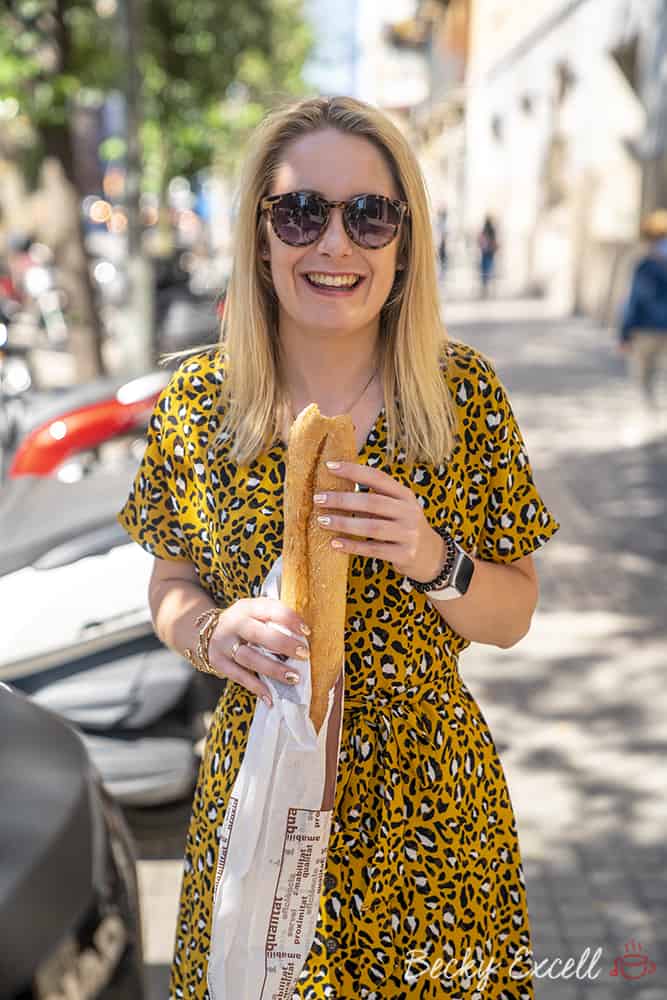 3. The pastries and cakes.
Wow. That's all I thought when I looked through the window at all Jansana's gluten free pastries and cakes on display.
They had croissants, doughnuts, cinnamon whirls, iced pecan twists as well as traditional pastries like Palmeras and Diplomatics.
And of course, they all tasted absolutely awesome – some of the best pastry I've tasted in the last 10 years of being gluten free, if not my entire life!
FYI – the doughnut tasted like an actual doughnut believe it or not… and to be honest, all of that would have been enough for me, but then there was…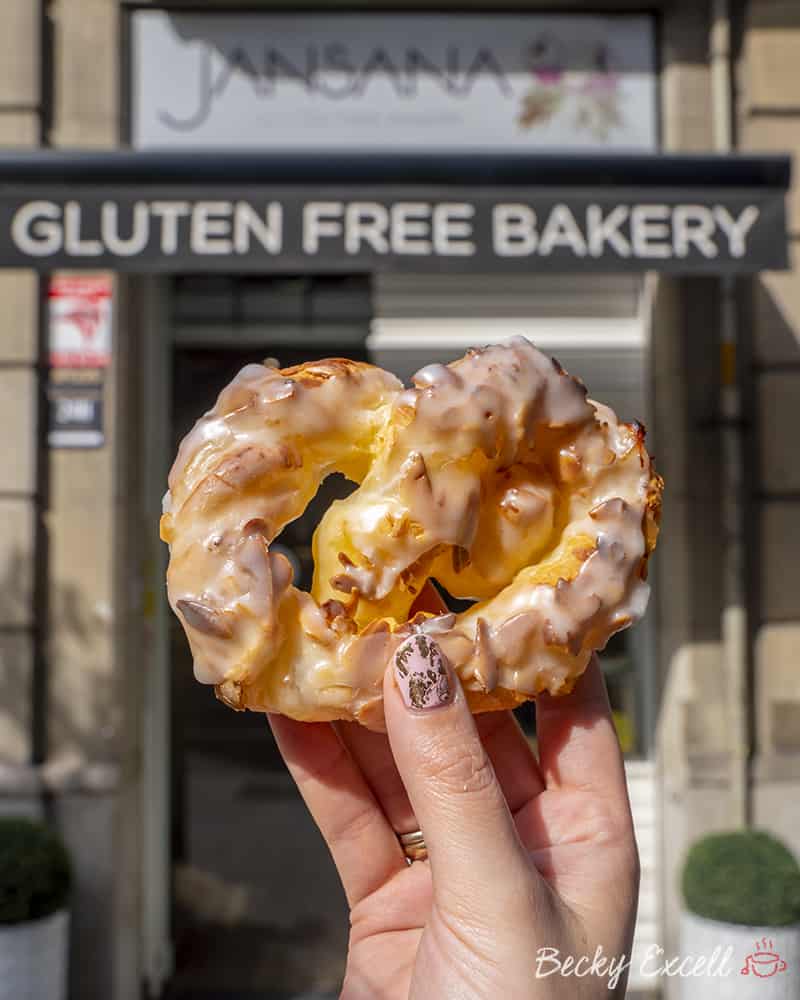 4. The fresh cream cakes.
Yep, I absolutely had to go back for the fresh cream cakes as you can see below!
This is the type of stuff we just NEVER get to eat, ever. I've now been lucky enough to vist a few awesome gluten free bakeries across Europe in my time and it's very rare that you find fresh cream cakes…
But here, they have them freshly made, daily!
I mean… what more is there to say? Just take a look for yourself!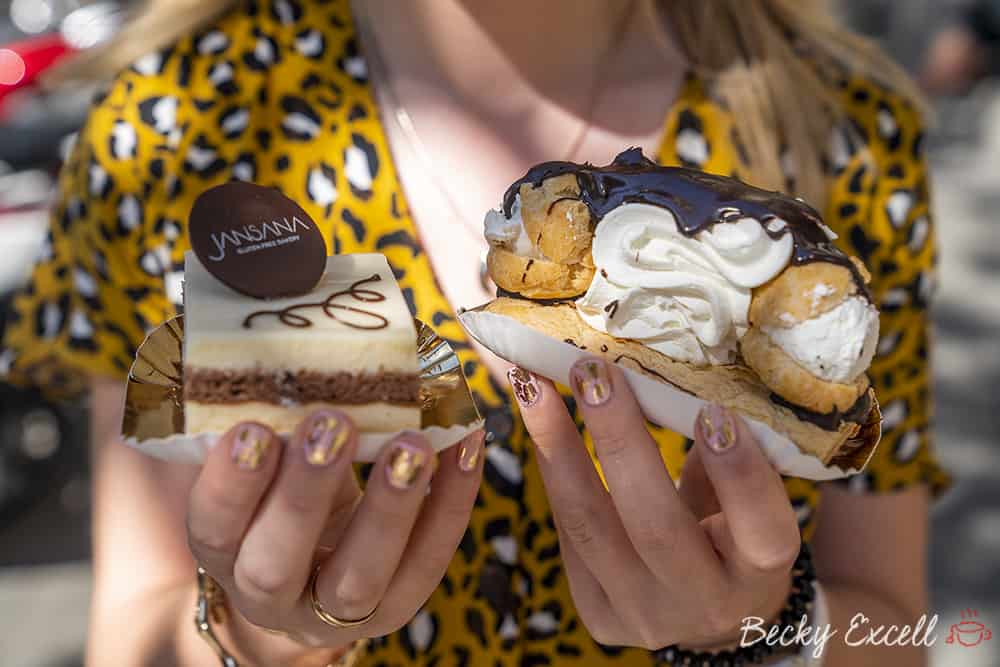 5. The staff at Jansana Gluten Free Bakery are really helpful and friendly.
My Spanish vocabulary limited to about 10 words, but that still didn't stop me from receiving amazing service at Jansana gluten free bakery.
Fortunately for me, they all spoke English and were so happy to help, kind and friendly both times I visited.
I wanted to stay and sit inside (there's quite a lot of place to sit in there) but it was so nice that we ended up getting our stuff to takeaway.
So definitely don't hesitate to ask if there's anything you're not sure about – they were very helpful with letting us know about all the lactose free options too.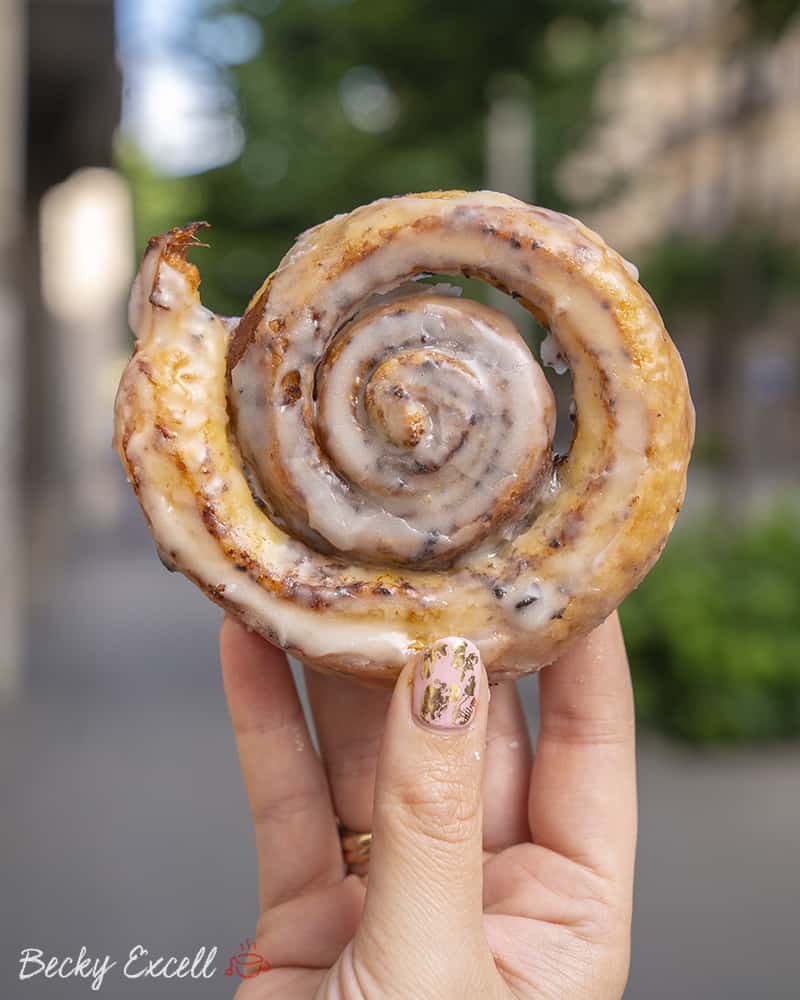 Thanks for reading about my experience with Jansana gluten free Bakery in Barcelona! If you find anymore places that you would recommend I visit, just drop me a message in the comments below, or on Facebook / Twitter / Instagram. Also, if you've been here, let me know your review in the comments below – hopefully this post will be a good guide for those thinking of visiting themselves!
I really can't wait to go back to experience some more gluten free in Barcelona asap! Don't forget to check out my post of the 30 BEST places for gluten free in Barcelona for 35 more places to eat.
Thanks for reading,
Becky xxx
Oh and don't forget to pin this for later!