50 'accidentally' gluten-free products in Waitrose, anyone? There's actually tons of them hiding amongst the shelves, all at 'muggle' prices… which is the cheapest you'll find in Waitrose!
50 'accidentally' gluten-free products in Waitrose – that means that they're outside the free from aisle, but have no gluten-containing ingredients or 'may contain' warning. Best of all, they're the same price that everyone else pays – no 'free from premium' added on!
Before you scroll further, please make sure you're following me on Instagram by tapping here. It's a massive help to me and that's where I post my latest gluten-free product finds first on my reels!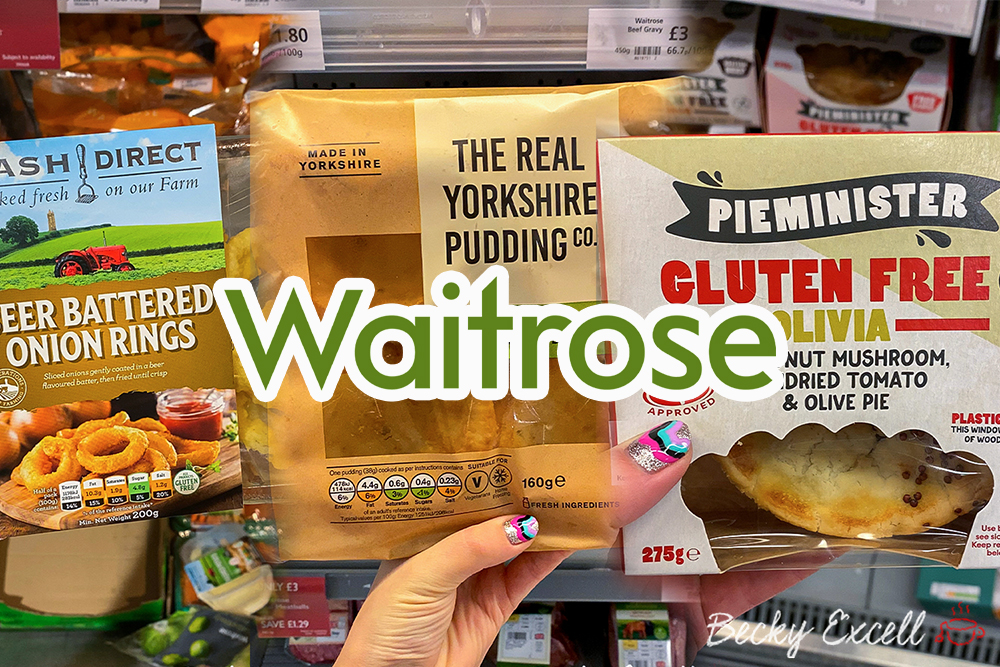 What is an 'accidentally' gluten-free product?
An 'accidentally' gluten-free product is one which is outside of the free from aisle, but doesn't contain gluten, or have a 'may contain' warning for wheat, gluten etc.
According to Coeliac UK, that makes them safe for us to eat! And it expands our choice to so much more than just the free from aisles. They don't have to be labelled as gluten-free, to be gluten-free!
(of course, Waitrose have been helpful and labelled a lot of these as gluten-free anyway)
But there's one problem… how do you know an 'accidentally' gluten-free product when you see one? Fortunately, I'm about to show you the 50 'accidentally' gluten-free products in Waitrose…
But aren't these products potentially made in an environment that also contains gluten?
If a product was produced with a risk of cross-contamination, it would have to declare a 'may contain' warning on the packaging. That's why Coeliac UK say: no gluten-containing ingredients/'may contain' warning = gluten-free!
But what if some of these products contain barley? Doesn't that make them wheat-free, but NOT gluten-free?
In the UK, if a product has less than 20 PPM (parts per million) of gluten, it's considered safe for Coeliacs and those on a gluten-free diet.
So though a product can contain barley, if it's below 20 PPM, it's still considered gluten-free. This is the case in the UK, but not in Australia, for example.
You can read more about this over on Coeliac UK here and more about barley here.
20 'accidentally' gluten-free products in Waitrose: Public Service Announcement
Of course, as most of these products aren't specifically made for people who are gluten-free, please double check the ingredients for yourself before you buy them.
Why? Well, though I've gone through great lengths to ensure all these products are safe for you lovely people, you never know when ingredients might change. Plus, some products may look almost identical, but have different ingredients from store to store.
That's why it's always good to get in the habit of checking yourself first – never blindly trust what you read online, as you can never be too careful with your health. Even if I tell you something is gluten-free, I'd always recommend checking yourself first!
As of September 2020, all of these products are safe to eat – but please, please let me know if anything changes by leaving a comment below this post. Ok, let's take a look at the 50 'accidentally' gluten-free products in Waitrose!
1. Mash Direct Beer Battered Onion Rings
You guys always ask me for gluten-free onion rings and there's some hiding in Waitrose with all the prepared veg.
BUT – this one of those gluten-free products that contain barley. According to Mash Direct's website: "During the manufacture of our onion rings the gluten has been removed to be less than 7.5ppm."
So though this product does contain barley, it is under the required limit of 20PPM to be considered gluten-free here in the UK. Just wanted to let you know as some can still react to barley regardless.
You can read more about this over on Coeliac UK here and more about barley here.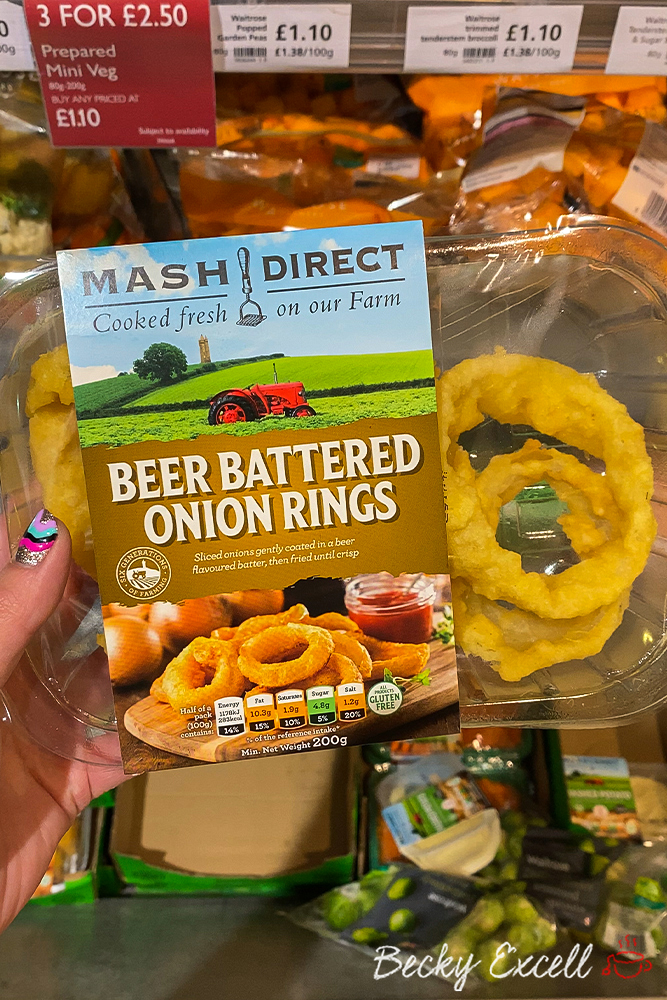 2. The Real Yorkshire Pudding Co. 4 Large Gluten-free Yorkshire Puddings
Yep, that's right, FRESH Yorkshire puddings that are totally gluten-free. And they're big too!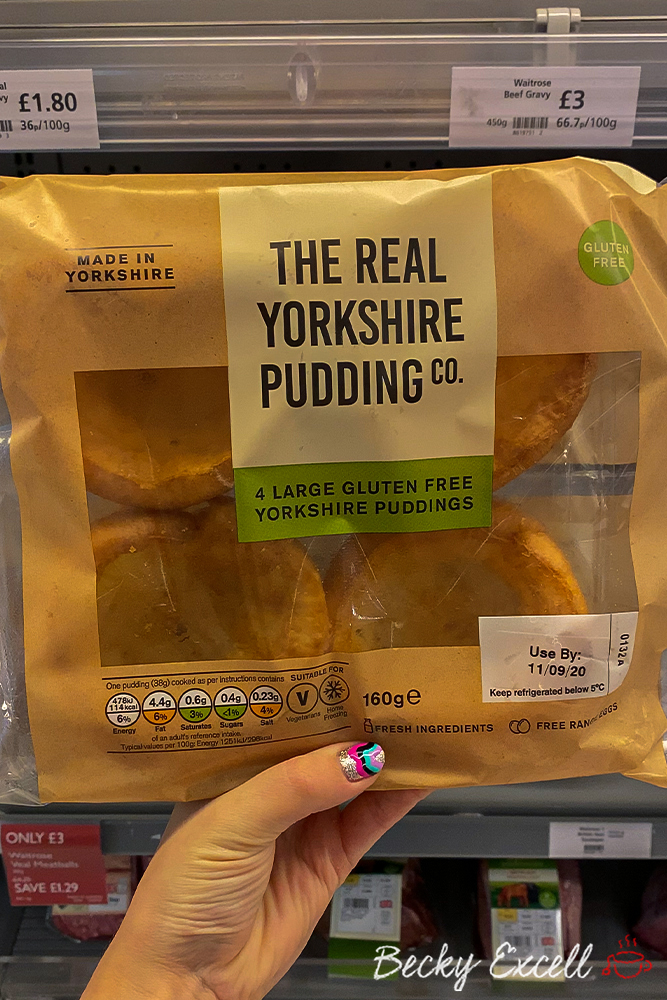 3. Waitrose Gravy
Considering there's absolutely ZERO accidentally gluten-free gravy granules in ANY supermarket, these are a great find.
Of course, they don't last as long, but it's always great to have easy gluten-free options at 'normal people' prices.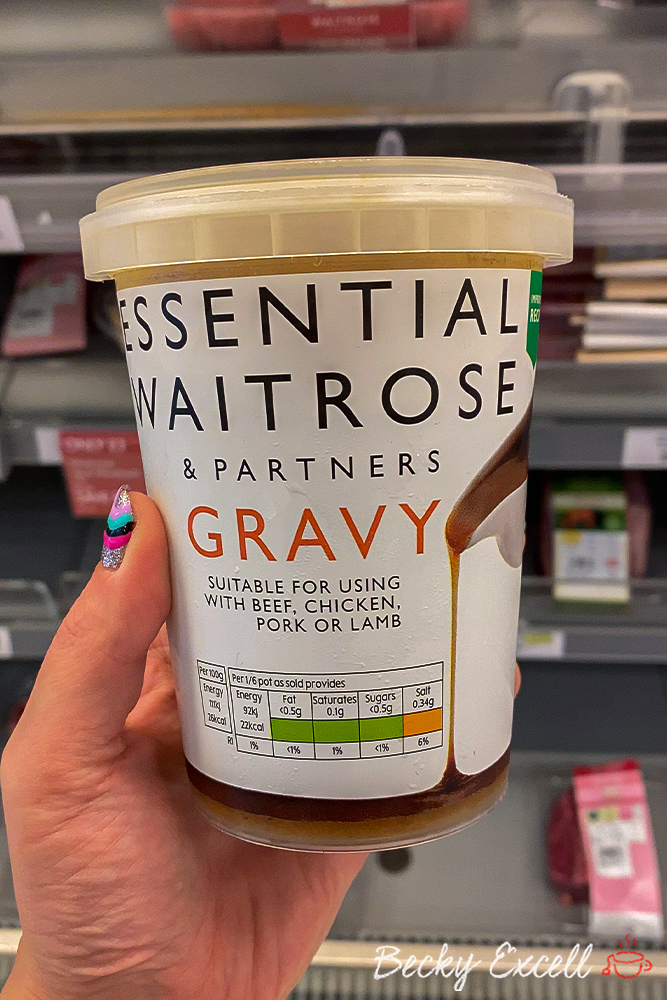 4. Waitrose 18 Pork Cocktail Sausages
Gluten-free cocktail sausages are next to impossible to find… so simply pop these in the oven and there you go!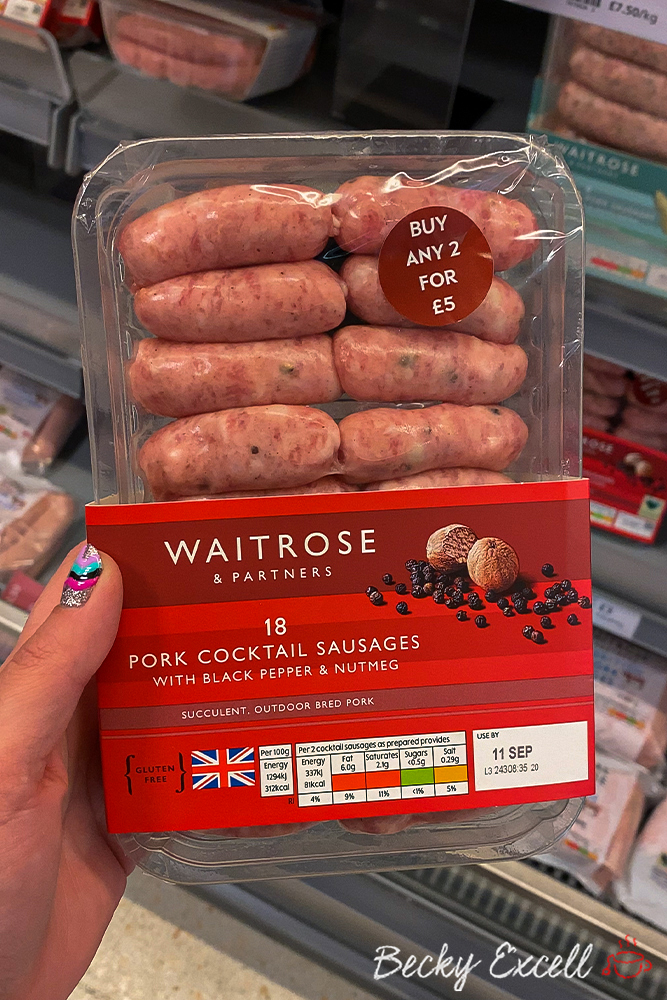 5. Waitrose 8 British Pork, Honey and Rosemary Chipolatas wrapped in bacon
As is often the case, lots of the fancier pork sausages are clearly labelled on the front as being gluten-free.
I only took a photo of these ones, else you'd just be reading a compendium of pork ?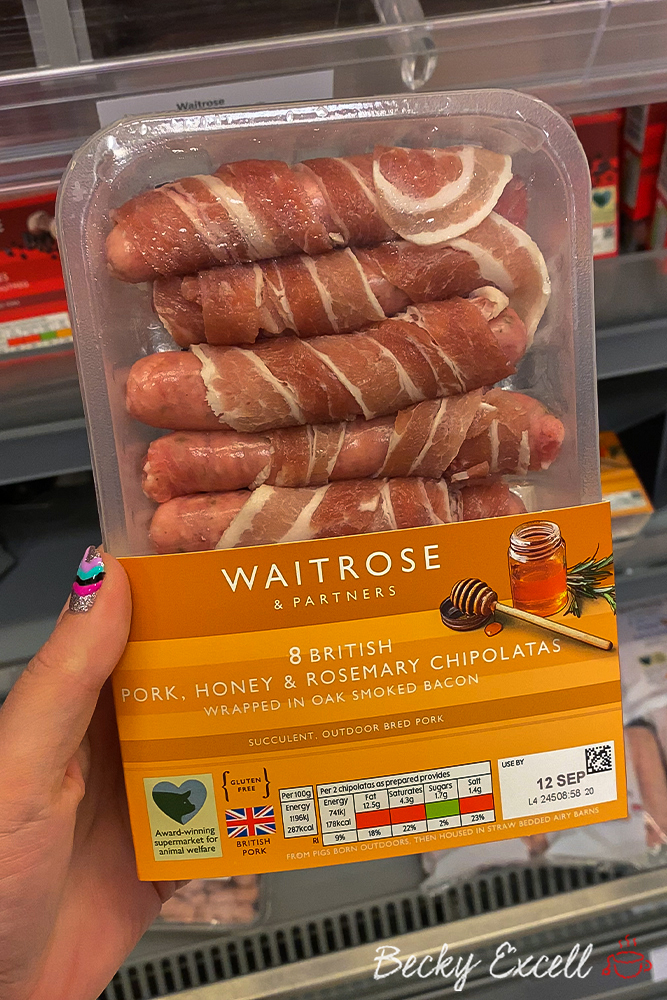 6. Gorumet Burger Kitchen 2 gourmet burgers
And of course, not all beef burgers are gluten-free so be careful! These ones are however.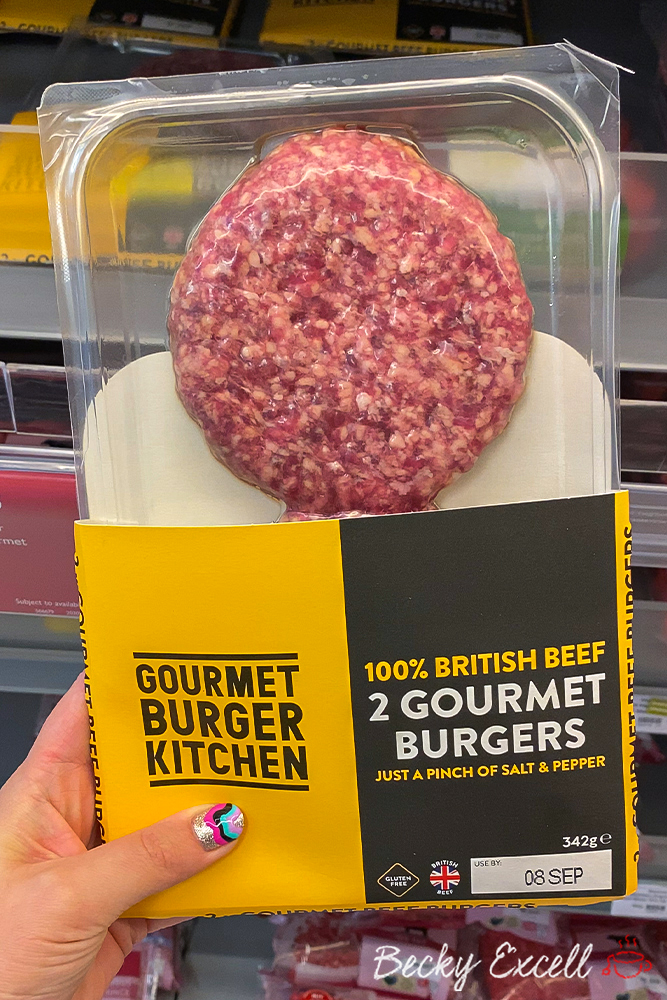 7. Waitrose Pork Schnitzel
I'd never expect anything this breadcrumby to be gluten-free – especially when they don't tell you that it's gf on the front of the packet.
But reading the ingredients on the back is believing, I guess!
8. Waitrose Leek and Wensleydale Chicken Breasts
The same goes for these too!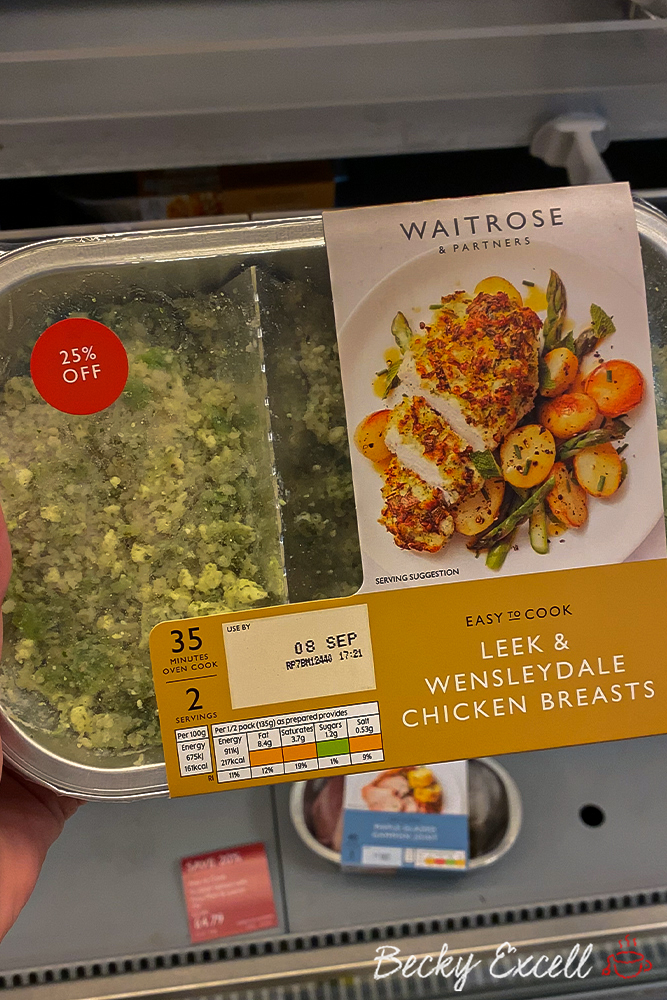 9. Waitrose 6 Pork Hot Dogs
I wasn't kidding about the pork sausages being gluten-free – couldn't resist throwing these in too as they're a little different to what you might expect.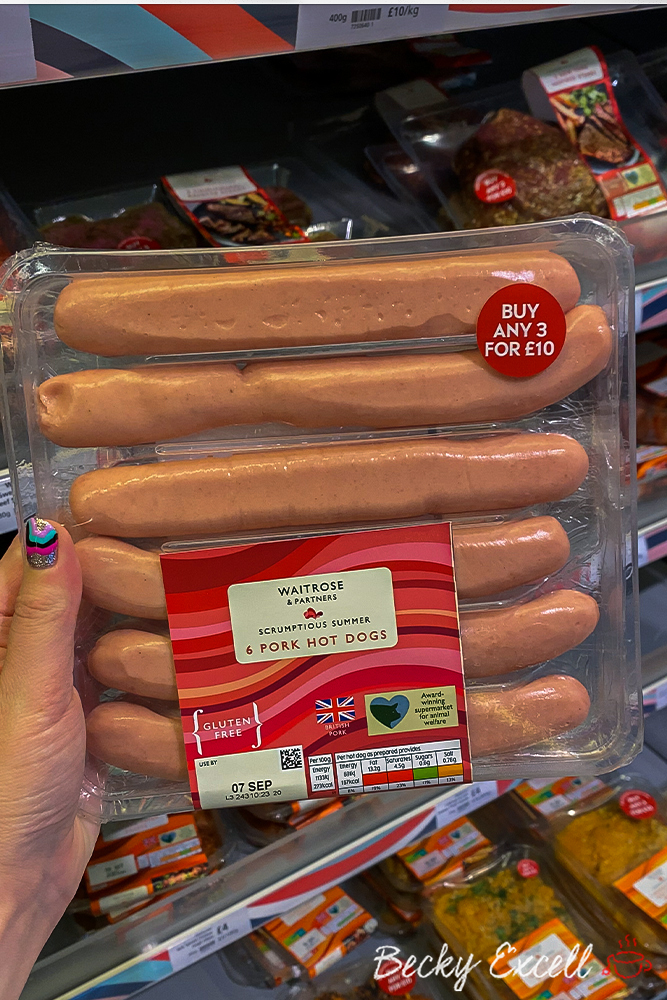 10. Waitrose free from gluten-free breaded chicken mini breast fillets
Waitrose don't have a lot of chilled free from products, but you'll find these hiding in all the muggle breaded chicken.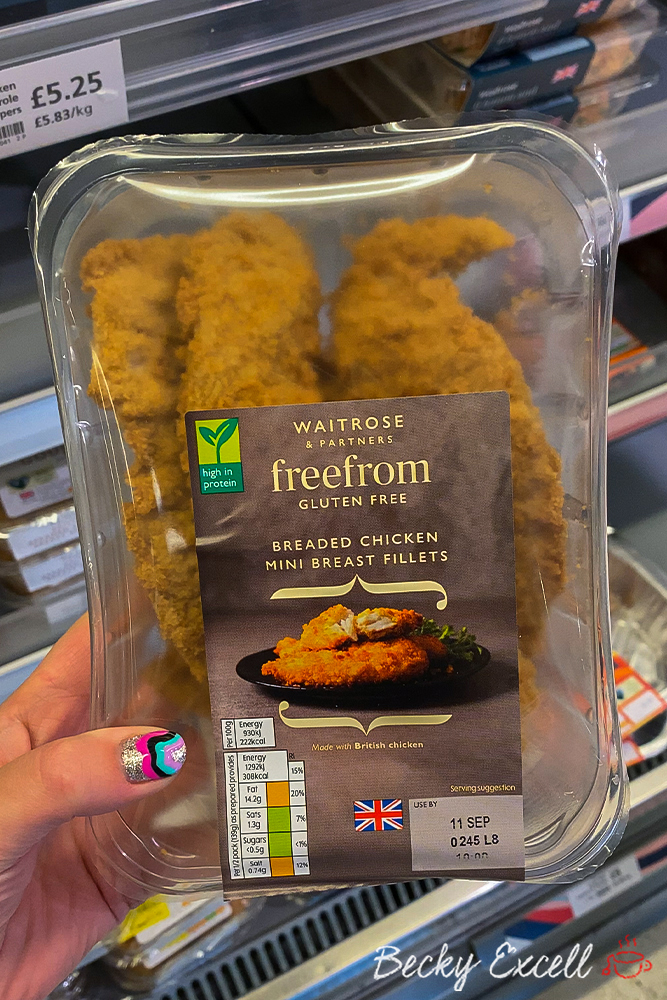 11. Mash Direct Potato, Cheese and Onion Croquettes
And here's some more Mash Direct magic! These are also next to the onion rings with the prepared veg.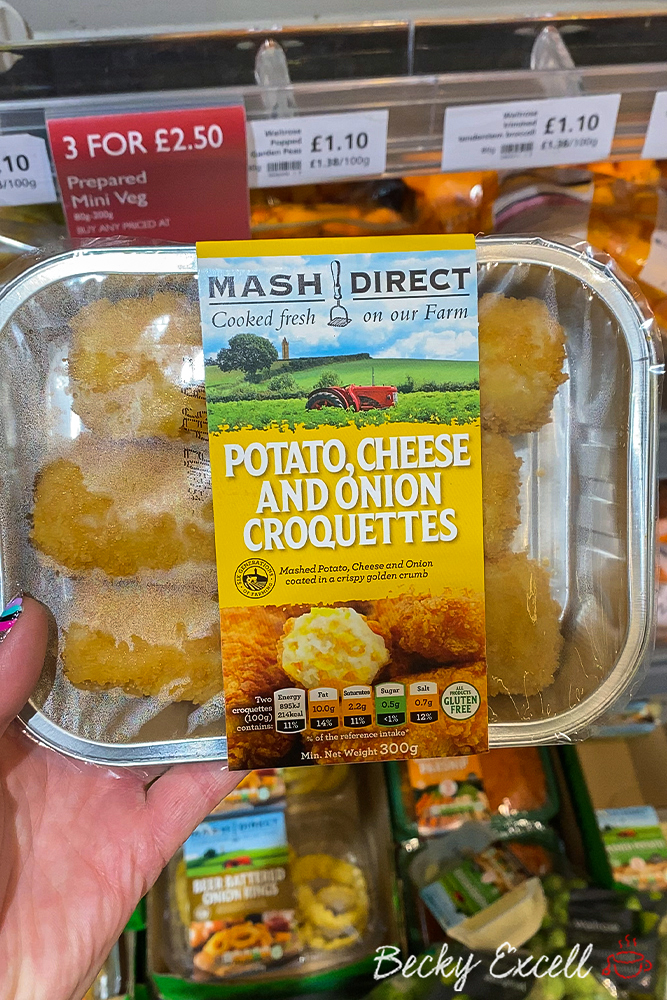 12. Waitrose Creamy and Warming Katsu Curry Sauce
Stir-fry sauce that's gluten-free? Yes please!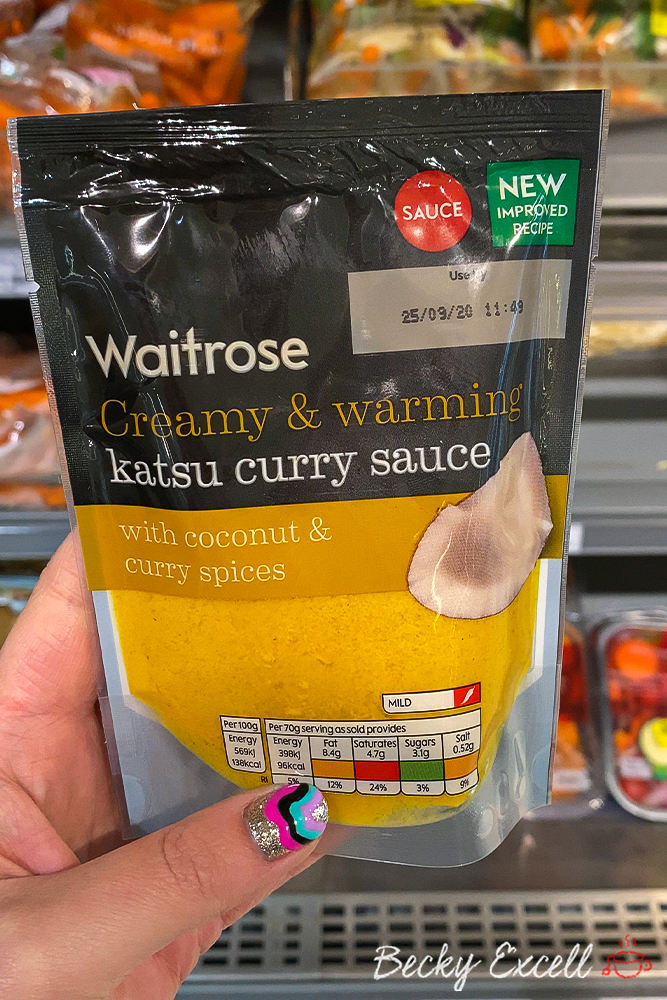 13. Tanya's Just Real Teriyaki Sauce
You might not give this a second look, so keep an eye out for this in the chillers with all the meat.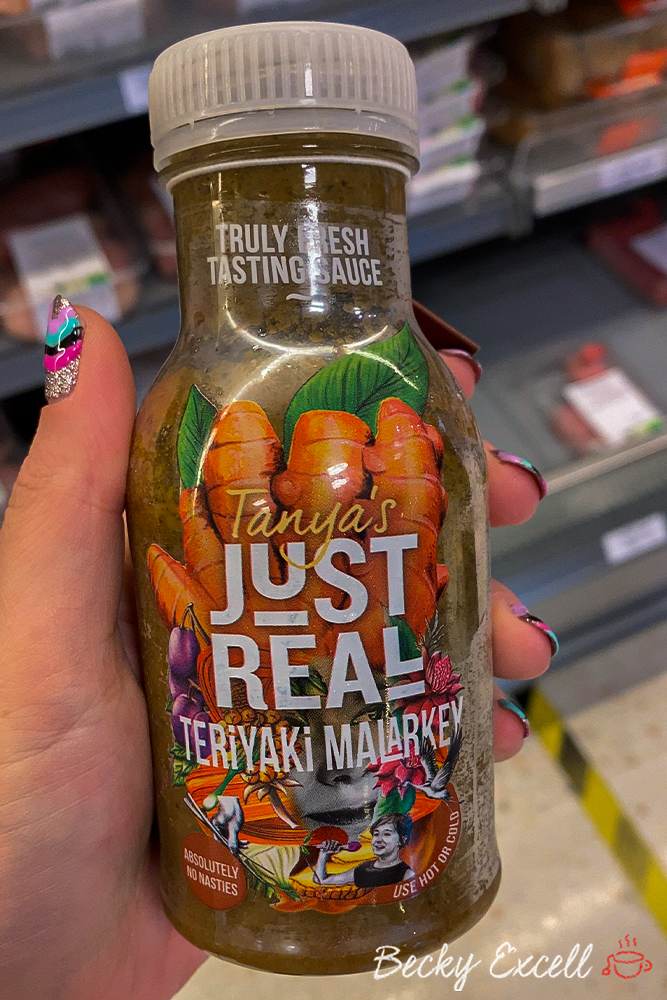 14. Waitrose Vegan Jackfruit Burger, Artisan Finnebrogue plantbased burgers, Waitrose sweet potato and quinoa burgers
I have to say, Waitrose is one of the best places for gluten-free AND vegan/veggie products.
Here's 3 different types of veggie burgers to prove it!
15. Waitrose Vegan Mushroom and Leek Bangers
And also, veggie/vegan sausages seem to be popping up all over the place, but these are gf!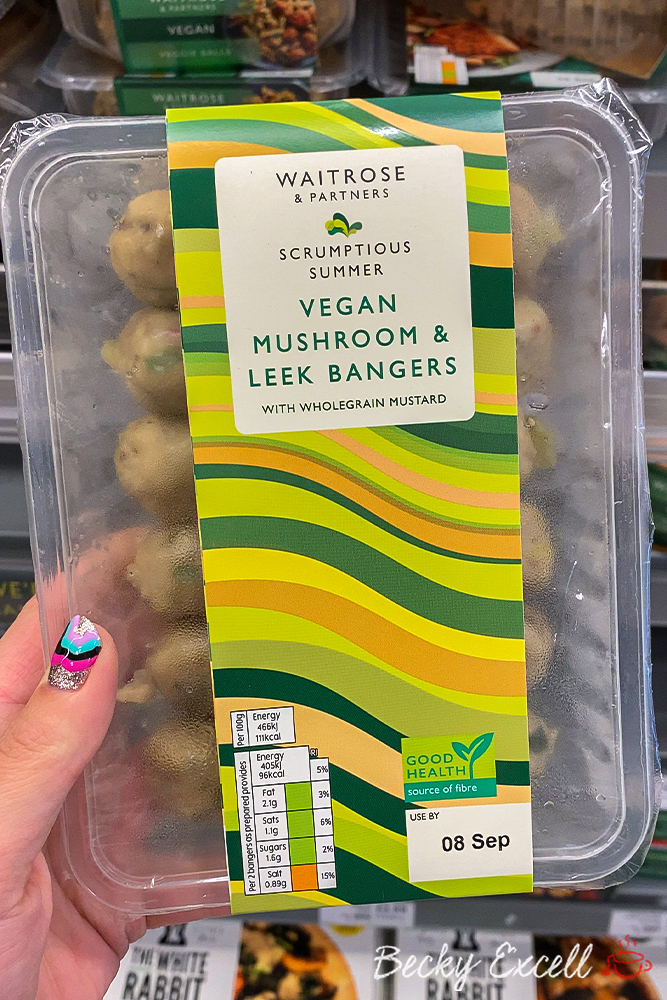 16. Clive's Nut Roast, Bombay Curry Tart, Tomato and Olive Tart
Clive's (used to be called Clive's Pies) only seem to be stocked in Waitrose these days. Best of all – they're gluten-free!
Here's three I found in my local Waitrose…
17. Waitrose Vegetarian Mushroom Arancini
Yep, another gluten-free/veggie option – clearly labelled as gluten-free on the front!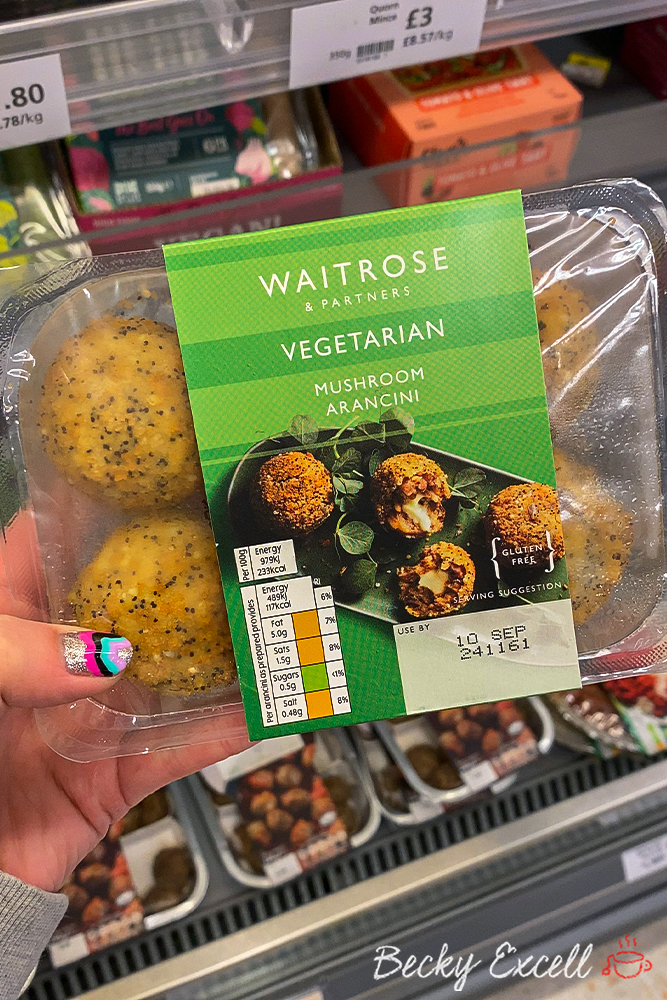 18. Quorn Pieces
Not all Quorn products are gluten-free, but these are!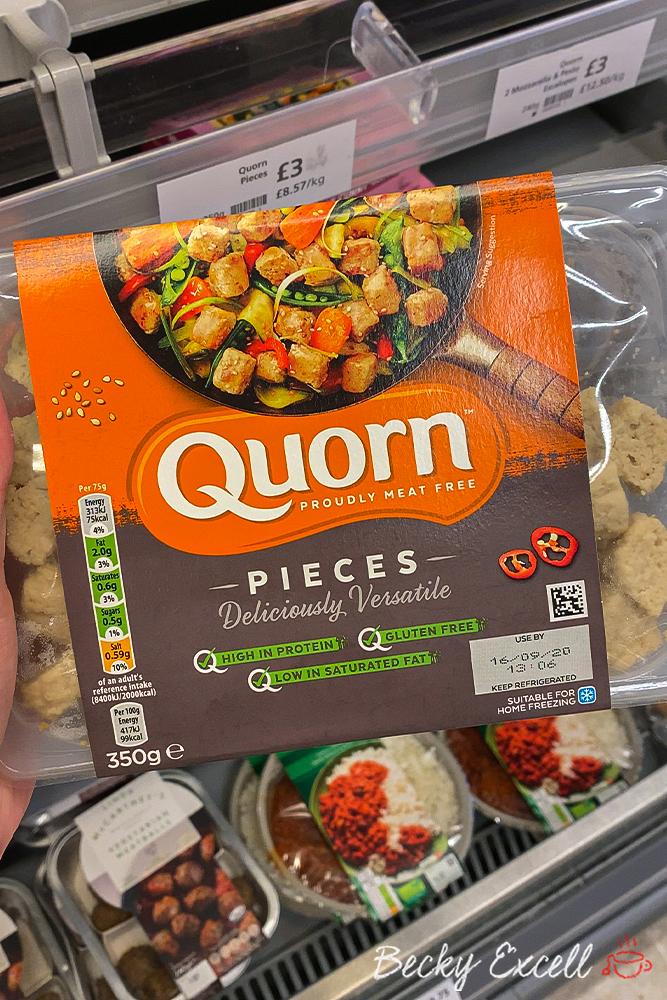 19. Waitrose Sweet Potato Falafals
If you ever need a quick on-the-go option and you're near Waitrose, these are a great option.
There's often so little on-the-go food that's suitable us, so commit these to memory!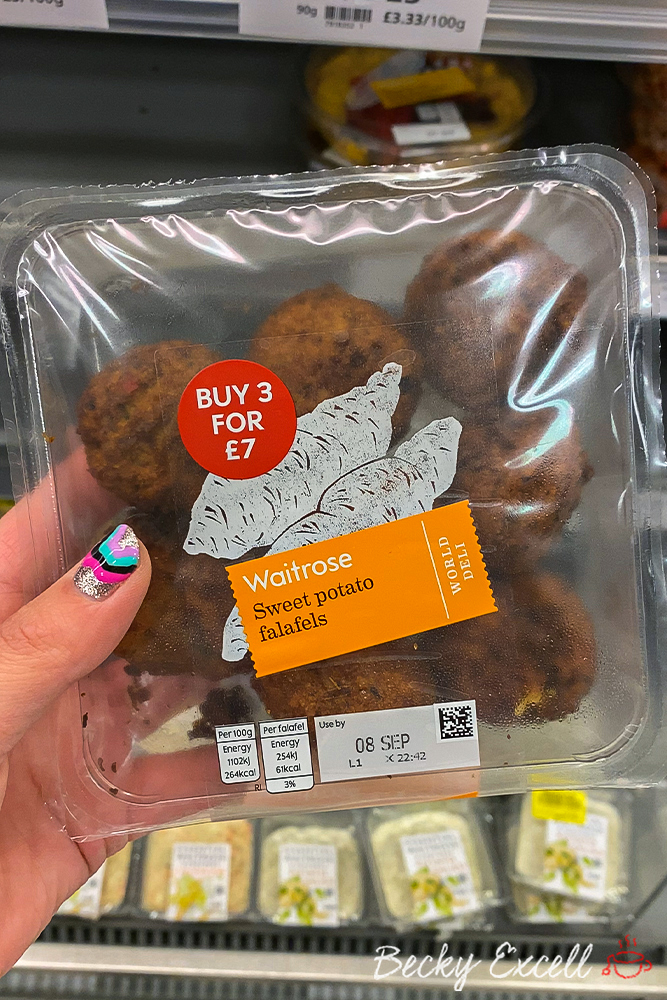 20. Pizza Express gluten-free margherita
Of course, this has been around for a long time now, but you might miss it with all the other Pizza Express pizzas.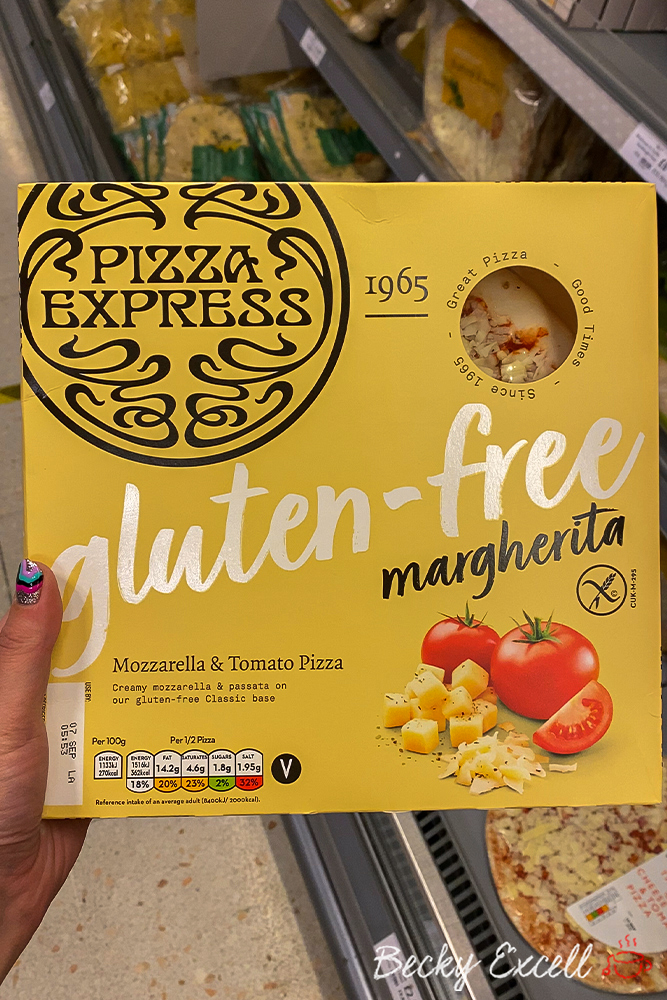 21. Ugo Thrive Fresh Penne gluten-free
Hidden amongst all the fresh muggle pasta is the holy grail of finds… fresh gluten-free penne pasta!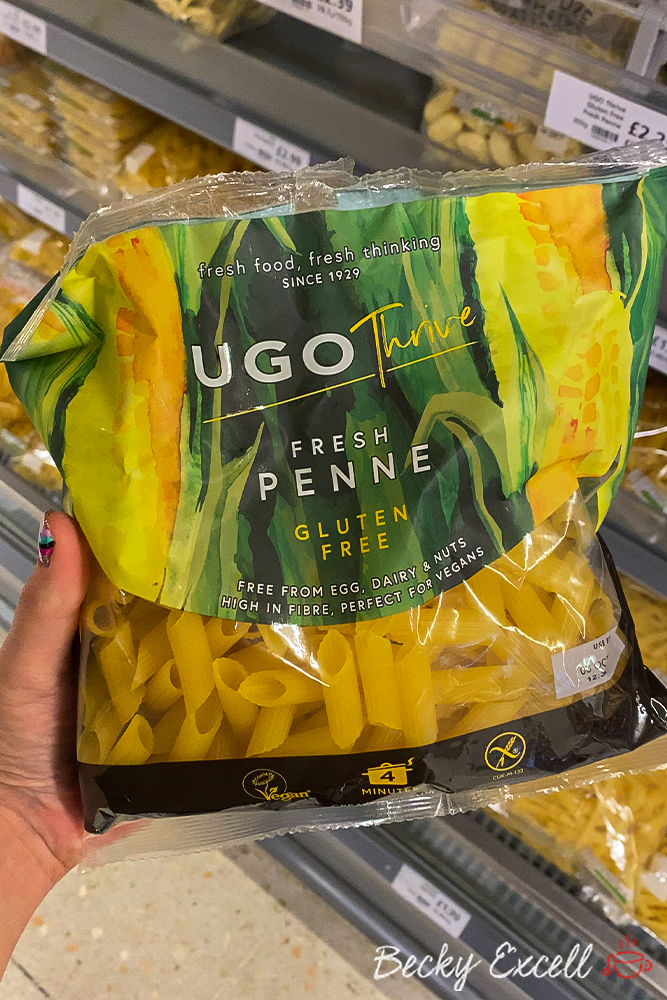 22. GU free from chocolate and vanilla cheesecakes
These are usually in the free from aisle in most other supermarkets, but you might miss them mixed into all the regular desserts.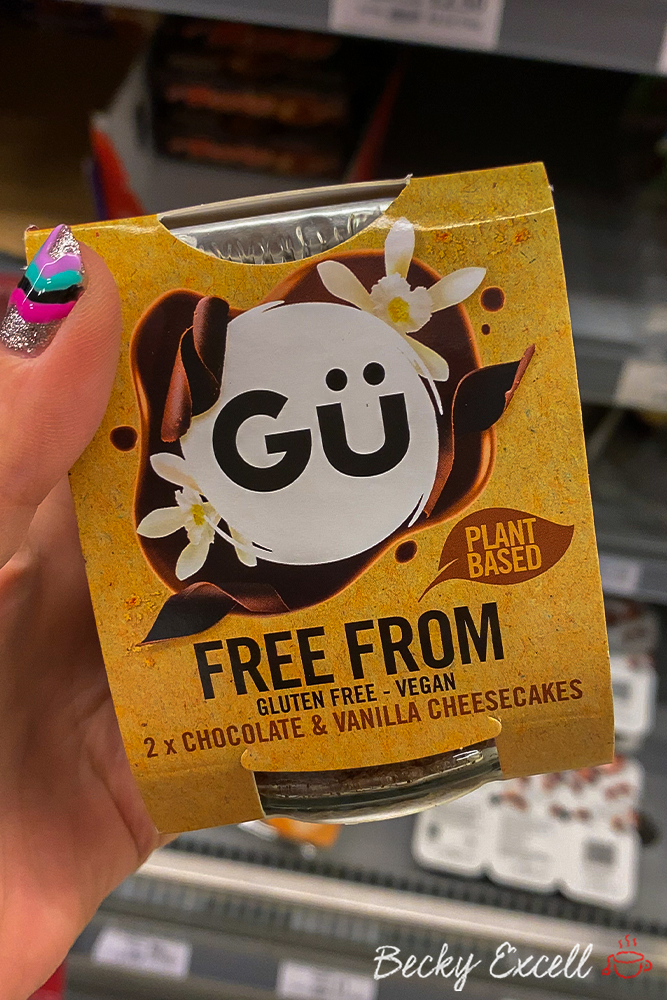 23. Clearspring organic Japanese gluten-free soba noodles
If you're tired of eating rice noodles, all the time, don't forget that these buckwheat noodles are gluten-free. Perfect for soup noodles and noodle broth!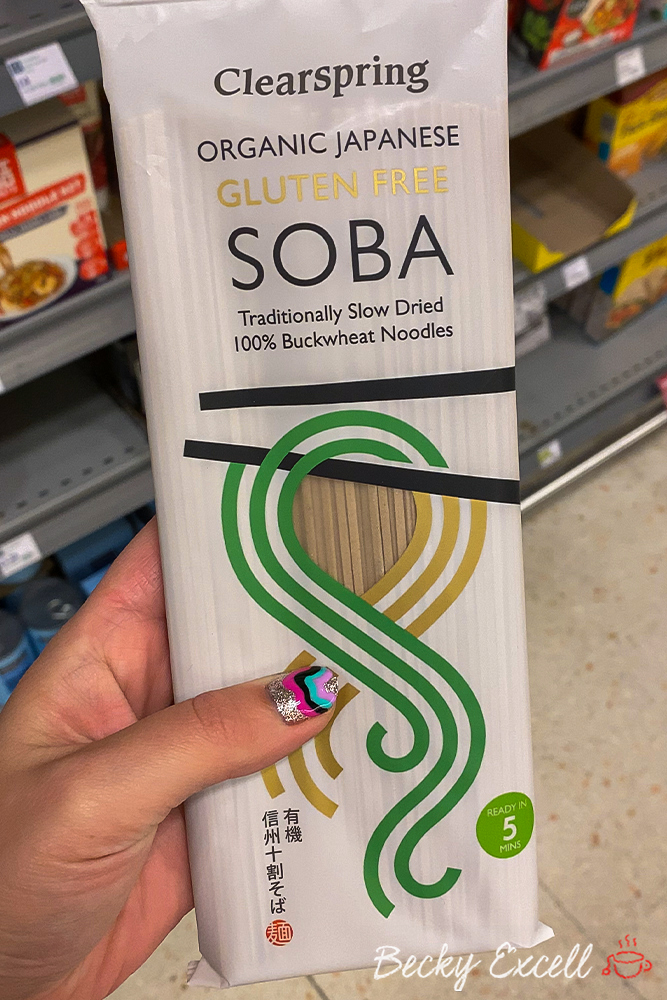 24. Thai Taste Folded Brown Rice Noodles
And you almost never see brown rice noodles, so… now you see them!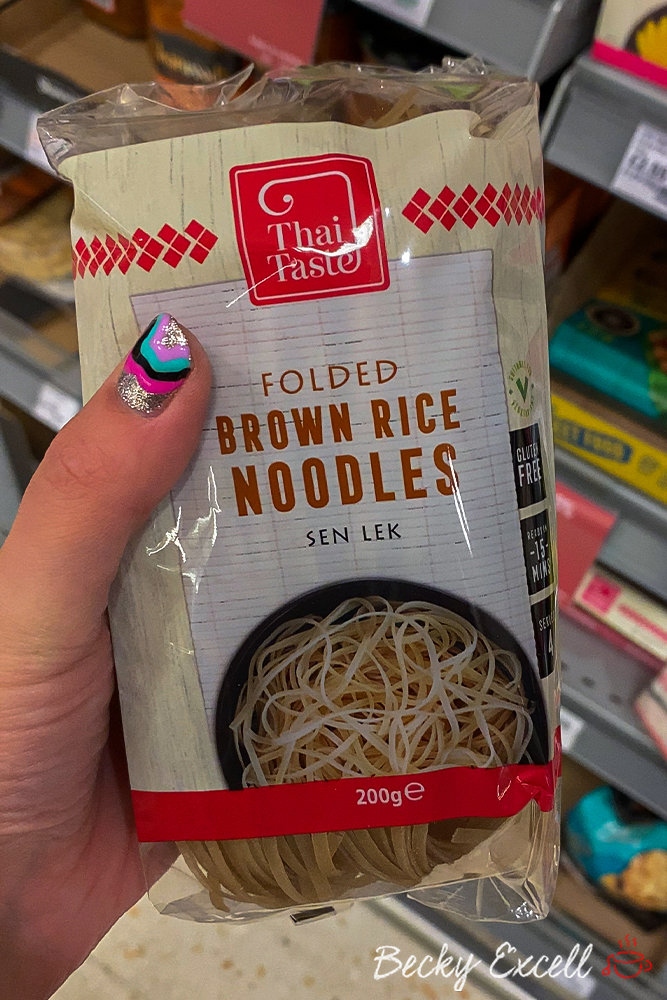 25. Waitrose Prawn Crackers
A nice little side for all those gluten-free fakeaways at home: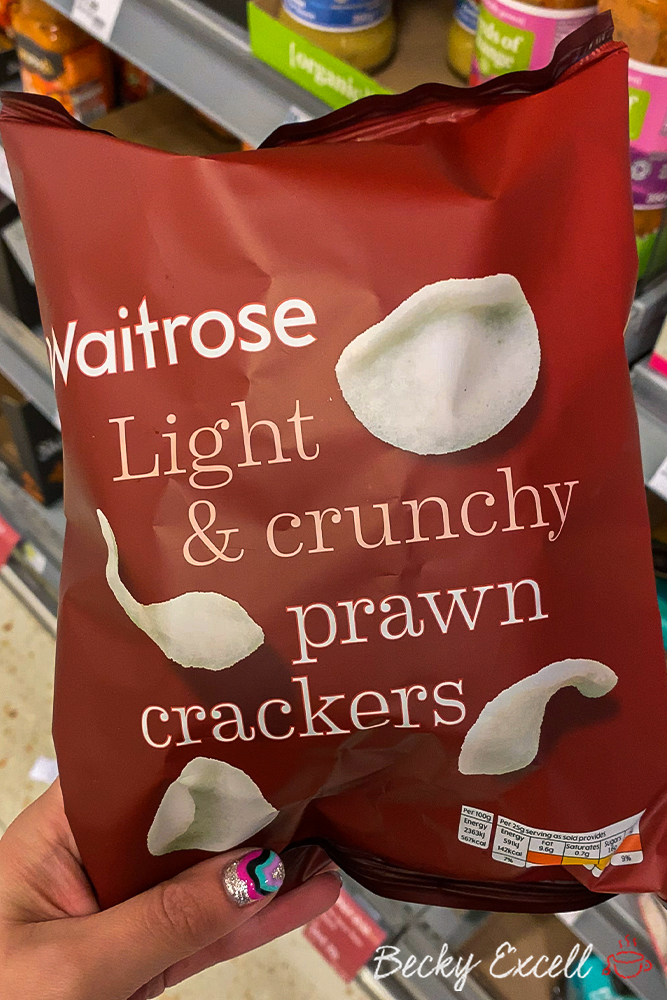 26. Whole Creations 4 raspberry swirl cones
Every supermarket seems to have their own variation on these, so here's what they look like in Waitrose: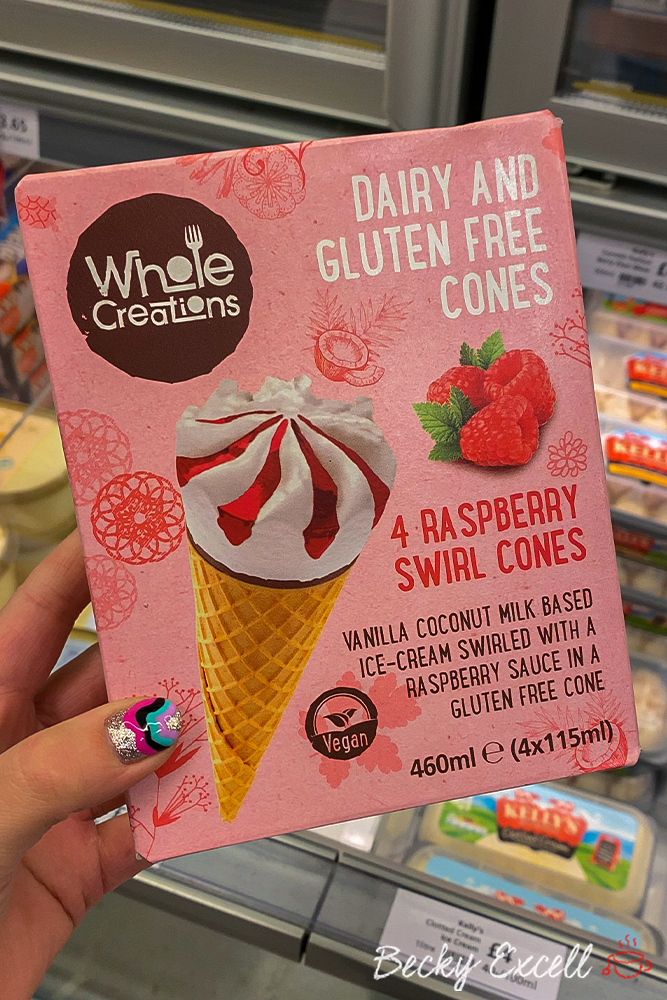 27. Pieminister Gluten-free Olivia Pie
There's three different types of gluten-free Pieminister pies in Waitrose – that alone makes it well worth the trip!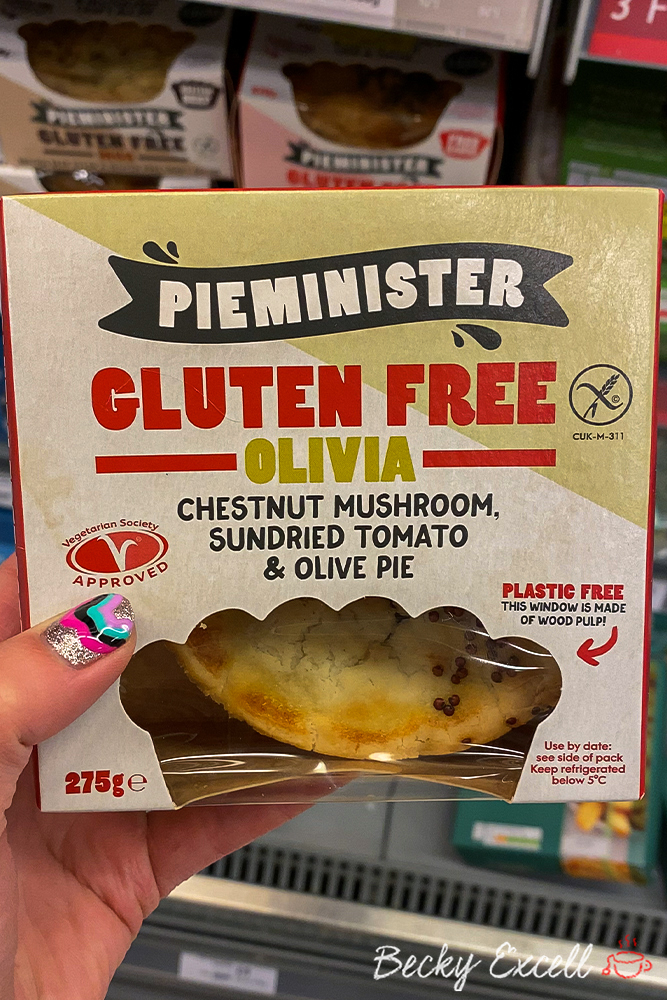 28. Waitrose Potato Rostis
And who could resist four chunky potato rostis? I hate making these myself because grating potato is an absolute nightmare!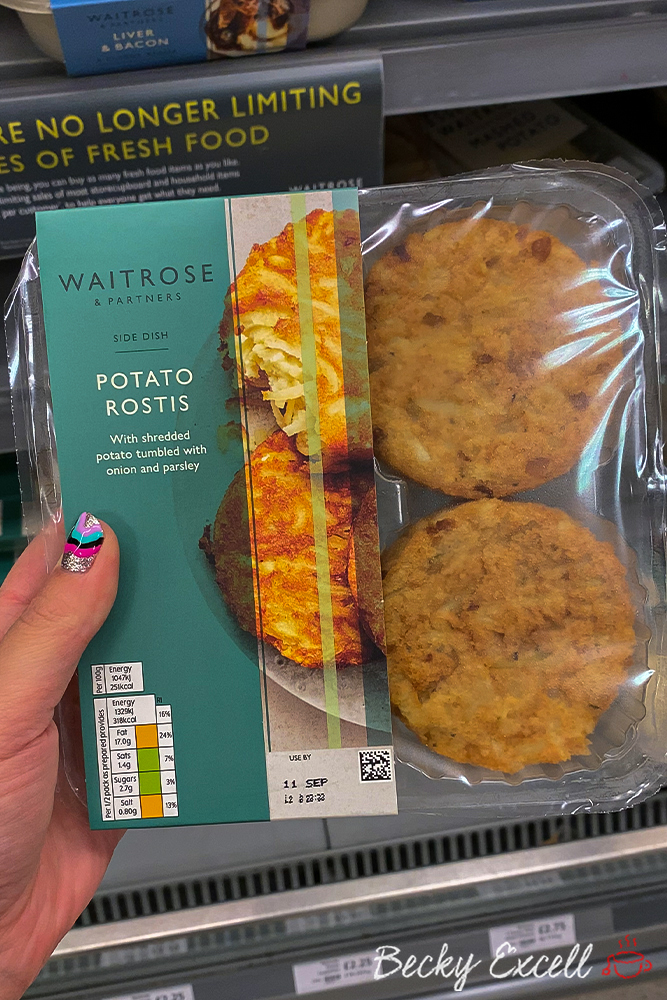 29. Kirsty's Malaysian Inspired Squash Curry
Kirsty's started out as a free from brand, so not surprisingly, all their ready meals are gluten-free.
Here's one of them, but keep an eye out for other variations too. There were lots in my store with all the muggle ready meals.

30. Coconut Collaborative Banoffee Pots
Mark can confirm that these are amazing and for once, we can actually share something for dessert – shock horror!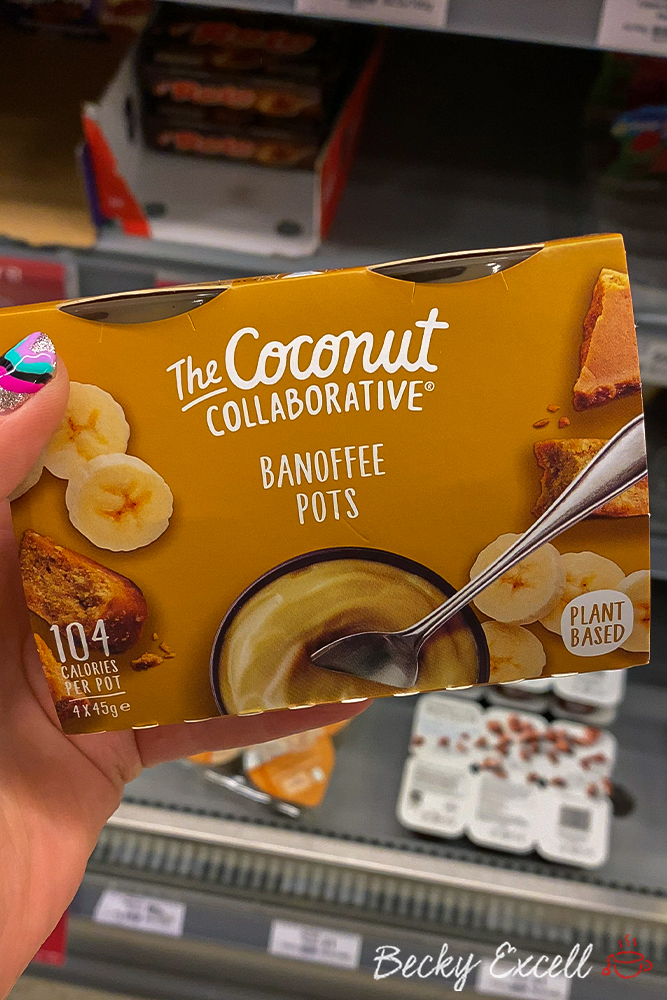 40. Troo Granola Chocolate with Orange
Here's the start of a few random breakfast-y options in Waitrose. Stay tuned for more!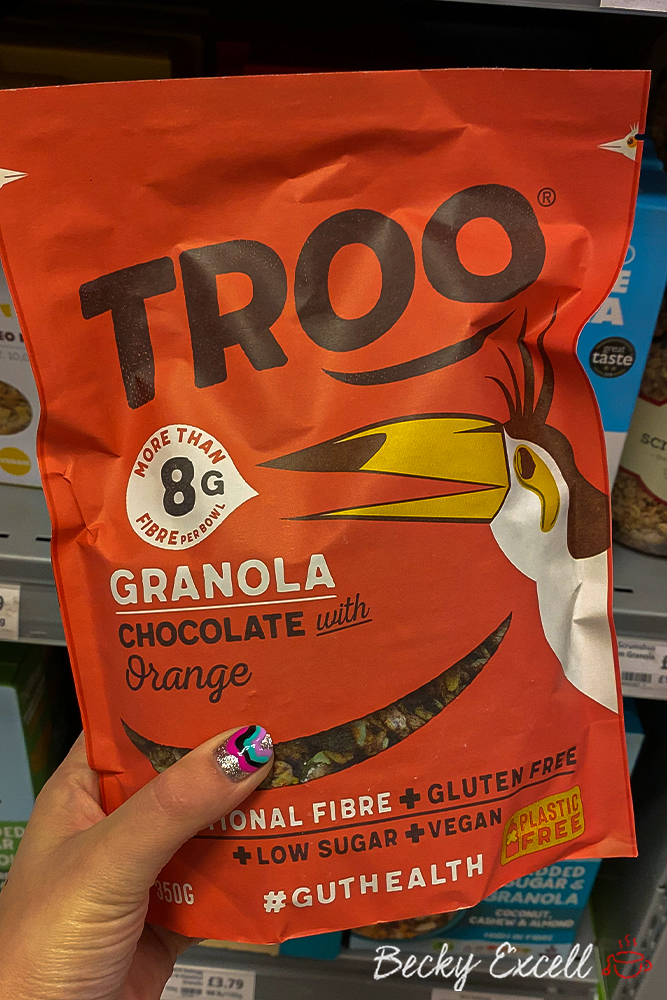 41. Amy's Kitchen Organic Split Pea Soup
Watch out for tins of Amy's Kitchen soup – it's been around for a while, but very easy to forget that it exists!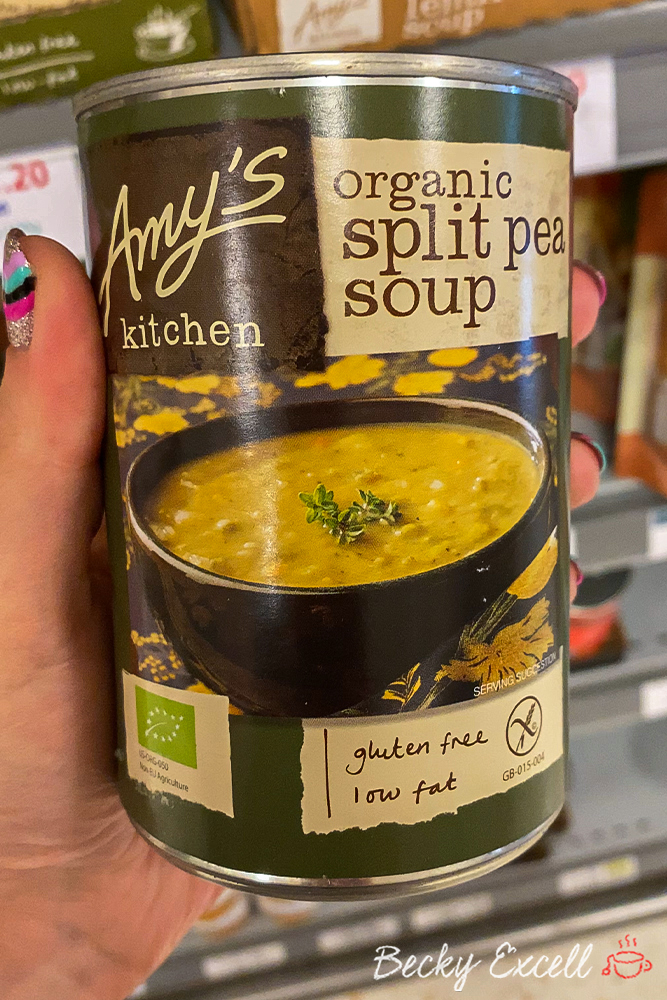 42. Nairn's gluten-free Oat Bar Mixed Seeds and Protein + Nature Valley Protein Peanut and Chocolate
These things never seem to be in the free from aisle in ANY supermarket, so don't assume that all 'muggle' cereal bars are always off limits.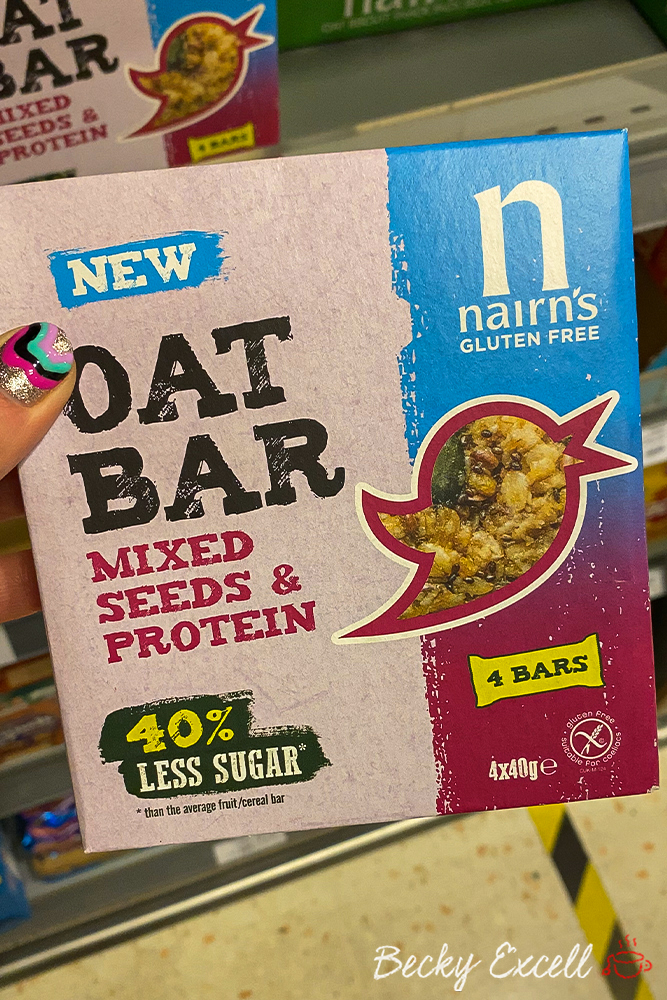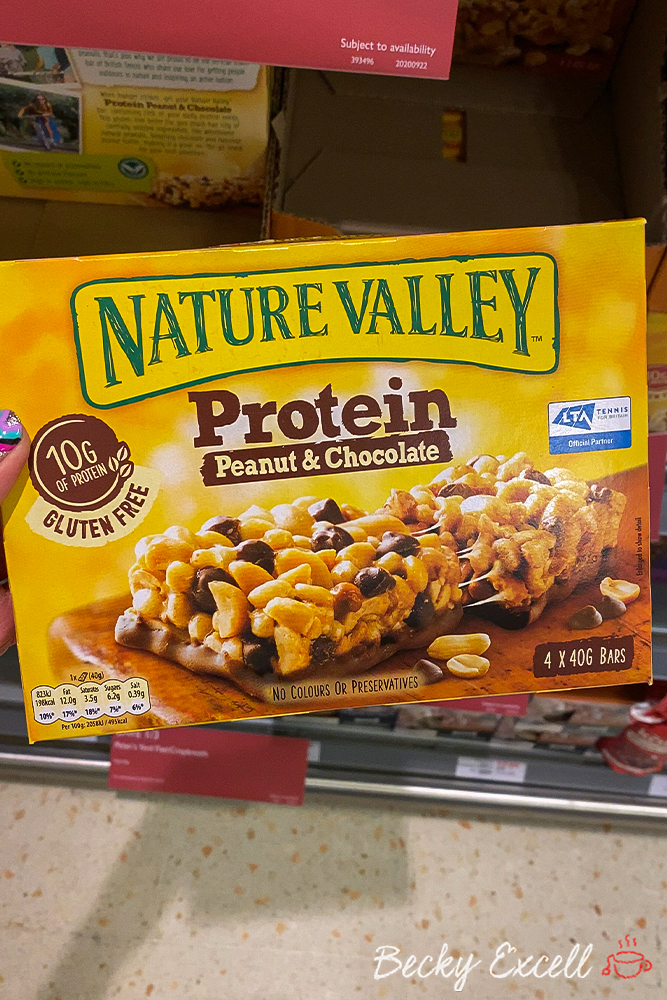 43. Waitrose Mini Poppadoms
Another stupendous side for all those gluten-free curry nights!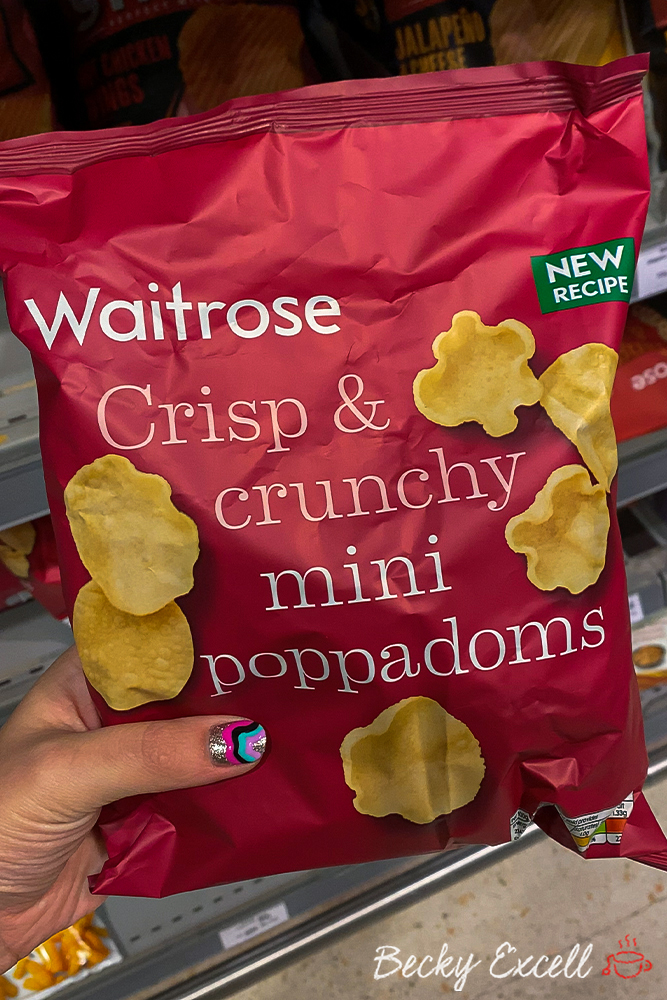 44. Waitrose Essential Cheese puffs + Bacon Rashers
Who knew that Waitrose made their own gluten-free Wotsits and Frazzles?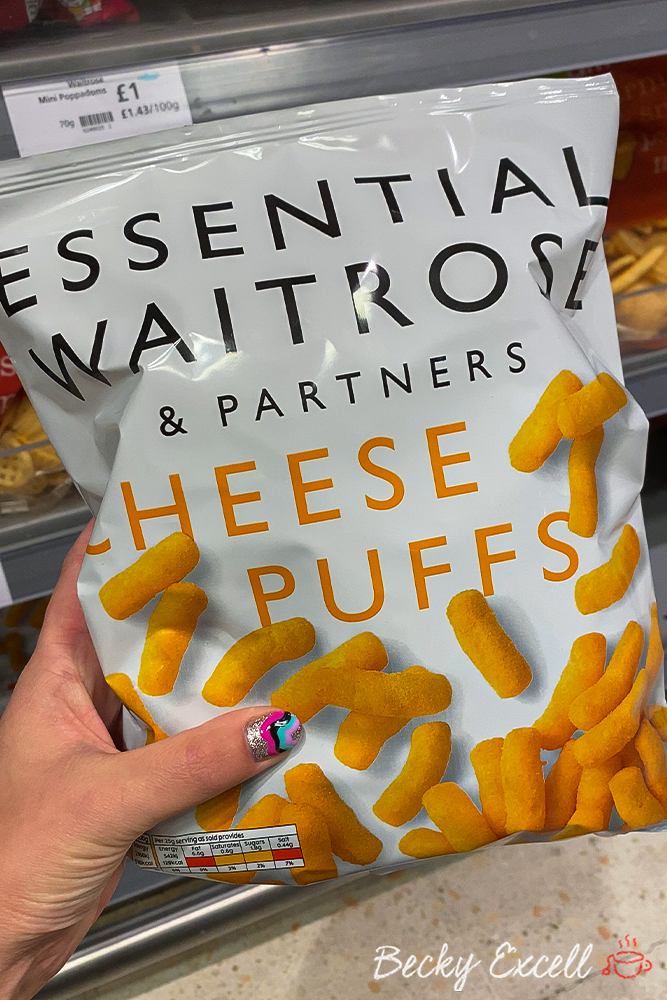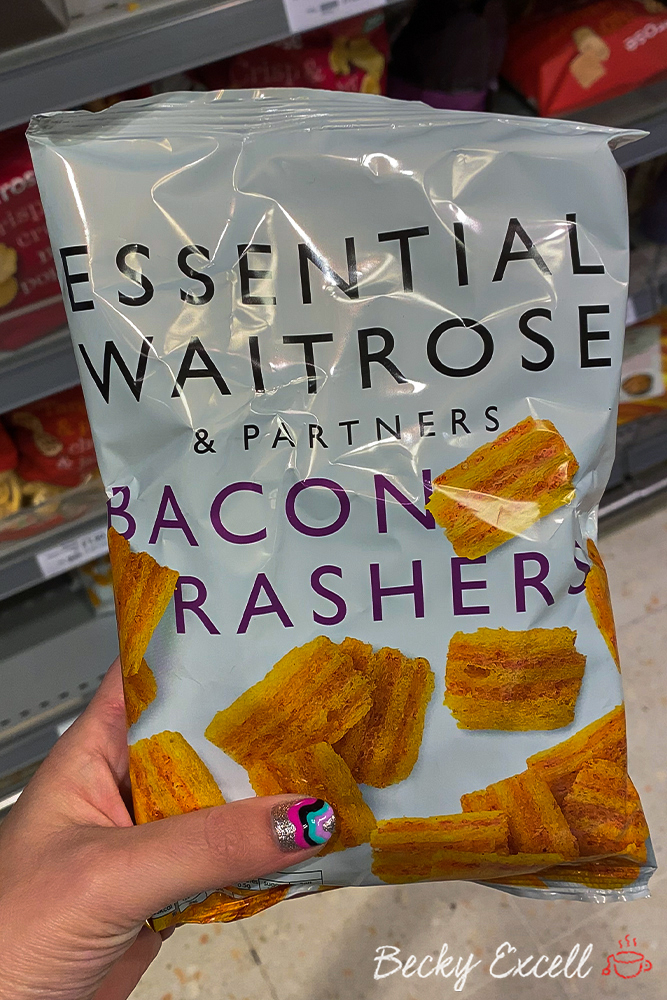 45. Jubel Beer cut with Peach
There's always some gluten-free beer in the free from aisle, but you might miss this one hidden amongst all the regular beer. It tastes amazing FYI!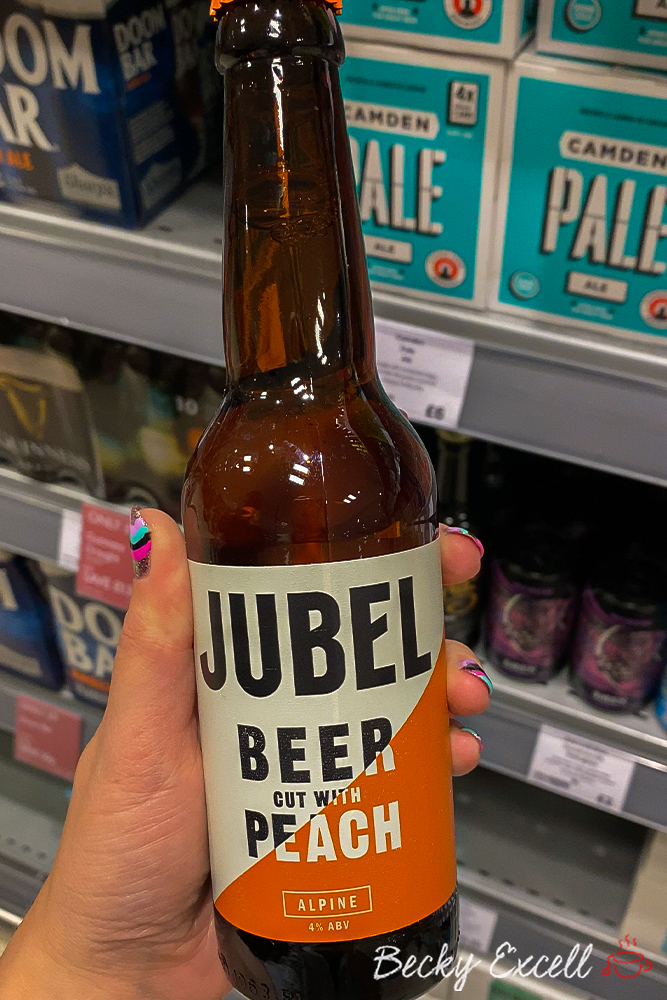 46. Cadbury Oreo Flavour Instant Hot Chocolate
Someone saw this when I posted it on Instagram and said 'that's not gluten-free, it has Oreos in it'. But… it is gluten-free!
However, I totally get where they were coming from – I would never look at this and assume it was gluten-free. But reading (the ingredients and allergen labels) is believing!

47. Heinz Beanz in a rich tomato sauce with pork sausages
The pork sausages that come in tins of beans are NEVER gluten-free. But suddenly, they are gluten-free in the Heinz tins!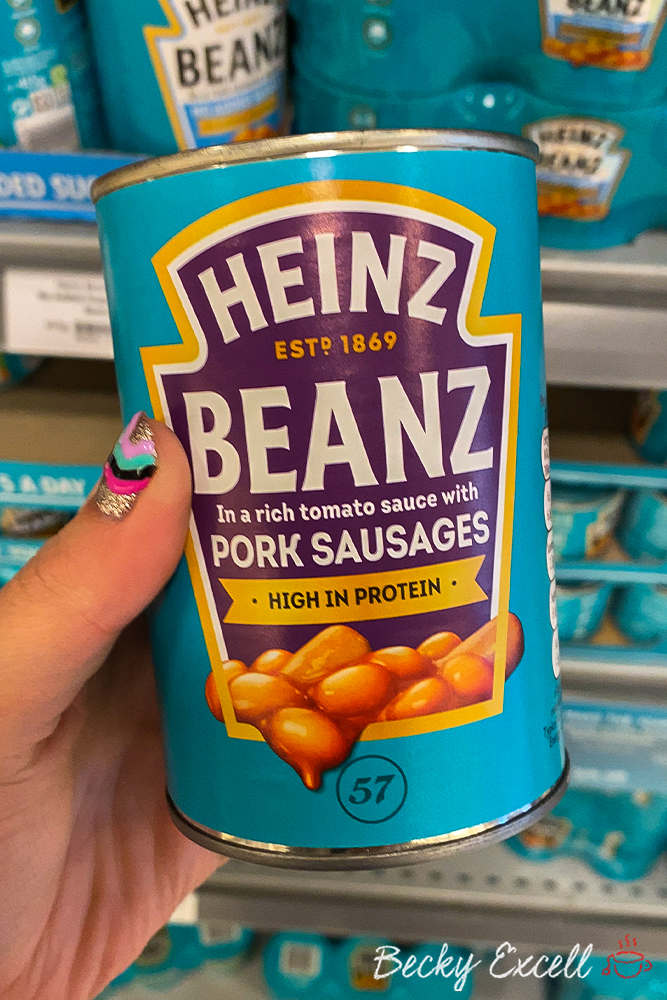 48. Heck Vegan Breakfast Sausages
Again, more gluten-free and veggie/vegan options in Waitrose!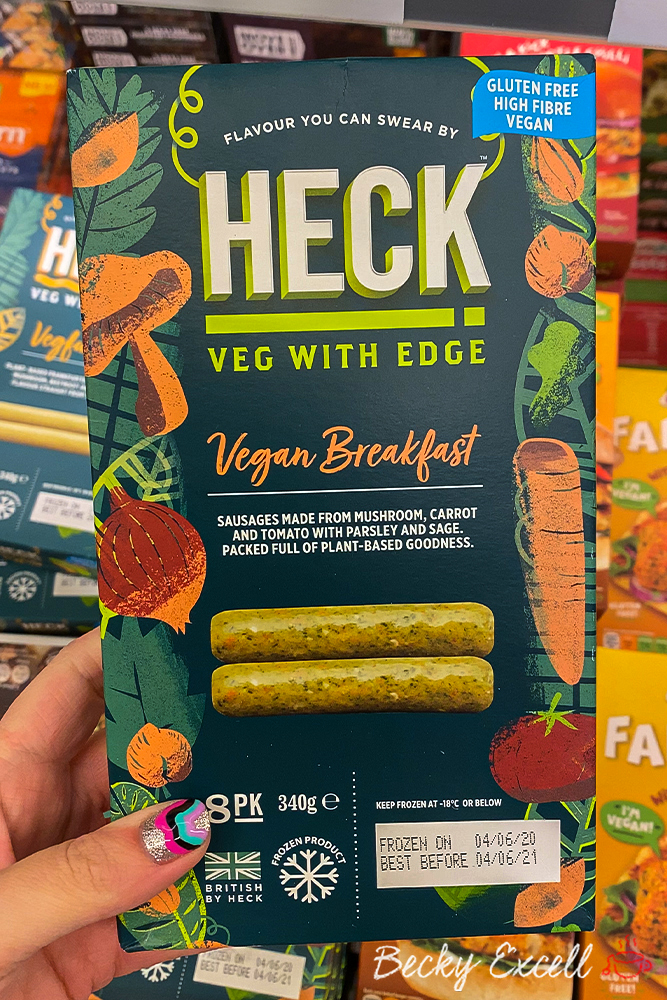 49. Sue's Gluten-free Kitchen 2 Egg Custard Tarts
I cheated here because these actually in the free from freezer section, but I thought I'd throw them in as not enough people know that these exist.
Plus, I don't think there's ANY other supermarket that sells gluten-free egg custard tarts. So there you go!

50. Waitrose Tamari Soya Sauce
Gluten-free soy sauce outside of the free from aisle!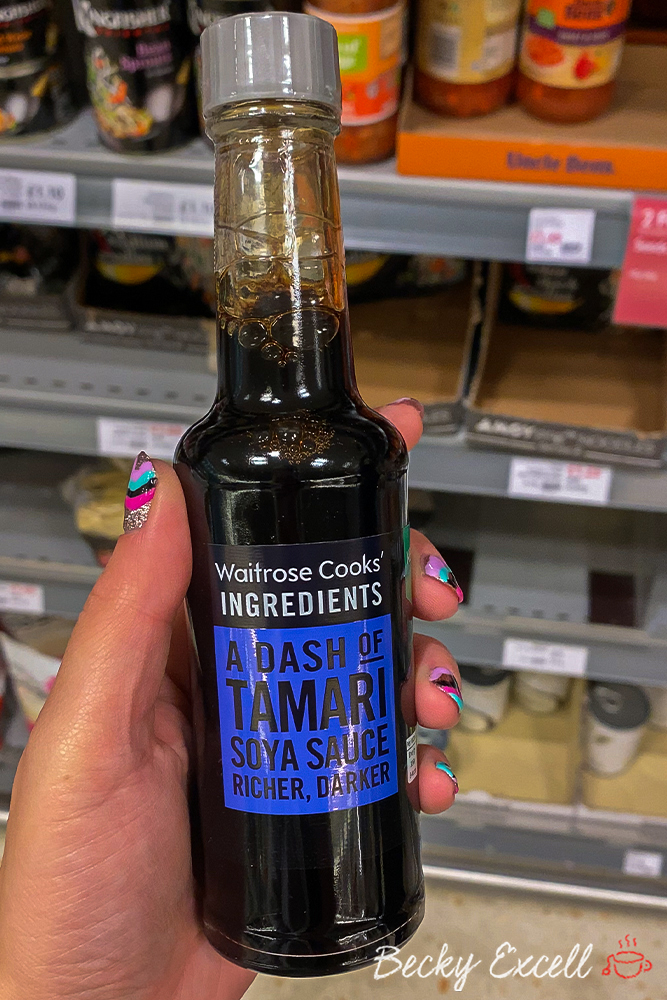 51. Rude Health Muesli Coconut and Seed + Moma Bircher Muesli Raspberry and Coconut
And we're back with more breakfast options!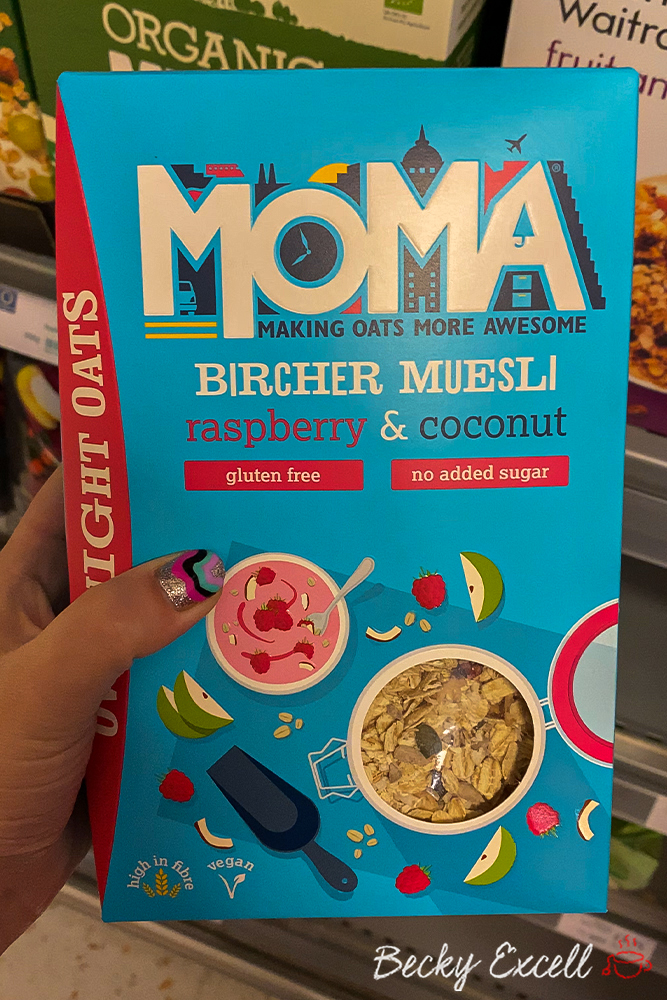 52. Waitrose Essential Corn Flakes + Rice Pops
Ok, here's where A LOT of people have been asking A LOT of questions (and rightfully so). All or most of these cereals contain barley, which you'd assume would make these a no go.
However, Coeliac UK has actually approved ALL of these cereals as being gluten-free because the amount of barley falls below the 20PPM limit. In short, that makes them gluten-free!
(if you have the Coeliac UK food scanner, just scan the barcode and see for yourself)
Though some people can still react to a small amount of barley, these products still fall within the rules in the UK of what's considered to be gluten-free. So enjoy the best value gluten-free cereal you'll ever find!

53. Kabuto Rice Noodles Vegetable Laksa
Gluten-free pot noodles, anyone? You'll find these next to the 'muggle' Pot Noodles.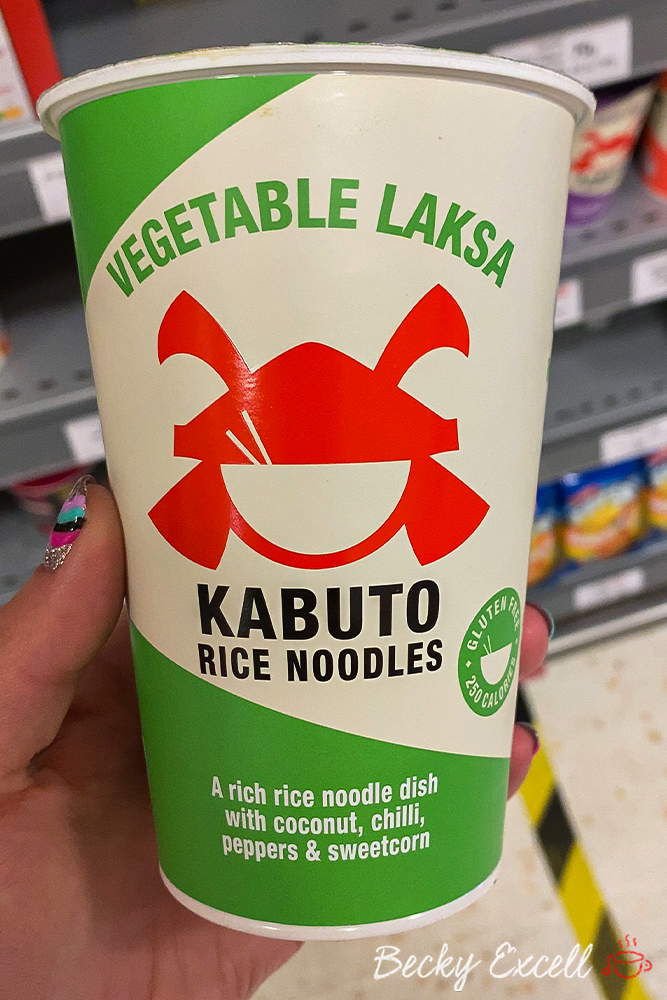 54. Itsu Rice Noodles Satay + Katsu
Again, find these two with all the regular pot noodles too!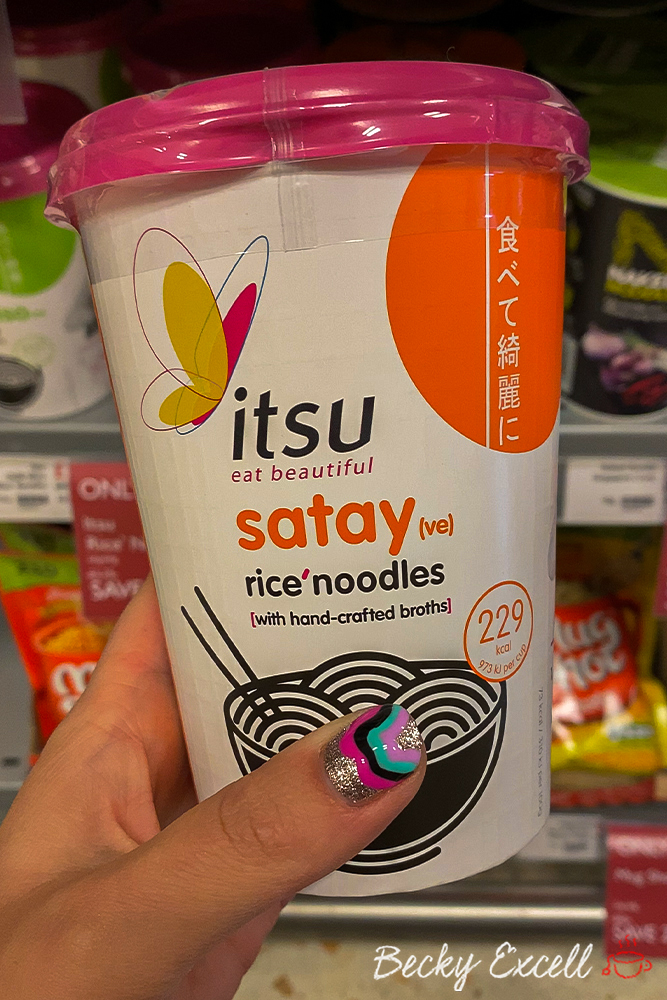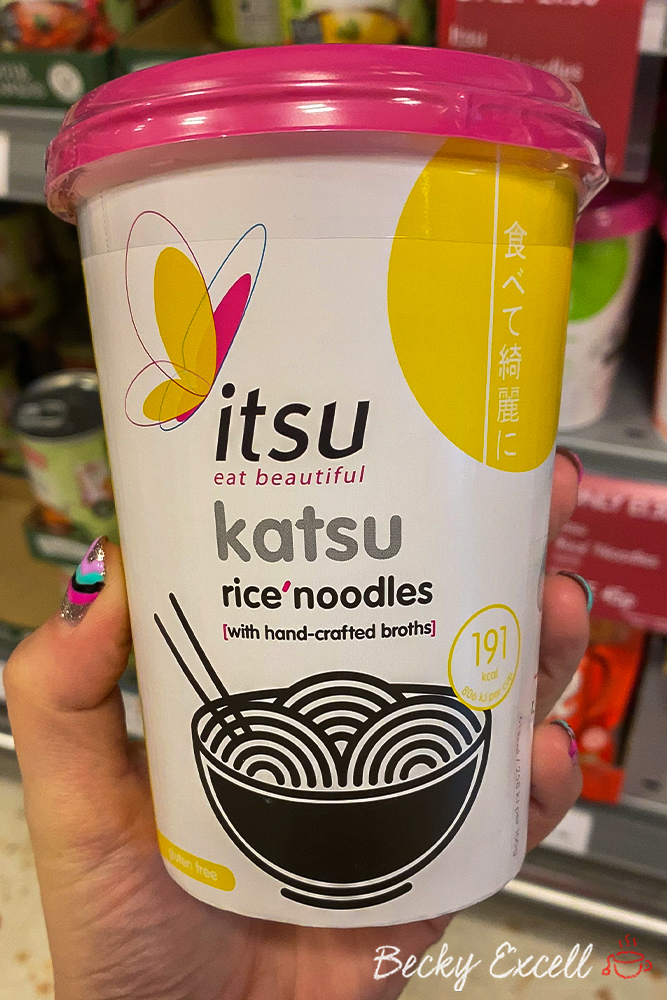 55. Nestle gluten-free GoFree Corn Flakes
Not sure why these aren't in the free from aisle when I think about it, but hey-ho!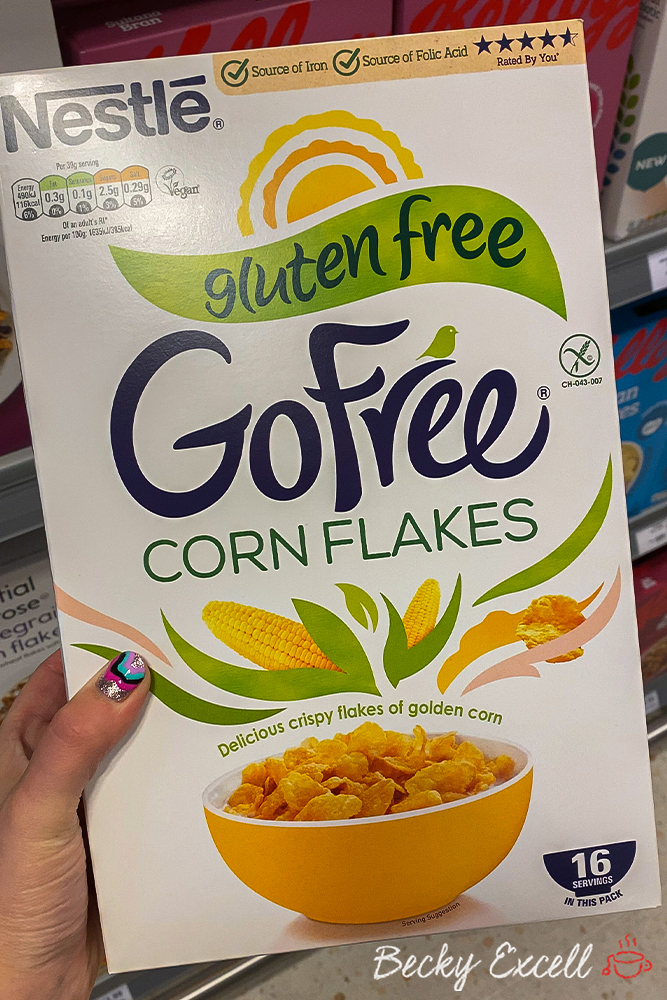 56. Paleo Foods Co Berry and Almond Grain-free Granola
Last but not least – a very nutty granola with no oats, which I know will peak the interest of some of you guys!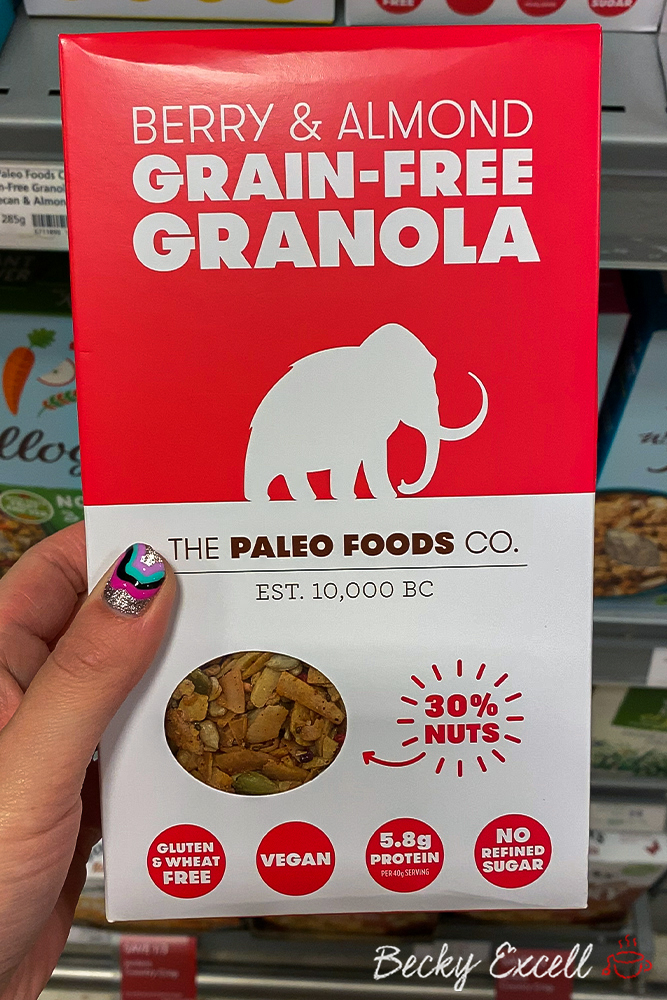 And that's all 50 'accidentally' gluten-free products in Waitrose!
Thanks for reading through all 50 'accidentally' gluten-free products in Waitrose! Which one is your fave? Which ones would you have never found? Have you found any accidentally gluten free products that I've missed out here?
Let me know in the comments below! Please make sure you follow me on Instagram to make sure you never miss a gluten-free find – I post videos of all my finds from supermarkets as well as tasty gf recipes.
Thanks for reading,
Becky xxx