Hasselback potatoes recipe – my BEST EVER recipe in fact! These little spuds are SUPER crispy and so incredibly easy to make. They're gluten free, dairy free, vegan and low FODMAP so hopefully everyone can enjoy them!
Hasselback potatoes recipe, anyone? Yep, these little golden beauties are the side dish that only takes 5 minutes to prepare. These are so simple and quick to make that you'll be having them with every meal!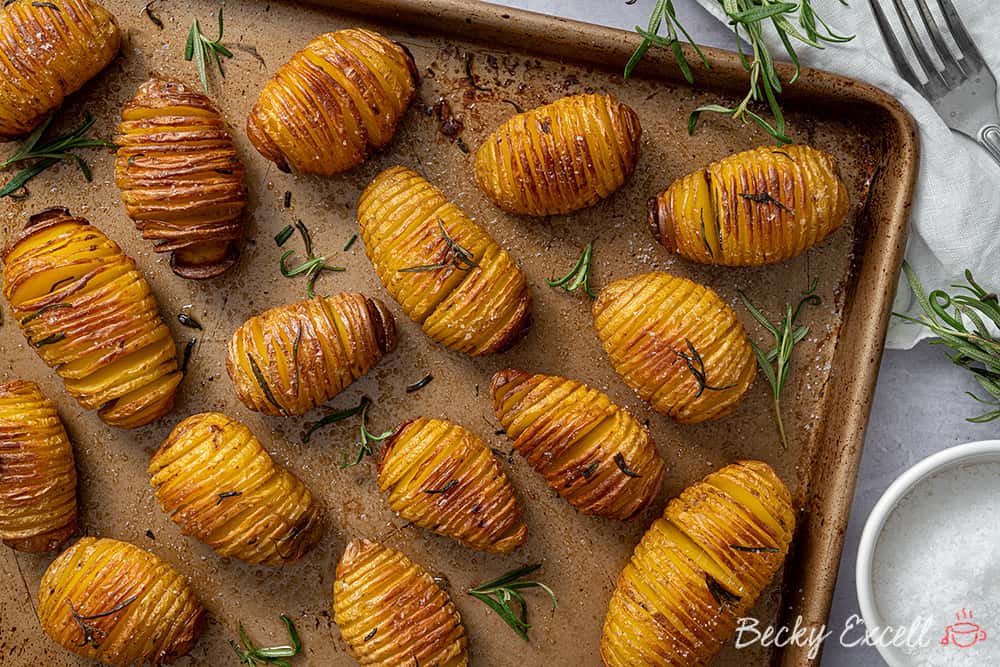 So, what are hasselback potatoes?!
Well, if you ask me, you'll get a response like 'they're a crispy potato accordion' ? But that is basically what they are!!
If that's not clear enough, then let me try again. *ahem* They're little baby-potato-sized spuds with tons of cuts in them made using a sharp knife. Coat them in oil, salt, herbs and roast them until they reach golden-y perfection. Was that a slightly better description for you?!
(you can of course make these using normal-sized potatoes, but this recipe focusses on making smaller ones – trust me, it's a lot easier and quicker to make/cook!)
What emerges from the oven are beautifully presented potatoes that are soft in the middle with an insanely crispy skin, thanks to all the slits in them. That's a hasselback alright!
Here's a few recipes you could definitely have them as a side with:
Hopefully that's a few ideas to get you started.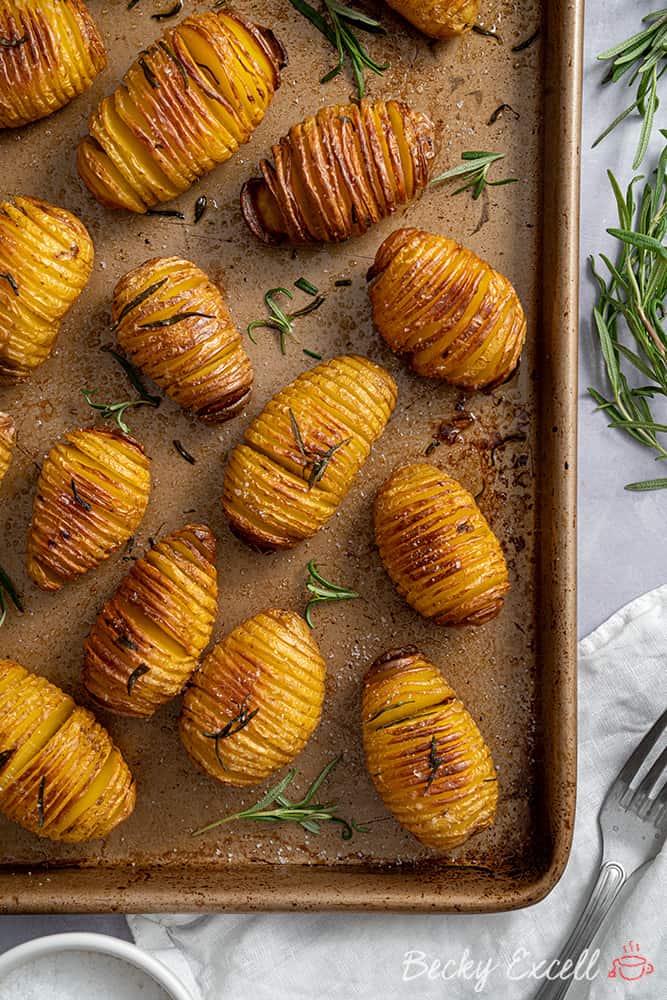 Aaaand why should you make these over something like my super crispy roast potatoes recipe?
Well, first of all, it's sooo much quicker to make hasselbacks. That's mainly because you don't need to parboil your potatoes first to get them super crispy. So that's a big tick already.
Secondly, there's so much less washing up because, as I said, no parboiling and draining means no saucepan and colander to wash up with everything else. So you're just left with a baking tray, a wooden spoon and knife to wash up – result!
And lastly, because they're totally different to any other way you'd serve and eat potato. Each potato becomes a fanned out display of crispy potato discs that just can't be compared so something like a roast potato or a potato wedge. A hasselback is a hasselback!
Trust me, if you haven't tried them, you just need to right now. Or in 50 minutes time after making these of course.
Ok, so here's your shopping list for my hasselback potatoes recipe. It's simple, just three ingredients and some salt/pepper! Keep scrolling down until you see the recipe card for the method ??
Ingredients for my hasselback potatoes recipe
1kg baby potatoes (all potatoes work but I tend to do lots of small ones)
garlic infused oil
fresh rosemary
salt and pepper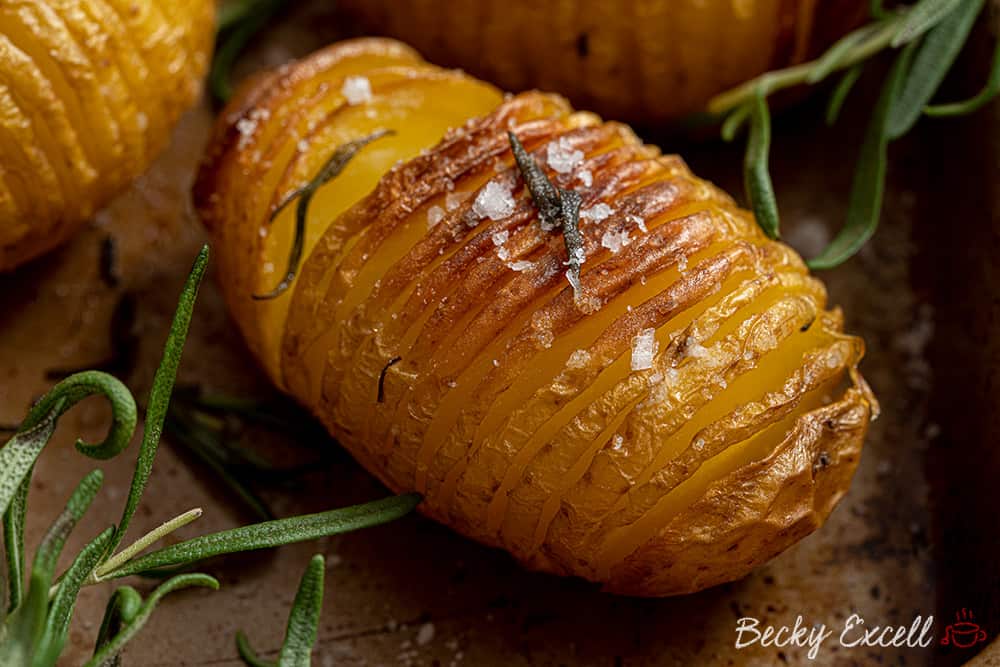 So here's a few answers to some frequently asked questions. Plus a few tips to help you make my hasselback potatoes recipe perfect, first time…
How did hasselback potatoes get their name? Where did it originate from?
Hasselback potatoes were first created by a trainee chef called Leif Ellison from Stockholm, Sweden in 1953.
Not surprisingly, the restaurant was named 'Hasselbacken' and these spuds were simply named after the restaurant in Djurgården where they were first created.
If you have a look at the menu, you'll see that they still have hasselback potatoes in the menu today! They come served with a sirloin steak, red wine gravy and herb butter – there's another serving suggestion!
How do I cut the slits in the baby potatoes without slicing them in half?
Ok, I hope you're paying attention because this tip will mean making hasselbacks 90% faster and you will 100% never cut them in half by accident.
Simply, use a wooden spoon. No, not to cut them! Rest each baby potato in the wooden spoon and then use a sharp knife to cut the slits.
As the wooden spoon is slightly recessed, it means you can cut slits into the potatoes as carelessly as you like – careful of your fingers obviously! But basically, the wooden spoon makes it impossible to cut your potatoes fully in half.
Give it a try and don't make hasselbacks without doing this – it'll seem like loads of effort by comparison.
Can I use a hasselback potato slicer?
If you're following this recipe and using baby potatoes, I wouldn't recommend using a hasselback potato slicer. It's simply not necessary if you use the wooden spoon trick I mentioned just now.
Plus, hasselback potato cutters are generally made for hasselbacking regular-sized potatoes, so they won't even work on smaller ones.
If you are using regular-sized potatoes though, it's probably the easiest way to do it as they'll be waaay too big for the wooden spoon trick!
What type of potatoes should I use?
Any, as long as they're small potatoes or baby potatoes. And by small, I'm literally talking about 2 inches in length and about 1 inch wide.
I regularly use new potatoes or charlotte potatoes to make these, but there's really no need to discriminate. Some supermarket just sell bags of 'baby potatoes' and they're fine too.
The size of them matters more – larger potatoes will take much longer to cook!
What type of oil should I use?
I always use garlic-infused olive oil as it gives the hasselbacks an awesome flavour, yet requires zero extra effort. If you're low FODMAP, just make sure there's no pieces of garlic in the actual oil – it should be nice and clear.
But of course, vegetable oil, rapeseed oil, olive oil or any oil commonly found in supermarkets will do.
Goose fat can also work really well here, but obviously, it'll make the recipe non-vegan if that matters to you.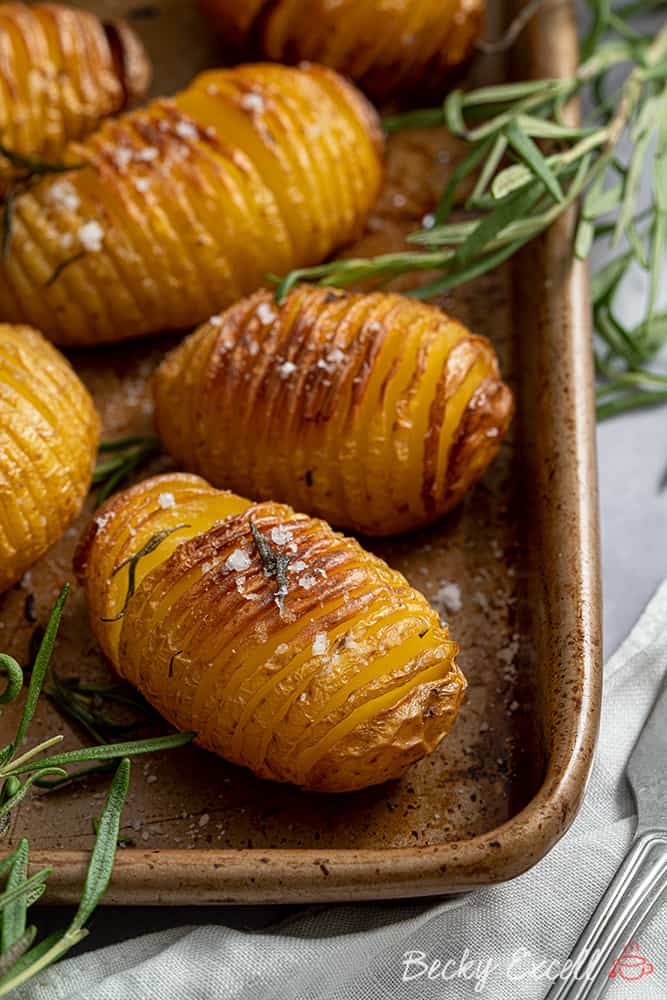 What herbs should I use when roasting?
I personally use fresh rosemary. Fresh because it seems to infuse the potatoes better than dried herbs. Plus, rosemary is my fave flavour combo with spuds. If you haven't tried it before, then trust me, you need to!
But any herbs will also work perfectly, even dried. If you're going for dried, rosemary again, is ideal, but even just throwing on some mixed herbs will work wonders too.
Do I need to parboil the potatoes first for my hasselback potatoes?
No, you certainly don't! By using smaller potatoes, you can skip parboiling entirely because as they're small, they'll cook really fast, even from totally raw.
Plus, you absolutely cannot, I repeat, cannot hasselback a parboiled potato. It will probably just break apart or turn into mush!
Can I reheat hasselback potatoes?
You certainly can! Just pop them back in the oven on a baking tray until they're completely warmed throughout. If they're room temperature, it should only take 10 minutes at 200C (fan).
If they're refrigerator gold, it'll probably take 15-20 minutes at 200C (fan) to fully reheat them to their former glory.
Can you reheat hasselback potatoes in the microwave?
You definitely can, but I wouldn't recommend reheating your hasselback potatoes in the microwave. Whilst they'll still be edible, they'll lose all their crispy exterior.
It's much better to reheat them in the oven as described above if you can!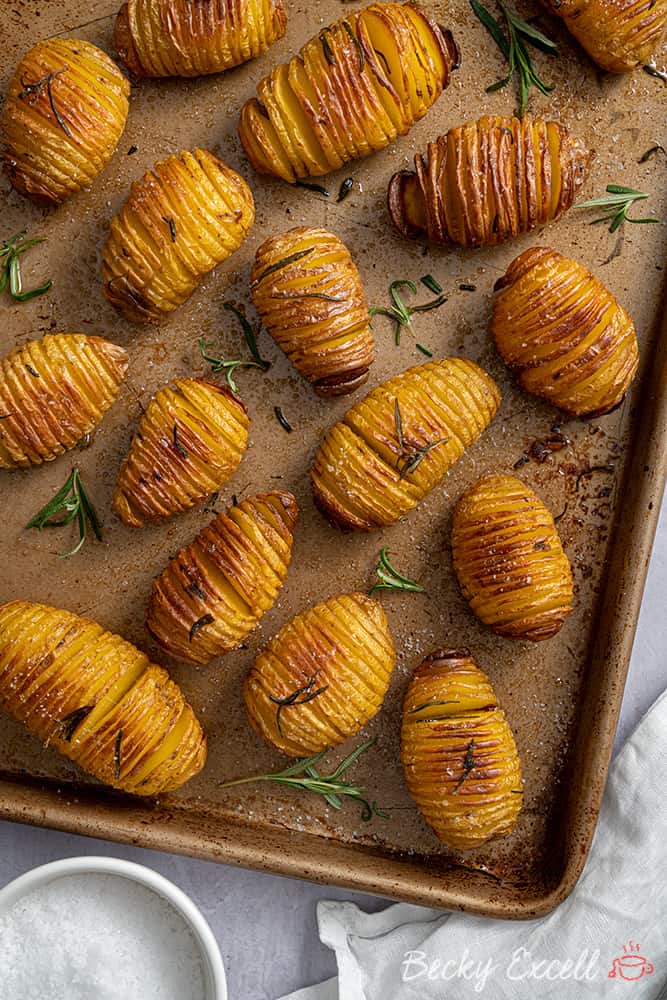 Can I freeze hasselback potatoes?
You certainly can! Once cooled, store them in an airtight container in the freezer for up to 2-3 months.
Then, when you want to reheat them, simply pop them into the oven on a baking tray from frozen. At 200C (fan) they should take around 20-30 minutes to return to their former glory!
Is it ok to roast hasselback potatoes with olive oil?
Yes! There is a bit of a myth that you shouldn't fry food using olive oil. That's because it has a lower smoking point than other oils. But actually, any simple frying with olive oil is totally fine and yes, that goes for roasting hasselbacks in the oven as well.
Frying with olive oil is actually only a big deal when you're deep frying – it's best to use vegetable for that – again, because of the smoking point and it generally costs more too.
How do I know when my hasselback potatoes are done?
They should be done after 45 minutes cooking at 220C or 200C (fan).
But if you want to check, just give them a poke in the fleshy part of the potato with a fork. It should be nice and soft in the middle.
If it's hard and firm, then they need to be popped back in for a little while longer.
What's the secret to getting super crispy hasselback potatoes?
Ok, so we've finally reached the part where I can share my secret to super crispy hasselback potatoes!
It's simple – after 35 minutes, just flip them over for the last 10 minutes. Whilst they'll still be crispy if you don't do this, it definitely gives them that extra crispiness factor that makes them amazing. It also gives them a nice golden brown finish on top which I really love.
But shh – don't tell anyone ?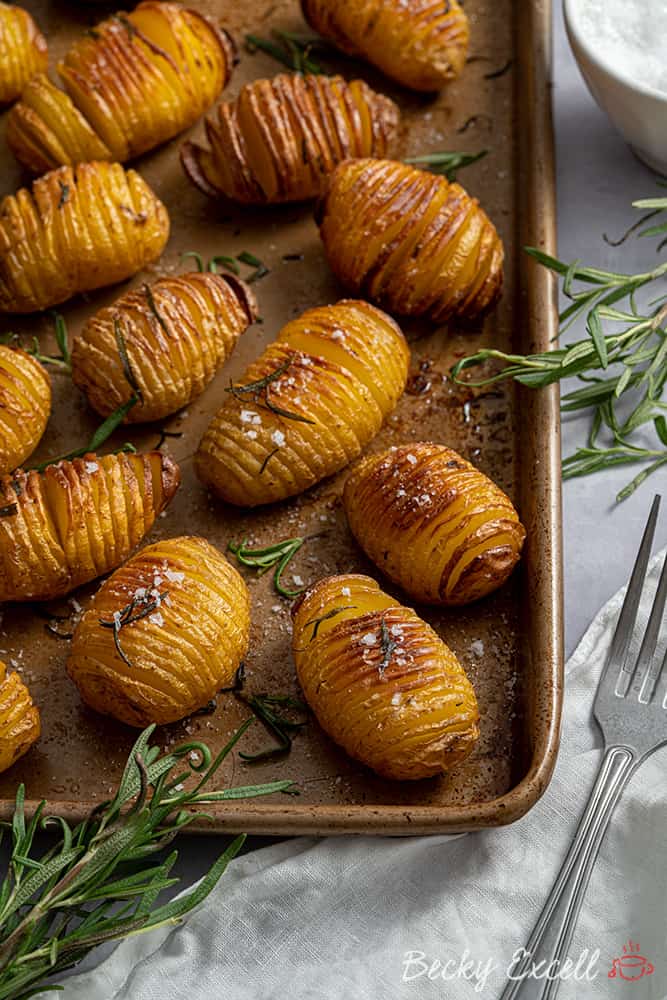 Can I print your hasselback potatoes recipe?
Of course! Just hit the print button located on the recipe below ?? (otherwise you might end up printing this entire post which would probably make your printer go into early retirement)
Hasselback Potatoes Recipe - BEST EVER! (dairy free, vegan, low FODMAP)
Hasselback potatoes recipe! These are my BEST EVER, super crispy, golden spuds that are packed with flavour. Easy to make, vegan and low FODMAP!
Equipment
The baking trays I use at home
Ingredients
1

kg

baby potatoes

all potatoes work but I tend to do lots of small ones

garlic-infused olive oil

fresh rosemary

salt and pepper
Instructions
Preheat your oven to 200C fan / 220C.

To make slits into your potatoes without cutting all the way through, place your potatoes one at a time onto a wooden spoon. Using a sharp knife, cut close-together slits through the potatoes. Because you are doing this on the wooden spoon, it will mean it doesn't cut all the way through. Do this for all of your potatoes.

Place your potatoes onto a baking sheet and drizzle each with some garlic infused oil, allow it to go through the slits. Then season with salt, pepper and a few sprigs of fresh rosemary.

Place in the oven for 35 minutes.

After 35 minutes remove from the oven and turn your potatoes upside down to finish off for the last 10 minutes. Then remove from the oven (check they are cooked through, they should be!).

Enjoy with some of the meals I suggested above 🙂
Thanks for reading all about my hasselback potatoes recipe! If you make it, I'd love to see how it turned out with your roast so don't forget to take a snap of your creations and tag me on Instagram!
Any questions about the recipe? Please do let me know by following me on Instagram and leaving me a comment on a recent photo!
Thanks for reading,
Becky xxx
Oh and don't forget to pin this for later!